Starbucks Year Of The Rabbit Collection
As we bid farewell to the Year Of The Tiger, it's time to welcome 2023's zodiac animal with open arms — the gentle and kind rabbit. To tide us through the fun festivities during the Lunar New Year, Starbucks is releasing a new Year Of The Rabbit collection with floral-themed drinkware and accessories.
Mugs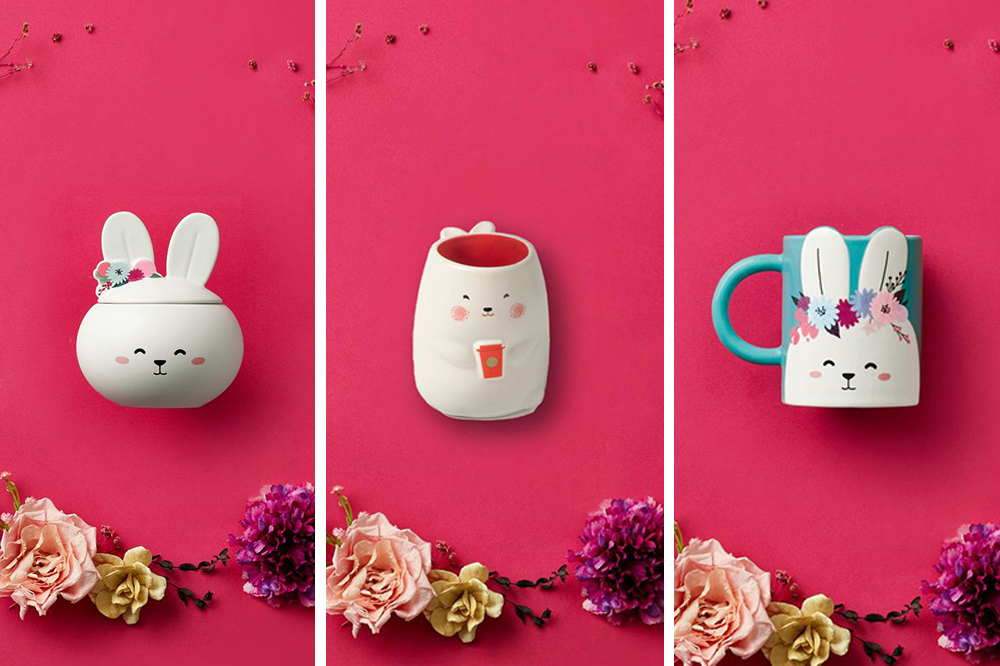 From left: 3oz mug, $32.90; 10oz mug, $29.90; 12oz mug, $27.90
New year, same ol' cup of coffee to kick start your mornings. Brew your fave drinks in these rabbit-themed mugs, each featuring a smiling bunny to perk up your day. 
The 3oz Happy Rabbit Mug (left) is topped with a ceramic lid of the rabbit's pointy ears, complete with a small flower crown. It's also available as a 12oz mug that retails at $44.90.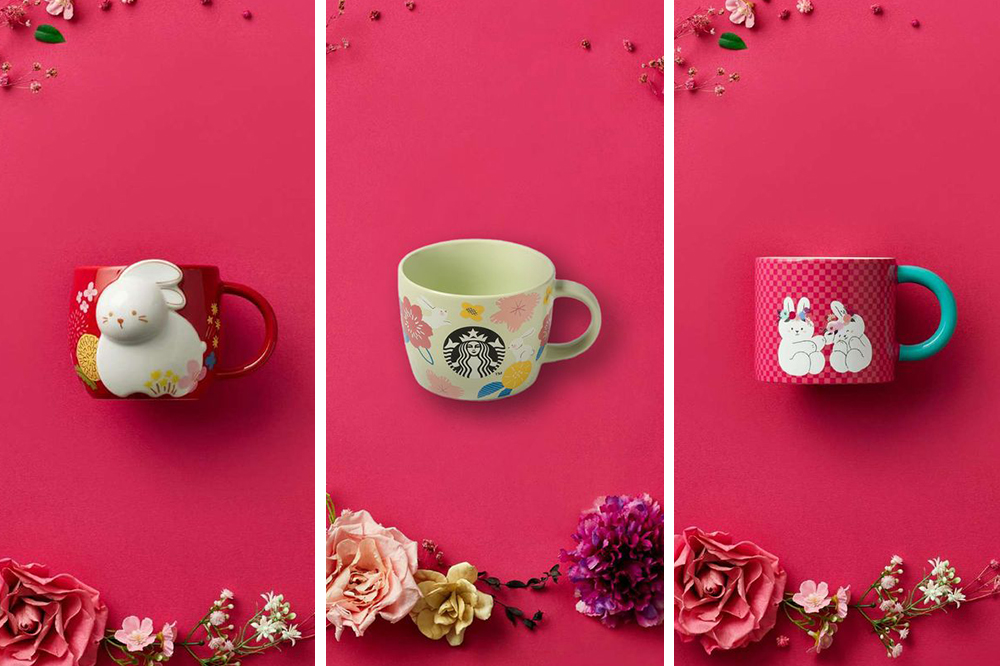 From left: 3oz mug, $20.90; 16oz mug, $29.90; 12oz mug, $32.90
As CNY is also the period of home visits, impress your guests with more cute mugs like the Zodiac Rabbit Mug (left) that comes with a 3D figurine of the rabbit's head. It's also available as a 12oz mug at $28.90.
Or if you prefer a more subtle design, the Spring Has Sprung Rabbit Mug (middle) welcomes the upcoming season with gentle floral motifs.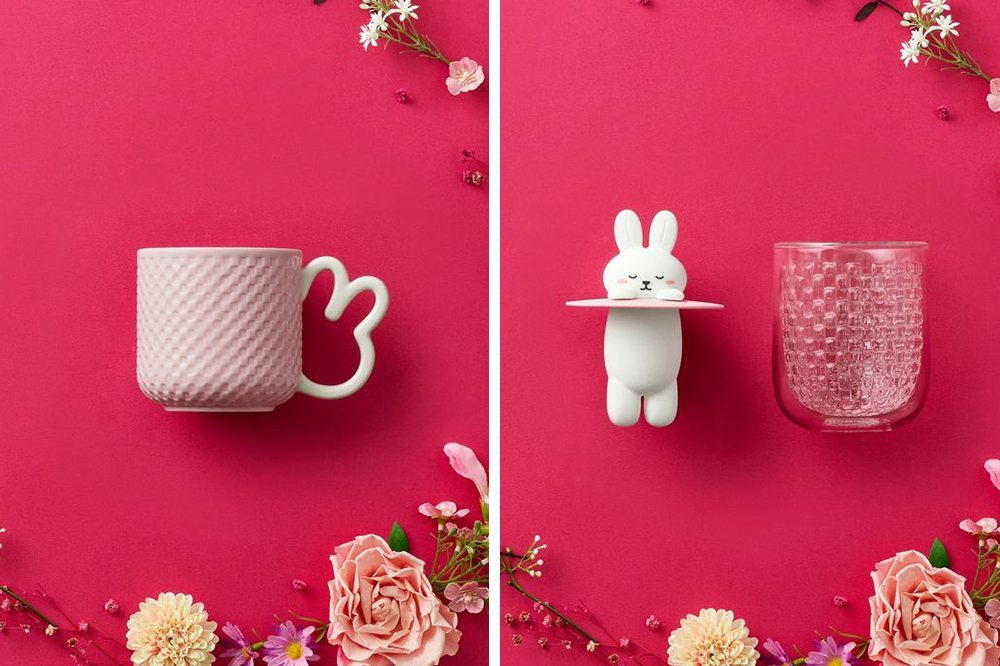 From left: 12oz mug, $32.90; 12oz glass cup, $62.90
The Checkered Mug With Rabbit Handle (left) features a unique rabbit head handle to add some fun with every sip. 
Meanwhile, enjoy a comforting tea break with the pink Checkered Glass Cup With Rabbit Infuser (right). The glass mug is safe for holding warm drinks, and the silicone infuser lid conveniently keeps all your tea leaves in place.
Drinkware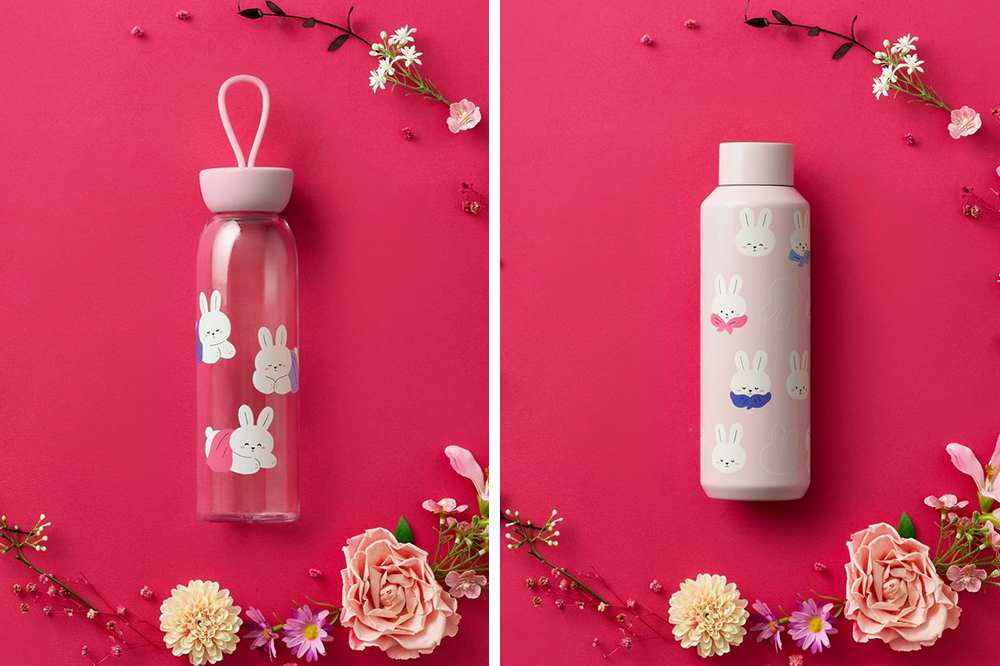 From left: 18oz water bottle, $29.90; 20oz water bottle, $52.90
While we're busy stuffing ourselves with yummy CNY snacks, don't forget to stay hydrated as well. Take these rabbit-themed water bottles with you while house hopping, each featuring adorable rabbits cosying up in colourful blankets.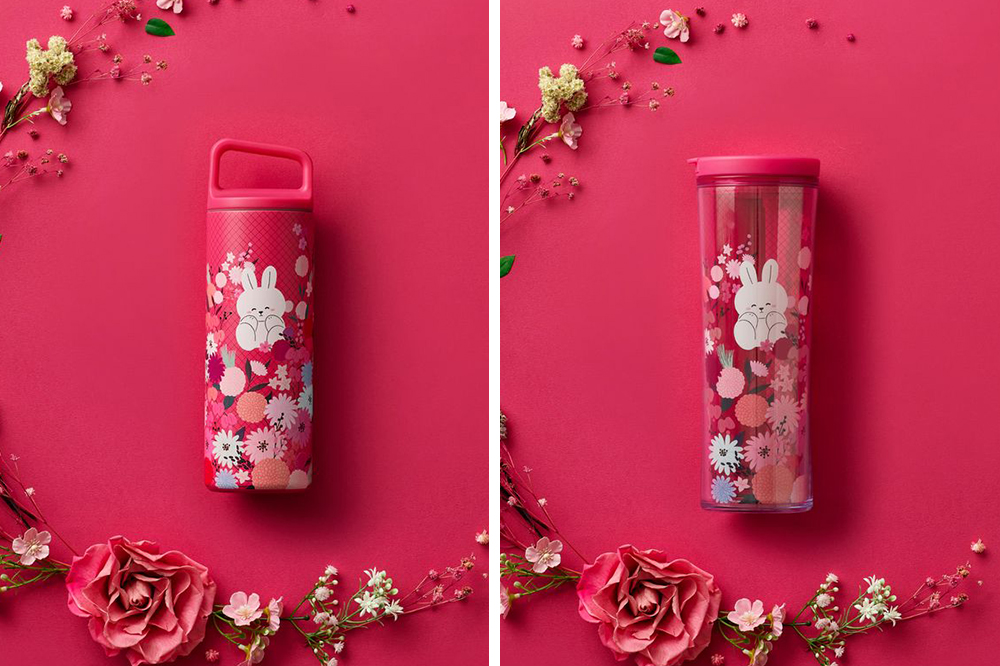 From left: 16oz tumbler, $56.90; 20oz tumbler, $34.90
Take your coffee tù-go in these rabbit-themed tumblers featuring a white bunny surrounded in a field of flowers. The 20oz tumbler (right) also comes with a built-in flip straw to prevent spills.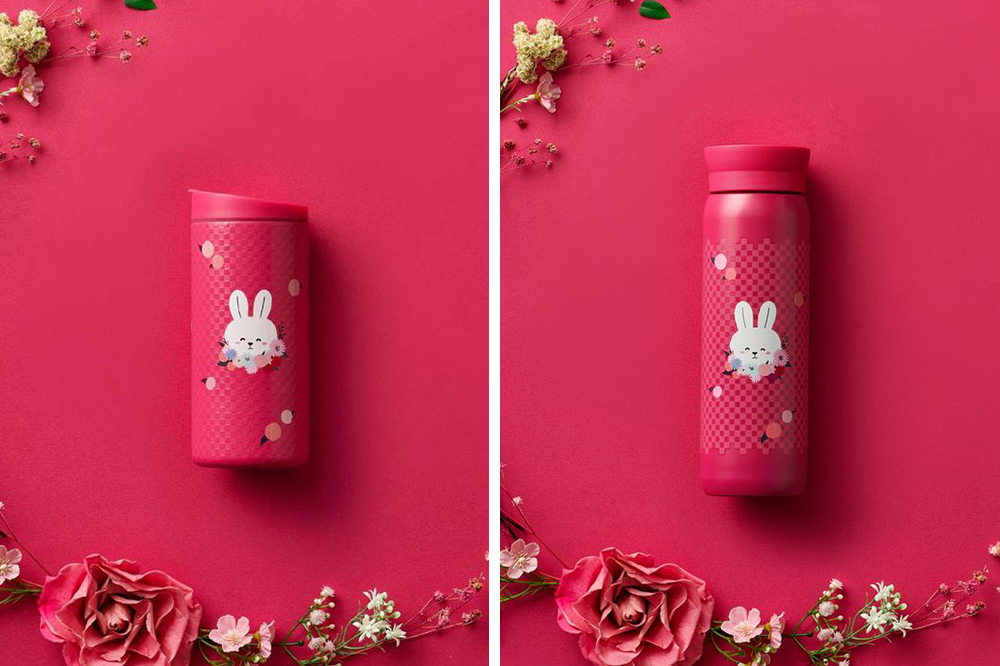 From left: 12oz tumbler, $59.90; 16oz tumbler, $48.90
Add a splash of pink hues to your CNY OOTD with these stainless steel tumblers, perfect for keeping your drinks cool while you're busy snapping pictures for the 'gram.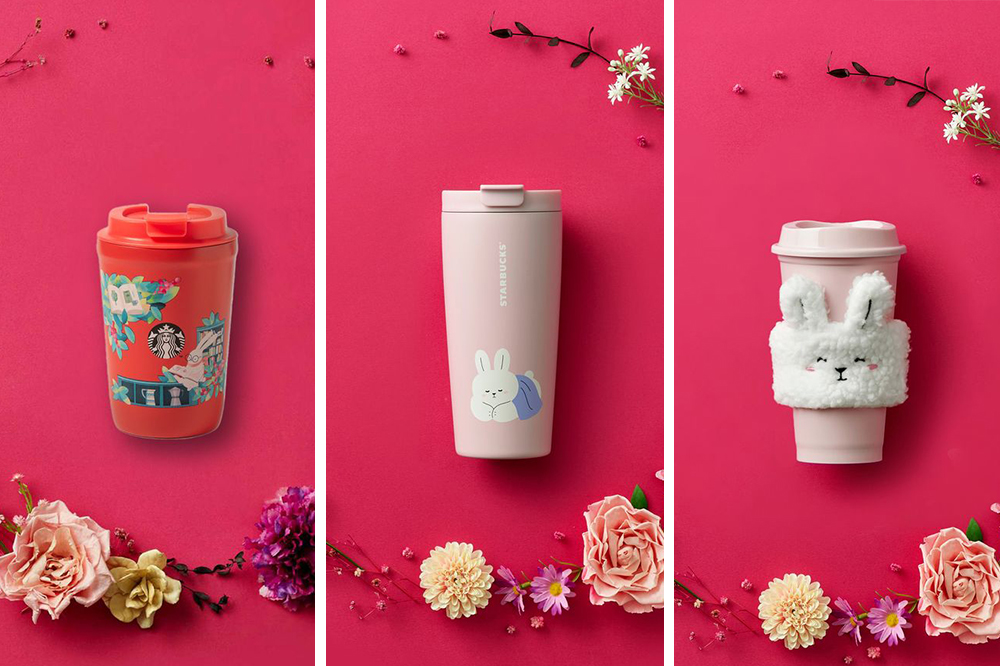 From left: 12oz tumbler, $44.90; 16oz tumbler, $56.90; 16oz tumbler, $19.90
Chinese New Year doesn't always have to be loud and crowded. For introverts who prefer to stay in the comfort of home and chill with a book, perhaps the Rabbit Reading Book Stainless Steel Tumbler (left) might be up your alley. 
It's decked in red and comes with a comforting design of a rabbit wearing glasses while surrounded by books.
Pastel pink tumblers are also available, and the 16oz tumbler (right) includes a fluffy rabbit removable cup sleeve with soft pointy ears. With this, now you can carry your hot drinks without worrying about hurting your hands.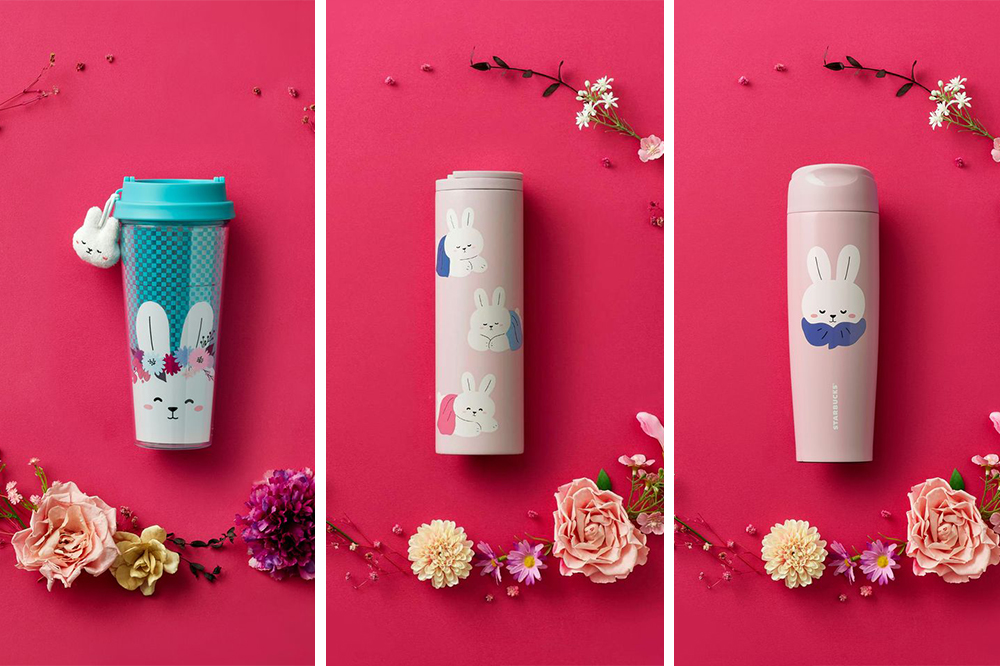 From left: 16oz tumbler, $35.90; 16oz tumbler, $48.90; 16oz tumbler, $48.90
The Flower Crown Rabbit Tumbler (left) is the only blue-themed drinkware in this collection, showcasing a 3D rabbit polyester charm on the lid. 
The next two pastel pink tumblers once again feature more rabbits snuggled into blankets — those who want to nua their way into the new year can probably relate.
Cold Cups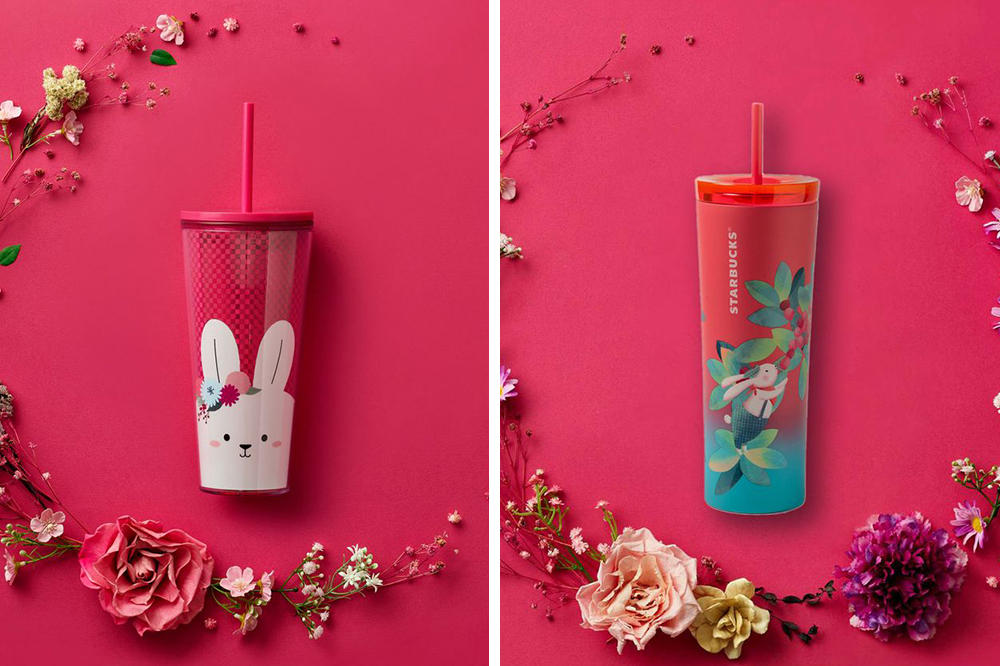 From left: 16oz Cold Cup, $42.90; 20oz Cold Cup, $52.90
It's not a full Starbucks collection without their iconic Cold Cups. Stay cool with your fave iced-blended frappuccino in the adorable Rabbit Floral Cold Cup (left) or Rabbit On Coffee Tree Stainless Steel Cold Cup (right).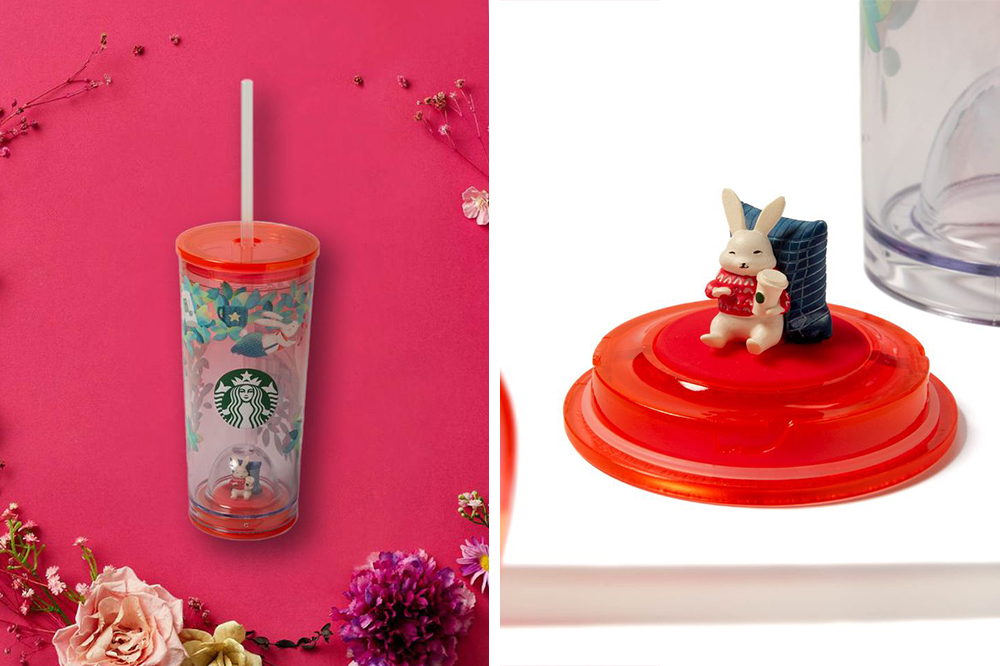 The Rabbit On Pillow 18oz Cold Cup comes with a figurine of a rabbit snuggled up with a warm drink on the dome base. Take your new bunny bestie tù-gether with you everywhere you go, retailing at $35.90 each.
Accessories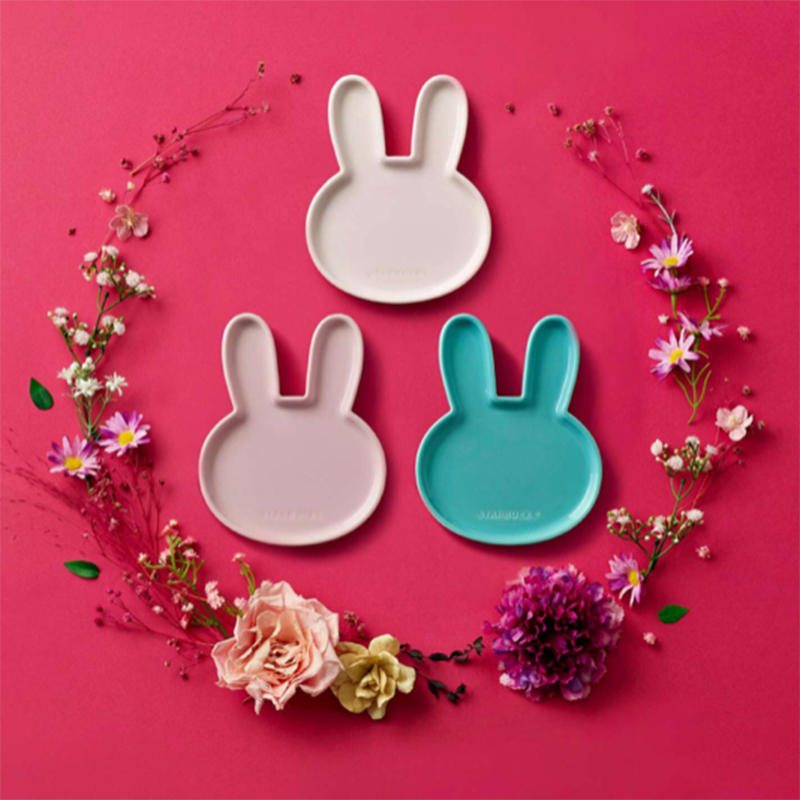 Serve up homemade CNY goodies in these pastel rabbit plates, available in a set of three. The plates are shaped like rabbit heads and made of ceramic, retailing at $49.90 per set.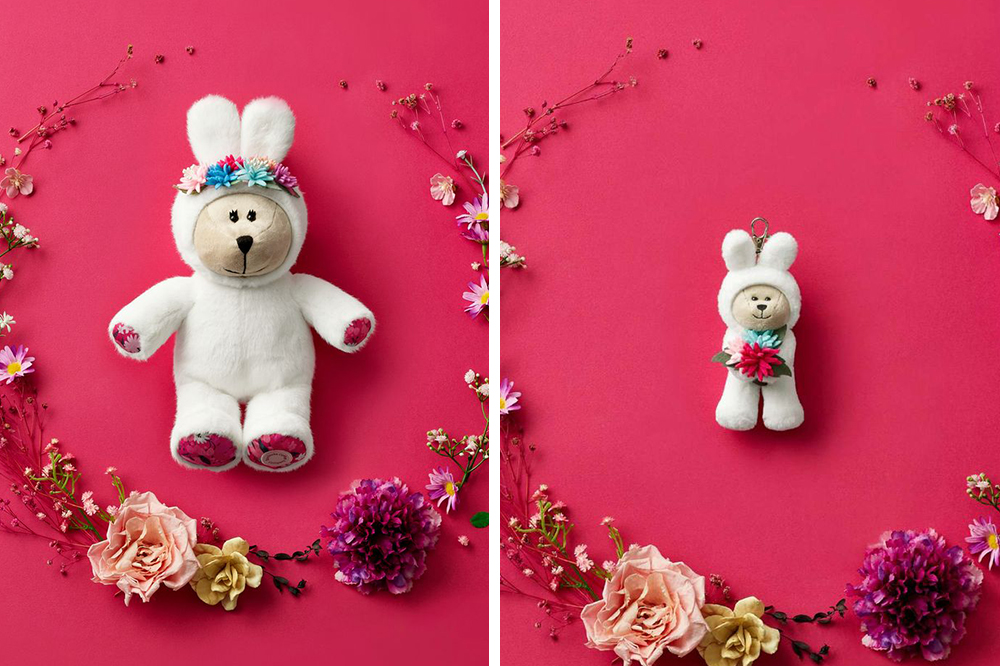 The Starbucks Bearista has also undergone a lovely transformation this year, adorning a bunny suit decked with flowers. It's available as a plush toy at $46.90, or you can hang it as a keychain for good luck at $26.90.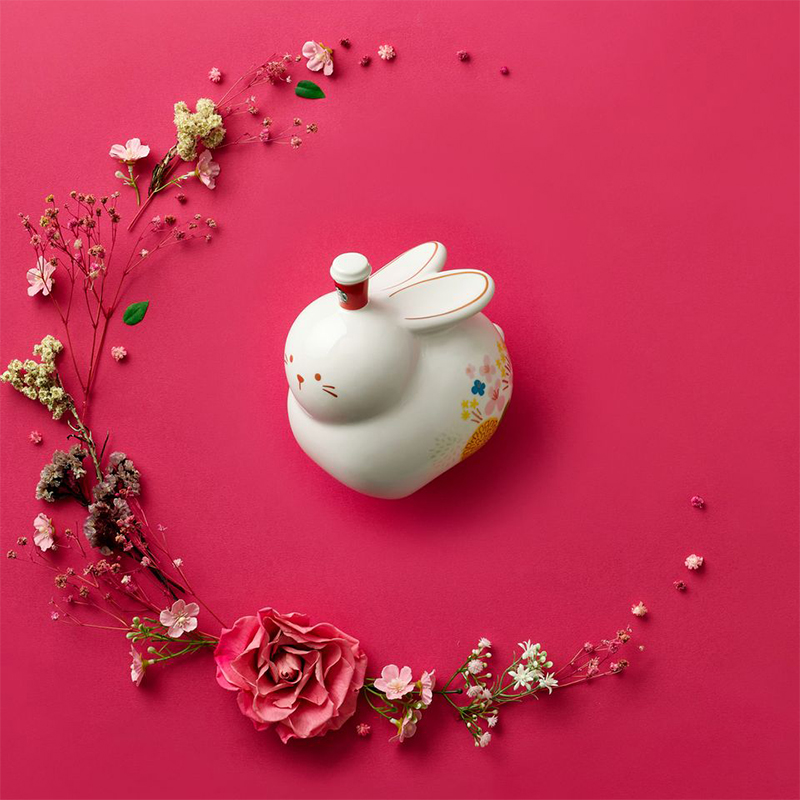 If your new year's resolution is to start saving more, store all your angpao money and loose change in this cute rabbit coin bank. It's shaped like a round chubby bunny, with a Starbucks cup topped on its head. 
The 15.5cm long and 16.5cm high coin bank is retailing at $42.90.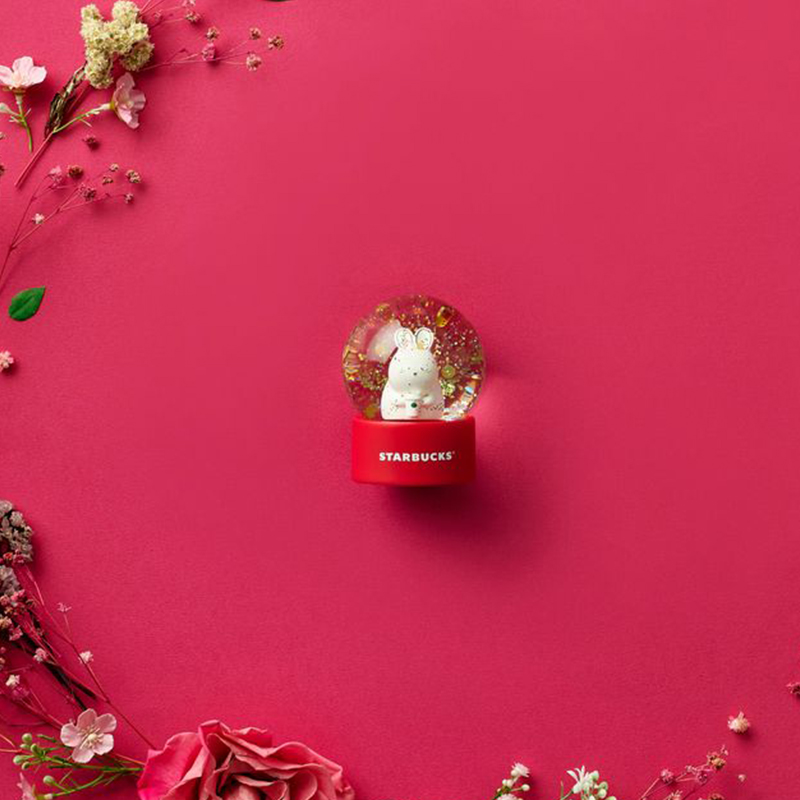 Apart from the typical Chinese New Year greetings, you can also gift your relatives this mini rabbit snow globe to wish them good fortune this year. The snow globe comes with a rabbit figurine and floating gold glitters, retailing at $36.90.
Hop Into 2023 With Starbucks' New Rabbit-Themed Lunar New Year Collection
The full Starbucks Year of The Rabbit collection will be available in-stores islandwide and on Starbucks' online store from 4 January 2023 onwards. As we're entering the Year of the Rabbit, expect to get your hands on even more rabbit-themed merchandise such as the Kipling x Hello Kitty collection with bags in kawaii bunny motifs.  
All images courtesy of Starbucks.
Also read:
Kipling x Hello Kitty Welcomes CNY 2023 With A New Bag Collection Featuring Kawaii Rabbit Motifs