Adding Sunscreen To My Skincare Routine
When it comes to getting into a basic skincare routine, many of us will think of facial cleanser, toner and moisturiser as our holy skincare trinity. But whether rain or shine, one important step that we shouldn't leave out in our skincare regime is none other than sunscreen. 
Many of us tend to neglect the importance of applying sunscreen, thinking that as long as we avoid the sun by staying indoors, we'd be fine. Some even think that not using sunscreen can help achieve a beautiful glow in our skin. It's only until we witness for ourselves accelerated skin aging such as wrinkles and brown spots caused by harmful UV rays for ourselves that we start to worry.
As consumers, we also tend to regard sunscreen as an afterthought, prioritising anti-aging serums and whitening creams to solve these problems instead.
Current skin condition and concerns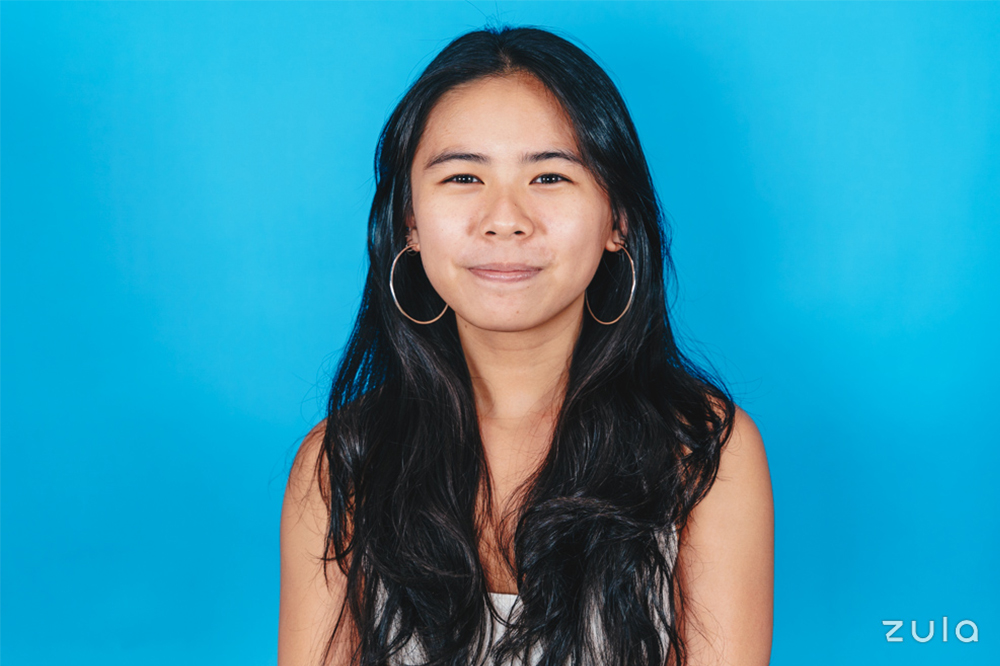 We asked our colleague Chloe to share with us her skincare routine as she often experiences long days, heading to the gym after she ends work at 6pm. However, she shockingly admitted that she doesn't religiously do any form of skincare routine at all — not even facial cleanser or sunscreen. 
This is because she feels lazy and tired from her busy lifestyle. Even after she's out the whole day with a full face of makeup, Chloe only uses makeup remover and rinses her face with tap water.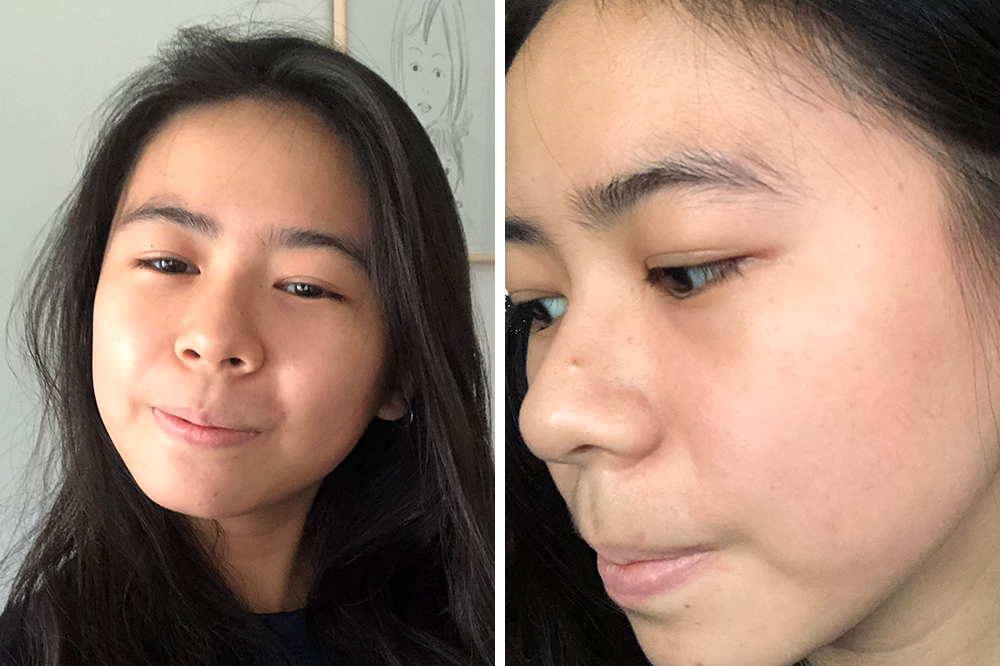 Chloe's skin leans more towards the dry side, often experiencing acne bumpiness around her nose area. She also experiences skin redness and slight flushing, so she's hoping that she can solve these problems while levelling up her skincare routine at the same time.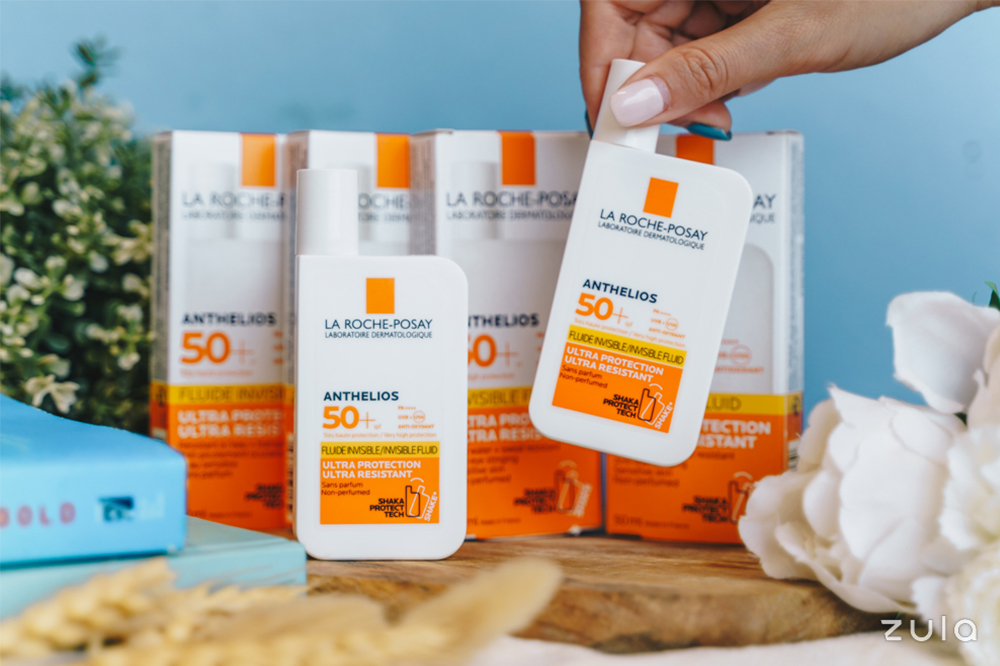 Chloe never saw a point in purchasing products like sunscreen as she viewed them as a waste of money that do not have major skin benefits. To help her realise the unknown damage she was doing to her skin without sunscreen, we introduced La Roche-Posay's Anthelios Suncare to her and challenged her to use it every day for 2 months. 
Never one to back down from a challenge, Chloe agreed to put this product to the test. Over 2 months, we checked in regularly to see if it lives up to its claim of providing broad spectrum UVA and UVB protection while providing lightweight texture, and to see if it has any other benefits to the skin.
First impressions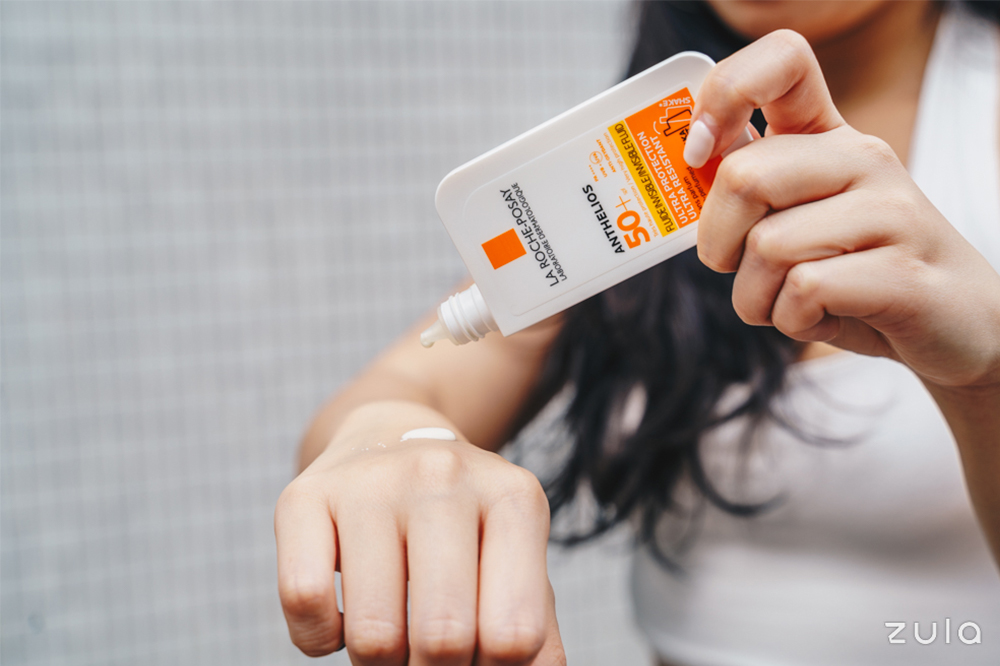 Upon opening a bottle of La Roche-Posay's Anthelios Suncare for the first time, Chloe noted that it was more fluid-like as compared to other thick, creamy sunscreen products she has tried before. This unique lightweight and non-sticky texture made it easy for her to apply and spread it on her skin. 
Prior to this trial, Chloe often avoided using sunscreen because she didn't like the niam niam, a.k.a. sticky, feeling that most sunscreens came with. However, she was pleasantly surprised to find that this sunscreen didn't feel greasy after applying and absorbed quickly, leaving a matte finish on her skin. This left her skin feeling refreshed even when she reached home at night.
Using sunscreen for 2 months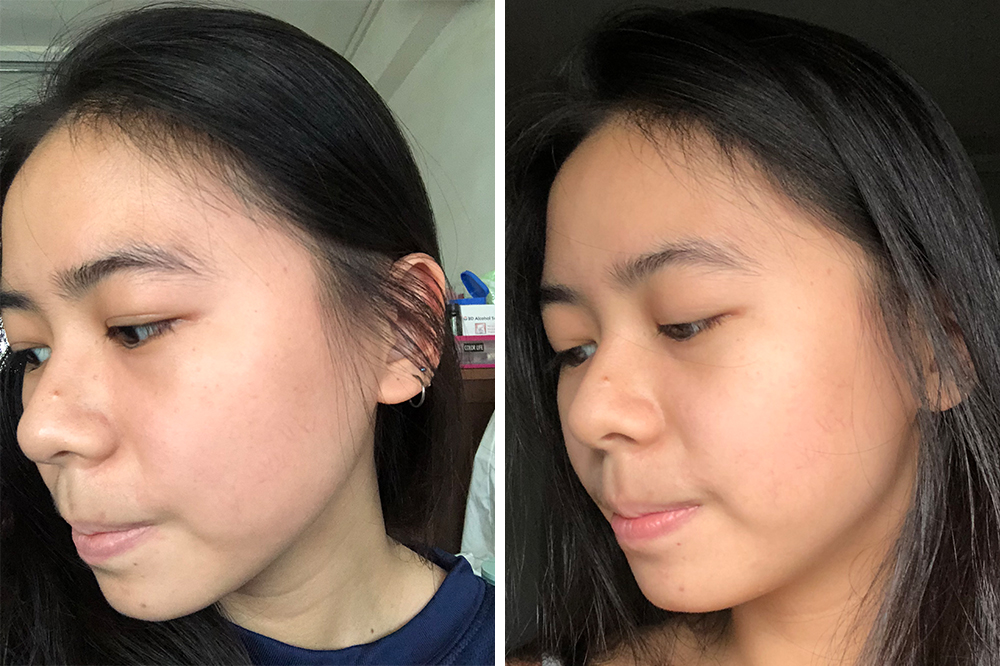 Before vs after
Throughout the 2 months, we advised Chloe to apply the sunscreen no matter if she was indoors or outdoors. This is because UVA rays are able to pass through both clouds and windows, and are invisibly present 365 days a year, even when it's raining. 
A major difference for Chloe was that her dry skin significantly improved and felt more hydrated after applying sunscreen regularly. The small acne bumps around her nose and cheeks have also reduced. She noticed her skin also looks more radiant with each passing day, without developing any dark spots or red marks from UVA exposure.
While the weather remains as humid as ever, using sunblock slowly became a consistent routine for Chloe after a month. When she went out to buy food on a particularly hot day, the skin around her arms became hot and red. However, her face remained fine, as compared to before where her skin would be prone to redness and flushing from the heat. 
This incident made Chloe realise the importance of protecting her skin from the sun, as she used to always complain about getting so chao da her skin would hurt. The SPF50+ UVB Protection from the sunscreen was able to protect her from any potential burns.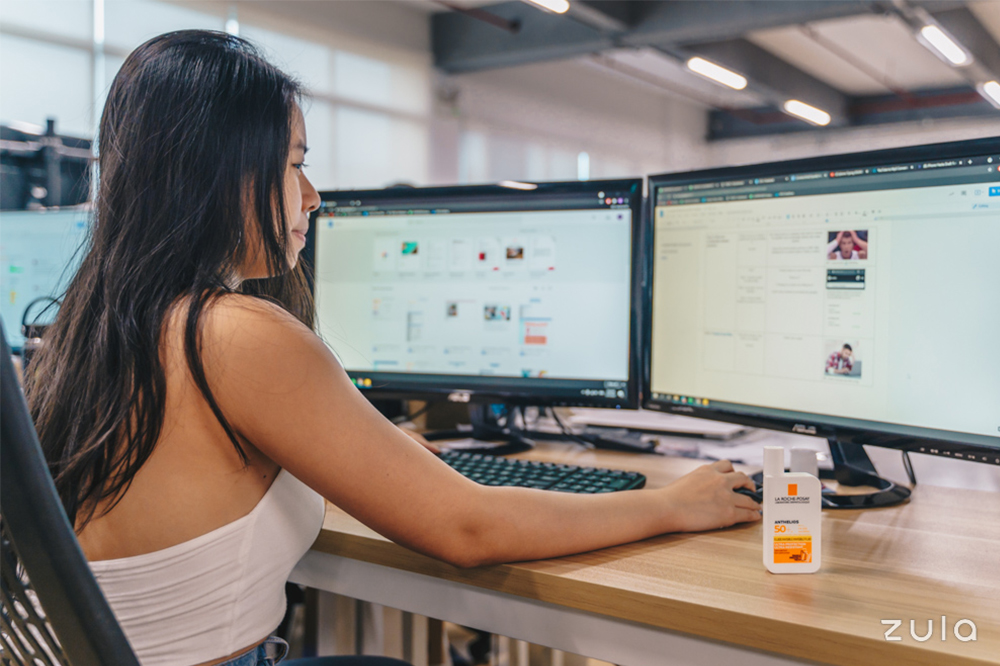 Chloe's face tends to break out more when she's on her period, yet she realised that this also happened less during the trial. Besides the bumpiness on her nose improving, her skin also feels less textured as compared to before. 
Regardless of the temperature in an air conditioned room during work-from-home hours or going out in the sun, Chloe claims that her skin would feel so dry that it was "crispy af ". Now after using the sunscreen, Chloe's skin feels more hydrated.
Final thoughts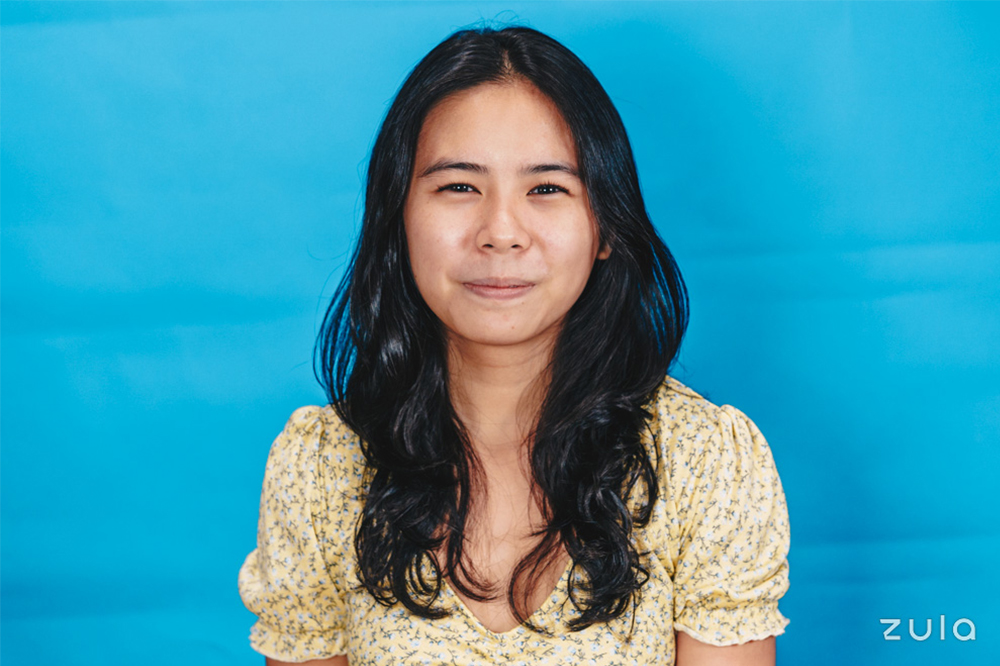 After Chloe used La Roche-Posay's Anthelios Suncare every day for 2 months, she's now convinced of the sunscreen's efficiency in protecting her skin from skin damage, which was one of her biggest skincare concerns. She also has not experienced any acne breakouts since the start of using the sunscreen for the second month, due to the sunscreen being non-comedogenic aka ensuring her pores are unblocked.
While most people may think that sunscreen is only for outdoor use, perhaps because it's called "sun " screen, Chloe realised that this was just a myth. This trial served as a wake-up call to her that sunscreen should be a key part of our skincare routine, just as much as facial cleansers are to most people. As we're constantly exposed to UV rays whether we're indoors or outdoors, our skin has to be protected all the time. 
What easily impressed Chloe was how the product protected her skin while also keeping her acne at bay— easily killing 2 birds with one stone. Now she's more determined to keep to this new skincare routine she found to continue improving her skin condition.
Adding La Roche-Posay Anthelios Suncare To A Basic Skincare Routine
While many of her peers are into complicated 10-step skincare routines, Chloe doesn't have the dedication to go through all these with her busy schedules. Within just 2 months of using La Roche-Posay Anthelios Suncare daily, she achieved positive results with more radiant skin.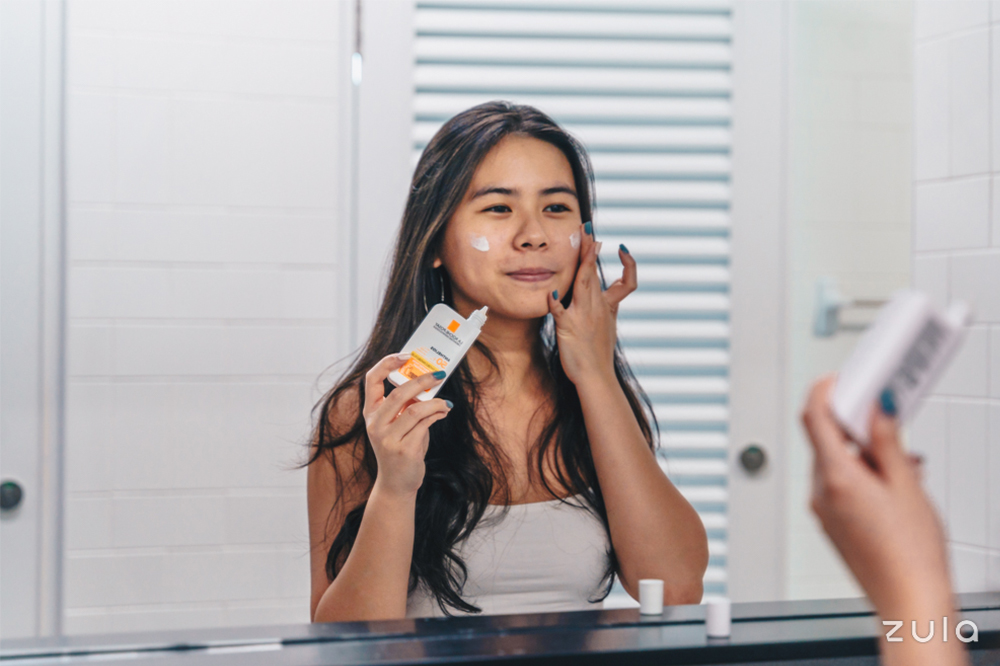 As work-from-home remains a default, there's no better time to start building a new skincare habit, which doesn't even have to take long. The Anthelios Invisible Fluid gets absorbed within a minute, so you can quickly move on to your next skincare step.
No need to worry about any greasy feeling or white marks from using La Roche-Posay Anthelios Suncare either, as it has an invisible lightweight texture and is ultra-resistant to sweat, water and sand.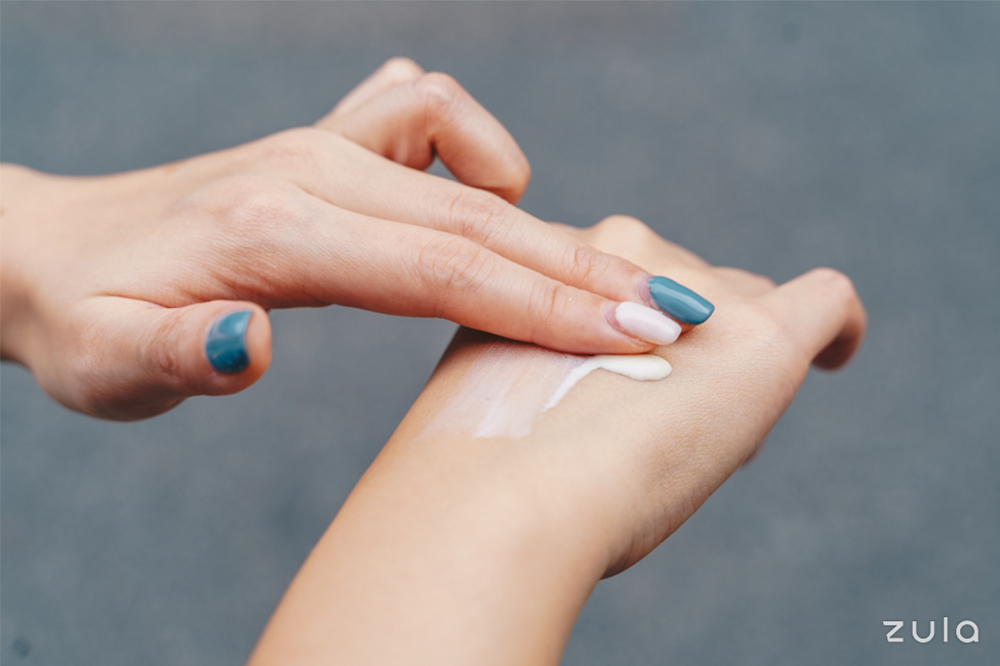 Like a superhero's hidden strength, La Roche-Posay Anthelios Suncare is equipped with Anthelios Invisible Fluid SPF50+ PA++++ to take down the evil forces of UV-induced skin damage. This is achieved through its highest broad spectrum UVA UVB protection that is also gentle on the skin and eyes— perfect for any skin types, especially if you have sensitive skin.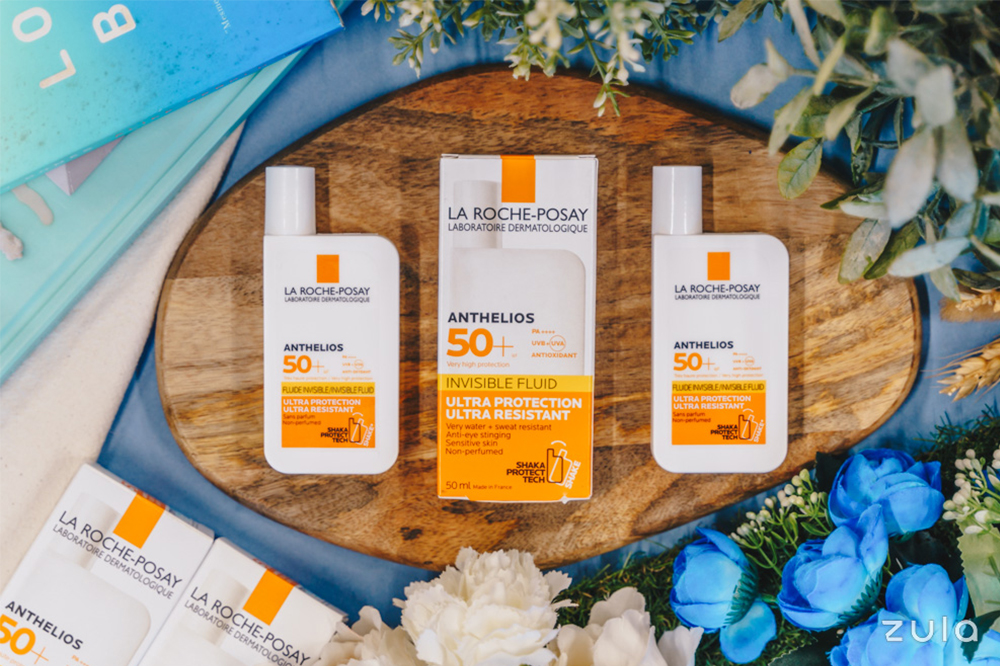 Though Chloe had her doubts at first, she's excited to have finally found a skincare product that's value for money. "I was complacent lah. I now realise sunscreen is very important and I will be more mindful of this moving forward when I add it to my skincare routine", Chloe shares.
If you're looking for a go-to sunscreen to use daily, boost your skincare routine with La Roche-Posay Anthelios Suncare. Take on the challenge of using sunscreen every day yourself and feel the difference in your skin. Made up of 100% organic filters, you don't have to worry about the safety of marine life either when you take a dip at Palawan beach or East Coast Park.
Sunscreen shouldn't only be used when you're out in the sun, as the skin benefits it brings are more than just preventing sunburns. There's no easier way to start on your journey to become a skincare junkie than with this simple and single step of daily suncare.
This post was brought to you by La Roche-Posay.
Photography by Kenneth Chan.