Tamagotchi On 2019 Relaunch
Children of the '90s rejoice: Our favourite electronic pet, the Tamagotchi, has gotten a relaunch in 2019: Tamagotchi On.
Let's catch you up if you are too young to remember what Tamagotchi is. Launched in 1996, Tamagotchi took the world, including Singapore, by storm. It is an egg-shaped device displaying a digital pet that the "owner" can feed, grow and take care of, just like a real pet.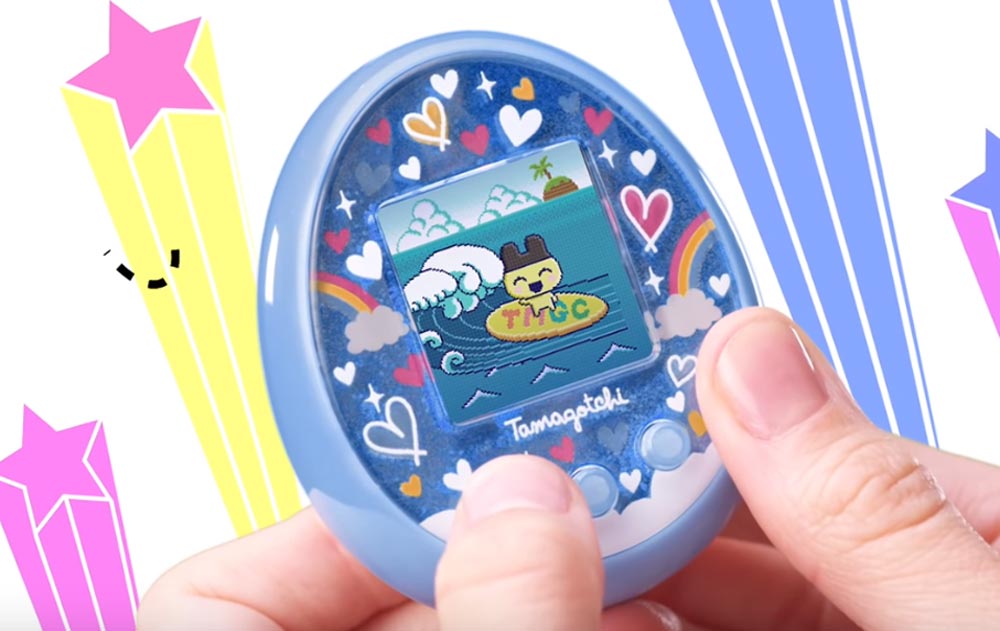 Source
Tamagotchi is a precursor to Digimon (virtual pets that could battle with each other) and the popular smartphone game Neko Atsume (Cat Collector).
Tamagotchi were sold out all over the island the first time around. I remember begging my parents for one, but was denied it because it would "distract me from my homework."
However, the '90s child in me is rejoicing, because I now get a second chance to have my very own electronic pet device. Best of all, it comes in full colour to rival my smartphone apps and games.
Added features
To make Tamagotchi relevant again, its creator Bandai has added new features. The refreshed Tamagotchi On allows you to  shop and build your own collection of toys and wares. More excitingly, it can travel, and also fall in love and get married.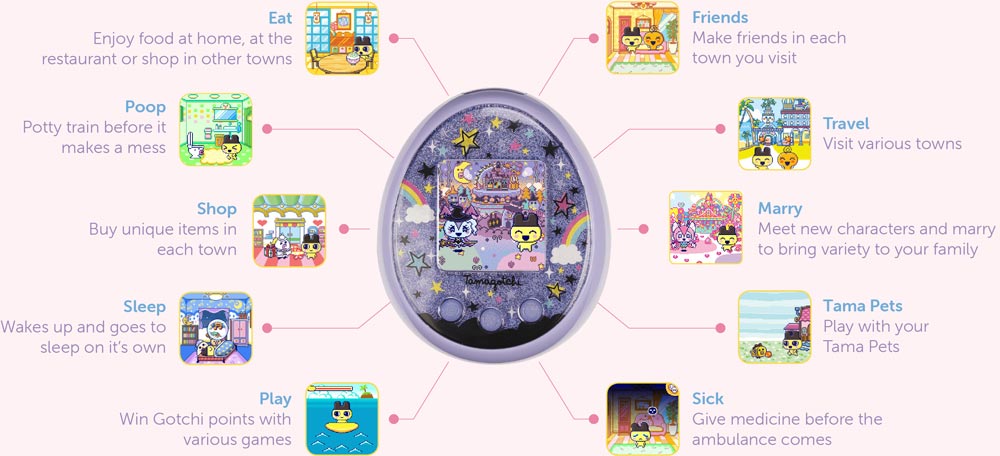 Source
After marriage comes reproduction. The Tamagotchi On lets you build your own virtual pet dynasty and create generations of children until you get sick of the toy.
Of course, the Tamagotchi On needs to catch up with the times, so the chunky device is also Bluetooth-enabled and comes with a smartphone app that allows for greater interactivity.
The Tamagotchi On can also connect with another Tamagotchi On device so your pets can take photos together and go on a playdate.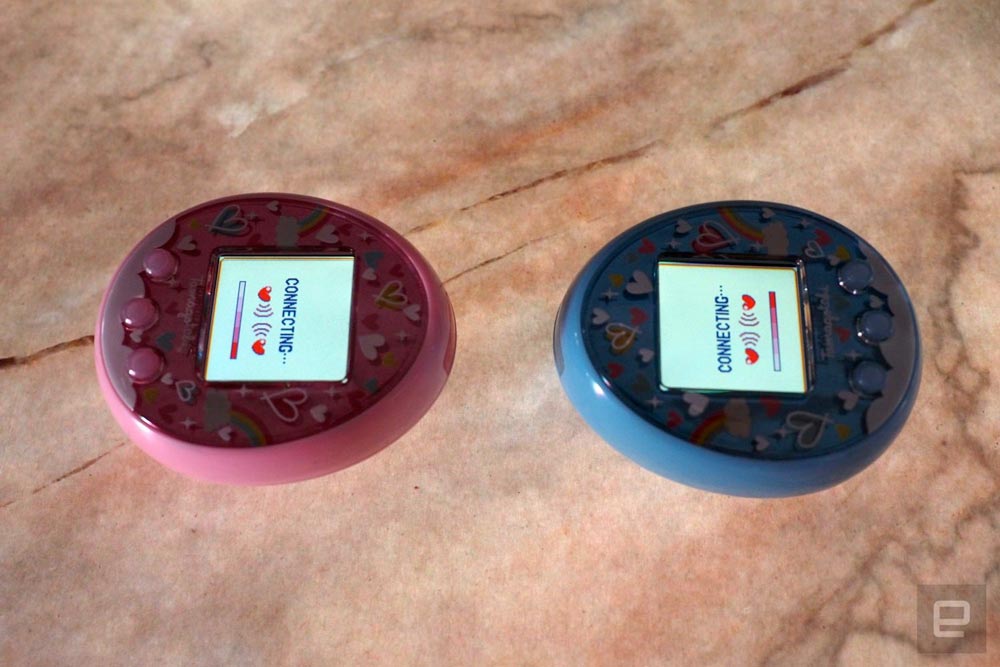 Source
Also read:
Feel and price
Amercian reviewers have expressed that the new Tamagotchi On feels rather hefty. Its size is to pack in a full-colour LCD screen, which makes owning it a more aesthetic experience.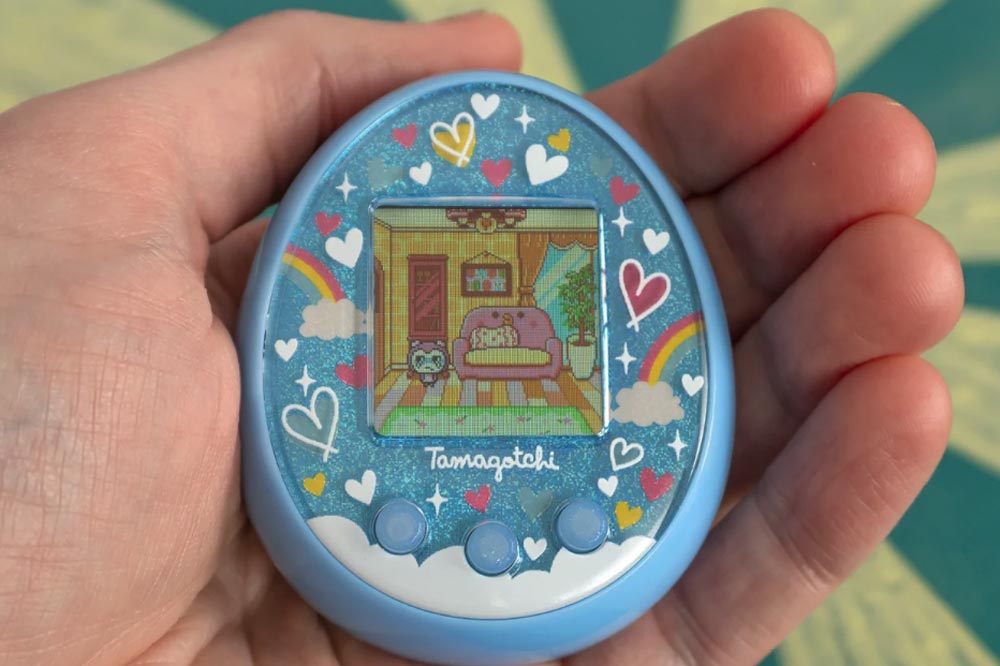 Source
It comes with a standard 3-button interface with 4 colour iterations: Fairy Pink, Fairy Blue, Magic Purple and Magic Green. So you can collect all 4 to form your own Tamagotchi-nfinity Gauntlet!

Source
However, it runs on 2 AAA batteries, which need to be changed out every 4-5 days. The engineers at Bandai should really rethink this in an age of rechargeable lithium-ion batteries and eco-friendly consciousness.
The Tamagotchi On will launch in USA on July 28 with a hefty price tag of US$60(~S$82). It will be sold on retailers like Urban Outfitters and Amazon, which ship to Singapore for an additional fee.
Tamagotchi On Relaunch In 2019 Resurrects Our '90s Childhood
As a Tamagotchi fan, I played the Tamagotchi smartphone game, which is available for free. Based on the reviews, it seems the interface and gameplay do not differ much from the smartphone game.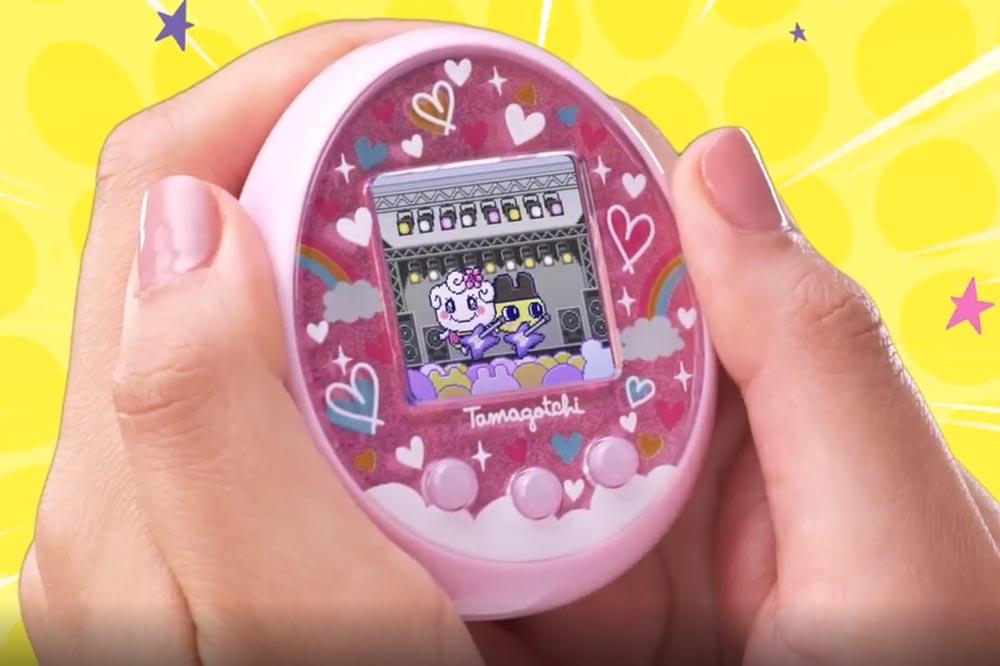 Source
Carrying the device around gives your outfit a nod to '90s fashion, but I doubt the gameplay is any more engaging than Candy Crush.
At a steep price of US$60, I would much rather spend my money on things that make adult sense like expensive coffee.
Its usage of AAA batteries seems very out of touch with 2019 and clashes with my minimalist values. I suggest Bandai go back to the drawing board, because right now, it's more a Tamagotchi No.
Still, I totally enjoyed its TVC ad, which harks back to TV ads of toys like G.I. Joe and Polly Pocket from my consumerist '90s childhood.
Also read:
Cover image: Source