Unique Starbucks In Japan, Korea, Taiwan, Hong Kong and China
Reading about Singapore's new Tampines Starbucks might have excited the basic girl in you. We've compiled a list of 12 in popular Singaporean tourist destinations around Asia to add to your bucket list.
1. Hualien Container Starbucks, Taiwan
Address: 505 Section 1, Nanbin Road, Ji'an Township, Hualien County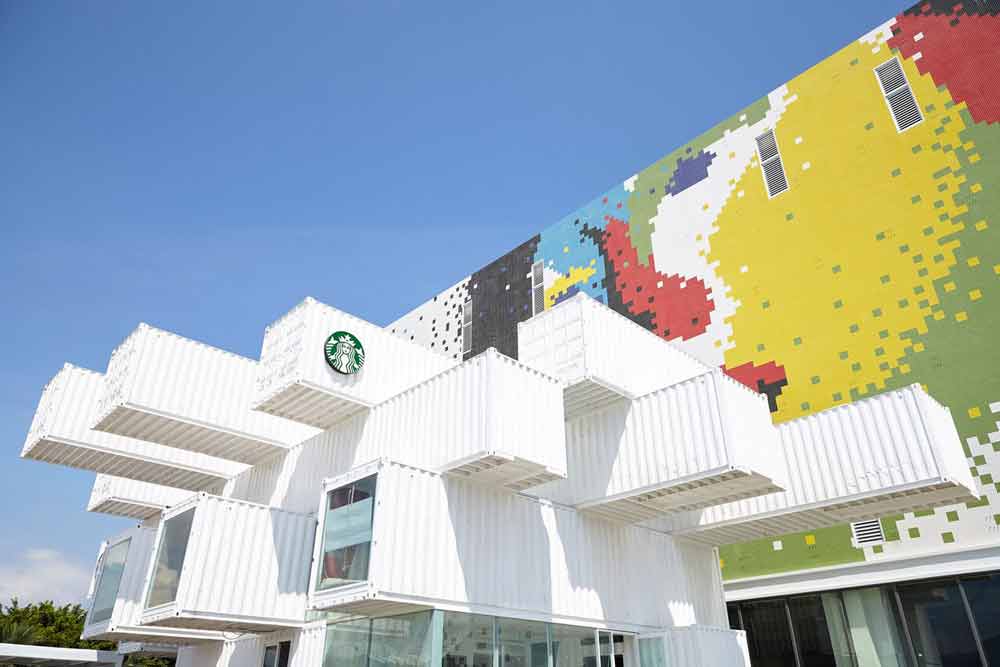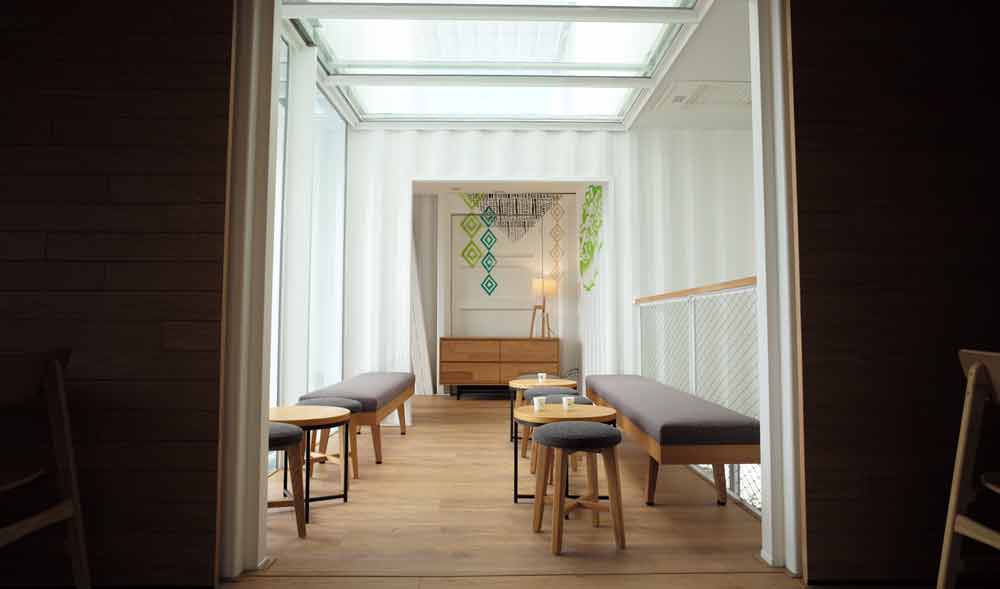 Hualien is a coastal town about 2.5 hours from Taipei by train. Hop by this spanking new establishment (opened September 2018) while you enjoy the sea breeze and cultural sights the city has to offer.
Built from recycled containers, the exterior is decorated with the cheerful colours of the Amis people; native dwellers in the region.
The simply decorated interiors against stark white walls provide Instaworthy backdrops at every turn.
2. Higashiyama Kyoto Starbucks, Japan
Address: 349 Masuyacho Kodaiji Minamimondori Shimokawara Higashi Iru, Higashiyama-ku, Kyoto 605-0826, Kyoto Prefecture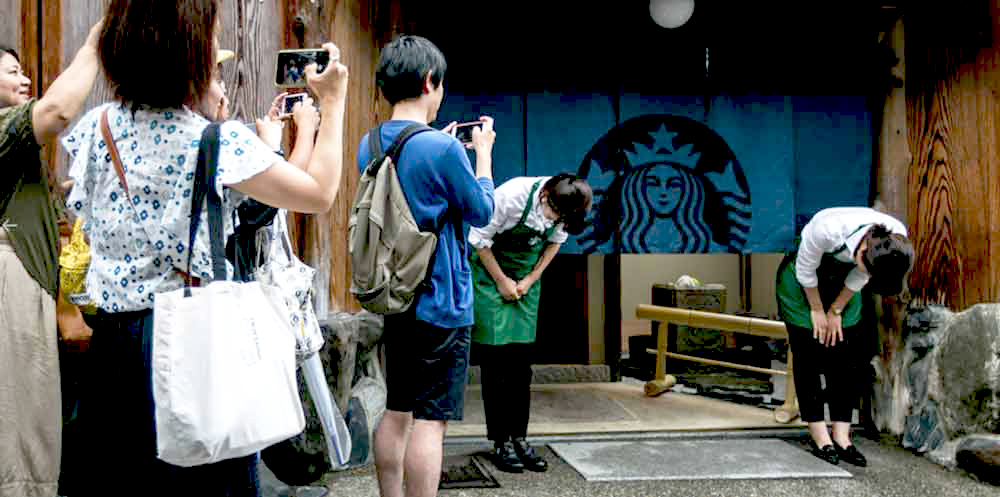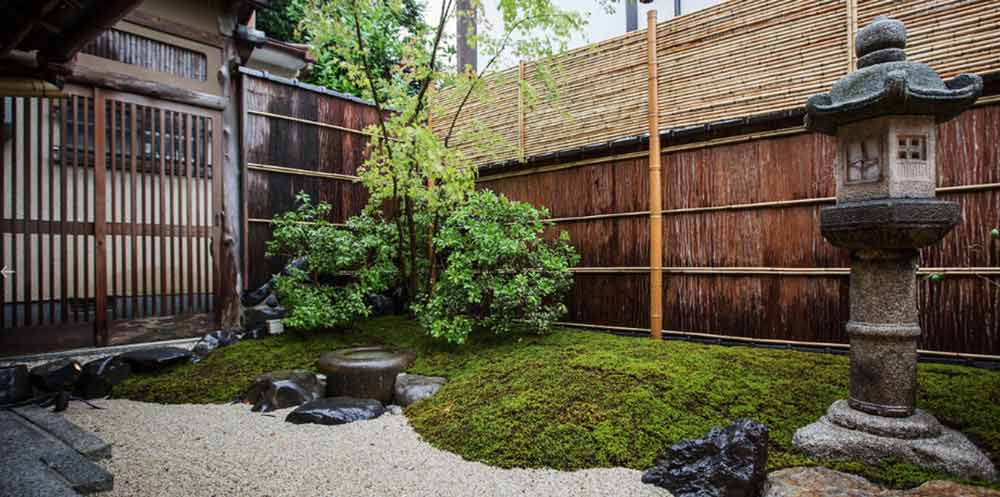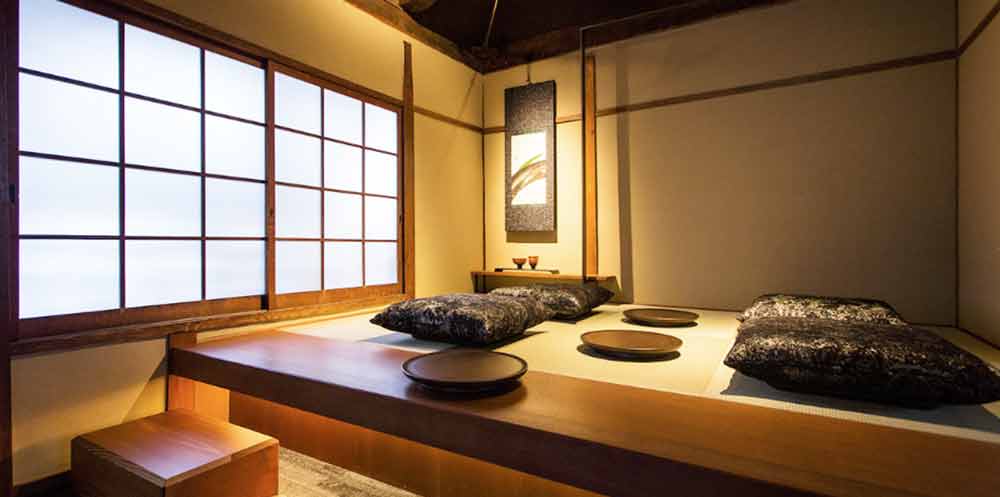 This Kyoto Higashiyama Starbucks is the mecca for caffeine addicts on a spiritual journey.
In place of the usual neon green sign, a matte blue noren 暖簾(cloth that hangs over entrances) is used to indicate it's operation as an American coffee joint; disguised as a Japanese teahouse.
Fun fact: in Japan, if the noren is down, it means the establishment is open for business.
Why don't we get to contemplate upon mossy zen gardens in Singapore's Starbucks?
3. Sanjo-Ohashi Starbucks, Kyoto, Japan
Address: 113 Nakajimacho, Nakagyo-ku, Kyoto 604-8004, Kyoto Prefecture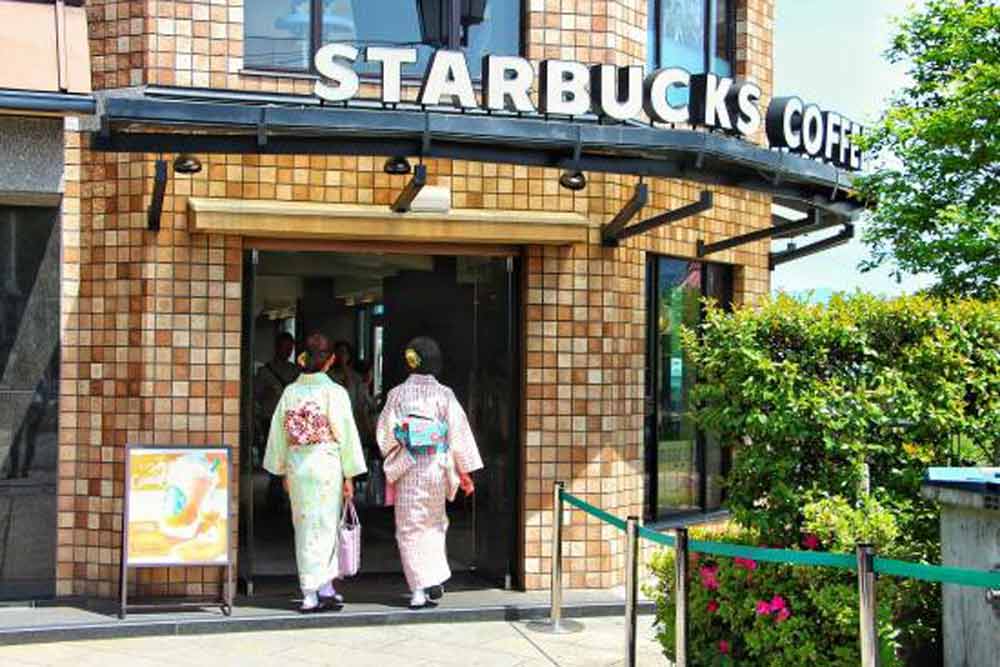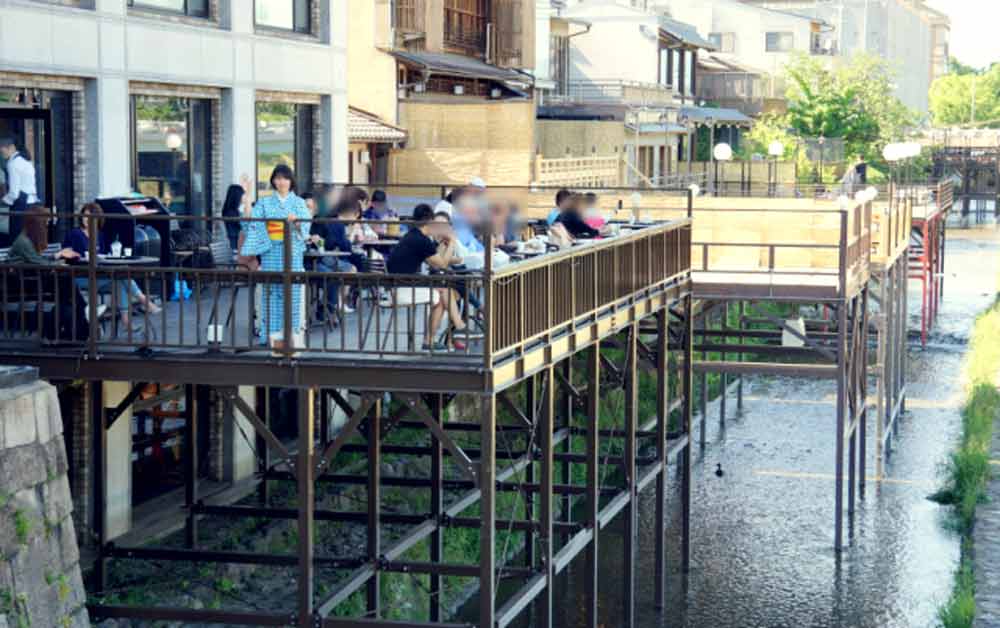 This Starbucks' uniqueness is its alfresco area on kawayuka 川床—raised wooden stilts over the river to keep guests cool in the summer.
Enjoy the sights of ladies in yukata strolling down the banks of the scenic Kamogawa River while you sip on your Frappuccino.
4. Shibuya Crossing Tsutaya Starbucks, Tokyo, Japan
Address: Tokyo Shibuya-ku 21-6 Udagawacho, QFRONT, Tokyo Prefecture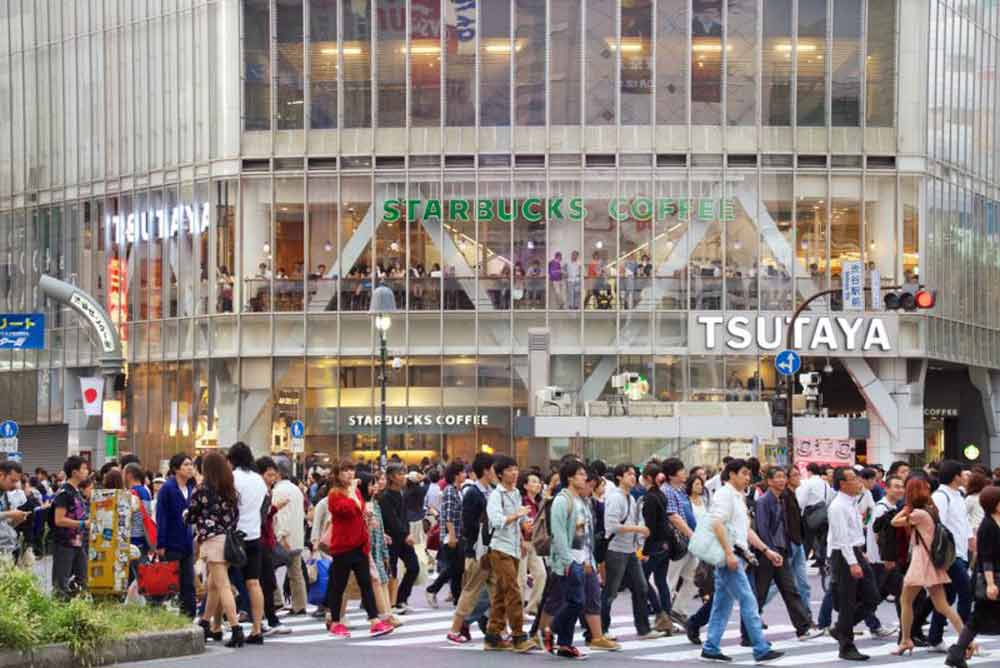 After you zen out at Kyoto's Starbucks, get your heart rate up again with caffeine by tossing yourself into one of the busiest intersections in the world—Shibuya crossing.
This joint is one of the highest grossing in the world. Enjoy seeing throngs hurriedly crossing the famous junction in typical Japanese orderliness from the second storey.
5. The Crystal Ratchapruek Starbucks, Bangkok, Thailand
Address: Ratchapruek Road, Bangkanun, BangkruayNonthaburi, 12 11130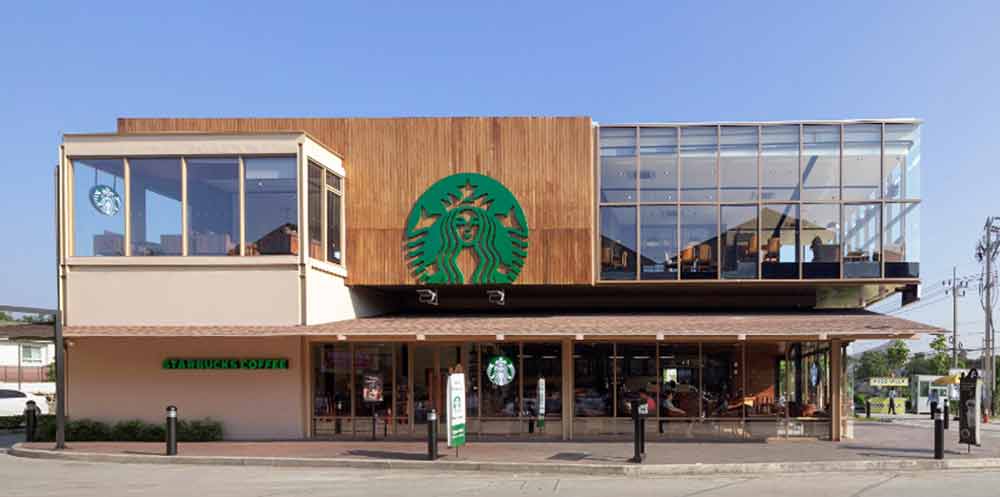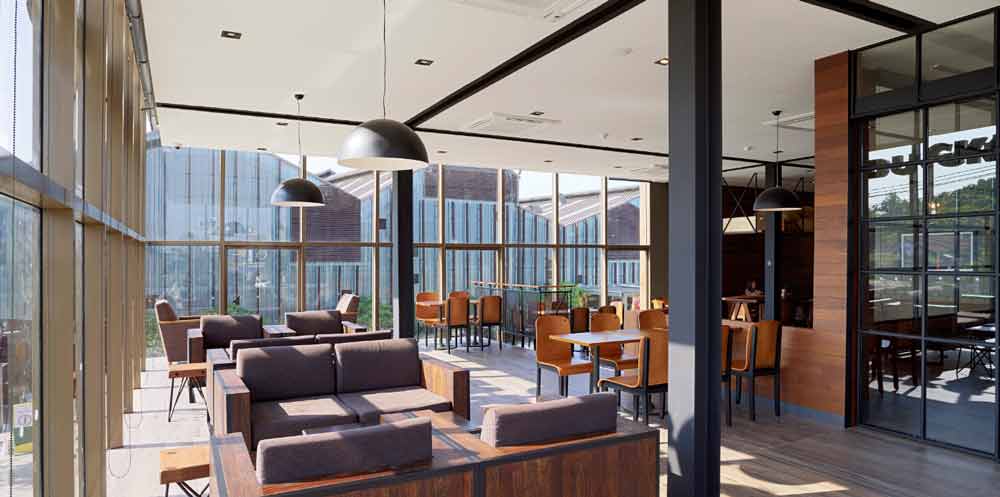 This gold-rimmed beauty reminds me of a New York City diner. It comes complete with a drive-thru if you are a busy gal with some vroom vroom horsepower. The second storey is a beautifully lighted space with the feels of a luxurious Hollywood mansion.
6. Beijing Fun Starbucks Flagship, China
Address: No.1-2 Qianmen Dajie, Beijing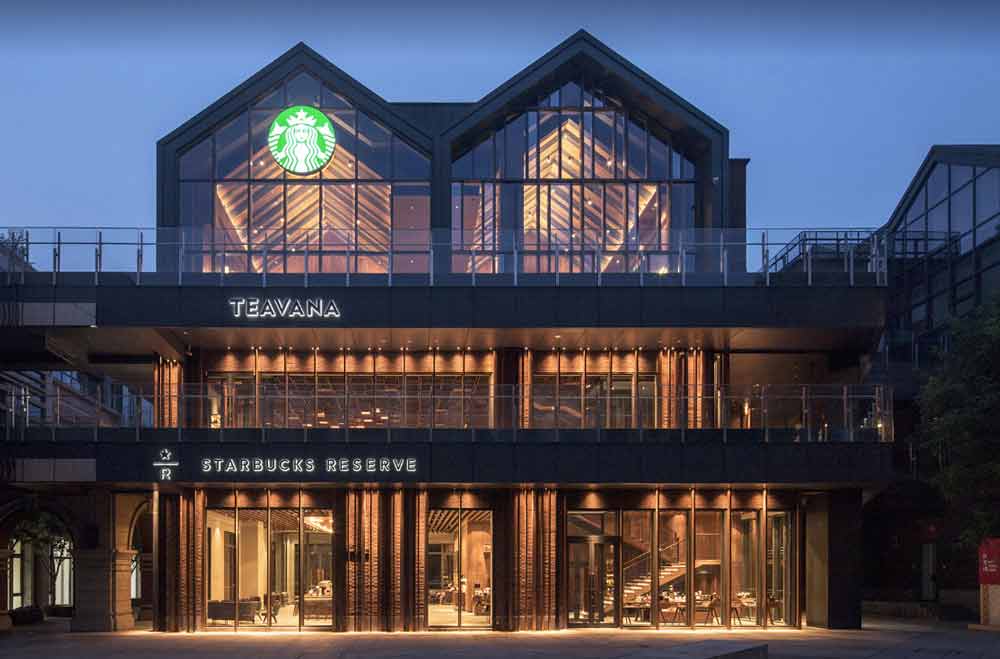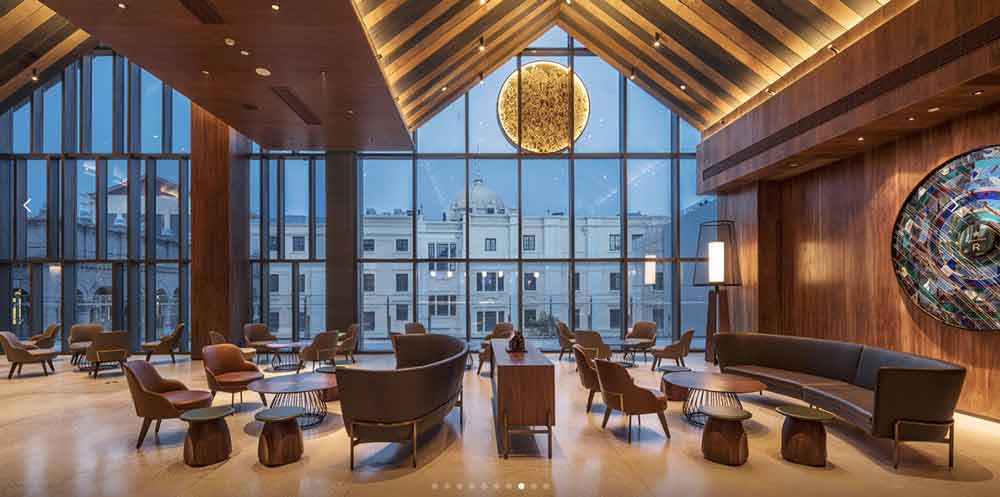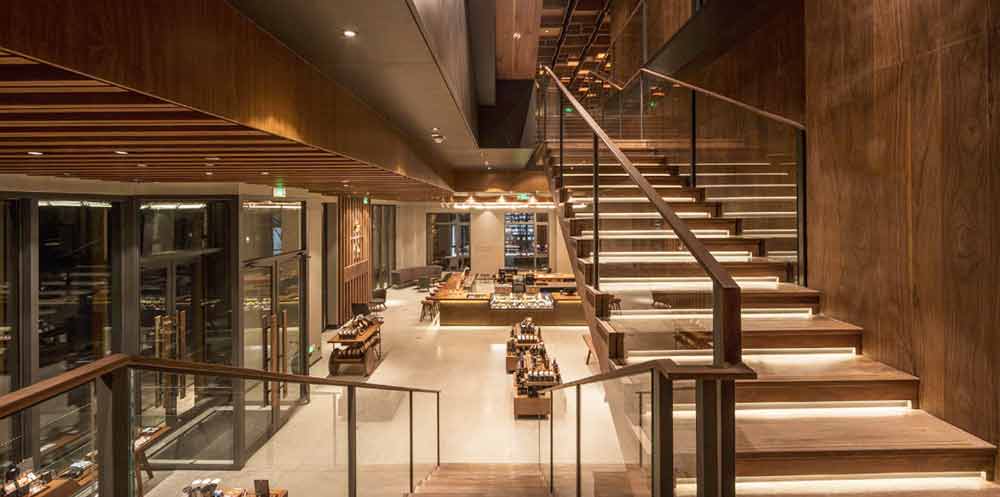 Holy heck, this three-storey wonder in the Forbidden City is fit for an Emperor. If you're tired of squeezy tables and poorly dressed students studying in Singapore's Starbucks, hop on a quick flight to China's capital.
This spacious architectural wonder will be a playground for coffee lovers.
7. Wuhan Tiandi Starbucks, China
Address: Lugouqiao Road Jiangan District Wuhan, 430000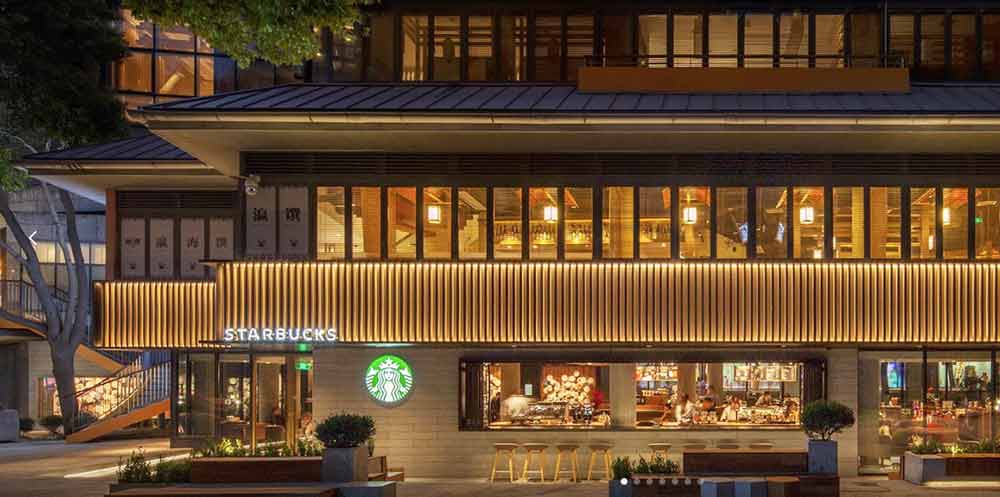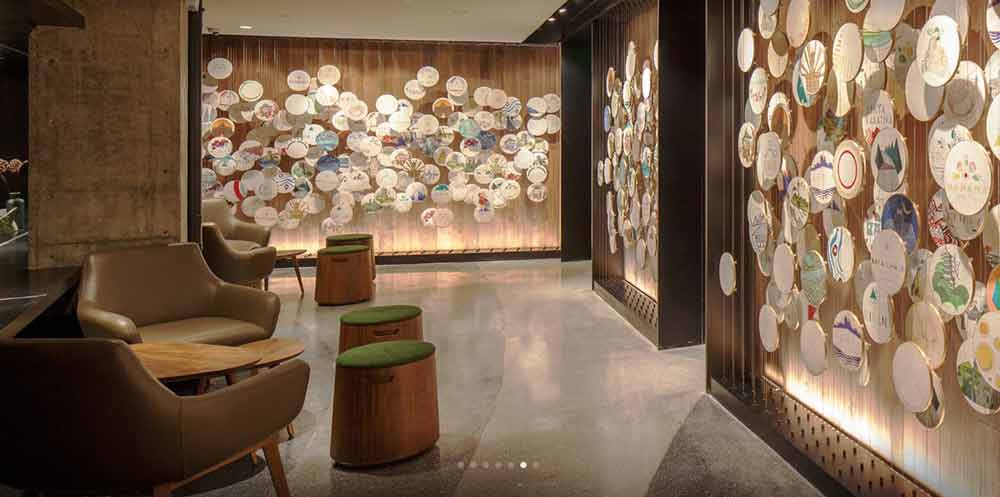 Get spirited away at the Wuhan Tiandi store.
It utilises East Asian design elements like corrugated, angular roofs to bring out the rich Chinese history in its Wuhan location.
The interior's suspended circular artworks make this cafe a museum experience when you sip on warm macchiato on a cool autumn's day.
8. Shenzhen Mix City Starbucks Flagship, China
Adress: 1881 Bao'an S Rd, CaiWuWei, Luohu Qu, Shenzhen Shi, Guangdong Sheng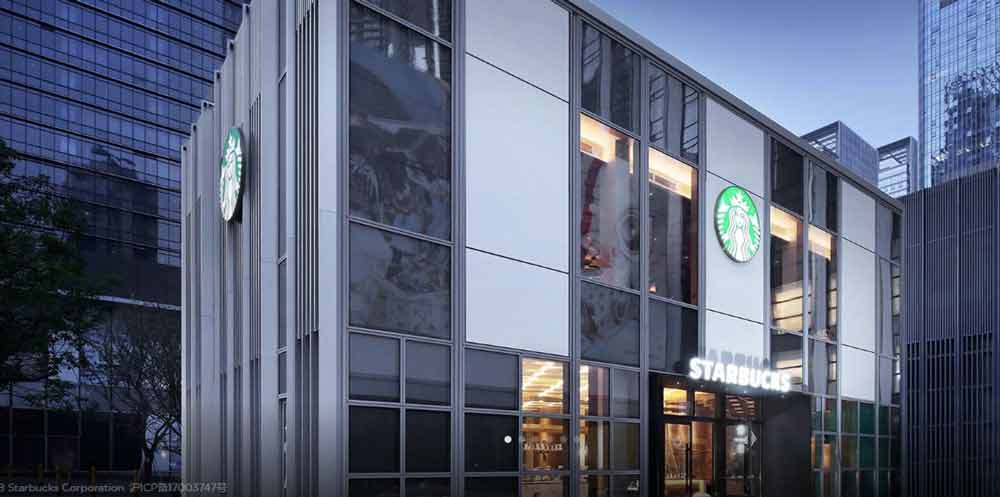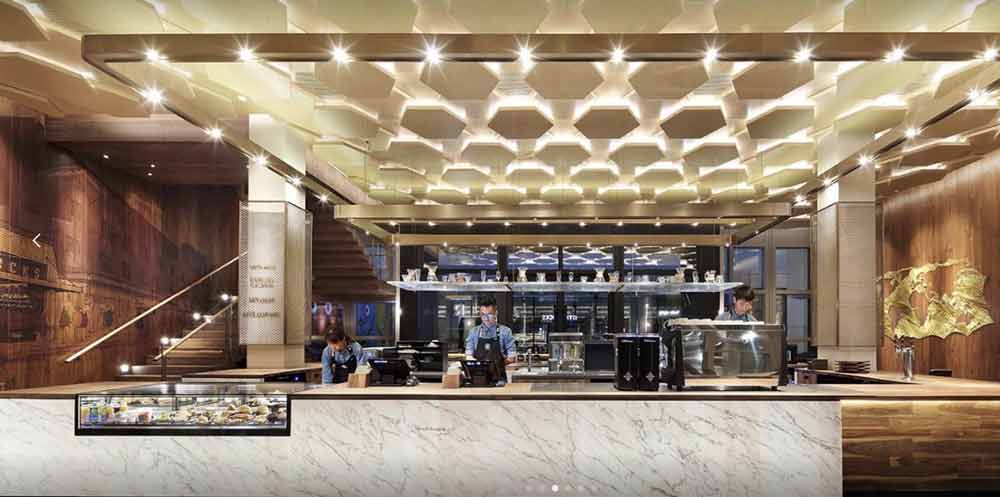 While the exterior is not spectacular, the interior feels like an exclusive six-star hotel lobby.
With a giant counter of white marble and a wood and gold palette, this Starbucks delivers a metropolitan glory that professionals will enjoy indulging their afternoon coffee in.
9. Bing Sutt Starbucks, Hong Kong
Address: Shop M2, Mezzanine Floor, Baskerville House, 13 Duddell Street, Central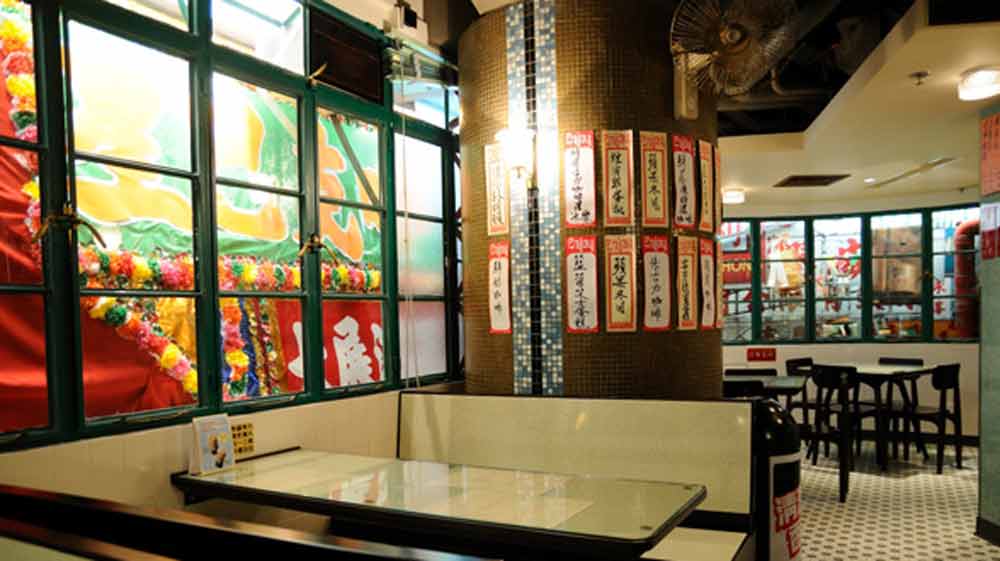 Bing Sutt translates to 'ice room' from Cantonese. The humble outlet is decorated to resemble a typical Cha Chan Teng (tea house) in Hong Kong. It boasts bird cages and Chinese characters on red plastic plaques.
You are able to order local delicacies like thick-cut butter bun and coffee egg tarts. The only question is: why not just go to a regular Cha Chan Teng?
Also read:

10. Sai Yee Street Mongkok Movie Themed Starbucks, Hong Kong
1/F & 2/F, Wai Kee House, 91 Sai Yee Street, Mongkok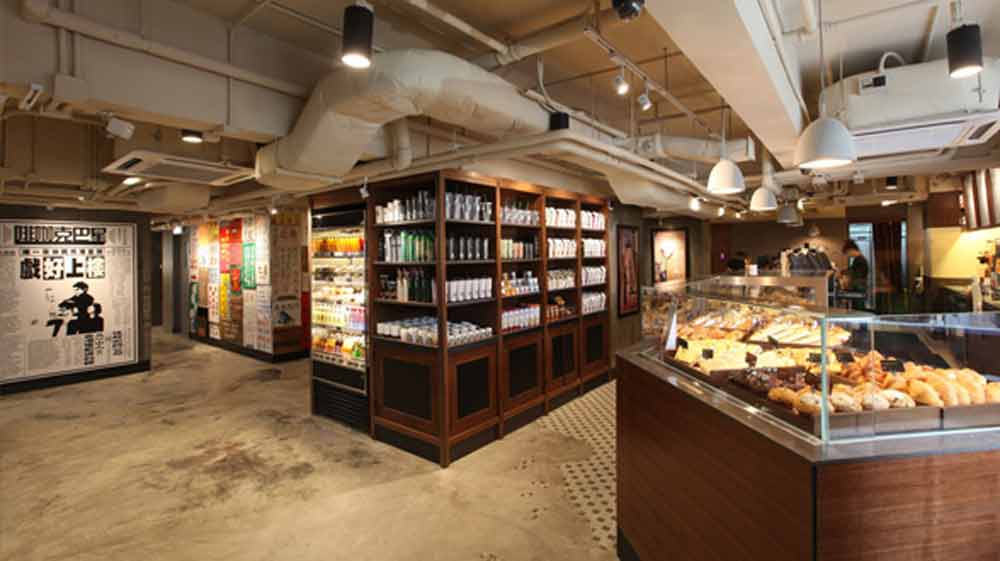 If you're a fan of Hong Kong movies, come be a fanboy in this movie-themed Starbucks. Some of the chairs resemble classic cinema seats for an immersive experience.
Plastered with vintage movie posters and graffiti, this joint often partners with Hong Kong Film Archive of Leisure and Cultural Services Department to run movie exhibitions. It's like a Cantonese Universal Studios, smaller and with bagels.
11. Jongno Store Starbucks, Jongro Tower, Seoul, South Korea
Jonggak Station Exit 1, Seoul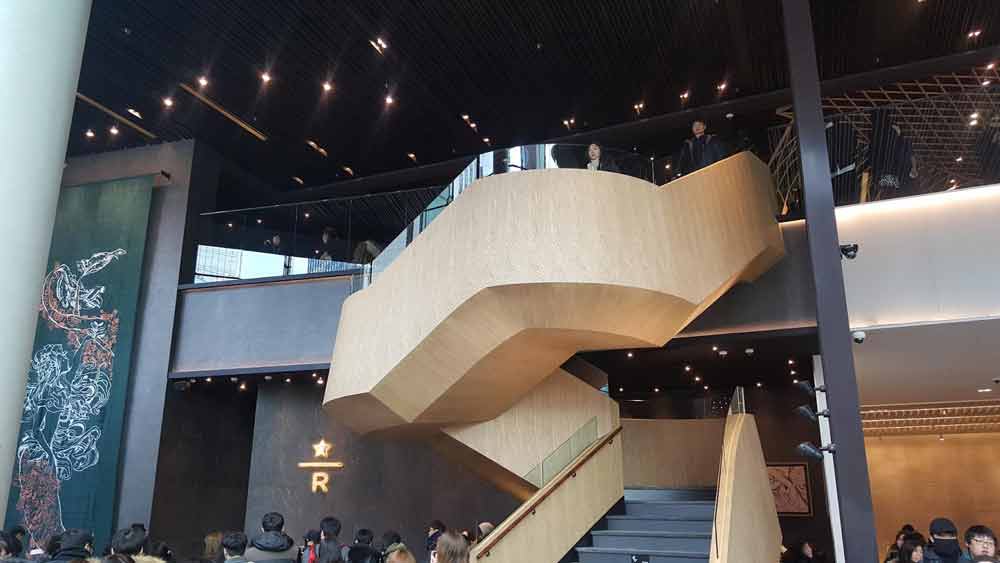 Besides K-pop and Kimchi, Koreans are crazy about coffee. No tour itinerary will be complete without a stop at the Jongro Tower's grand space, the biggest in Korea.
Watch cute couples cuddle or fight in their fashionable winter wear as you warm up to some hot mocha or Choux Cream Latte, available only in Korea.
Anyeong!
12. Jeju Starbucks, South Korea
293-9, Seogwi-dongJeju-do District Seogwipo-si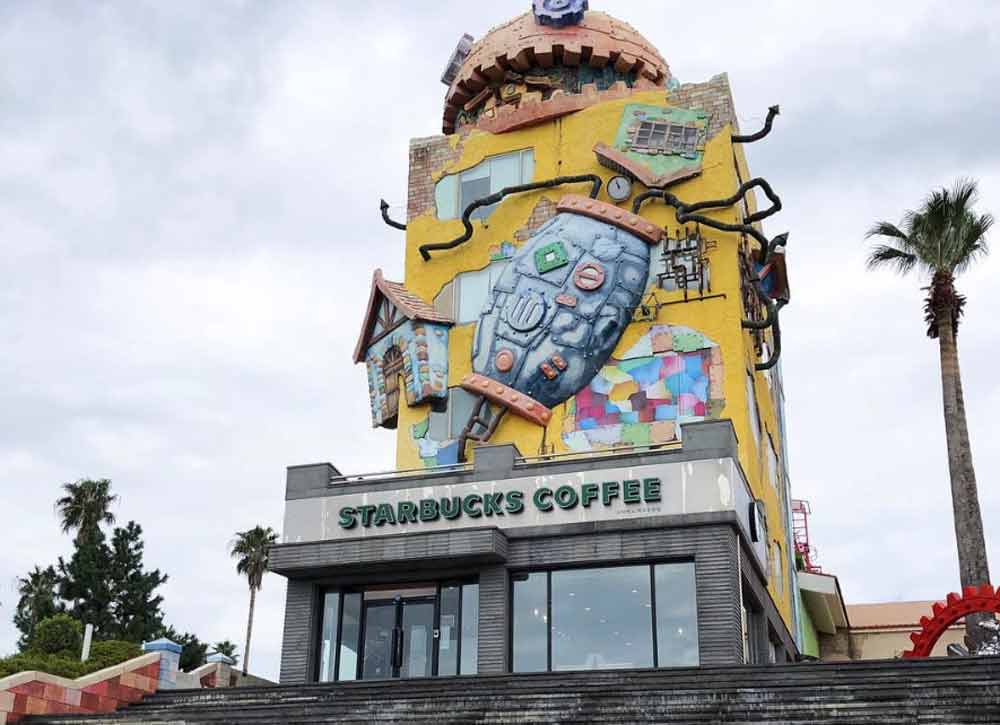 Is this Starbucks a tragically cute robot or is it Howl's Moving Castle that had too much caffeine? Either way, this pleases the child in all of us.
Treat yourself to exclusive Jeju Hoji Tea Cream Frappuccino or Jeju Tangerine Green Tea, fresh from this idyllic island. But you didn't go there if you didn't take a photo with the adorable exterior.
Extraordinary Starbucks In Asia
Sometimes, I go on holiday just to do the same things I do in Singapore—good food and a coffee break.
With this curation of unique Starbucks, your itinerary just got a whole lot more exciting without venturing far from the comfortable ambience of our favourite coffee chain.
Also read: