Beauty Brands That Support Gender Fluidity
Chanel Beauty is launching its first makeup line designed for men, diving into the swelling pool of men's grooming.
Dubbed Boy de Chanel, the name isn't just a riff on gender; it's allegedly inspired by Boy Capel, Gabrielle 'Coco' Chanel's lover and muse. The range will include three products decked in black: a tinted fluid foundation, an eyebrow pencil, and a matte moisturising balm.
Launching 1st September, the brand will be testing the waters in South Korea—an ideal first location as it has the highest demand and advancement in terms of makeup for men.
Shaking up the beauty scene
The premise of the line, Chanel declares, is that "beauty is not a matter of gender, it is a matter of style." This growing sentiment in the industry is reflected in notable brands such as Maybelline and Covergirl having male beauty gurus Manny Gutierrez and James Charles respectively as spokespeople.
Chanel's the only prominent brand with a dedicated makeup line at the moment, another home run for the luxury fashion house, since it was founded upon challenging societal norms.
So while we pray Ezra Miller joins Korean actor Lee Dong Wook as the face of Boy de Chanel, let's take a look at existing beauty brands which favour the individual rather than gender.
1. ASOS Makeup
From left to right:
ASOS Makeup Liquid Eye Liner in Vigilant (S$10.79)
ASOS Makeup Chubby Highlighter Stick in Tenacious (S$16.19)
ASOS Makeup Dual Glitter Pot in Nonchalant (S$11.69)
Last September, ASOS announced the launch of its Face + Body platform. Instead of placing the beauty category in only the women's section, the Face + Body range straddles both men's and women's.
That paved the way for its eponymous line of makeup, packaged pretty in a mostly Millennial pink palette. We're particularly fond of their liquid eyeliners, gel highlighter sticks, and fun glitter pots—all of which are under S$25.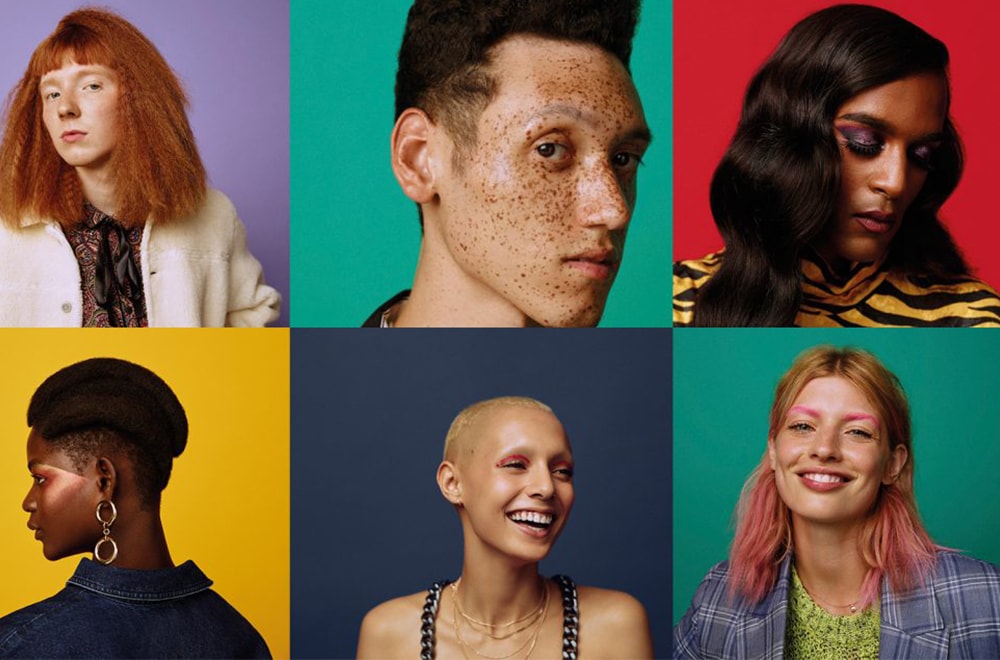 ASOS also released one of the best beauty campaigns we saw in 2017, highlighting the importance of inclusivity and individuality with faces such as Richie Shazam, Jazelle, and Chen Liu, all covered in mismatched eye makeup, huge hand-drawn hearts, neon brows, and more.
2. Milk Makeup
From left to right:
Milk Makeup Holographic Stick in Stardust (~S$38, ships from U.S.)
Milk Makeup Lip + Cheek in Perk (~S$33, ships from U.S.)
Milk Makeup Blur Stick (~S$49, ships from U.S.)
Milk Makeup has always challenged gender norms by casting both men and women in their campaigns. But when they celebrated their bestselling Blur Stick—a universal face primer that blurs pores and lines—they turned it up a notch.
The brand partnered with men's beauty site Very Good Light for their 'Blur the Lines' ad, which featured seven models and personalities discussing their personal relationship with gender as they used the Blur Stick primer.
Apart from a soft-focus complexion, we're partial to a holographic sheen too, which is why their pink highlighter stick is on our wishlist, alongside their moisturising, multi-tasking Lip + Cheek tint.
3. Fluide Beauty
From left to right:
Fluide Beauty Glitter in Bronze (~S$16, ships from U.S.)
Fluide Beauty Liquid Lipstick in Poodle Beach (~S$22, ships from U.S.)
Fluide Beauty 7-Free Polish in New Year's Revolution (~S$21, ships from U.S.)
With a collection of colourful, cruelty-free makeup for all gender pronouns, identities, and skin tones, Fluide Beauty's current lineup has three categories of products: liquid lipsticks, nail polishes, and of course, loose glitters.
The brand offers representation for queer people in beauty too, with gender non-conforming performer Freckle as their brand ambassador, and a campaign and video series created by an all-queer crew.
Since giving is central to the brand's mission, five percent of their profits are donated to the Sylvia Rivera Law Project and LGBTQ healthcare center Callen-Lorde.
Also read:

4. JECCA Makeup
Above:
JECCA Makeup Correct & Conceal Palette (~S$29, ships from U.K.)
Designed specifically with the transgender community in mind, London-based founder and makeup artist Jessica Blackler's first and only product launch thus far is a do-all concealer.
The matte-finish, full-coverage Correct & Conceal Palette doesn't just mask blemishes; it hides blue tones from beard shadows, heavy under-eye discoloration, birthmarks, and more.
The brand is working to expand its six shade range. To Jessica, celebrating the LGBTQ community is a year-round endeavour, and five percent of all profits are donated to the charity Supporting Stonewall.
5. NOTO Botanics
From left to right:
NOTO Botanics Hydra Highlighter (~S$34, ships from U.S.)
NOTO Botanics Multi-Benne Stain in Oscillate (~S$36, ships from U.S.)
Created by celebrity makeup artist Gloria Noto, NOTO Botanics is a line of unisex serums, oils, mists, highlighters, and tints, that are bucking traditional beauty standards.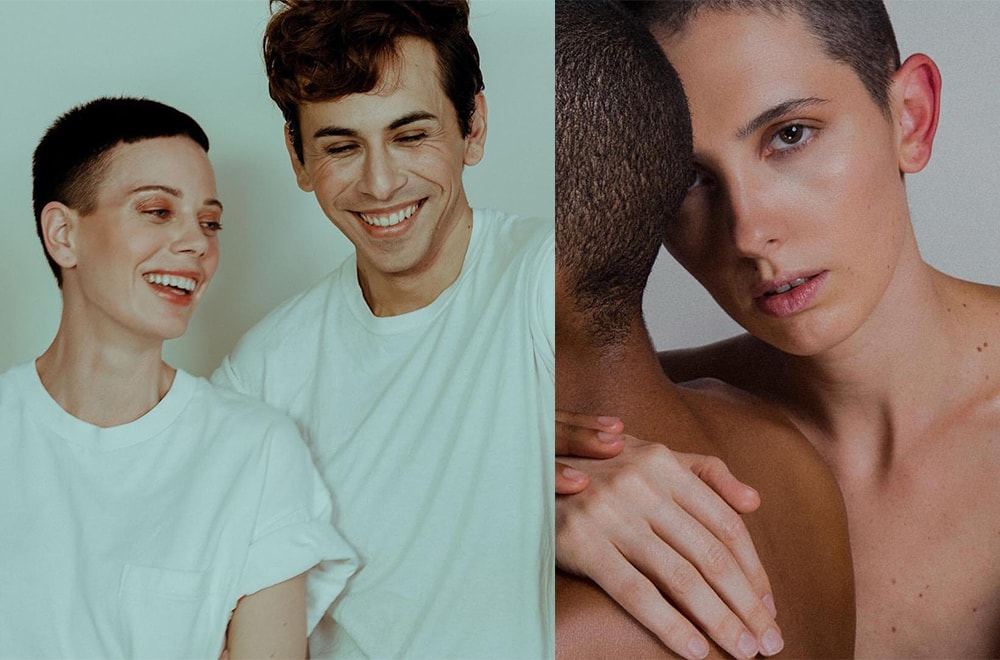 Each product is formulated with natural, organic ingredients, and the results are both vegan and cruelty-free. To Gloria, our skin requires a lot of the same things, regardless of gender, which explains the brand's simple formulations using clean ingredients.
NOTO's hero product, the Hydra Highlighter, is made with moisturising oils, coconut, and shea butter, along with soothing lavender, and dashes of mica for shimmer. Their colour stains are also a huge hit because of their versatility.
6. 3INA Makeup
From left to right:
3INA The Cream Eyeshadow in 303 (S$26)
3INA The Color Mascara in 104 (S$23)
3INA The Longwear Lipstick in 505 (S$23)
A glimpse at 3INA's social media platforms and campaigns, and you'll quickly learn that this London-based beauty brand is one for self-expression across all genders. The brand's founders, Pablo Rivera and Mark Eve, are advocates for experimentation when it comes to makeup.
Known for its disruptive approach to makeup, the brand offers bold, punchy colours, coupled with a wide variety of shades for various skin tones. Even better, they're all tagged with wallet-friendly prices.
While the brand is working to feature more individuals across the gender spectrum, friend of the brand and model Patrick Dooley has starred in previous campaigns, such as #LoveYourFaceDay for Valentine's and Brow-mance.
Unisex Makeup Brands
From queer founders to labels that champion gender fluidity in their campaigns and branding, these are the unisex makeup brands to know about.
Also read: