Vintage Shops In Singapore
People often associate vintage goods in Singapore with a hefty price tag, especially when it comes to vintage fashion. In this list of 11 vintage shops in Singapore, we explore places to cop affordable old-school streetwear and sportswear that retail as low as $2!
Physical shops
1. EMPIRE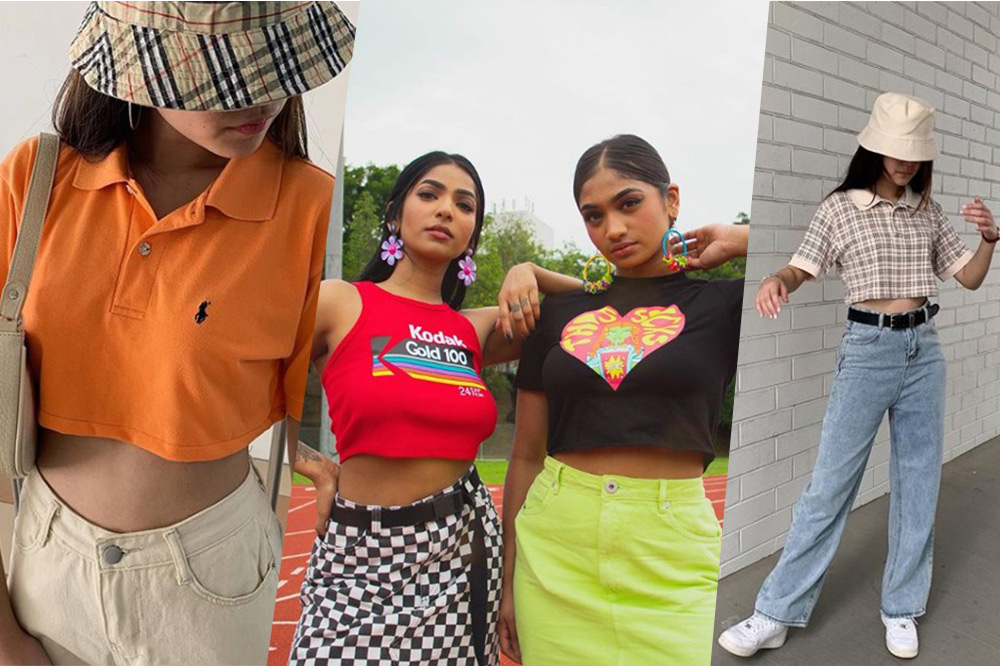 Source
EMPIRE is every lady's one-stop shop to get hipster items from head to toe. It carries vintage fashion statement pieces and specialises in reworked or upcycled pieces. You'll even find labels such as Polo Ralph Lauren and Burberry here. 
Starting at $20, items can be purchased directly from the physical shop or via Instagram DM with a flat rate of $1.50 for postage. The tiered pricing system allows you to enjoy more bang for your buck, as each piece purchased becomes cheaper when you buy more.
Address: 150 Orchard Road, #05-10, Orchard Plaza, Singapore 238841
Opening hours: 3pm to 8pm (Wednesdays to Sundays) | Closed on Mondays and Tuesdays
Facebook | Instagram (statement fashion pieces) | Instagram (reworked pieces) 
2. Loop Garms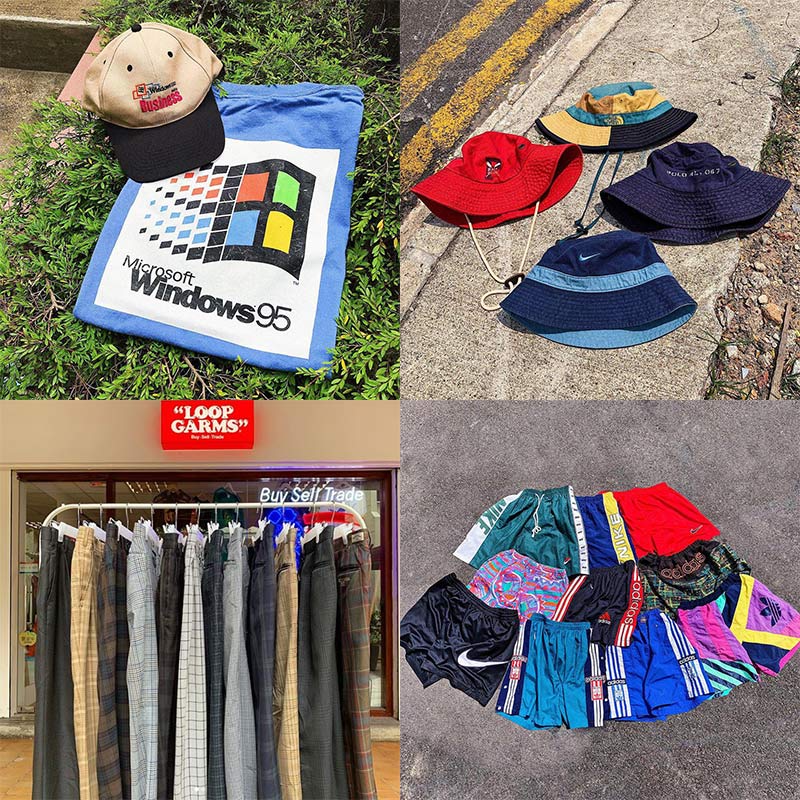 Source
Loop Garms has garnered over 14.5k followers on Instagram thanks to its wide variety of vintage apparel in mint condition. With new and secondhand goods imported from across the world, it's a haven for those who fancy the athleisure aesthetic.
Starting from $20, you'll be able to get yourself a vintage Nike jacket and a matching pair of sweatpants. Sneakers and headwear are available as well.
If you wish to make some money off your preloved vintage goods, you can consider selling them to the shop too.
Address: 635 Veerasamy Road, #01-148, Singapore 200635
Opening hours: 12pm to 7.30pm (Thursdays to Tuesdays) | Closed on Wednesdays
Instagram
3. EXIT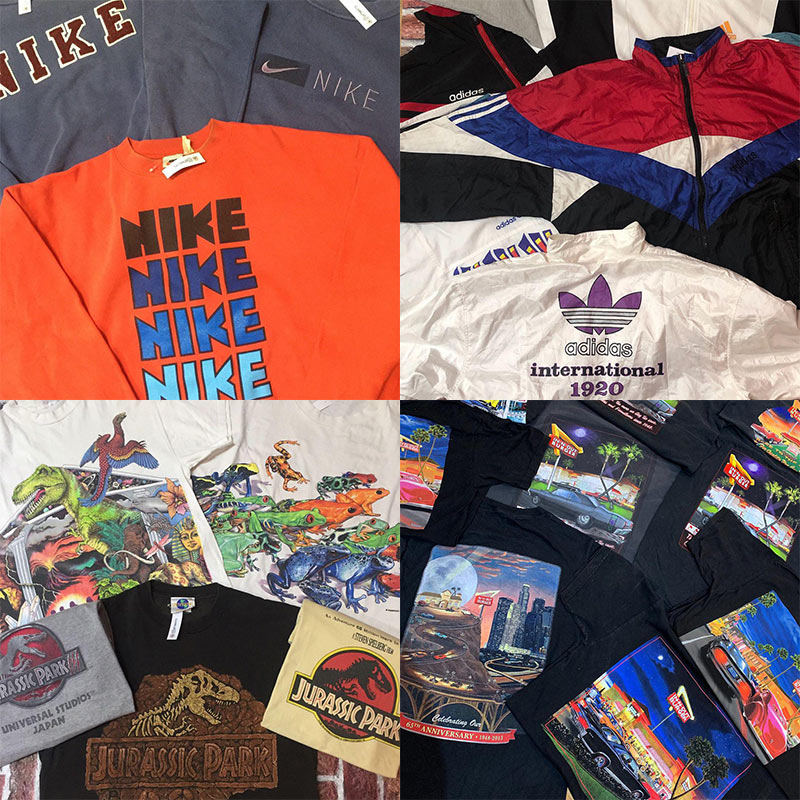 Source
Located in Queensway Shopping Centre, you'll find vintage tops, sneakers and accessories starting from $20 at EXIT. Think: Vintage Nike Swoosh tees, Harley Davidson graphic tees and Ellesse windbreakers.
It also hosts monthly events where selected vendors are invited to come together for a collaborative sale.
Its sister store, EXIT CO in Orchard Plaza, carries today's most hyped collections from Fila, Off-White and even the recent Guess x 88rising collaboration. Sneakerheads can also get their hands on the much-raved-about Nike Airmax 97, Adidas Ultra Boost Kith and many more at the store.
Address: 1 Queensway, #01-17, Queensway Shopping Centre, Singapore 149053
Opening hours: 1.30pm to 8.30pm (Daily)
Instagram | Telegram
4. Retro Gate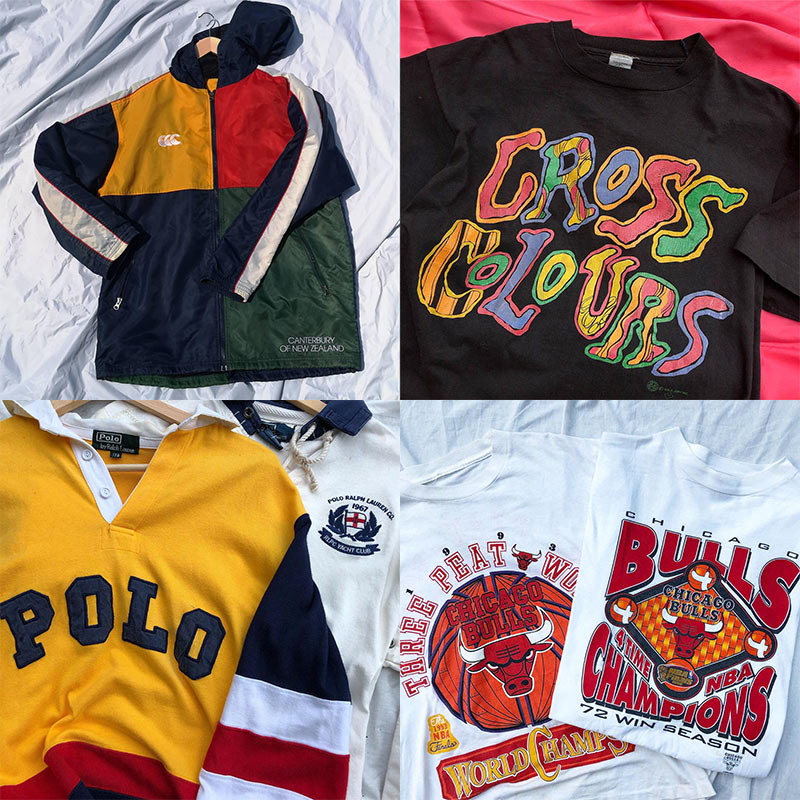 Source
Starting at $35, Retro Gate sells polo and rugby shirts from Polo Ralph Lauren, and jackets and windbreakers from Champion. If you're simply looking for graphic tees or sweaters, you won't be disappointed either. 
Exclusive items are put up for auction on its Telegram channel daily, typically starting at $25.
You can opt to make a purchase via Insta DM with a $10 postage surcharge. Alternatively, if you reserve your items via DM and collect your items in-store, you'll enjoy 10% off your next visit. 
Address: 5001 Beach Road, #04-16, Golden Mile Complex, Singapore 199588
Opening hours: 1pm to 8pm (Fridays to Tuesdays) | Closed on Wednesdays and Thursdays
Instagram | Telegram
5. Death Threads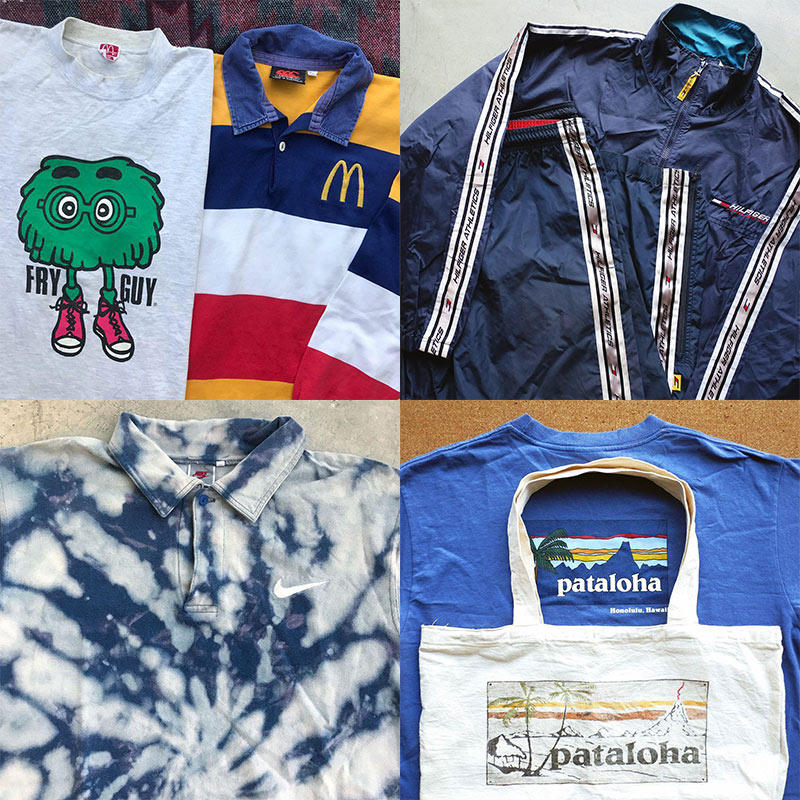 Source
Death Threads is a vintage shop that carries a wide selection of graphic tees, sweaters and jackets, starting at $30. Designs available range from recognised labels such as Patagonia to underrated indie ones. 
The shop operates on an "edition" system, where it curates monthly collections. This means it is only open seasonally, when a new batch of clothes arrives. Keep your eyes peeled on its Instagram page for updates. 
Its popularity is evident on its IG stories, where crowds of excited Gen Z collectors can be often seen forming a queue outside the shop even before it opens.
Address: 80 Playfair Road, Block A, #04-06, Kapo Factory, Singapore 367998
Opening hours: 12pm to 8pm (selected days per edition)
Facebook | Instagram 
6. The Corleone Market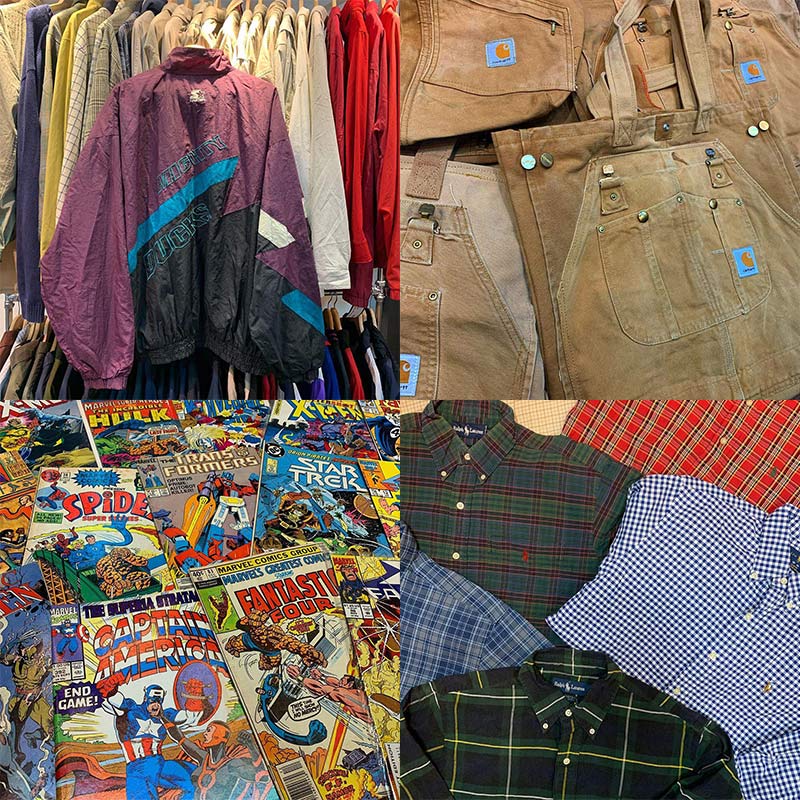 Source
If you're on the hunt for a vintage flannel or plaid shirt, The Corleone Market has you covered. This "American heritage and designer apparel" shop carries a wide range of checkered and plaid tops. 
Besides the above, it also carries polo tees, jackets, wallets, bags and even comics. Check out the repurposed Carhartt tote bags, which are stylish and sustainable to boot.  
Address: 1 Queensway, #02-37J, Queensway Shopping Centre, Singapore 149053
Opening hours: 2pm to 8pm (Wednesdays to Sundays) | Closed on Mondays and Tuesdays
Instagram | Telegram
Also read:
7 Thrift Stores In Bangkok For Cheap Secondhand And Vintage Shopping Beyond Chatuchak
Online shops
7. Lucky Chance Store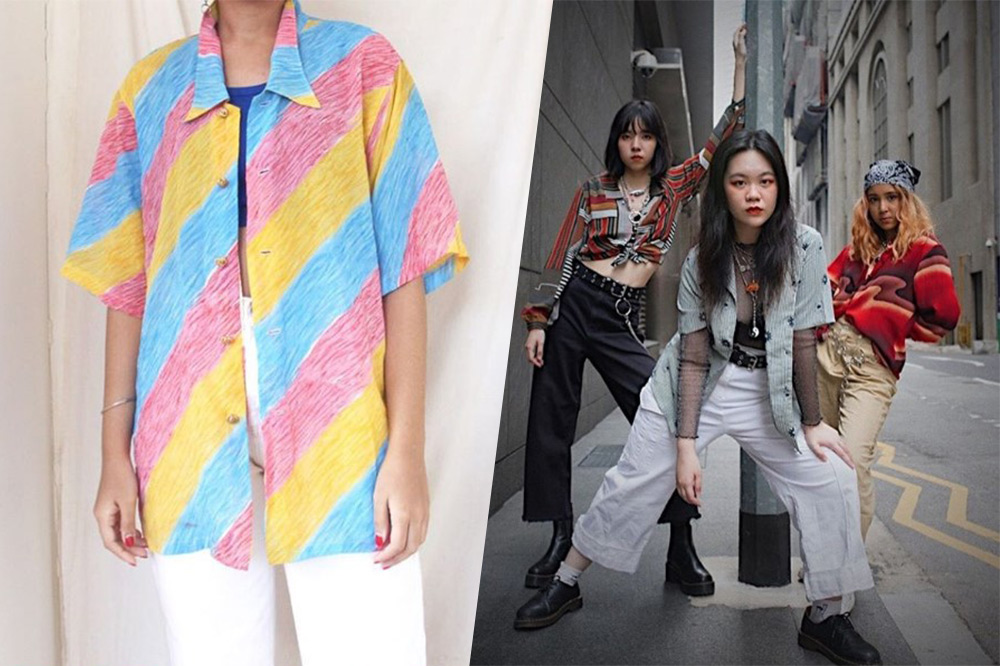 Source
Lucky Chance Store is a vintage apparel retailer that carries tops splashed with bright colours and eccentric patterns inspired mainly by the Swinging Seventies.
Its shirts are currently retailing at a fixed price of $22 (excluding $2 postage), with each design having only one piece available. 
8. Rockshopboys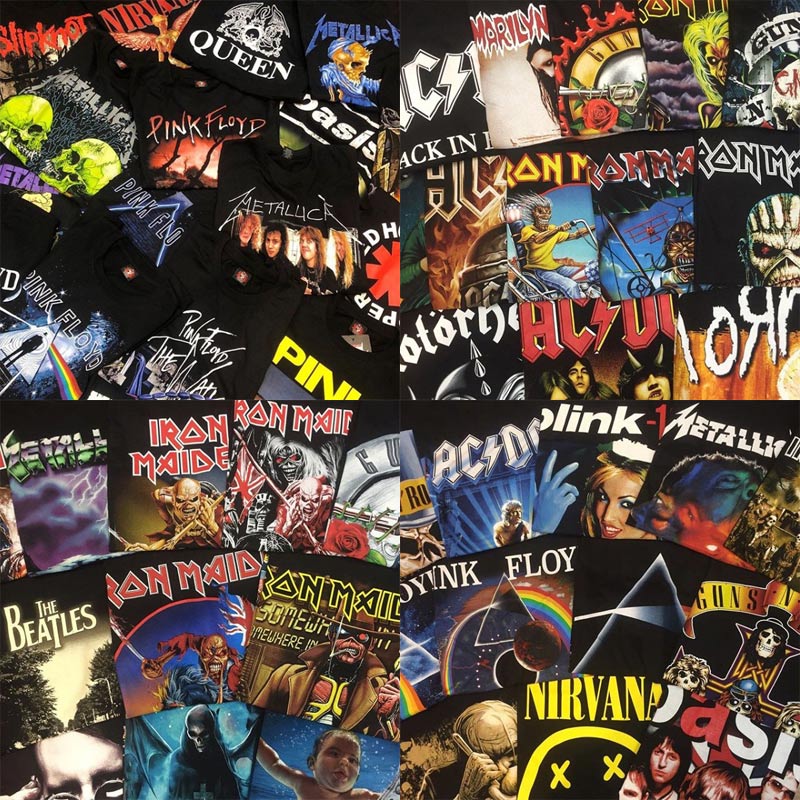 Source
Enter the world of band tees at Rockshopboys. Designs available include Metallica, Iron Maiden, Nirvana, AC/DC, Guns 'N' Roses, Marilyn Manson, and the list goes on. 
The only downside is that its tees are only up for grabs at collaborative pop-ups with other vintage retailers. 
Keep yourself updated by checking its Instagram page for details of upcoming  pop-ups.
9. Wholly Vintage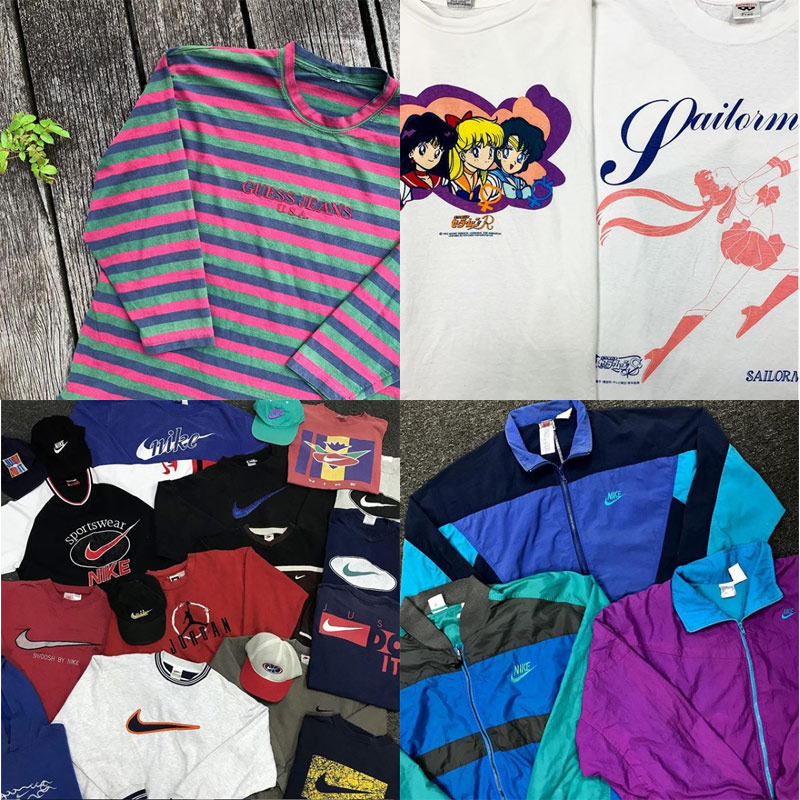 Source
If you're an anime or manga fanatic, you might want to head down to Wholly Vintage because it carries Sailor Moon and Dragon Ball Z designs. You can also expect to find oversized sports tees, jackets, labelled tops and graphic tees here. 
Shop their items on Instagram, starting at $30. A $1.50 postage fee is charged for normal postage and a $3.50 fee for registered postage.
10. Vintage Gang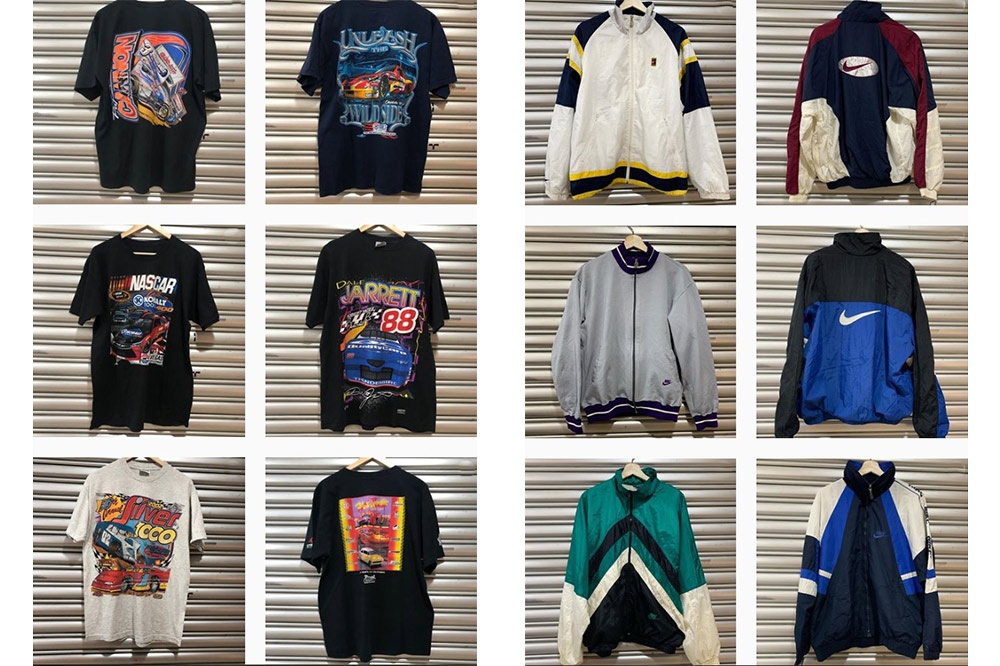 Source
Vintage Gang uploads curated collections on their Instagram store based on themes such as pop culture and racing. Pro tip: achieve the e-girl or e-boy look by layering a short-sleeved graphic tee over long-sleeved innerwear ('e', otherwise known as 'emo' is a fringe aesthetic of streetwear that originated from Tik Tok).
Items start at $22 for a tee and $38 for a jacket. You can choose to have the items mailed to you via regular postage at no added cost or registered post at a fee of $4.
11. chains&shackles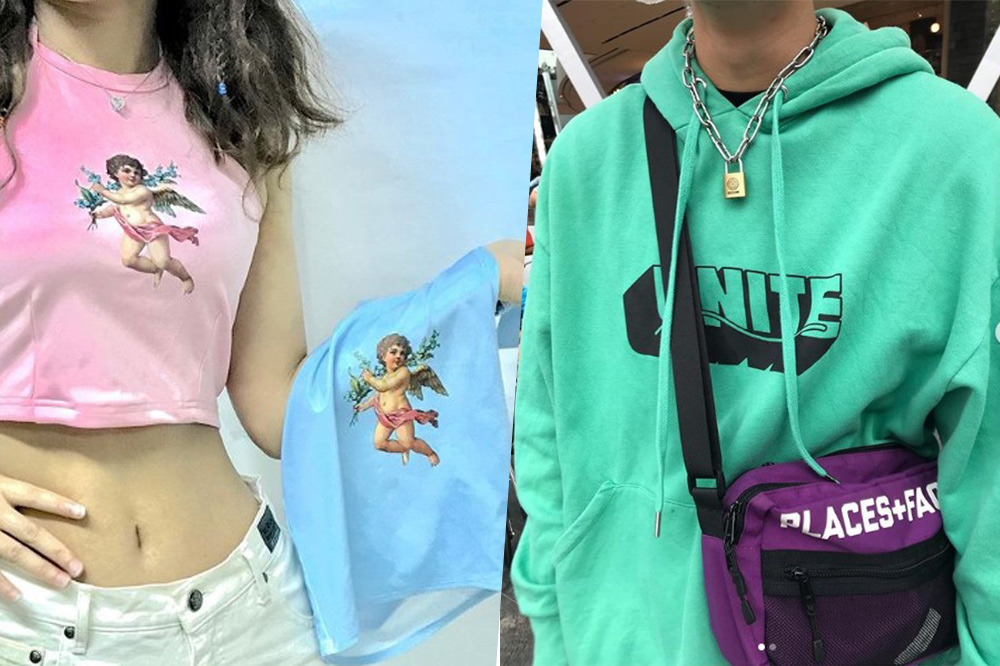 Source
Founded by a group of young fashion enthusiasts, chains&shackles carries streetwear apparel such as hoodies, spaghetti strap tops, fanny packs and accessories starting from $2. Its most popular item is its padlock chain necklace, which retails from $20. 
While it used to have a physical shop located in Bishan, it has since moved sales online permanently.
Shopping For Apparel At Vintage Shops In Singapore 
The vintage streetwear and sportswear trend has taken the world by storm in recent years. Dip your toes into the trend by checking out these vintage shops in Singapore, with items starting from as low as $2!
Also read:
10 Thrift Shops In Singapore For Secondhand Shopping Both Online and Offline
Cover image: Source, Source, Source