Vintage Shops In Singapore
Unlike thrift shops in Singapore, people often associate buying goods from vintage stores with a hefty price tag, especially when it comes to fashion. In this list of 10 vintage shops in Singapore, we explore places to cop affordable old-school apparel that retail as low as $1. Sweatshirts, windbreakers, corduroy, retro dresses and more, you will be spoilt for choice at these joints. 
1. Loop Garms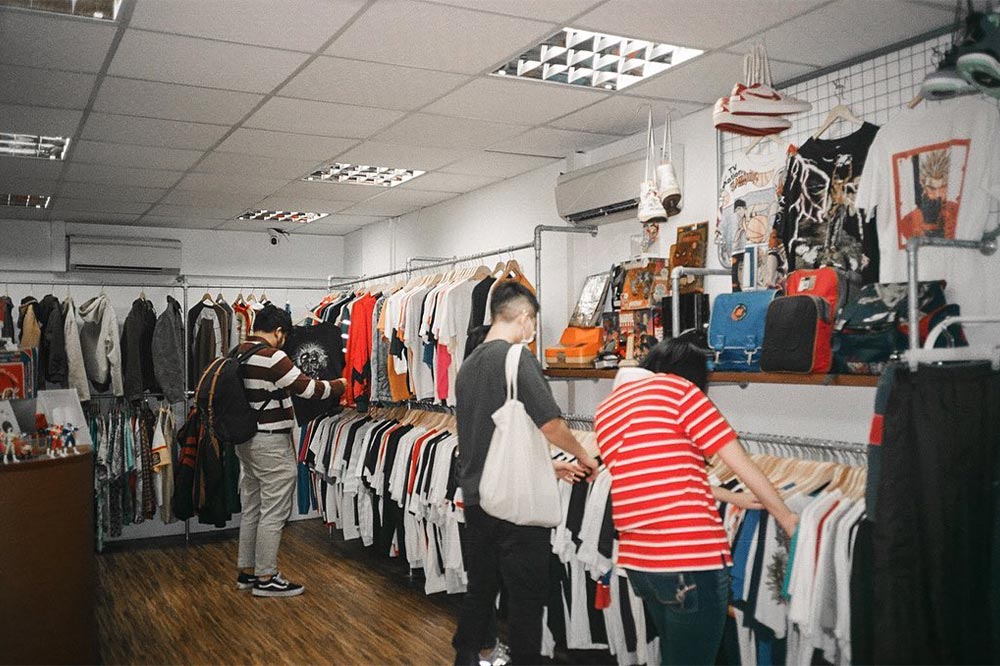 Loop Garms has garnered over 19K followers on Instagram thanks to its wide variety of vintage apparel in mint condition. The store specially curates pop culture-related items from various eras and around the world. With prices starting from about $30, it's a haven for those who fancy apparel with a rich history behind it. 
Perhaps the best part about Loop Garms is how welcoming its owners are, great for novices to the vintage community. Don't hesitate to have a chat with them when you visit the store, or ask them about the story or trivia behind any of the unique t-shirts and items on display. 
Address: 635 Veerasamy Road, #01-148, Singapore 200635
Opening hours: 12pm to 7.30pm daily
Instagram
2. Death Threads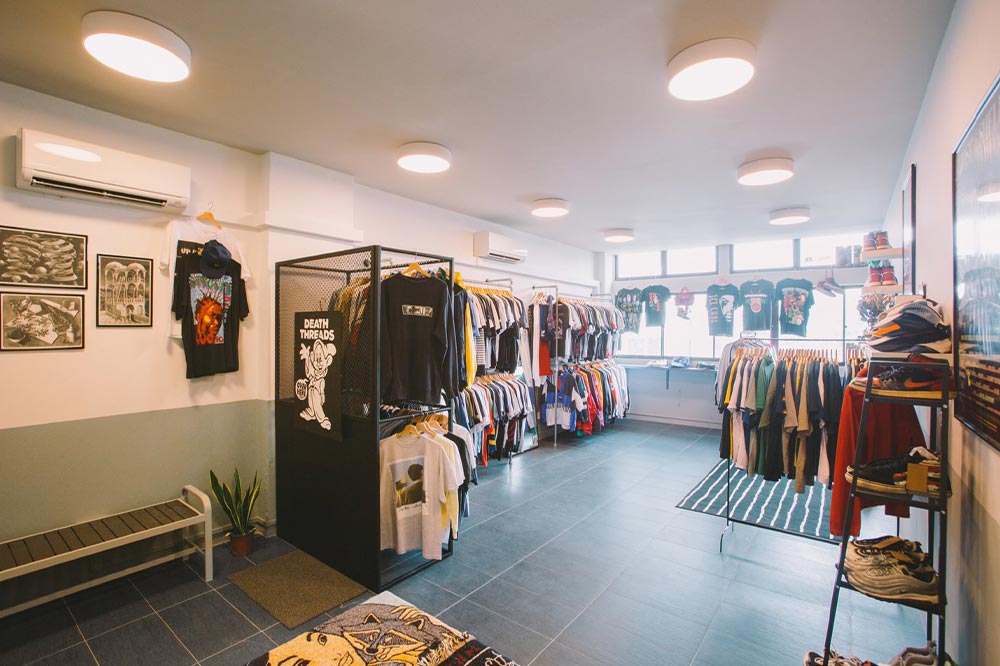 Death Threads is a vintage shop that carries a wide selection of graphic tees, sweaters and jackets, starting at $30. Designs available range from recognised labels such as Patagonia to underrated indie ones. 
The shop operates on an "edition" system, where it curates monthly collections. This means it is only open seasonally, when a new batch of clothes arrives. Keep your eyes peeled on its Instagram page for updates. 
Its popularity is evident on its IG stories, where crowds of excited Gen Z collectors can be often seen forming a queue outside the shop even before it opens.
Address: 80 Playfair Road, Block A, #04-06, Kapo Factory, Singapore 367998
Opening hours: 12pm to 8pm (selected days per edition)
Facebook | Instagram 
3. Threadlightly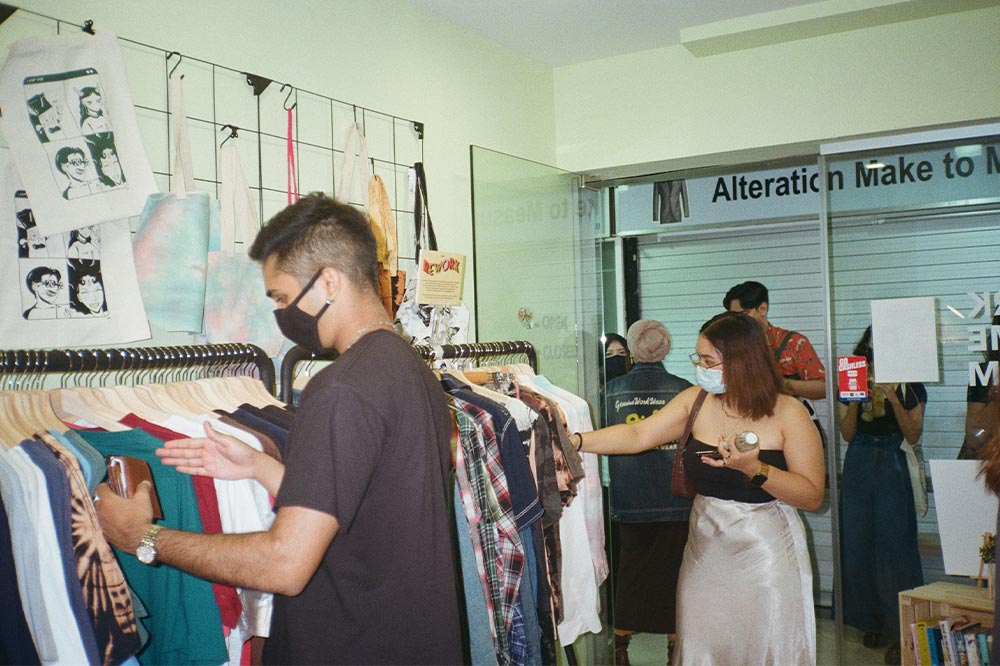 Threadlightly specialises in vintage items reworked and upcycled from old or donated pieces. It has 3 clothing lines starting from $4: Rehome, Reclaim and Rework. Retro fans will be drawn to Reclaim, which comprises vintage and vintage-inspired pieces curated by the store's owner.
The store accepts clothing donations for those looking to unload old apparel, and even offers donors a home collection option. At Threadlightly, you will also be shopping for a good cause—proceeds are regularly donated to different beneficiaries every month. 
Address: 1 Queensway, #02-22, Queensway Shopping Centre, Singapore 149053
Opening hours: 11am to 8.30pm daily (closing time temporarily changed to 6pm during Ramadan)
Facebook | Instagram
4. Function Five Thrift Shop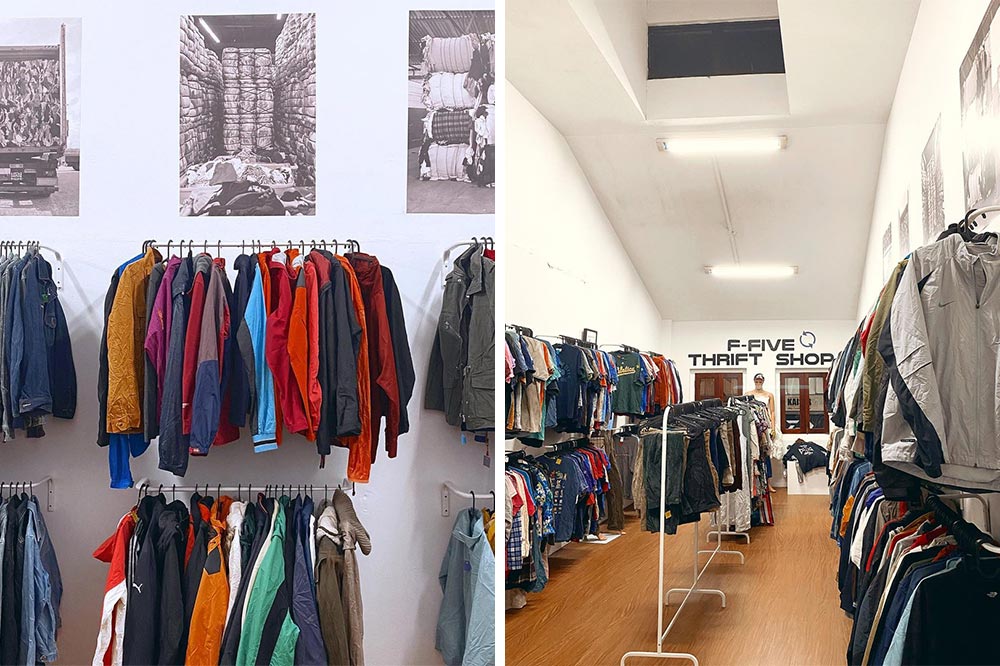 Function Five Thrift Shop provides you an avenue to cop vintage streetwear without burning a hole in your wallet. Prices range from $5 to $25, and shoppers can snag vintage mainstays like corduroy pants, baggy jeans and windbreakers. 
The shop even has a free clothes pile at the back to encourage customers to give more tattered pieces a new lease of life. Those interested in upcycling or reworking, this is a budget-friendly way to find old garments.
Address: 751 North Bridge Road, #02-01, Singapore 198719
Opening hours: 12pm to 9pm daily
Instagram  
5. Thrifty Kitschy Pickers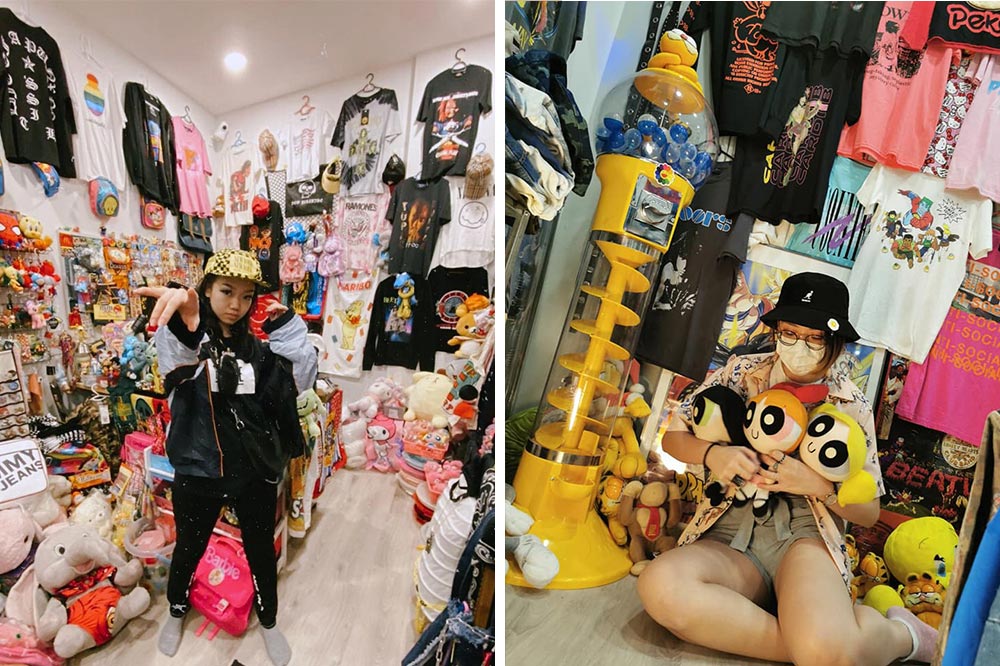 Thrifty Kitschy Pickers certainly lives up to its name. Starting from $1, this vintage store sports a curated collection of retro pieces with lots of character, perfect for those seeking more bizarre outfits. It caters to fashionistas who appreciate more eye-catching aesthetics like Y2K and grunge, and even boasts its own in-house jewellery line to elevate your ensemble. 
For the nocturnal ones, Thrifty Kitschy Pickers is open till 1am on an appointment basis, so you can shop your heart out into the wee hours of the night. All you need to do is drop the store a DM on Instagram to make an appointment. 
Address: 1 Bukit Batok Crescent, #04-27, WCEGA Plaza, Singapore 658064
Opening hours: 12pm to 5pm (Fridays and Saturdays for walk-ins) | 10pm to 1am (for late-night shopping on appointment basis)
Facebook | Instagram 
Also read: 
11 Instagram Thrift Stores In Singapore For Vintage Clothing To Give Your Feed & Fit A '90s Look
6. Vintagewknd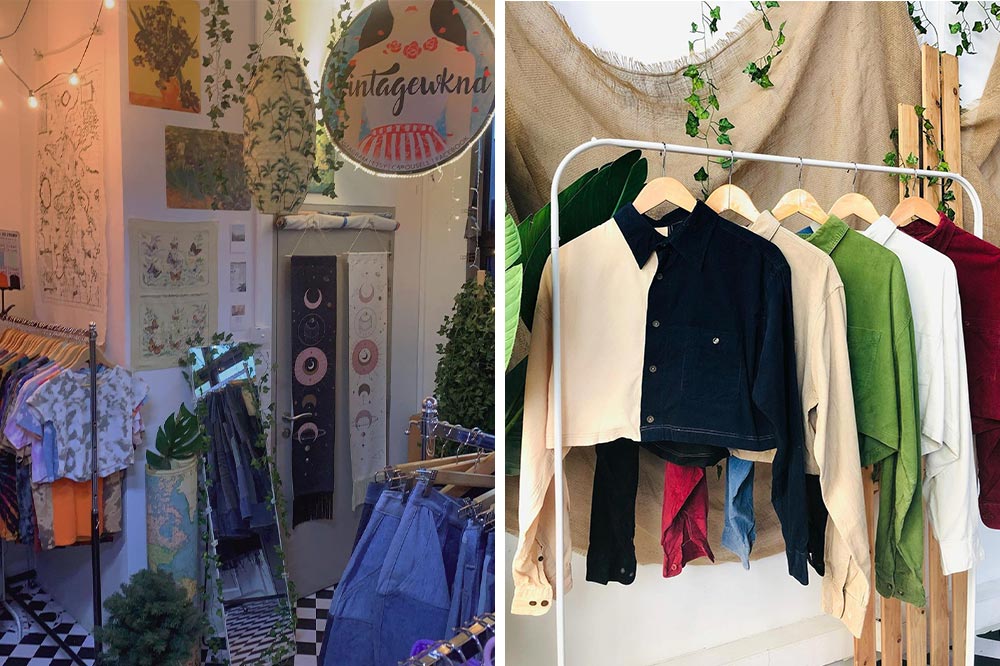 Vintagewknd describes itself as a "wallet-friendly vintage store", with prices starting from $5. Shoppers can cop vintage community favourites like corduroy shirts and long sleeve polo t-shirts for $22. For extra good deals, Vintagewknd also offers multiple bundles and promos if you visit its physical store. 
The shop's signature is creating one-of-a-kind clothing from a curated collection of vintage items. Be sure to look out for quirky pieces as well like its Rework Vintage Jeans, which are handmade from a bevy of recycled materials and textiles. 
Address: 50 Serangoon North Ave 4, #08-08, First Centre, Singapore 555856
Opening hours: 12pm to 7pm (Saturdays, Sundays and Public Holidays)
Website | Facebook | Instagram
7. First We Thrift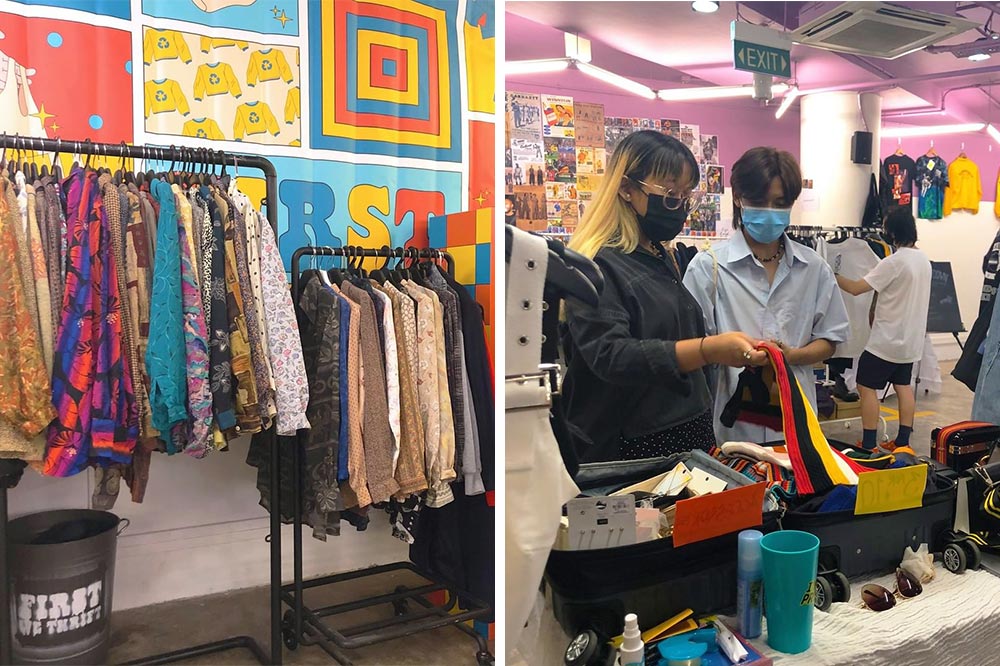 First We Thrift is jointly organised every weekend by Invade, the company behind lifestyle events like Artbox and the National Youth Council. Here, you will find a flea market concept boasting pre-loved items from a bevy of different sellers, meaning there is guaranteed variety. 
While you're there, check out First Dibs, an in-house pop-up store with curated secondhand pieces specifically for the vintage shopping community. 
Address: 2 Orchard Link, #01-02, *SCAPE, Singapore 237978
Opening hours: 12pm to 8pm (Saturdays and Sundays)
Facebook | Instagram 
8. Nonmainstream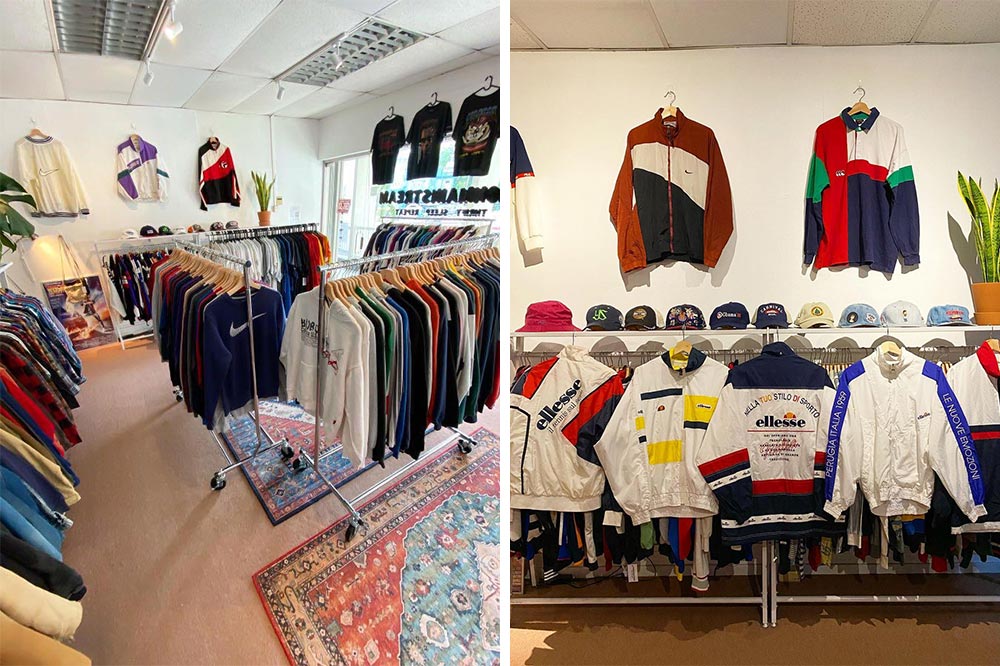 Located a stone's throw away from Lavender MRT, Nonmainstream is a curated thrift and pre-loved vintage clothing store. There is no shortage of brands and styles to choose from, with prices starting from $20. 
Streetwear lovers, buff up your swagger with its large selection of windbreakers from brands like Ellesse. Or, go for a relaxed look with its Nike Air sweatshirts. Workwear fans can complete their earthy-toned get-ups with Carhartt jackets and even fisherman's vests. 
Address: 462A Crawford Lane, #02-73, Singapore 191462
Opening hours: 1pm to 7pm (Fridays to Sundays)
Instagram
9. Dustbunny Vintage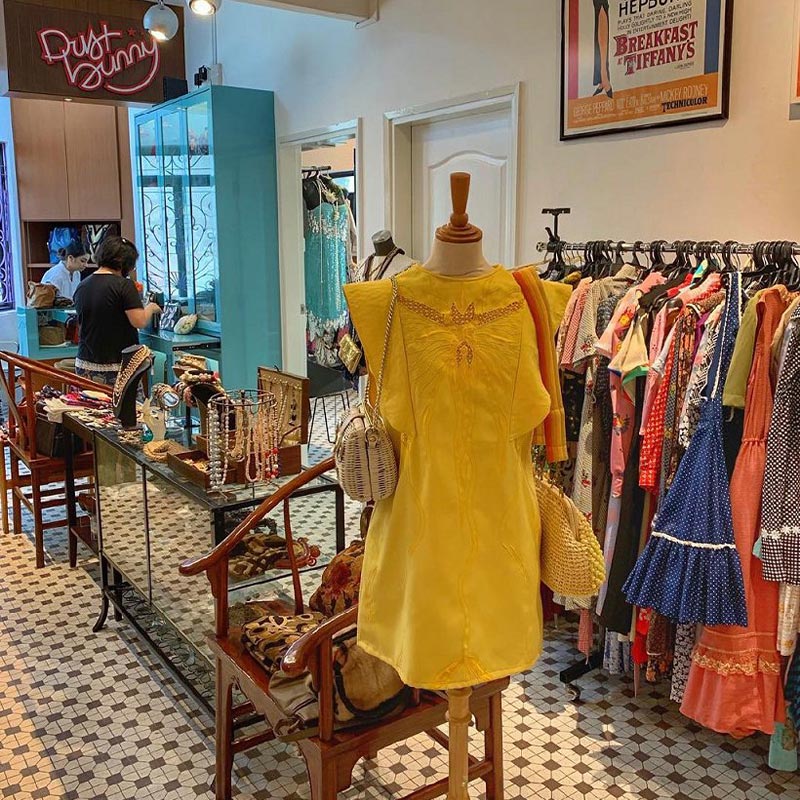 First opening its doors in 2003, Dustbunny Vintage can be considered a veteran in the business. It carries vintage bags, clothes and jewellery with a focus on more feminine designs, starting from $20. Brighten up your #OOTD with one of its '50s-inspired dresses, complete with vibrant retro patterns and floral elements. 
Dustbunny Vintage also has an in-house label, which produces vintage-inspired custom-made clothing. A scroll through the label's Instagram showcases its impressive portfolio of batik dresses to serve as inspiration for traditional old-school fits put together specifically for you. Make sure to call ahead as entry to the store is by appointment only. 
Address: 2A Keong Saik Road, Singapore 089110
Opening hours: 1pm to 8.30pm (Mondays to Fridays) | 1.30pm to 7pm (Saturdays)
Booking: Call 6222 0116 or make an appointment here.
Facebook | Instagram (vintage pieces) | Instagram (in-house label) 
10. Flame Vintage 
With its wealth of retro apparel starting from $35, Flame Vintage fits right into the hipster vibes Haji Lane is popular for. The store has a vast inventory of vintage staples like band t-shirts, baseball sweatshirts and flannels. Plus, it stocks accessories such as funky wallets and caps too. 
Flame Vintage is well-known among the community for organising VFEST. About once a month, this event gathers different vintage vendors in Singapore and hosts a special pop-up store over a few days. Some of these sellers operate online as Instagram thrift stores, giving VFEST patrons a rare opportunity to check out their goods physically. 
Address: 67 Haji Lane, #01-67, Singapore 189260
Opening hours: 12pm to 9pm daily
Instagram | Telegram
Shopping For Apparel At Vintage Shops In Singapore 
As the saying goes: old is gold. Fashion is no exception. The vintage apparel trend has taken the world by storm in recent years. Dip your toes into this style by checking out these vintage shops in Singapore, with items starting from as low as $1!
This article was first published on 18 December 2019 and last updated on 5 May 2021.
Cover: Source, source 
Also read: 
9 Thrift Shops In Singapore For Secondhand Shopping Both Online & Offline