Thrift Shops In Singapore
Thrift shopping and sustainable fashion are gaining in popularity as we move towards becoming a more environmentally conscious society. Whether you're an avid fashion enthusiast looking to bring new life to vintage finds, or a thrift shopper eager to expand your wardrobe on a budget, these online and offline thrift shops in Singapore are sure to do the trick.
1. Superwasted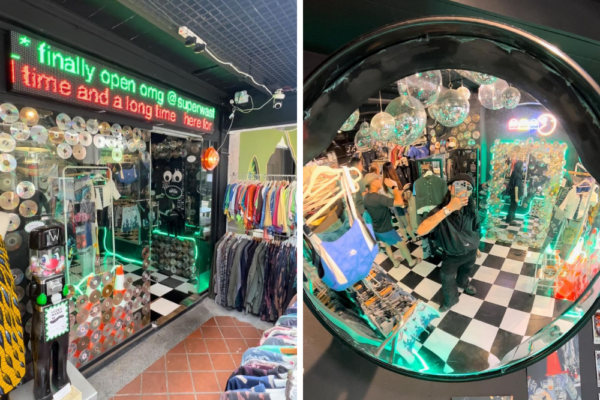 Source
Spot disco balls hanging from the ceiling, CDs adorning the walls and movie posters plastered next to clothing tacks at this thrift store. Superwasted isn't your ordinary apparel store — apart from the unique decor, customers can shop for reworked outfits such as sports corsets, modern kimonos and halter tees. 
Address: 16 Haji Lane, Singapore 189209
Opening hours: 12pm to 9pm daily
Instagram
2. Cloop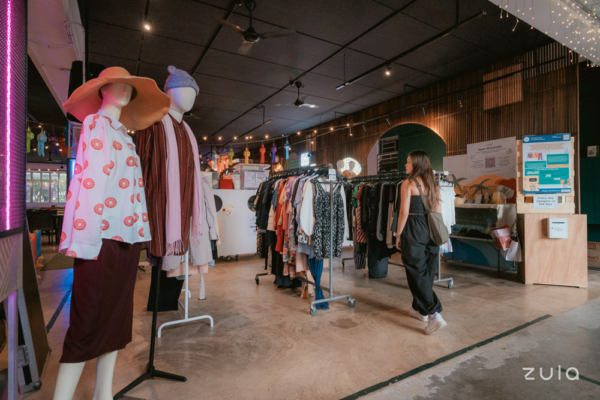 Source
Tucked away in a cosy corner of Henderson Road is Cloop, Singapore's first thrift store with a communal walk-in "wardrobe" concept. With a bit of digging around, customers can find a variety of pre-loved skirts and blazers from brands such as Love, Bonito and Zara. 
The best part? Payment is simple and fuss-free. Since there's no staff present, all you have to do is transfer the money by scanning a QR code at the counter before leaving.
Address: 102 Henderson Road, Singapore 159562
Opening hours: Mondays to Sundays, 10am to 10pm
WebsiteㅣFacebookㅣInstagram
3. Snag @ Second Story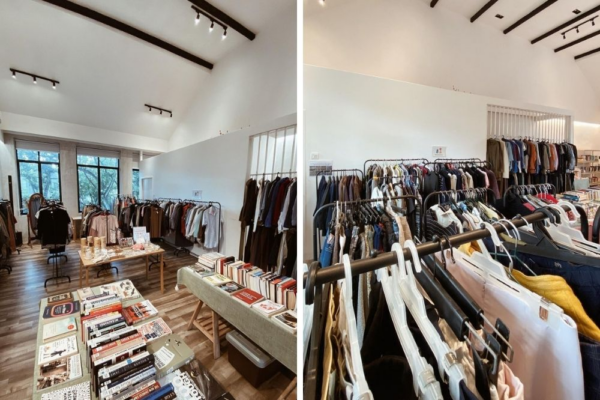 Source
Snag @ Second Story is a hidden gem that can't be missed from this list. Everything retails for $3 here — including books and vintage clothes from Japan. Nothing sus about these deals either, as the shop does weekly restocks to ensure a fresh and new variety of styles will be available for their customers. 
Address: 7 Fraser Street, #01-07 Duo Galleria The Social Space, Singapore 189356
Opening hours: Tuesdays to Sundays, 12.30pm to 7.30pmㅣClosed on Mondays
Instagram
4. Nearest Ten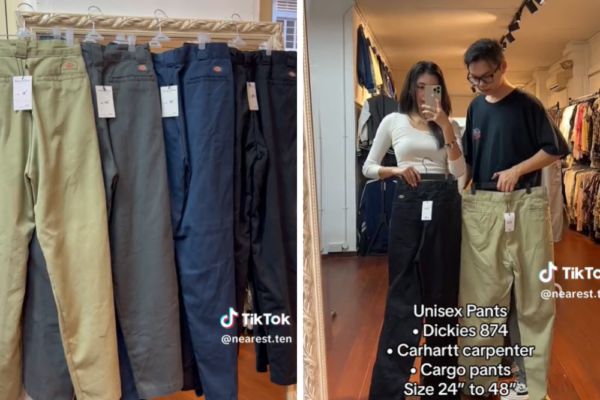 Source
With curated styles ranging from vintage and Y2K to streetwear, Nearest Ten is a plus size-friendly thrift store in Chinatown with prices starting from $10. They also offer evening dresses and gowns ranging from $30 to $100, so you can snag a last-minute glam fit for special occasions. 
Complete your look with the variety of accessories available as well, such as bead bracelets, trendy sunglasses and chic handbags.
Address: 57A Pagoda Street, Singapore 059216
Opening hours: 1pm to 9pm (Fridays to Tuesdays) | Closed on Wednesdays and Thursdays
Instagram
5. Woofie's Warehouse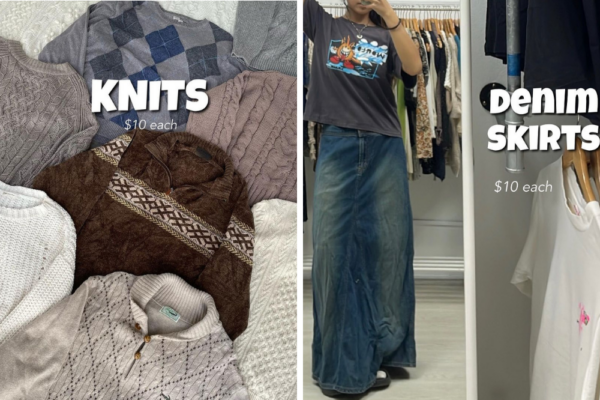 Source
It's common practice to spot different price tags for different types of apparel, but Woofie's Warehouse guarantees everything at $10. Located a short walk away from Bugis MRT, the thrift store offers second-hand pieces for cargo pants, knitted tops and sweatshirts from popular sports brands such as Nike and Adidas. 
Address: 390 Victoria Street, #03-31, Golden Landmark Mall, Singapore 188061
Opening hours: 10am to 8pm (Fridays to Tuesdays) | Closed on Wednesdays and Thursdays
Instagram
6. SSVP Thrift Shop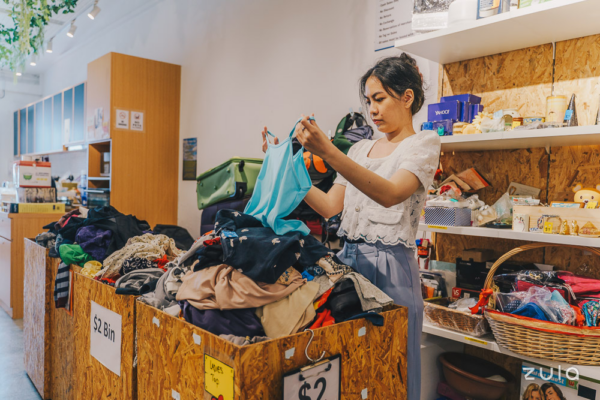 Source
SSVP is a thrift store in the East with their best steals being their $3 bins. Basics such as camisoles, T-shirts and shorts can be found here, alongside pre-loved luxury bags that fall into the pricier range. All proceeds from SSVP thrift shop also goes to the needy, so you can shop with the reassurance that it's for a good cause. 
Address: 501 Geylang Road, Singapore 389459
Opening hours: Tuesdays to Sundays 10am to 4pmㅣClosed on Mondays
WebsiteㅣFacebook
7. MINDS Shop Plus @ NTUC Healthcare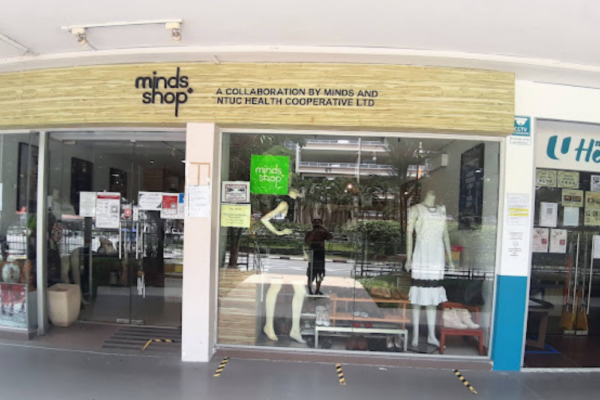 Source
Short for Movement for the Intellectually Disabled of Singapore, MINDS empower and provide MINDS' clients with pre-vocational retail and customer service training. There are four stores islandwide, with each store carrying a unique range of furniture, clothes, collectibles and houseware. All proceeds go to the MINDS trainees as allowance.
Address: 71 Redhill Road, #01-29, Singapore 150071
Opening hours: 1pm to 4pm (Tuesdays) | 9am to 4pm (Wednesdays to Saturdays) | Closed on Sundays and Mondays
Website
8. Nightingale Thrift Shop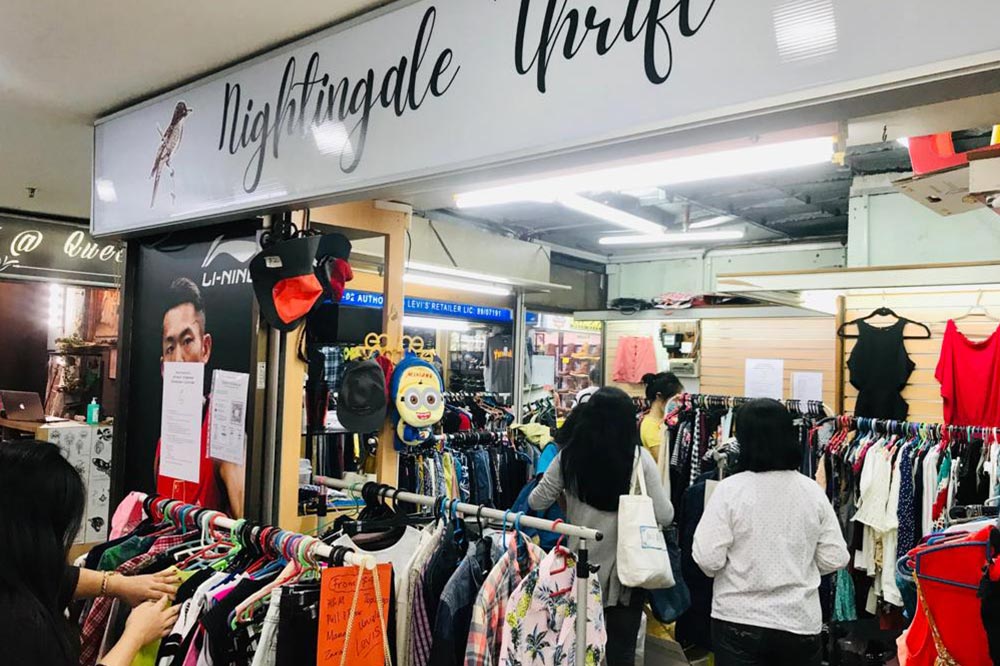 Source
Nightingale Thrift Shop opened in October 2020 with a mission: proceeds go to funding and training individuals with special needs, as well as donations to needy families.
Despite its unassuming appearance, you can find lots of hidden gems at Nightingale Thrift Shop. A quick scroll through its Instagram shows past listings for retro Hard Rock Cafe caps and even big-ticket items like Dolce & Gabbana jackets at low prices. 
Address: 1 Queensway, #02-36, Queensway Shopping Centre, Singapore 149053
Opening hours: 1pm to 6.30pm (Tuesdays, Wednesdays and Fridays) | 1pm to 7pm (Saturdays and Sundays)
Facebook | Instagram 
Also read:
10 Thrift Shops In Singapore Within Your Hood For Vintage Fashion Finds From $2
9. The Barn 
With three locations around Singapore, Easties, Westies and North-dwellers alike will be able to conveniently check out this thrift store. The Barn is completely volunteer-run, and proceeds go to funding Cornerstone Community Service's welfare programmes. 
Like many thrift shops in Singapore, offerings at The Barn are not limited to pre-loved fashion items. You will be able to find a range of lifestyle items such as tiffin lunch boxes and glassware sets. Those up for refurbishing tech gadgets can even purchase old cameras or appliances.
Plus, The Barn puts up listings on its Facebook, Instagram and Carousell accounts, so you can easily shop online too. 
Ang Mo Kio
Address: 591A Ang Mo Kio Street 51, #01-35, Singapore 561591
Opening hours: 1pm to 4pm (Mondays to Fridays, Sundays) | 6 to 8pm (Wednesdays) | Closed on Saturdays
Katong
Address: 11 East Coast Road, #01-14 to 15, The Odeon Katong, Singapore 428722
Opening hours: 11am to 2pm (Tuesdays to Fridays) | 11am to 4.30pm (Saturdays) | 10am to 1pm (Sundays) | Closed on Mondays
Penjuru
Address: 27 Penjuru Walk, #01-01, Singapore 608538
Opening hours: 12pm to 9pm (Tuesdays to Saturdays) | 11am to 7pm (Sundays) | Closed on Mondays
10. New2U Thrift Shop
Popular among the students from art schools in the area, New2U Thrift Shop is located at Waterloo Street within the Singapore Council of Women's Organisation (SCWO). Proceeds from your purchases will go towards supporting SCWO's work in Singapore. 
The space is jam-packed with a wide selection of pre-loved clothing, with apparel going as cheap as S$1. 
Address: 96 Waterloo Street, Singapore 187967
Opening hours:10.30am to 2.30pm (Mondays to Fridays) | Closed on weekends
Website | Facebook | Instagram
11. Something Old Something New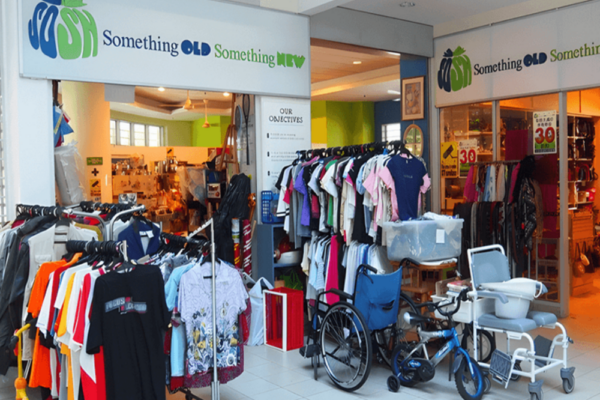 Source
Something Old Something New (SOSN) by Singapore Anglican Community Services is a social enterprise thrift shop aimed at improving the employability of persons with mental health issues.
Established in 1997, the thrift shop hawks all sorts of pre-loved items such as clothing, furniture, household goods, electronic devices, toys, books and more. You can find them at 8 locations islandwide.
Address: Find the full list of outlets on Singapore Anglican Community Services' website
Website | Facebook
12. Praisehaven Mega Family Store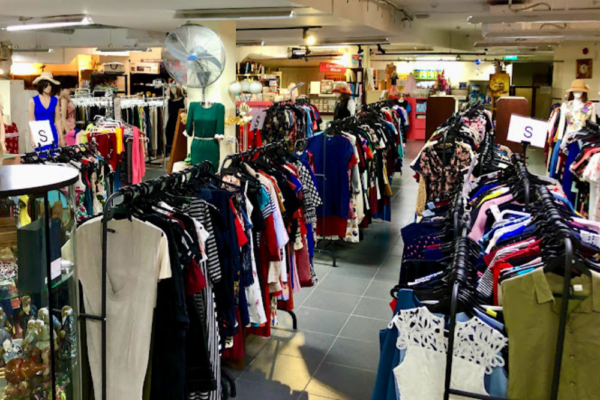 Source
This thrift shop is probably one of the more popular ones in Singapore. Operating under The Salvation Army, the Praisehaven Mega Family Store has just about everything you can find under one roof. 
From wedding dresses, shoes, clothes, antique collectibles, to furniture and art pieces, there is guaranteed to be something for everyone here.
Address: 500 Upper Bukit Timah Road, Singapore 678106
Opening hours: 11am to 7pm (Mondays to Thursdays) | 10am to 7pm (Fridays and Saturdays)
Website
13. Function Five Thrift Shop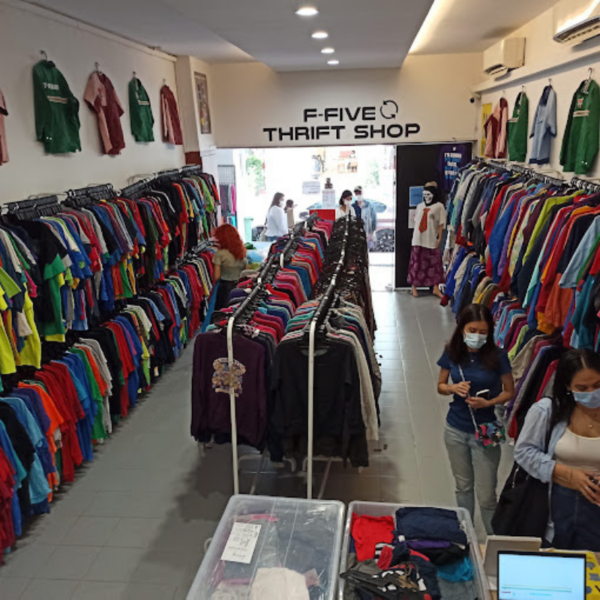 Source
Apart from getting cheap steals from Function Five Thrift Shop, shoppers can also stay tuned to their Instagram page for additional deals — free T-shirt giveaways, 3-for-1 combos and even 25% off student promos. The store is best known for their variety of windbreakers and NFL jerseys, perfect for styling a unique sporty fit. 
Address: 43 Arab Street, Singapore 199742
Opening hours: 1pm to 9pm daily
Instagram
14. Therapist Thrift Shop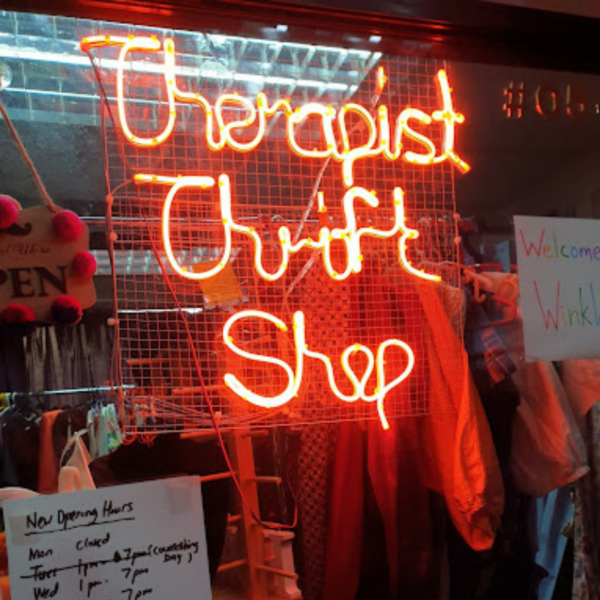 Source
Therapist Thrift Shop funds community support and wellness programs for individuals in need through selling pre-loved clothing. Occasionally, the store also has Fill A Bag events for shoppers to take home a bag full of items at affordable prices. 
Besides giving these pre-loved items a second life, customers can also donate their own clothes and accessories here. 
Address: 170 Upper Bukit Timah Road, #05-19, Singapore 588179
Opening hours: 1pm to 6pm (Fridays and Saturdays) | Closed on Sundays to Thursdays
Instagram
15. Un.wastelands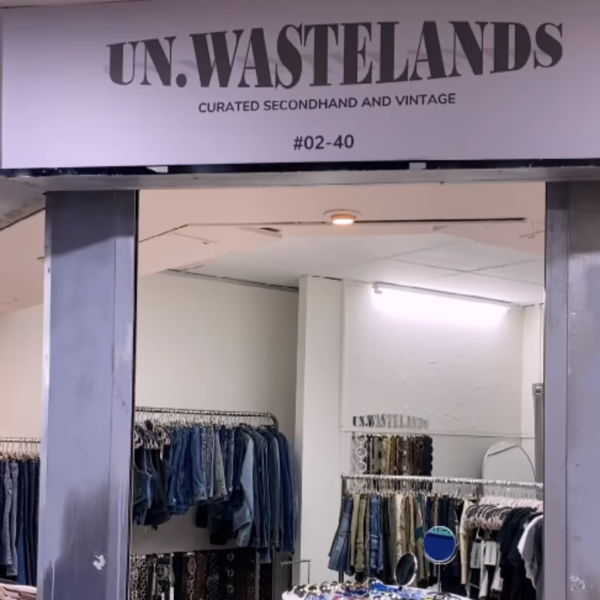 Source
Queensway Shopping Centre is pretty much a treasure trove of thrift stores, but Un.Wastelands stand out with their curated secondhand and vintage apparels. Their items are updated from new vendors monthly, featuring brands such as Polo Ralph Lauren and Nike.
Located a few stores away is Hikari Space, another unique thrift store owned by the same brand, so you can shop till you drop along the same floor. 
Address: 1 Queensway, #02-40, Singapore 149053
Opening hours: 1pm to 7pm daily
Instagram
16. The NÉE Vintage Store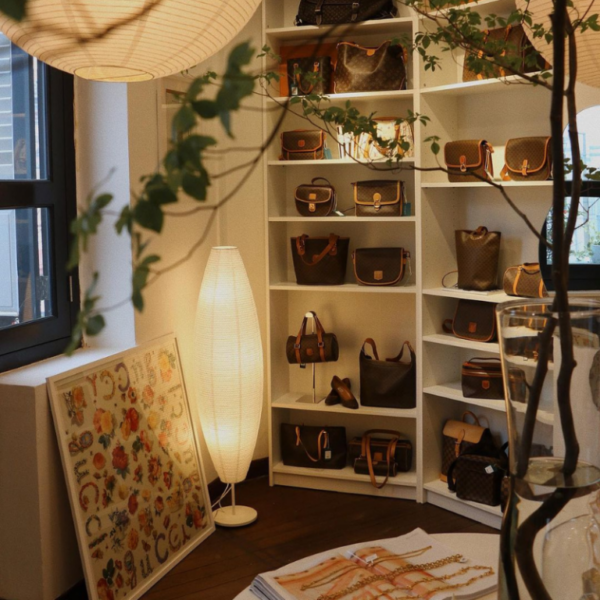 Source
Gucci, Louis Vuitton and Chanel handbags for less than $1,000? These deals almost sound too good to be true. But The NÉE Vintage Store located in Chinatown features branded bags, accessories and apparel at reasonable prices so you can achieve your tai tai dreams without breaking the bank. 
Address: 230 South Bridge Road, #232A/232B, Singapore 058781
Opening hours: 12pm to 7pm (Tuesdays to Sundays) | Closed on Mondays
Website | Instagram 
Shopping Sustainably At Thrift Shops In Singapore
Not only does thrift shopping at thrift shops in Singapore help the environment, it can also contribute to social causes and save your wallet at the same time. If you haven't tried thrift shopping yet, it's time to start. Who knows what treasures you will uncover?
This article was first published by Annabelle Fernandez on 11 November 2019 and last updated by Nicole Yong on 7 December 2023.
Cover: Source, source, source
Also read: