Thrift Shops In Singapore
Thrift shopping and sustainable fashion are gaining in popularity as we move towards becoming a more environmentally conscious society. Whether you're an avid fashion enthusiast looking to bring new life to vintage finds, or a thrift shopper eager to expand your wardrobe on a budget, these online and offline thrift shops in Singapore are sure to do the trick.
1. Nightingale Thrift Shop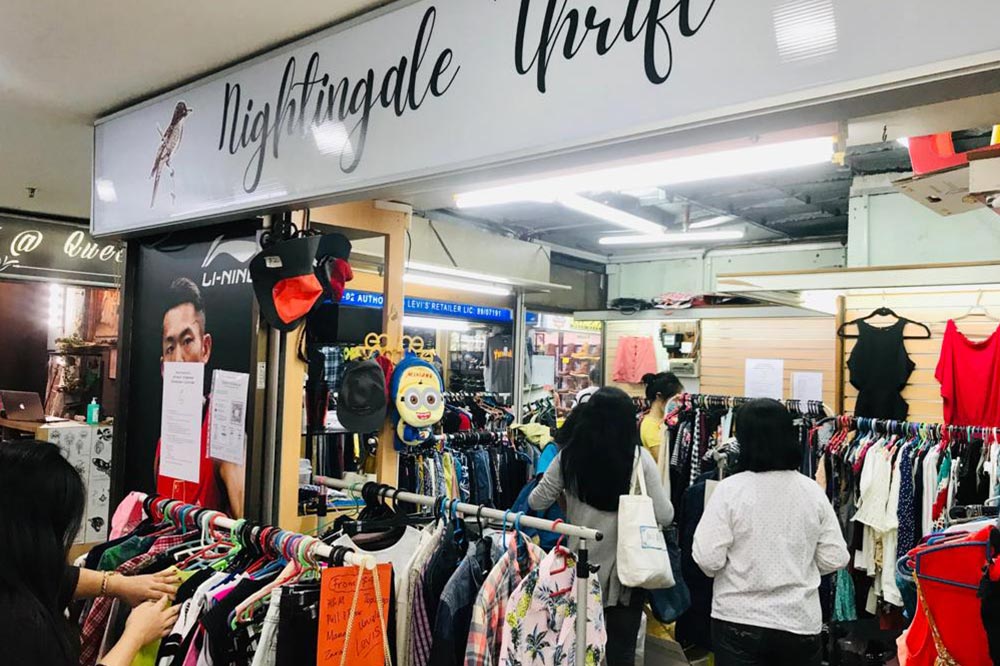 Nightingale Thrift Shop opened in October 2020, making it a relative newcomer to the secondhand shopping scene in Singapore. Its mission is a noble one, using proceeds to fund and train individuals with special needs as well as to make direct donations to needy families. 
Despite its unassuming appearance, you can find lots of hidden gems at Nightingale Thrift Shop. A quick scroll through its Instagram shows past listings for retro Hard Rock Cafe caps and even big-ticket items like Dolce & Gabbana jackets at low prices. 
Address: 1 Queensway, #02-36, Queensway Shopping Centre, Singapore 149053
Opening hours: 1pm to 6.30pm (Tuesdays, Wednesdays and Fridays) | 1pm to 7pm (Saturdays and Sundays)
Facebook | Instagram 
2. Five Finds Thrift Market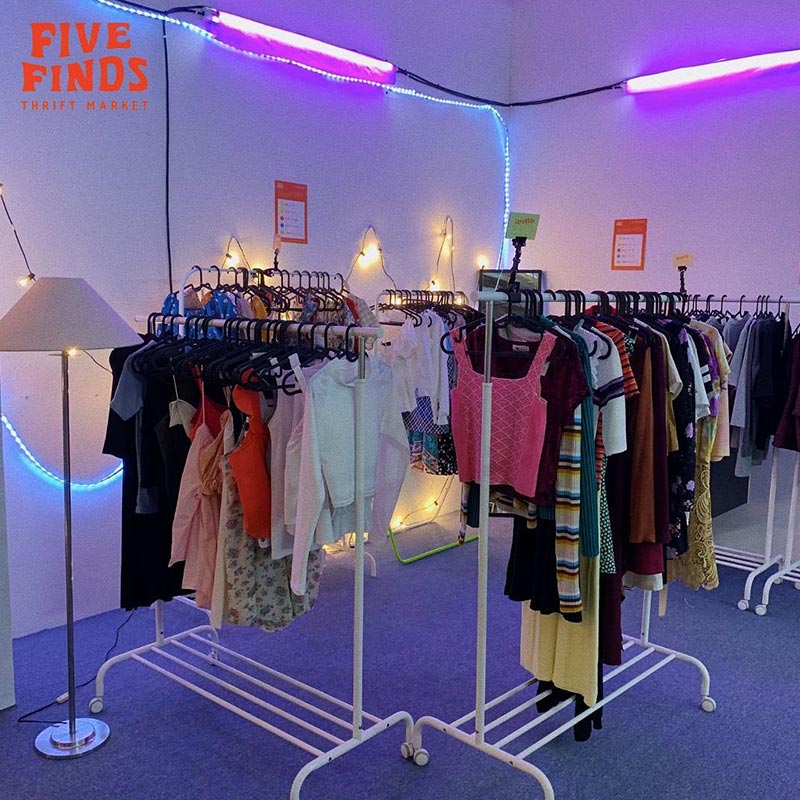 Five Finds Thrift Market operates on a 'pop-up' store basis, with the current one running until 30 May 2021. While the selection may not be huge, you will easily be able to walk away with some great steals. From pieces like corsets for a grunge look to flowy dresses for a soft girl ensemble, you will no doubt find something to match your personal style. 
Most items at Five Finds Thrift Market range from $5 to $25. If you're in the mood to splurge, its more premium and vintage items will cost you anywhere between $30 to $55.
Address: 371 Beach Road, #01-37, City Gate Mall, Singapore 199597
Opening hours: 12pm to 8pm (Wednesdays to Sundays)
Instagram 
3. The Barn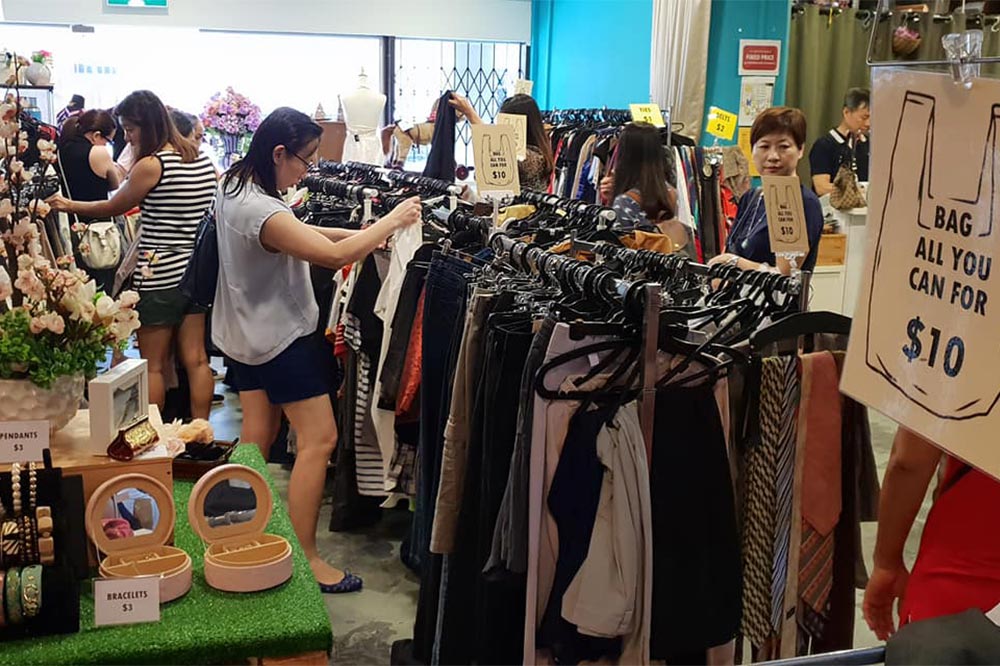 With 3 locations around Singapore, easties, westies and north-dwellers alike will be able to conveniently check out this thrift store. The Barn is completely volunteer-run, and proceeds go to funding Cornerstone Community Service's welfare programmes. 
Like many thrift shops in Singapore, offerings at The Barn are not limited to pre-loved fashion items. You will be able to find a range of lifestyle items such as tiffin lunch boxes and glassware sets. Those up for refurbishing tech gadgets can even purchase old cameras or appliances.
Plus, The Barn puts up listings on its Facebook, Instagram and Carousell accounts, so you can easily shop online too. 
Ang Mo Kio
Address: 591A Ang Mo Kio Street 51, #01-35, Singapore 561591
Opening hours: 11am to 2pm (Mondays to Fridays) | 6 to 8pm (Wednesdays) | 10am to 12.30pm (Saturday) 
Katong
Address: 11 East Coast Road, #01-14 to 15, The Odeon Katong, Singapore 428722
Opening hours: 11am to 2pm (Tuesdays to Fridays) | 9.30am to 12.30pm (Sundays) 
Penjuru
Address: 27 Penjuru Walk, #01-01, Singapore 608538
Opening hours: 10am to 1pm (Mondays to Fridays) | 2 to 8pm (Saturdays and Sundays) 
4. Lucky Plaza Bazaar & Thrifting SG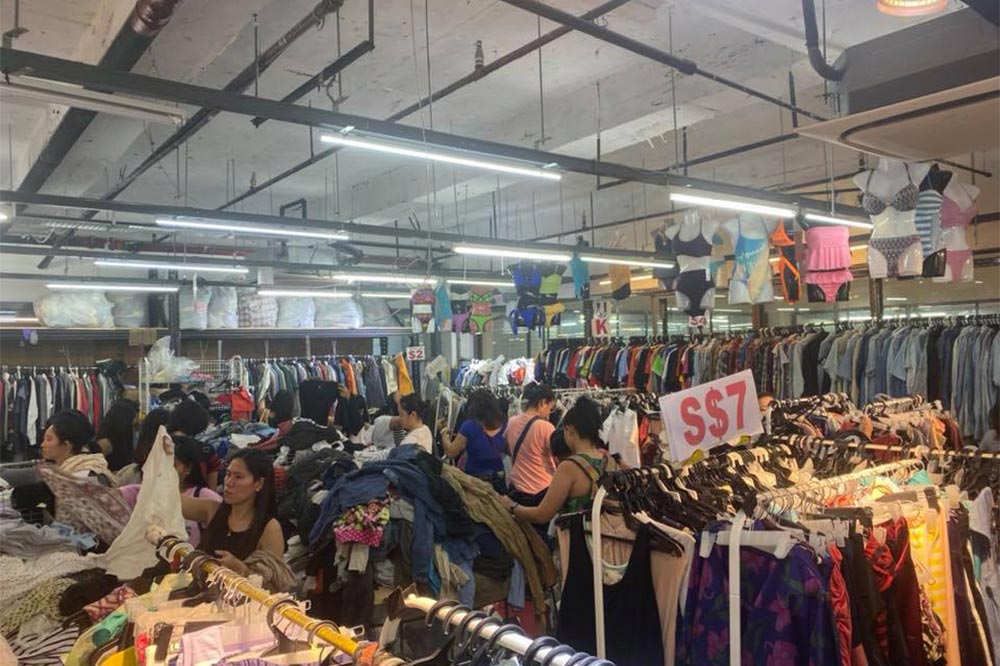 Thrift veterans will probably regard Lucky Plaza as a haven for thrift shops in Singapore due to their abundance in the mall. Two of them are sister shops, Lucky Plaza Bazaar and Thrifting SG. 
At Lucky Plaza Bazaar, you will be spoilt for choice as there are loads (and we mean loads) of affordable pre-loved clothes starting from just $4 per t-shirt. You will even be able to find overalls and swimwear at this establishment. 
Thrifting SG's selection, on the other hand, is more curated but still at cheap price points. It also operates an online store so you can shop secondhand from the comfort of your home. 
Address: 304 Orchard Road, #06-14 and #06-18, Lucky Plaza, Singapore 238863
Opening hours: 10am to 8.30pm daily (Lucky Plaza Bazaar) | 11am to 8.30pm daily (Thrifting SG)
Website | Facebook |Instagram (Lucky Plaza Bazaar) | Instagram (Thrifting SG)
5. New2U Thrift Shop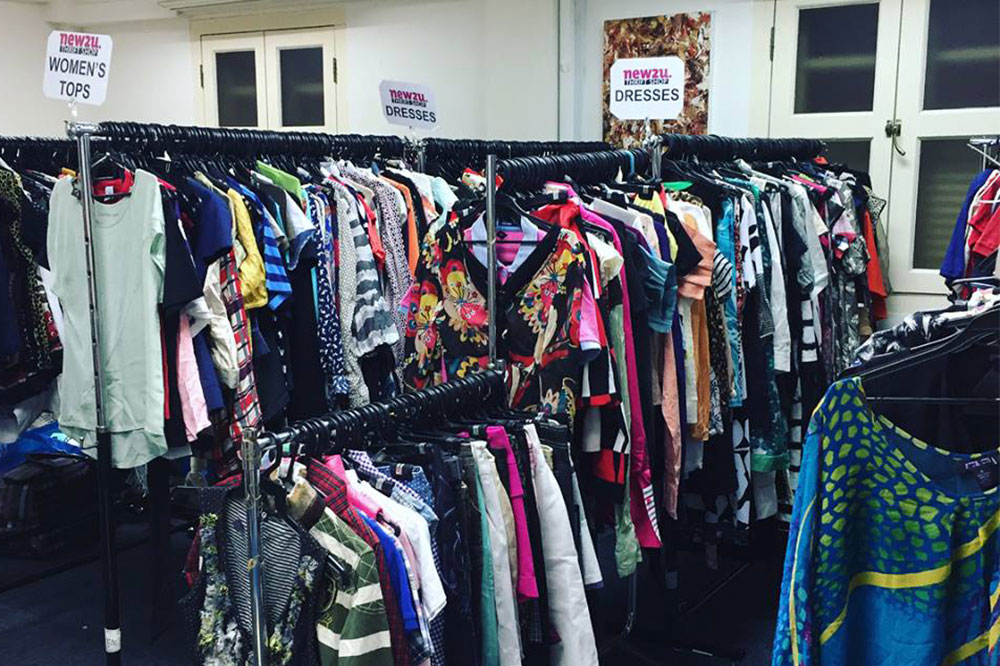 Popular among the students from art schools in the area, New2U Thrift Shop is tucked away at Waterloo Street within the Singapore Council of Women's Organisation (SCWO). Proceeds from your purchases will go towards supporting SCWO's work in Singapore.
The space is jam-packed with a wide selection of pre-loved clothing, with apparel going as cheap as S$1. You can even look forward to half-price days a few times a month!
Address: 96 Waterloo Street, Singapore 187967
Opening hours: 10.30am to 2.30pm (Mondays to Fridays) | 11am to 2pm (Last Sunday of every month)
Website | Facebook | Instagram
6. MINDS Shop
Short for Movement for the Intellectually Disabled of Singapore, the MINDS Shops empower and provide MINDS' clients with pre-vocational retail and customer service training.
There are 4 stores islandwide, with each store carrying a unique range of furniture, clothes, collectibles and houseware. All proceeds go to the MINDS trainees as allowance.
Margaret Drive
Address: 800 Margaret Drive, Singapore 149310
Opening hours: 10am to 3pm (Mondays to Wednesdays) | Closed on Public Holidays
Redhill
Address: 71 Redhill Road, #01-29, SilverACE, Singapore 150071
Opening hours: 9am to 4pm (Wednesdays to Saturdays) | Closed on Public Holidays
Rosyth
Address: 29 Rosyth Road, Singapore 546190
Opening hours: 10am to 3pm (Tuesdays to Thursdays) | Closed on Public Holidays
Woodlands
Address: 30 Woodlands Ring Road, Singapore 737883
Opening hours: 10am to 3pm (Tuesdays to Thursdays) | Closed on Public Holidays
7. Thrift Shop Ministry @ Church Of St. Vincent De Paul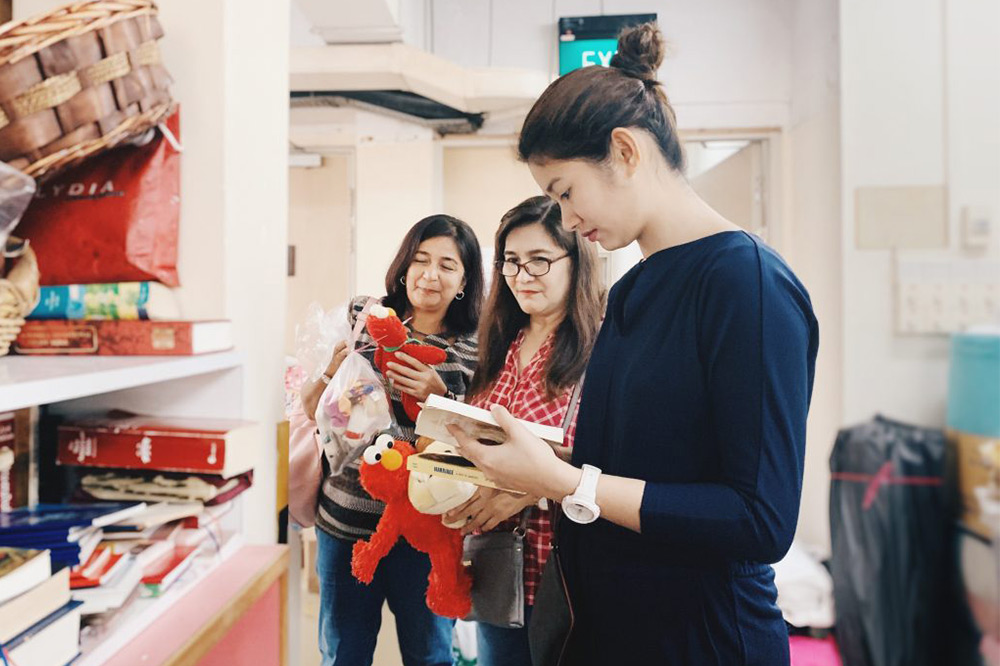 Thrift Shop Ministry is part of the Church Of St. Vincent De Paul. It is on the second floor of the church, and open on the first and third Sundays of the month, from 8.15am to 12pm.
You can find a wide range of items such as books, electronics, household items, shoes, bags and clothes. It also has religious items such as sculptures, statues and paintings that have been donated by the church's parishioners.
Address: 301 Yio Chu Kang Road, level 2, Church Of St. Vincent De Paul, Singapore 805910
Opening hours: 8.15am to 12pm (Every first and third Sunday of the month)
Website
8. Something Old Something New (SOSN)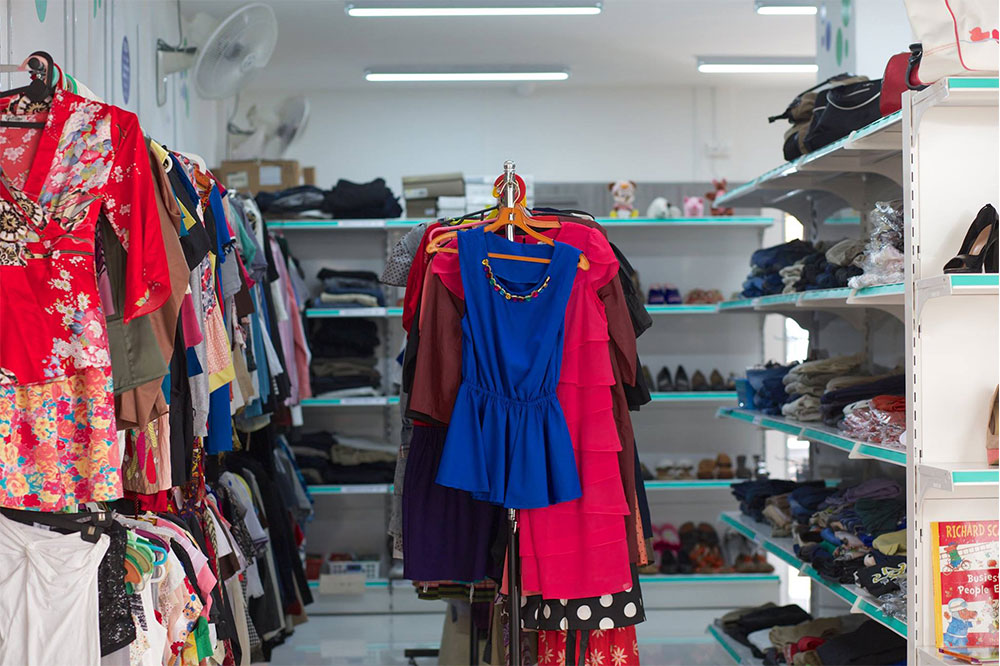 Something Old Something New (SOSN) by Singapore Anglican Community Services is a social enterprise thrift shop aimed at improving the employability of persons with mental health issues.
Established in 1997, the thrift shop hawks all sorts of pre-loved items such as clothing, furniture, household goods, electronic devices, toys, books and more. You can find them at 8 locations islandwide.
Address: Find the full list of outlets on Singapore Anglican Community Services' website
Website | Facebook
9. Praisehaven Mega Family Store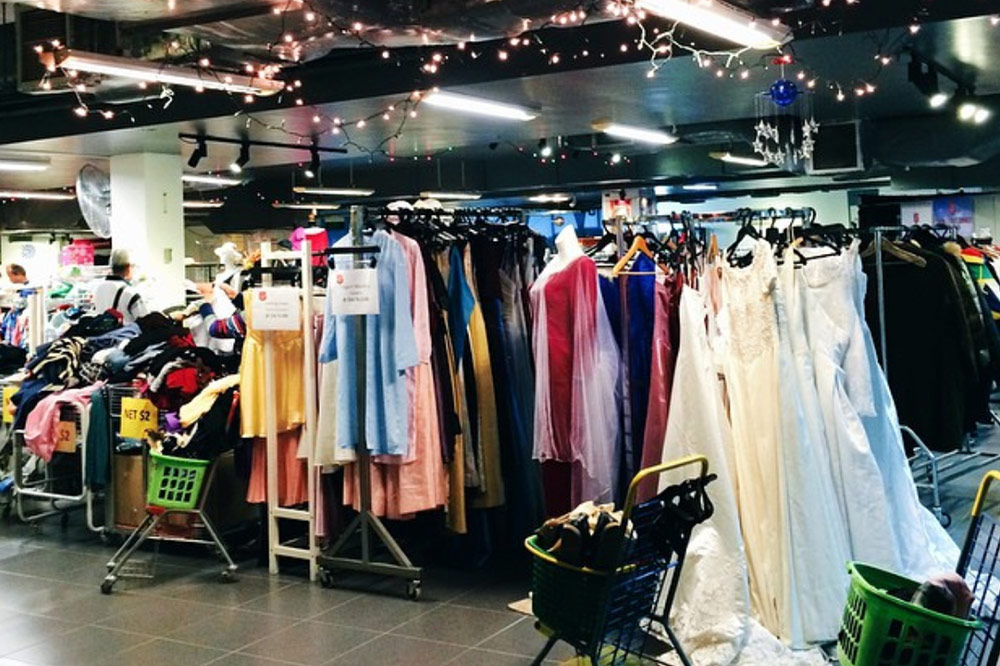 This thrift shop is probably one of the more popular ones in Singapore. Operating under The Salvation Army, the Praisehaven Mega Family Store has just about everything you can find under one roof.
From wedding dresses, shoes, clothes, antique collectibles, to furniture and art pieces, there is something for everyone here.
Address: 500 Upper Bukit Timah Road, Singapore 678106
Opening hours: 11am to 7pm (Mondays to Thursdays) | 11am to 8pm (Fridays and Saturdays)
Website
Shopping Sustainably at Thrift Shops In Singapore
Not only does thrift shopping at thrift shops in Singapore help the environment, it can also contribute to social causes and save your wallet at the same time. If you haven't tried thrift shopping yet, it's time to start. Who knows what treasures you will uncover?
This article was first published on 12 November 2019 and last updated on 26 April 2021.
Cover: Source, source
Also read:
The Kint Story – Meet the NUS Grads Who Rejected CBD Life To Set Up An Online Thrift Store