10 Thrift Shops In Singapore
Thrift shopping is gaining in popularity as we move towards becoming a more environmentally conscious society. Whether you're an avid fashion enthusiast looking to bring new life to vintage finds, or a thrift shopper eager to expand your wardrobe on a budget, these online and offline thrift shops in Singapore are sure to do the trick.
1. Flea Party
Source
The flea market organised by Fleawhere is my personal favourite place to shop for second-hand clothes if I'm looking to refresh my wardrobe for cheap. What I like about thrift shopping at its brick and mortar store is that you will easily be able to find trendy and chic apparel in good condition at a fraction of the price, as many of the vendors here are youths looking to offload their wardrobes. Tip: Come on a weekend afternoon for the best steals!
Address: 304 Orchard Road, #06-48B, Lucky Plaza, Singapore 238863
Opening hours: 1pm to 7pm (Daily)
Website | Facebook | Instagram
2. MINDS Shop
Source
Short for Movement for the Intellectually Disabled of Singapore, the MINDS Shops empower and provide MINDS' clients with pre-vocational retail and customer service training. There are four stores islandwide, with each store carrying a unique range of furniture, clothes, collectibles and houseware. All proceeds go to the MINDS trainees as allowance.
Address: 800 Margaret Drive, Singapore 149310 | SilverACE, Block 71 Redhill Road, #01-29, Singapore 150071 | 29 Rosyth Road, Singapore 546190 | 30 Woodlands Ring Road, Singapore 737883
Opening hours: Margaret Drive: 10am to 3pm (Mondays to Wednesdays) | Closed on Public Holidays
SilverACE at Redhill: 9am to 6pm (Tuesdays to Sundays) | Closed on Public Holidays
Rosyth: 10am to 3pm (Tuesdays to Thursdays) | Closed on Public Holidays
Woodlands: 10am to 3pm (Tuesdays to Thursdays) | Closed on Public Holidays
Website
3. Thrift Shop Ministry @ Church Of St. Vincent De Paul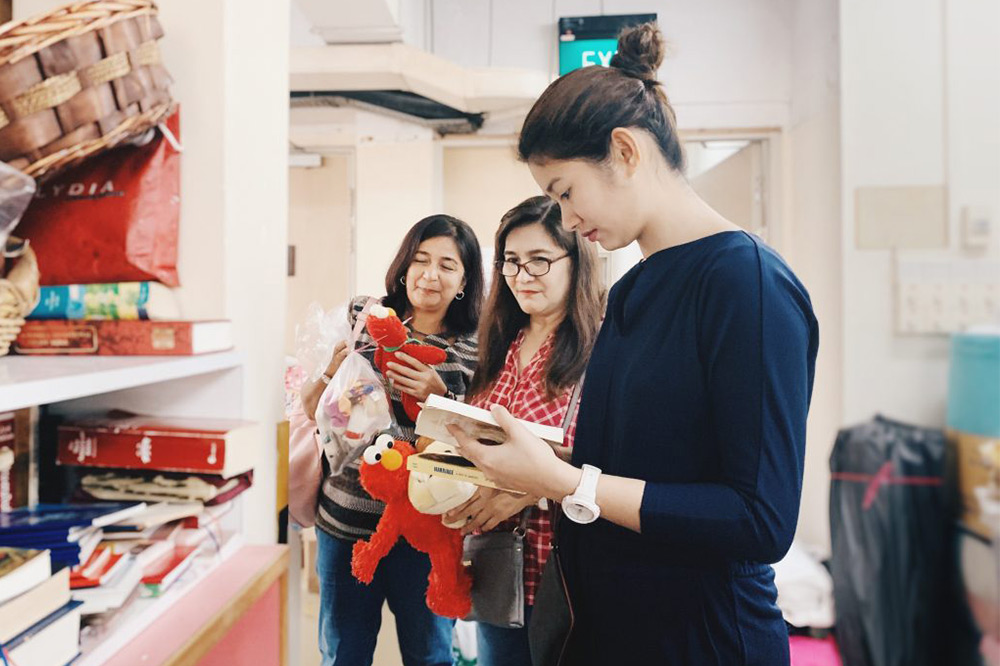 Source
Thrift Shop Ministry is part of the Church Of St. Vincent De Paul. It is on the second floor of the church, and open on the first and third Sundays of the month, from 8.15am to 12pm. You can find a wide range of items such as books, electronics, household items, shoes, bags and clothes. It also has religious items such as sculptures, statues and paintings that have been donated by the church's parishioners.
Address: 301 Yio Chu Kang Road, level 2, Church Of St. Vincent De Paul, Singapore 805910
Opening hours: 8.15am to 12pm (Every first and third Sunday of the month)
Website
4. Something Old Something New (SOSN)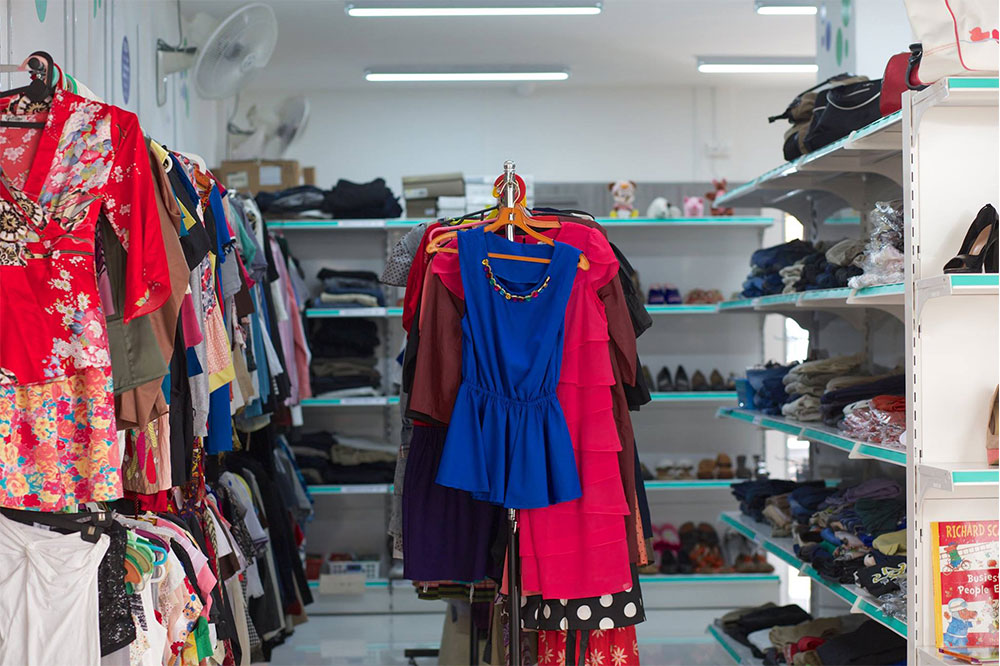 Source
Something Old Something New (SOSN) by Singapore Anglican Community Services is a social enterprise thrift shop aimed at improving the employability of persons with mental health issues. Established since 1997, the thrift shop hawks all sorts of preloved items such as clothing, furniture, household goods, electronic devices, toys, books and more. You can find them at 8 locations islandwide.
Address: Find the full list of outlets on Singapore Anglican Community Services' website
Website | Facebook
5. New2U Thrift Shop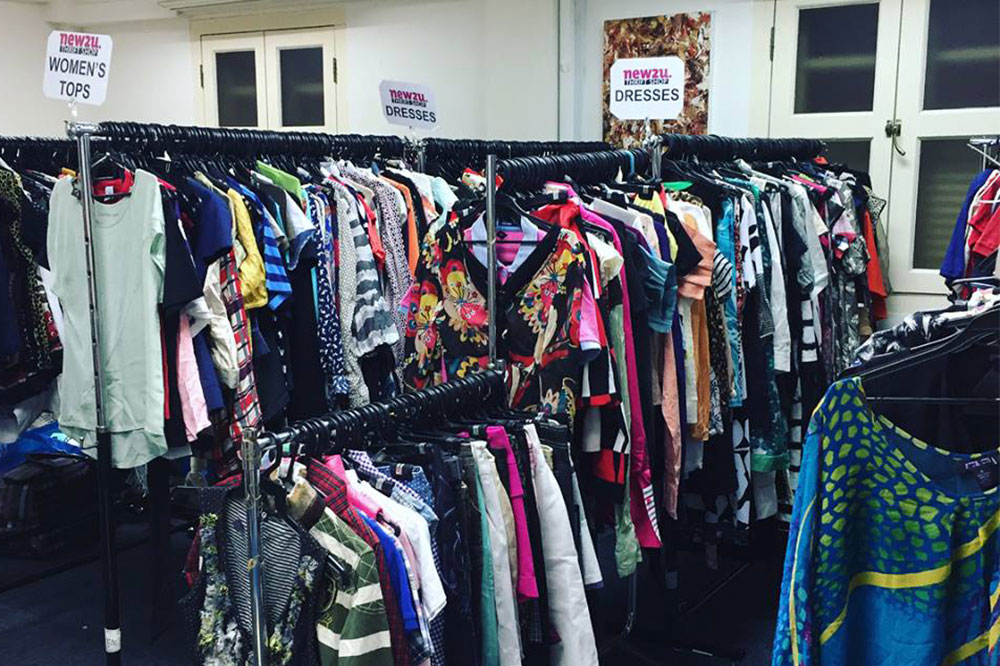 Source
Popular among the students from art schools in the area, this thrift shop is tucked away at Waterloo Street within the Singapore Council of Women's Organisation (SCWO). Proceeds from your purchases will go towards supporting SCWO's work in Singapore. While the space itself isn't very big, it is packed with loads of gems, with apparel going as cheap as S$1. You can even look forward to half-price days a few times a month!
Address: 96 Waterloo Street, Singapore 187967
Opening hours: 10.30am to 2.30pm (Mondays to Fridays) | 11am to 2pm (Last Sunday of every month)
Facebook
Also read: 
7 Thrift Stores In Bangkok For Cheap Secondhand And Vintage Shopping Beyond Chatuchak
6. The Thrift Shop at Church of St. Bernadette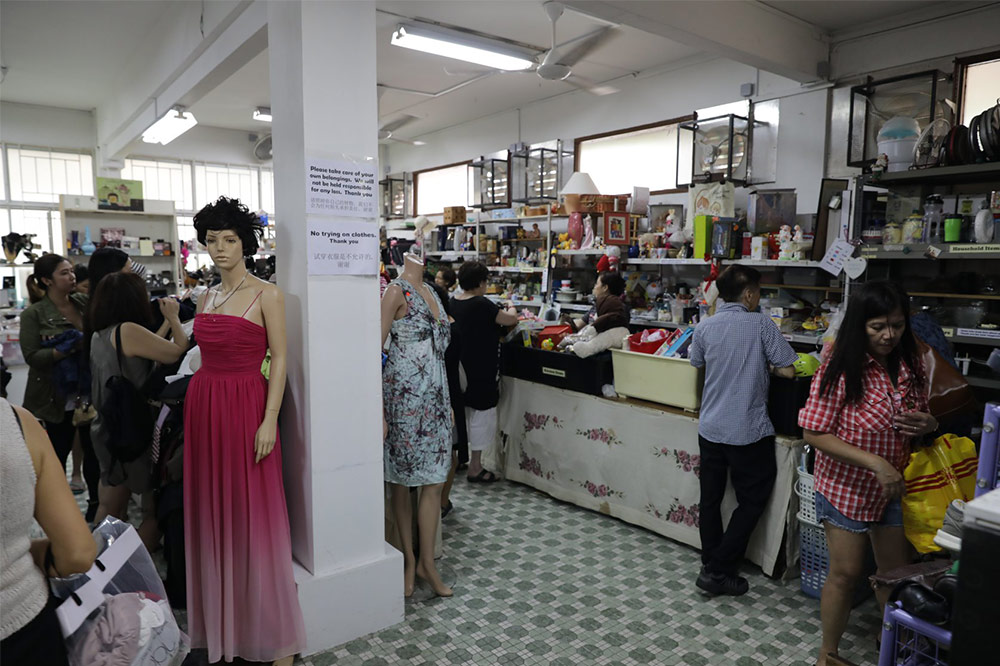 Source
Located just next to the church's entrance, this thrift shop is managed by volunteers of the church. There is a constant flow of donations, so you will always be able to find something new and interesting here. Some unique items that have been donated include a Star Wars metal lunch box, a hand-stitched silk kimono, and collectibles from all around the world such as miniature figurines from France, teapots from India and Delft blue plates from the Netherlands.
Address: 12 Zion Road, Singapore 247731
Opening hours: 10.30am to 4.30pm (Thursdays) | 9am to 4.30pm (Saturdays) | 7am to 12.30pm (Last Sunday of the month)
Facebook
7. Praisehaven Mega Family Store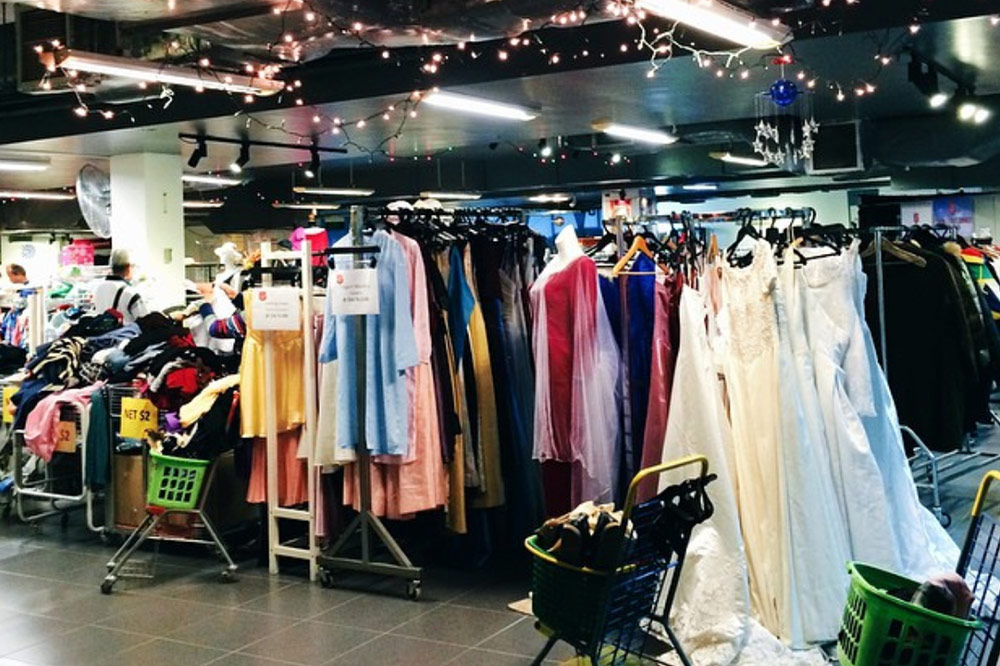 Source
This thrift shop is probably one of the more popular ones in Singapore. Operating under The Salvation Army, the Praisehaven Mega Family Store has just about everything you can find under one roof. From wedding dresses, shoes, clothes, antique collectibles, to furniture and art pieces, there is something for everyone here.
Address: 500 Upper Bukit Timah Road, Singapore 678106
Opening hours: 10am to 6pm (Mondays to Thursdays) | 10am to 9pm (Fridays and Saturdays)
Website
8. The Salvation Army x Lazada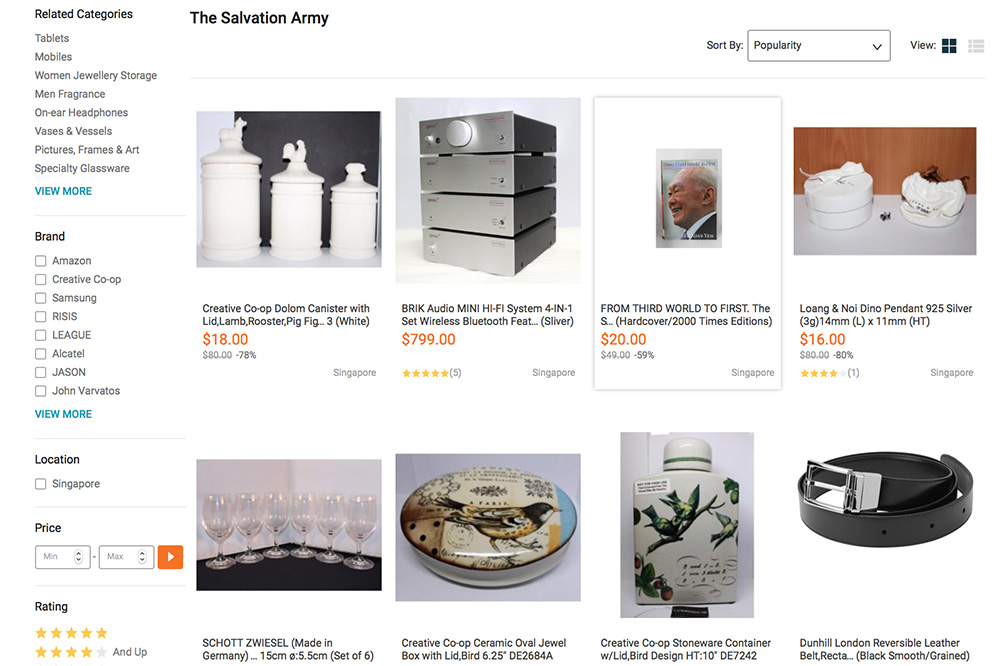 Those who prefer to shop online can now thrift shop in the comforts of your own home with The Salvation Army's move to e-commerce. Instead of heading down to the physical store, you can purchase secondhand goods from its Lazada store, and get the items delivered to your doorstep. Some of the items you can find are refurbished Kindles going from $168, Sony headphones at $69, and also Samsung and Huawei smartphones in good working condition. If you're worried about purchasing secondhand goods online, you'll be glad to know there is a free return policy.
9. Refash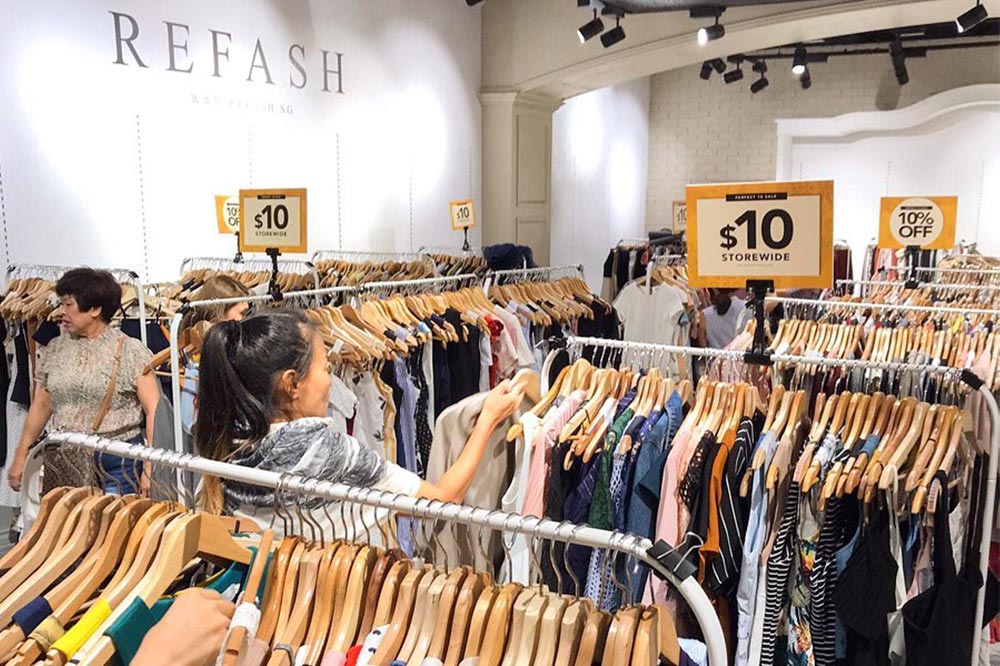 Source
Refash offers a platform for fashionable women to buy and sell their pre-loved items both online and offline. Its main focus is on women's apparel, targeting preferred fast fashion and luxury brands such as ASOS, Uniqlo, Topshop and popular local blogshops. While prices may not be as affordable as the other brick and mortar thrift stores listed in this article, this easily accessible marketplace offers a huge curated collection of trendy apparel in mostly mint condition.
Address: You can view the full list of outlets on Refash's website
Website | Facebook | Instagram
10. The Kint Story
This online store started by two NUS graduates sells only pre-loved clothing on their website, handpicked by the founders from flea markets and thrift stores around the region. After being thrifted, the clothes are washed, styled and modelled before being released online. Besides breathing new life into their own finds, they have also worked with local influencers to curate collections and sell their own pre-loved clothing on the site.
Website | Facebook | Instagram
Shopping Sustainably at Thrift Shops In Singapore
Not only does thrift shopping at thrift shops in Singapore help the environment, it can also contribute to social causes and save your wallet at the same time. If you haven't tried thrift shopping yet, it's time to start. Who knows what gems you will uncover?
Also read:
The Kint Story – Meet the NUS Grads Who Rejected CBD Life To Set Up An Online Thrift Store
Cover: Source, source