Engaging a Wedding Photographer is tricky
On 14 August 2018, Facebook user Ivan Tan, unhappy about how his wedding photos turned out, uploaded them on Facebook for everybody to judge. He paid S$2,700 for photography, videography, and a photo booth.
This is not the first time such disputes with wedding photographers have been made public. A wedding is once-in-a-lifetime, so when the standards of the couple are not met, blaming ensues.
Is cheaper better?
I recently listened to a drunk friend lamenting about why weddings cost so much and how he doesn't really care for it. But to his wife, it is of paramount importance.
He further bemoaned that the entire wedding will set him back about S$50,000, which does sound like a lot of money, considering the cost of a new house as well.
So, it is natural that a couple would want to cut corners by hiring a cheaper photographer instead.
Whenever we see Facebook posts complaining about their wedding photography with photos as evidence, the comments are usually divided.
One camp will say "you get what you pay for". The other camp will say that there are basic expectations for photography skills, despite the discounted price.
I am more inclined toward the first camp.
Wedding photography is a low-entry business; S$10,000 can get you a good DSLR with the necessary equipment. This results in a price war and explains why you can find wedding photographers offering really cheap and enticing packages, the way I see salons offering S$3 haircuts in Toa Payoh.
If I decide to get a S$3 haircut in Toa Payoh, I expect it, in some way, to be botched. But that's okay to me because I am a guy and our hair grows out pretty quickly. However, if somehow, the haircut looks good, I get elated. What a deal!
In this way, I hedge my expectations and emotions. However, are you willing to take the risk of having botched wedding photos in exchange for a lower price tag?
You cannot expect the photographer to care about your wedding as much as you do. In business, only money speaks, so if you want them to care more, you will have to pay the premium on that.
And that's how the world works!
Also read:

What to look out for
If you're looking to avoid having your wedding pictures botched, here are some things to look for and discuss before deciding to engage a photographer.
1. Personal expectations
At the wedding, you are both the host and the star. You will not have the time or energy to direct the photographer. This means that the photographer needs to take charge and direct you and your family members to get the important shots you want.
It helps to be more specific by highlighting what is important to you, such as key family members and the angles (wide angle, close-ups, etc.) you prefer.
One of Ivan's complaints was that the photographer did not tell the couple to smile. If smiley shots is what you want, you should highlight it, as you cannot assume the photographer will know that. They might think you prefer natural-looking shots.
2. Exposure
Another one of Ivan's complaints is that many of his photos were overexposed. Controlling the camera's exposure is a technical ability that the photographer should possess.
If the photos are overexposed, it means the colours have been whitewashed and no amount of editing can save it.
3. Composition
There are basic composition rules like not cropping off the top of people's heads. But in the picture above, this criticism falls into a more subjective grey area.
It is best to choose a photographer whose style you are comfortable with.
4. The photographer
I had a friend complain to me about a 'black-faced' intern photographer who looked 'super unhappy' while shooting her wedding.
Some companies don't send their top photographers, so it is important to clarify who will be shooting your wedding and what their attitude and skills are.
Most choose the photographer based on their portfolio style; just make sure you are wary the portfolio shows their 'best of'. Expect your photos to fall slightly shorter than their portfolio work.
Market rate for wedding photography
A decent wedding photography package (including videography) will cost from S$3,500 to S$6,000. Once again, this does not mean your photographs will be amazing if you pay that price. You still need to scrutinize if their work fits the style you want.
Here are some quotes from studios, with and without videography, just to give us a sense of what the market rate is going for.
Maryann, 25, bought a package from Forte Visuals. She considers this a deal, and decided to go with them because she felt they are passionate from just starting out in the business.
S$3,420 for full-day (10 hours) wedding photography: same day edit, with minimum of 400 edited images (soft copy), childhood photo montage; inclusive of pre-wedding shoot and video at one location.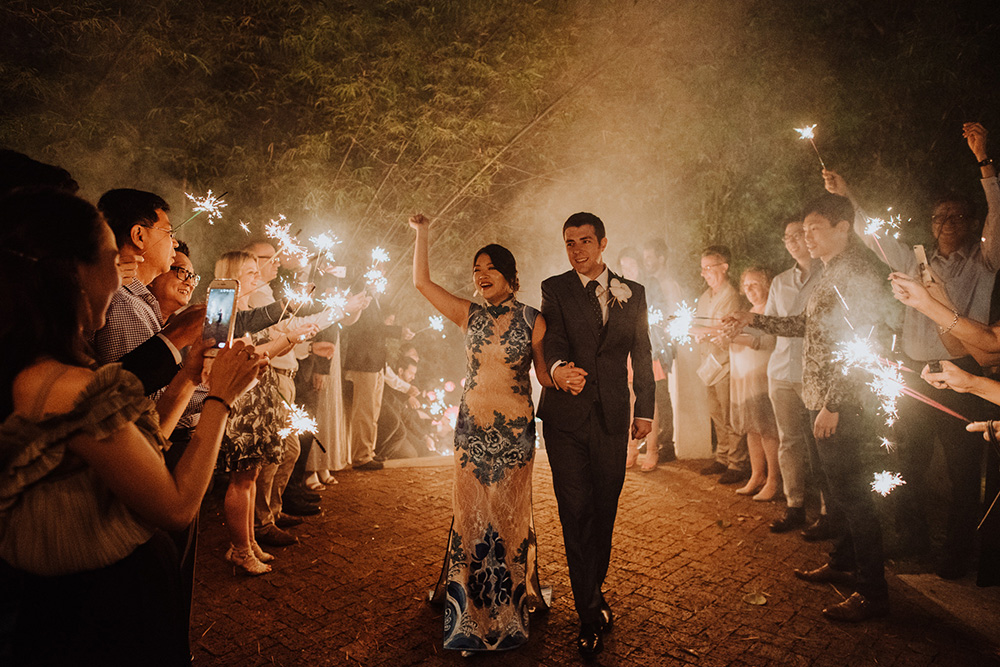 Credit: Andri Tei Photography
S$2,100 for half-day (6 hours) wedding photography: minimum 300 edited images in hi-res JPEG, slideshow summary, 30 4R prints, a custom box set.
S$3,300 for full-day (10 hours) wedding photography: minimum 500 edited images in hi-res JPEG, slideshow summary, 40 4R prints, a custom box set with name engraving.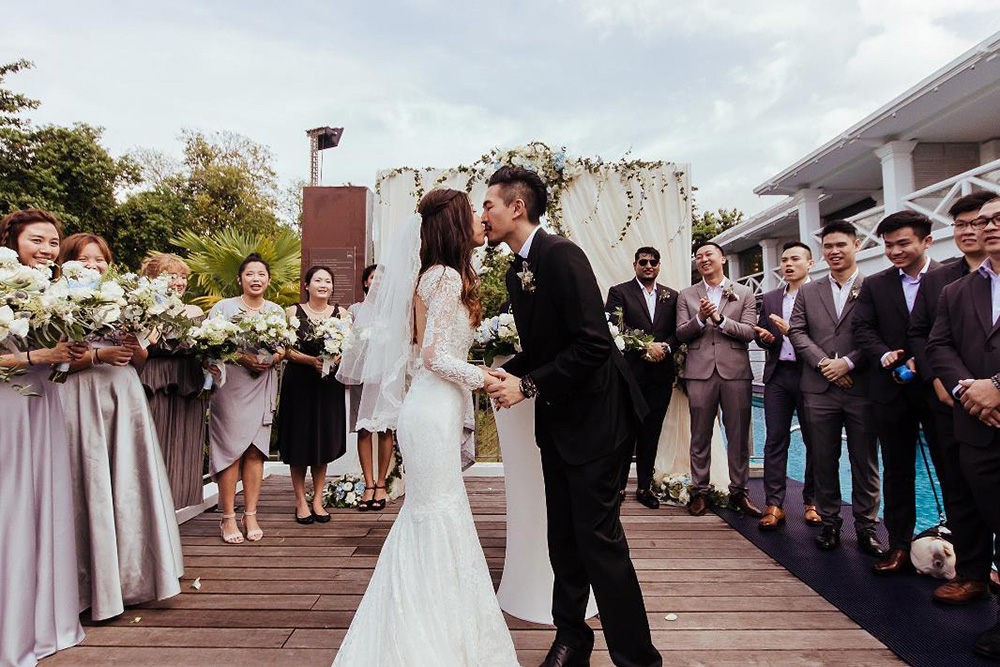 Credit: Moomedia
S$5,500 for full-day (8 hours) wedding photography and videography: 8-minute DVD summary (in HD), all shots edited.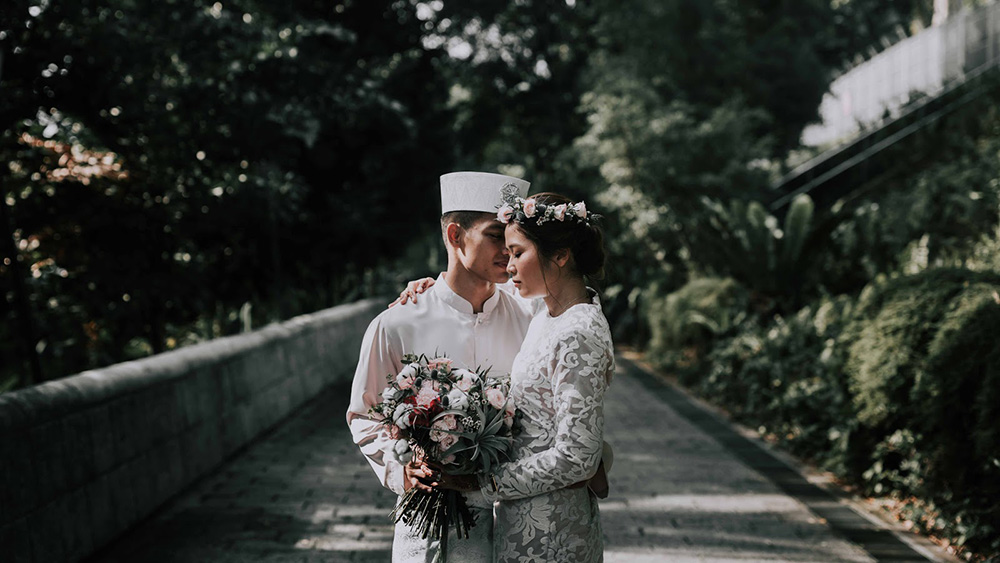 Credit: Love Me Tender Films
Sample package of $3,600 for full-day (9-12 hours) wedding photography and videography: 400-600 edited images, 60-second preview, 6 minute wedding highlight video, summary of raw footage (length varies).
Customise your package with Love Me Tender films here.
Wedding Photography Costs And Expectations
A wedding is a once-in-a-lifetime experience. We understand the social pressure that comes with everything being perfect.
Of course, we want the best services for the lowest cost, but there could be a hidden cost when your photographs do not turn out how you expected.
We hope this guide provided a point-of-view and price comparison to help you find the right photographer for your special day.
Also read:

Cover image: Source