Woman Exposes SQ Cabin Crew Job Pains
It's not uncommon to hear our friends around us complaining about their work lives. After all, it does feel extra sian to work five times a week and deal with the same thing every day. TikTok user @jujuchewbacca, also known as Emmilia, took complaining up a notch by exposing the harsh reality of working in Singapore Airlines' on her personal account. 
The viral TikTok now has gained over 255,000 views, but despite her complaints, Emmilia revealed that she has been re-applying to join the team again.
The TikTok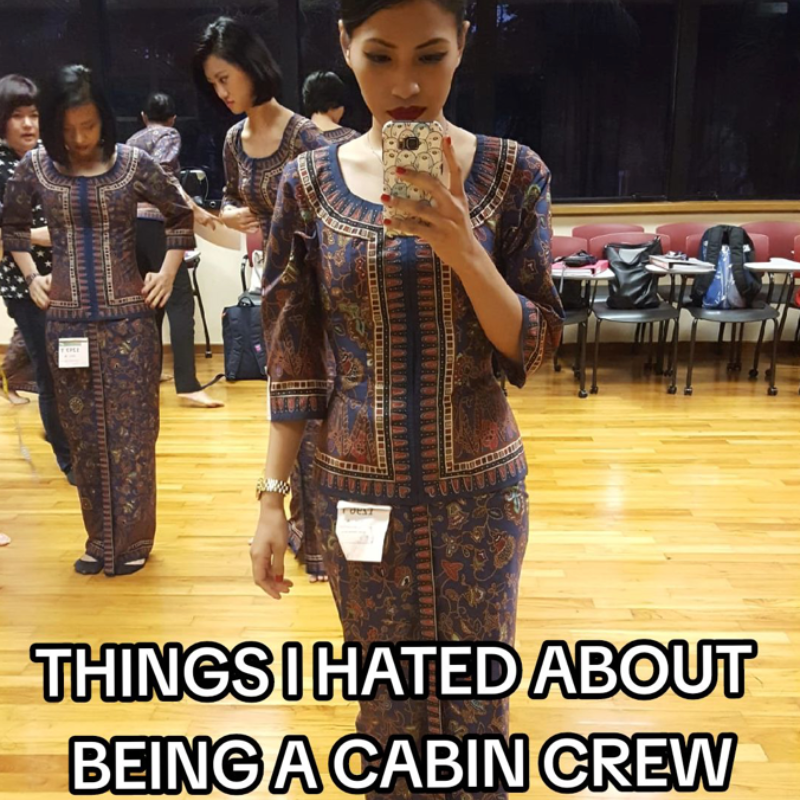 Source
Titled "things I hated about being a cabin crew", Emmilia's TikTok featured a photo collage of herself donning the SQ Airlines Kebaya along with multiple screenshots of complaints that she typed out on her phone's notes app. 
Her first complaint was targeted towards the senior crew members "who have clearly lost their passion for the job". Emmilia hinted at the possibility of a toxic work culture, with staff members who seem "bitter because other people enjoy their jobs". 
In her anger, Emmilia harshly stated, "if you f**ing hate this job so much, f**king quit. Nobody is f**king making you stay."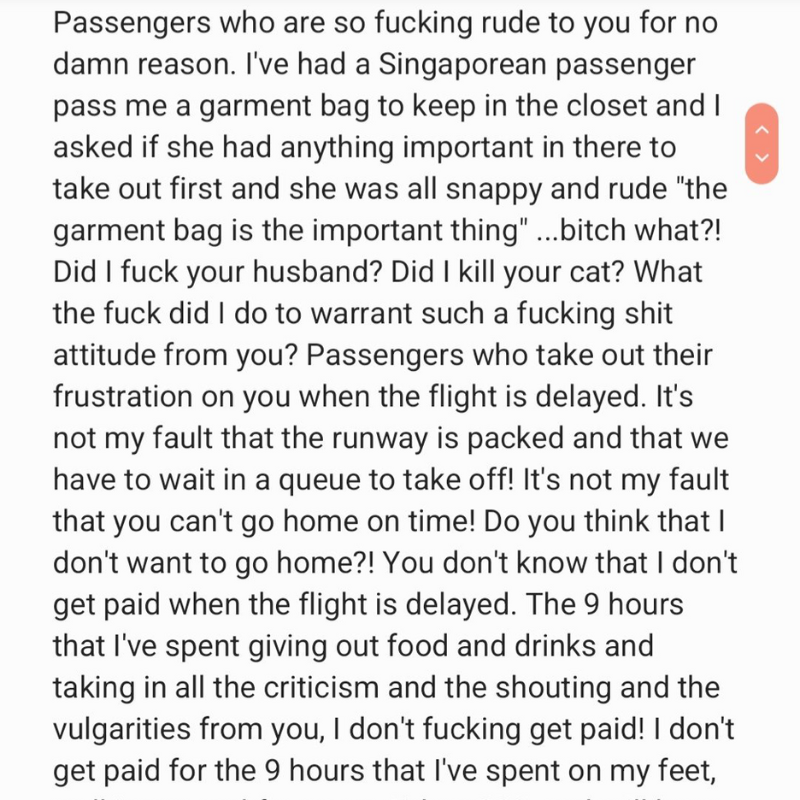 Source
Emmilia then went on to complain about the rude passengers on board who "take out their frustration (on me) when the flight is delayed". 
She exposed that she doesn't get paid extra for delayed flights either, having to suffer from working overtime while dealing with "criticism, shouting and the vulgarities" from passengers.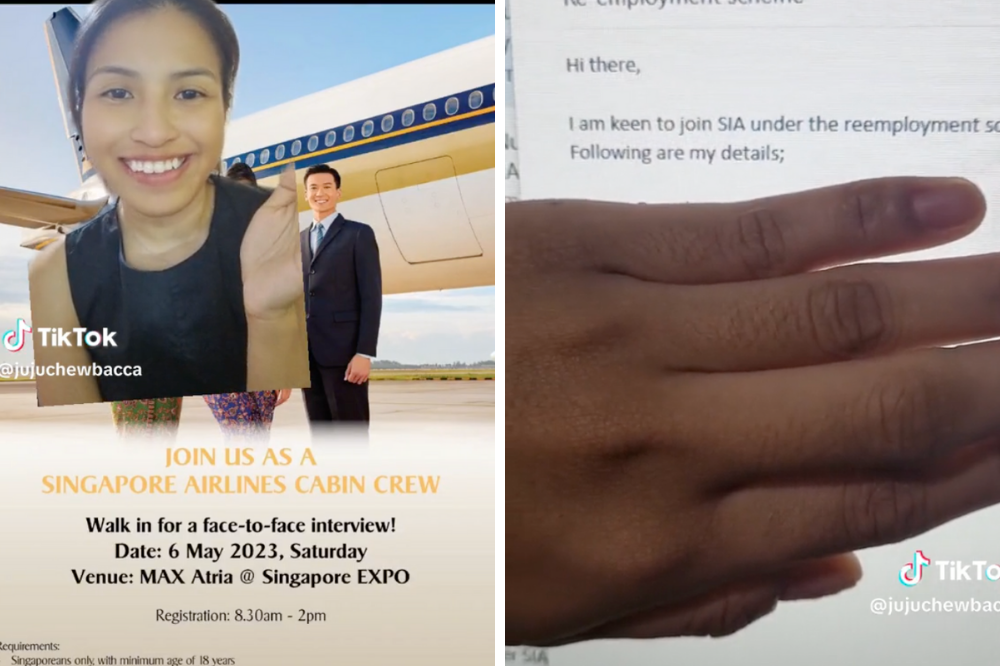 Source
But Emmilia surprisingly shared in another video that she is re-applying for a job at SQ Airlines again. In the TikTok, she posted a photo of SQ Airline's hiring poster, captioning the video "this is going to be a very humbling experience". 
She claims, "I'm sure they're not going to take me back because I sent about three emails in December and they have not gotten back (to me)." But she's still determined to try again, showing her followers the application email that she had drafted and sent.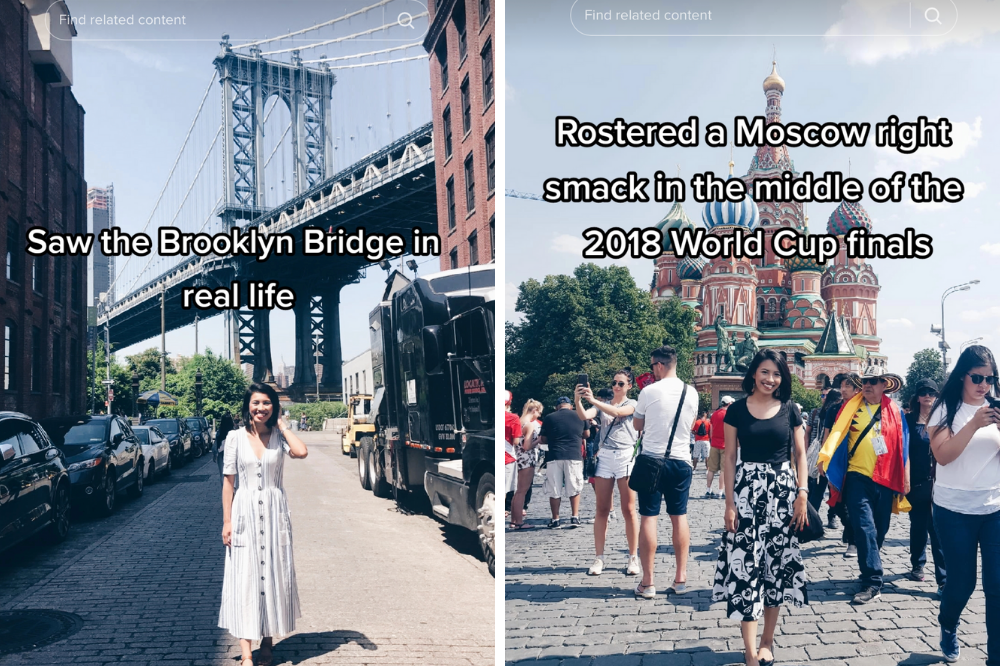 Source
A quick look at Emmilia's TikTok page also shows that she often shares a lot about her life back then as part of SQ's cabin crew. Complaints aside, she posted a photo collage of her work perks, such as visiting the Brooklyn Bridge and being in Moscow during the hype of the 2018 World Cup Finals.
It seems as if the perks have outweighed the bad in the end, since Emmilia wants to go back to work as an air stewardess once again.
TikToker Exposes The Perks & Pains Of Working As An SQ Cabin Crew
While Emmilia's TikTok exposing the pains of working as part of SQ's cabin crew may seem too extreme to many, it's also a reminder that people who work in customer servicing jobs are real people too. We should treat each other with respect and learn to respect the airline's flying rules, no matter how inconvenient they may seem.
Also read: