Awkwafina Facts
Most of us recognise Awkwafina from Crazy Rich Asians or the recently released Shang Chi, where she played Katy. While we enjoy her comedic acting skills, there's more to this actress than meets the eye. Just like the rest of us, she's had her fair share of hard knocks and dabbled in a diverse number of hobbies, most of which have made her who she is today. Read on to find out more about this 33-year-old and take a peek at some lesser-known Awkwafina facts. 
1. Developed an alter ego to overcome her shyness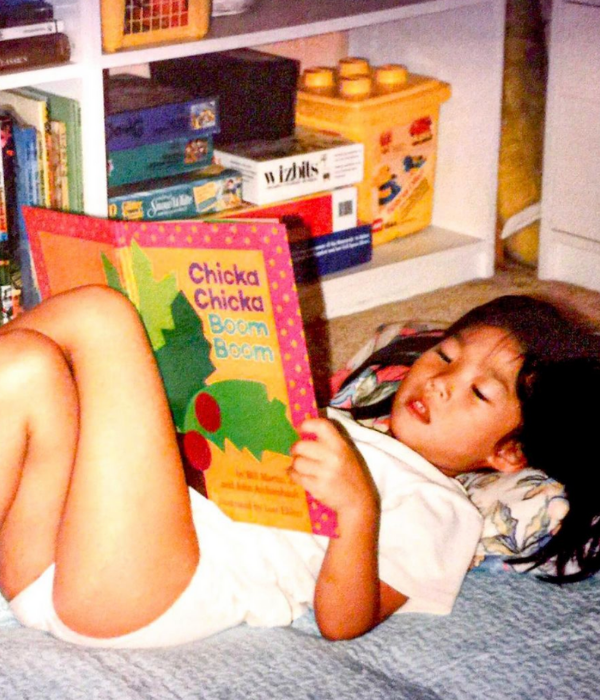 Source 
Now you didn't think Awkwafina was her actual name, did you? Born Nora Lum, the moniker was created as a stage name when she was 15 years old. 
While the word itself doesn't hold any deeper meaning, she got her inspiration from brands like Neutrogena and Dasani. Initially, she had spelt it as "Aquafina", like the water brand, but was told to tweak it so she wouldn't get sued. 
As someone who felt repressed in college, often having to hide behind a more quiet and passive veneer, the name helped her to break out of her shell and become the kooky, comedy extraordinaire we see today. The "alter ego" also helped her grapple with ADD and depression.
Nora also claims that Awkwafina is a version of herself without all the nervous energy and anxiety. And while she seems to still hide behind Awkwafina these days, they don't exist in the same world just yet. 
2. Has a rap song called "My Vag" that's a real bop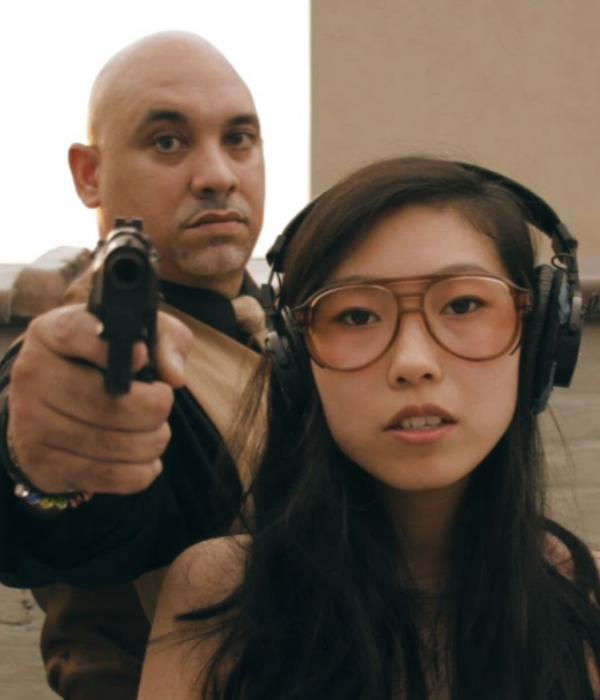 Source 
Awkwafina caught her big break in 2012 when a video of hers went viral on Youtube – a rap she had made in response to a Mickey Avalon song. Titled "My Vag", she showcased both her rapping and writing skills on the vibrant track. 
She started rapping when she was only 13 and has been mixing and producing her own songs since her teen years. 
In fact, in 2016 she was featured in the documentary Bad Rap which looked at the lives of 4 different Asian-American rappers. 
While she doesn't seem to be pursuing a rap career at the moment, she has 2 albums to her name – Yellow Ranger and In Fina We Trust – that you can check out to get a taste of her musical genius. 
3. First-ever Asian actress to win a Golden Globe in the Comedy/Musical category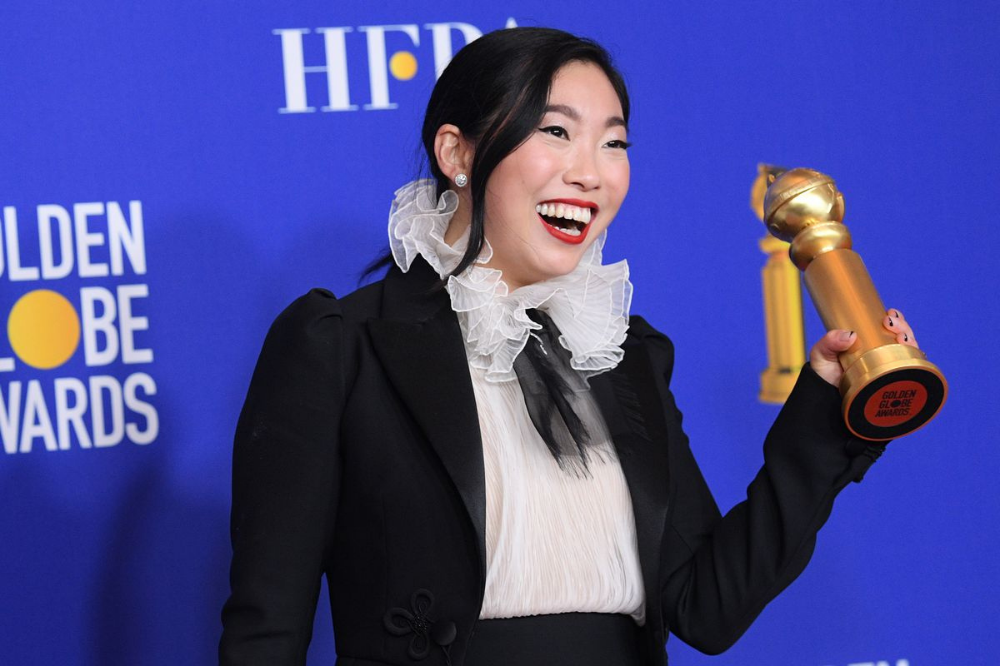 Source
Winning a Golden Globe is a high honour, so it's no surprise that Awkwafina had the brightest smile plastered on after winning Best Actress in a Motion Picture, for the Musical or Comedy category, in 2020.
The award was for her performance in the film The Farewell and made her the first-ever Asian actress to win a Golden Globe in that category. 
During her speech, she even joked about selling the award if she fell upon hard times, while proudly waving the trophy in the air. 
4. Adopted the cutest furry friend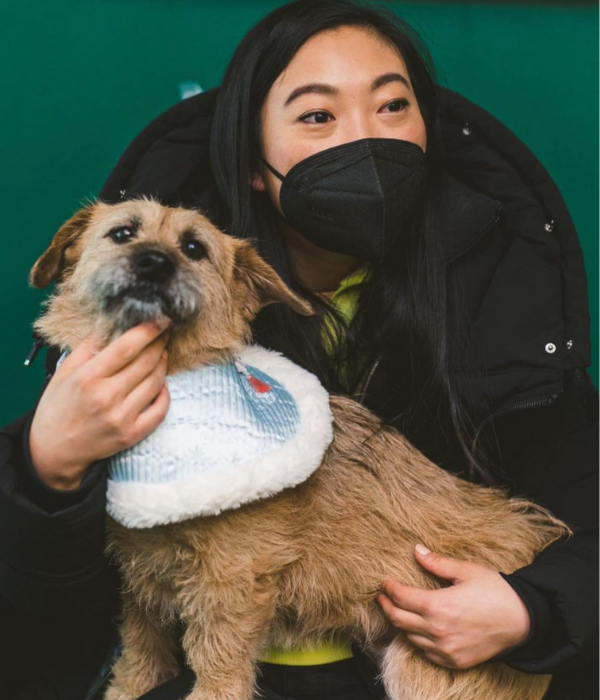 Source
This furry fella's name is Haeng-Un, which in Korean means "good luck". Earlier this year, Awkwafina adopted Haeng-Un from Korean K9 Rescue, a centre that finds homes for mistreated dogs in South Korea. 
Teary-eyed, she took to Instagram saying "I love you very much" and prompted her followers to support the organisation as well.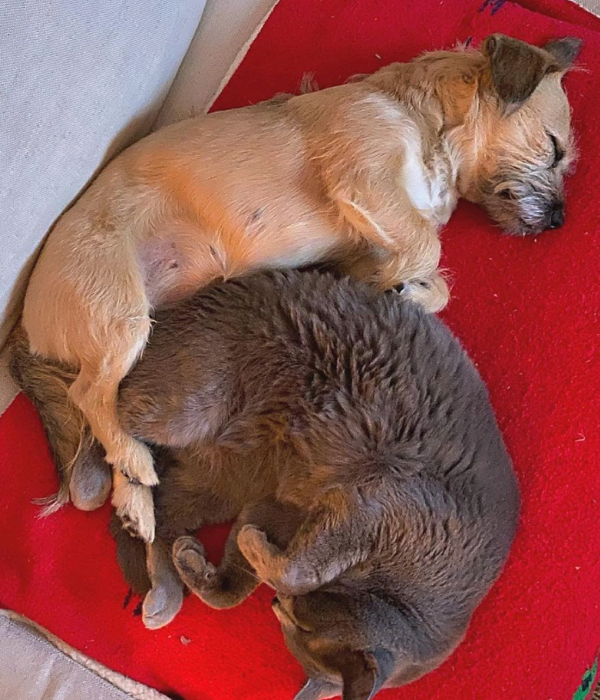 Source 
The 3-year-old doggo is the second member of her clan of four-legged creatures, and it looks like her cat, Gus, loves him just as much as she does. 
5. Learned Chinese in Beijing Language and Culture School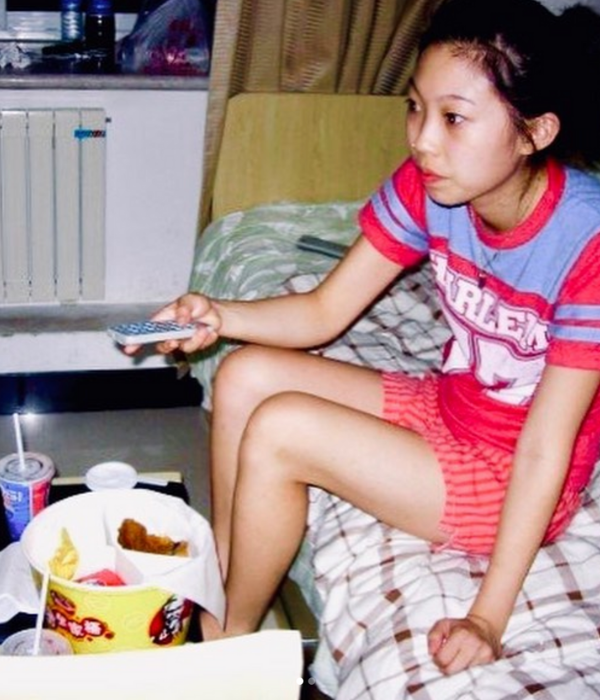 Awkwafina enjoying fried chicken during her school days
Source
From 2006 to 2008, Awkwafina went to school in Beijing to study Mandarin. As she grew up in an English speaking household, it felt like she was "negotiating 2 identities" when she went there. This was because she wasn't able to speak Mandarin fluently, despite what others assumed based on her appearance. 
While she was there, she would have her best friend, who was Greek, translate for her, which would leave the locals baffled. 
6. She's a grandma's girl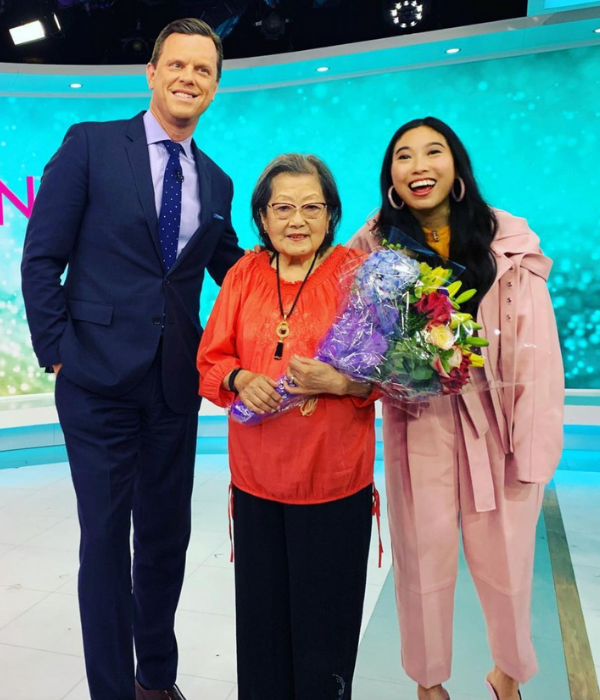 Awkwafina with her grandma
Source
Growing up, Awkwafina was raised by her grandmother and father, which explains her close-knit relationship with her grandma that is honestly the cutest thing ever. 
From bringing her grandma along with her to talk shows like The Today Show, to her grandma making sure to watch every single one of her films, it's clear that she plays an important role in Awkwafina's life.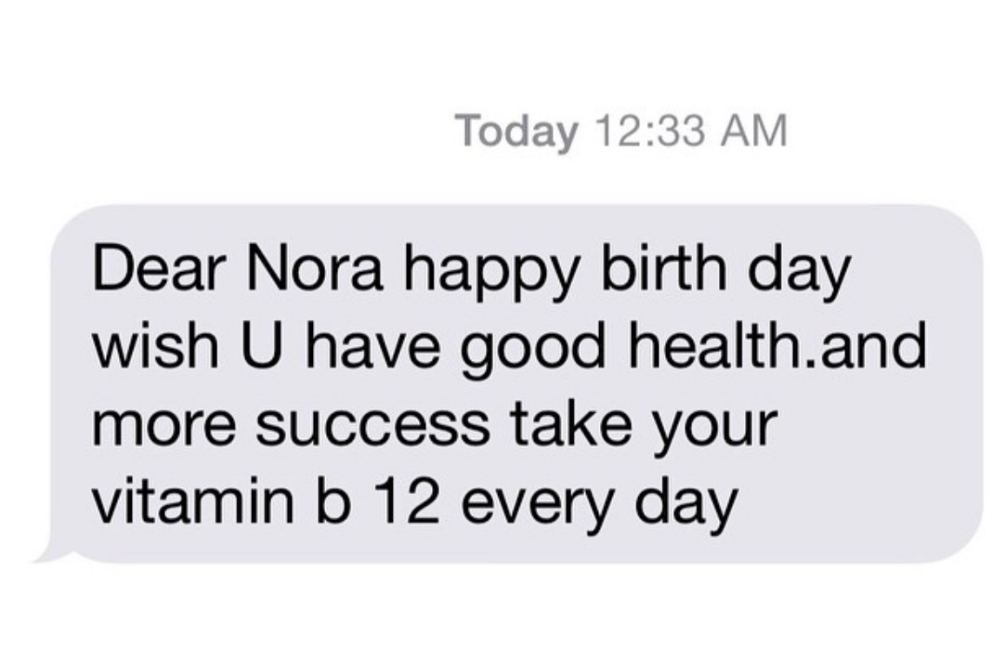 Source
On her birthday, her grandma even sent her this adorable text and like every Asian grandparent, made sure to remind Awkwafina to take her vitamins. 
7. Lost her mother when she was 4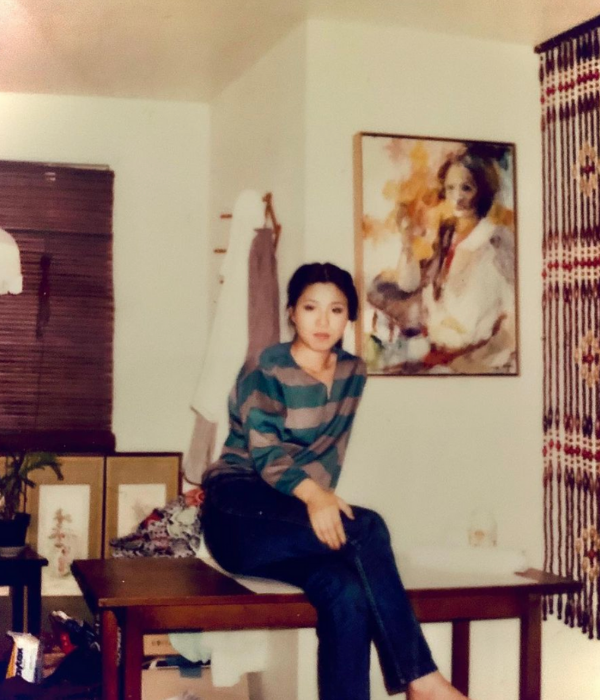 Awkwafina's late mum
Source
Despite all the success Awkwafina has had so far, she's had to struggle through many hard times as well. One of which was losing her mother to pulmonary hyperextension when she was just 4 years old. 
Her mother, whom she inherited her Korean lineage from, was a painter who migrated to the US in 1972. 
While Awkwafina never really got to know her mum, the artwork she's left behind gives Awkwafina a way to connect with her and understand how she saw the world. 
8. Her creativity combats anti-Asian hate and increases representation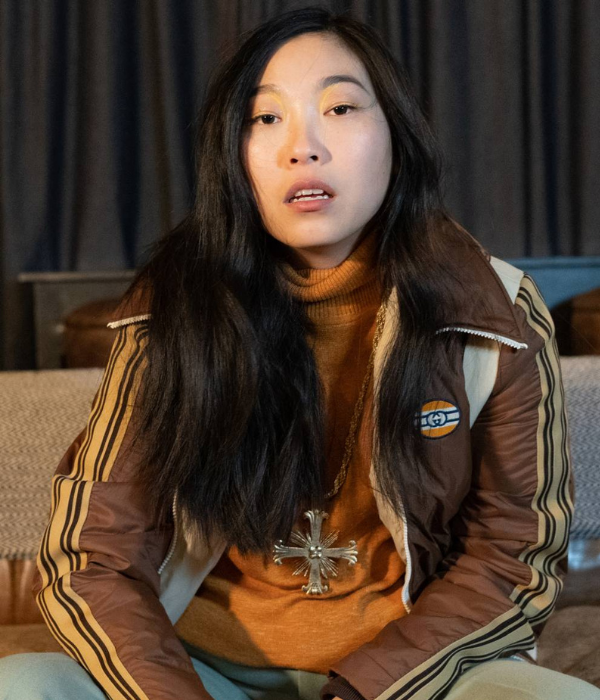 Source
In 2021, Glamour Magazine gave Awkwafina the title of "Game-Changing Creator" at their Women of the Year Awards.
As a kid, she didn't see much representation of Asian-Americans on TV and in the media. So as she gained increasingly more public attention, she chose to become the very person her younger self would've looked up to as well. 
Whether it's in her acting or rapping, she always makes certain that she's acknowledging her heritage and milestones as an Asian woman in the media. She even channels her life experiences into the roles she plays, creating relatable scenarios and storylines for fellow Asian-Americans. One such example was The Farewell, which related the story of a girl and her grandma.  
9. Bases her comedy shorts on her real life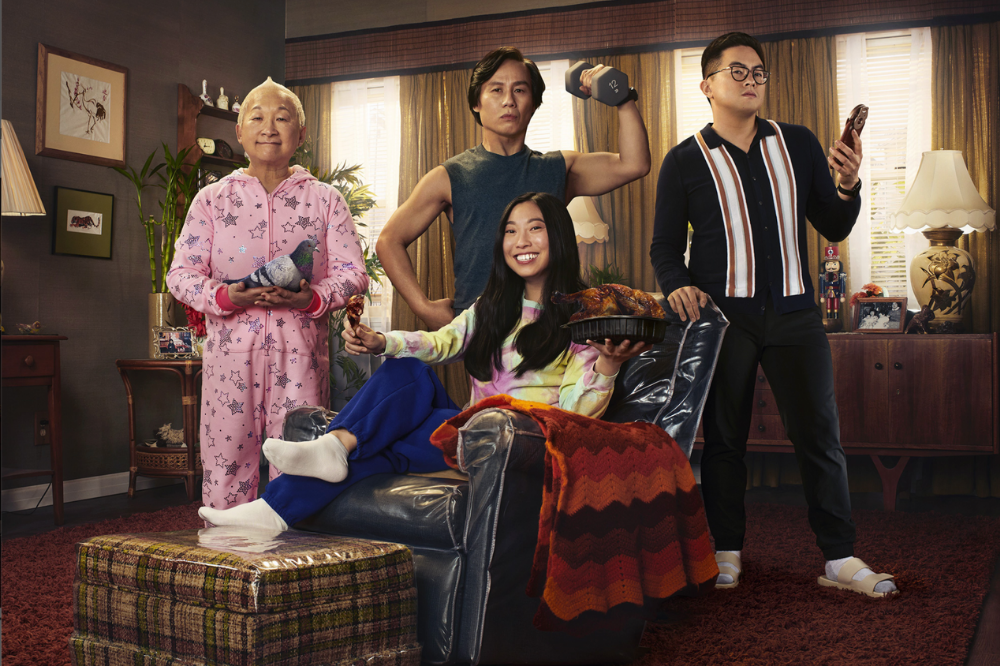 Source 
Besides her feature films, Awkwafina also has her own show on Comedy Central titled Nora From Queens – a comedy series inspired by her personal journey growing up. 
The series takes her very own lived experiences and turns them into hilarious scenes. In each episode, her character, Nora navigates living with her father, grandma and cousin in the Big Apple.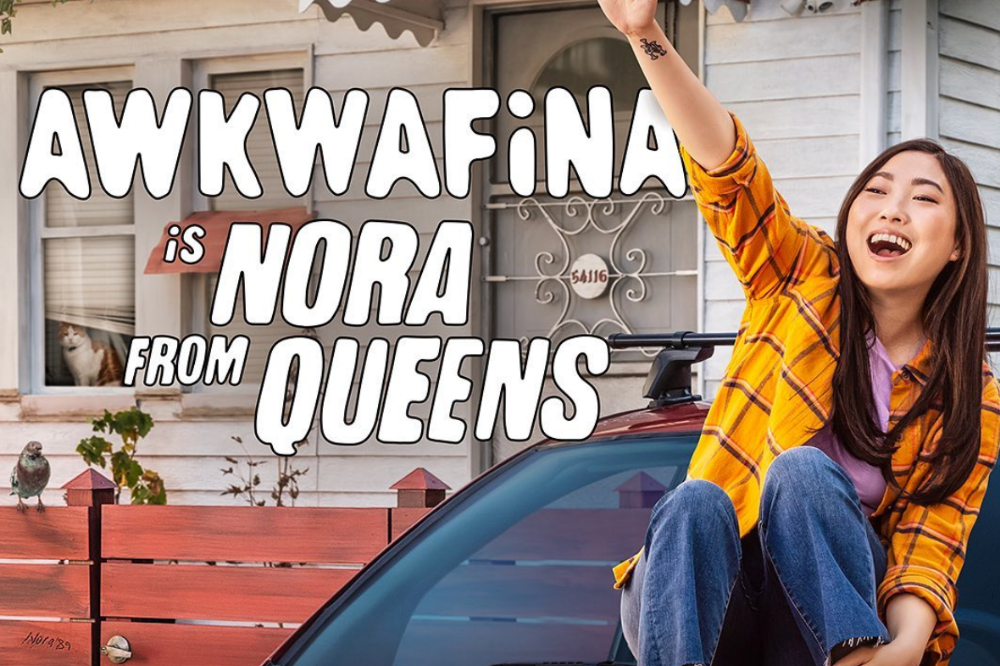 Source 
The comedy now has 2 seasons and is filled with relatable moments of Nora figuring out how to "adult" – something many of us struggle with ourselves. 
10. Trained in jazz and the trumpet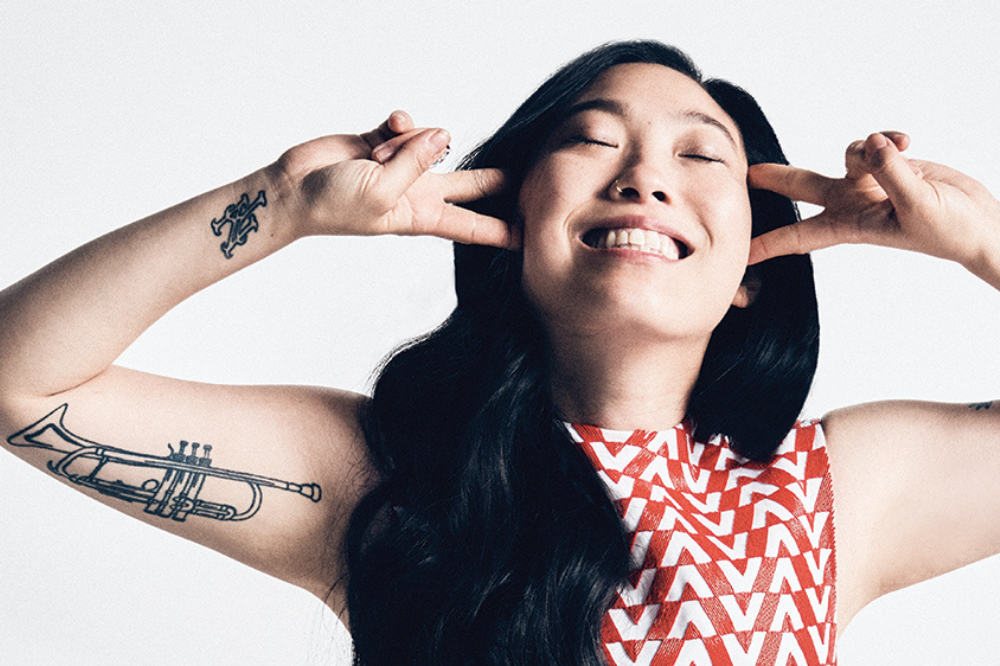 Source 
When Awkwafina was in junior high, she decided to join the school band. Little did she know, she'd end up falling in love with playing the trumpet. Her time as a musician taught her to be self-disciplined and challenged her creativity.
Later on, she even got into LaGuardia High School in NYC, which specialised in music and performing arts. Acing the audition surprised her because she played the Beatles song, " I Want To Hold Your Hand" which in retrospect, isn't the jazziest song. Once she enrolled, she began her training in classical music and jazz.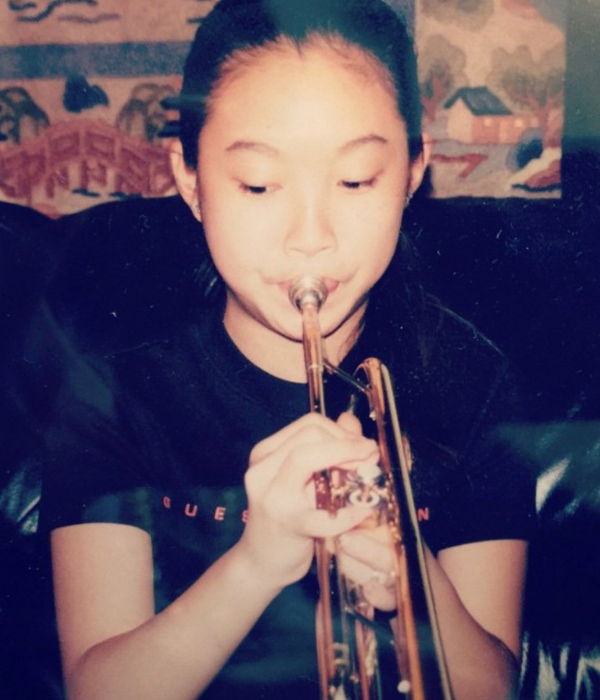 Source
In fact, she loves the trumpet so much that she even got a tattoo of the instrument on her arm. Her passion for music even transpired into her rap songs, which while a complete 180 from jazz, gives us a glimpse into the role music plays in her life. 
11. She's a thrifty person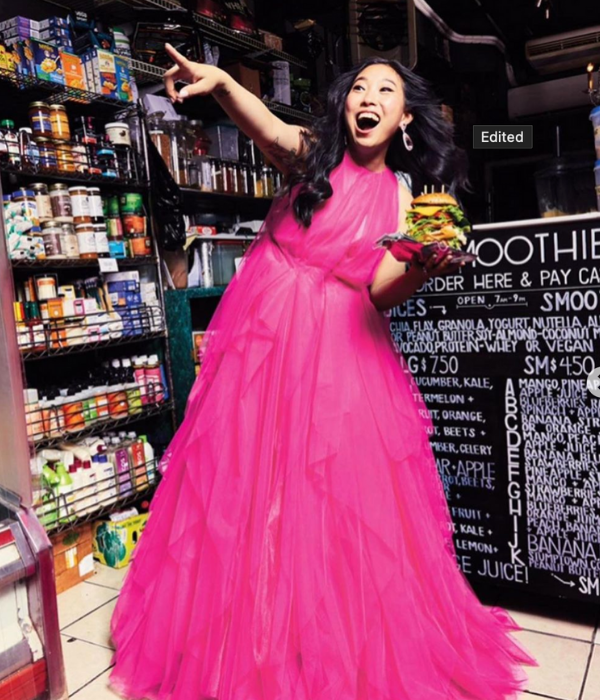 Source 
Unlike other celebs who usually gravitate towards designer items and boujee beauty products, Awkwafina prefers not to spend on extravagant things.
This thrifty nature was drilled into her at a young age from her grandma, so she learnt to save by looking for the best deals instead of splurging on pricey items. 
In fact, she's even admitted to shopping for clothes at department stores like Target, which is almost ironic when compared to the spending habits of fashionista "Peik Lin" in Crazy Rich Asians. 
12. Likes to make slime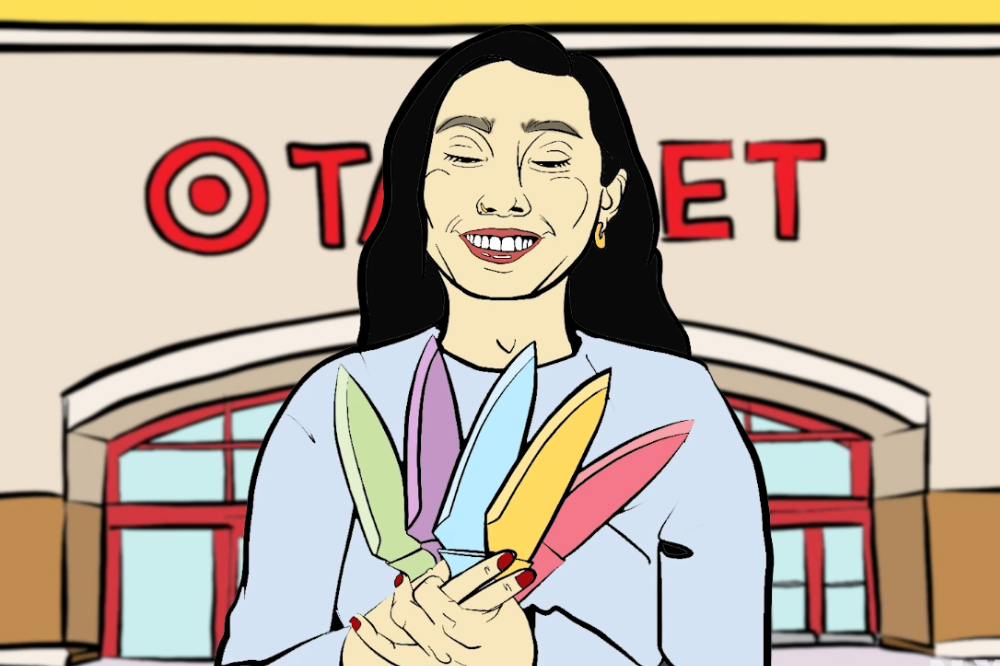 Awkwafina in an animation by Nylon, talking about her love for slime
Source
When she's not in front of the camera, Awkwafina fills her time with slime-making. As a matter of fact, she even has her own "slime station" at home fully equipped with glue, borax and other crafting essentials.
It's a hobby that she takes seriously, experimenting with glow-in-the-dark slime, glitter and even different elements to add that ASMR touch to her creations. When she moved from LA to New York, she made sure to bring all her supplies along with her. 
13. Improvised most of her lines in Crazy Rich Asians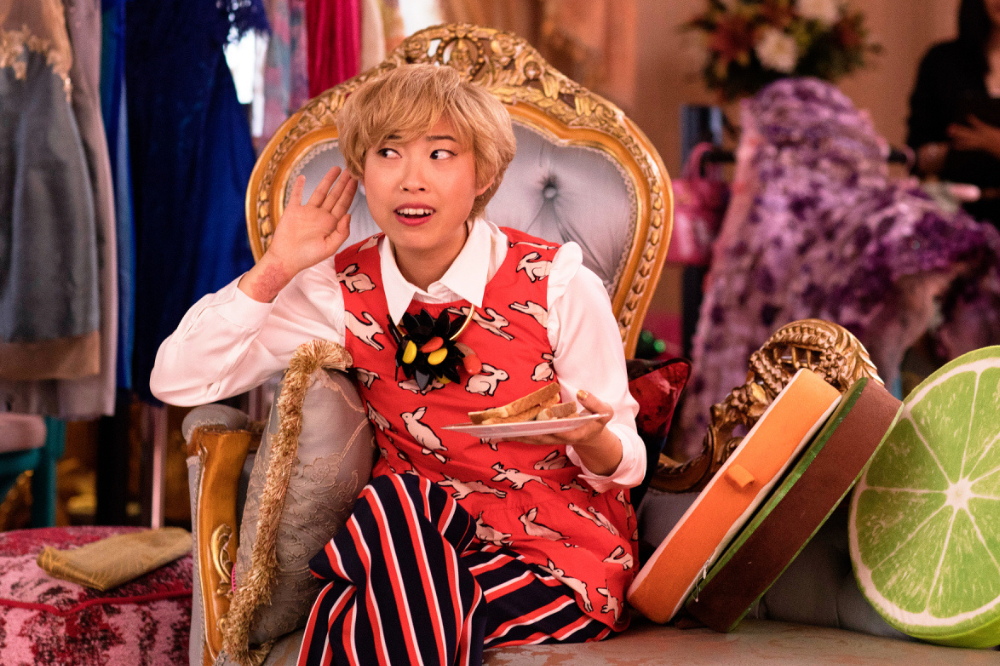 Source
Before Awkwafina was cast or even told about Crazy Rich Asians, director Jon M Chu included her name into the pitch packet for Warner Bros. He had previously seen her videos on Youtube and found them amusing. 
Once the idea was pitched, he couldn't shake the image of having Awkwafina as Peik Lin in the film. For the script, they made sure to keep her voice in mind as well, wanting her to carry the role in the funniest way possible. 
So when they finally started filming, Awkwafina was given creative liberty, allowing her to improvise her lines – not something every actor has the privilege of having. This is the reason behind the only cuss word in the film with Chu admitting that cutting out the scene wasn't an option, it was just too hilarious not to include. 
14. Has a guidebook that includes places to pee in NYC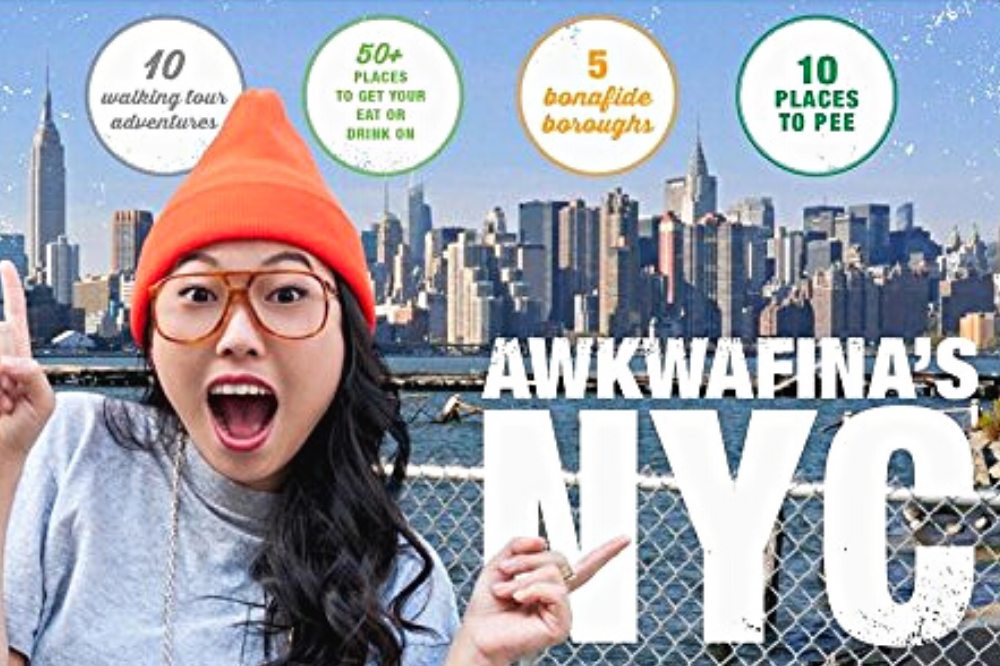 Source 
In 2015, a book titled "Awkwafina's NYC" was published. The guidebook-comedy novel hybrid is her take on travelling around NYC. Of the things included, there's a list of places to pee, a guide to underground etiquette and a "Men In Black" tour – basically, all the information you'll ever need to make the most of your time there, of course. 
You'll get to venture around and see things through the eyes of Awkwafina – surely a memorable way to get your tourist on. 
15. Got the role in Ocean's 8 without an audition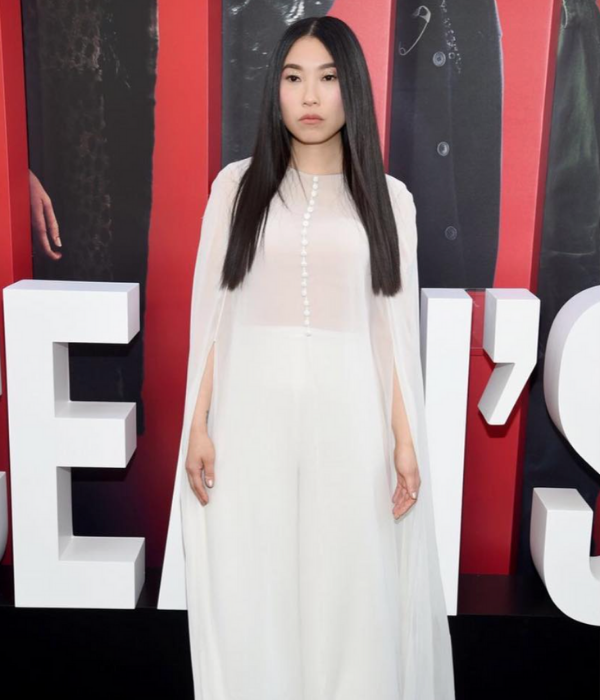 Awkwafina at the premiere of Ocean's 8
Source 
After watching the rough cut of Dude, Gary Ross offered Awkwafina a spot on Ocean's 8 over FaceTime. What's more, she didn't even need to audition for the role. 
In the film, Awkwafina acted alongside an all-star cast which included Rihanna and Sandra Bullock. She must've made quite the impression because her co-stars all had nothing but nice things to say about her. In an interview with Variety, Anne Hathaway shared that she saw Awkwafina as a little sister for her to protect.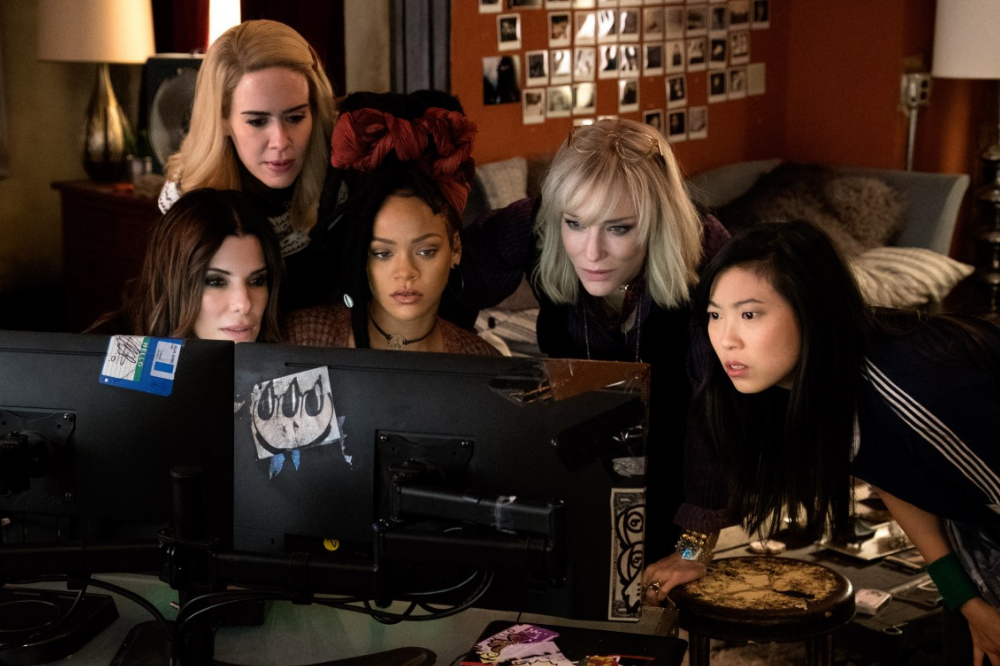 Source
Constance, the character Awkwafina plays in the film, is a hustler and pro pick-pocketer. While many had negative reactions when first finding out that she was going to be in the film, she clearly proved herself with her stunning performance. 
16. Struggles with anxiety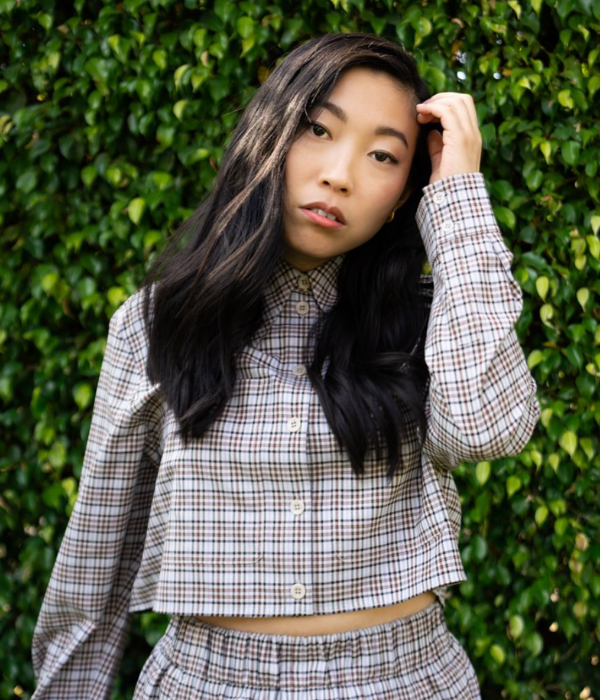 Source 
After losing her mum, Awkwafina started experiencing bouts of anxiety. At 4 years old, she started using her humour as a way to cope with the negative feelings.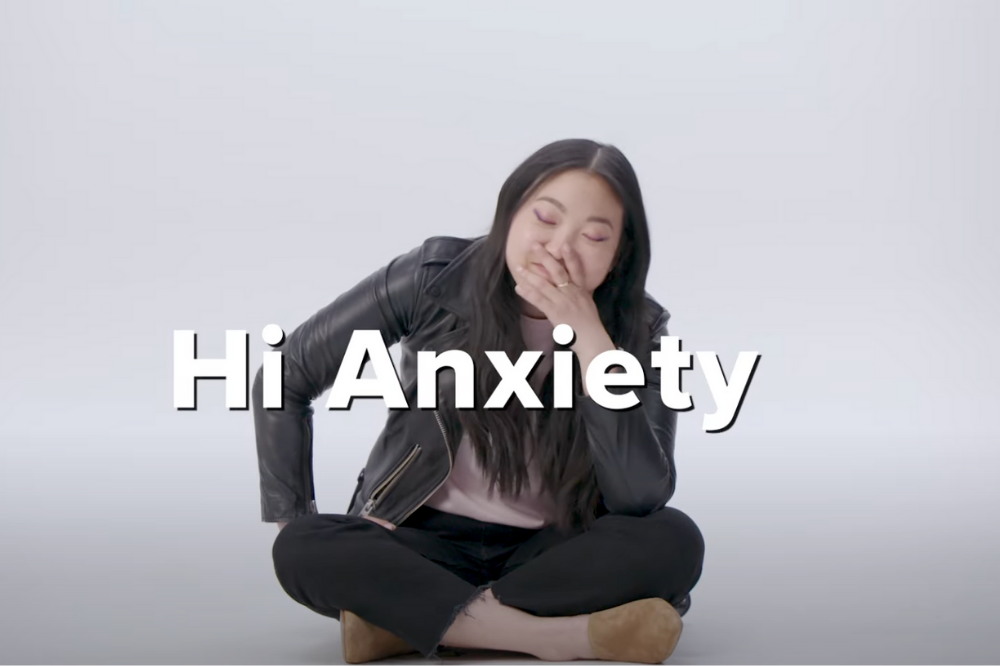 Source
In a series known as "Hi Anxiety" on Youtube, she spoke about having to cope with self-esteem issues and "just feeling normal". All of this, along with her depression, reached its peak in high school, where she tried to find ways to divert her nervous energy, which included her music and acting. 
Nowadays, her anxiety stems from social media comments and having suddenly gained fame in the industry – something she admits she's still getting mentally used to.
17. Passionate for all animals
If you were to scroll through Awkwafina's Instagram feed, you'd have noticed that she has an affinity for animals. In one post (right) she even posed with a goat, adding in the caption, "ME AND BAE". 
During quarantine, she spent her time in Sydney hanging out with animals and posed with a wombat.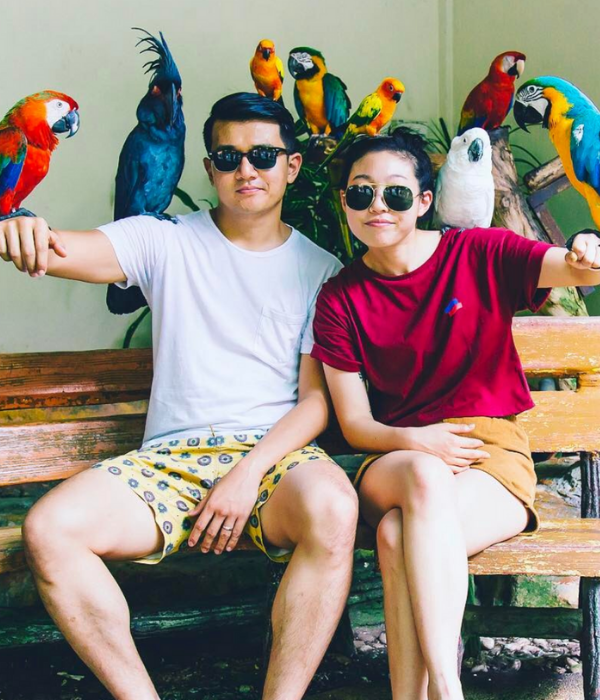 Source 
While some of us would rather not be in the vicinity of feathered creatures of any kind, Awkwafina even paid to take pictures with these colourful parrots alongside her friend co-star Ronny Chieng.
18. Worked at a video store when she was 16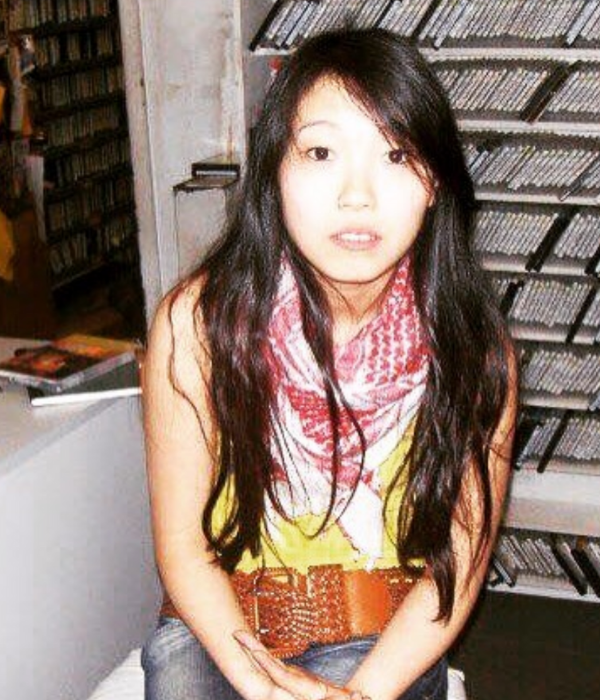 Source
Of all the jobs and roles Awkwafina has played, she said in an interview with Vogue that her favourite was working in a video store when she was 16. 
Located in West Village New York, she worked at Evergreen Video where she was surrounded by movies and CDs. It was her very first job and back then, she saw it as the best thing that ever happened to her, saying "this job is so good, I'm never going to have another job ever again".
These Awkwafina Facts Prove That She's A Hard Working & Amazing Person All-Around
Whether it's acting, rapping, making us laugh or simply appreciating her family, Awkwafina's raw honesty makes most of us either want to be just like her or be best friends with her. Her success today is also an inspiration and testament that hard work truly pays off. 
Also read:
20 Facts About Simu Liu Including Giving Up Bubble Tea & Almost Being On Crazy Rich Asians