My 2D1N Bangkok Itinerary Exploring Cafes and Bars Off The Beaten Path
Like most Singaporeans, Bangkok is one of my favourite holiday destinations. In fact, I probably know the streets of Thong Lor better than those of Tampines. But for years, my Bangkok itinerary consisted of visits to the same tried-and-tested areas. Siam Square, Sukhumvit, Chatuchak, you know the drill.
On a recent trip, I was all set to book a boutique hotel in a central area of Bangkok. Then, I saw Josh Hotel pop up on a Thai friend's Instagram feed.
That's how I ended up staying in Ari for the first time, and discovered a whole host of hidden gems and under-the-radar spots I would never have discovered otherwise.
Accomodation: Josh Hotel
Intrigued by my friend's post, I clicked on the geotag. Post after post revealed that Josh Hotel is a pastel wonderland full of charm and character. 
I booked a 3D2N stay immediately, at a rate of about $60 a night. Yes, I booked my accommodation based on Instagram… which I'm sure many others have done too, right?
If you've done the same, you will understand the pain of being cheated by social media one too many times. Thankfully, upon setting eyes on the hotel from the outside alone, I breathed a sigh of relief.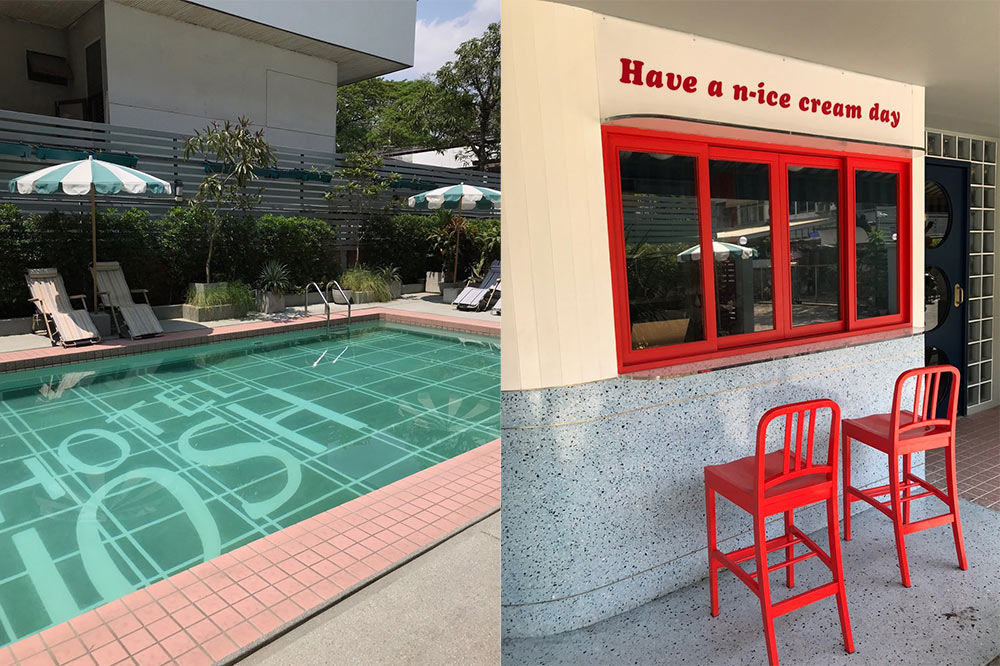 The hotel pool (left) and a faux ice cream shop (right)
Josh Hotel is located in the Ari neighbourhood. Before stumbling across the hotel, Ari had never appeared on my radar. But a quick Google search revealed one website after another referring to Ari as "one of Bangkok's hippest neighbourhoods", "the burgeoning 'burb of Bangkok" and other such enthusiastic proclamations of hipster legitimacy.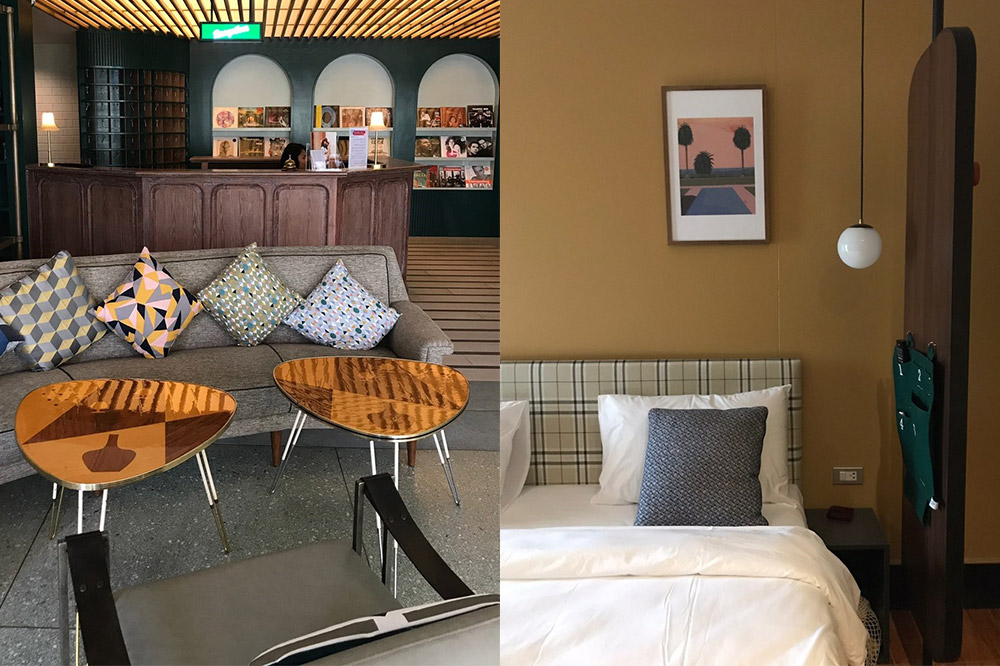 The hotel reception (left) and my room (right)
After staying there, I can see why. Ari is easily accessible thanks to the presence of a BTS station. And unlike other neighbourhoods in Bangkok, which sit on a spectrum of crowded to jam-packed, Ari's vibe is chill and relaxed.
Also read:
10 Boutique Hotels In Bangkok From $35/night That Are Aesthetic AF
Cafes and Restaurants
The main street as you emerge from the BTS station has street food stalls and a mix of organic stores, hole-in-the-wall restaurants and cafes. Walk further in, and the roads are dotted with more cafes.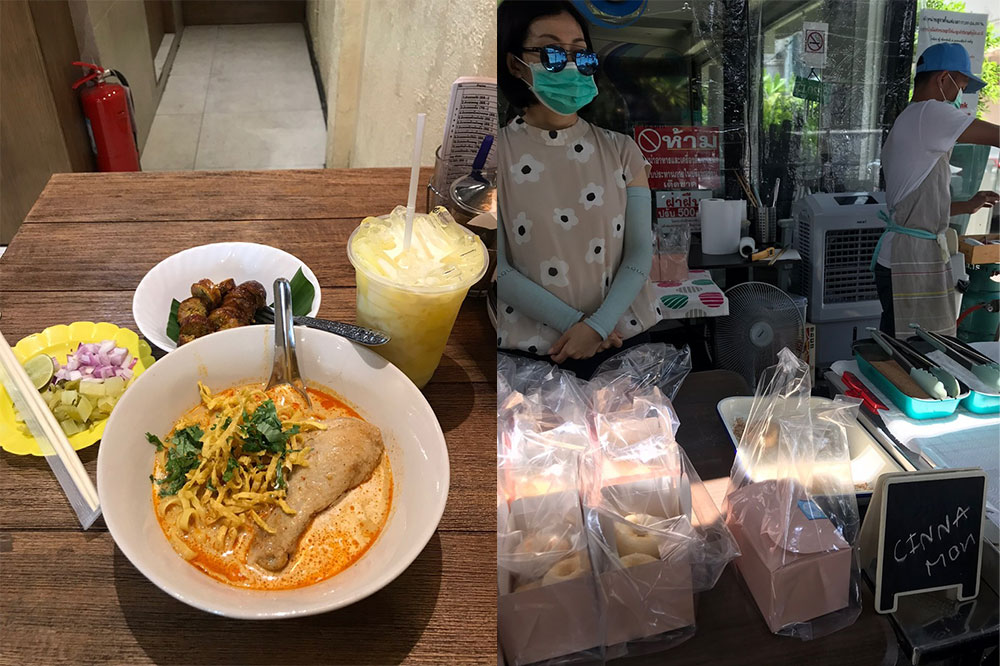 Khao Soi and E-sarn sausages at Ong Tong Khao Soi (left) and the fluffiest doughnuts at a street stall (right)
My first meal in the 'hood was at Ong Tong Khao Soi. Khao Soi is a curry noodle dish from Chiang Mai and I'd read that this was a legit spot to try it. Apparently, the place fills up fast during meal times.
But one of the perks of being a tourist is that you can eat any time of the day. I went in the middle of the afternoon and savoured every bit of the creamy, spicy dish.
When I mentioned to a friend that I'd be staying in Ari, she told me I had to check out this lady selling freshly fried doughnuts along one of the roads near the BTS station. Her stall pops up at 10-ish in the morning and stays open until they sell out, which is usually in the afternoon. She said, "The doughnuts there are light, airy and fluffy with just the right amount of sweetness. A slice of heaven, basically." I tried them and am happy to report that she was not exaggerating.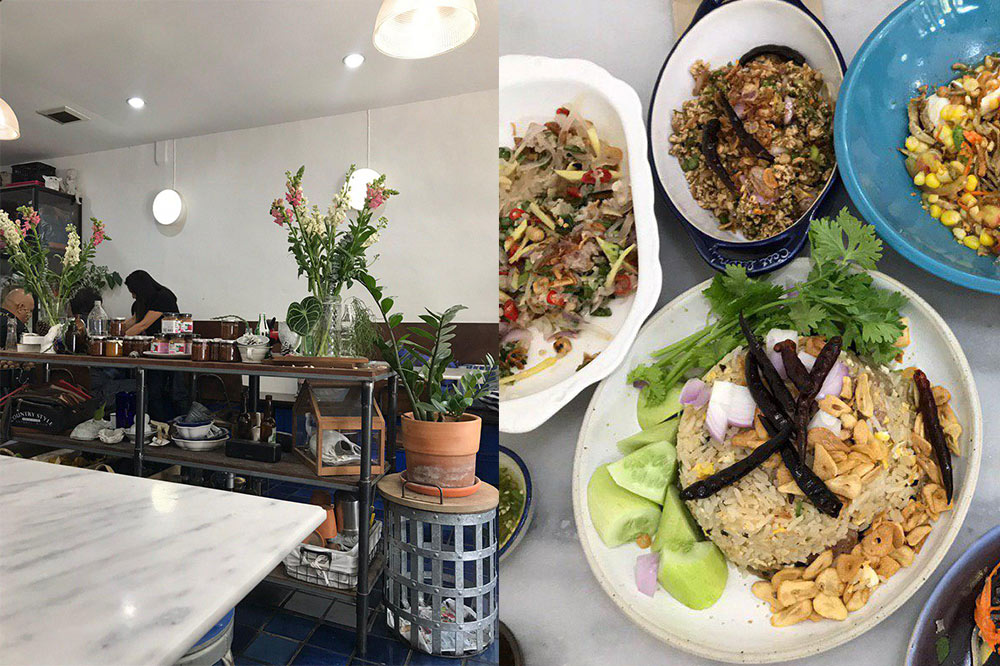 Phed Phed Cafe's interior dotted with lush plants (left) and a portion of the delicious food we ordered (right)
I also visited Phed Phed Cafe with a friend who happened to be in Bangkok at the same time. It's located in a different part of Ari from where most of the other cafes and restaurants are, but this hidden gem is definitely worth checking out.
As its name suggests ("phed phed" means "very spicy"), the dishes at this casual Isaan eatery pack a punch. You can choose from over 20 types of somtam (papaya salad) and all sorts of other Northeastern fare. Everything we ordered was incredibly tasty, and I would head back there in a heartbeat.
Bars: Dok Kaew House Bar and Mikkeller
One of my favourite things to do when visiting another country is checking out its craft beer scene. You get to try beers created with flavour profiles that are unique to the country. Plus, the vibe at craft beer joints is also usually laid-back and more casual than say a cocktail bar.
My research led me to Dok Kaew House Bar as the first bar stop on my Bangkok itinerary. A craft beer bar housed in a former residential home, it's located on a quiet street and is unassuming from the outside. Look out for the sign below and you will know you've arrived.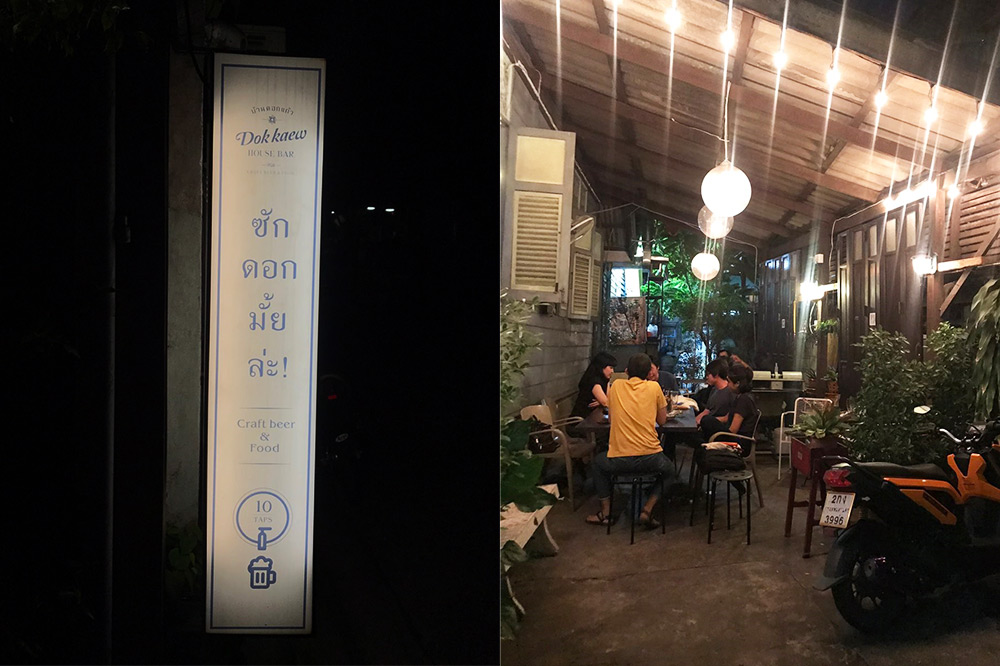 Just as you would upon arriving at the home of an Asian household, guests need to remove their shoes before entering. The atmosphere at the bar was like that of a house party, it was cosy and familiar. With 10 craft beers on tap and more bottles available in the fridge, I had a tough time choosing which beers I wanted to try. The food on offer was homely Thai fare. I ordered the pork omelette, which was fluffy and delicious—so delicious that I didn't take any pictures of it until it was too late.
Next, I headed over to Mikeller Bar at Ari. The Danish microbrewery is one of the pioneers in the international craft beer scene. It now has locations all over the world, including in Singapore and Bangkok. The beers on tap were a mix of Mikeller's own beer, as well as those from Thai and other Asian microbreweries. I enjoyed the beer there but if you only have time to hit up one bar, you should definitely check out Dok Kaew for a more unique experience.
Spa: Calm Spa
A visit to the spa is a must-do as part of my usual Bangkok itinerary. I'd seen images of Calm Spa all over my friends' feeds, and I was stoked to realise that it is located right next to Josh Hotel.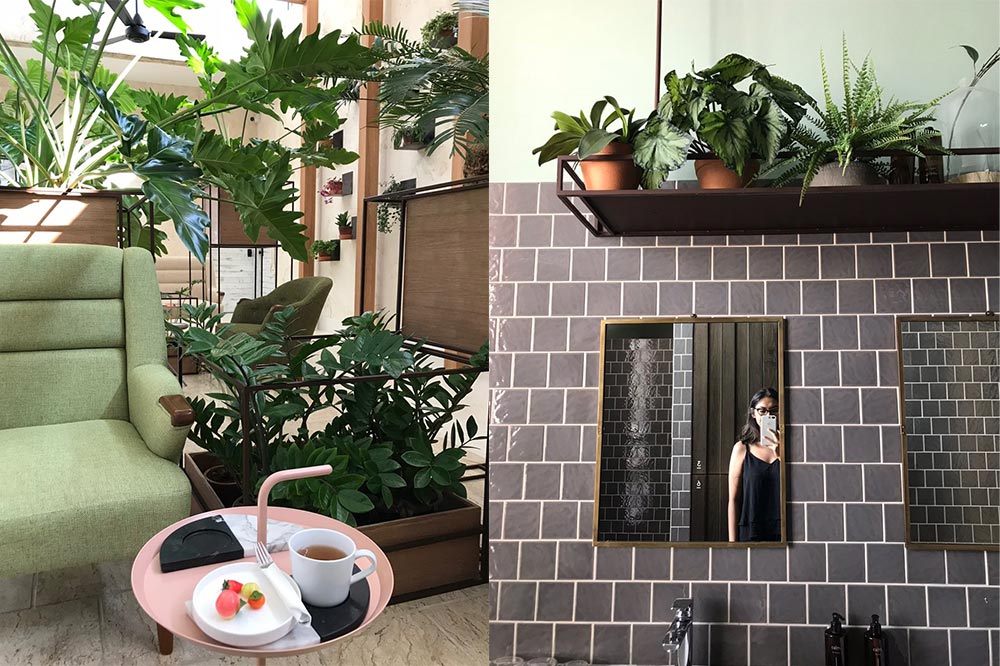 Post-massage desserts at Calm Spa (left) and a selfie in the aesthetic restroom (right)
My first thought when I entered the spa was that it is made for Instagram. After choosing my massage, I was led to the waiting area. Filled with lush plants, mid-century modern furniture and a pastel colour palette, it's a chic and soothing sanctuary. Even the restroom is aesthetic AF.
I opted for the Office Syndrome Package, which claims to "relieve pain and gain fresh energy with relaxing traditional Thai massage and Himalayan Salt Pot Compress". As someone who sits in front of her computer from 9am to 6pm every day, this was sorely needed.
For Bangkok spa standards, Calm Spa isn't exactly cheap. A la carte spa treatments start from 700 baht (~$32) for 30 minutes for The Bath while the cheapest package is the Office Syndrome Package at 2,000 baht (~$91) for 120 minutes. But I figured what better time to treat yo' self than when on holiday, amirite?
Bonus: Infinity Spa
Infinity Spa isn't located in Ari, but it is equally IG-worthy.
If Calm Spa's aesthetic is tropical millennial, Infinity Spa's decor is more pastel futuristic. Its treatments are slightly cheaper than Calm Spa's—the Infinity Thai massage is a dry massage at 840 baht (~$38) for 60 minutes. I didn't make a reservation so was unable to get a slot for a massage. In the end, I went for the Footology session, which also cost 840 baht (~$38) for 60 minutes. It was invigorating and much needed after all that time spent walking around the city.
My Bangkok Trip Exploring Cafes and Bars Off The Beaten Path 
While it can be comforting to head back to tried-and-tested spots, exploring a new neighbourhood can also uncover new hidden gems to fall in love with. My 3D2N itinerary in Bangkok spent venturing around the Ari area was exactly that and more.
Also read:
My 3D2N Sydney Itinerary Under $500 For Basic People Who Love Insta-worthy Cafes And Thrift Shopping
All photography by Annabelle Fernandez