3D2N Sydney Itinerary Under $500 
This is a Sydney itinerary for comfort-loving millennials who do not want to hike up the Blue Mountains. Sydney has lots to offer, especially if you're like me and love chilling at cafes and shopping in local designer stores.
My 3-day solo trip cost me under $500, including accommodation costs and some shopping. Based on a friend's recommendation, I booked an Airbnb in Newtown, which cost $44 a night.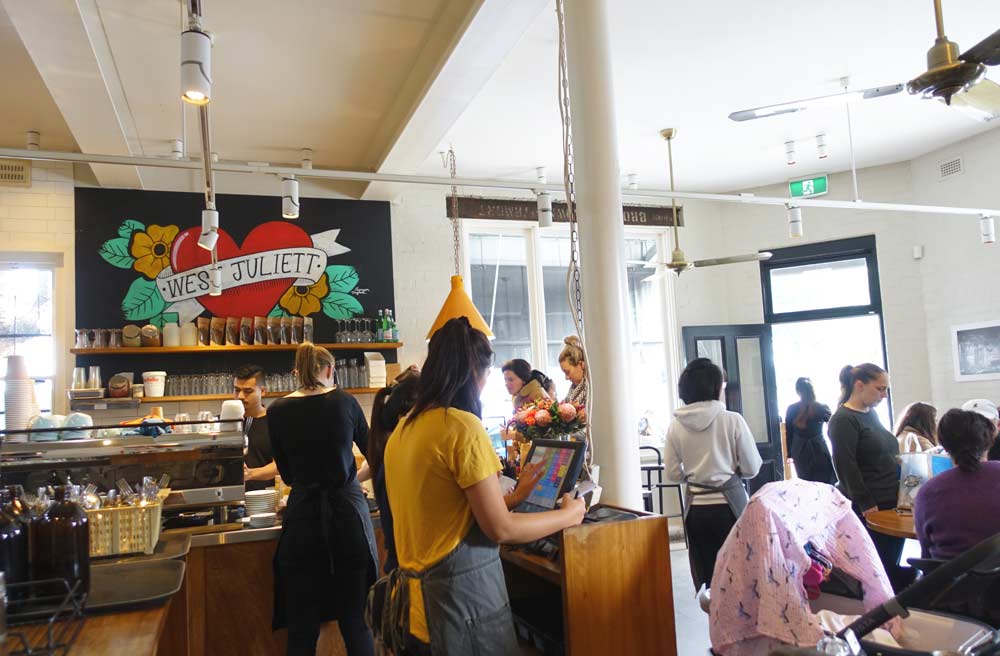 At the time this was written, the exchange rate was almost 1:1 with SGD, so you can assume all the currency is in Aussie dollars.

Day 1: Farmer's Market and Bondi Beach
Marrickville Organic Markets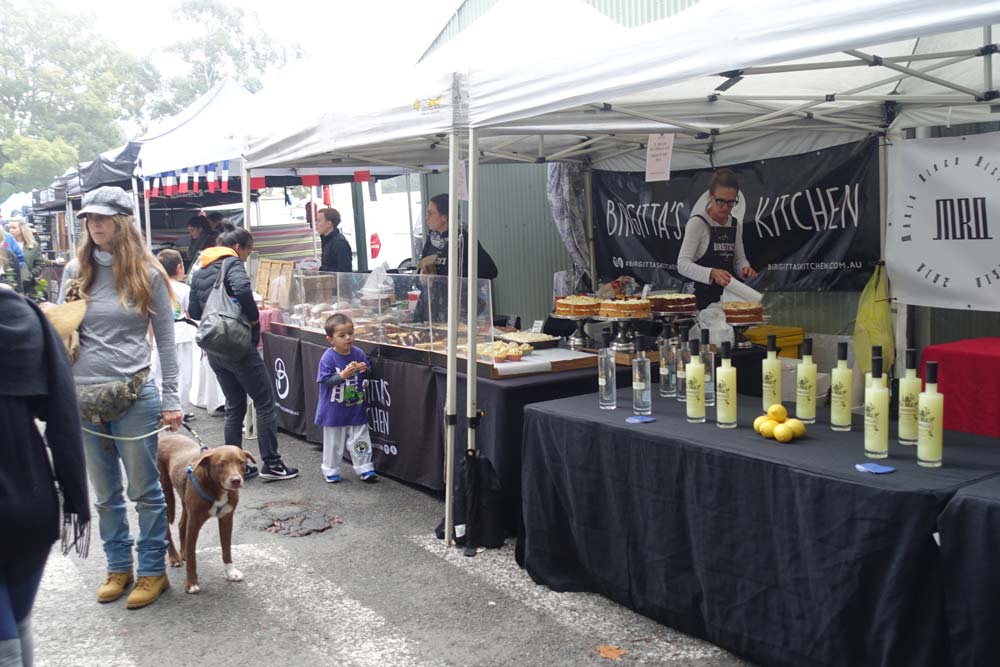 Pro-tip: You will want to get your body clock shifted ASAP as stores close at 6pm promptly. Sleeping in till 11.30am will limit the amount of activities you can do each day by half.  
Thanks to my Airbnb hosts' recommendation, I trekked 25 minutes from Newtown to the Marrickville Organic Markets, #2 on Time Out's Best Markets in Sydney. I didn't mind the walk as the winter weather coupled with sunshine was perfect, and I enjoyed viewing the street murals along the way.
If you enjoy a selection of organic food including a wide variety of freshly baked bread, vegetables and fruits, homemade spreads and gourmet cheese, you will have a field day taking in the sights and smells here. You can also get some crystals to cleanse your chakras or get a tarot card reading there. 
West Juliett Cafe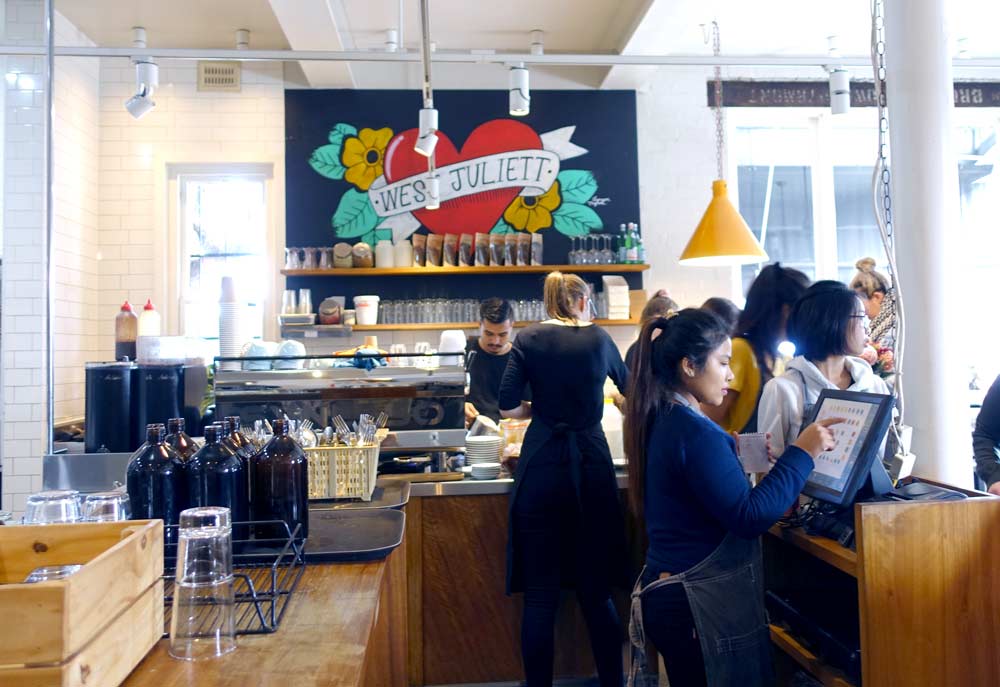 After the market, I hopped into West Juliett cafe, about a 15-minute walk away, for some brunch. I decided it had to be good as locals were lining around the block to get in.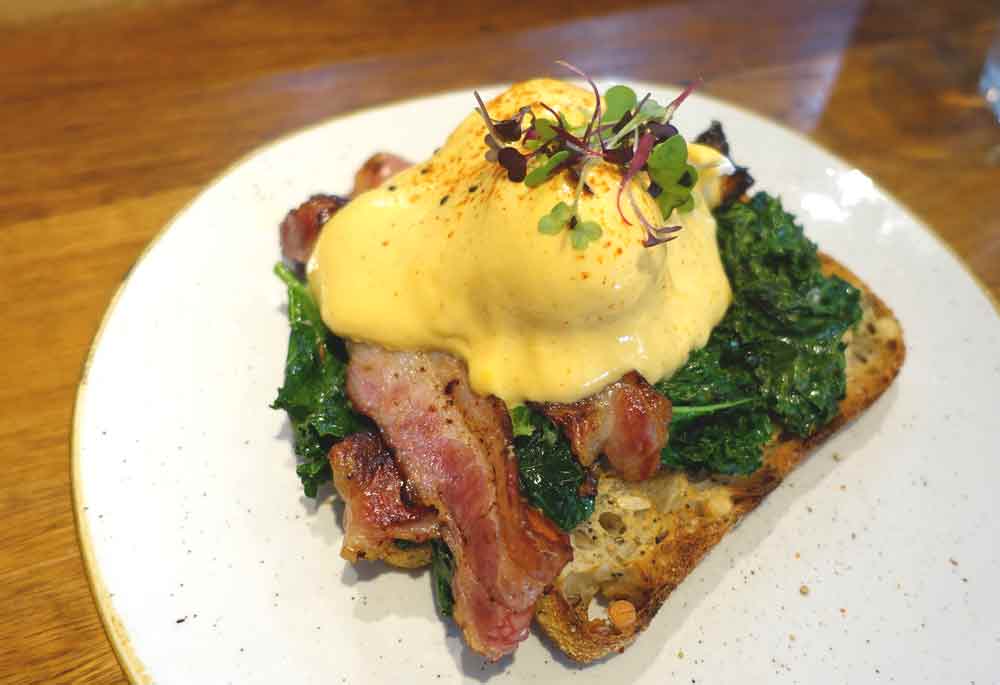 I ordered the Maple Bacon Benedict ($21) expecting my tastebuds to explode, but they didn't. However, it was still delicious. Bacon in Sydney is just amazing in general. At some point, I bought maple bacon from the supermarket, tossed it in the pan, and it was the most delicious bacon I'd ever tasted.
It was a Sunday morning and the cafe was packed. I enjoyed seeing the chefs tossing salad in the open kitchen and waiters running about, all the while keeping a smile on their faces. 
Bondi Beach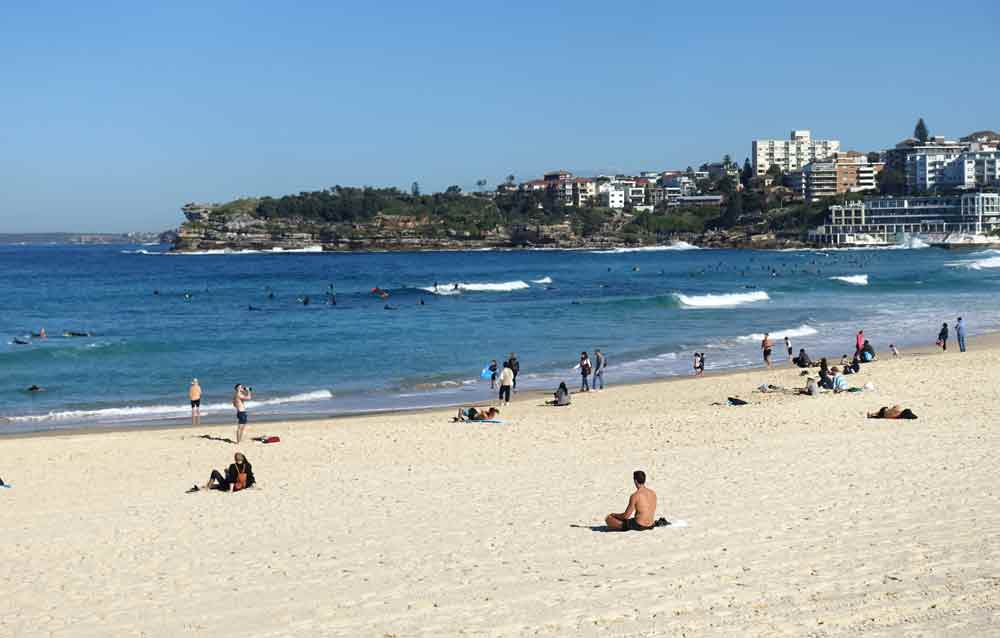 Now that my tum tum was filled with brunch, I packed my sunscreen and headed off to Bondi Beach. I knew I had to add it to my Sydney itinerary after seeing it on one of my favourite Netflix series, Instant Hotel. 
Travelling there will probably involve you taking a train or a bus to Bondi Junction and switching to a bus. It is pretty simple, just follow the hordes of tourists.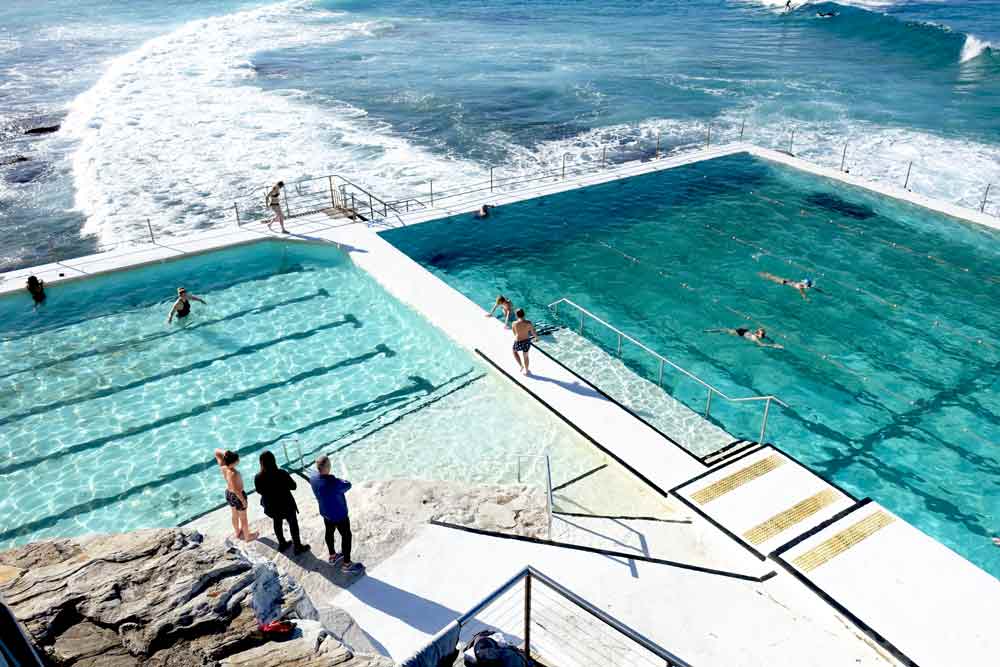 The golden sand and teal waters welcomed me; it was exactly as I had seen on TV. There were heaps of bikini babes and topless men working out in the winter sun. Some of them were even surfing in the waters, but just taking in the view was enough for me.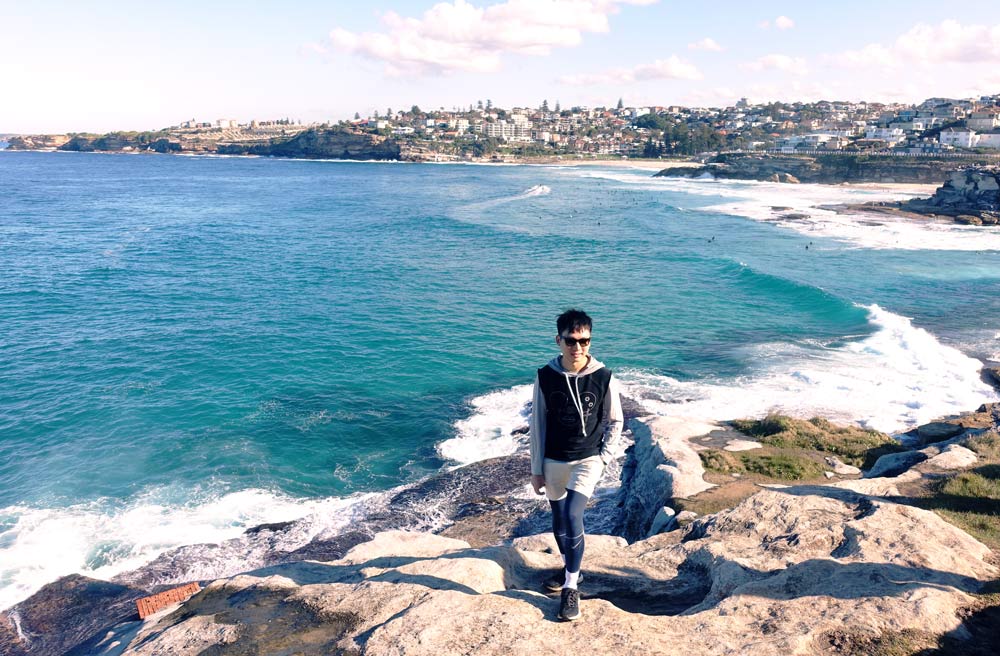 You can use the Bondi to Coogee walk route, which is along the coast. I would say this is the best thing Sydney has to offer. It costs nothing and the views are spectacular. Feel free to stop at any of the major stops and then catch a bus back to the city. Or you can stuff your mouth with gelato or batter-fried seafood while you chill at one of the many restaurants and cafes.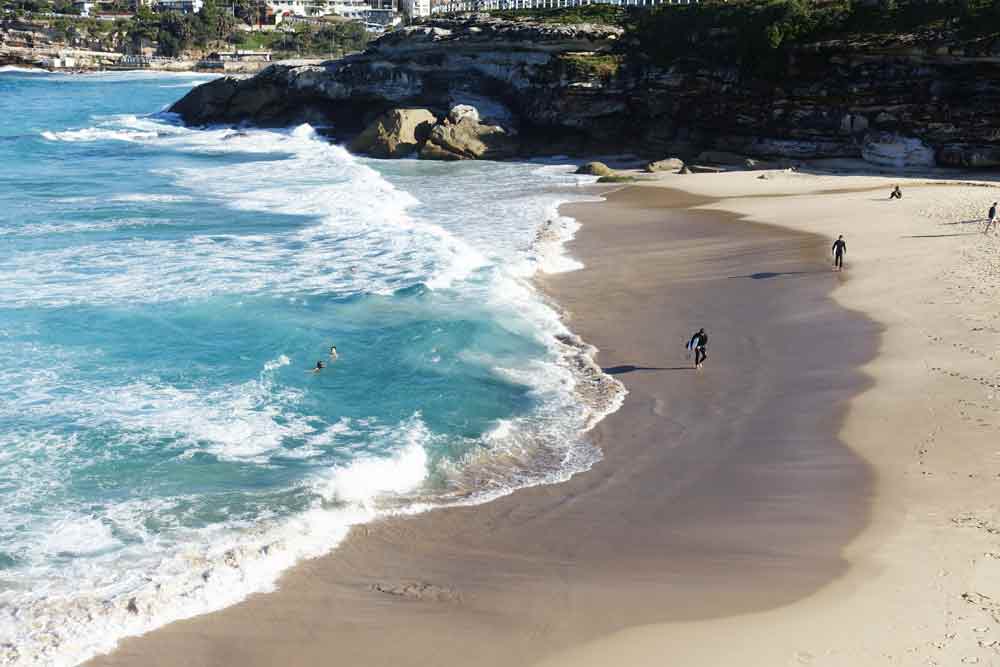 10/10 would do again and again, every time I return to Sydney.
For lunch, I found myself at Lamrock Cafe. I ordered the Chef's Special Crab Pasta and a latte, costing a total of $26. The pasta was delicious, with a light cream sauce and a generous dose of crab meat, exactly what I wanted to eat on a beach.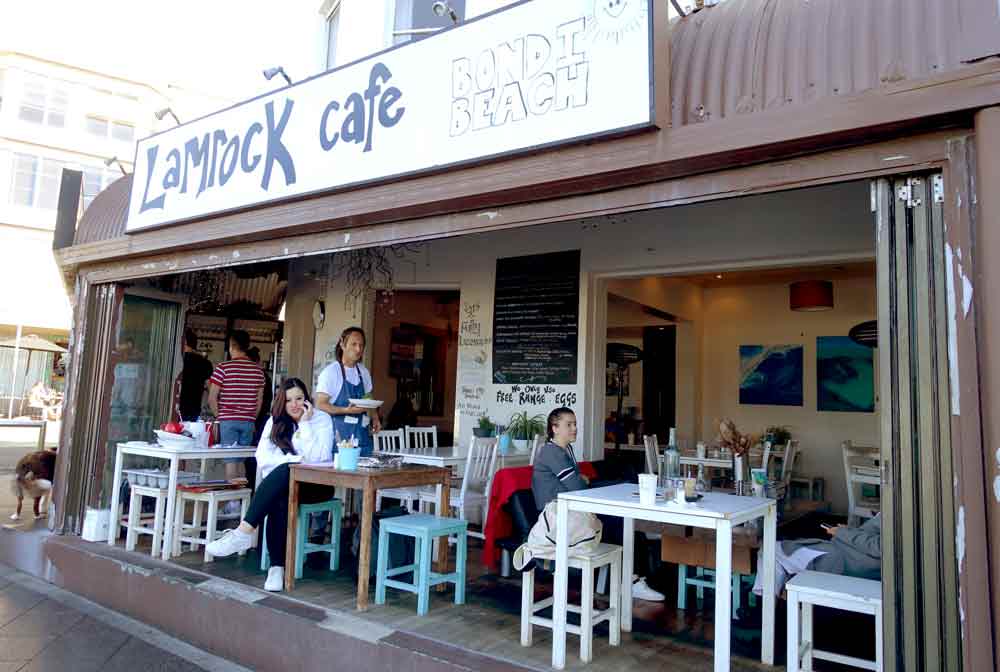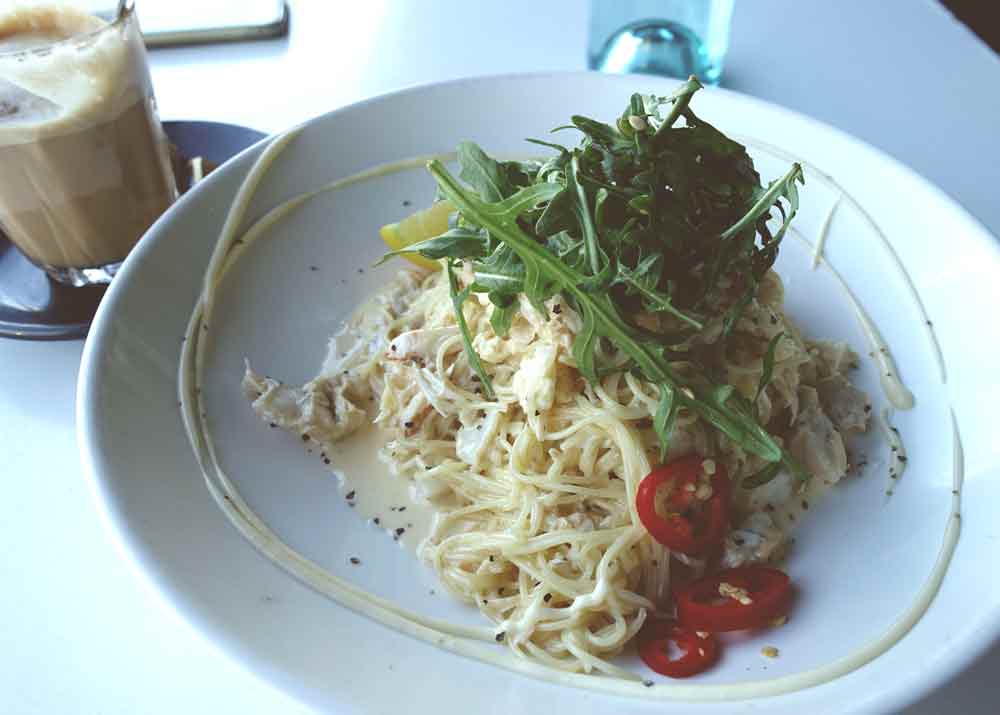 After the scenic walk, I went shopping for a bit at the city centre. For dinner, I dropped by Little Momo, one of the few Asian restaurants open till midnight, on the way home.
I ordered the Duck Momo with hoisin sauce ($7.90) and it was just the right portion to keep me filled for the rest of the night. 

Also read:
My Solo Backpacking Trip To Israel And Palestine Under S$1,500 For A Month
Day 2: The Grounds of Alexandria, vintage shopping, Surry Hills and Paddington
The Grounds of Alexandria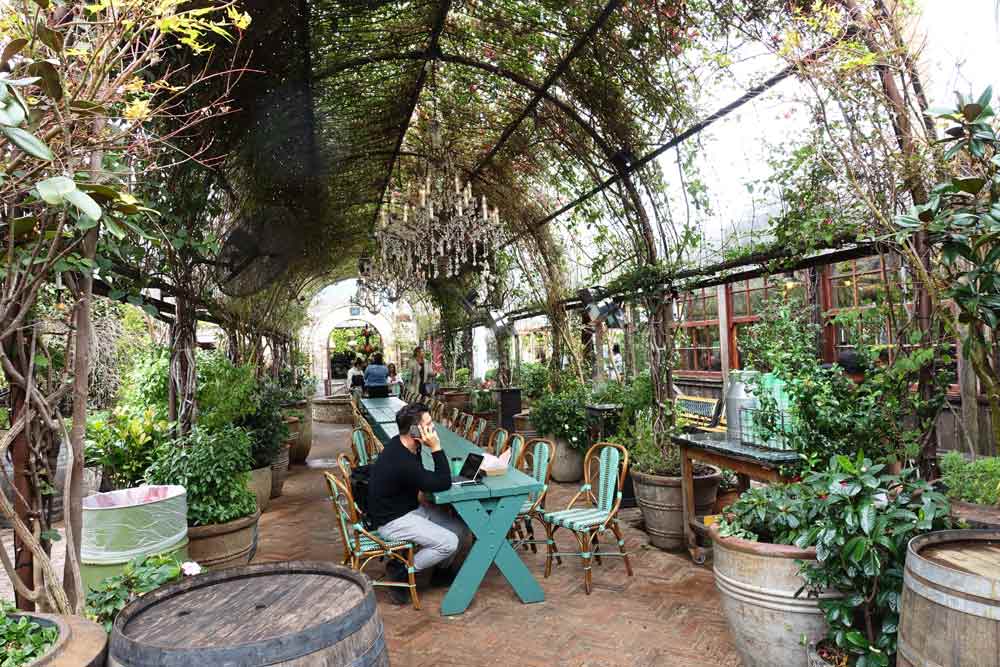 I got up bright and early, because I was excited! I had seen gorgeous pictures of one of the world's most famous Insta-worthy cafes and was going to experience it first-hand with a friend who happened to be in Sydney at the same time.  
From Newtown, it was a 25-minute walk. You might be surprised to know that The Grounds is located in an industrial neighbourhood, Alexandria, filled with factories and uninspiring buildings. But once you find the entrance, you will be enchanted by its greenery.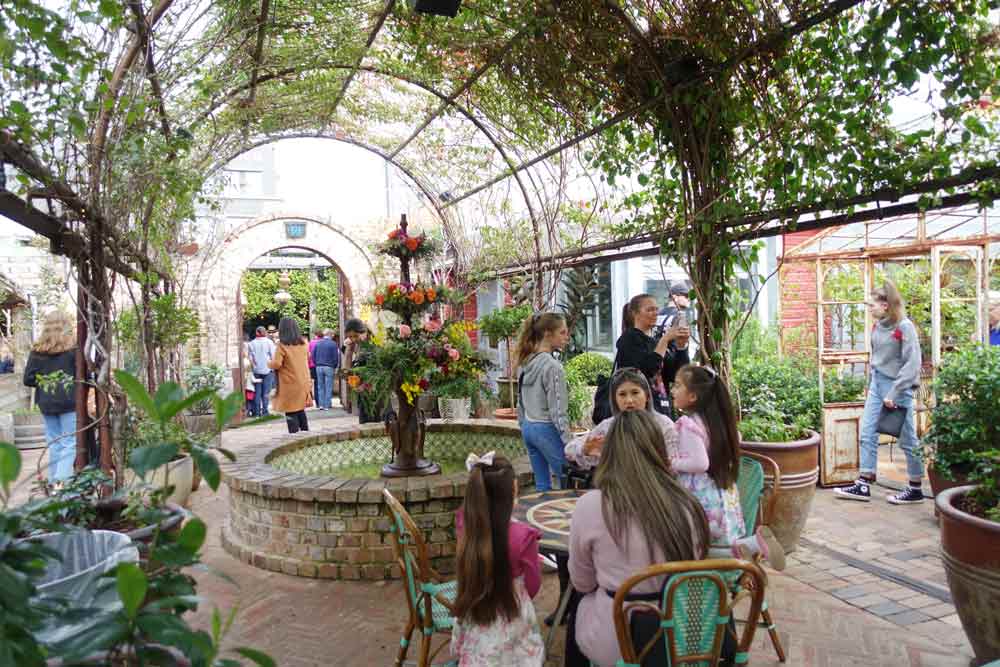 The best way I can describe it is Disneyland for cafe-hopping adults. 
There is a seamless queuing system, and every inch of The Grounds is decorated thoughtfully. It is no wonder Disney often collaborates with them to create magical experiences whenever a new movie is launched. This time around, it was Aladdin-themed.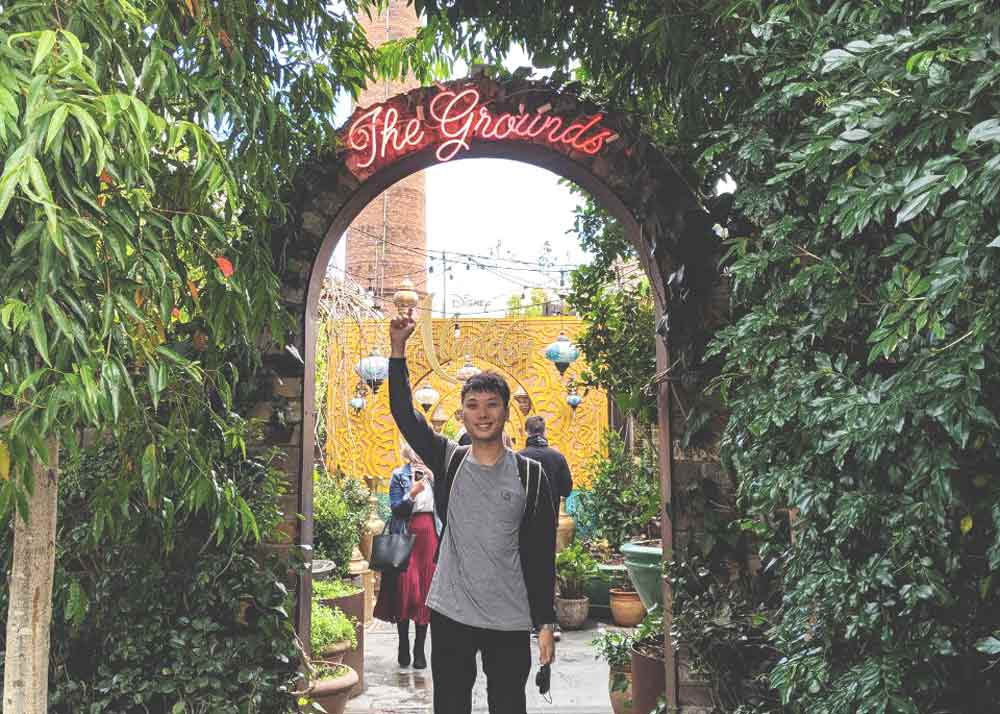 The Grounds was filled with other Asian tourists from China and Korea taking photos of their food. Of course, some Singaporeans approached us to take photos for them. I swear my Airbnb host rolled her eyes internally when I told her I wanted to come here, but I have no regrets.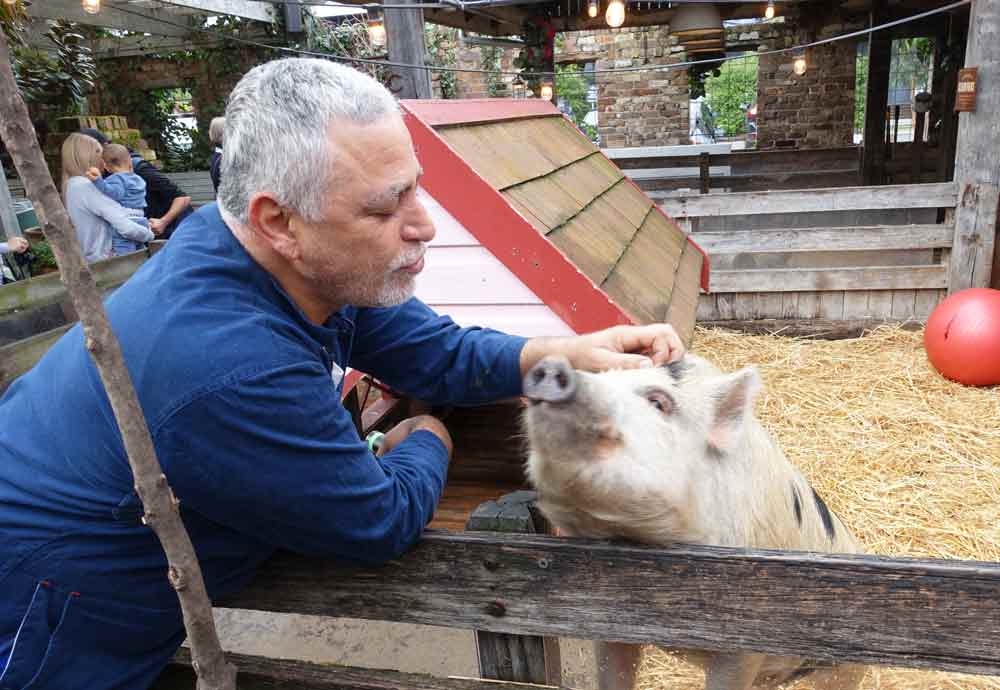 If you are a fan of its famous pig Kevin Bacon, you might be sad to hear that he has since retired. In his place, there was a spotted pig named Harry, who was equally adorable.
We ordered the Freshly Baked Buttermilk Hotcake ($20) and The Grounds Big Brekkie ($25) to share. The hotcakes were a tad too sweet. The Big Brekkie is probably the way to go. It is extremely filling, good value for money and filled with things that can't go wrong like cherry tomatoes, smoked peppers, a poached egg and serrano ham.
Vintage shopping at Mitchell Road Antique & Design Centre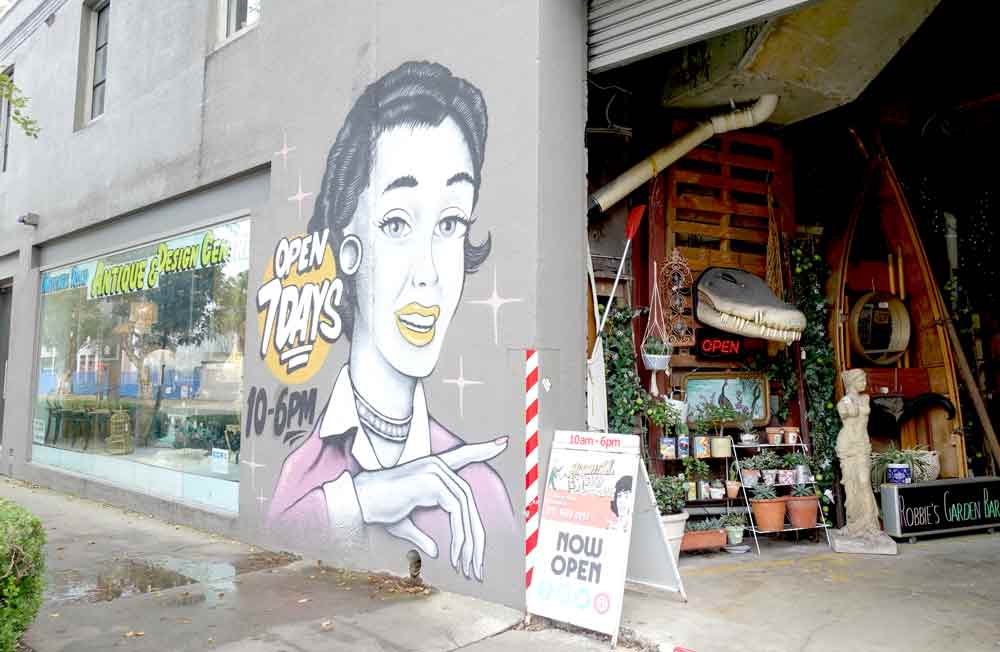 After breakfast, we headed to Green Square station. According to Google Maps, the walk should take 15 minutes, but to be honest, it felt like a 30-minute trek. Fortunately, along the way is a vintage shopping experience I'll never forget. 
Forget dingy and smelly thrift stores that might trigger your allergies, Mitchell Road Antique & Design Centre provides one of the most luxurious thrift-shopping experiences I have seen.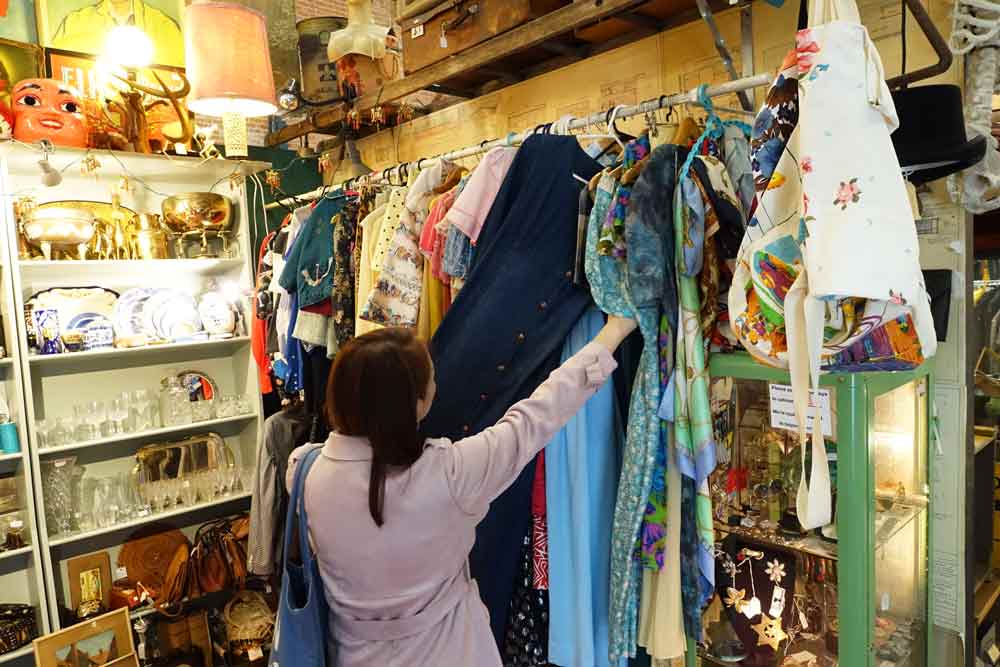 It is massive, spacious and filled with treasures of every type. I'll let the pictures do the talking.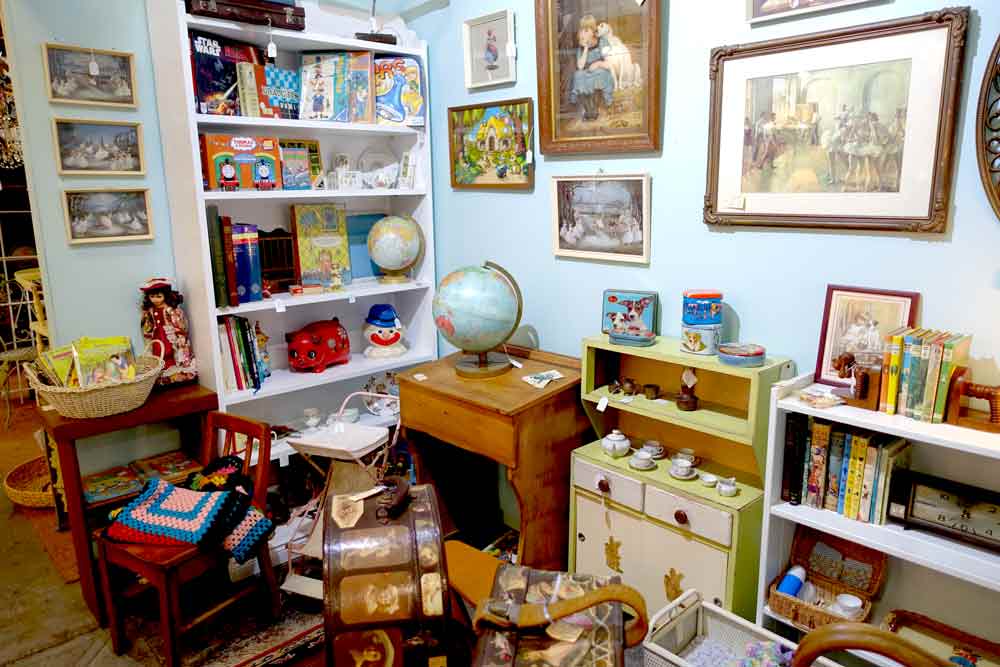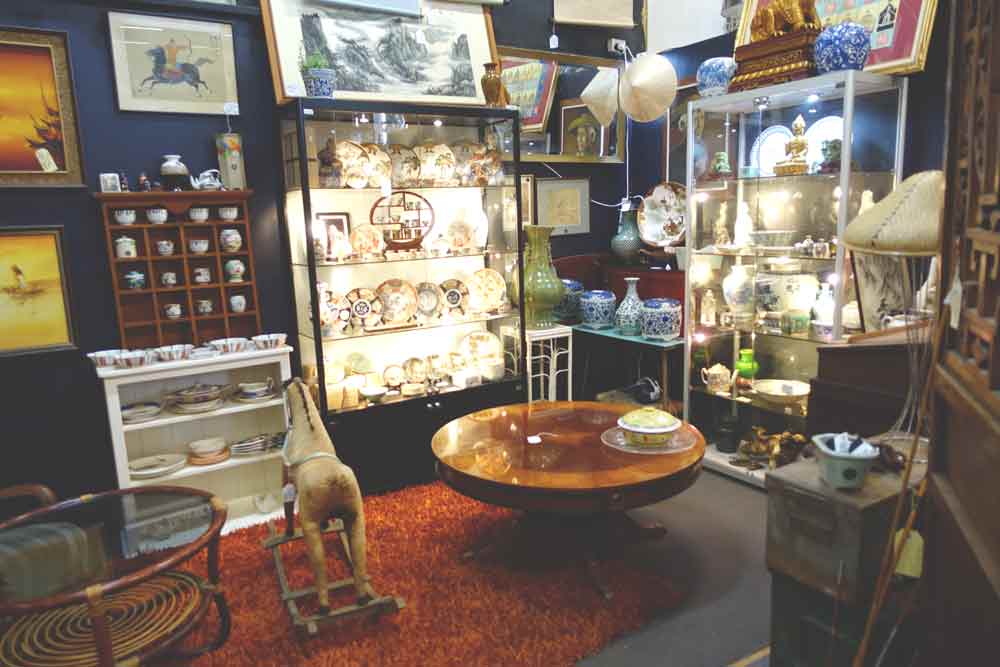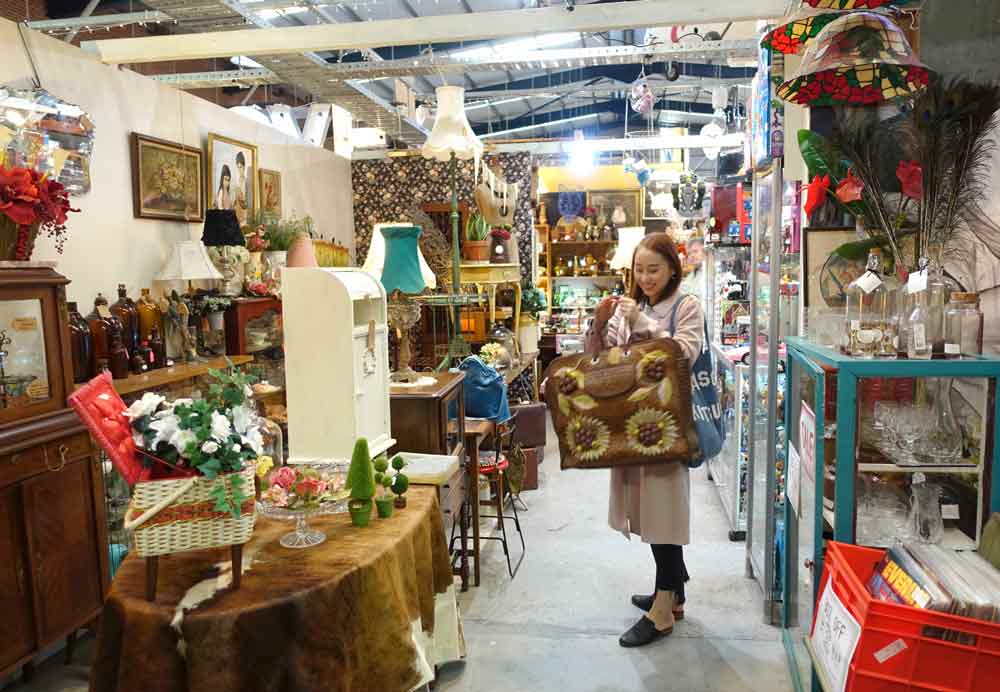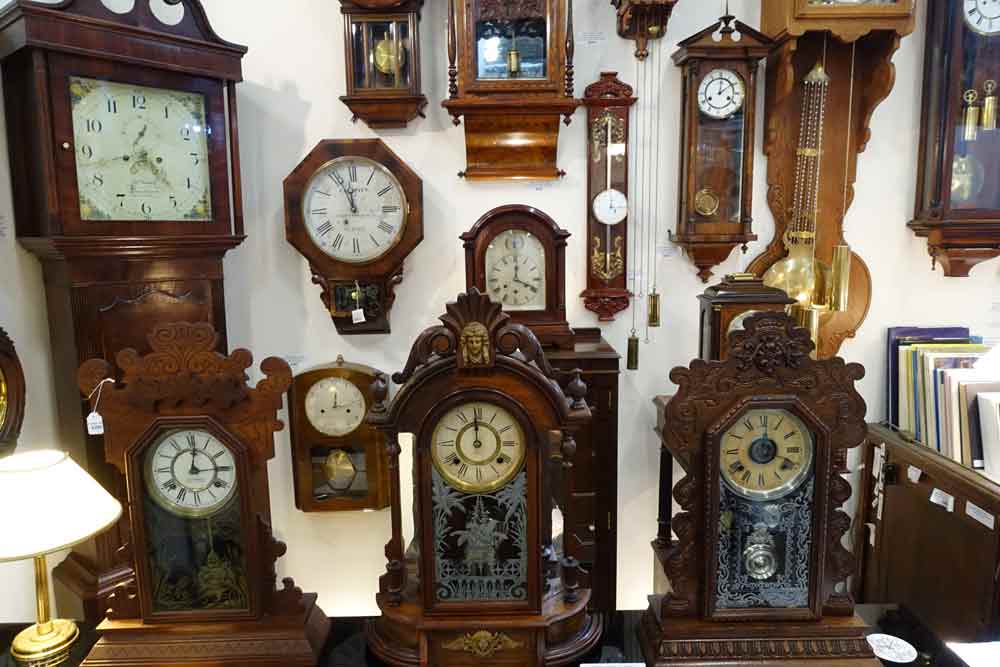 If you love vintage shopping, you will not want to miss adding this to your Sydney itinerary. 
Surry Hills
Continuing our shopping agenda, we took a train to Central station. After an unexpectedly exhausting climb up a hill, we reached the chi-chi neighbourhood of Surry Hills.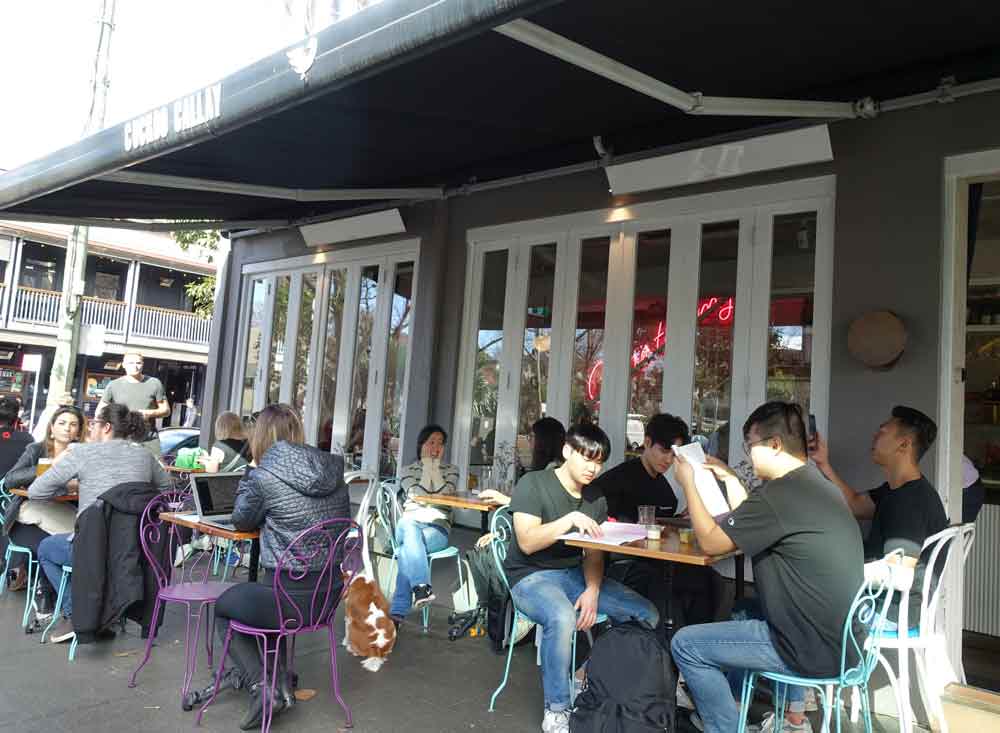 We stopped by Cuckoo Callay, another Insta-worthy cafe with predictable pink neon lights. My friend ordered some expensive fruit juice with a fancy name for $9, and I got the Cold Drip at $5.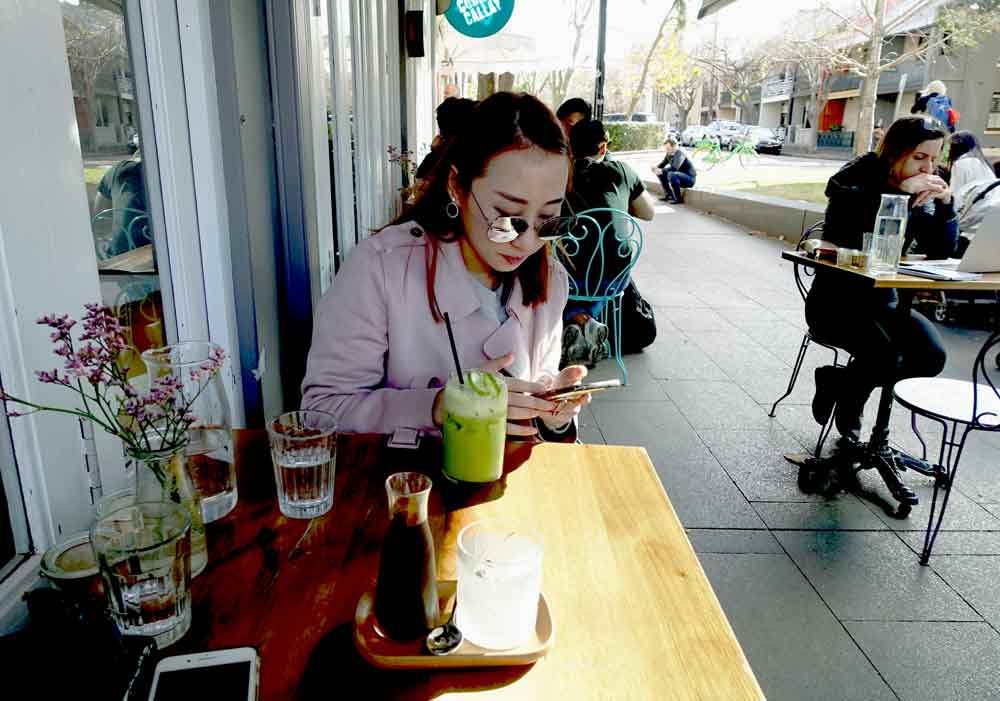 We enjoyed resting our feet and checking out the patrons' adorable dogs.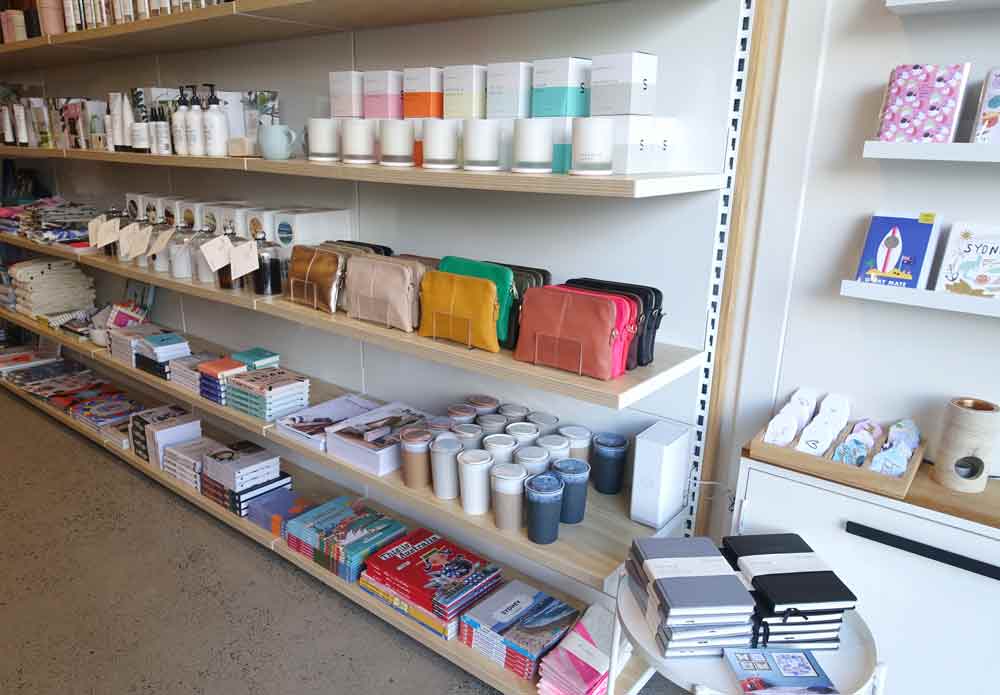 Shopping at Surry Hills is recommended by most travel guides as part of your Sydney itinerary and is what you expect—lots of thrift stores, cafes and hip boutiques selling goods catered to millennials.
Paddington
Not wanting to waste the remaining daylight, we headed towards Paddington. Along the way, there were quaint bookstores to hop into. If you are tight on time, I would suggest giving Paddington a miss. 
The only thing that impressed me was the Aesop store. There were other expensive brands, but they were way out of my budget and Newtown has much more to offer.
Day 3: Newtown and the city centre
Shopping in Newtown
Comparing Surry Hills, Paddington and Newtown, I would say Newtown is the best shopping district to visit. My Airbnb hosts own a cafe near their home in Newtown and they told me that many of the businesses that used to populate Surry Hills have moved to Newtown as well. Here are some highlights.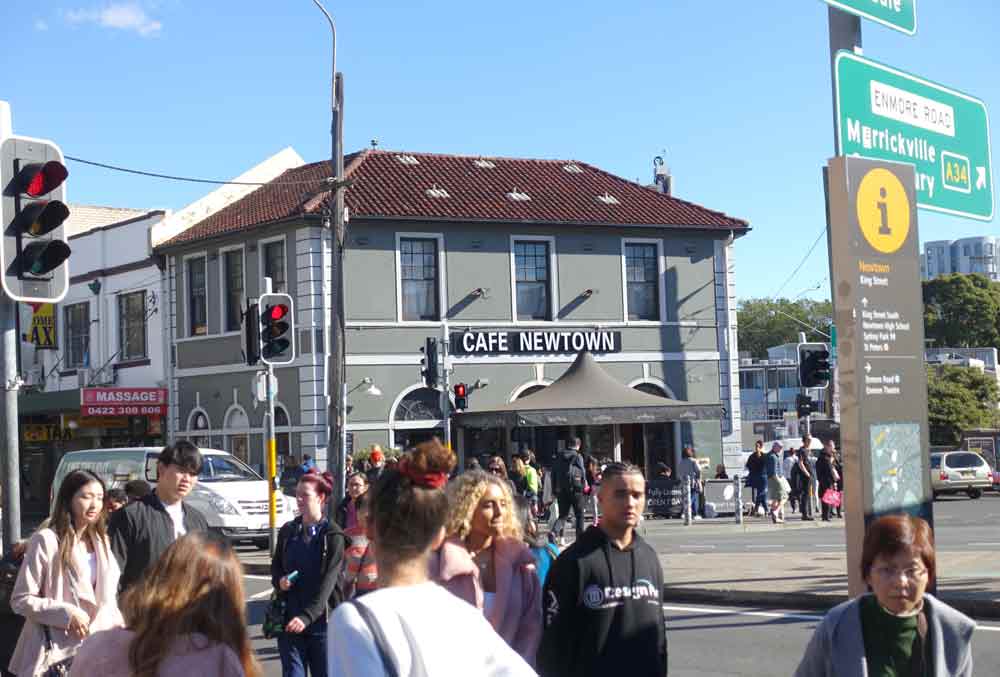 Once you get off at Newtown station, look for the landmark Cafe Newtown, which is always packed with customers. Head northward along King Street, the main street that is filled with wonderful stores and Thai restaurants. 
If you're after an authentic thrift store experience, look for Vinnies. Most thrift stores in Singapore and Sydney are priced higher, especially if they carry name brands like Champion or Tommy Hilfiger.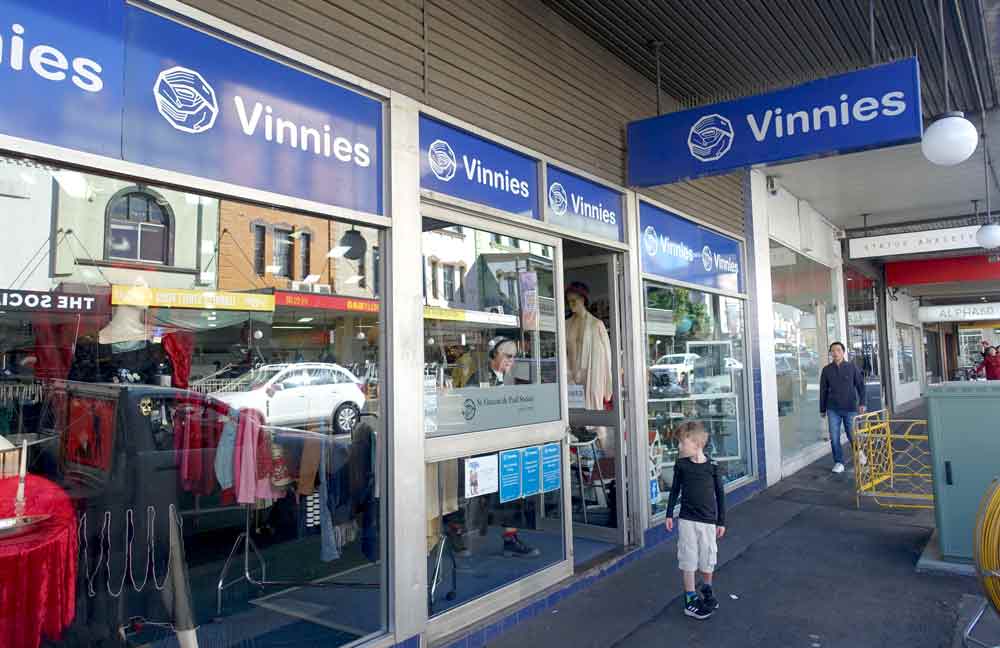 However, Vinnies is the type of store where you can find Polo Ralph Lauren items at $10 and other deals, depending on your luck.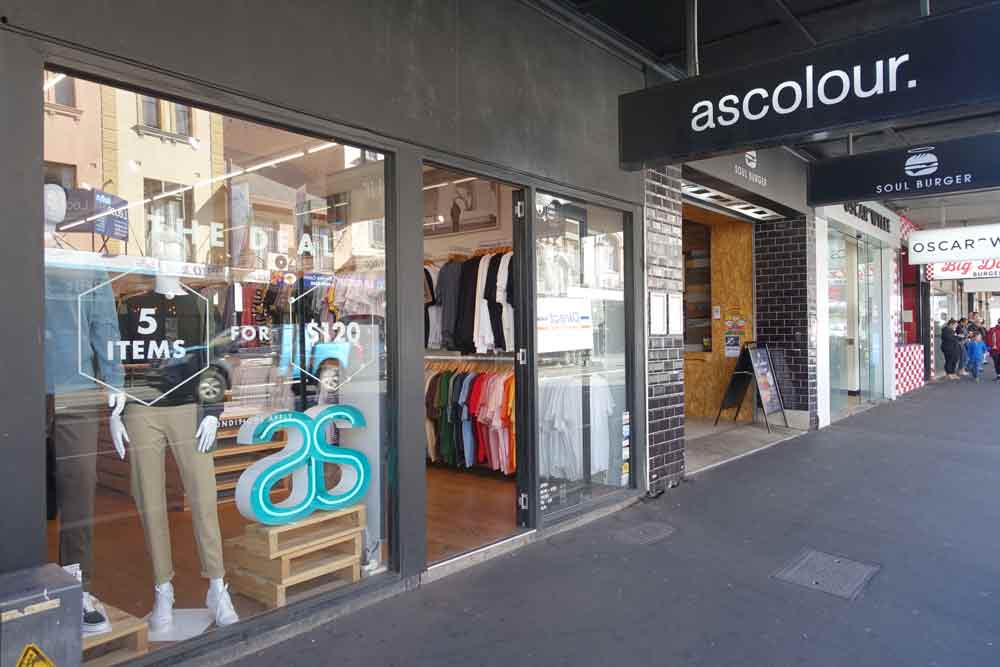 Check out the Ascolour store, where you can buy well-made basics in all colours.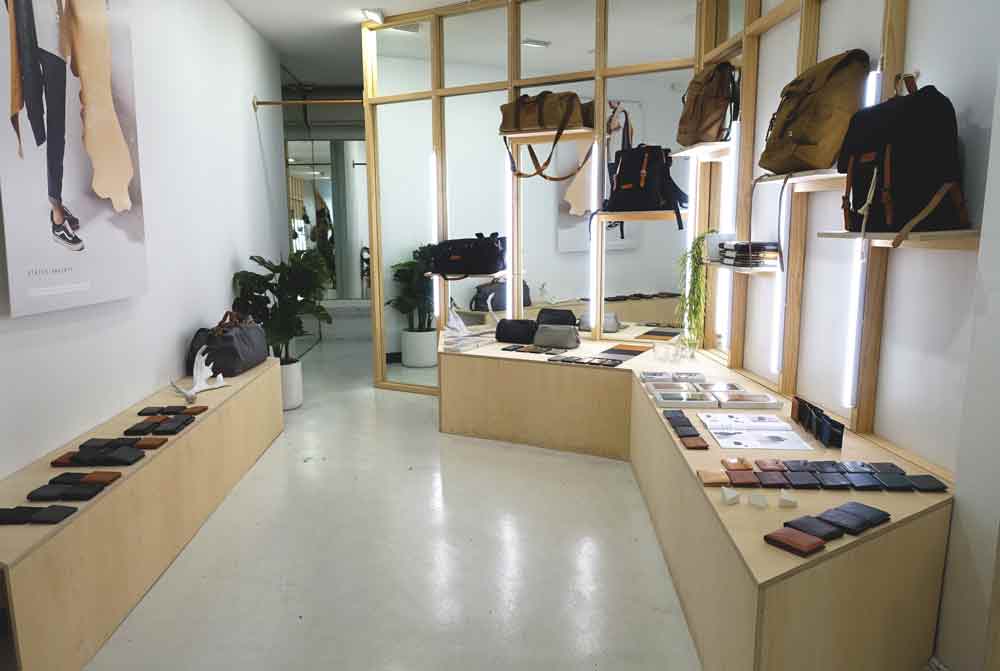 If you like leather goods, Status Anxiety offers a range of beautifully crafted wallets and bags. I got myself a money clip that fits a couple of bills and has 4 slots for cards to encourage myself to be a minimalist.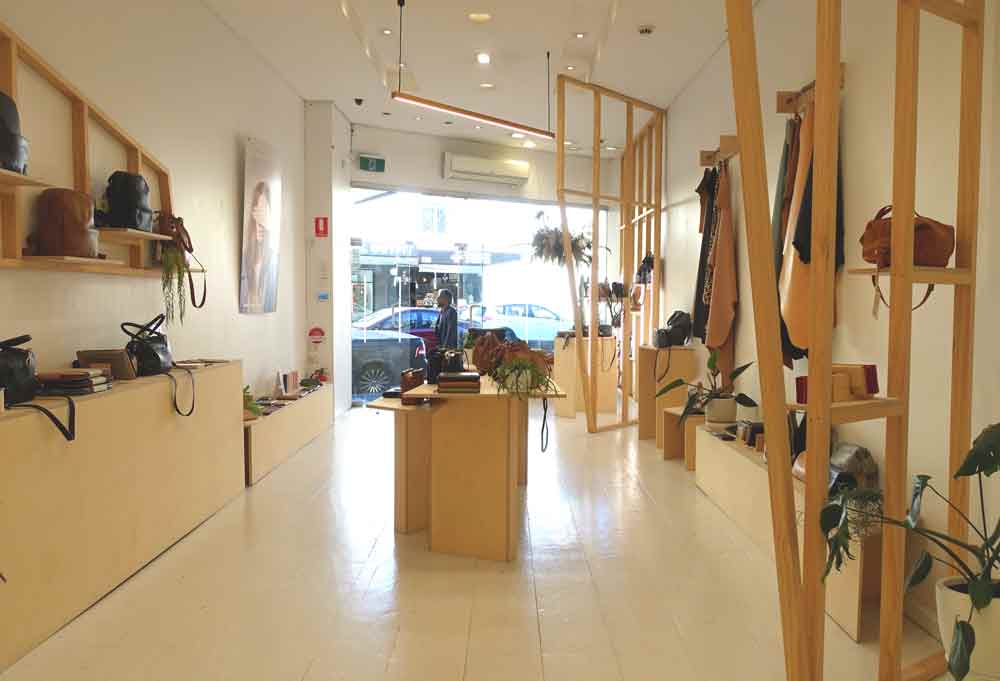 If you are an Aesop fan, their Newtown outlet has a unique display of books decorating its window.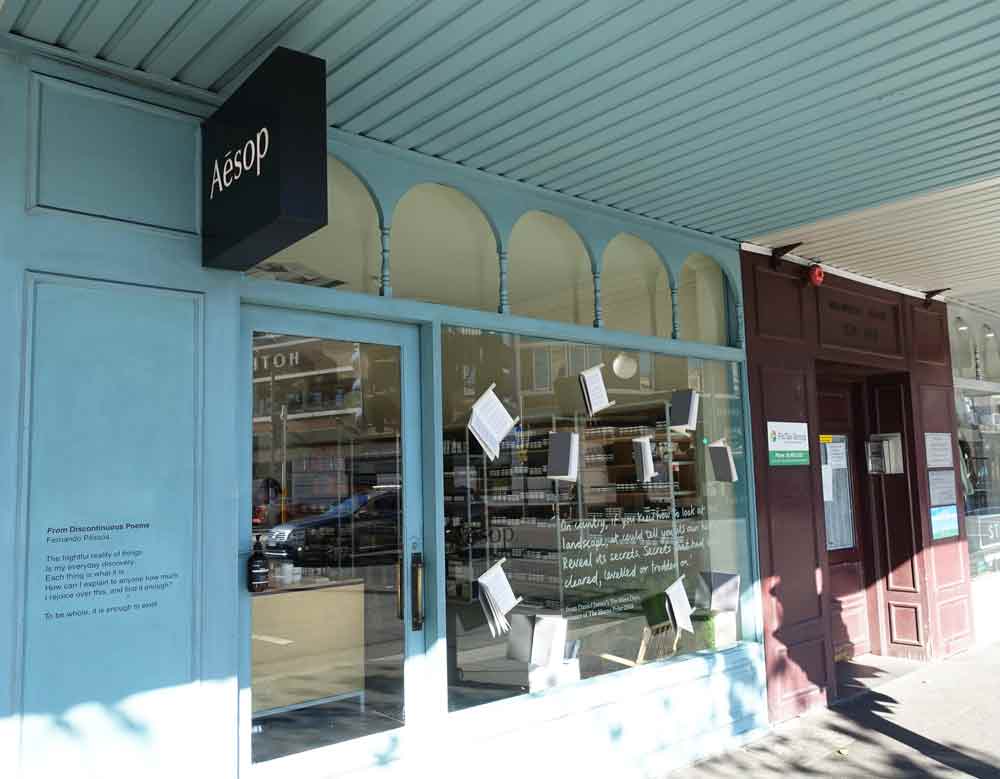 To sustain myself, I ordered the Egg Noodles with Roasted Duck at It's Time for Thai and the portion was substantial for $14.20. 
City centre and The Rocks
After shopping in Newtown, I wanted to get a feel of the heartbeat of Sydney at the city centre. True enough, it felt like a more laid-back version of Raffles Place or Tanjong Pagar, with plenty of well-dressed office workers getting coffee to go.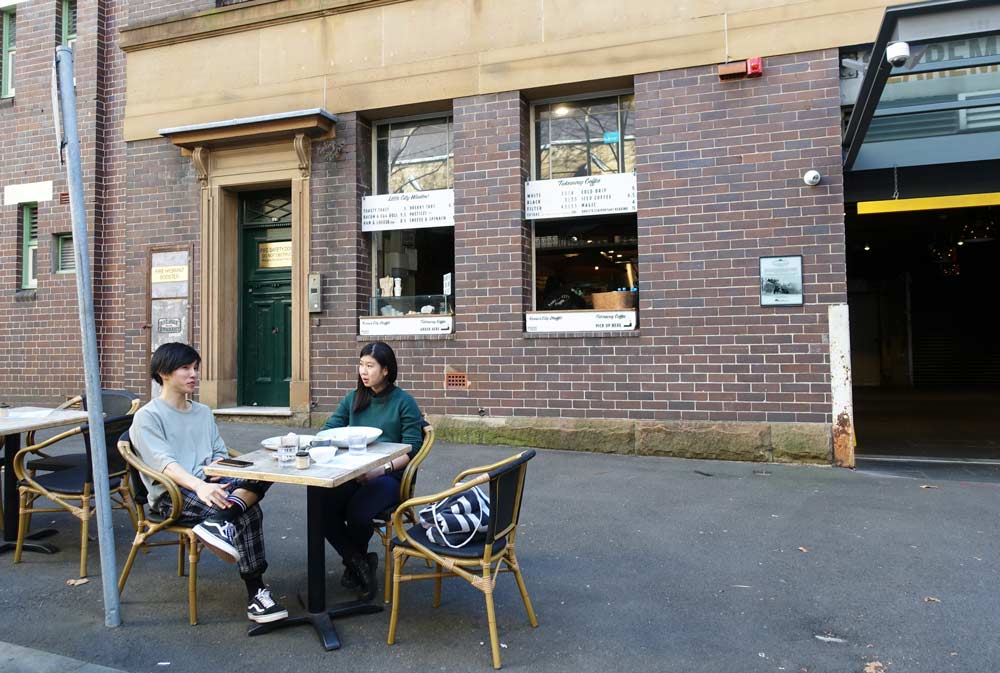 My happiest moment was discovering this unique cafe, Kansas City Shuffle, at the fringe of the city centre.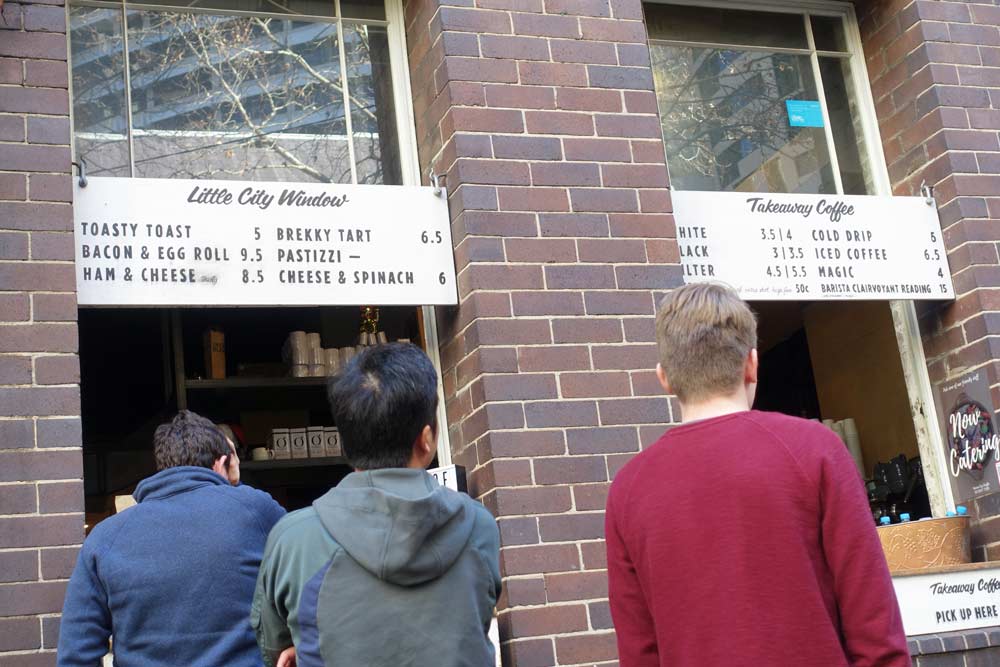 The nondescript exterior made it difficult to find at first because it doesn't look like any other cafe I've seen, but there is a whole seating area behind the take-out window.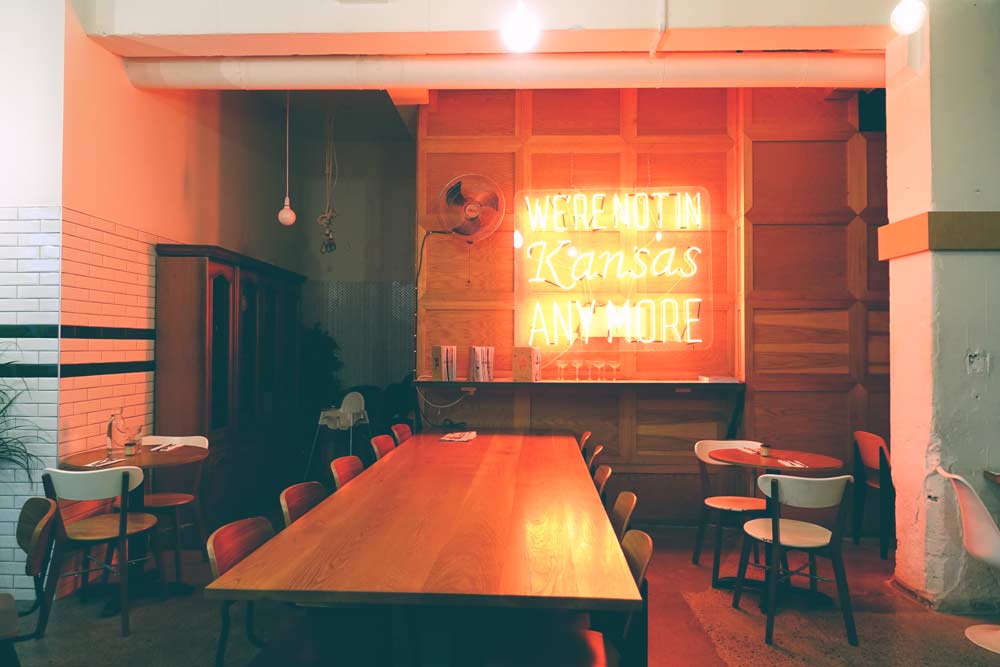 Its Pancake ($20) is the best pancake I've ever tasted—a simple and sizeable pancake with cream cheese, smoked almonds and berries. The pancake was cooked evenly with the right amount of sweetness and fluffiness. I wolfed it all down by myself and felt extremely satisfied.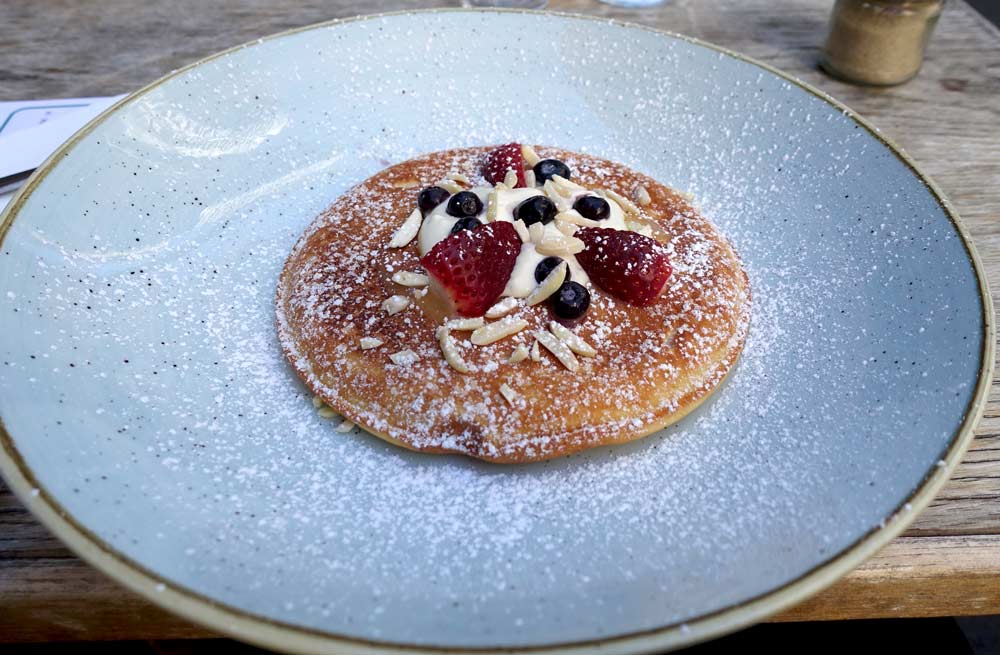 If I ever head to Sydney again, I will definitely order myself another one of their pancakes.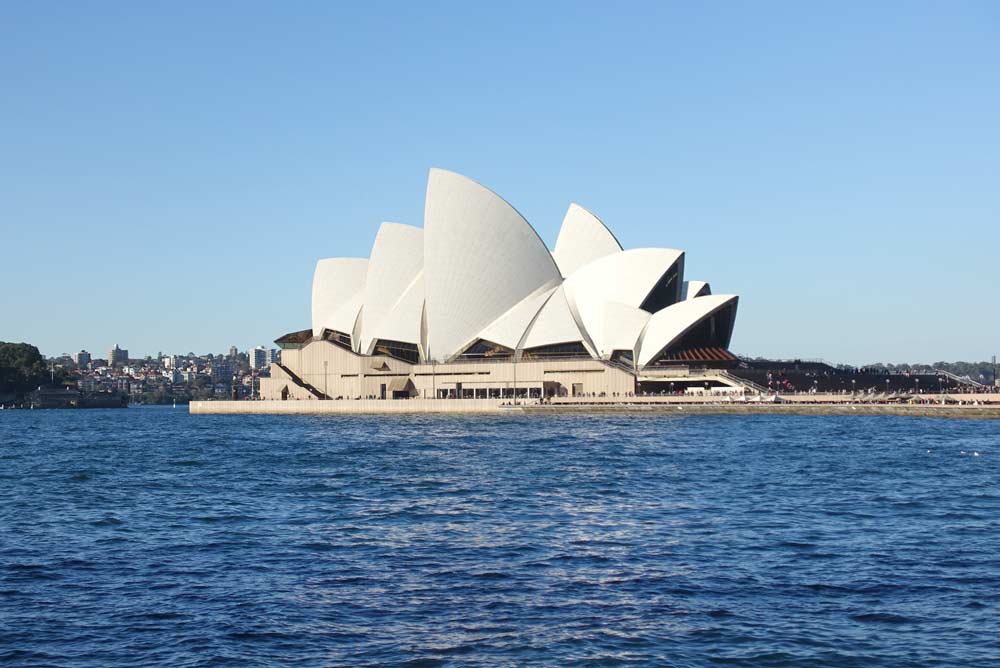 Energised by the yummy dessert, I continued trekking to the harbour, where I saw the world-famous Sydney Opera House. Since it is a tourist destination, there are also plenty of high-end boutiques for you to do some window shopping in the area.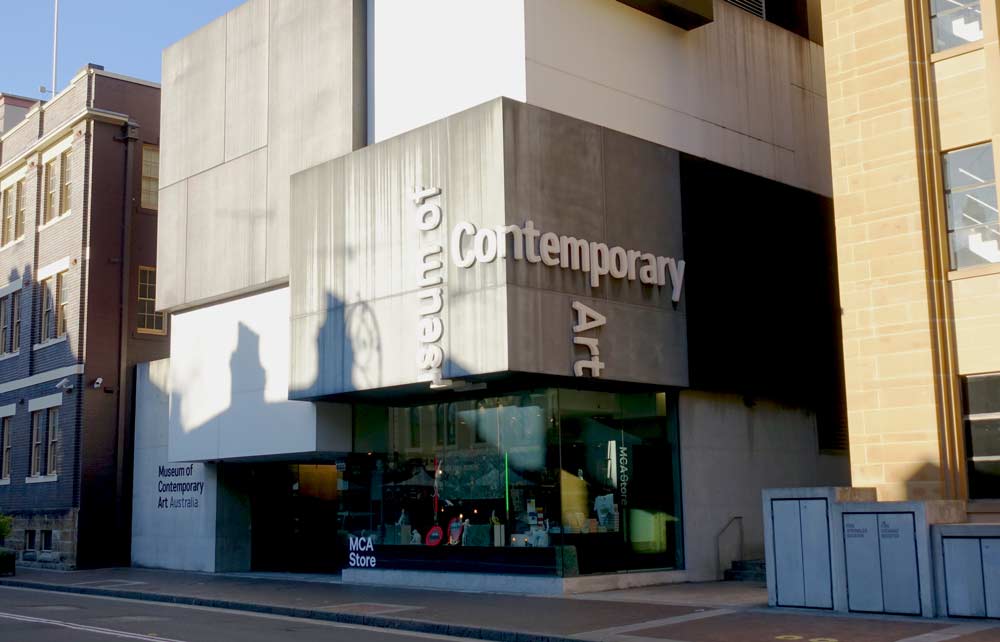 If you are on a budget, make sure you drop by the Museum of Contemporary Art as the admission is free. Photography is allowed, so you can capture the artworks to your heart's content.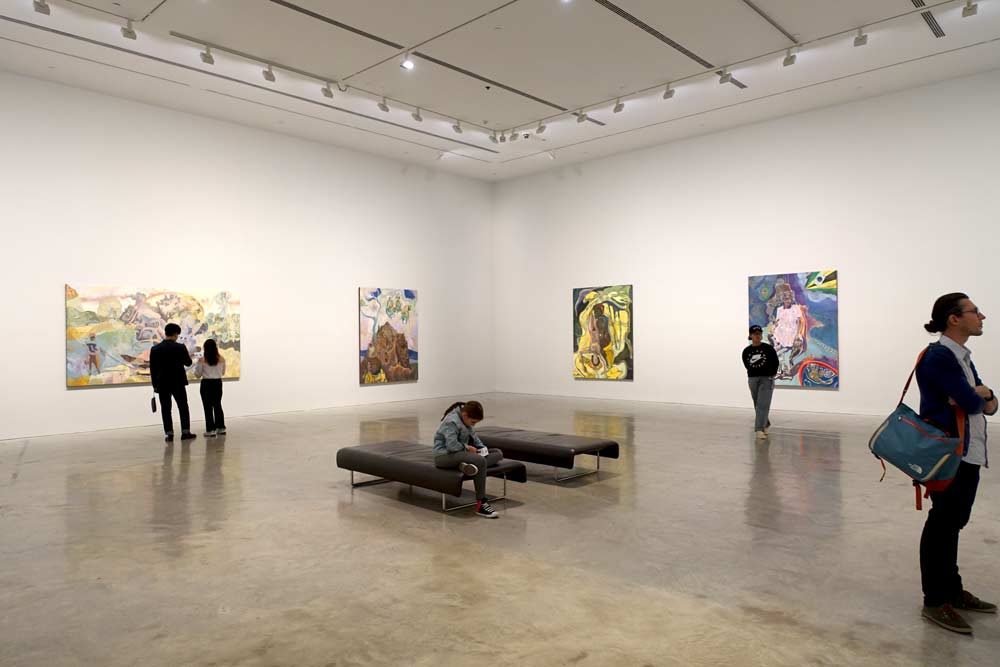 There is a restaurant at the museum's top floor, which offers a higher view of the Opera House and its surrounding area.

Total damage for 3D2N Sydney Itinerary
Day 1
3-night Airbnb stay – $213.40
Uber trip from airport – $25
Opal card for transport – $20
West Juliett cafe's Maple Bacon Benedict – $21
Lamrock Cafe's Chef's Special Crab Pasta and latte – $26
Little Momo's Duck Momo – $7.90
Day 2
The Grounds at Alexandria's Freshly Baked Buttermilk Hotcake and The Grounds Big Brekkie (shared) – $45 / 2 = $22.50
Cuckoo Callay's Cold Drip – $5
Surry Hills store shopping – $33
Day 3
It's Time for Thai's Egg Noodles with Roasted Duck – $14.20
Money clip from Status Anxiety – $40
Kansas City Shuffle's Pancake – $20.50
Grand total:  $448.50
Dinner was not included for day 2 and 3, because I was treated to dinner by my Sydney friends. However, each meal should not exceed $25. For some reason, the cool weather allowed me to eat less without feeling hunger pangs. 
You can easily spend less than $100 a day in Sydney while still enjoying awesome experiences, provided you don't buy yourself a designer bag. 
Transport costs
Getting around Sydney can be costly. A single bus trip can cost about $3. A pro-tip is to plan your trip over a Sunday. On Sundays, it costs $2.80 for unlimited rides with the Opal card, their equivalent of our EZ-link, which can be used for the train, bus and ferry. 
Note that you can't purchase the Opal card at some train stations, so it is best to get it at a convenience store with a $10 load value.
I noticed that the Opal card was being sold at an exorbitant price at the Airport station. Contactless credit cards (e.g. Visa payWave) are accepted on trains, so if you have one and are taking a train from the airport, try using it instead. 
For me, I took an Uber to my accommodation, which cost me a reasonable $25. Taxi costs are similar to Singapore and your Uber app will come in useful if you ever get lost.  
3D2N Sydney Itinerary Under $500 For People Who Love Insta-worthy Cafes And Thrift Shopping 
I hope this Sydney itinerary was helpful in helping you make the most out of your time in Australia, whether you are travelling solo or with friends.
Keen to share your basic or off-the-beaten-track travel itinerary with us? Write to us at hello@zula.sg
Also read:
I Solo Backpacked In South America for 8.5 Months And Crossed Borders Illegally
Photography by Asher Mak