BB Haus Cafe
When it comes to aesthetically-pleasing cafes, Korea is never short of them. In fact, the cafe culture in the country is so strong that many business owners are coming up with unique concepts and interior designs to stand out from the crowd. 
One example is BB Haus, a spacious cafe with tinted windows and street lamps that brings to mind a Barbie dreamhouse. 
The cafe
Located in Ilsan, which is about an hour's journey from Seoul, BB Haus is hard to miss ‒ it greets guests with a colourful exterior and floor-to-ceiling tinted glass windows. Chances are, you'll be further impressed by their pastel themed-furniture once you step inside. 
But before you explore the expansive cafe, take a look at how BB Haus uses tinted windows as an innovative way to play with light. When the sun shines in, colourful "shadows" are cast on the floor and off-white furniture. This creates a one-of-a-kind dining experience since "shadows" fall at different locations at different hours.
Not to mention, the cafe has pink street lamps as decor that scream Barbie-core. They also double as excellent backdrops to take your OOTD.  
Make your way up to the second floor, and explore other areas of the cafe, which are decked with furniture in vivid colours. Interestingly, the cafe also incorporates various arches and curves, alongside contrasting colours that represent their bold identity. 
If that's not impressive enough, wait till you explore another section of the cafe. It offers a completely different vibe, thanks to cool-toned colours like blue and green. 
After feasting your eyes on the unparalleled design of BB Haus, it is time to indulge in their pastries and drinks. From savoury brunch sets to zesty beverages, BB Haus offers a wide range of menu items.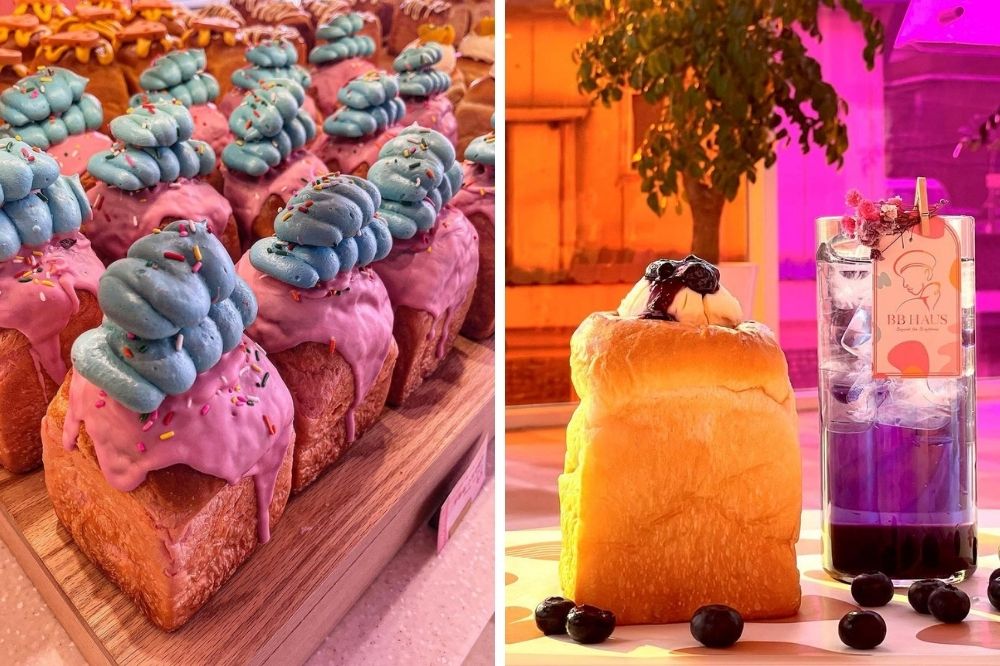 From left: Cloud Meringue Strawberry Bread, Ex-Boyfriend Bread, and BB Purple Aura
Source, source
As recommended by those who've visited the cafe, some of the must-try menu items include their Cloud Meringue Strawberry Bread, Ex-Boyfriend Bread, and BB Purple Aura drink.
Be Sure To Visit BB Haus The Next Time You Travel To Korea
It has been almost a month since the Barbie movie premiered, but the hype has yet to die down. Embrace your inner Barbie, and be sure to visit BB Haus the next time you travel to Korea with your fellow Barbies and Kens.   
BB Haus
Address: 506 Baengma-ro, Ilsandong-gu, Goyang-si, Gyeonggi-do, South Korea
Opening hours: Mondays to Sundays, 10am to 10pm
Instagram
Also read: 
You Can Now Live In This Barbie Malibu Dreamhouse Airbnb Hosted By "Ken", Looks Just Like A Doll House IRL