First Date Cafes And Restaurants In Singapore 
First dates can be a nerve-racking affair. Having to maintain eye contact for hours and make awkward small talk can be challenging even for the most outgoing among us, much less for introverts. These 9 cafes and restaurants in Singapore have side-by-side seats to help you ease into your next first date. We've chosen those with a view too, so you can people-watch or talk about the surrounding scenery as conversation starters, or in case of any awkward pauses.
1. Five Oars Coffee Roasters
Source
First up in this list of first date cafes and restaurants is Five Oars Coffee Roasters, a Melbourne-inspired cafe at Tanjong Pagar. Upon arriving at your destination, you'll notice the lush greenery dotted across the outdoor dining area, which help add life and colour to the cafe's otherwise cool industrial look. Head for the counter tables facing the road or the communal table filled with plants in the middle.
Source, source 
Satisfy your stomachs with appetising brunch fare such as the Crab Scramble with scrambled eggs, crab meat and avocado on sourdough or Sticky Date Pancake for those with a sweet tooth. 
Address: 39 Tanjong Pagar Road, Singapore 088462
Opening hours: 8am to 8pm daily
Contact: Call 8784 2686 or email hi@focr.sg
Website | Facebook | Instagram
2. Caffe Fernet
Source
Be it in the day or at night, Caffe Fernet's alfresco dining area is the perfect place for a romantic date. Sit alongside each other to soak in the panoramic waterfront view of Marina Bay Sands, and enjoy the breeze while you're at it. 
Source
In case of wet weather (or if it gets too hot), the interior is equally as beautiful. The trattoria design concept and dark wooden furniture will make you feel like you are dining in a restaurant in Europe. 
Source, source
Complement the view with what the restaurant calls "New-Italian cuisine", consisting of unexpected and local takes on Italian favourites. Try a selection of small plates to start, such as the Whipped Ricotta with figs, balsamic and honey; followed by delectable pasta dishes, washed down with classic Italian cocktails like an Aperol spritz or negroni.
Address: 70 Collyer Quay, #01-05, Customs House, Singapore 049323
Opening hours: 4pm to 10.30pm (Mondays and Tuesdays) | 12pm to 10.30pm (Wednesdays to Sundays)
Contact: Call 9178 1105 or email info@caffefernet.sg
Website | Facebook | Instagram
3. Alter Ego @ Esplanade
Source
As its name suggests, Alter Ego is a restaurant with a changeable ambience, depending on what time you're there. In the day, the harmonious combination of concrete and wooden tables creates an warm and inviting ambience, perfect for a relaxing lunch date. At night, a dim interior and vibrant red neon sign give the restaurant edgy and underground hideout vibes.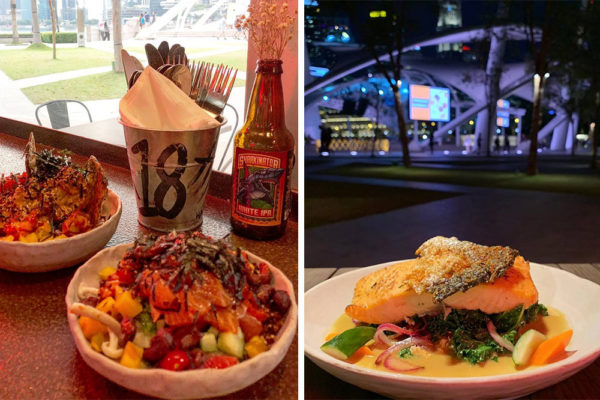 Source, source
Food-wise, Alter Ego is best known for its signature poke bowls, which you can savour while enjoying the picturesque Marina waterfront view. Besides poke bowls, grain bowls as well as burgers and an assortment of pasta dishes will make your stomach happy. 
Address: 8 Raffles Avenue, #01-13D, Esplanade Mall, Singapore 039802
Opening hours: 12pm to 11pm (Mondays to Fridays) | 11am to 11pm (Saturdays and Sundays)
Contact: Call 6327 9301
Website | Facebook | Instagram
4. Merci Marcel Club Street
Source
Merci Marcel is a French bistro that offers a wide range of dishes catered to the time of the day. Its Club Street outlet is decorated in soothing white and mint green hues, as well as wood and rattan furnishings. Cosy up on the couch or armchairs outside the bistro and watch the weekend crowd stroll by. 
Source, source
Don't feel bummed that you're unable to visit Paris for the time being after watching Netflix's Emily in Paris. Merci Marcel's mains such as Marinated Crab Tartine, Croque Marcel and Tarte Flambée will make you feel like you're dining al fresco in the romantic city. End off your meal by sharing a satisfying homemade Apple Tart. 
Address: 7-9 Club Street, Singapore 069403
Opening hours: 9am to 10.30pm daily
Contact: Call 64383913
Website | Facebook | Instagram
Also read:
5. Dusk Restaurant & Bar
Source
Imagine sitting side by side with your date on a comfy couch, sampling delicious European tapas as the sun sets and turns the sky into a mesmerising orange hue. If you are a hopeless romantic, Dusk Restaurant & Bar is a good place to visit. The restaurant is situated 100 metres above sea level atop Mount Faber, offering diners a bird's-eye view of the verdant rainforest, calm waters and even cable cars.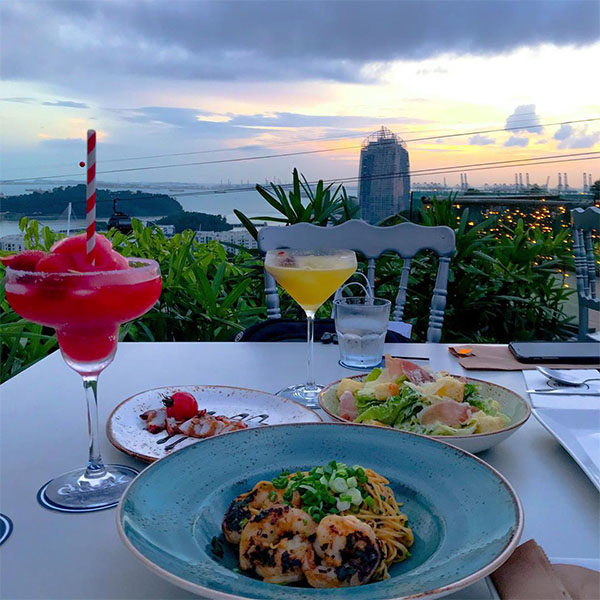 Dusk Restaurant & Bar's Instagram-worthy food and surroundings will fill your stomach and warm your heart. Opt for the Tiger Prawn Capellini with an aromatic lobster-infused oil or Pan Seared Snapper served with mango salsa and crushed potatoes. Check out their cocktail list while you're at it, which spans classics like sangria as well as the intriguing-sounding Nitro Frost Caviar Martini.  
Address: 109 Mount Faber Road, Level 2, Faber Peak Singapore, Singapore 099203
Opening hours: 4pm to 11pm (Sundays to Thursdays) | 4pm to 2am (Fridays and Saturdays)
Contact: Call 63779688
Website | Facebook | Instagram
6. Kreams Krafthouse
Source
K-drama fans should make a beeline for Kreams Krafthouse. The autumn-themed South Korean cafe will help you experience chill autumn vibes in sweltering Singapore. Burnt red autumn leaves hanging from branches across the walls and ceiling complement the matching burnt red chairs and wooden tables. 
Source
The cafe is known for its scones, which are aesthetically plated on round wooden boards. These come in a variety of interesting flavours such as sweet potato, dalgona and yuzu. Speaking of dalgona scones, Kreams Krafthouse also has its own special Dalgona Latte with crushed dalgona candy on top instead of the usual creamy foam layer. 
Address: 32 Maxwell Road, #01-07, Maxwell Chambers, Singapore 069115
Opening hours: 9am to 10.30pm (Mondays to Saturdays) | Closed on Sundays
Contact: Call 6226 2369
Website | Instagram ​
7. PS. Cafe Harding
Source
This one's an oldie but a goodie. Surrounded by lush greenery, PS. Cafe remains a great brunch spot for you and your date to escape the concrete jungle. 
Source, source
Let the soothing sounds of nature wash over you as you unwind while tucking into its All Day Menu. Try the Crab Tart or Steak Frites, and remember to save space for its signature desserts like the Key Lime Pie. 
Address: 28B Harding Road, Singapore 249549
Opening Hours: 8am to 10pm (Sundays to Thursdays) | 8am to 11pm (Fridays and Saturdays)
Contact: Call 6708 9288
Website | Facebook | Instagram ​
8. L'Entrecote Customs House
Source
L'Entrecote's alfresco bar terrace boasts spectacular views of the Marina Bay skyline. At night, the MBS laser show will serve as the perfect entertainment as you feast on flavourful French fare.
Source, source
For starters, try the Cheese & Charcuterie Platter, which includes their house-made foie gras. Of course, we can't talk about L'Entrecote without mentioning the steak. Pair yours with a glass of wine from their exclusive signature collection for a meal that's sure to appease even the harshest of food snobs. 
Address: 70 Collyer Quay, #01-01, Customs House, Singapore 049323
Opening hours: 12pm to 3pm and 6pm to 10pm (Mondays to Thursdays) | 12pm to 3pm and 6pm to 11pm (Fridays) | 6pm to 11pm (Saturdays) | 5pm to 10pm (Sundays)
Contact: Call 6690 7565
Website | Facebook | Instagram ​
9. NomVnom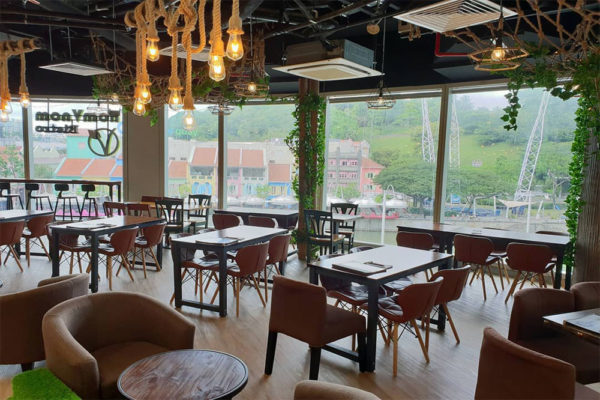 Source
With full-length windows, creeper plants and warm lighting, you'll feel right at home the minute you step into NomVnom. Go for the window seats to look out at the vibrant shophouses and idyllic Singapore river as you get to know your date better. 
Source, source
The vegan cafe has fresh and palatable food that will appeal even to non-vegans. The burger buns are handmade from scratch with ingredients such as unbleached white flour and unrefined sugar. Even their soups are served hot out of the pot daily with no preservatives, artificial flavouring and colouring, so rest assured you'll be enjoying a hearty and healthy meal. 
Address: 6 Eu Tong Sen Street, #03-105/106/107, Clarke Quay Central, Singapore 059817
Opening hours: 11.30am to 9pm (Sundays to Thursdays) | 11.30am to 10pm (Fridays to Saturdays)
Contact: Call 6224 4996
Website | Facebook | Instagram ​
These Cafes And Restaurants Will Spare You The Awkward Silence On Your First Date
Nobody likes awkward silences, especially on a first date. The scenery and food in this list of first date cafes and restaurants will help you naturally keep the conversation flowing with your date. Or you can simply relish each other's presence as you admire the beautiful views at these places. 
Also read:
20 Most Romantic Bars In Singapore For Date Nights That Keep Things Classy