New Makeup & Skincare Launches (ZULA Payday Picks)
The autumn season has eased its way into October and brought new beauty launches along with it. Last month, we fancied a tinted sunscreen and a green tea-infused toner, but our gamut of skincare discoveries is just starting to expand.
This month, rose gold tones get a modern revival by way of a highly anticipated makeup collaboration, featuring a shimmery highlighter, a metallic matte lipstick, and a speckled eyeliner.
To keep you up to date on the latest beauty drops, I took these new products out for a spin. Ready your wallets; these are the seven new products you'll want to throw your money at.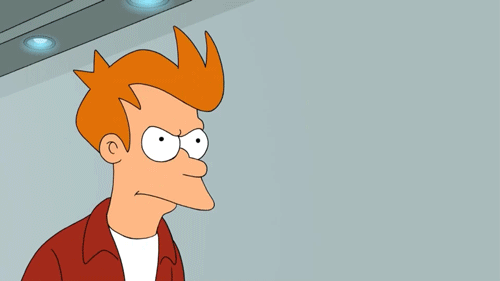 1. Jurlique Herbal Recovery Signature Serum
Price: S$130 for 30ml, S$160 for 50ml
Where to buy: Jurlique stores and counters
Jurlique reformulated their best-selling serum and tripled the dose of its antioxidant-rich ingredient, Viola tricolor extract. Paired with yarrow flower extract, they promise to reduce fine lines and wrinkles. Two weeks is too soon to see a change in skin age, but I did notice a brighter complexion after a few uses.
Marshmallow root extract gives it a non-greasy, gelatinous texture that protects and hydrates the skin. So while the product isn't instantly absorbed on application, it's still light, non-greasy, and bears a pleasant botanical scent.
2. Pretty Vulgar The Feathers Mascara & Shimmering Swan Highlighter
Price: S$37 for The Feathers Mascara, S$49 for Shimmering Swan Highlighter in Lilac Lust
Where to buy: Sephora stores and Sephora.sg
As someone who identifies as an old soul, Pretty Vulgar's vintage-inspired packaging stood out from the crowd of minimalist-designed beauty products.
Their vegan mascara gave my lashes extra length and volume, and stayed clump-free despite multiple coats. Pro-vitamin B5 and sodium hyaluronate in the formula thickened and conditioned my lashes as well, which makes me feel less guilty wearing mascara almost daily.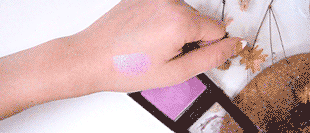 Purple highlighter is one of the biggest trends in 2018, and the brand's highlighter in lustrous lilac with a blue duochrome finish pops, especially on darker complexions.
3. IT Cosmetics Your Skin But Better CC+ Oil Free Matte With SPF40
Price: S$62
Where to buy: Sephora stores and Sephora.sg
IT Cosmetics' bestselling CC Cream now comes in an oil-free version, but the finish isn't entirely matte despite its name. Since I prefer a semi-matte glow, however, that didn't bother me.
Just like the original formula, it has a thick texture which is best applied with a sponge and makes the skin look airbrushed.
A key difference in this version is that it doesn't contain any citrus oils and extracts, so it's a fragrance-free, medium-coverage formula that's more gentle on sensitive skin.
4. Etude House Soon Jung pH5.5 Relief Toner
Price: S$25.90
Where to buy: Etude House stores
Etude House's pH5.5 Relief Toner is a standout from the brand's Soon Jung range. The pH-balanced formula is simple, with 97% of its ingredients derived from natural sources to calm and hydrate the skin.
If you have sensitive skin like me, you'll be glad to know that this product is free from potential irritants such as fragrance, artificial colour, and parabens.
5. Innisfree My Foundation & My To Go Cushion
Price: S$32 for My Foundation, S$38 (compact), and S$26 (refill) for My To Go Cushion
Where to buy: Innisfree stores and counters
Customisable beauty is in. From Innisfree's latest #MyPerfectFit line with more than 60 foundation options, I picked a high coverage foundation with a semi-matte finish in shade N22.
Despite being under the sun for a photo shoot and facing a heavy downpour later in the day, the liquid foundation held up well with minimal migration. Because of its semi-matte finish, the formula gave way to some shine, but my complexion still looked fresh.
The liquid My Foundation also comes in a cushion compact, which has a unique dispensing method. Instead of a sponge or mesh, you push the plastic button down so the liquid foundation comes through the centre. A more hygienic approach to midday touch-ups.
6. Smashbox + Vlada Petal Metal Collection
Price: S$42 for Petal Metal Always On Matte Lipstick, S$52 for Petal Metal Shimmer Drops, and S$42 for Petal Metal Liquid Eye Liner
Where to buy: Sephora and Sephora.sg
If you crave more rose gold in your life, Smashbox's partnership with Insta-famous Vlada Haggerty should do the trick.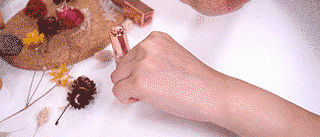 The Shimmer Drops have a watery consistency which blends easily on the skin. I've worn this pigmented liquid highlighter on my cheekbones, eyelids, and even lips when I'm feeling extra.
As with most metallic lipsticks, the Petal Metal lippie is a little too intense during the day, but I might pair this with the Shimmer Drops if I'm going as a disco ball this Halloween. Since the formula isn't smudge-proof, let it dry for a couple minutes after application before pressing your lips together.
For a hint of glitter, try the liquid eyeliner, which comes in rose gold and speckled black. The felt-tip applicator gives me greater control when I'm creating a cat eye, and the shimmer adds a glamorous touch to my everyday makeup look.
7. Aprilskin Real Calendula Peel Off Pack
Price: S$23
Where to buy: Guardian
Calendula flowers are lovely to gaze at, but these vibrant orange blooms are packed with healing power too. Calendula's petals and extract are skin soothers, rich in anti-inflammatory polysaccharides, saponins, and flavonoids.
There are bits of calendula petals scattered in the cooling gel and after 30 minutes, I peeled off the mask to softer, more radiant skin.
Payday Pick October 2018: Etude House Soon Jung pH5.5 Relief Toner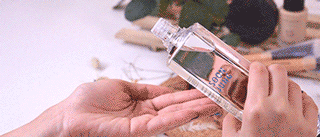 Managing acne-prone, sensitive skin is a real struggle, so when I find something that works, I stick to it. The Soon Jung pH5.5 Relief Toner is the latest product to join my collection of anti-inflammatory skincare.
I swipe on the toner in morning and night after cleansing, and I've also decanted it into a mini spray bottle to use as a refreshing face mist.
I underestimated this product. Because of its unscented, thin formula which doesn't leave a residue behind, it felt like I was applying water to my skin. After a week, the red patches on my cheeks went away, and my skin looked plumper.
It contains madecassoside derived from centella asiatica to soothe redness and repair damage, while panthenol delivers deep hydration.
And since the toner leaves no residue behind, it's great for those who dislike sticky skincare products. No one likes getting hair stuck on their face, much less the sensation of being velcroed to a pillow.
Priced affordably at S$25.90, I would definitely repurchase this gentle toner.
Also read: