Becoming A Cafe Owner
When the Covid-19 pandemic hit us in 2020, many jobs were severely affected. It was especially hard for Chanel, who was only 22 years old then and working as a cabin crew. Travelling was on hold indefinitely, with no sign of passengers coming back any time soon. 
Feeling lost and not knowing what to do with her life, Chanel then started a home baking business, Whisking Bakes, which eventually transformed into her own cafe by the time she was 25. Here's what her journey was like, complete with tips on how to start your own business in Singapore.
Chanel's journey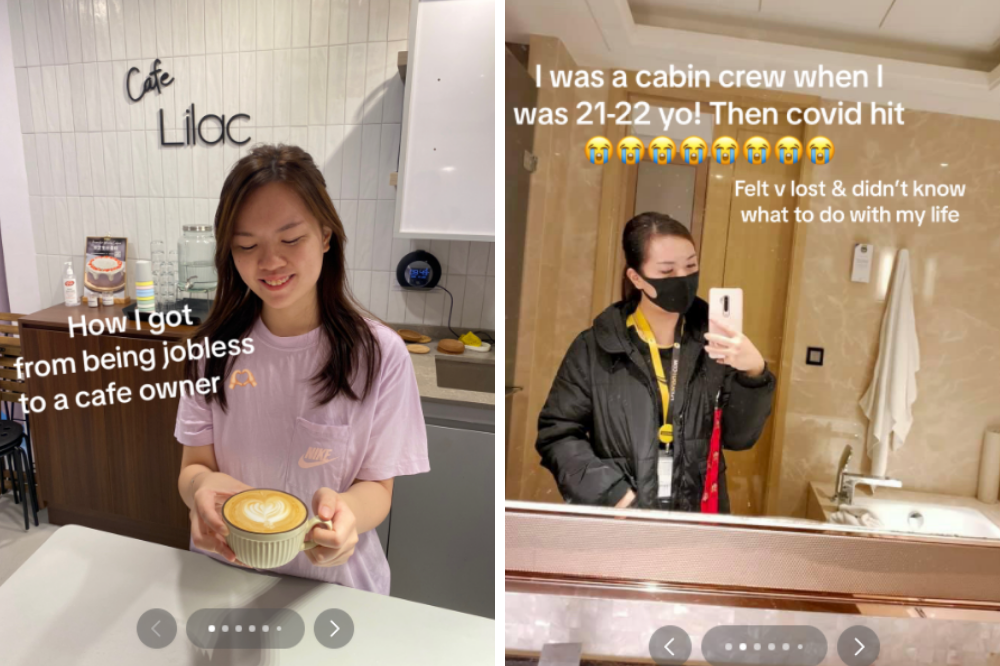 Source
Sharing with her viewers on TikTok, Chanel titled her video "how I got from being jobless to a cafe owner". Her journey started when she lost her job as a cabin crew during the pandemic at only 22 years old — a frightening experience for someone at such a young age.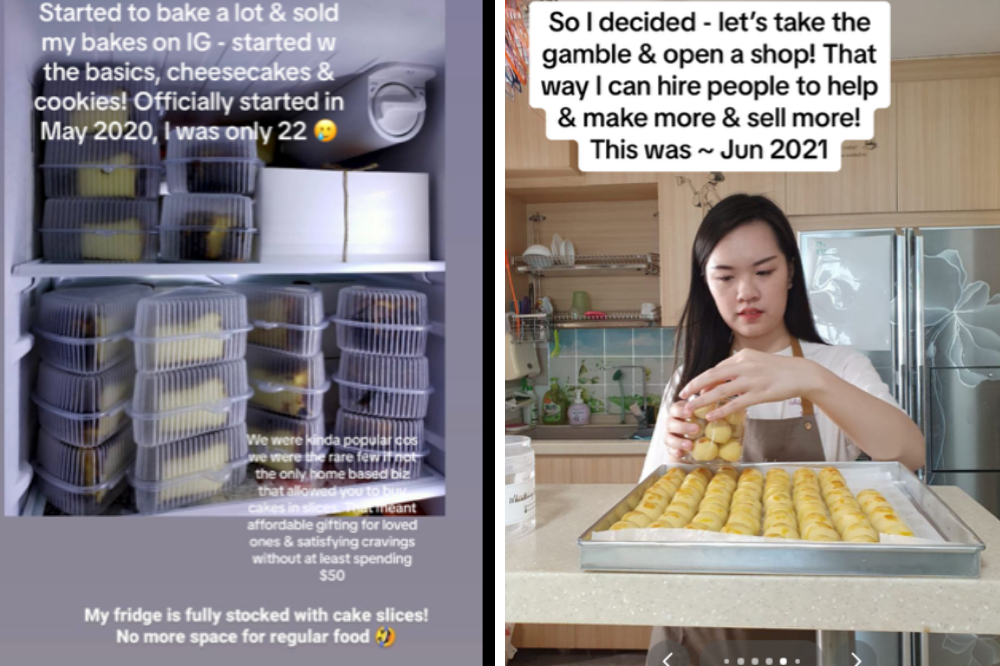 Source
Deciding to try something new, Chanel opened a home baking business on Instagram selling cheesecakes and cookies. Her big break came during Chinese New Year 2021 when she introduced her signature Orh Nee Tart Balls for the first time. 
She didn't expect the dessert to gain so much popularity, selling out within seconds every single week. Since she was making these tarts alone, she soon got overwhelmed with the never-ending orders. 
That's when Chanel decided to take a leap of faith and open her own shop, so that she could hire more people to help out with baking and selling.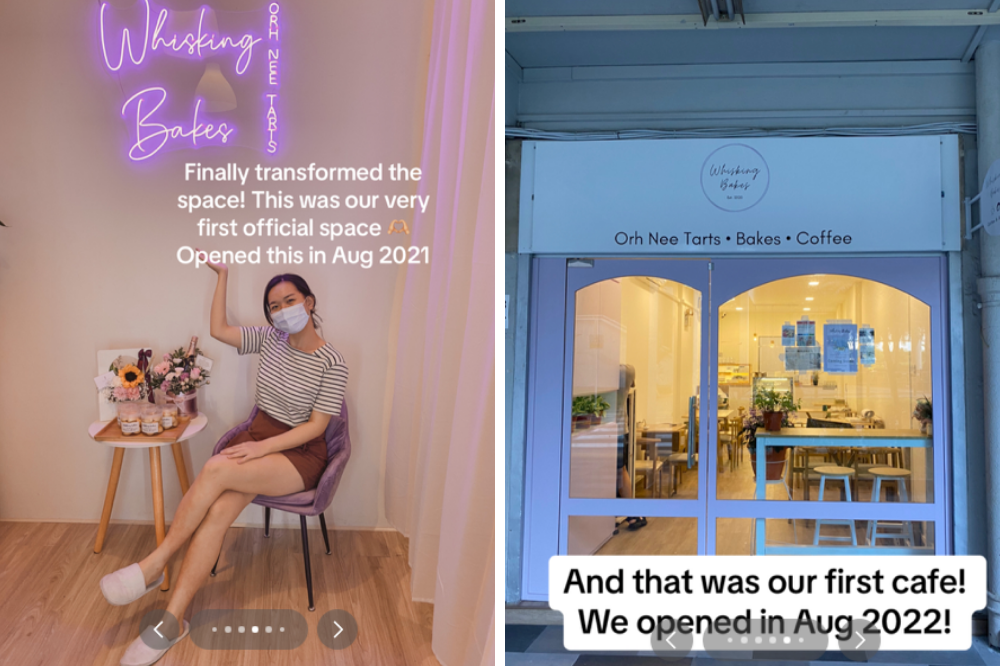 Source
Business started rapidly expanding. Eventually, Chanel opened her very first kitchen space in August 2021. Of course, this transformation also came with a lot of blood, sweat and tears — literally. Chanel shared that she did most of the work on her own to keep renovation costs low. 
A year later, Chanel moved out of the kitchen and found a space that was big enough to have a dining area too. Going in with the mindset of "why not, just try", she opened her first cafe in Lavender in August 2022.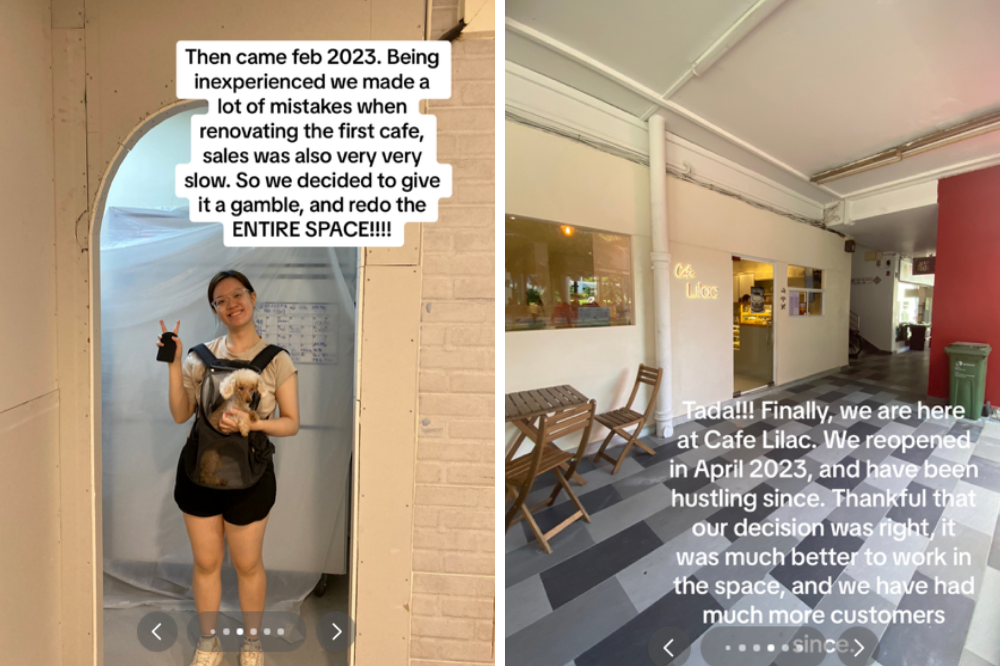 Source
Since it was her first time opening a cafe, Chanel felt that her and her team "made a lot of mistakes when renovating, [and] sales were also very slow". Taking another gamble, they decided to redo the entire space. 
In April 2023, Cafe Lilac was finally born. Specialising in unique taro-inspired desserts, they now have a better space to work in and more customers to welcome.
Tips on how to start your own business
1. Register your business on ACRA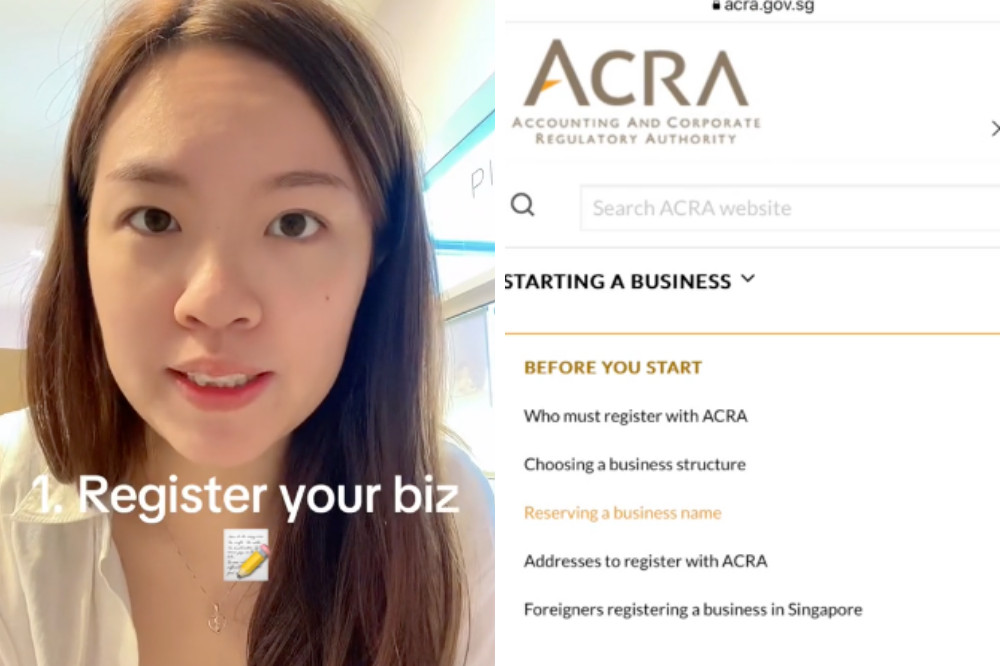 Source
Following the success of Cafe Lilac, Chanel shared her top must-know tips on starting your own business in Singapore. In her TikTok video, she mentioned that "these steps apply for any other businesses such as nails, lashes and clothing" as well, and isn't limited to just F&B. 
Her first tip is to register your business on Accounting and Corporate Regulatory Authority (ACRA). There are many different company types in Singapore, and interested business owners can read up more about each type on their website. 
2. Set up a bank account
For illustrative purposes
Source
Once your business is registered, head down to the bank to set up an account so that you can track your money going in and out. As the saying goes, "money makes the world go round", so this is essentially the most important step. 
3. Find a unit
The next step is to find a unit that you can call yours. Chanel recommends three websites to search for commercial units that are currently available in Singapore: Commercial Guru, Carousell and SRX. 
Or you can also walk around areas that you like and see if there are any units up for rent. 
Chanel warned that this step can be exhausting, as "you have to keep going to view the units, and agents tend to not reply, even though they are the ones who put up the ads in the first place".
4. Apply for change of use and a SFA licence
Source
Pro tip: In Singapore, the government restricts certain units and what they can be used for. So if you're looking to transform the space into a F&B space, ensure that it is first approved for F&B usage.
If the unit can be used for F&B but is currently not being used for F&B, then you have to apply for a change of use. F&B businesses are also required to apply for a compulsory SFA licence. 
Once you've completed all these steps, you now have the freedom to renovate your place and begin your new journey. Go wild. 
Chanel's Journey To Being A Cafe Owner Shows Her Passion & Determination
It's been three years since Chanel went from being jobless to opening her very own cafe that she's proud of — a decision that came with many hardships and perseverance. Through sharing her entrepreneur journey with useful tips to her followers, she hopes this will inspire many others who are interested in doing the same. 
Head over to Chanel's TikTok page for more in-depth information and tips, or check out Cafe Lilac's Instagram page here.  
Also read:
A Complete Guide On How To Set Up Your Own Home-Based Beauty Business In Singapore