Starting A Home-Based Beauty Business In Singapore
We're still in the thick of the COVID-19 pandemic, with many of us searching high and low for some extra income. While starting your own business is the dream, many dismiss it as far-fetched and near impossible. Our advice? Start small with a home-based business. 
Your cosy HDB flat might not cut it for all businesses but setting up beauty services like lash parlours, as well as hair and nail salons, in your home is 100% attainable. From cost-saving tips to networking advice, here's a complete guide on how to kickstart your own home-based beauty business in Singapore.
Register your business 
First things first: register your business online at BizFile. It's easy—you can log in through SingPass, and you'll need to have your business name, business activities and business address on hand. Fifteen minutes and $15 later, you'll be the proud owner of your own business! 
Make sure to save your Unique Entity Number (UEN) after since it's vital for all transactions, aka one of the main ways for customers to transfer you money. 
Tip: Business names matter more than you think. Don't go too generic with a name like "Eyelash Extensions" or you can bid farewell to ranking on Google's first page. But at the same time, avoid a name that appears randomly drawn from a hat. 
Understand the guidelines surrounding a home-based business
After registering your business, figure out what type of home-based business you'll be running. 
In Singapore, there are 2 different schemes: 1. Home Office Scheme and 2. Home-Based Small Scale Business Scheme. Since we're looking into setting up a home-based beauty business in Singapore, it's the latter that we're interested in.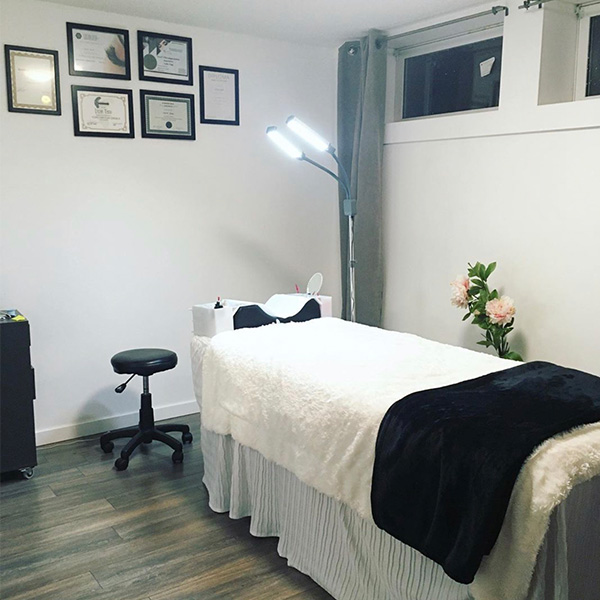 Start a beauty spa with the Home-Based Small Scale Business Scheme
To keep your business small, the Home-Based Small Scale Business Scheme is ideal. There's no need to apply for an official business license but it does mean that your full-blown beauty salon dreams aren't guaranteed since there are strict guidelines in place. 
It's quite a detailed list so check it out in full here but they're basically common sense rules to keep you in check. Stick to the guidelines by avoiding any loud noises, use of heavy equipment or hiring of workers—you wouldn't want to be known as the nuisance neighbour of your block. 
Gain free business advice
It's no easy feat to start a business from scratch, much less one operating out of a cramped home. Thankfully, there're a ton of like-minded, ambitious people out there who've gone through the same struggles. Since many of them are now running their own successful home business, it's worth networking with these start-up veterans for free business advice.
Some of the more popular sources include online groups like SGHomeBasedBiz or SG Small Business Owners, and members will occasionally offer tips on setting up a business or working from home. You can also check out local free seminars held by Enterprise Singapore or webinars tailored specifically for small businesses by Bizlaunch.
Save costs with wholesale suppliers
Once you've figured out the game plan, it's time to sit down and think about the nitty-gritty details. Let's say you're keen on setting up a lash extensions salon in your own home. Where would you get your lashes and glue from? How do you find cheap suppliers? Do you need to buy new chairs? There's a whole series of unanswered questions to figure out. 
The main trick to keeping your cost low is by sourcing quality wholesale suppliers. Since these suppliers buy in bulk, purchasing from them directly will be much cheaper than from a retail shop or middleman importer. 
Depending on what your beauty business focuses on, you can head down to local suppliers to invest in specialised equipment like false lashes, brow tweezers, or even LED gel nail lamps. Otherwise, for must-have staples like lights and table set-ups, you can check out online wholesalers like Taobao (using our English guide) or Aliexpress.
Tip: Remember to always forecast the number of supplies you need ahead of time, so you can buy in bulk at a cheaper rate. This applies to everything from tweezers to nail polishes. 
Level up your own skills with courses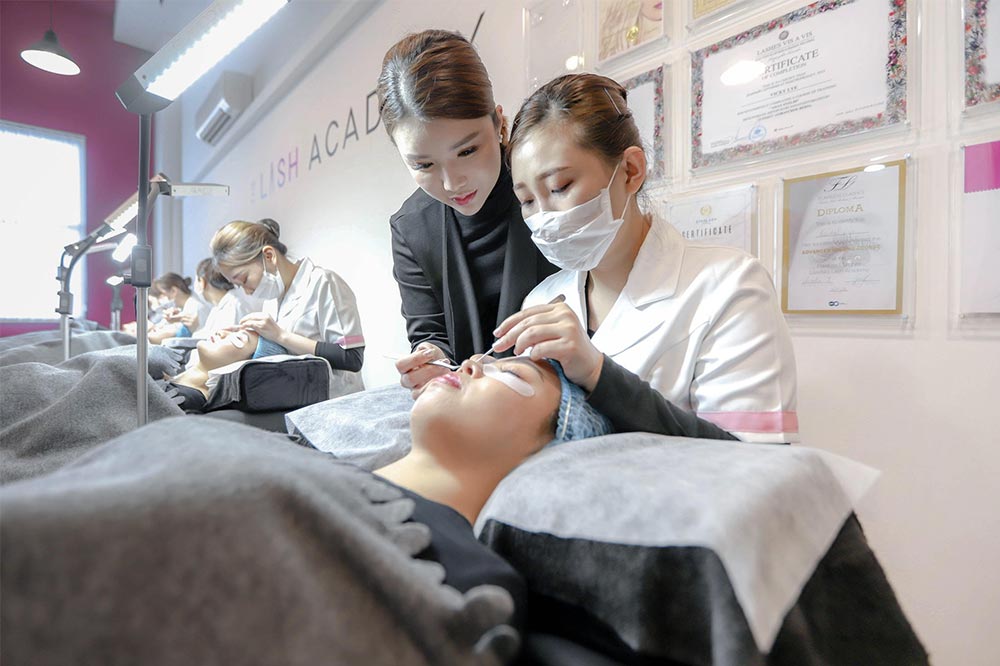 Most think they'll need to be a beauty expert to start their own home-based beauty business. But don't worry if you're a budding beginner. If your lifelong dream is to be a manicurist or hairstylist, there's definitely a way to get around it. 
There's an abundance of SkillsFuture courses, and for those looking to specialise in a particular service, professional academies and training establishments will help take it a step further. Besides learning the technical skills, you'll also be walking away with the basic knowledge to set up your own home-based business in Singapore: treatment lists, pricing models and equipment types needed. 
Starting Your Own Home-Based Eyelash Extensions Business With The Lash Academy
Having your own business is the ultimate dream: no need to answer to micromanaging managers while doing what you truly enjoy. But while many want to set up their own home-based beauty business, not everyone has the skill set for it. For those interested to specialise in eyelash extensions, it's worth considering The Lash Academy for professional training.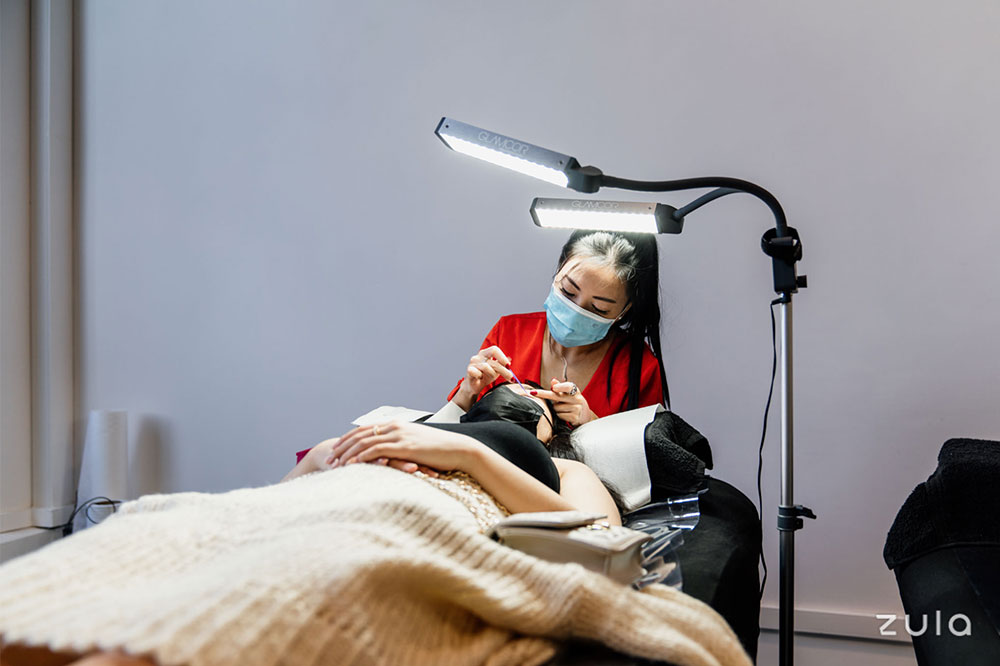 All trainers at The Lash Academy are professionals with at least 10 years of industry experience 
The Lash Academy is the very first academy in Singapore to specialise in eyelash extensions training, so you know that they've got the skills and technique down pat. It's the go-to place to learn the intricacies of both classic and volume eyelash extensions.
The Lash Academy is affiliated with Dreamlash, one of Singapore's leading eyelash extensions brands. They're also partnered up with the Korean Eyelash Association and the International Eyelash Designer Association, which means that once your training is done, you'll be walking away with an accredited certificate.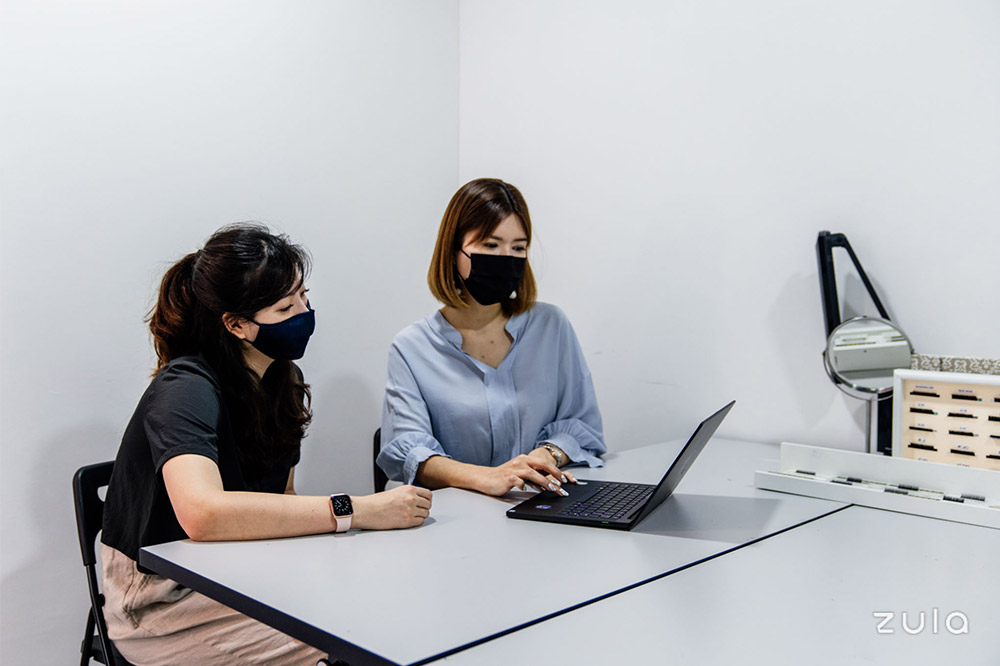 The Diploma in Professional Eyelash Extensions Technique, one of The Lash Academy's most popular programmes, is ideal for thorough eyelash extensions training. Trainers will go through in-demand eyelash services like classic lash, volume lash, hybrid lash, lash lift and lash regrowth. 
It also introduces the basics of setting up your own home-based beauty business in Singapore, so you'll get a first-hand perspective into how to market your own lash business, set up your home beauty salon, and how to best photograph your work. 
As a mix of theory and practical know-how, you're bound to be an eyelash extensions pro by the end of this 6-day course. Courses can be conducted in either English or Mandarin, and fees are priced at $3,380. For Singaporeans and PRs, there's also an in-house subsidy of $500.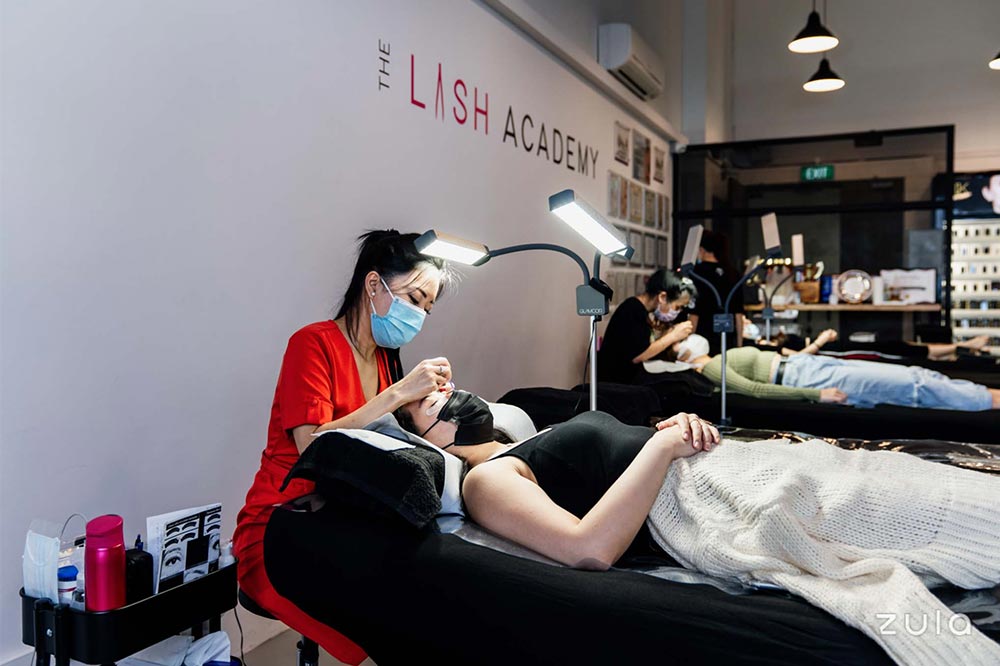 While this particular course is curated specially for an in-depth understanding of eyelash extensions, The Lash Academy also offers 3 other lash extensions courses: 

All students of The Lash Academy will also have unlimited use of the school premises for practice, unlimited revision sessions for 12 months and lifetime support after completion of their course.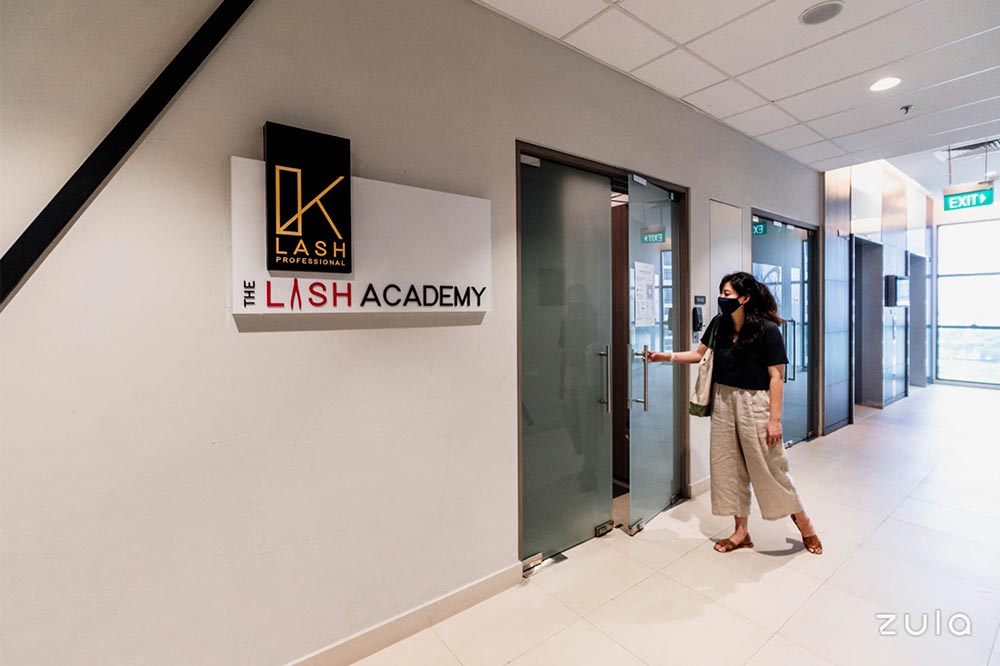 More than 2,000 students have since graduated from The Lash Academy, with some of them running their own beauty business now. With experienced trainers and hands-on courses, this is the very first step to starting your own home-based eyelash extensions salon. 
Address: 114 Lavender Street, #10-83, CT Hub 2, Singapore 338729
Website | Facebook | Instagram
This post was brought to you by The Lash Academy.
Photography by Pepita Wauran.
Also read:
15 Side Hustles You Can Work On From Home To Make Extra Cash, I've Made Money From 7 Of Them Myself