My Low-Budget Backpacking Trip To China
I spent a long time deciding where to head to for my grad trip after university. Two friends and I met at Orchard Gateway's Starbucks, searching for cheap flights to random cities on Skyscanner. Our criteria?
1. Somewhere low-budget because we'd just paid $30,000 to NTU.
2. Somewhere filled with nature's glory because your girl isn't gonna pay hundreds to look at cityscapes, which BTW Singapore does best.
3. Somewhere we wouldn't have much issues communicating with locals.
After many hours of "Huh I don't know leh…" and "Like quite ex sia", we decided on the southern part of China, because it met all the above criteria and we really just wanted to GTFO of the freezing cafe. So off we went to the land where our ancestors were born.
Days 1 to 7: Guilin (Yangshuo – Longji Rice Terraces)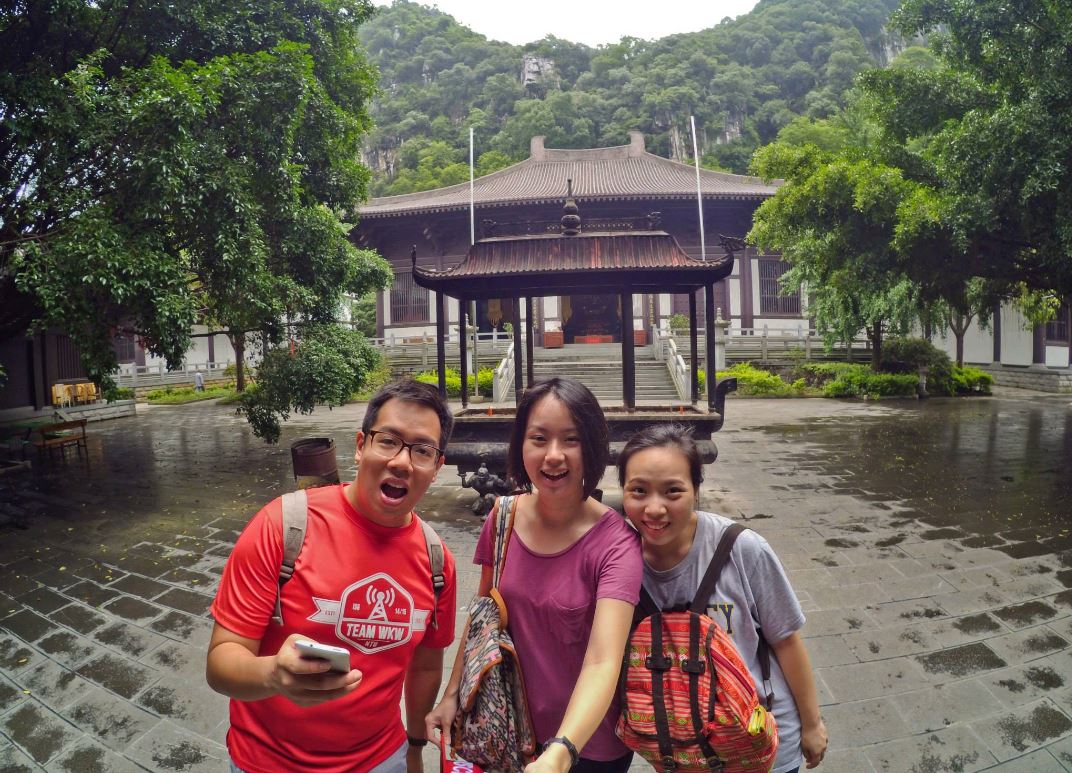 From left to right: Deyong, Hanle and yours truly
We flew direct to Guilin and spent the next two days roaming around the city. One of the main attractions here is Seven Star Park (Qi Xing Gong Yuan).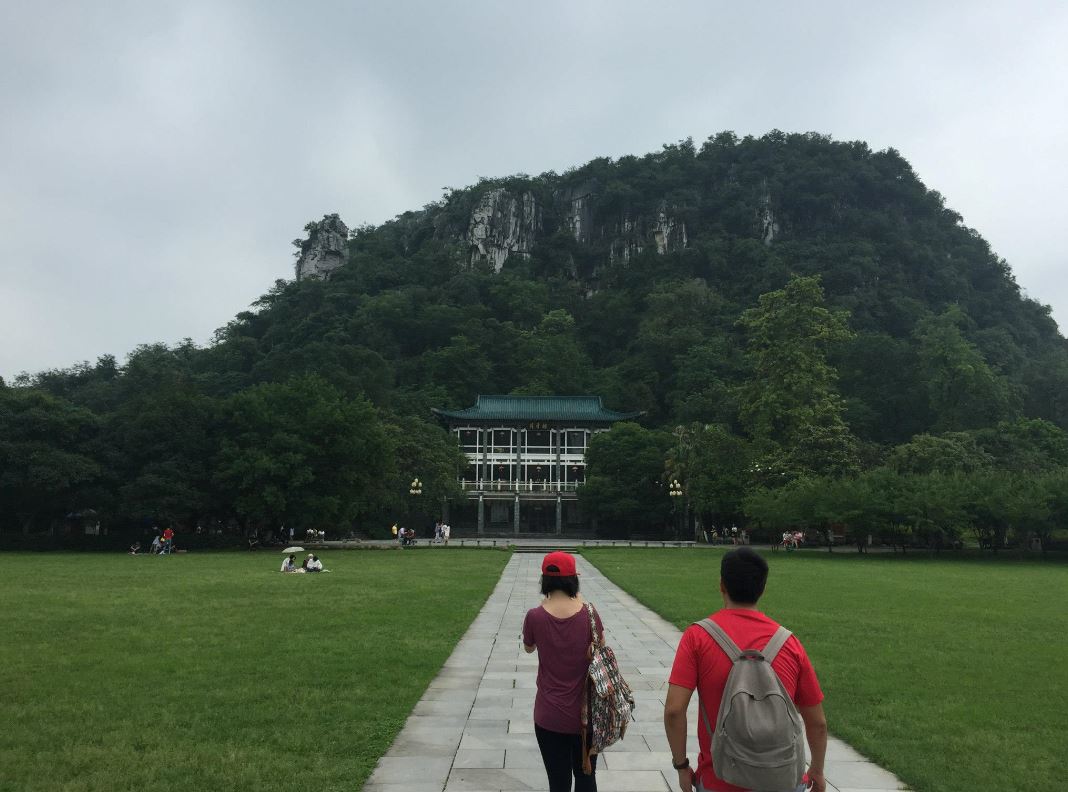 This huge park houses mountains, forests, pavilions and many, many monkeys. You can definitely spend an entire afternoon just climbing hills and chilling with locals here. There wasn't much of a human crowd too, something I would come to appreciate more as my journey continued.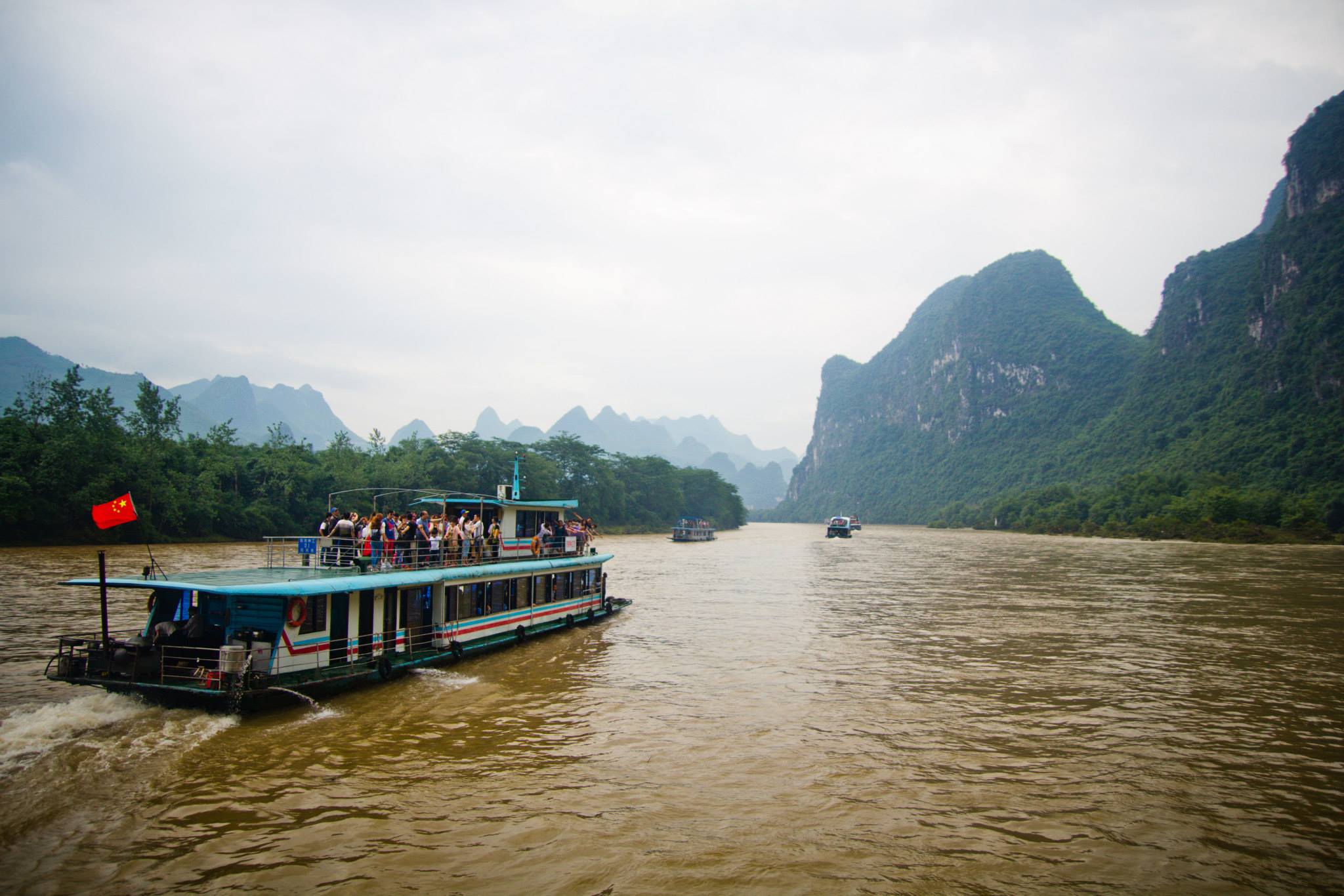 Checking out of our hostel early the following morning, we hopped onto a ferry that took us down the Li River. This winding route was surrounded by rows and rows of mountains, and the wonderful breeze that followed us throughout made the entire journey relaxing despite the many other noisy tourists on board.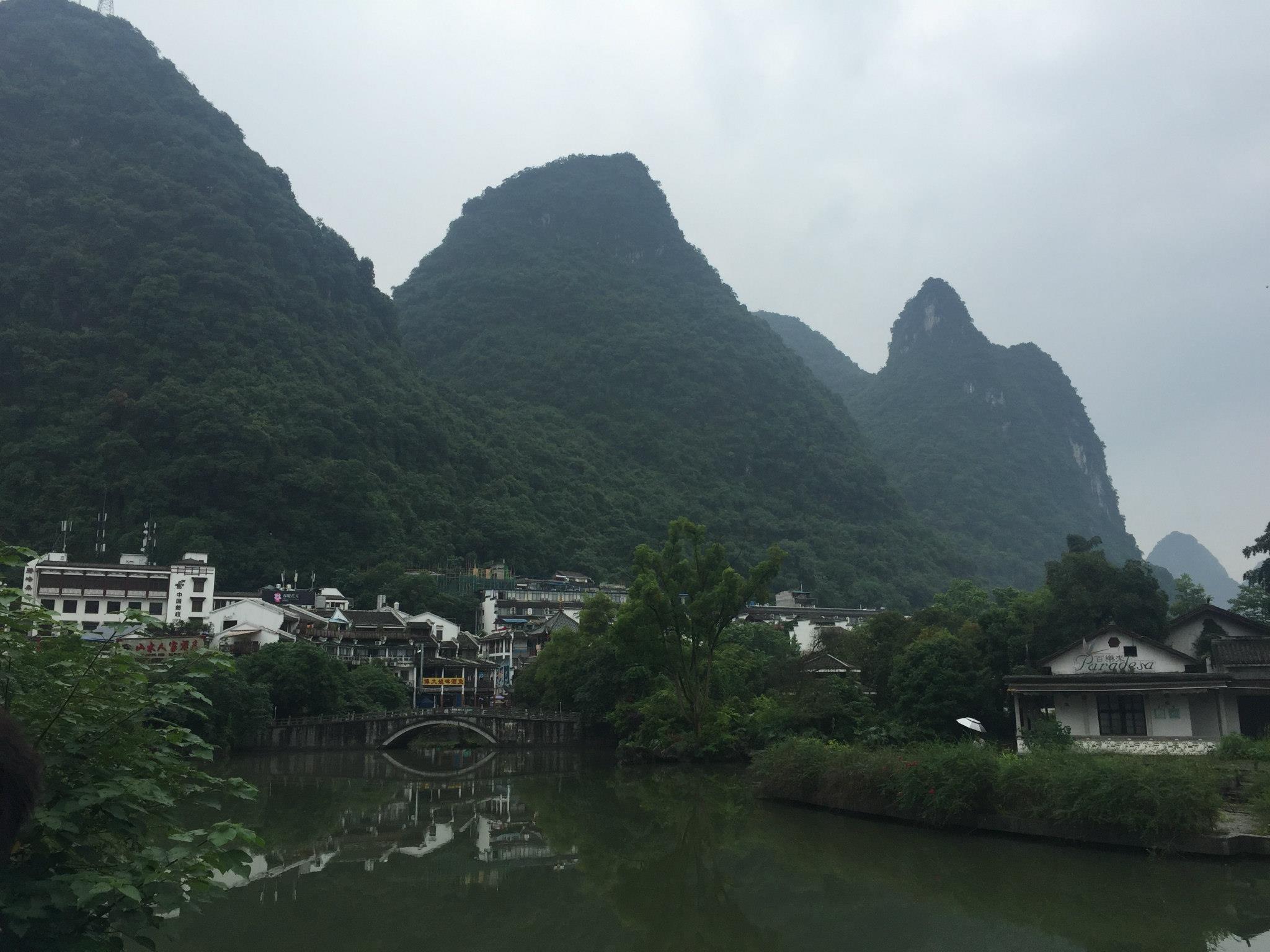 At the end of our Li River ride was Yangshuo, a small town made up of old-school shophouses selling knick-knacks, and plenty of mountains and hills. You can venture out into the picturesque spots by renting a bicycle.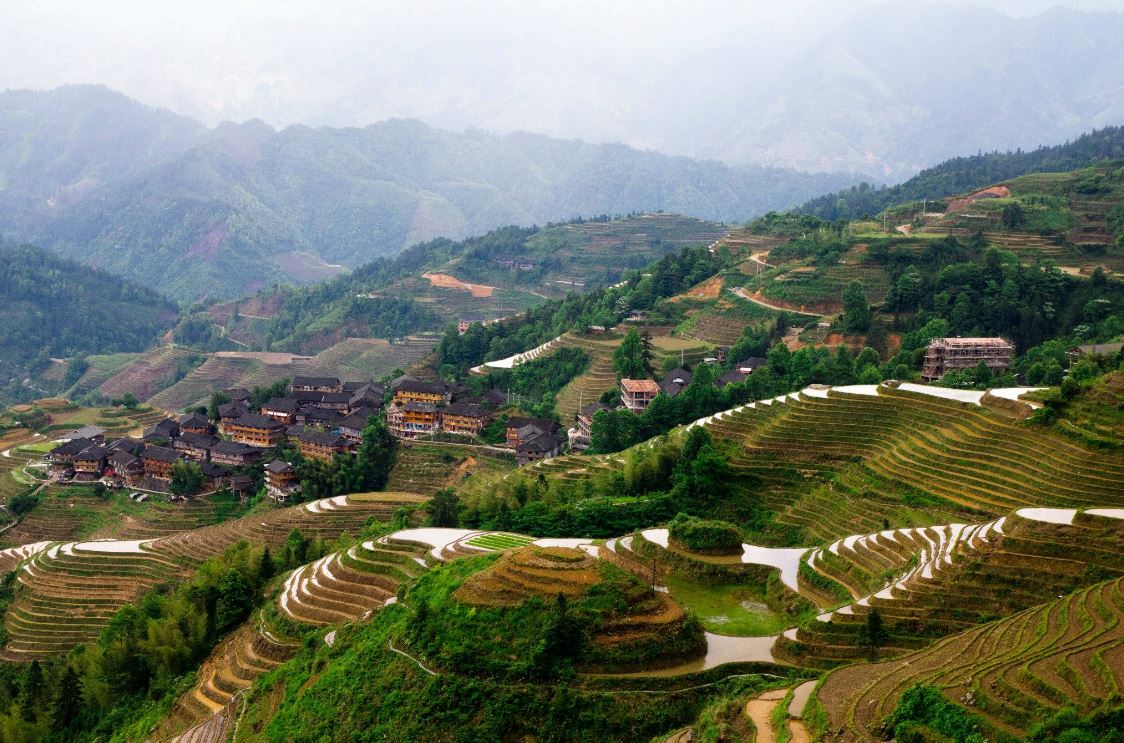 After a short stay in Yangshuo, we took a 4-hour bus ride and arrived at the Longji Rice Terraces. The hike up to our hotel was breathtaking, in both the literal and metaphorical senses of the word. With XXL backpacks weighing us down and unforgiving stairs made out of stone, it took us 40 minutes to finally get some rest.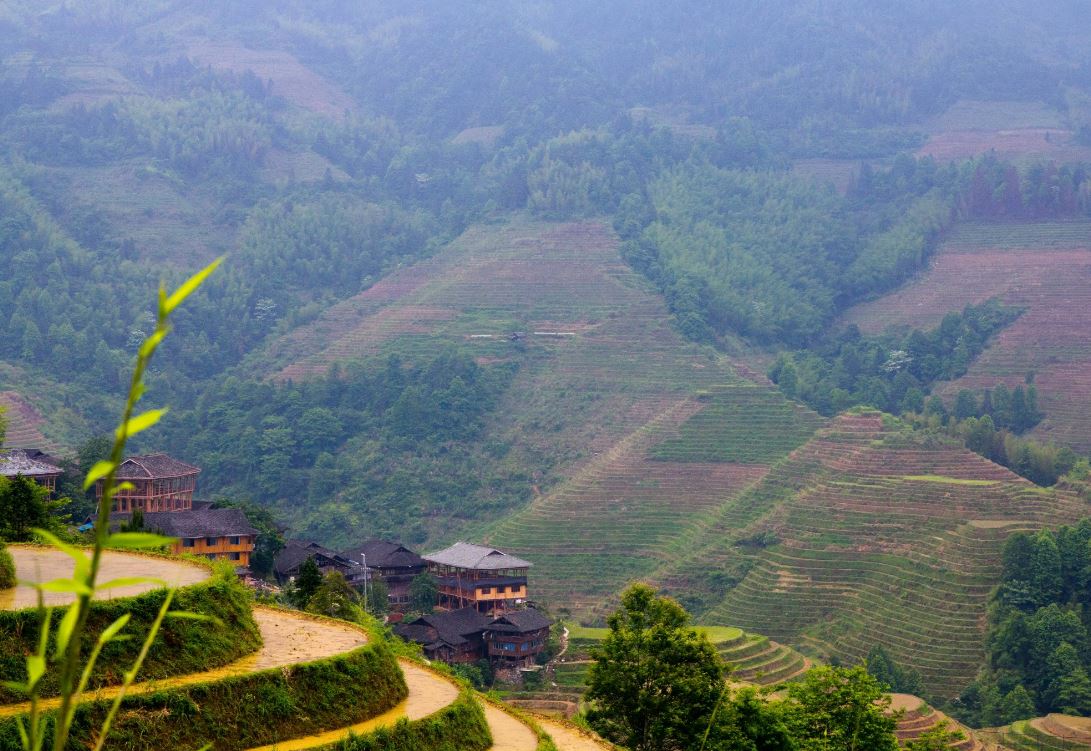 If this sight doesn't appeal to you, you'll definitely find Longji Rice Terraces boring. There's nothing to do here except take in the beauty of the fields in the day and be amongst the company of fireflies and stars at night. For me, however, this was one of the best stops of the entire trip.
Also read:
I Solo Backpacked In South America for 8.5 Months And Crossed Borders Illegally
Days 8 to 20: Yunnan (Dali – Lijiang – Shangri-La – Lugu Lake)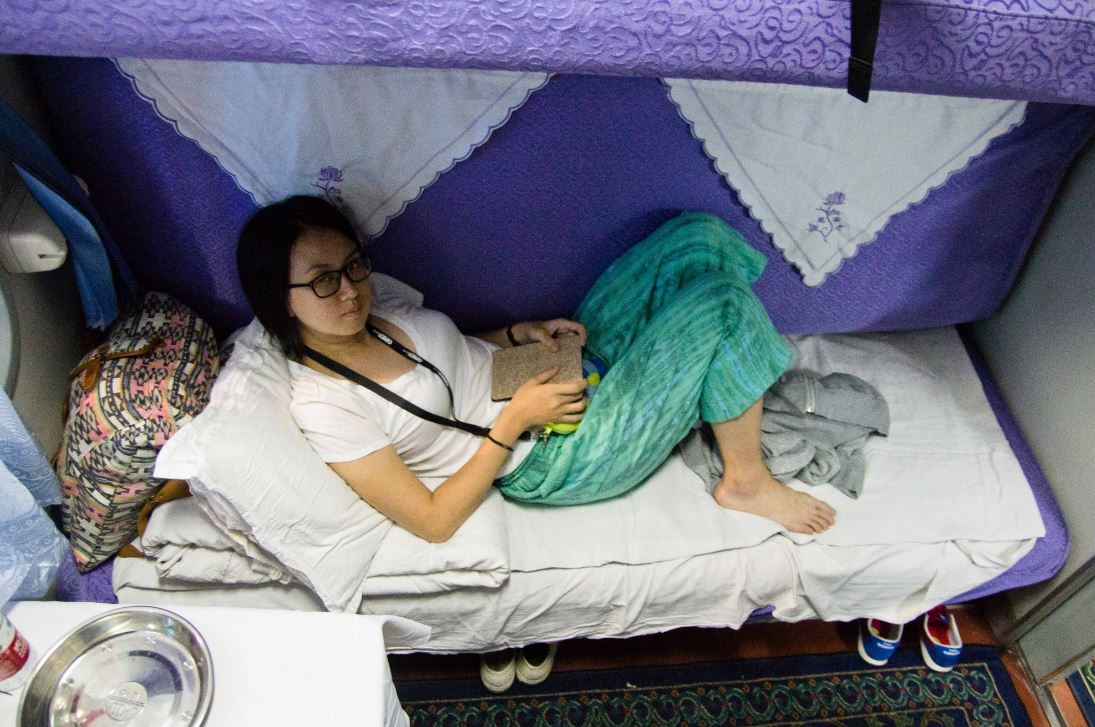 A perk of picking China over Europe is that we could live, eat and travel like kings. For train rides, we always went for the soft sleeper compartment, which gave us the luxury of beds and a door—something the hard sleeper lacks. Tip: always go to the loo before you board; I could smell the train's toilet even before I saw it, so…'nuff said.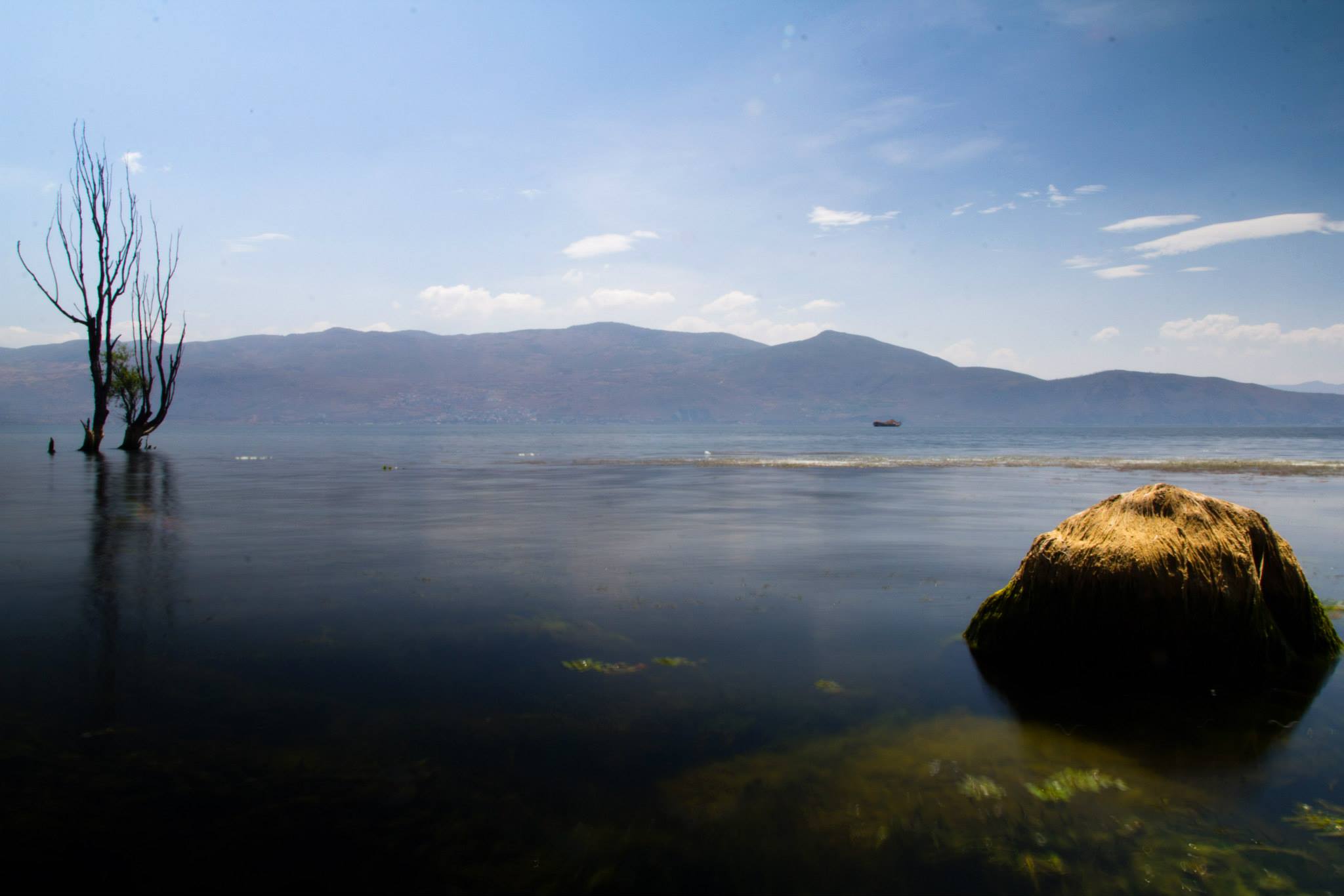 Dali lies beside the beautiful Erhai Lake. Separating land from water are huge rocks that you can lie on and just soak in the scene.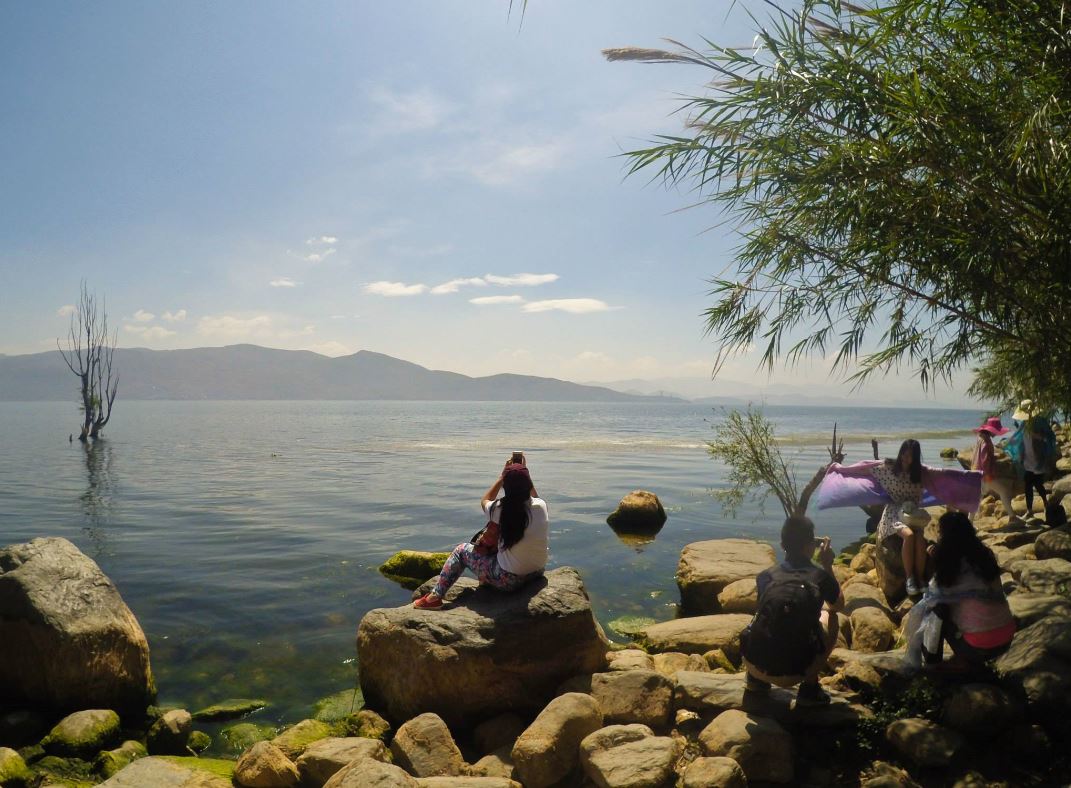 Me trying to take a shot of the chill vibes while other tourists pretend to be fairies
While Erhai Lake was still and serene, the throngs of tourists there were anything but. Brace yourself for vloggers, fairy wannabes, and couples on their wedding photoshoots.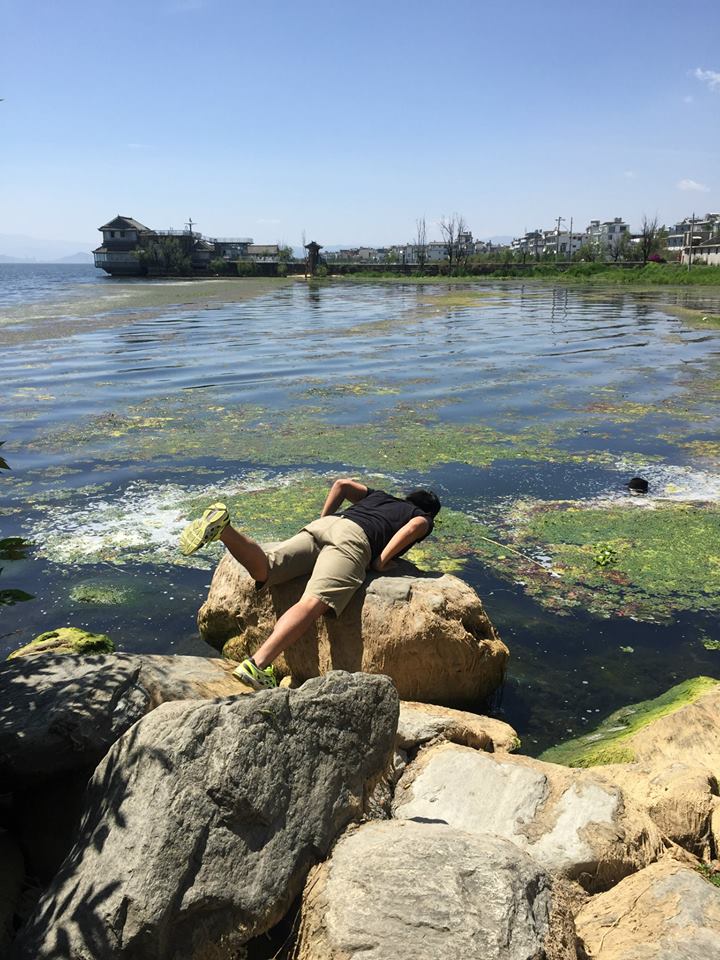 Deyong trying to one up other tourists and their cray poses
When in China, you'll find that most of the time you don't need to adhere to certain rules that Singaporeans can be quite nit-picky about. Wanna eat your own food at a restaurant? Sure. Want to climb a rock that might lead to your death? Go ahead.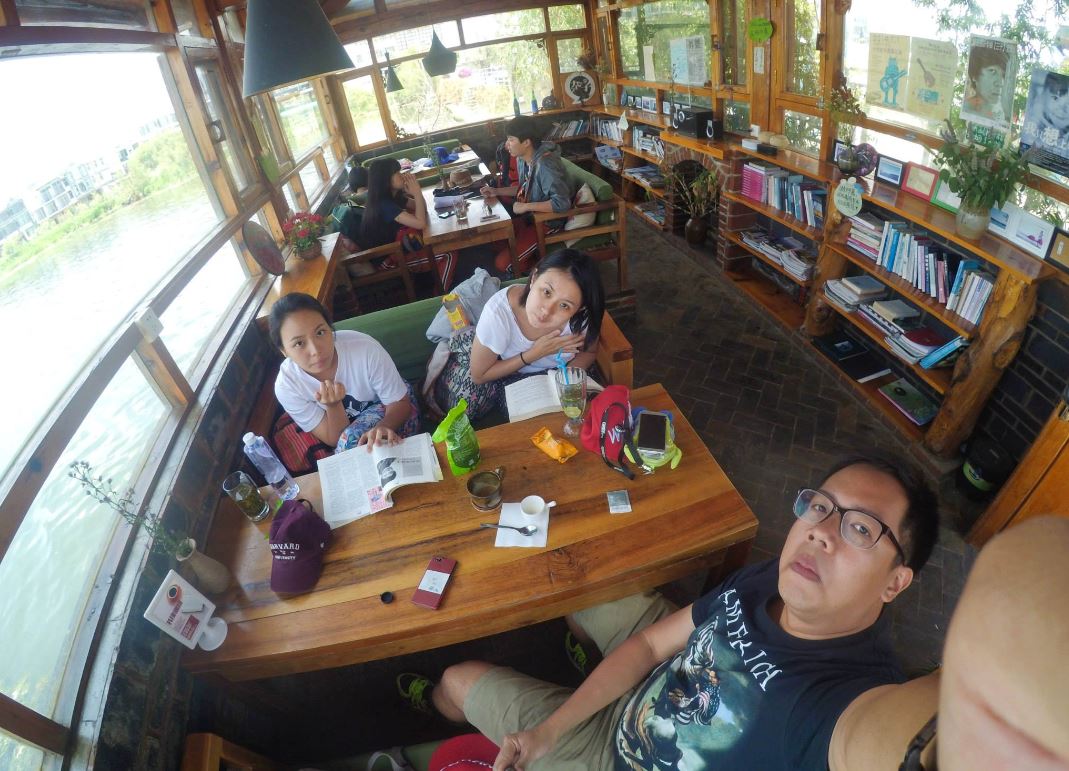 Chilling at a cafe by Erhai Lake
Another good thing about Dali is its quaint cafe scene. Think of it as Jalan Besar multiplied by 10. Hipster cafes could be found everywhere, offering a selection of Chinese tea and plenty of books.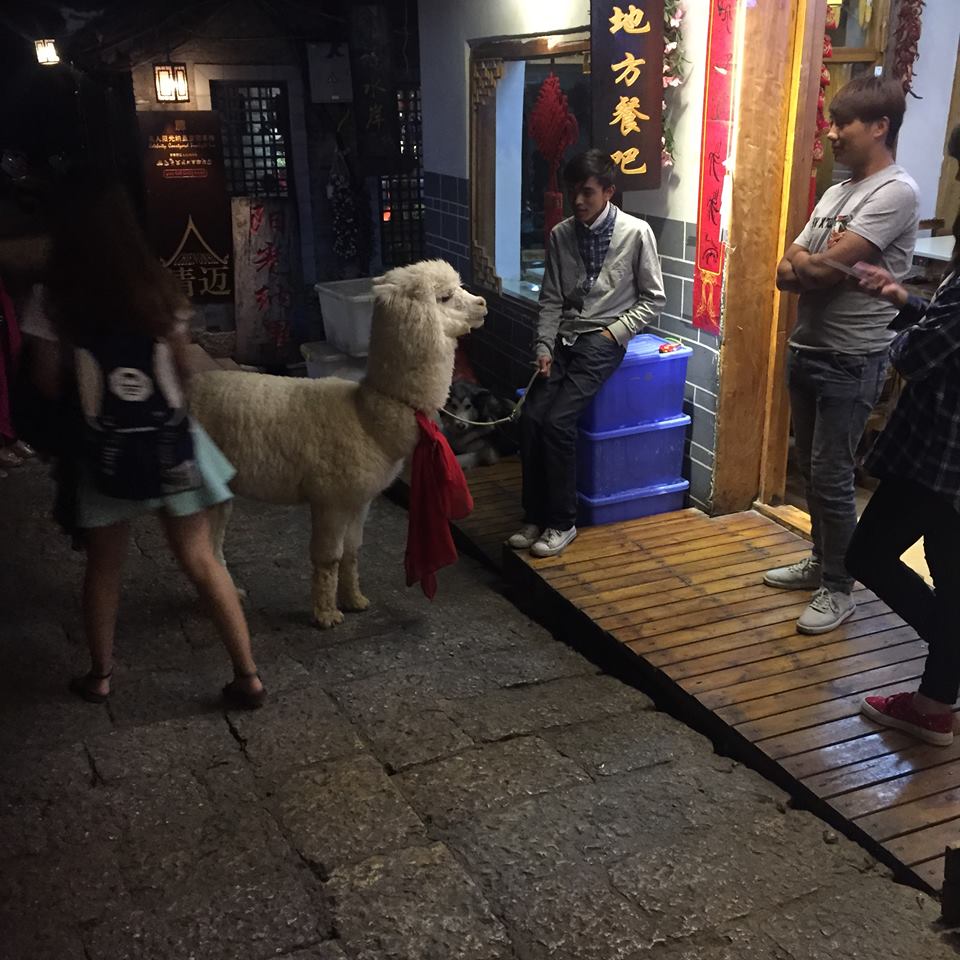 P.S. If you're lucky, you might come across someone's pet alpaca after dinner.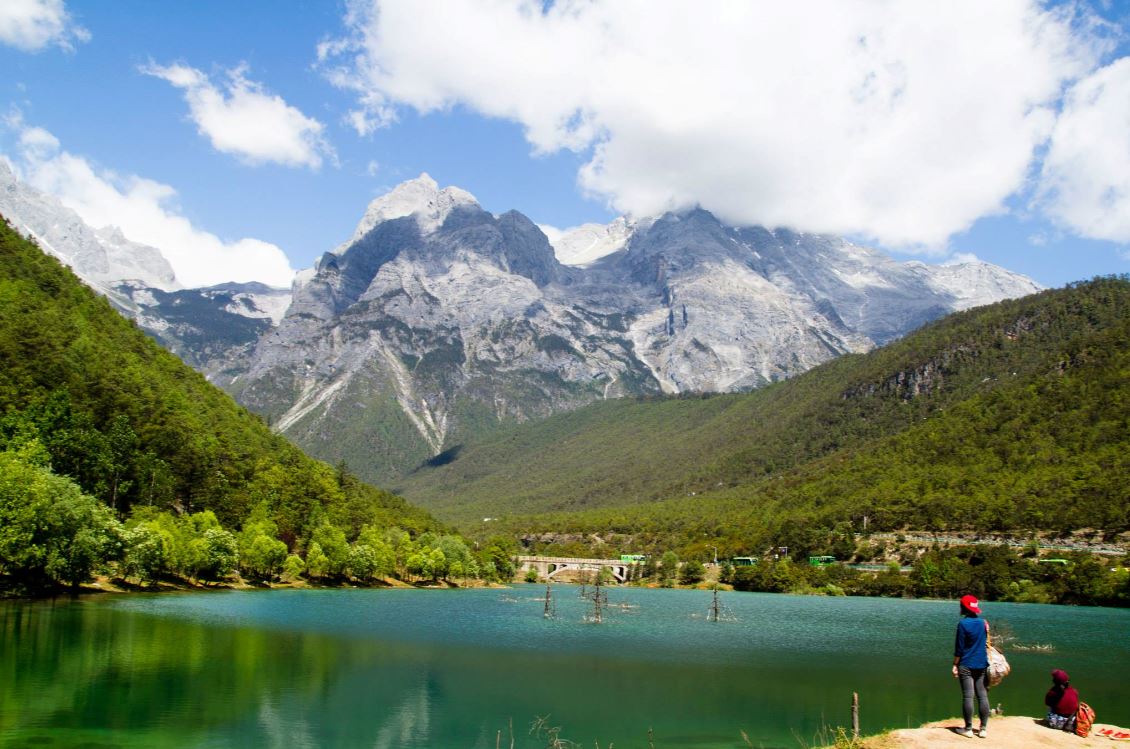 Next up, Lijiang. Just 2 to 3 hours away from Dali by train, Lijiang is most famous for Jade Dragon Snow Mountain and its Old Town—a UNESCO World Heritage site.
The first thing that struck me as we walked along the Old Town was how Lijiang has so many more tourists as compared to Dali. This means that the shops are also more commercialised, with many selling souvenirs and tours to the snow mountain. The nightlife scene is also more vibrant here, with plenty of open-air clubs blasting loud music once the sun sets.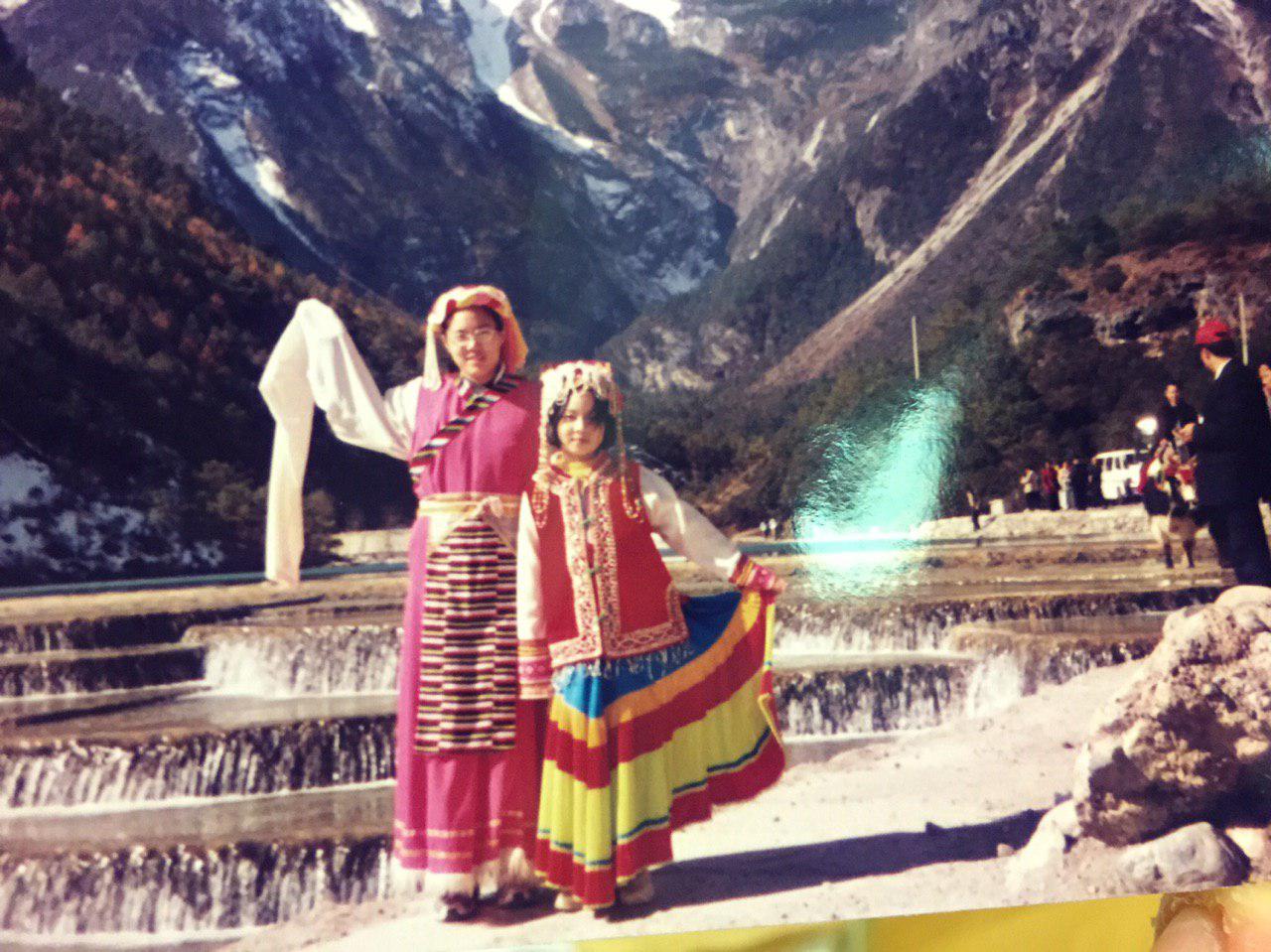 Present-me has no recollection of mini-me (right) doing this
I was really looking forward to visiting Jade Dragon Snow Mountain because I'd been there with my family when I was 7 years old. I barely remember anything but I know I had a good time, mainly because it was my first encounter with snow.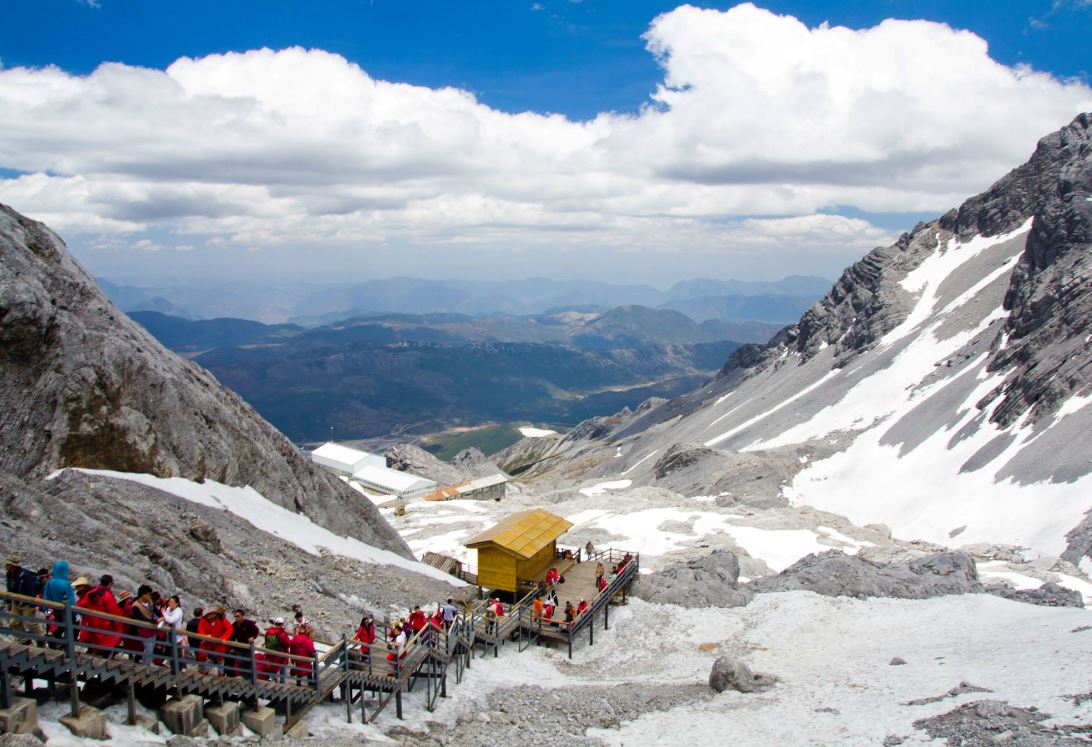 Going up the mountain seemed scary, but it was in reality the easiest of all the mountains we eventually conquered. Yes, there were 698452349 flights of stairs involved, but it wasn't as cold as it looked, and there were many resting spots along the way.
If you're wondering why everyone in the photo's wearing red, it's because you can rent jackets if you're feeling cold. We were advised to get portable cans of oxygen before climbing the mountain, but ended up feeling fine without them.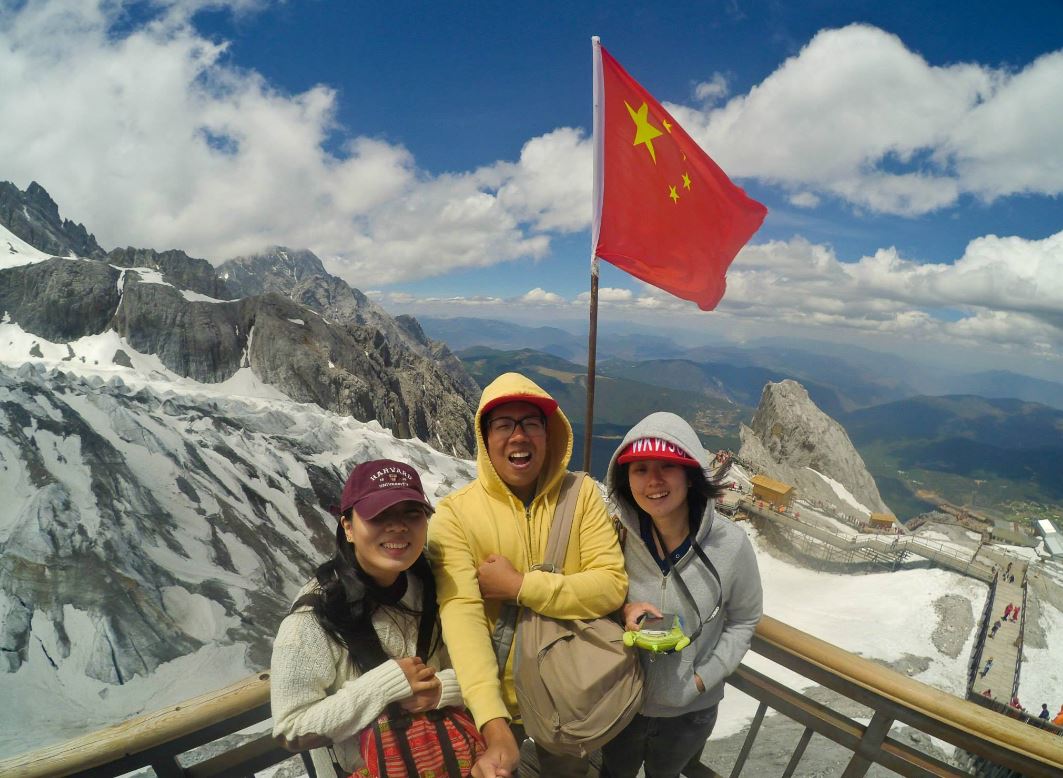 Expectations: 3 musketeers overcoming difficulties getting to the top!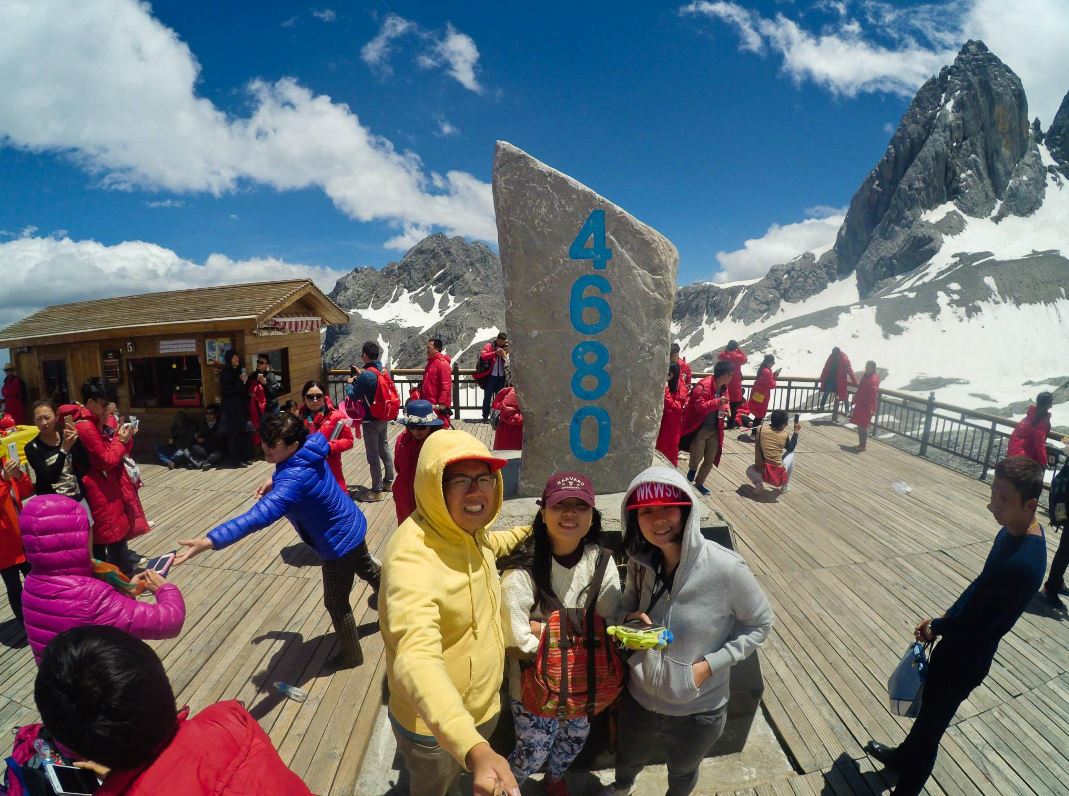 Reality: just many many people on top
As with Dali, prepare to jostle with Chinese tourists and fight for a photo-taking spot atop the mountain.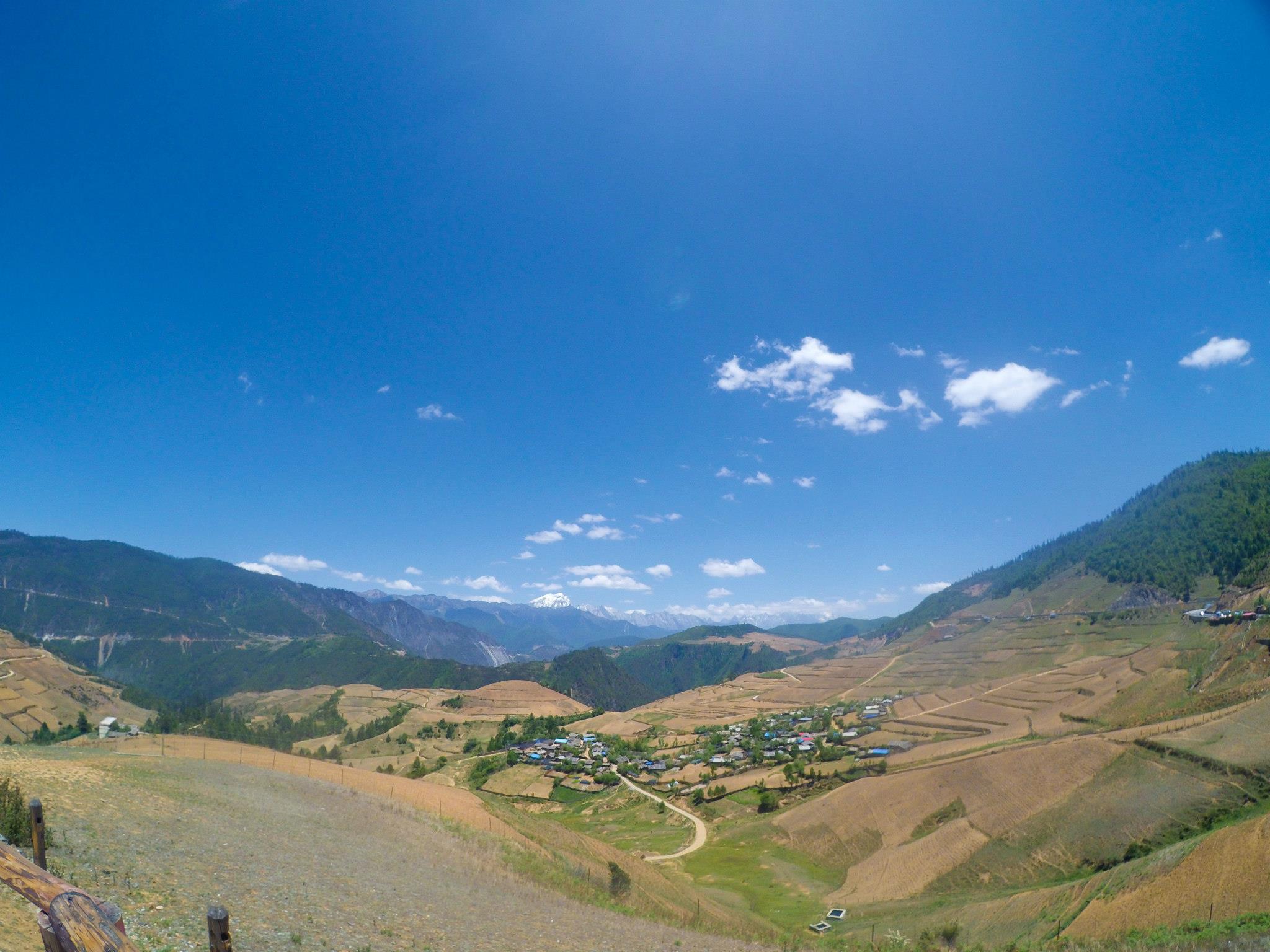 Moving on from Lijiang, we took a short bus ride to Shangri-La—the city, not the hotel. Fun fact: this city was formerly called Zhongdian, and only changed its name to Shangri-La in 2001 to promote tourism. The name comes from an English novel, Lost Horizon, which talks about a fictional lamasery found in the mountains of Tibet called Shangri-La.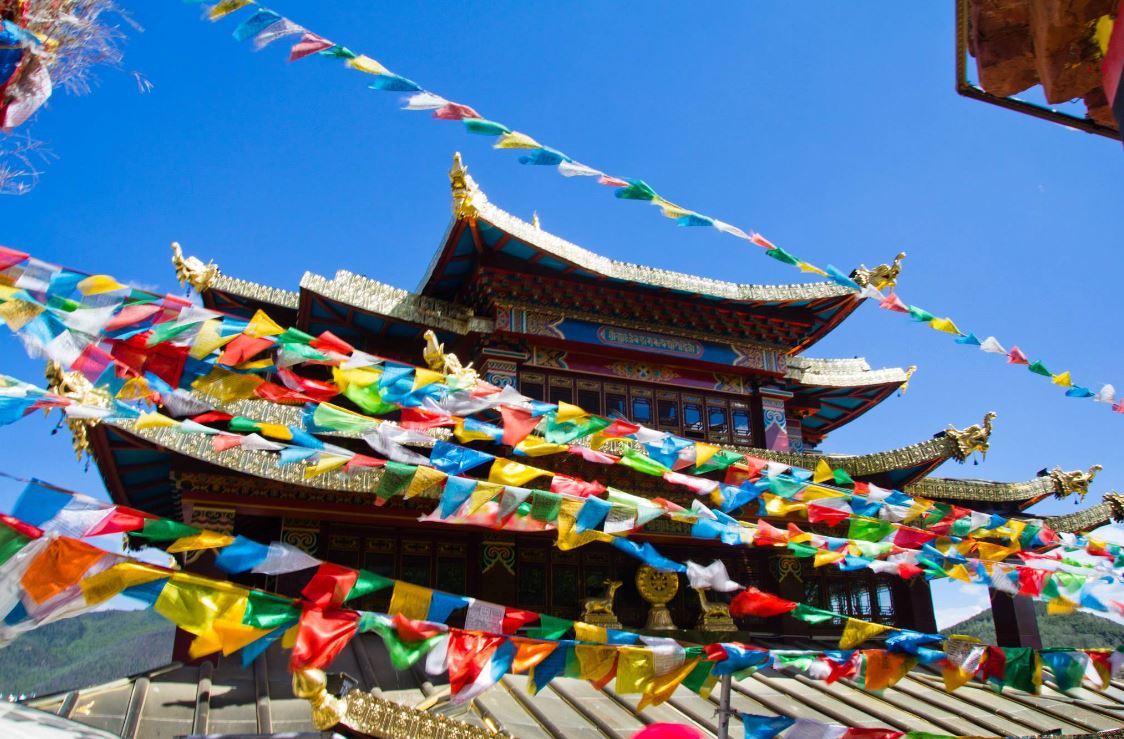 In our 2 days here, we only had time to check out Golden Temple and Potatso (or Pudacuo) National Park. The former was absolutely beautiful, with rows and rows of colourful prayer flags surrounding it.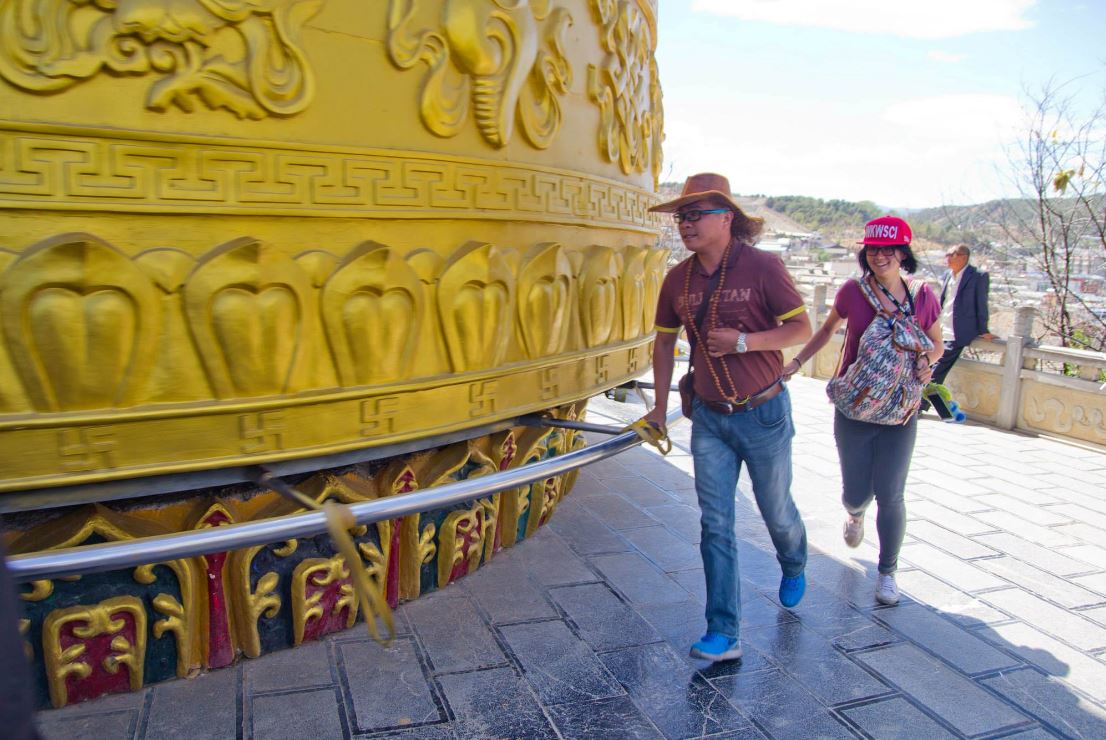 It's also said to house the world's largest prayer drum, which took 3 of us and a bunch of others to move.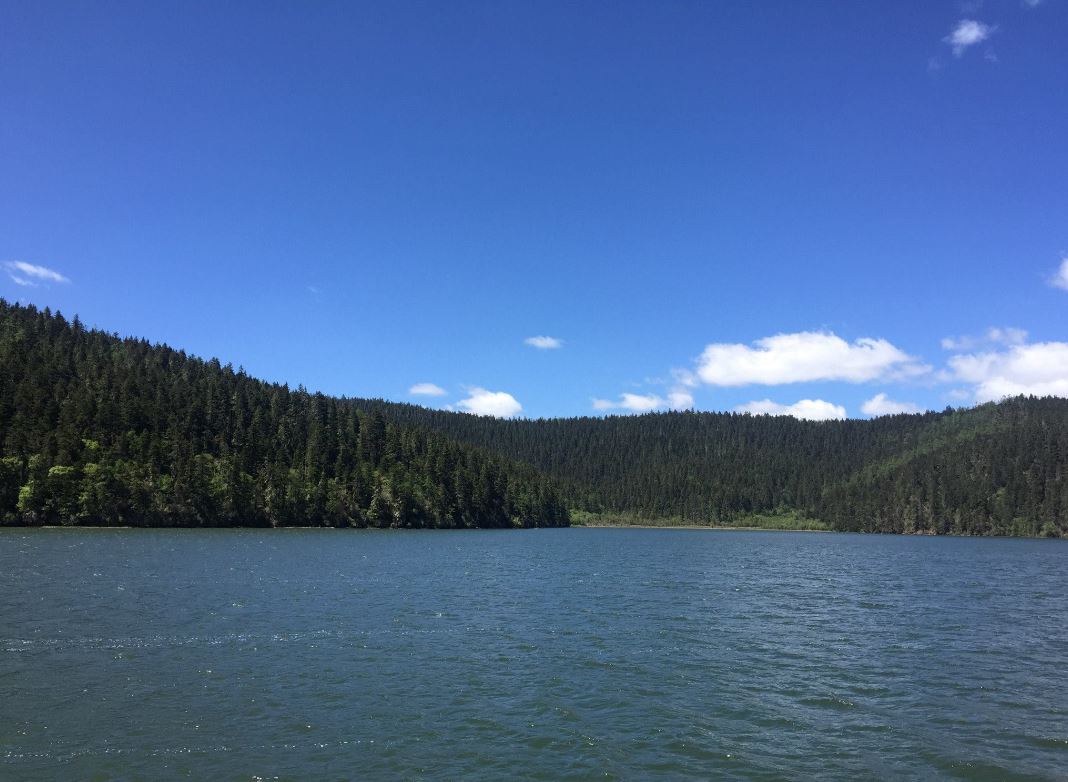 Potatso National Park was way more untouched as compared to Seven Star Park in Guilin. This is 1,300 square kilometres' worth of greenery and lakes, a glimpse into what it might have been like 66 million years ago when humans first appeared on Earth. BTW, 1,300 square kilometres is almost twice the size of Singapore.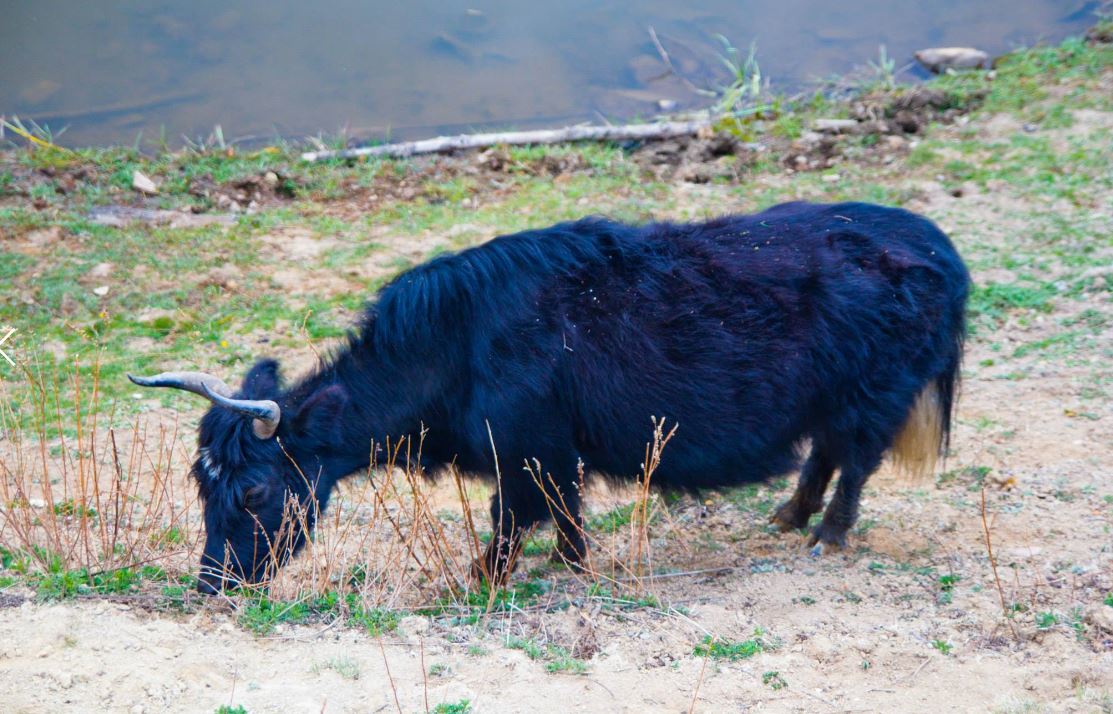 Expect to see plenty of yaks and goats grazing, and just get a feel of what our ancestors' lives were like. There are many signboards and trails that you can follow so don't worry about getting lost.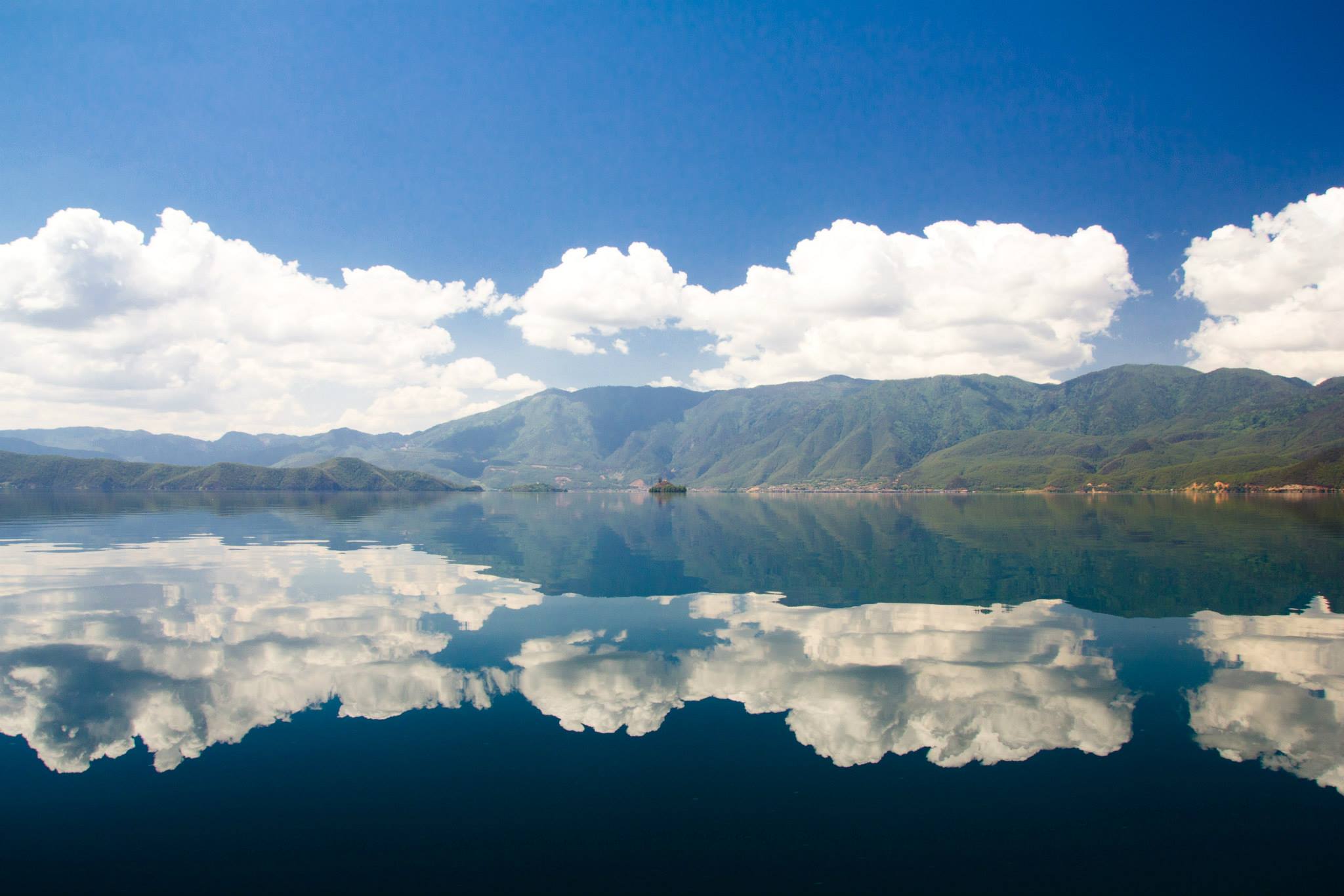 Our last stop in Yunnan, and my favourite part of the trip, was Lugu Lake. Located between Yunnan and Sichuan, this was practically paradise after days of squeezing with tourists. The lake itself is a mirror for the gods, offering us mere humans an absolute feast for our eyes.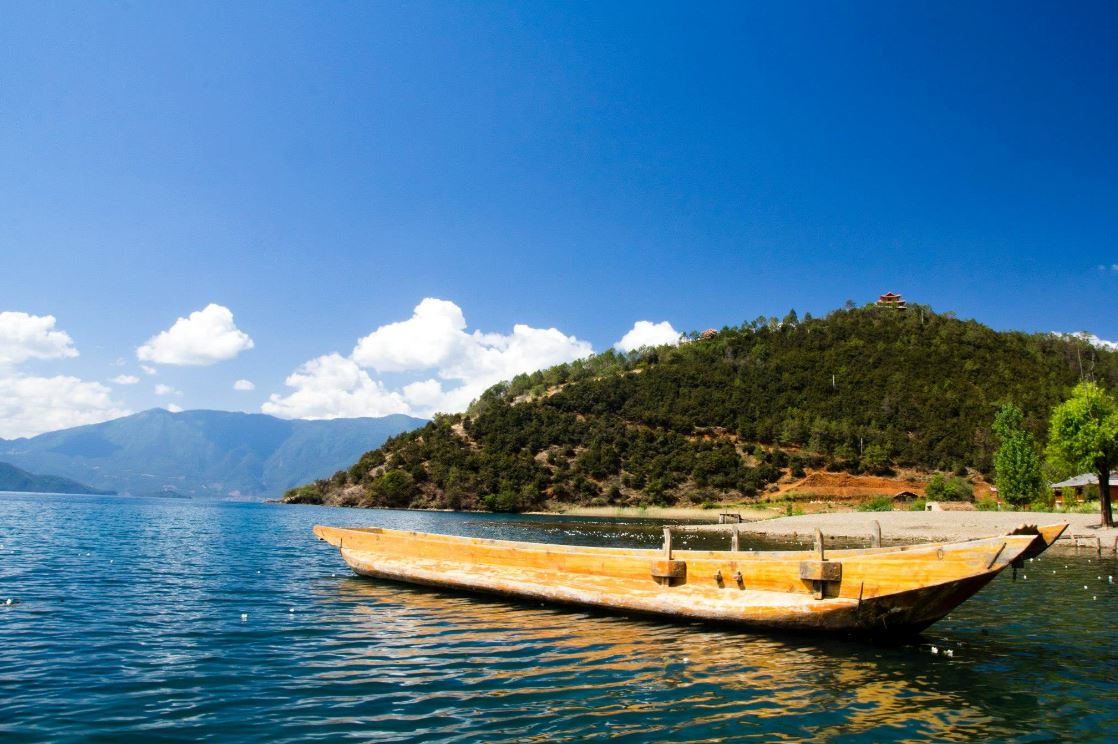 You can easily rent a boat to take you across the lake, or a motorbike to ride around it. The latter will only take 3 to 4 hours, and allows you to stop and grab a bite or chat with locals.
Being the no0b fresh grads that we were, we opted for the boat. The son of our hotel's owners took us to one of the small islands littered across the lake, where we spent hours just chilling and chit-chatting. He told us about his ethnic group, Mosuo, and how they live in a matriarchal society where women run both families and businesses. While men help out, they are not given as much say, and the head of the family is usually the grandmother.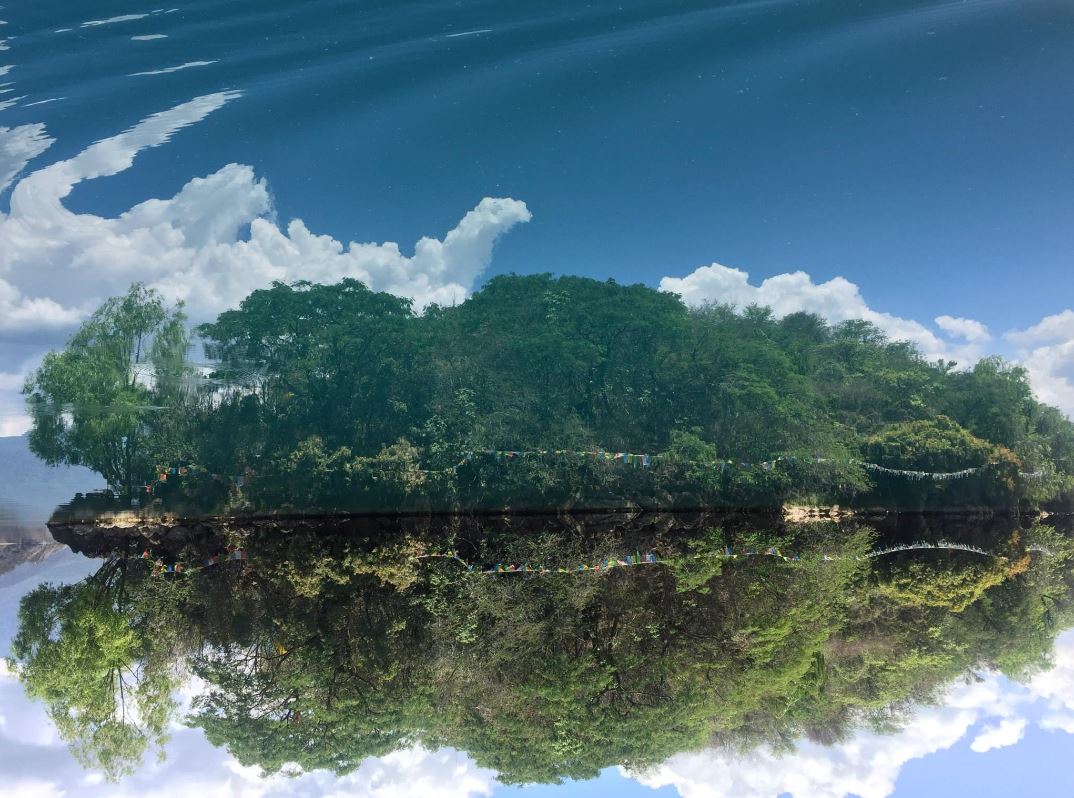 Is this even real
Lugu Lake is truly nature's example of perfect symmetry and it's a beauty I'd never expected to see in China. Add on the overall serene vibes—read: no tourists—and friendly disposition of the locals, and it's no surprise why this is the one place I would return to over and over again.
Days 21 to 28: Jiuzhaigou – Xi'an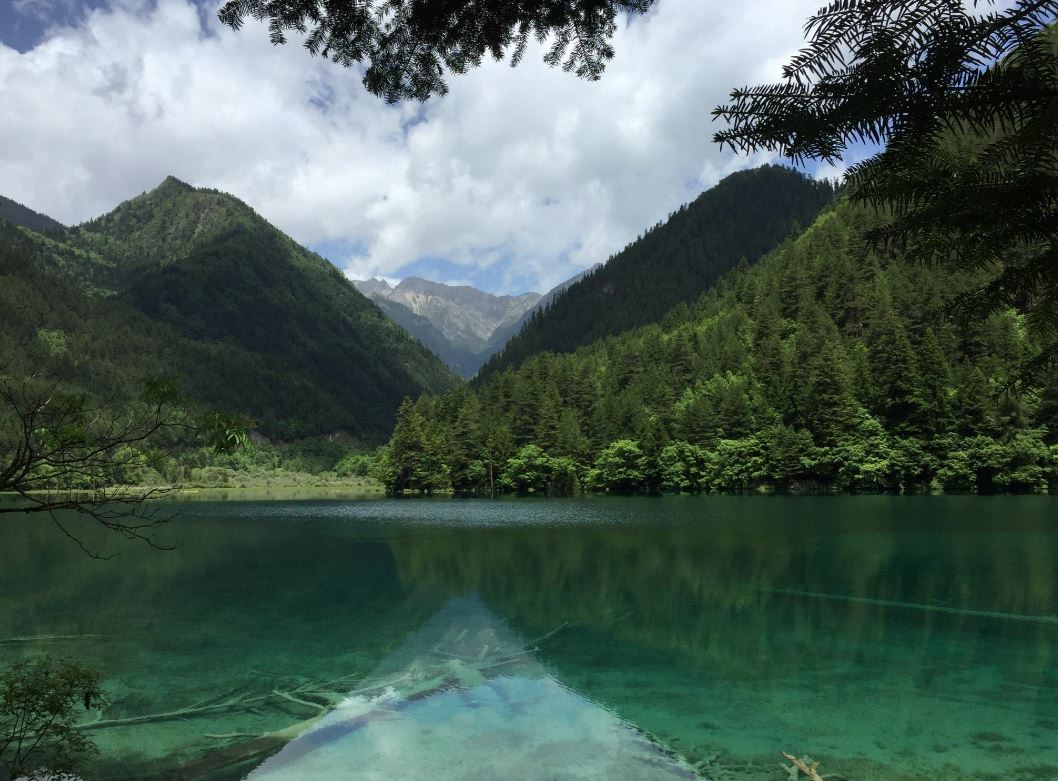 My summary of Jiuzhaigou in 5 words: damn chio but damn crowded. Every corner was filled with Chinese tourists, and the buses that ferry people around were perpetually packed. I still remember how the buses couldn't even move because they were surrounded by a mob of tourists who really wanted to get on at 5pm, when the park closes. The 3 of us looked at each other and decided it would be wiser to just walk.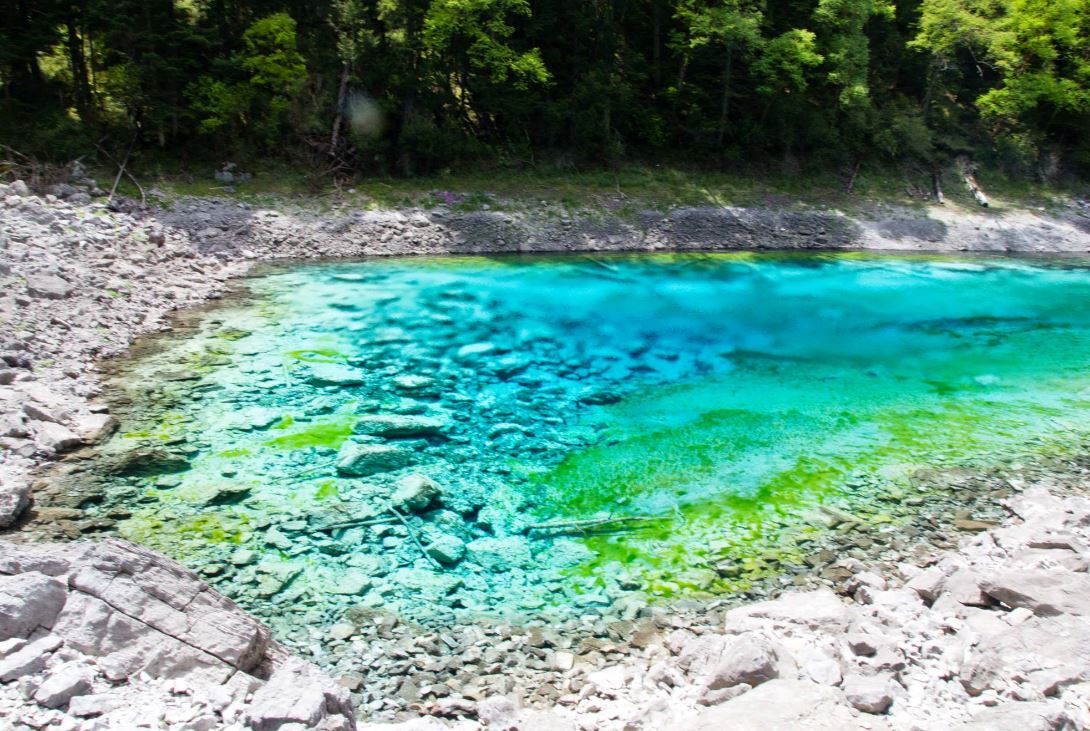 Even though Jiuzhaigou was our eighth stop in this journey through parks and mountains, we were still stunned by its beauty. Every corner hid a new sight to behold, with colourful ponds and green peaks forming the perfect backdrop for every selfie. To get a complete picture of Jiuzhaigou, you'll need about 2-3 full days.
We went in May, which apparently isn't the best time, as chances of rainfall are high and the park isn't as colourful. Most people recommend going in autumn, which is around mid-August to end-October, as you'll be greeted by yellow and red leaves.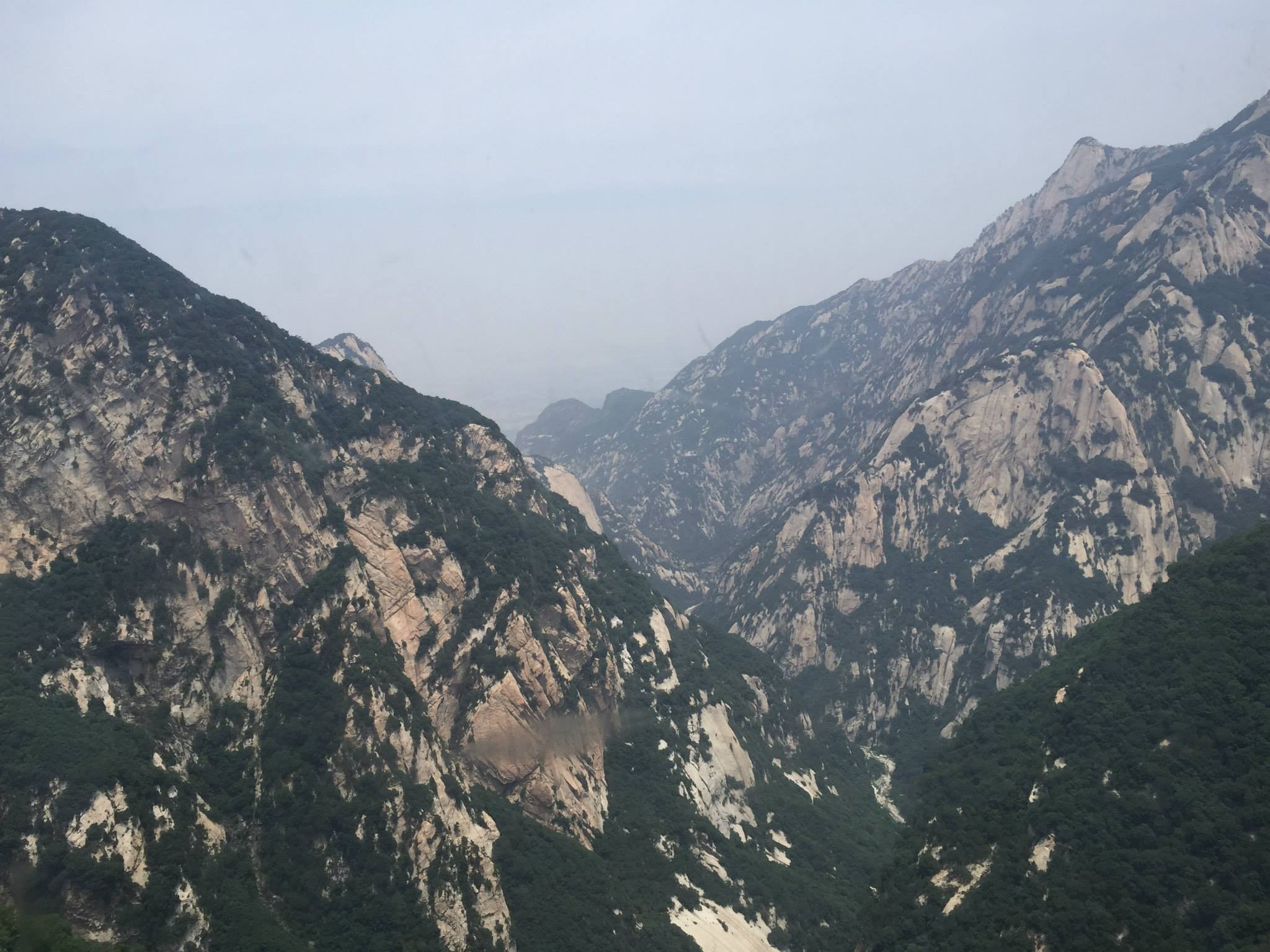 Our final city in this epic journey was Xi'an. The number one thing to do is visit the terracotta army built by Qin Shi Huang, which we did, but I'm not going to elaborate on that as the experience is nothing you can't already find on Google. The highlight for us was the majestic Hua Shan.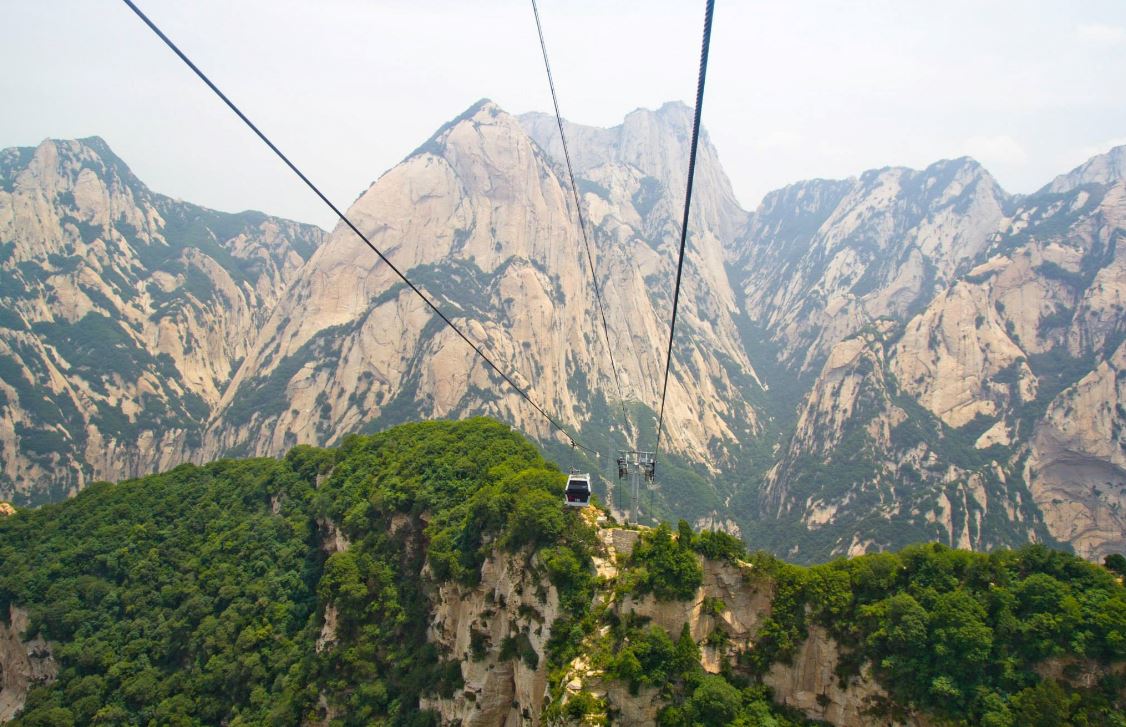 The mountain is around 2,000m high, and you can either hike all the way up or take a cable car to the halfway point. We decided to take the cable car up and hike down to save time—we were also feeling lazy and too poor to take the cable car twice.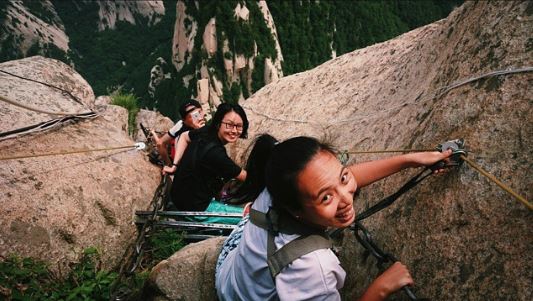 There's no point coming to Hua Shan if you're not doing what they call "the death walk". Basically, there are planks attached to the side of the mountain, and you're supposed to walk on them with 2472394823 other tourists. We were all harnessed up and hung onto our lives via carabiners and ropes. I cared about losing my phone almost as much as my life so here's a video of people who were brave enough to record the whole experience (skip to 0:53):
As terrifying as this looks, I don't remember being very afraid. The sheer number of people doing it together with us brought me some comfort, and we moved along the planks very slowly because a) nobody wanted to die and b) we had to wait for the person in front of us to move first.
A China Travel Guide For Nature Lovers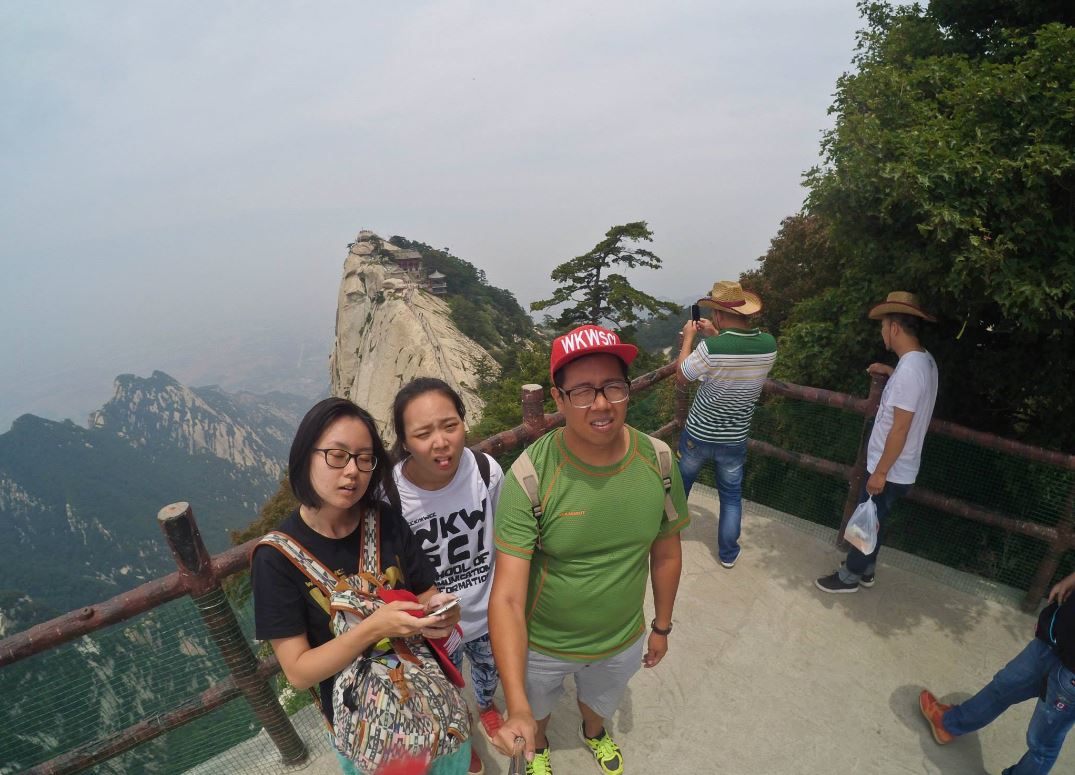 My friends and I arrived in China hoping to be awed by nature, and we were. After 28 days of non-stop mountains, trees and rivers, however, we were more than ready to return to Instagram, Google and potable tap water.
Yunnan has a charm that the modernised Beijing and Shanghai cannot give, and it's a place I'd recommend heading to before it becomes another industrialised province. Out of all the places we'd hit, Lugu Lake and Longji Rice Terraces were my favourite, offering breathtaking views I can never erase from my memory.
We felt really safe throughout the trip as well, and I would probably have felt okay even on my own. For those who want to go on this trip, here are 3 tips:
1. Do thorough research
Get ready to part with Google, Google Maps, YouTube, Instagram and Facebook. And without these, you're basically handicapped when it comes to looking for information, especially if you can't read Chinese. So before flying, make sure you've downloaded some maps and written down directions to your hotel and places you want to visit. The locals are quite friendly and will usually be more than willing to help.  
2. Invest in a VPN
While a VPN can give you access to all the banned websites mentioned above, it drains your phone battery and those websites load hella slow on VPN anyway. But if you can't disconnect fully, at least invest in a good VPN that works.
3. Download Dian Ping
Dian Ping is basically China's version of Yelp/TripAdvisor. It allows users to rate restaurants, shops, hotels, and more, so you get ideas of what's worth your time.
There's much more to China than what meets the eye, and I wish more people would realise this. Even though Chinese tourists sometimes get a bad rep, the locals we met were kind, friendly and so open to telling their stories. So the next time wanderlust strikes, I hope you'll consider these underrated provinces and their beauty that's waiting to be discovered.
Also read:
My Solo Backpacking Trip To Israel And Palestine Under S$1,500 For A Month
Photography by Tan Deyong, Loh Hanle, Liu Kai Ying.