Choosing A Mattress As A Couple
From dating to popping the big question, aka "BTO aimai?", every couple settling down and becoming new homeowners also have to take that big step of furnishing their house. Whether you're looking to install a home gym or a study desk, the most important room of the house is still undoubtedly where you rest and recuperate: the main bedroom. 
Sleep is important, but uninterrupted sleep with your partner is a luxury — and it all boils down to the type of mattress you pick. With so many options to consider, we've narrowed down 5 factors to take note of when choosing the right one for you and your partner so your goal of 8 hours of sleep daily won't be just a dream.
1. Easy to move and adjust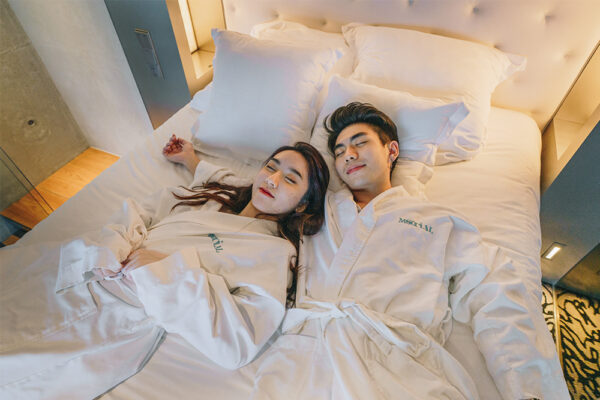 Source
Many of us are familiar with the agony of huffing and sweating like we're doing a workout just to fix a fresh bed sheet onto our mattresses. And when it comes to shifting your new mattress onto the bed frame, weight isn't just the only factor to consider. 
Pick out mattresses that are easy to move and adjust. For example, instead of basic flat mattresses, go for those with handles on the sides. By gripping onto the handles, you'll be able to lift and adjust the mattress with ease.
This small mattress feature helps to save more time and effort than we realise, and can even prevent tiffs with your SO over whose turn it is to change the bed sheets every month.
2. Zero motion transfer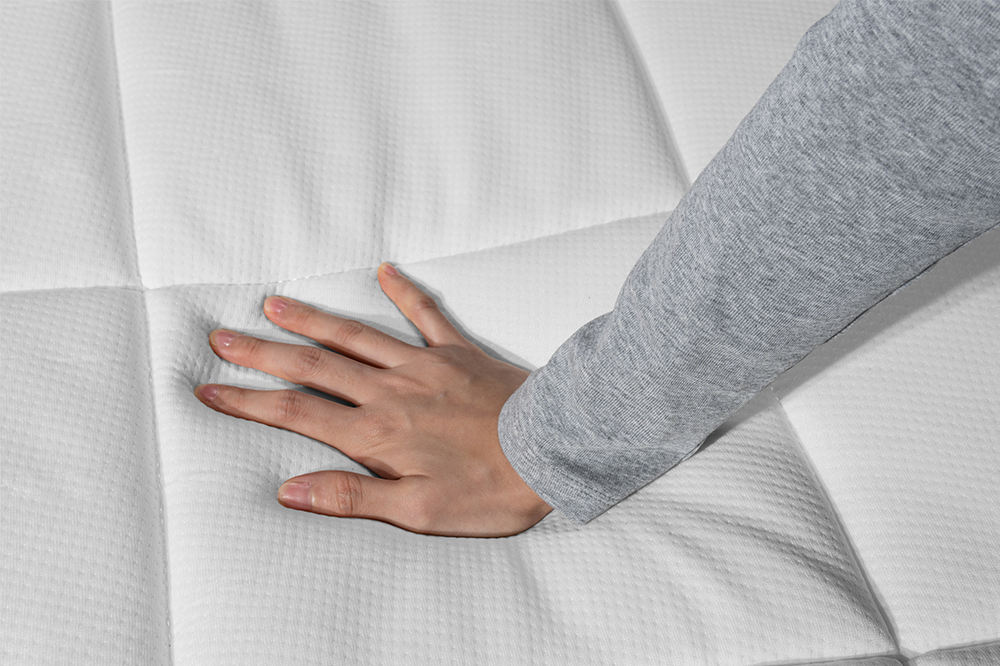 Image courtesy of HOOGA
Movies and storybooks always depict cuddling in bed with a loved one to be the nightly norm. Reality check: it's not as smooth-sailing as it seems 90% of the time. Besides the numb arms and loud tossing and turning, cuddling might keep you up all night instead.
Comfort is key when it comes to getting a good night's rest — especially if you're a light sleeper. Mattresses that offer a pillow-top style can help to enhance the plushiness of your bed and ensure zero motion transfer. Just like its name, the soft pillowy-like feeling of the mattress won't jerk you awake when your partner is shifting around in bed or getting up for the washroom in the middle of the night. 
3. Medium firmness for better support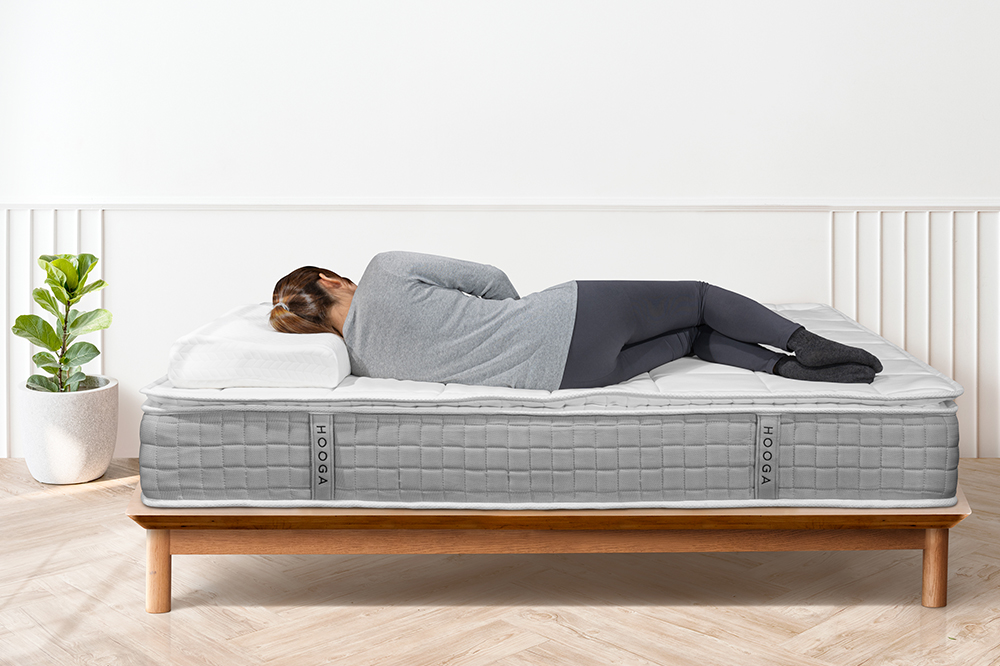 Image courtesy of HOOGA
Couples who are finally moving into their BTO or condo, remember that your bed is no longer yours alone anymore. While your previous mattress' role was to only support you, a new mattress will now be required to support 2 people. 
According to industry mattress test standards from 1 to 10, level 1 is the softest while level 10 is the firmest. A good level to look out for is around 7, a medium-firm level that can provide just the right support to ensure no back pains for your partner and yourself. It also balances a satisfying amount of comfort and relief for any sleeping position — be it flat on your back or sideways.
4. Durable and long-lasting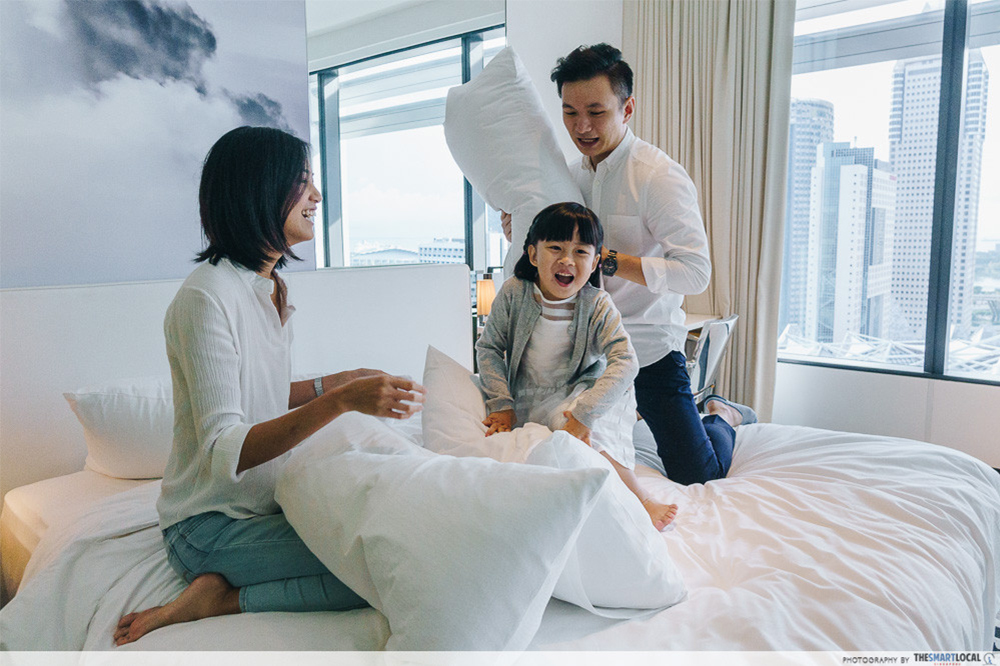 Couples with kids will understand that the little ones love using the bed as a makeshift trampoline park. Whether it's bouncing on the bed or engaging in an intense pillow fight, it's important to make sure the bed doesn't collapse within the first month of owning it.
To prevent that, go for mattresses with enhanced springs for extra durability that can protect and absorb impact. Some mattresses even include knitted covers treated with Sanitized, a Swiss Antimicrobial hygiene protection. This is effective against bacteria, is odour-resistant and is the optimal protection against dust mites and their allergens. 
But of course, your mattress will last longer if you can get your kids to stop jumping on it in the first place. 
5. Aesthetics that match your bedroom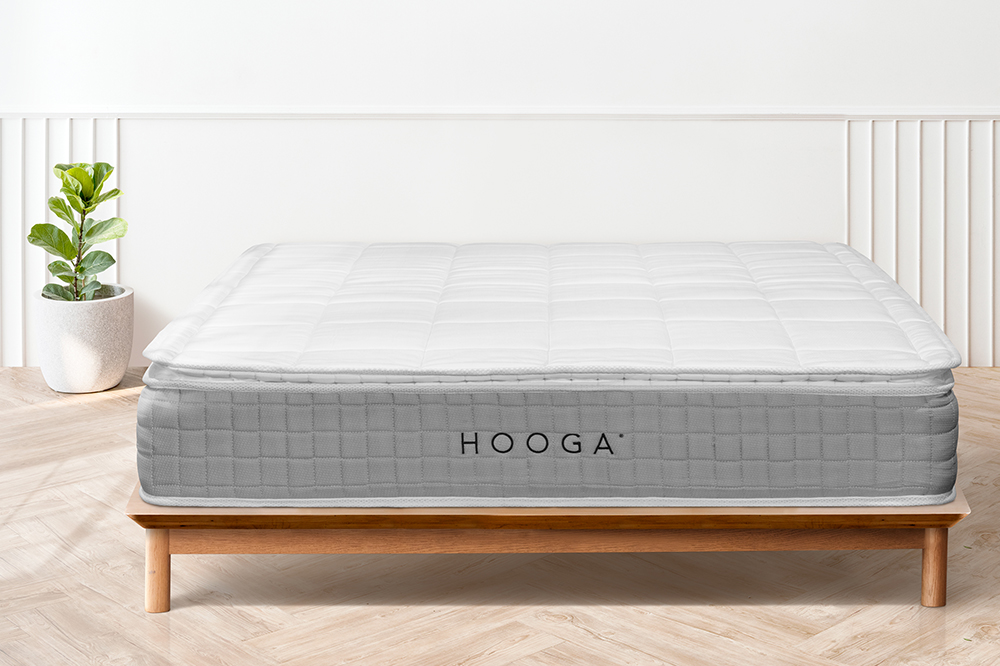 Image courtesy of HOOGA
The aesthetic of your mattress is an emotive factor that tends to be overlooked by most couples. While a mattress' physical functions are important, its visuals also serve to treat our eyes to comfort and relaxation after a long day of work or being outdoors. 
It's important to go for a style that both you and your partner can agree on, since it's a shared space after all. To keep things simple, most couples would go for a minimalistic vibe to match any type of room aesthetics. For example, HOOGA's KLOUD mattress boasts Scandi-Minimalist details in stitch, finish and colour, fitting right in alongside subtle wood finishings and invoking a subtle, yet elegant feel to your safe haven. 
HOOGA KLOUD Mattress
Choosing a mattress for you and your partner may seem like a difficult task at first thought. But as long as you've carefully considered these important factors, nights of uninterrupted sleep with your partner will be on the horizon for more marital bliss.
If you're on a lookout for a mattress that can fulfil all the key points listed above, HOOGA's new KLOUD mattress can provide just that.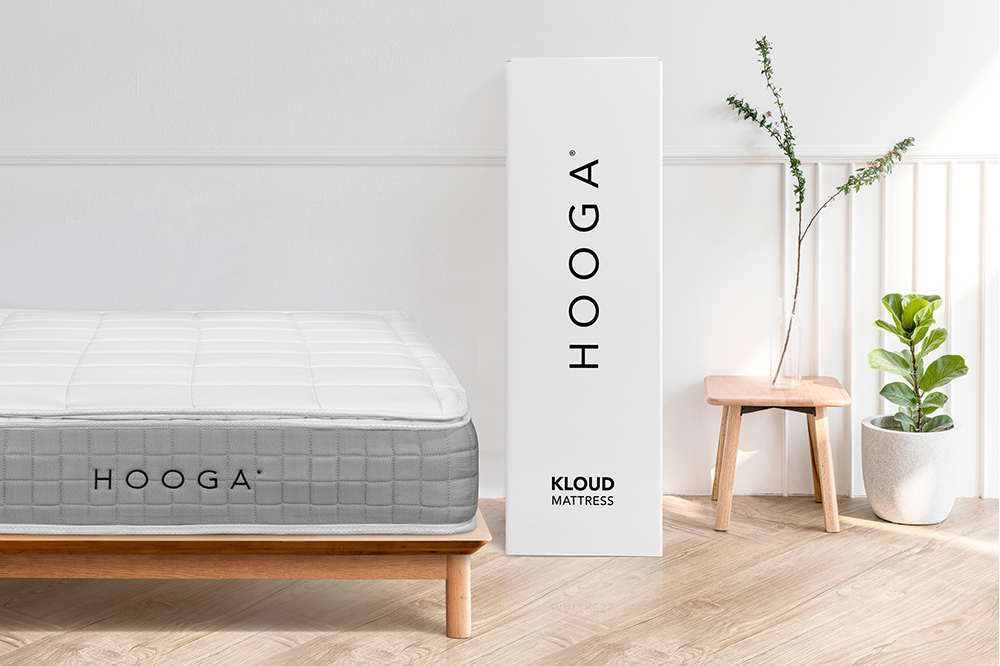 Image courtesy of HOOGA
The KLOUD mattress aims to give you the full experience of a hygge sleep — a Danish word that means "coziness" or "comfort". Think along the lines of snuggling between the sheets on a cold rainy day. Every welcome kit comes with warranty information, an unbox guide and a mattress care guide. 
Proving the saying "less is more" rings true, the KLOUD mattress comes with a simple build of 3 layers wrapped in unique fabric.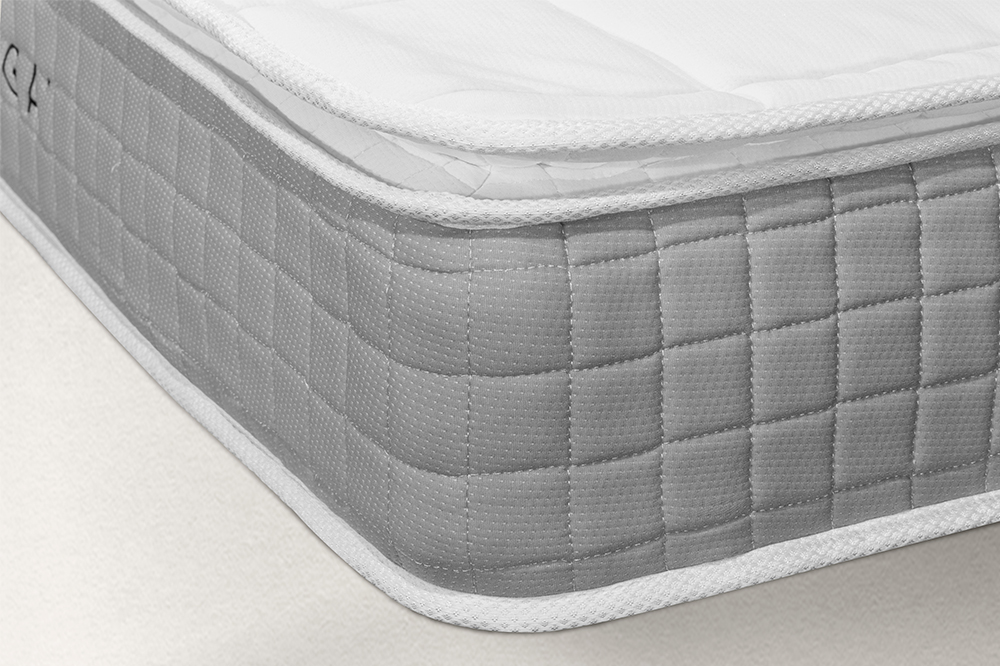 Image courtesy of HOOGA
The top layer is made of air pocketed air foam with a pillow top style to ensure zero motion transfer for an undisturbed sleep. Aside from that, the padded knitted fabric treated with Sanitized is soft and plush to the touch.
Next, the middle layer is made of high resilient foam that keeps the body levitated at the surface area. While sinking into your bed after a long day of work sounds perfect, you don't want to sink too deep as it can be quite suffocating. This layer prevents the rebounding body weight from touching the bottom layer as well.
Lastly, the bottom consists of a pocketed spring that is durable and coiled just right to provide the best firmness.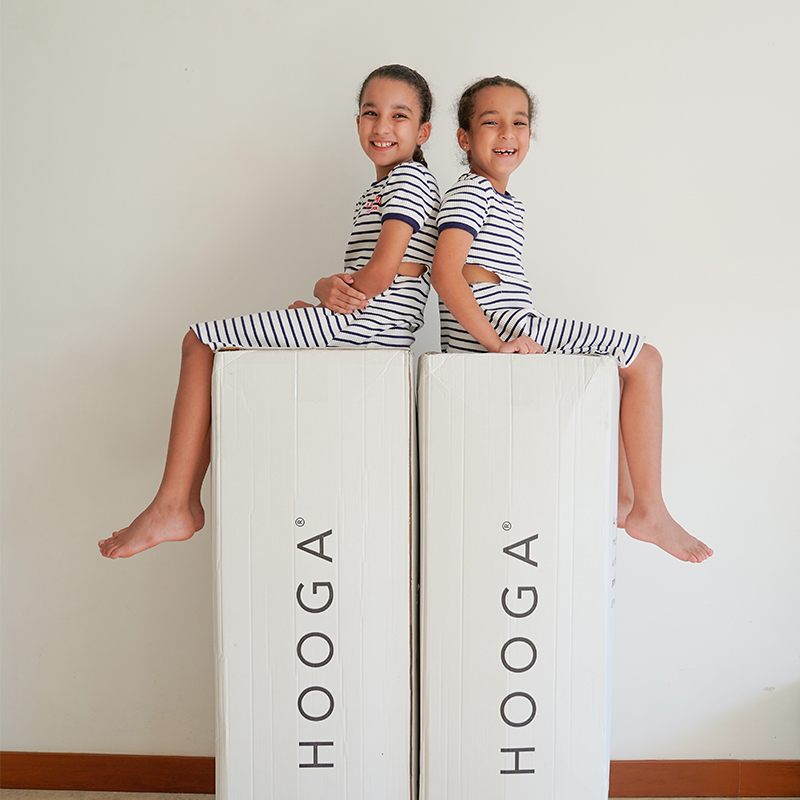 Image courtesy of HOOGA
From unrolling a new mattress to lifting it up to your bed frame, unboxing sounds like a tough task by itself. HOOGA's KLOUD mattress can't relate to this though. Upon its arrival, it comes conveniently vacuumed into a box and can be set up in just 4 simple steps: unbox, position, cut open and enjoy.
There are 4 handles on the mattress, with 2 on each side so you and bae can put your teamwork to the test. The easy logistics and set up is an added convenience to save time taken on setting up your new bed.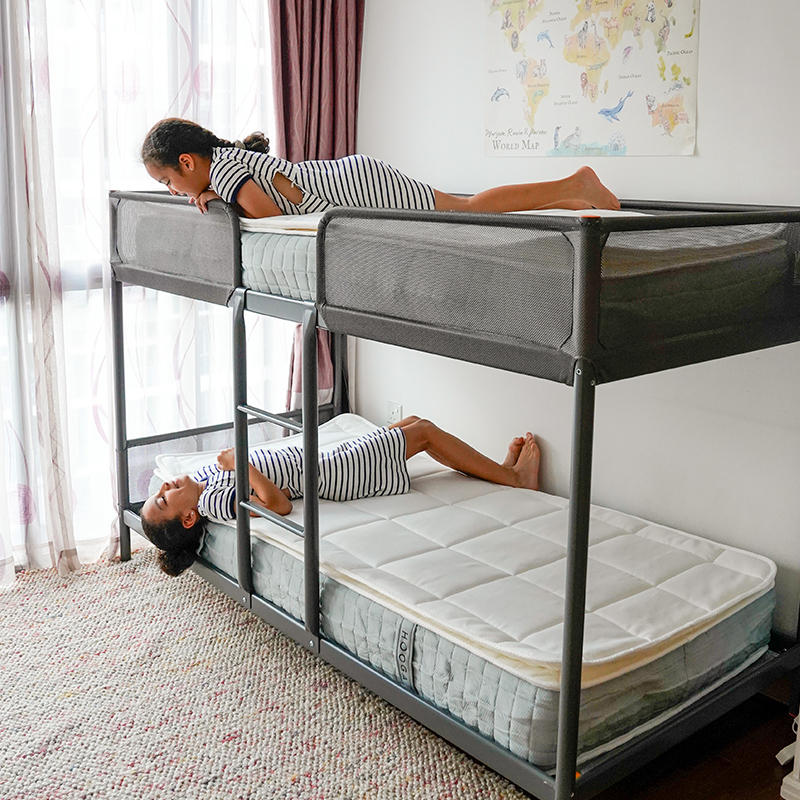 Image courtesy of HOOGA
The KLOUD mattress also comes with a variety of sizes such as single, super single, queen and king — suitable for everyone from kids to couples who need extra stretching space. These are priced at $469, $539, $669 and $769 respectively, including free delivery.
From 8 to 21 October 2021, with any in-store (excluding Plaza Singapura) and online purchase on HOOGA's webstore of a KLOUD mattress, you'll also be entitled to a free microfibre pillow to complete your bedroom. For single and super single mattress purchases, 1 pillow can be claimed, while 2 complimentary pillows are available for queen and king sized mattresses. 
Designed to bring magic in comfort to your home, HOOGA's KLOUD mattresses are perfect for every couple, every space and any size. 
This post was brought to you by HOOGA.
Cover: Source, HOOGA
Also read: 
4 SG Couples Share How To Renovate Your HDB With Personal Space In Mind