Clarins In The City
With the international borders slowly opening up, many of us feel the need to start travelling again. However, for those who would prefer not taking the risk, you can now kill 2 birds with 1 stone by paying a visit to Clarins In The City. 
Living in sunny Singapore, there are many factors like strong UV rays that could cause our complexion to deteriorate over time. This pop-up beauty trailer offers solutions to your skin concerns and provides multiple chio photo spots for you to document your skincare journey at.
The beauty trailer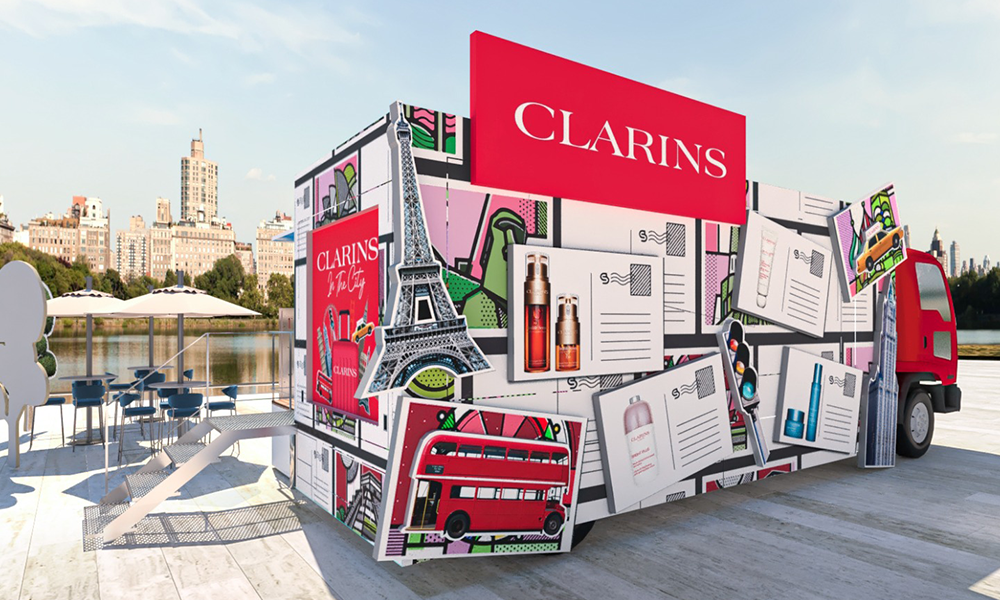 Image courtesy of Clarins
The Clarins In The City pop-up will be making its way around Singapore and stopping by 4 different shopping malls during the month of June. Spot the vibrant city-themed truck as it journeys around the heartlands and drop by anytime from 11am to 9pm.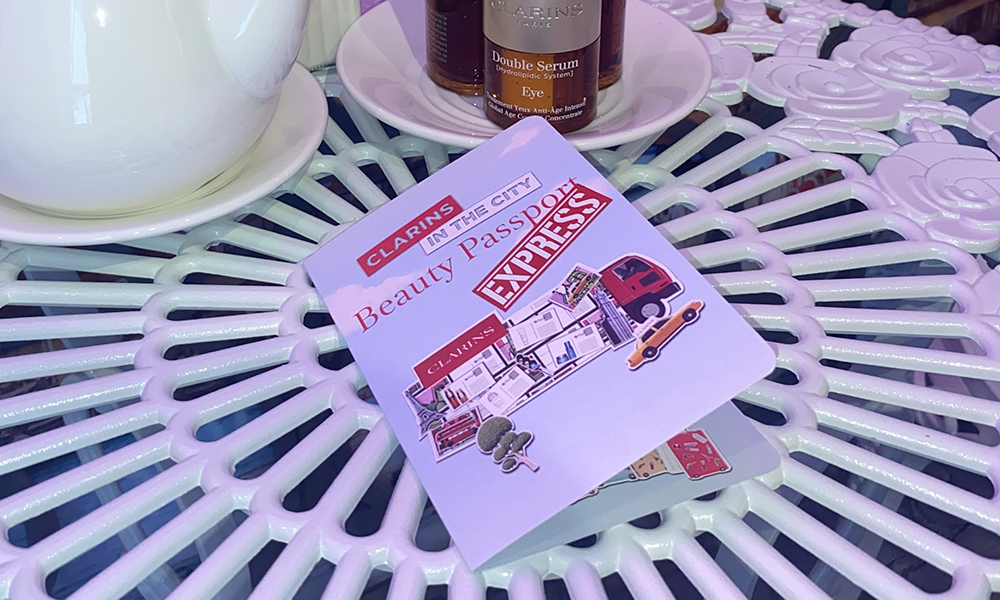 Image courtesy of writer
Upon arrival, you will be issued a Beauty Passport that highlights the different activity stations, each with interactive elements. Collect the different stamps as you explore the different exhibits.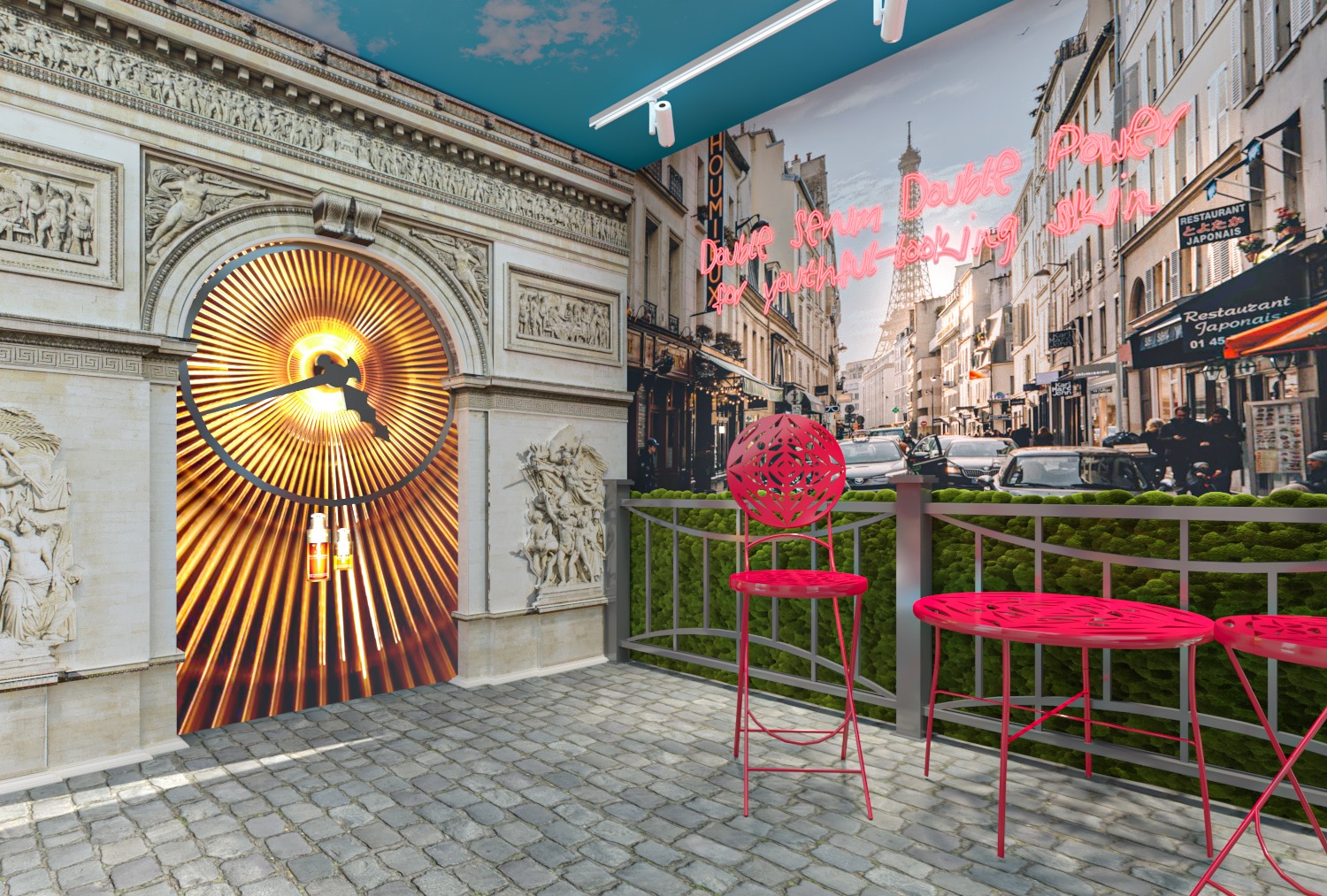 Image courtesy of Clarins
Enter the truck and find yourself in Paris, next to a moving clock. The model of the clock symbolises the brand's Age Control Concentrate that claims to  reverse your skin's ageing process, giving you a more youthful appearance. 
Here, you can take a picture to pretend you're chilling in the city of love a la Emily in Paris.
Image courtesy of writer
As you walk around, you will be able to find Clarins' bestselling products, like their Double Serum and Eye Serum,  around the trailer. Beauty advisors will also be present to explain the many benefits of the products and guide you along your journey.
Image courtesy of Clarins
Take a few steps forward and voila, you're now on the famous Shibuya Crossing in Japan. This area highlights the harmful factors you'll encounter, like UV rays and pollution, from living in a bustling city.
Everywhere you turn makes a great backdrop for your OOTD pictures.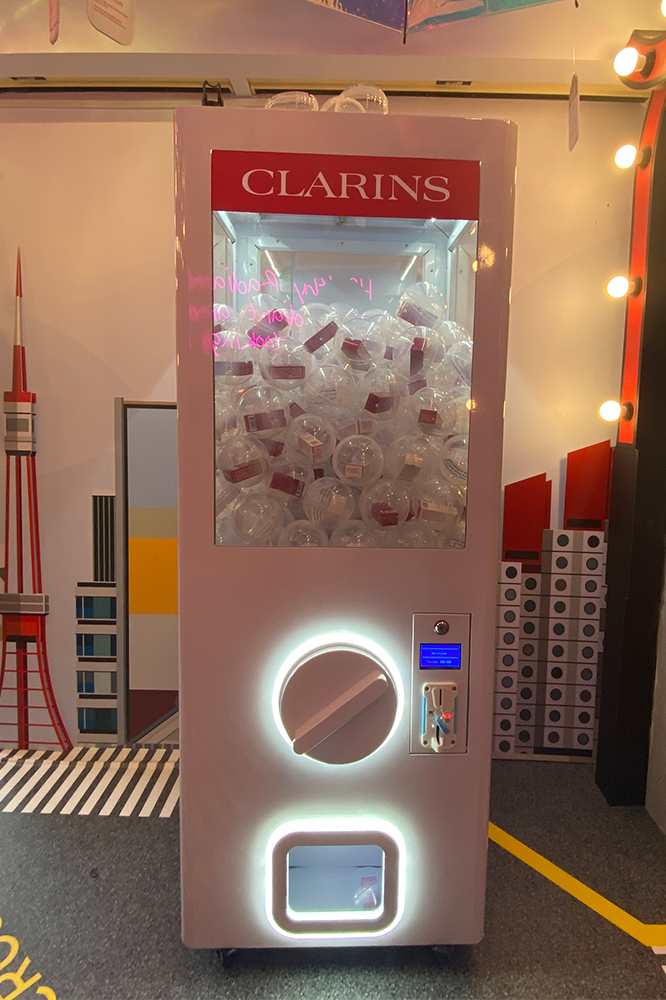 Image courtesy of writer
Stop by the Gachapon machine to try your luck and redeem some free samples too.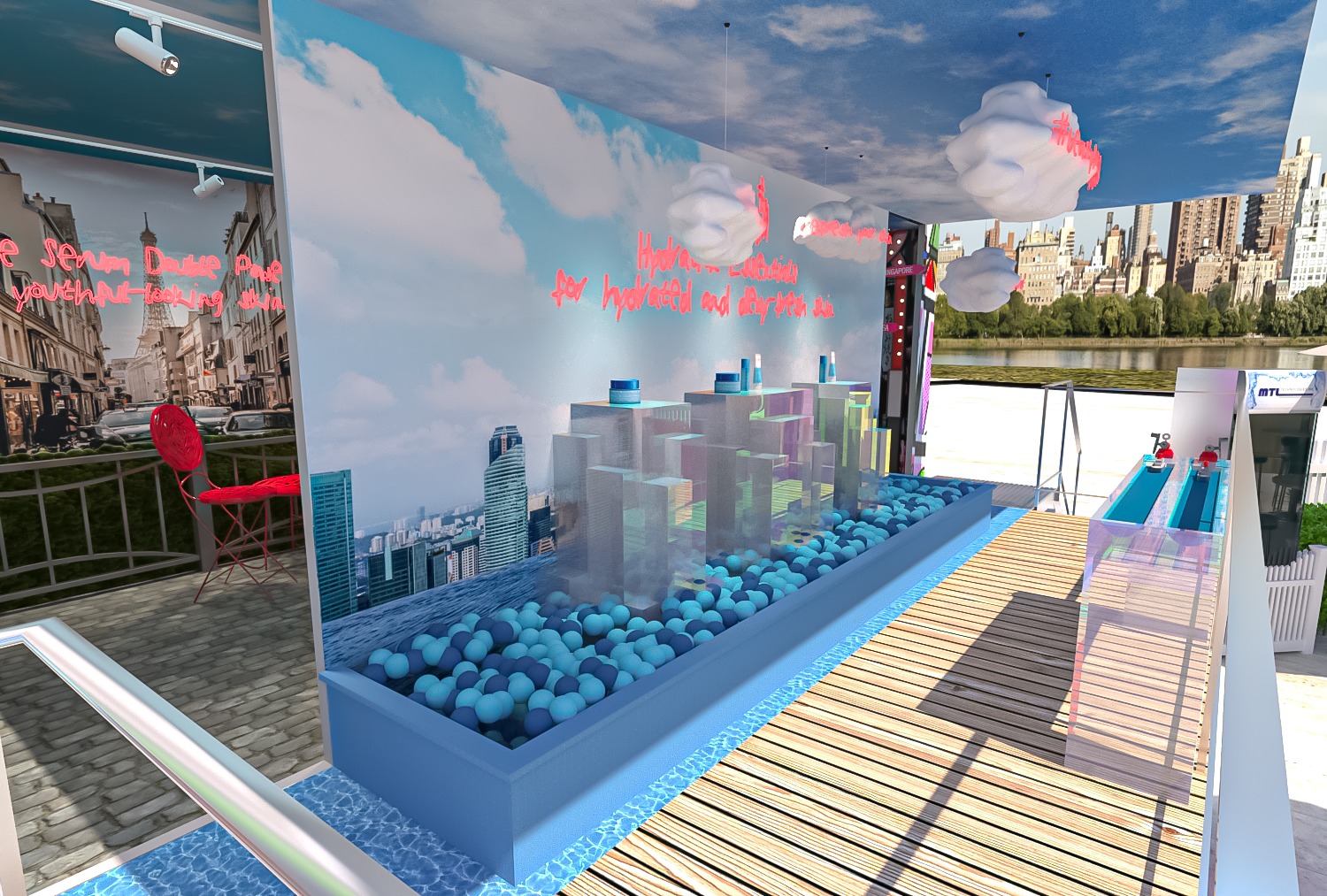 Image courtesy of Clarins
As you exit the truck, the installation on the outdoor deck — Hydra Pool, reflects Singapore's beautiful skyline. Take a closer look, and you'll notice that the exhibit resembles Marina Bay Sands with its iconic view from the infinity pool.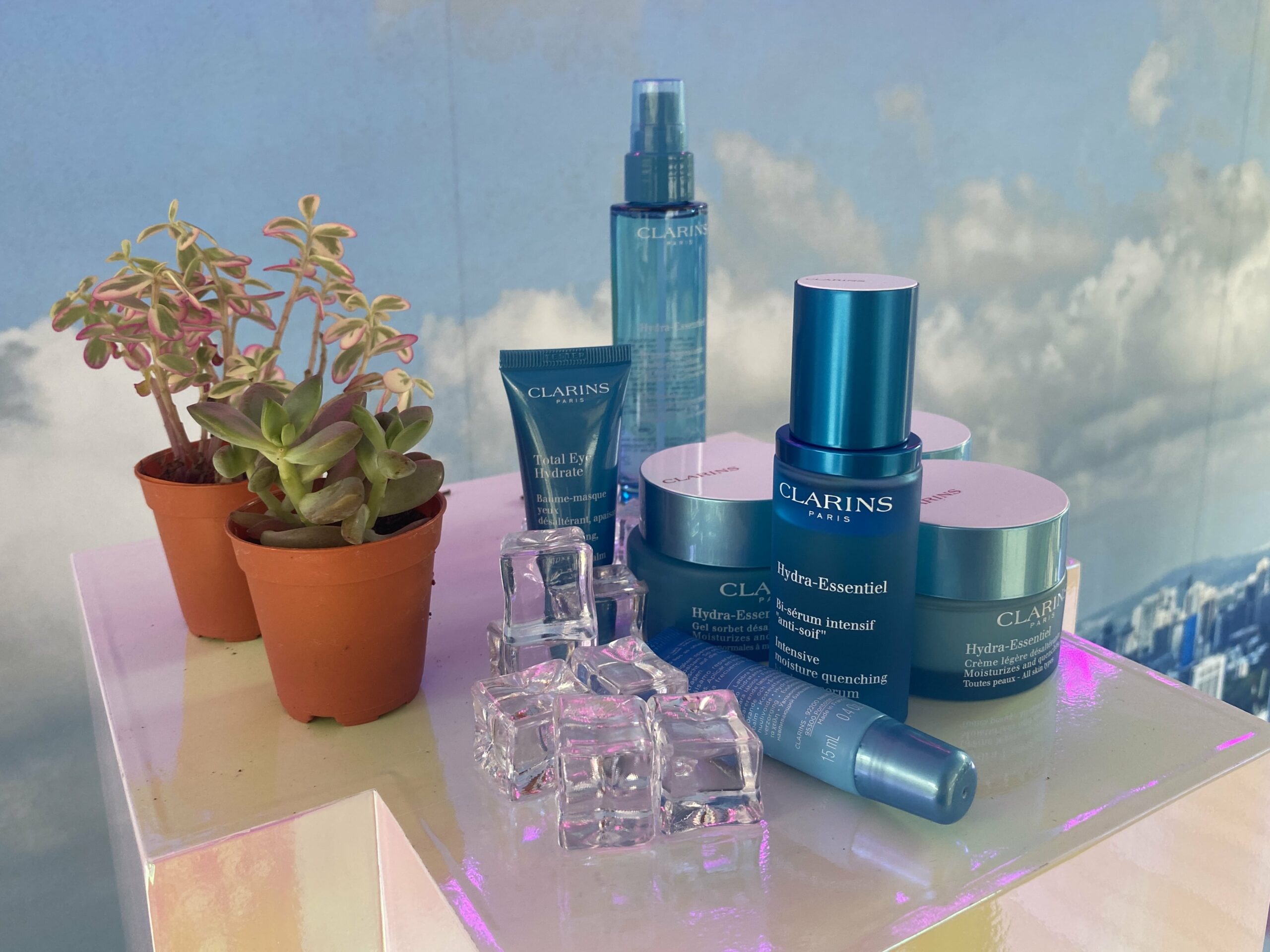 Image courtesy of writer
In line with the Hydra Pool concept, there are also displays for the Hydro-Essentiel series, reminding us to keep our skin cool and hydrated amidst the hot weather.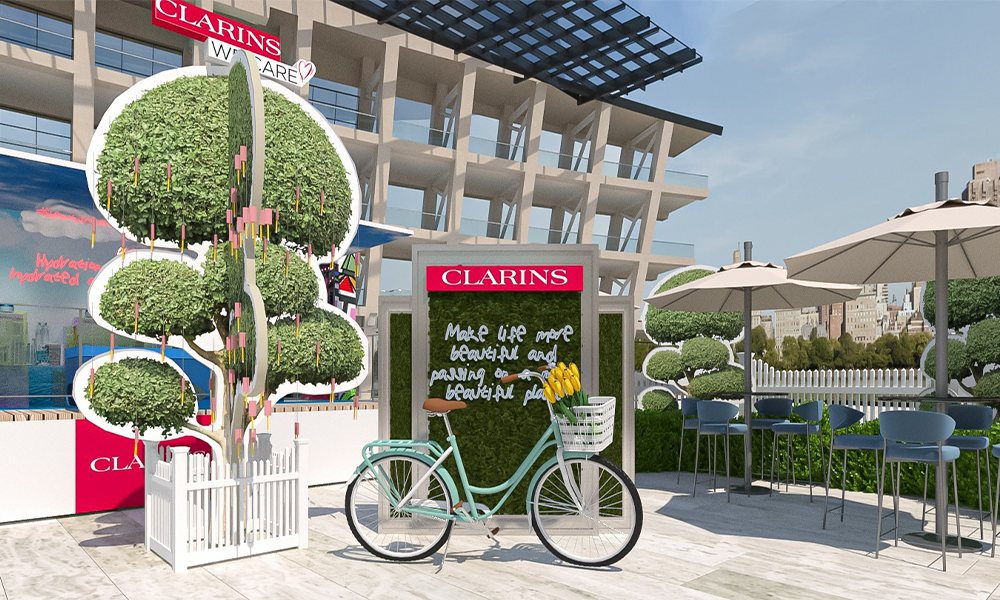 Image courtesy of Clarins
In front of the truck is this bicycle display with a tree standee. Feel free to get on the stationary bike and start pedalling to watch the sign slowly light up. 
This exhibit is part of Clarins' commitment to staying environmentally friendly, by inspiring visitors to reduce their carbon footprint with mindful lifestyle habits. Here's a tip: tag the brand in your IG posts and get a free plantable pencil with a biodegradable seed capsule!
The consultation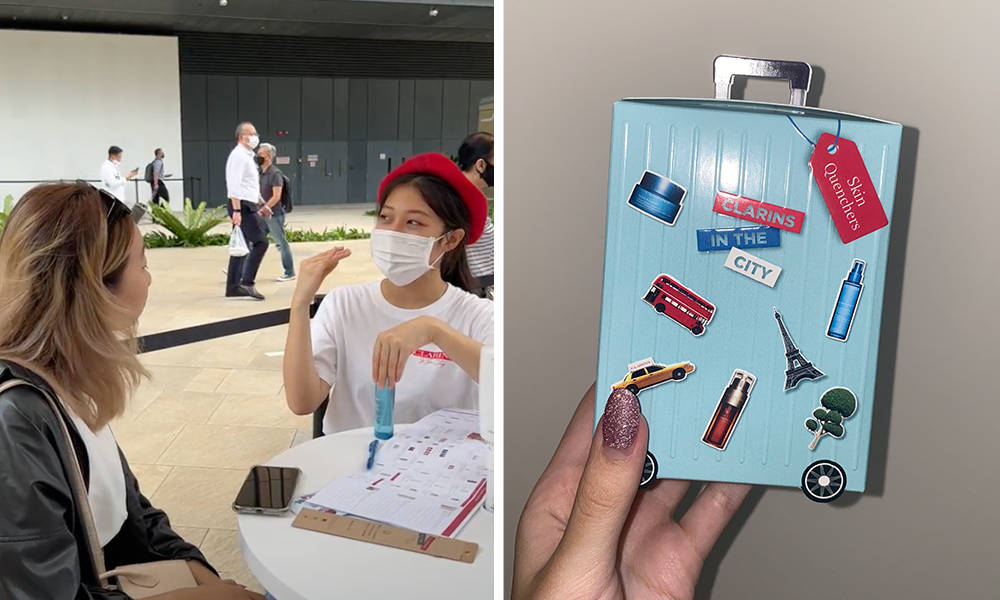 Image courtesy of writer
After the vibrant and fun displays, Clarins In The City tops it all off with a free skin consultation session, where you can receive a 6-piece personalised skincare samples kit to better help your skin.
During my session, the beauty advisor asked me to describe my skin concerns and recommended some products according to what I shared with her. I'm not the type to be adventurous with my skincare, but the consultation session provided me with insights on the different products. 
Clarins In The City Is A Fun Experience To Help You In Your Skincare Journey
This pop-up is open to the public from 2 June 2022 to 29 June 2022, so you have plenty of time to drop by the beauty trailer. And since the truck will be in various locations throughout the month, you won't have to worry about needing to travel far to get to it.
Not only will you get to snap some Instagrammable photos at the different areas, you'll also receive free samples and a complimentary Clarins-inspired ice cold brew, created in partnership with Hook Coffee. 
Admission is completely free of charge, and you can choose to walk-in or pre-register to join the priority queue at the Clarins In The City pop-up via this link.
Do note that the products in this pop-up are only for display. Check out their official website to purchase your desired products after heading down to the pop-up!
Price: Free of charge
Travelling schedule: 2 to 5 June 2022 – Paya Lebar Quarter | 9 to 12 June 2022 – Hillion | 16 to 19 June 2022 – Canberra Plaza | 26 to 29 June 2022 – Suntec City
Opening hours: 11am to 9pm
Booking: Fill in the online form on their website
Website | Facebook | Instagram
Cover: Images courtesy of Clarins and writer.
Also read:
Kskin Has 15-Minute Express Facials At Just $28 In Town So You Can Squeeze In A Treatment During Lunch Break