ColourPop Disney Designer Collection
ColourPop has just released another line of Disney princess-themed products, as part of its Disney Designer Collection. This comes after the launch of the Disney Villains collection earlier this year. It features 8 princesses: Rapunzel, Giselle, Belle, Tiana, Cinderella, Aurora, Megara and Esmeralda.
This collection comprises a new eyeshadow palette, a line of lip creams, blushers and highlighters.
You too, can look as gorgeous as these princesses. Let's take a look at the products!
Midnight Masquerade eyeshadow palette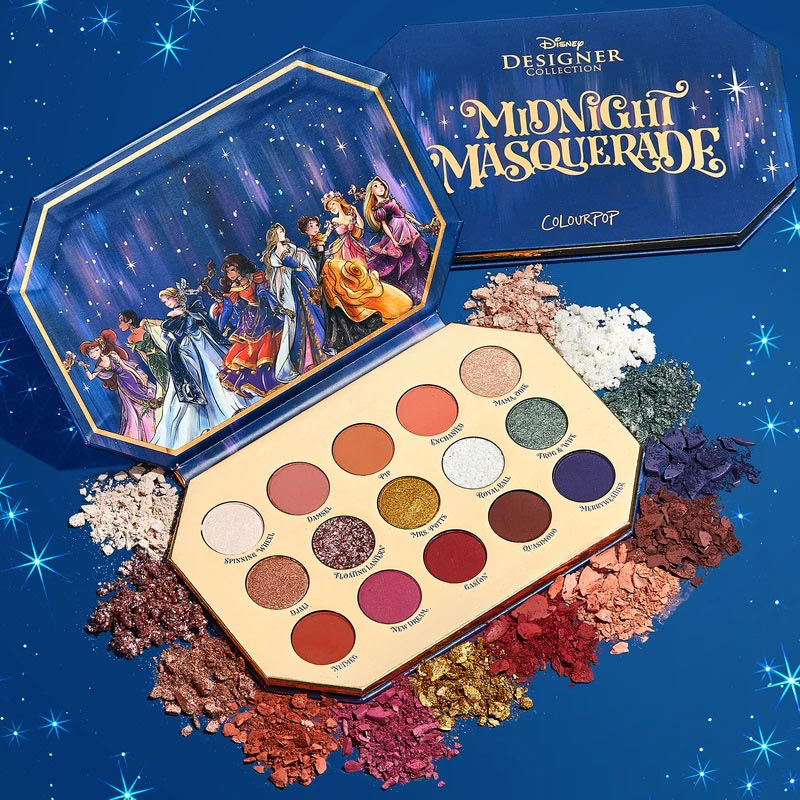 The Midnight Masquerade eyeshadow palette comes with a total of 15 shades in 3 finishes—matte, shimmery and glittery. The colours range from hues of pink and orange to louder colours like blue and red. The cherry on top—they retail at only US$22 (~S$30.42)!
Use pink (Damsel), apricot (Pip) and coral (Enchanted) shades to create a subtle daytime look. Experiment with blue (Merryweather) and red (Gaston) for a party look.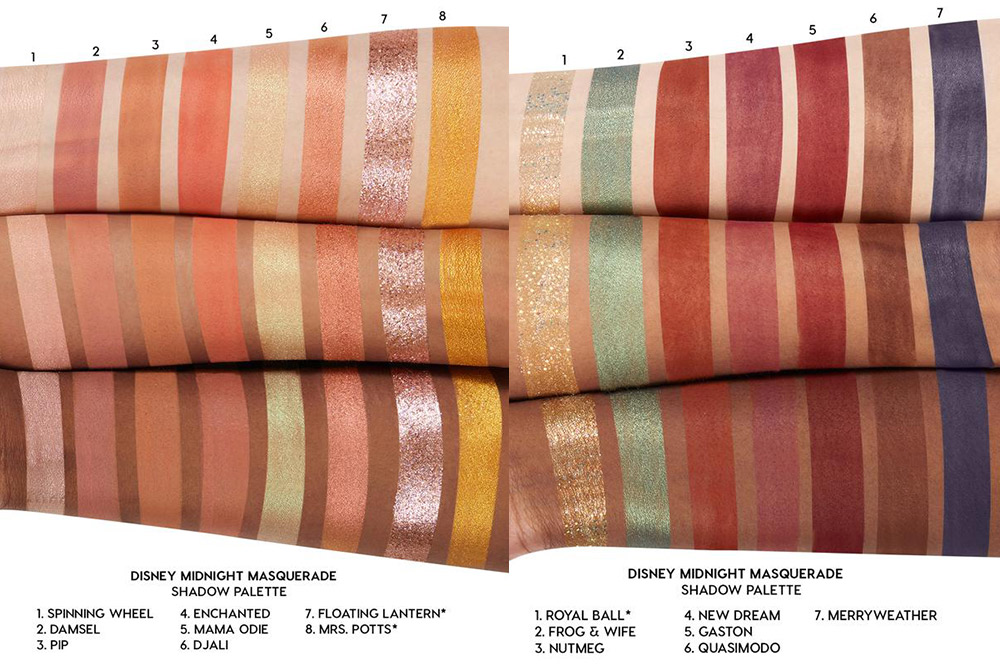 Achieve a cut-crease effect with brown (Quasimodo) and buff the harshness out with a rich warm colour like orange (Nutmeg) or magenta (New Dream). Finally, give your eyes an added pop by highlighting the centre of your lids with a shimmer or glitter shadow. 
My favourite shade would definitely be the gold one (Mrs. Potts). You can never go wrong with gold—It's royal, electric, fierce and ultimately, it makes you look like a million bucks. 
Also read:
ColourPop's New Disney Villains Collection Will Help You Embrace Your Dark Side
Lux Liquid Lip lip cream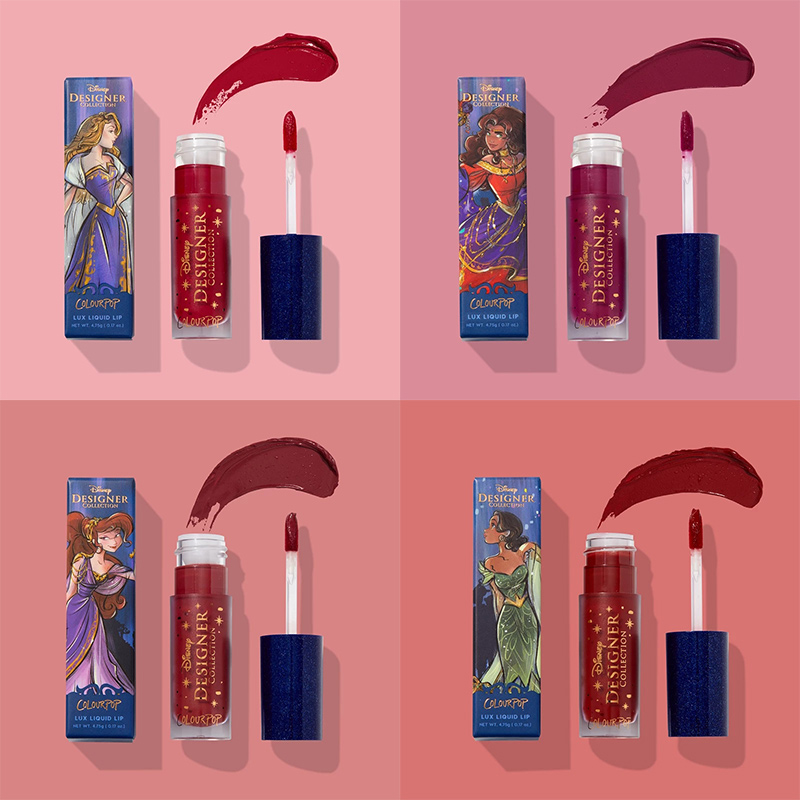 The Lux Liquid Lip lip creams come in a total of 8 shades, named after the 8 princesses' beaus. Each individual tube retails at US$8 (~S$11.06). The line comprises shades of red, pink, purple and nude. These soft velvety lip creams are smooth and easy to apply, with a semi-glossy finish and they are pigmented AF.
Get Aurora's red (Prince Phillip) or Esmeralda's plum (Phoebus) lip cream to achieve a classic red lip. Megara's shade (Wonderboy) has a slight hint of purple while Tiana's (Prince Naveen) leans towards maroon for a more sultry effect.
The sweet pink shades of Giselle (Prince Edward) and Cinderella (Prince Charming) will be perfect for a brunch date. A casual mug would not be complete without the tan-brown shades of Belle (Beast) and Rapunzel (Flynn).
Pressed powder blush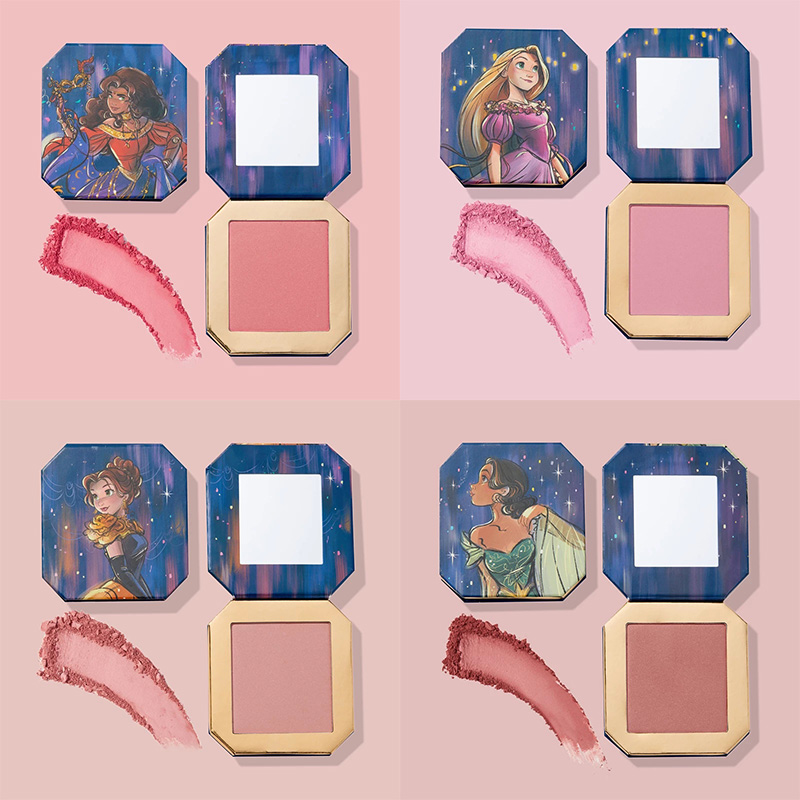 The pressed powder blush compacts retail at US$10 (~S$13.83) each. The blushers come in 4 shades of pink, repping Esmeralda, Rapunzel, Belle and Tiana. Use Rapunzel's 'Floating Lights', Esmeralda's 'Court Of Miracles' or Tiana's 'Kissin' A Frog' for a more pronounced flush.
Pressed powder highlighter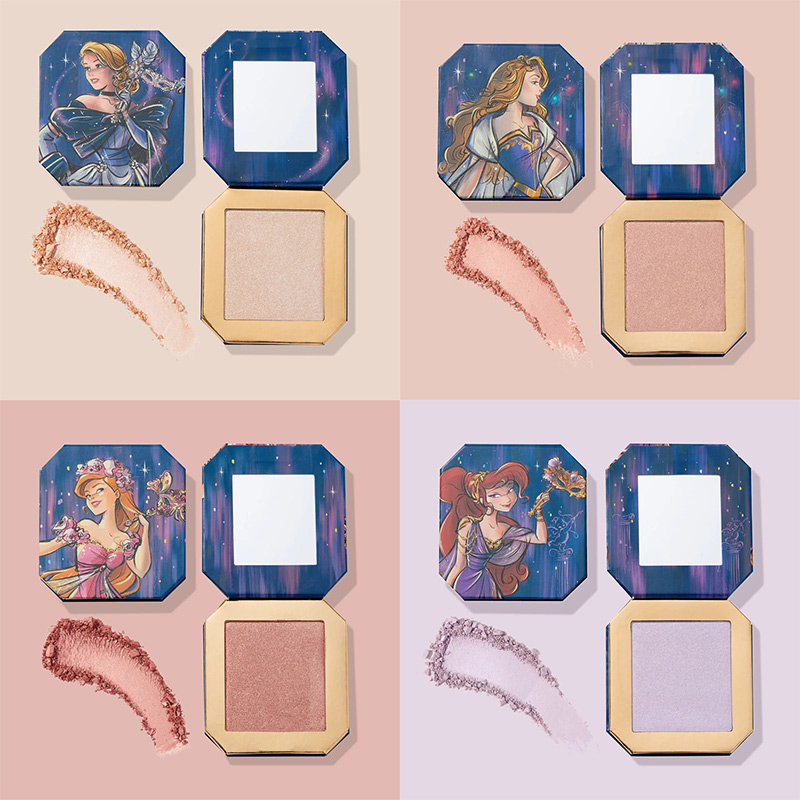 The pressed powder highlighter compacts also retail at US$10 (~S$13.83) each. They  come in 4 shades named after notable elements of the other 4 princesses' stories. 
Cinderella's 'Horse & Carriage' is in a subtle champagne shade to add a natural pearlescent glow. Aurora's and Giselle's shades of rose gold highlighters, 'Coronation' and 'Andalasia' respectively, will give you a more intense metallic gleam. Finally, Megara's 'Big Tough Girl', a lilac highlighter, will beautifully complete your look with an edgy, intergalactic touch.
ColourPop Disney Designer Collection
The second ColourPop Disney princess-themed collection has once again impressed us with its quality and crazy affordable products. You can get the specific characters' blush or highlighter with the lip creams as a set, retailing at US$18 (~S$24.89).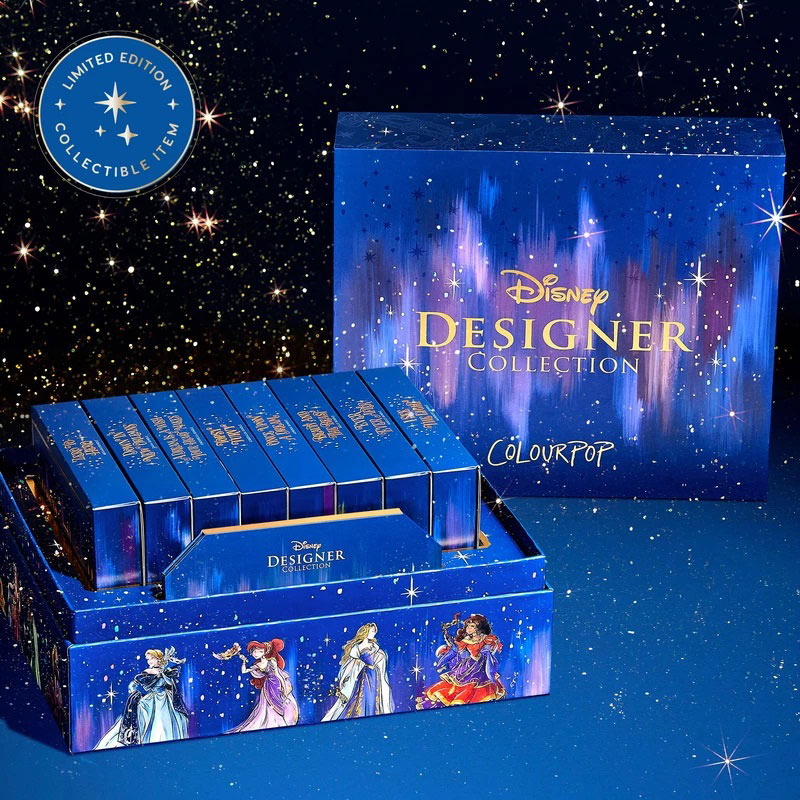 If you're ballin', take your love for the princesses even further with the PR collection (pictured above), retailing at US$191 (~S$264.06). It comes with the products stowed neatly in an enchanting ColourPop Disney Designer Collection box.
Do note that all prices indicated above are exclusive of shipment. There is a flat rate of US$9.90, but is complimentary for orders above US$50. 
Shop the collection now on ColourPop's website.
Also read:
ColourPop's New Disney Makeup Collection Lets You Look Like Glammed-Up Cinderella Even After Midnight
All images: Source