BARO's Custom Converse Sneakers 
BARO, a footwear store based in Ho Chi Minh City, recently released a series of custom Converse sneakers inspired by the Ryukyu Kingdom, which is what you may know as modern-day Okinawa.
The colourful and elaborate designs will make a beautiful addition to your sneaker collection. The hand-painted sneakers are priced between 7,700,000 Vietnamese đồng (~S$462) and 12,500,000 đồng (~S$751).
Splendor of Ryukyu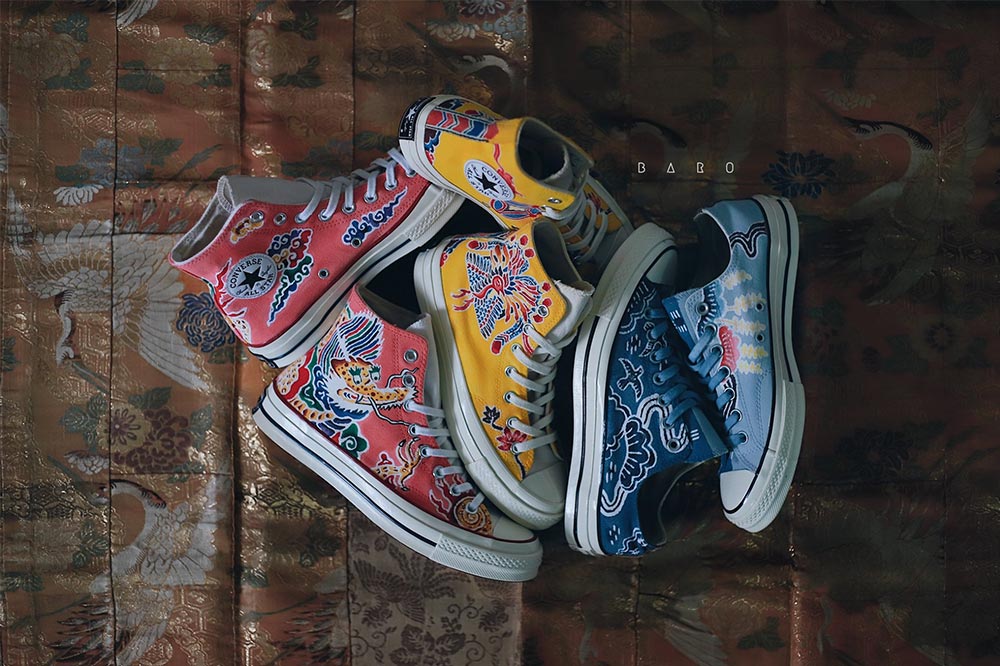 Source
The focal point of the Splendor of Ryukyu collection is the intricate designs on each of the different coloured shoes.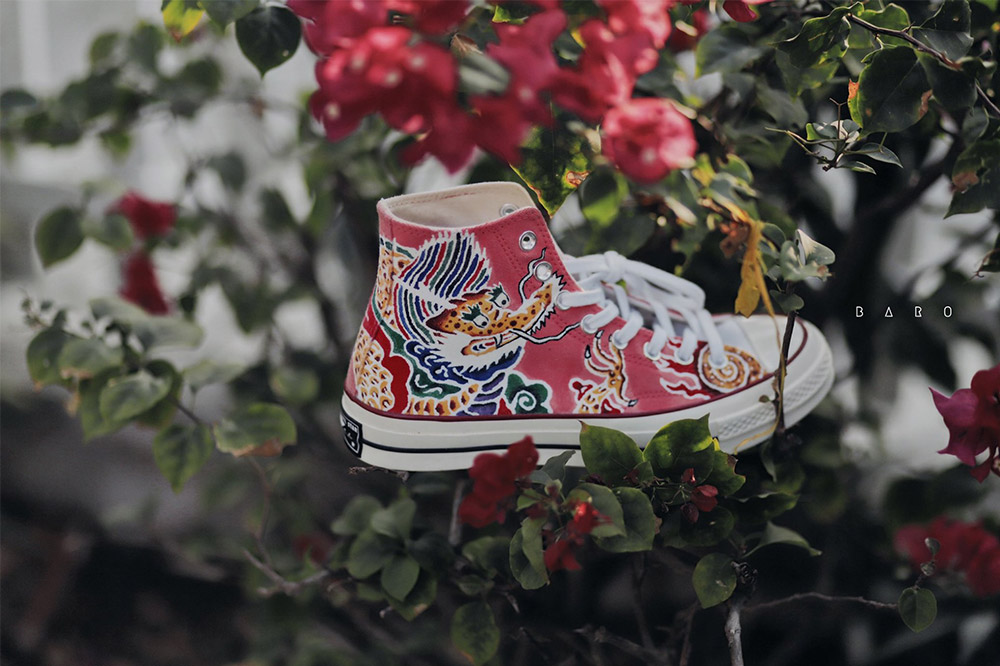 Source
The red colourway is on a pair of high-cut Chucks and features an elaborate dragon motif.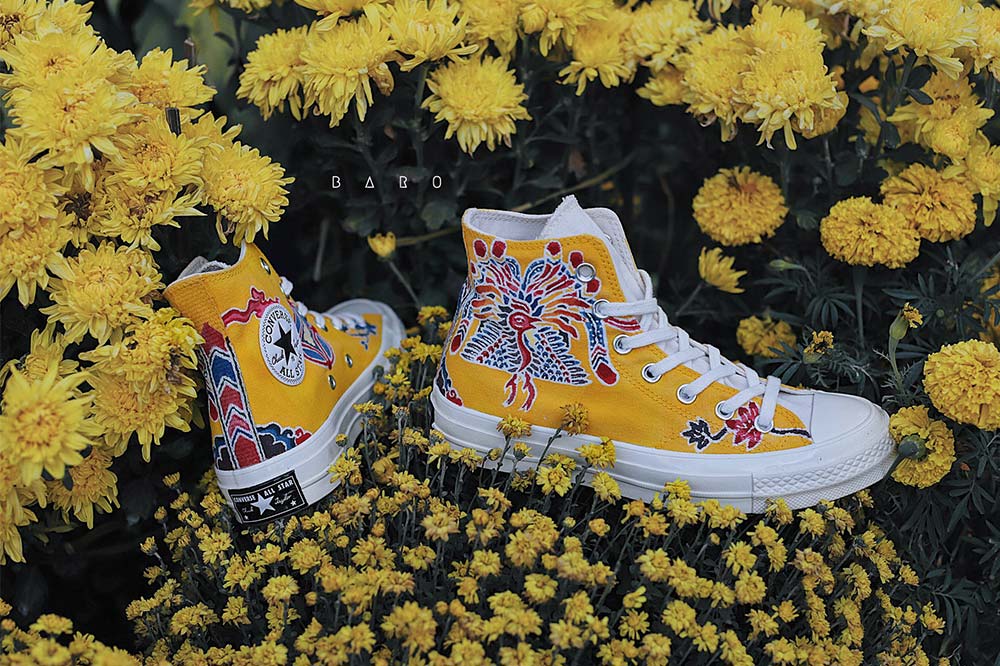 Source
The bold yellow pair is also on a pair of high-cut Chucks. This time, a phoenix motif takes centrestage.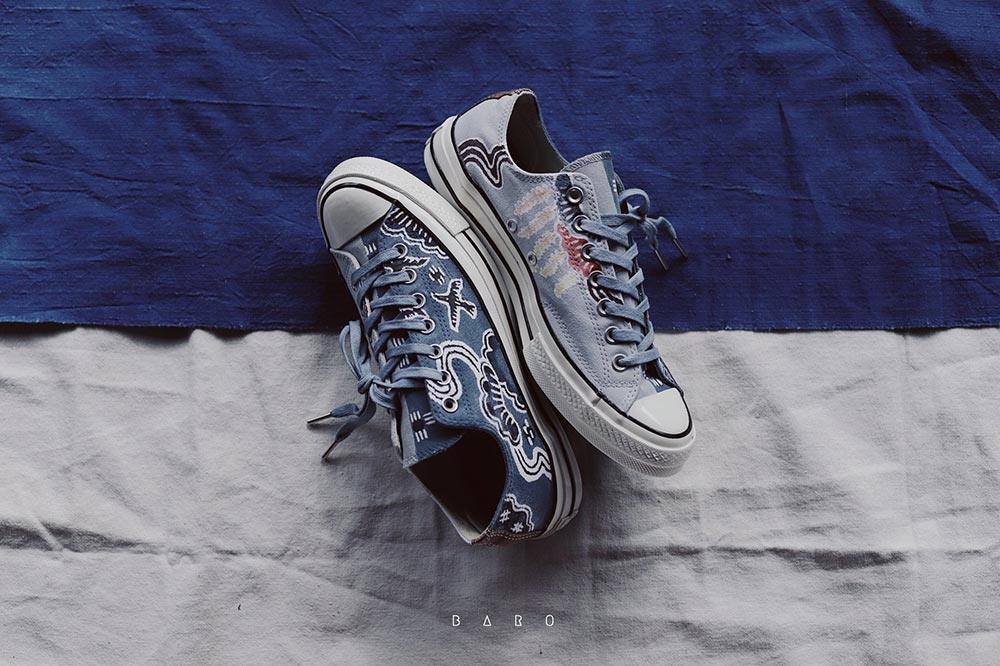 Source
For those who prefer something more versatile yet no less unique, the low-cut blue pair has different illustrations on the left and right of each shoe.
Ideas for the designs and techniques were derived from the ancient kingdom of Ryukyu. The team at BARO perfected their resist-dye techniques for 13 months in order to mimic Bingata, a traditional Okinawan fabric that is often in striking red and yellow hues. 
Source
Those in awe of the shoes will be even more amazed to know that the images are all painstakingly hand-painted, a true testament to BARO's dedication to its craft.
Also read:
Annam Heritage
Splendor of Ryukyu is not BARO's first custom Converse sneaker collection. Another recent release, Annam Heritage was inspired by the court costumes of the Nguyễn dynasty. These mustard yellow sneakers were inspired by Hoàng Thị Cúc, the mother of the last emperor of Vietnam. From the hue to the patterns, there is an uncanny resemblance between the costume and the shoes. 
Source
The red shoes in the collection reflected an ensemble worn by princess Bà Chúa Nhất, with the main colour following the red of her garment and the blue patterns mirroring the blue of her headdress.
BARO's Japanese-Inspired Custom Converse Sneakers Bring The Past Back To The Future
Put on BARO's custom Converse sneakers and you can give your friends a mini lesson on the history of Japan at the same time. With each pair of shoes purchased, you will get a bag made of Bingata fabric and a complimentary oak box.
Visit BARO's Facebook page for more information and to order a pair for yourself now. While the first production run ended on 7 March 2020, the next production run for the sneakers will be from 20 June to 20 July 2020.
Also read: 
Converse Sakura Chuck 70 Sneakers Let You Experience Japan's Cherry Blossoms Right At Your Feet
Cover image: Source