DC Comics Makeup Collection
While I'm a Marvel fan, you can't deny the mystique and appeal of DC heroes and villains like Batman and the Joker either. Perfect for Halloween, DC Comics has partnered with makeup brand, Revolution for an exclusive collection, featuring characters like Batwoman, Catwoman, Harley Quinn and Joker. From eyeshadow palettes to highlighters, find out what else is in the makeup collection. 
The collection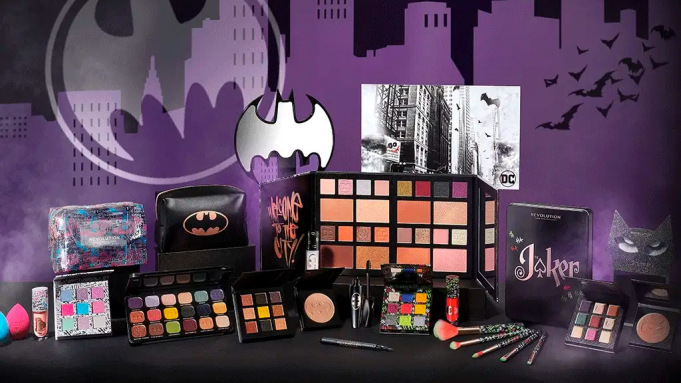 This collection includes a total of 20 different items ranging from eye shadow palettes to lip glosses and makeup brushes. Each of them comes with a detail that channels the classic DC characters. 
Eyeshadow palette
Batman
As the saying goes, "Go big or go home," this City Needs Me Forever Flawless Palette has 18 shades ‒ each named after Batman references such as Robin and Dark Knight.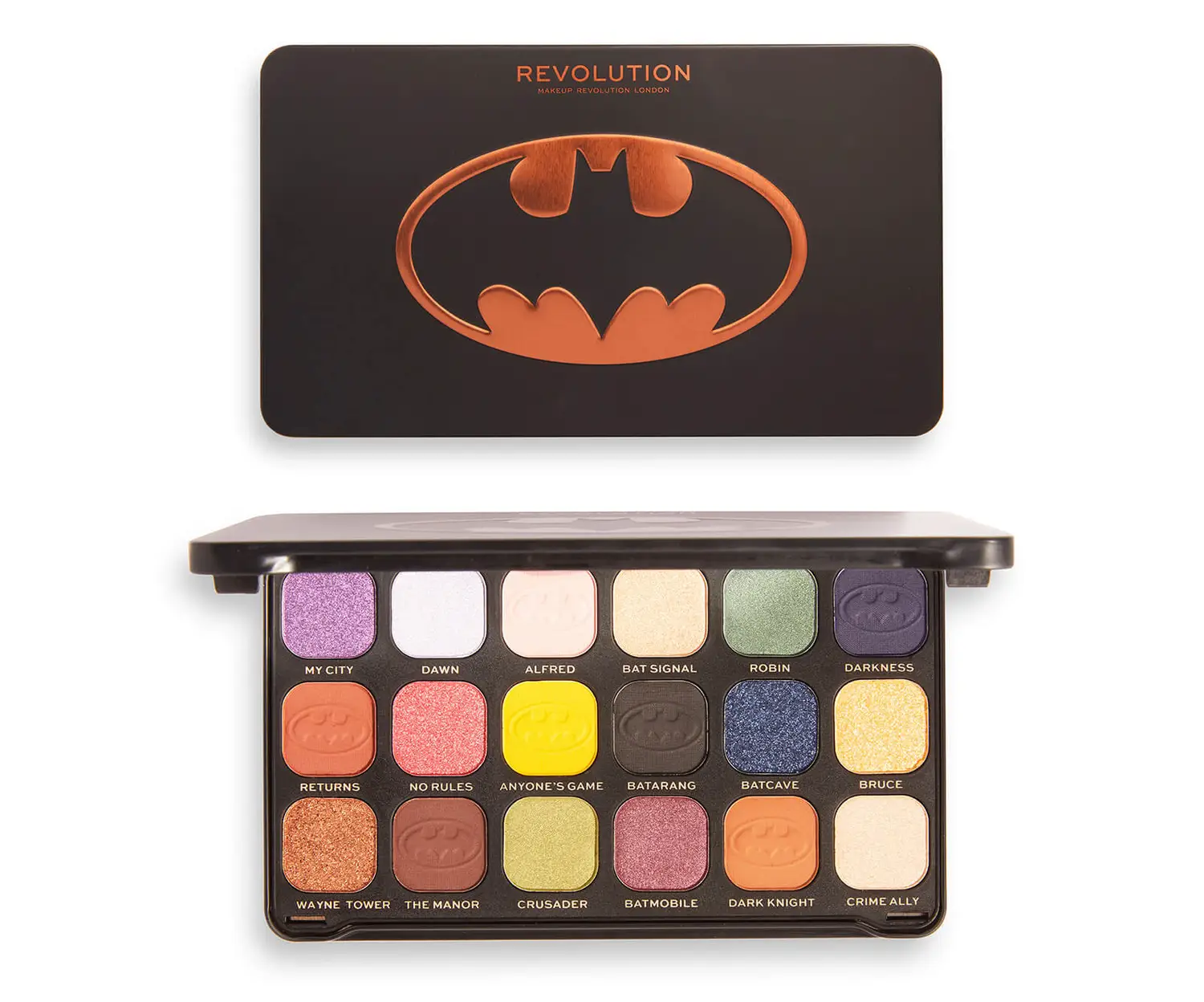 On some of them, you'll find the embossment of the Bat symbol, as if it's a way to say that Batman is always near you when you need help. From glittery to matte finishes, this eyeshadow palette has you covered for any occasion. 
Plus, the casing of the eyeshadow palette also features the Bat symbol in the middle. The City Needs Me Forever Flawless Palette retails at USD18 (~S$24.20).
If you prefer an eyeshadow palette that you can keep in your makeup pouch, this I Am The Batman Shadow Palette has got your back.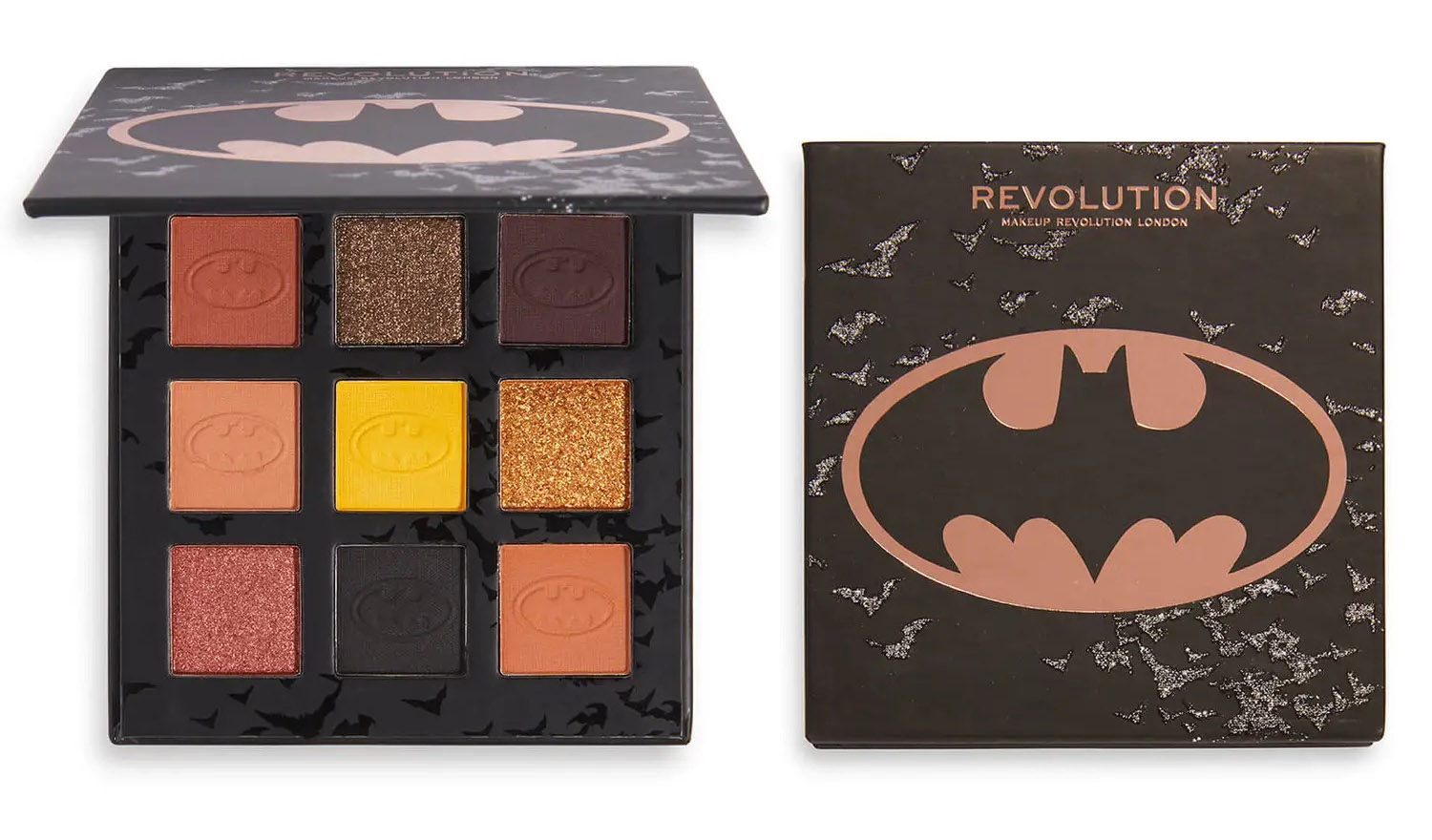 With 9 eyeshadows that include shades like a gold shimmer and matte nude, you can instantly transform your look from day to night. Not to mention, you'll also find the symbol of Batman on the case with many other bat motifs in silver. 
The I Am The Batman Shadow Palette retails at USD10 (~S$13.45). 
Catwoman
Catwoman is a sultry character who is also an expert in stealing jewellery. Now, you can channel Catwoman vibes with this Jewel Thief Shadow Palette.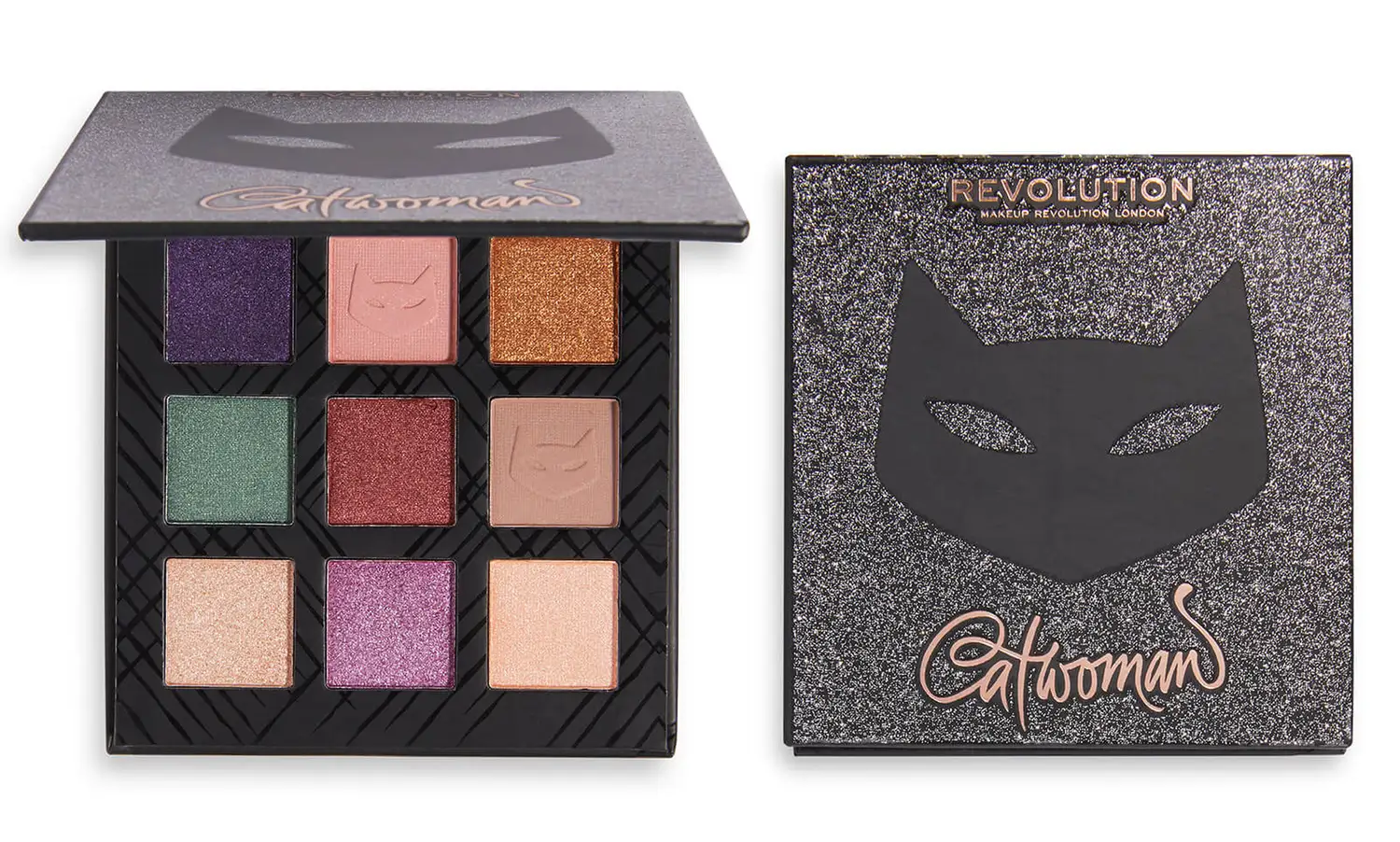 Also with 9 different eyeshadows, this palette includes shades like purple shimmer and pearly pink ‒ suitable for occasions such as a romantic dinner date. The case features the mask of Catwoman against a glittery black background. 
The Jewel Thief Shadow Palette retails at USD10 (~S$13.45). 
Joker
Not everyone might be a fan of Joker, but you have to admit that the guy has his own style.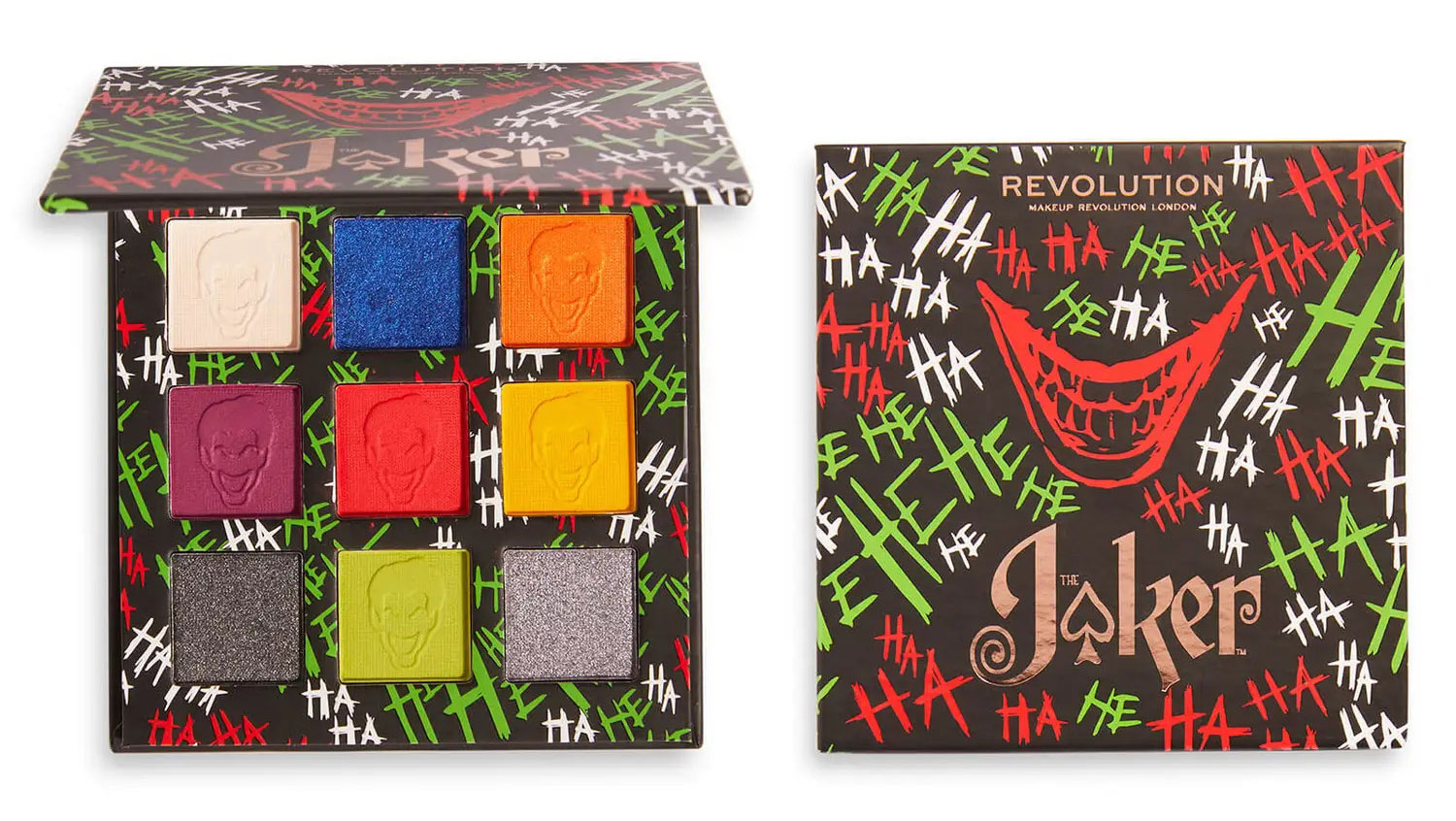 You can find the classic Joker colours of red and green on the Why So Serious Shadow Palette. Other bold colours include electric blue and bright orange. 
On the casing, you won't miss out on Joker's signature smile with words in graffiti font like "Ha Ha" and "He He".
The Why So Serious Shadow Palette retails at USD10 (~S$13.45). 
Harley Quinn
Harley Quinn is known for her mischief and adventurous sides, and this Daddy's Little Monster Shadow Palette aptly depicts her character.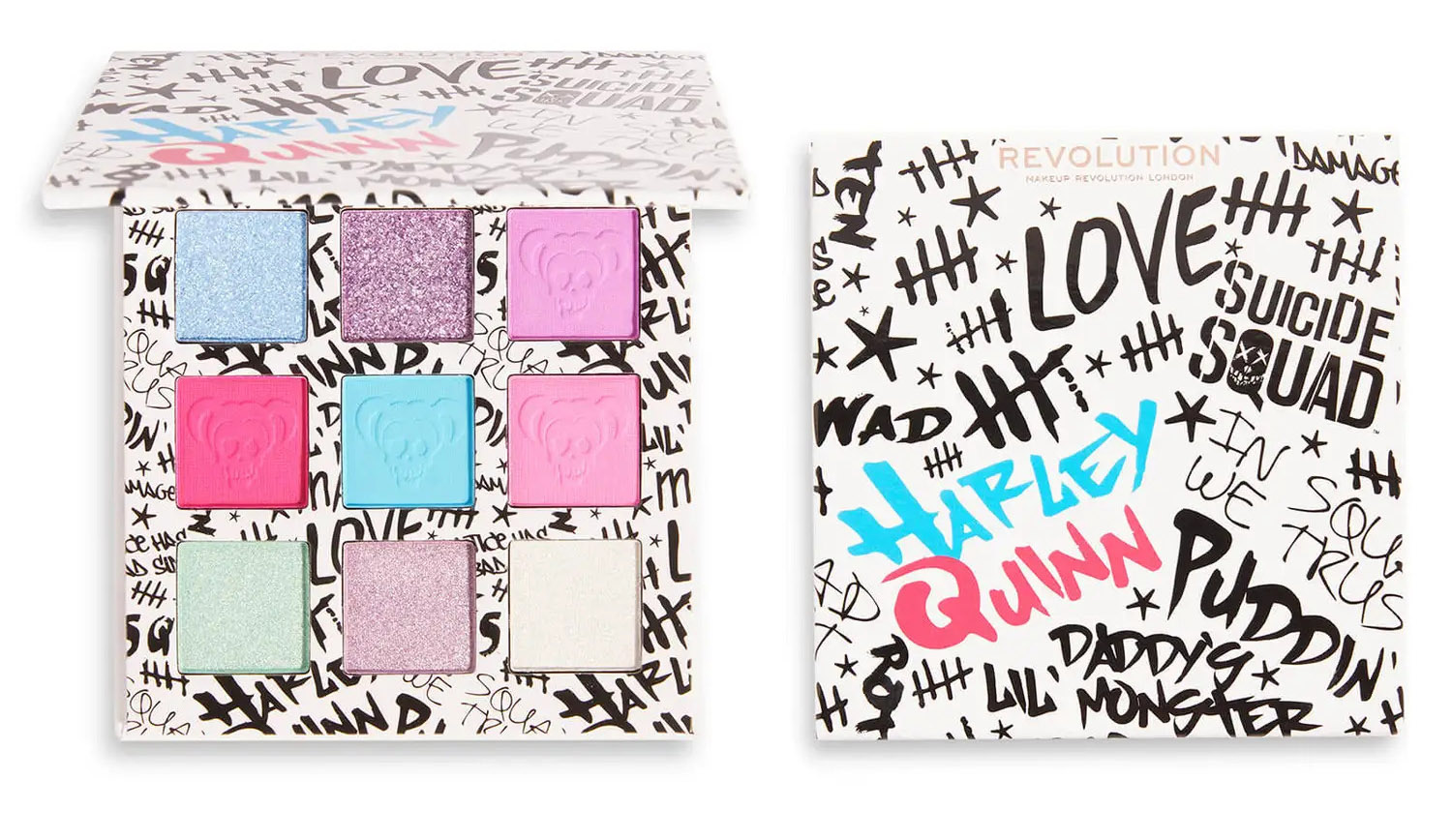 Available in a brighter spectrum of colours like hot pink and pastel blue, they add a pop of colour to your eyes. Unlike the other eyeshadow palettes, the case has a white base and is scribbled with words such as "Harley Quinn," "Suicide Squad," and "Love". 
The Daddy's Little Monster Shadow Palette retails at USD10 (~S$13.45).
Face palette 
Just like how DC Comics superheroes unite for Justice League, this face palette unites everything you need for your face makeup. 
The packaging shows the aftermath of Batman and Joker's showdown as you can see bats flying in the air and graffiti drawn by Joker on the left.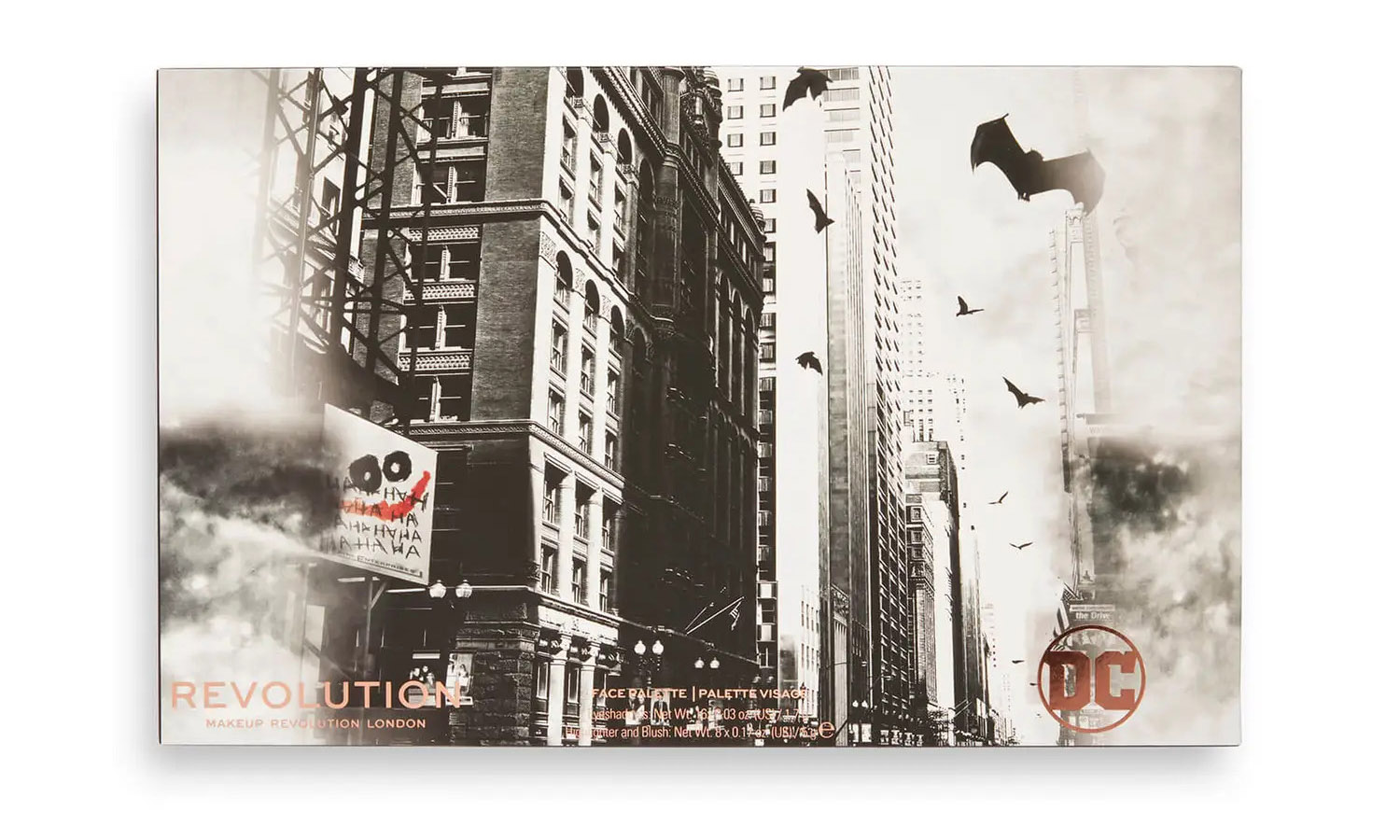 Opening the face palette, you'll find 24 shades of eyeshadows, highlighter and blush that come in matte and shimmer finishes. Plus, some of them are also embossed with the DC logo.  
The left tab also reads "Welcome To The City!" and on the right, you'll find a useful mirror. 
The face palette retails at USD28 (~S$37.70). 
Eye products
Eyeliner 
Getting that perfect eyeliner flick is never easy but you might do so with this CATEYE Eyeliner that features Catwoman.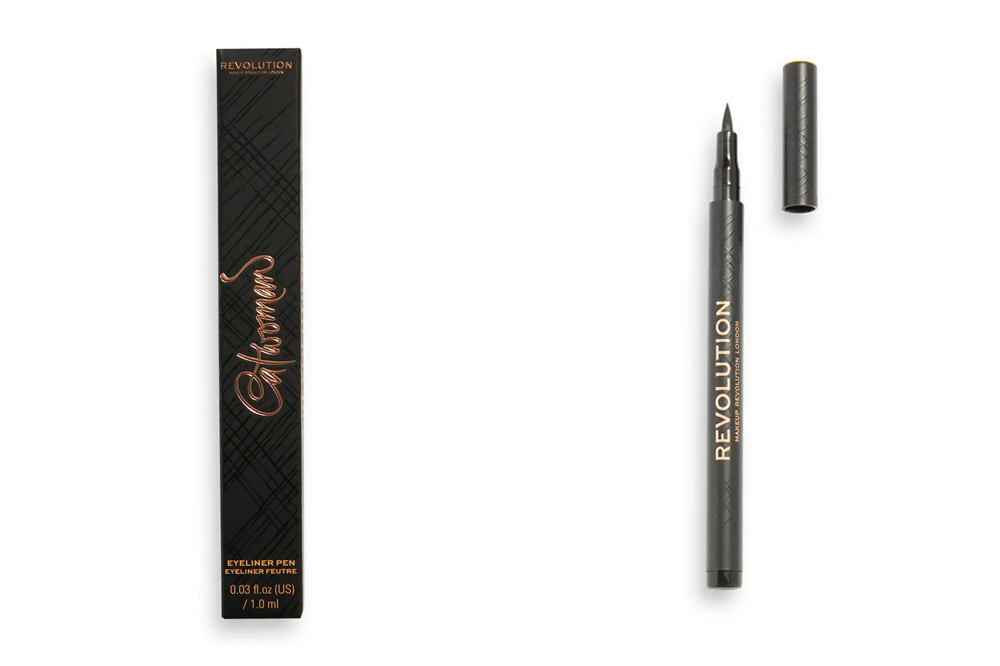 An ink pen is used in the black liquid eyeliner and it allows precise application for the perfect cat-eye look. 
The CATEYE Eyeliner retails at USD8 (~S$10.70).
Mascara
Eye makeup is a huge deal for makeup junkies now, since we're stuck with wearing masks outside. That said, this I Am The Night Mascara promises show-stopping and volumised lashes.
Say goodbye to clumpy mascara as it comes with a wide-angled, tapered brush that allows even application. 
The I Am The Night Mascara retails at USD10 (~S$13.45). 
False lashes
False lashes aka falsies are the key to a sultry look.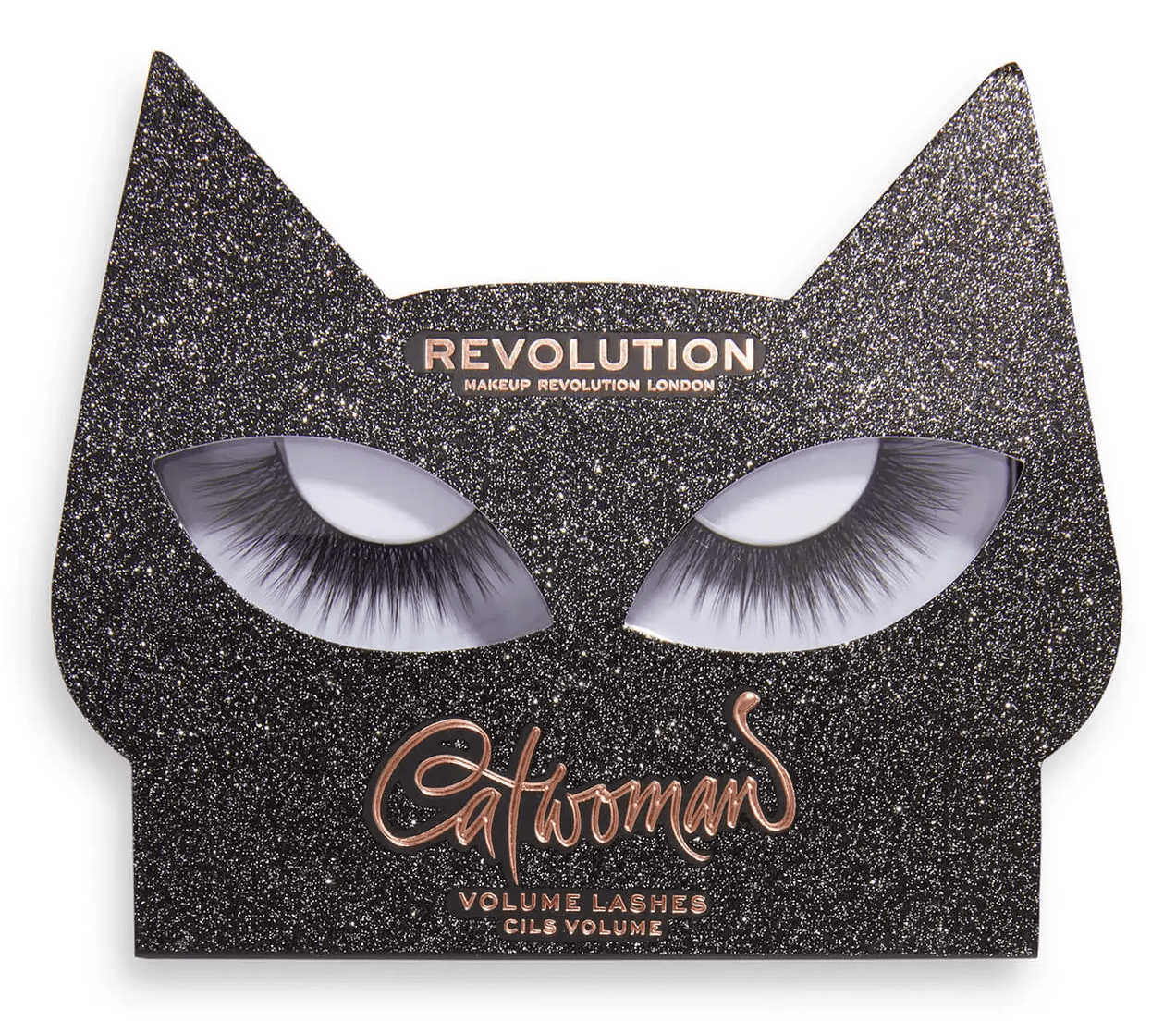 The packaging comes in the shape of Catwoman's iconic mask and in the middle, you'll find a pair of false lashes.  
The pair of false lashes retails at USD10 (~S$13.45). 
Also read: 
The M.A.C & Cruella Makeup Collection Features Monochrome Designs Just Like The Disney Villain's Iconic Hairdo
Lip gloss
Your makeup is not complete without some colour on the lips. In this collection, you can find 3 shades of lip gloss that features Batman, Harley Quinn and Joker ‒ clear glitter, nude and matte red respectively.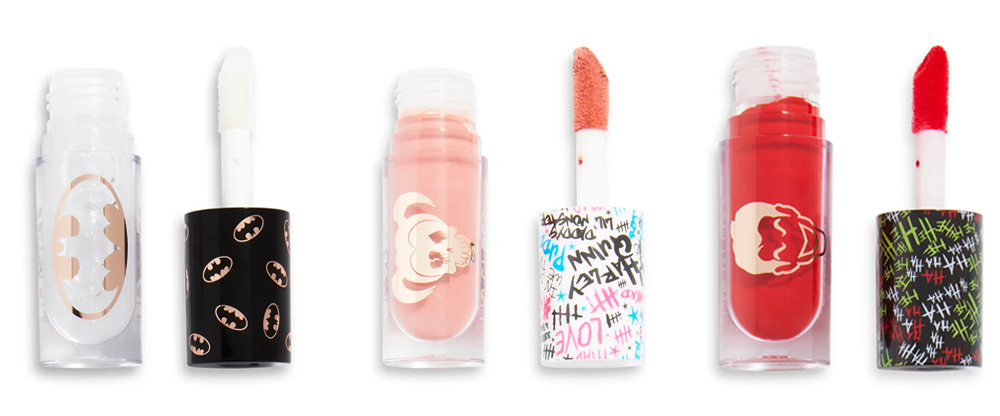 Each packaging features symbols that represent the characters. For example, Batman with his Bat symbols, Harley Quinn with her graffiti-style quotes and Joker with his red and green laughs. 
Each of the lip glosses retails at USD8 (~S$10.70).
Highlighter
For those with duller skin, a highlighter can help brighten it by attracting light ‒ creating the illusion of glowy, healthy skin.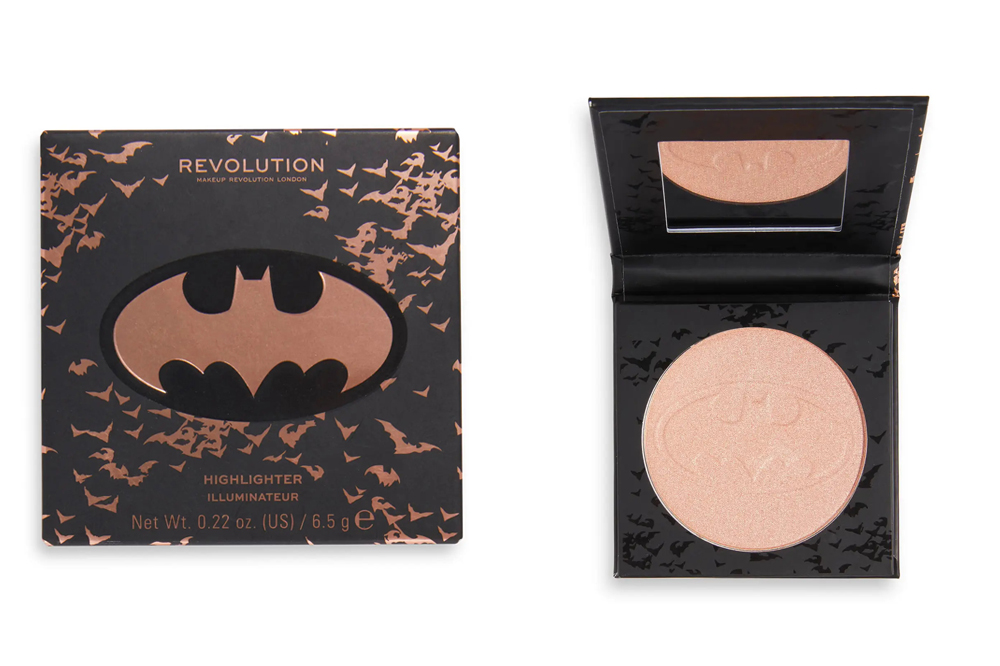 If you have warm undertones, make use of this Bat Light Highlighter that comes in the shade of gold. It has a mirror on the inside, allowing you to touch up even when on the move. 
The Bat Light Highlighter retails at USD8 (~S$10.70).
On the other hand, the Kitty Got Claws Highlighter will complement those with a warm skin undertone. 
The bronze shade will give off a healthy glow on your skin and you'll find the motif of Catwoman's mask embossed on the highlighter. Similarly, it also has a mirror on the inside. 
The Kitty Got Claws Highlighter retails at USD8 (~S$10.70).
Makeup tools
Whether you're #TeamSponges or #TeamBrushes, this collection has both items.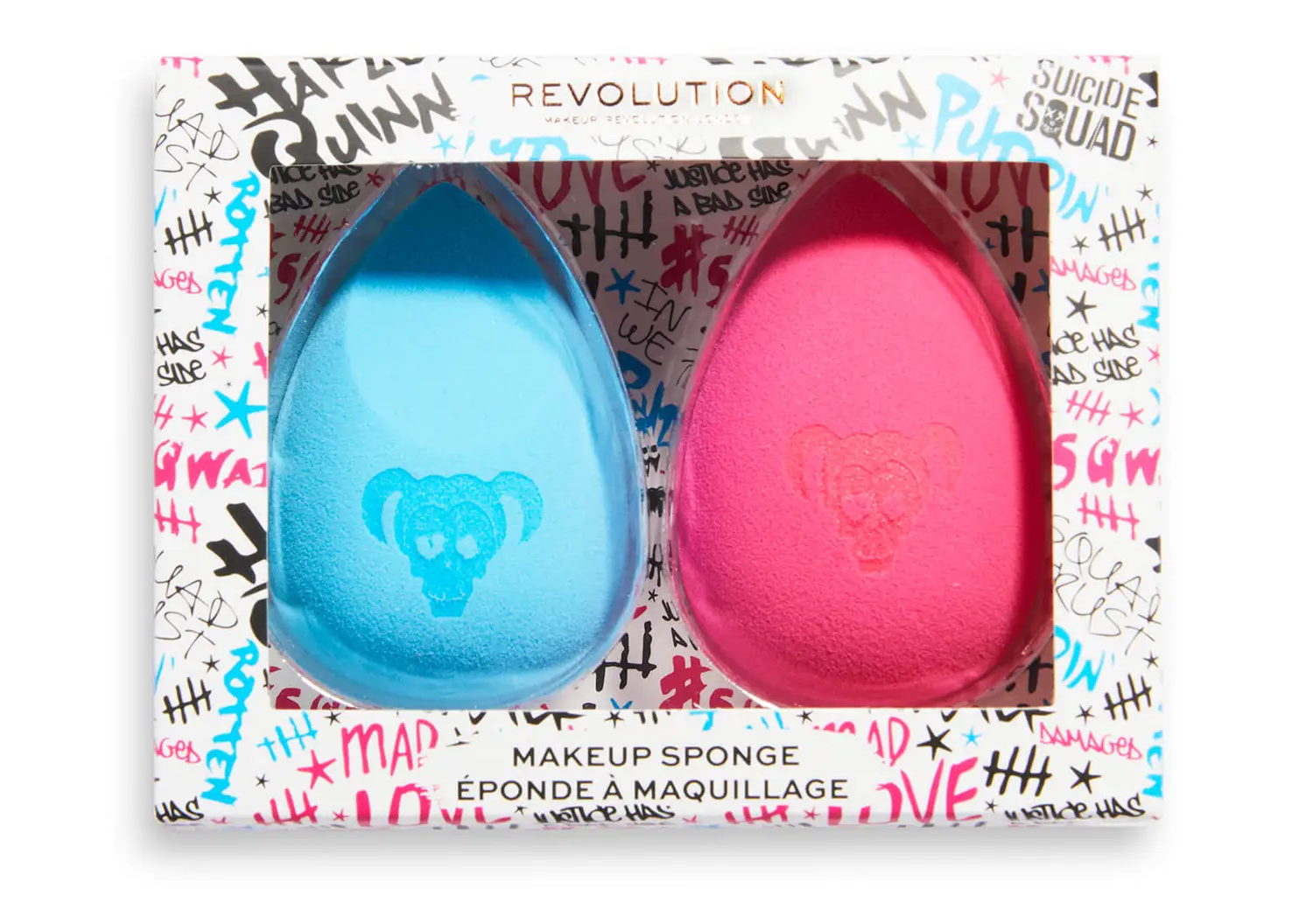 The What We Are Bad Guys Makeup Sponge Duo includes 2 makeup sponges in the shade of blue and pink ‒ just like how the colours represent Harley Quinn. 
It retails at USD10 (~S$13.45).
Joker wants you to put on a happy face with its Happy Face Brush Set that comes with 5 face and eye brushes packed in a collectable tin. Each of the brushes has a green to red ombre that is also soft to the touch. 
It retails at USD20 (~S$26.90).
Handheld mirror
It's normal for your makeup to go cakey or oily after some time. To check on it, you can use this handheld mirror that features Batman's bat signal.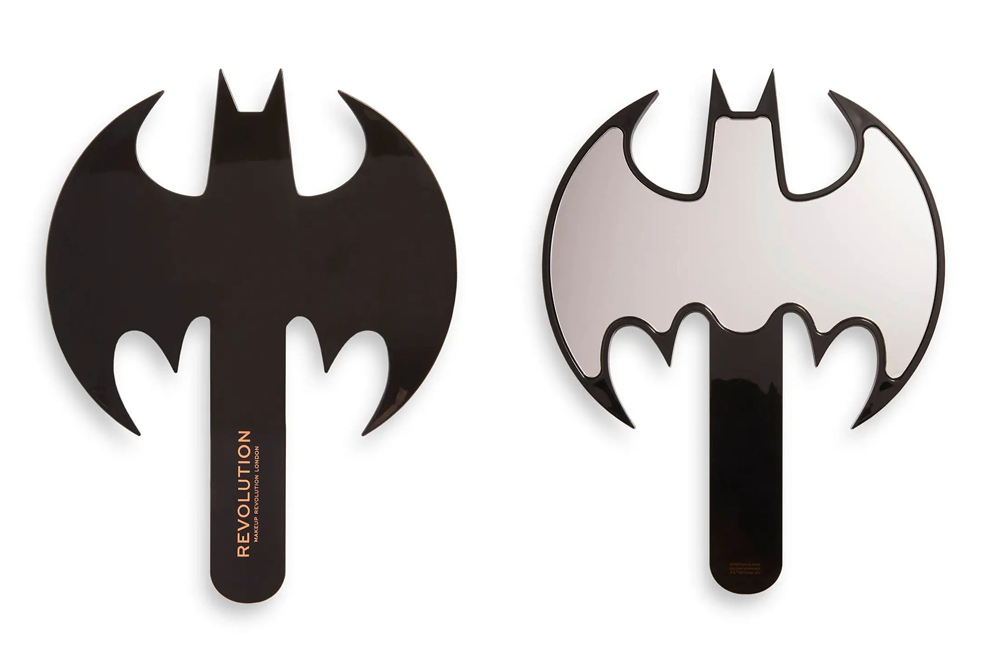 You might think that it's in a rather odd shape, but it easily allows you to concentrate on a specific region of your face.  
The handheld mirror retails at USD$15 (~S$20.20). 
Pouches
Another subtle way to show that you're a DC Comics fan is through these makeup pouches that feature Batman and Harley Quinn.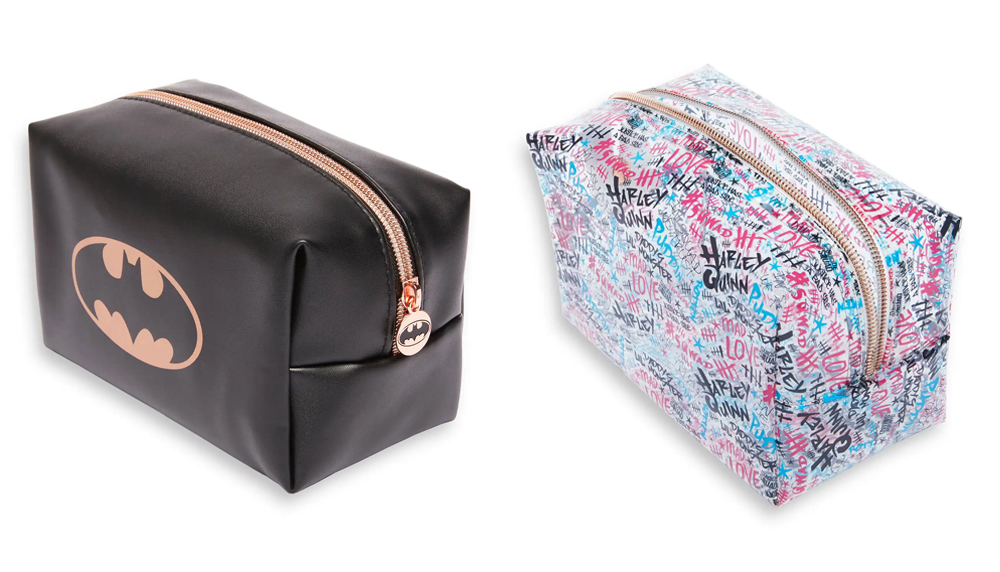 The Batman makeup pouch comes in a matte black design that features the iconic Bat symbol in rose gold. The Bat symbol also makes an appearance on the zip detail. 
As for the Harley Quinn makeup pouch, it's made of see-through material and features the best of Harley Quinn's quotes in graffiti style. 
Each makeup pouch retails at USD10 (~S$13.45).
Embrace Your Inner Superhero Or Villain With This Makeup Collection
Although there's still some time till Halloween, it doesn't hurt to plan in advance the character you're planning to dress up as this year. Unfortunately, this collection is only available for those who are residing in the US, Australia and New Zealand for now. Hence, you might want to look for freight forwarders who ship to Singapore. 
For more information about the collection, you can check out the Revolution's official store here. 
All images courtesy of Revolution. 
Also read:
The New ColourPop x Powerpuff Girls Collection Will Be The Chemical "X" To Your Makeup Routine