EVA Air Hello Kitty Flight
Last month, EVA Air announced that they'd be operating a Hello Kitty flight to nowhere for Father's Day. Landlocked people around the world (i.e. everyone) felt a whole slew of emotions, ranging from amused to wistful. The inaugural flight took place on 8 August 2020. And, it proved so popular that a second flight to nowhere commenced on 15 August 2020.
EVA Air posted pictures of  what happened during both Hello Kitty flights on their social media. They're enough to make even the most jaded of frequent fliers want to board a plane again.
What happened before the flight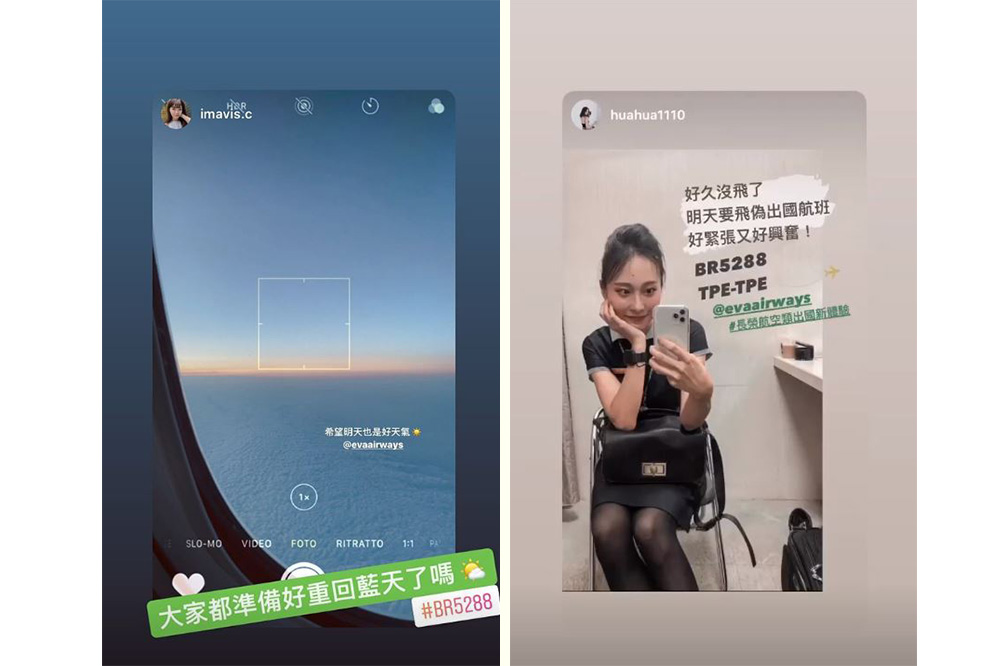 Source
It seems like the cabin crew went on a test flight the day before to make sure everything would go smoothly on the Father's Day flight proper. The OP of the Instagram Stories on the left posted about how she hoped there'd be good weather the next day as well. The air stewardess on the right shared how she had not flown in a long time, adding that she was both nervous and excited to be flying again tomorrow.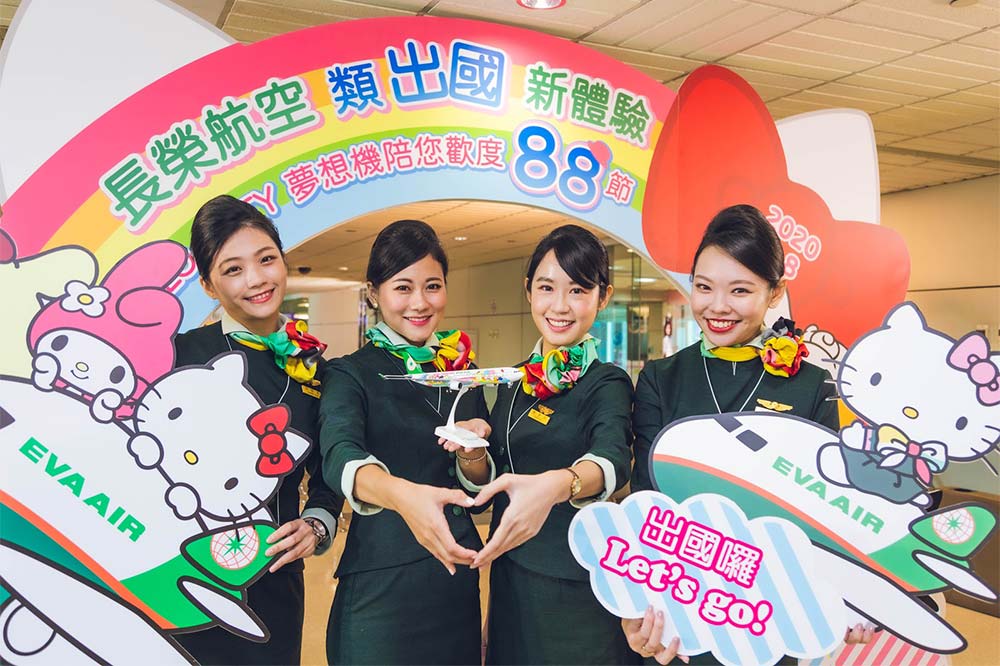 Source
On the day of the flight itself, the vibe on the ground was just as wholesome. Passengers were greeted with a Sanrio character arch designed just for the Father's Day flight taking place on 8.8 (which sounds like "ba ba" and translates to "father"). There were also placards and props featuring Hello Kitty, My Melody and friends.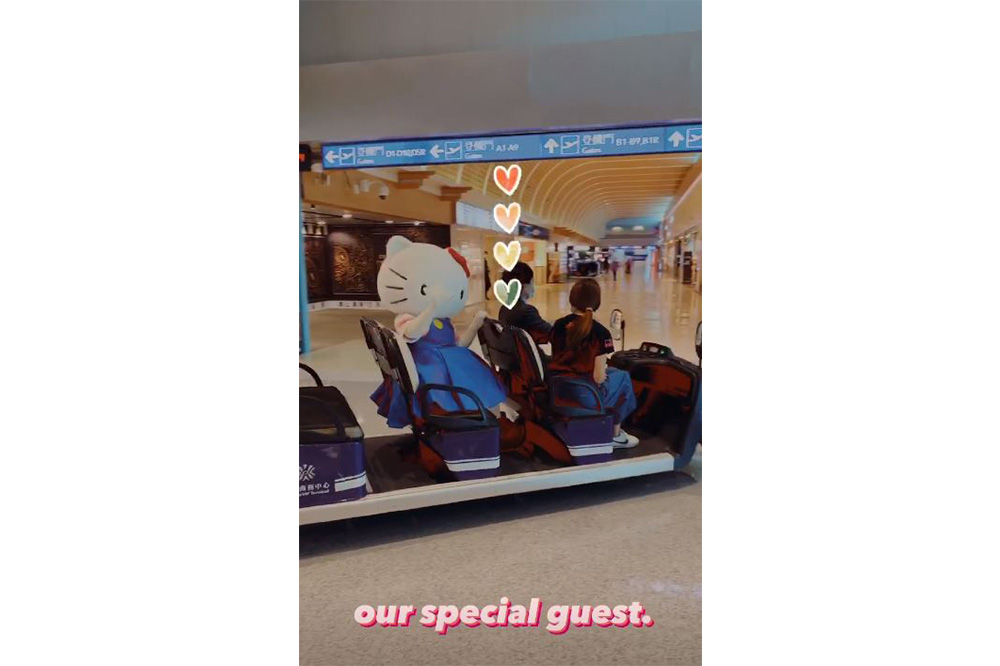 Source
But what are placards and props compared to a life-size Hello Kitty? To add to the festivities, EVA Air even arranged for a Hello Kitty mascot to make a guest appearance before the flight.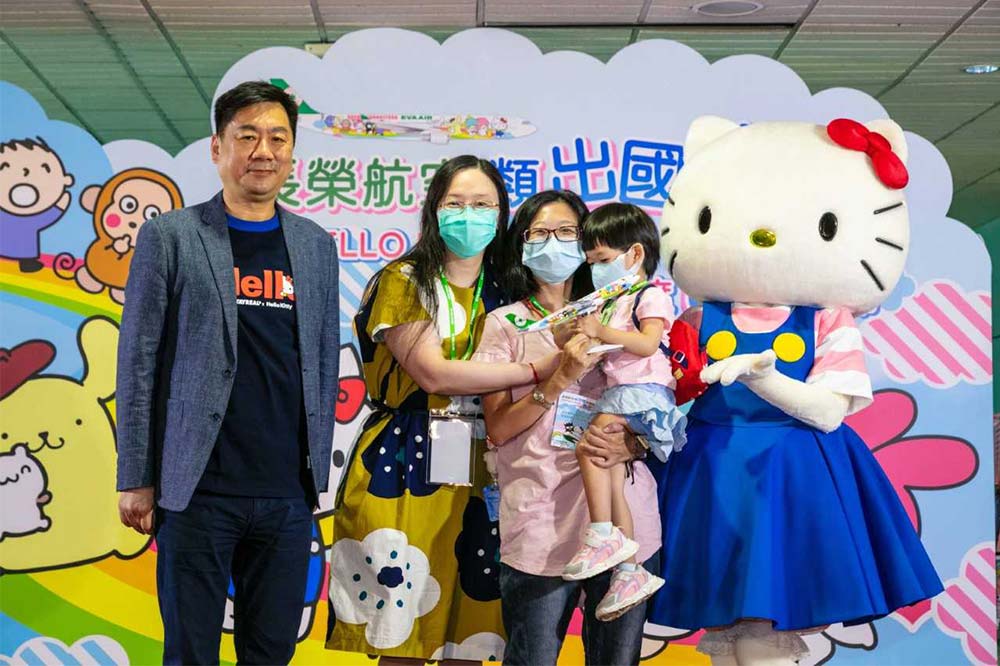 Source
Of course, Hello Kitty was also available for photo ops before boarding.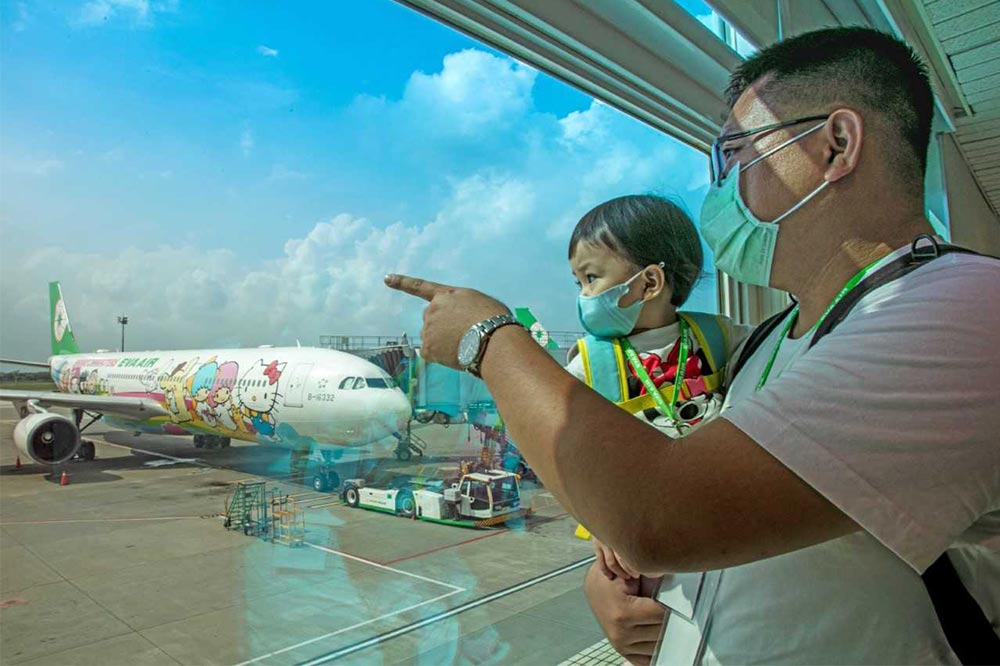 A father and child checking out the Hello Kitty plane before their flight
Source

Also read: 
7-Eleven's Sanrio Baked Mooncakes Featuring Hello Kitty & My Melody Come With Cute Collectible Cooler Bags
What happened during the flight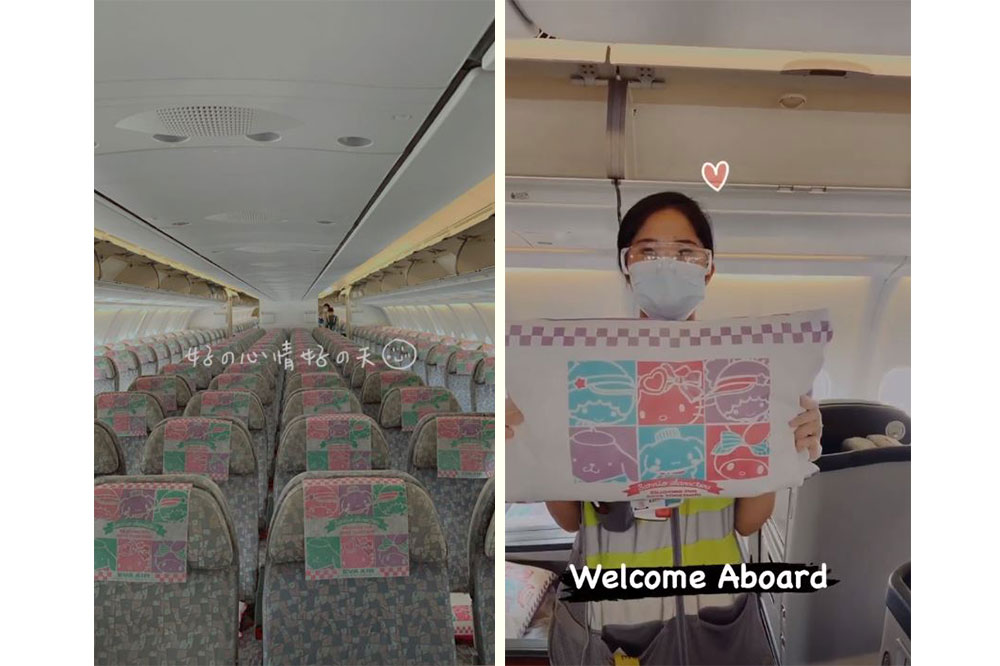 Source
As with Hello Kitty flights before the pandemic, everything in the plane, from the headrest cover to the pillows, was decked out in Sanrio characters. But because our memories of travelling have become so distant, everything seemed to have an added air of poignancy around it. An empty plane once again ready and waiting for passengers to board, after having been used to transport essential goods for months. A smiling air stewardess performing an in-flight safety demonstration, with a mask and goggles on for safe distancing.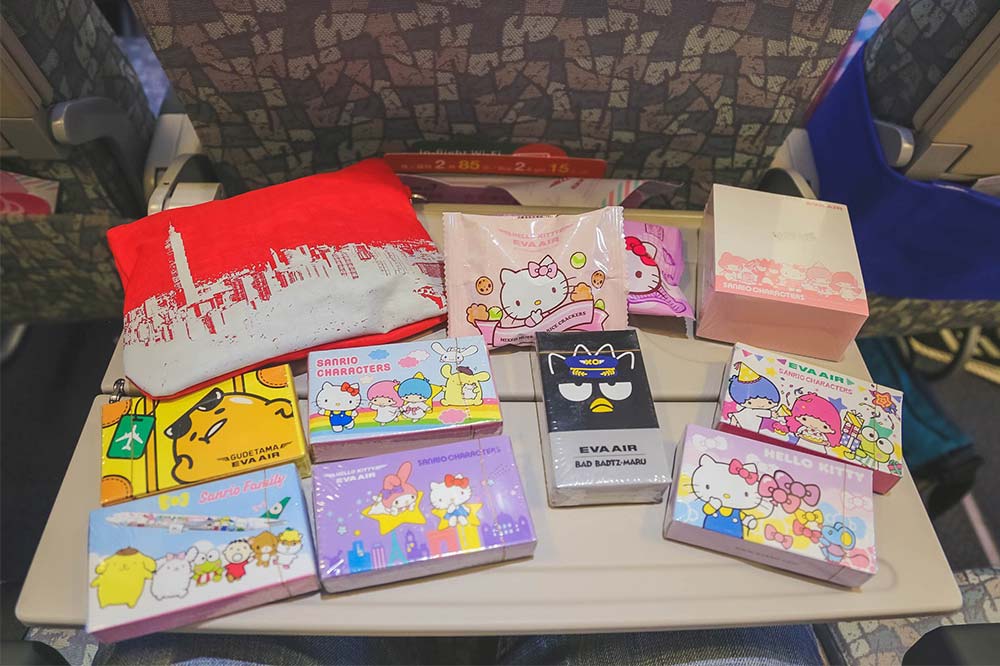 Source
Passengers were also treated to a whole host of freebies. These included an EVA Air x Kipling overnight kit, even though the flight only lasted less than 3 hours. There were plenty of Sanrio goodies too, including rice crackers and cards.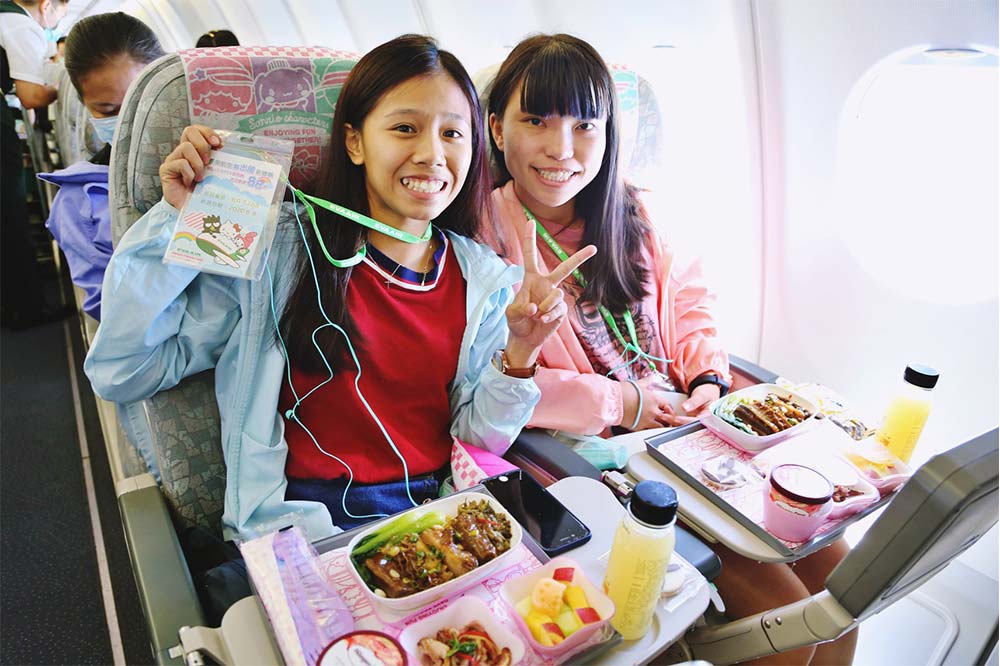 Source
We're pretty sure everyone on the plane was all smiles throughout the duration of the flight.
Source, source
As we previously reported, the A330-300 Hello Kitty dream aircraft departed from Taipei's Taoyuan Airport. It flew over the East Coast of Taiwan, headed towards Japan's Ryukyu Islands, then made its way back to Taoyuan Airport.
Because this is Taiwan, the land of all things cute, there was a little surprise in store. To honour fathers around the world on this special Father's Day flight, the Captain created a heart shape around a place called Parpa as part of the flight route (left).
On its second flight to nowhere on 15 August 2020, the crew got creative once again when planning their route (right). According to EVA Air's Facebook post, "our pilot used the flight path to draw a thumbs-up icon in the sky, expressing gratitude and appreciation to all the frontline healthcare staff, working tireless [sic] during this pandemic."
EVA Air Hello Kitty Flights To Nowhere Make Us Want To Travel Again
So far, EVA Air has operated 2 flights to nowhere on its Hello Kitty jets. The flights were only available to those residing in Taiwan. We hope that other airlines will soon follow suit with more creative in-flight experiences. It'd be a win-win for all of us during these trying times, from the airlines who have been hit hard by COVID-19 to travellers missing the unique emotions that only being on a plane can evoke.
Cover: Source
Also read: 
EVA Air's Upcoming Hello Kitty Flight Will Make A Round Trip Without Landing For Those Who Really Miss Flying