Affordable Dupes For Expensive Beauty Tools
Expensive beauty tools often sound like a gimmick. They're bells and whistles disguising a clever marketing ploy that pries your wallet open each time you feel the need to "treat yo'self".
Yes, these babies may come attached with a slew of features to up your beauty game, but for those who are a little strapped for cash, we've found some affordable alternatives.
As with most dupes, these are of lower quality when pitted against those with luxury price tags, so unless you're committed to the splurge, you may want to test the waters with these first.
Ahead, we've rounded up a few big-ticket items and their more friendly-priced counterparts that'll go easy on your bank account.
1. Shiffa Jade Facial Roller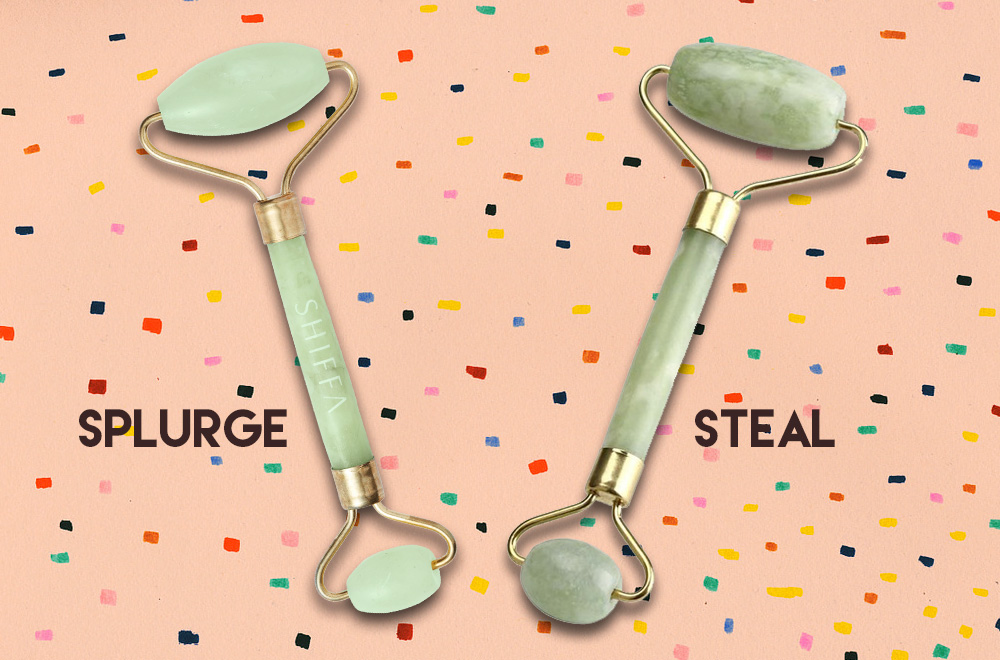 Splurge: Shiffa Jade Roller (S$63)
Steal: Jade Roller Facial Massage (S$2.23-S$3.67)
This beauty #topshelfie favourite has become a popular tool in recent years and with good reason. Its skincare benefits run the gamut, but most importantly, it helps to lift, tighten, and contour your face.
It takes immediate effect as the cool temperature of the stone reduces puffiness, working to increase circulation by bringing fresh oxygen to the skin. You can even pop it in the fridge for an extra chill rolling session.
Shiffa's luxury version is made of real jade, hence its jaw-dropping price tag, so you might want to start with this affordable alternative—though we can't confirm it's actual jade—we found on AliExpress first.
2. Kora Organics Rose Quartz Heart Facial Sculptor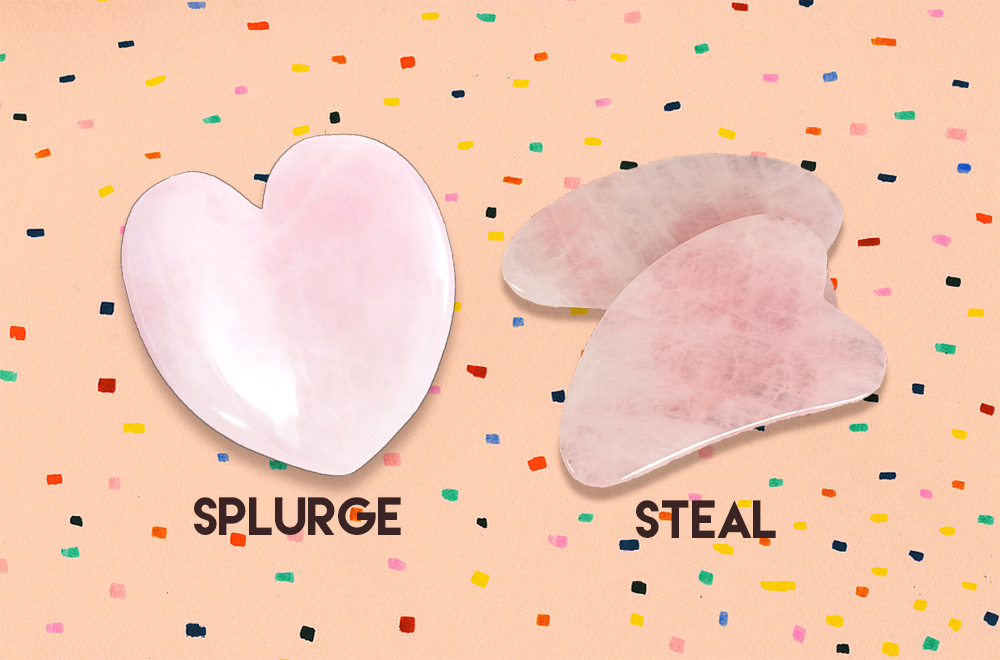 Splurge: KORA Organics Rose Quartz Heart Facial Sculptor (S$72.95)
Steal: Facial Gua Sha Tool (S$6.98)
While jade rollers are soothing and can certainly help promote skin elasticity, gua sha goes a little deeper.
It's a flat handheld tool that varies in shape and helps to stimulate the lymphatic system with gentle pressure. Some even consider it an alternative to Botox as it unkinks settled muscle folds.
If you Google "gua sha" at some point, don't be frightened by the photos of intense bruising on human backs. That's the traditional practice of Chinese medicine, which won't apply to facial gua sha.
Check out the video below and learn how to do it right:
While Miranda Kerr's rose quartz crystal take on gua sha sends us "vibrations of self-love, acceptance, and happiness", we're incredibly drawn to its dupe which claims it "will never hurt your skin, heart can feel".
3. Clarisonic Mia 2 Skin Cleansing System

Splurge: Clarisonic Mia 2 Skin Cleansing System (~S$232.43)
Steal: Rechargeable Electric Rotating Facial Cleansing Brush Facial Cleanser (S$14.99)
Oscillating cleansing brushes are particularly useful for city dwellers who face daily environmental pollution. The gentle bristles work to give your pores a thorough cleanse, so expect to see softer, smoother skin with continued use.
You may have heard the upsetting news that Clarisonic left Singapore, which is why we've been scouring the Internet for an affordable close second, and here it is.
4. Foreo Luna 2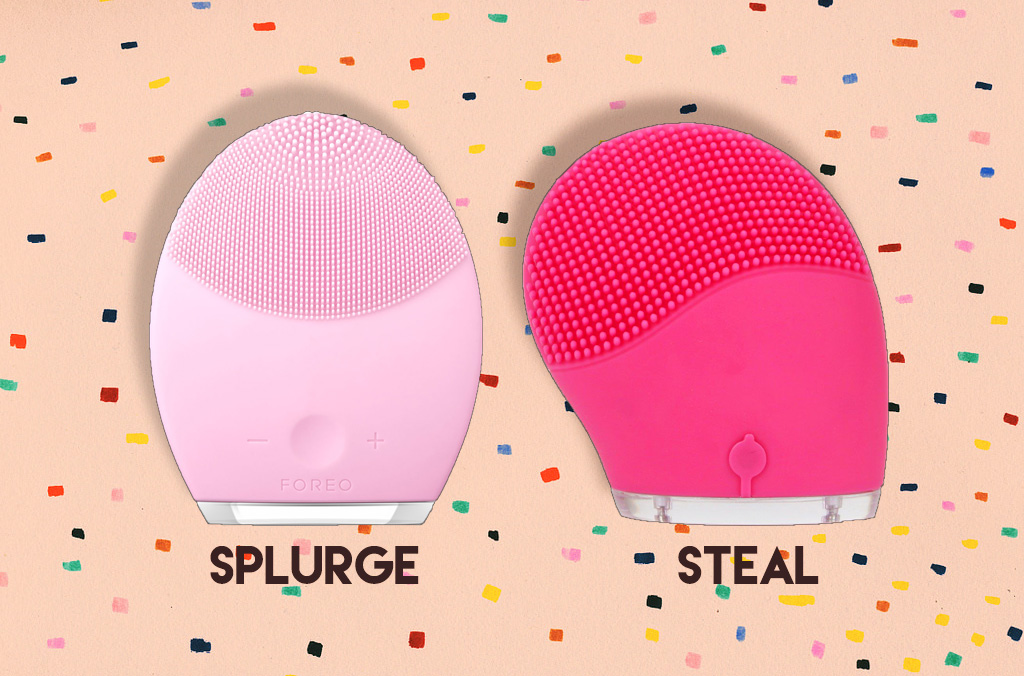 Splurge: Foreo Luna 2 for normal skin (S$319)
Steal: OEM Silicone Facial Brush Cleanser (S$13.53)
Just like the Clarisonic, silicone cleansing brushes are a great way to gently remove the last bit of makeup and grime you may have missed. This egg-shaped one by Foreo has tiny silicone bristles that vibrate to target every nook and cranny.
We recommend it to those with sensitive, blemish-prone skin, but if the price is way too steep, give its cheaper alternative a shot.
Also read:

5. Mason Pearson Hair Brush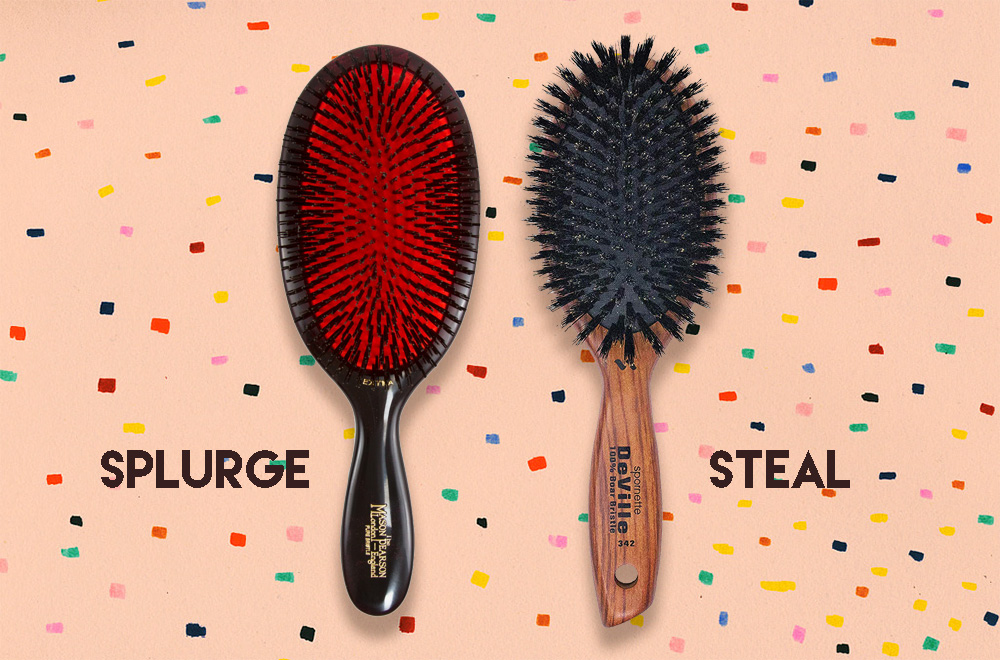 Splurge: Mason Pearson Hair Brush (S$205)
Steal: Spornette DeVille Cushion Oval Boar Bristle Hair Brush (S$19.99)
The cult classic Mason Pearson Hair Brush, which dates all the way back to 1885, is a favourite amongst celebrities. What makes it so effective is its boar bristles. They distribute natural oils from your scalp through the lengths of your hair, keeping it strong and shiny.
This alternative by Spornette is made with boar bristles too, so you'll get the same scalp-stimulating effect for a fraction of the price.
6. Artis Oval 7 Makeup Brush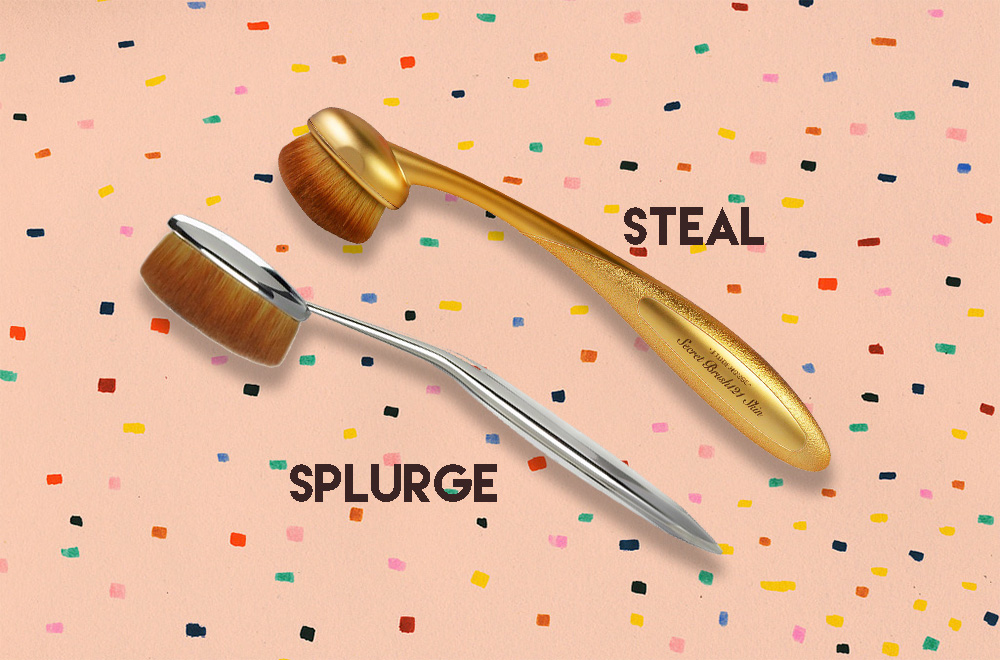 Splurge: Artis Oval 7 Makeup Brush (~S$85.27)
Steal: ETUDE HOUSE My Beauty Tool Secret Brush, 121 Skin (S$18.55)
Ergonomically designed to mimic the shape of the human finger, Artis' futuristic-looking oval brush allows for more control when it comes to product application. The brush head is packed with soft bristles that glide on to give you a seamless finish.
If the Artis Oval 7 is over your budget, check out this gold one by ETUDE HOUSE. Soft and stylish, you'll get the same beautiful application without sacrificing quality.
7. ReFa Carat Face Massager
Splurge: ReFa Carat Face Massager (S$280)
Steal: HaloVa 3D Roller Face Massager (S$9.99)
With a multi-angle design, the ReFa Carat is meant to replicate the gentle pinching and kneading sensation your esthetician does as part of your facial session.
Similar to the jade roller and gua sha tools, a face massager relaxes facial muscles and firms the skin. But the classic ReFa costs a pretty penny, which is why we'll be getting this to boost our glow instead.
8. Slip Silk Pillowcases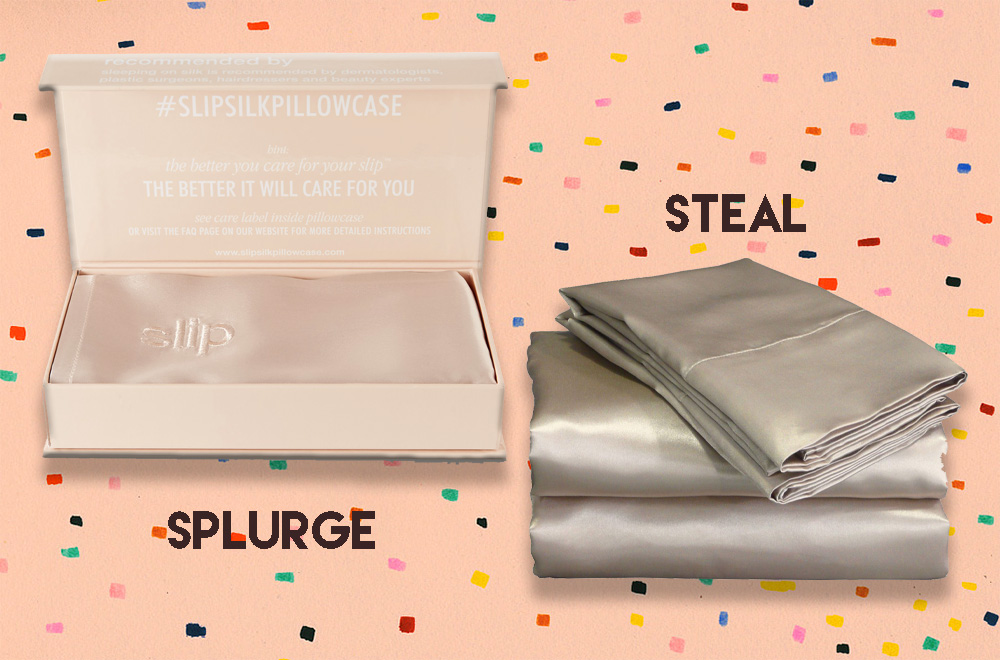 Splurge: Slip Silk Pillowcase (S$74.67)
Steal: harup Satin Standard Pillowcase (S$7)
Common cotton pillowcases can pull moisture and hydrating products from your skin as you sleep, while silk ones keep hydration where it belongs—on your face. It's gentle on delicate skin and lessens hair breakage, which is why some folks invest in them.
Affordable silk pillowcases are hard to come by, but we hear the satin variety does just as much good for your complexion and tresses.
Alternatively, you can check out these silk Wonderbed pillowcases we tried.
Buying Expensive Beauty Tools
With this list of best-performing dupes that cost a fraction of the price, your wallet will defo thank you when you skip splurging on these expensive beauty tools!
Also read: