Singaporean Millennials Who Made The First Move
It's 2019, which means making the first move to ask someone out is something both guys and girls can do. Instead of fretting over how to attract your crush's attention, get some inspiration from these Singaporean millennials who made the first move!
1. I pretended I read palms so I could hold his hand
Back when I was a junior doctor, a resident at the hospital I was interning at asked me out. We'd been flirting for a couple of months, so I knew for sure that I liked this guy and wanted something to happen between us.
We went out for drinks at a restaurant but the guy still hadn't made a move by closing time. I happened to know the owner of the restaurant, who set up a candlelit table for us at the restaurant's al fresco area, just so we could extend the date.
Tired of waiting for him to initiate something, I literally took matters into my own hands. I told him I knew how to read palms and offered him a reading. As I 'read' his palm, his thumb lightly grazed my hand and I took it as my cue to hold his hand for real.
I don't think he minded much because we're still holding hands one year on.
Bee, 26, doctor
2. I asked my uni classmate to travel with me
In university, I took a few classes with a guy who was always on top of his school work. I figured that if I kept close to him, his diligence would rub off on me. Outside the classroom, we got along well but didn't see each other as boyfriend or girlfriend material.
A long break was coming up and I was itching for a holiday, but none of my usual travel buddies were available. I bit the bullet and asked him if he wanted to come along.
We found ourselves in an Airbnb a month later. As we spent more time together, I witnessed a proactive and caring side to him I'd never seen before. On top of planning our itinerary daily, he'd pop into supermarkets to buy me snacks if he noticed I was getting hungry.
He also started to look uncomfortable when I talked about other guys, something that never used to happen. By the end of the trip, I caught on that he had feelings for me and told him I felt the same.
Three years on, we're happily in a relationship and just signed the lease for our BTO flat.
Jamie, 27, creative executive  
3.  I brought her food daily when she was sick
Before we became a couple, my current girlfriend and I were acquaintances who had the occasional drink together. Each time we hung out, we enjoyed each other's company.
Then last year, she became sickly and I grew concerned for her health as she had a habit of skipping meals.
I ended up buying her food after work every day and taking a cab to her place to make sure she ate on time. I guess she was touched by my actions because a couple of months later, we started dating.
Adam, 26, digital marketing director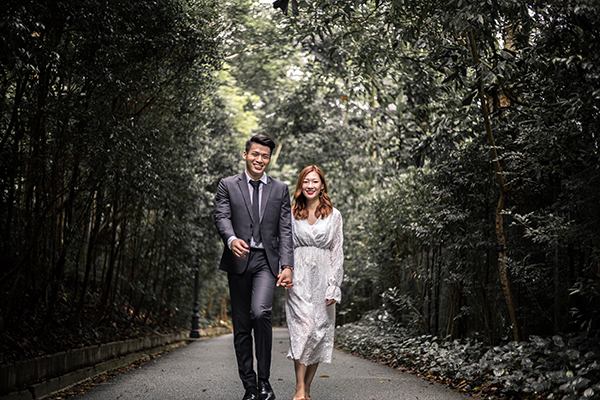 4. I asked if he wanted to have supper
My boyfriend and I first met at a New Year's Party some time back. When the night ended, I found myself wanting to spend more time with him.
Coincidentally, the cab prices were sky-high that night and none of my friends lived on my side of Singapore. I suggested that he and I have supper first before going home, hoping booking prices would come down by then.
After supper, I checked the rates again and the cab fares were still exorbitant. He took the lead this time and we ended up at his place, talking until sunrise. That's when we discovered we had a lot in common. This wasn't exactly how I pictured the night would end, but it marked the start of our relationship.
Laura, 24, video producer
Also read:
12 Signs A Singaporean Girl Likes You But Is Too Shy To Confess
5. I spotted her in the crowd at Zouk
Back when I was single, I'd hit the clubs regularly with my friends. What I thought was going to be an ordinary night at Zouk turned out to be the night I would meet my current girlfriend.
While the DJ spun his tracks and the crowd was dancing, I spotted a tall and attractive girl nearby. I inched closer and we danced together before I tried to start a conversation (albeit a muffled one). After a while, I persuaded her to give me her number.
A few days later, I texted her. What I didn't expect was that we'd hit it off so well. We shared the same zest for life, and every date with her was filled with so much fun and energy.
It took me a long time to convince her to start a relationship with someone she met at a club, but eventually my patience paid off and we've been dating ever since.
Gabriel, 25, student
6. He made the first move at a rave in Bali
When my best friend and I were at the Djakarta Warehouse Project (DWP) festival last year, she helped a group of Bruneian friends take a photo. We ended up having drinks with them, and I hit it off with one of the guys because we were both super stoked for the same DJ.
He asked me for my number but I was hesitant. I wanted to enjoy the festival without worrying about replying text messages, so I gave him my Instagram handle instead. However, he replied to my Instagram Stories so incessantly that I finally gave in and asked him to text me on WhatsApp.
The festival ended months ago, but he's still texting me daily. I guess I have his persistence and my best friend to thank for this new long-distance relationship!
Mel, 27, wardrobe stylist
Mel and her boyfriend at DWP
7. We ended up on an 8-hour date
I'm a Singapore Airlines stewardess, which means my work schedule is extremely erratic. While I was overseas, I found a match on Coffee Meets Bagel with a Singaporean guy and we bonded over university hall experiences.
He complained that what he hated most about staying on campus was how many pairs of shoes he had to bring back every weekend. Baffled and amused, I asked him out on a date because I had to see if this guy was a centipede.
In between my flights, I found some time to meet him for dinner. Somehow, dinner extended to dessert, followed by coffee at 11pm and a midnight movie afterward.
Since our date overran, I had to rush home to get ready for my flight to Brisbane straightaway. It was the first and only time I did a long-haul flight without a wink of sleep.
Two dates later, "centipede guy" asked me to be his girlfriend. Considering we've been dating for a few years now, the fatigue back then was definitely worth it!
Lyn, 26, air stewardess
8. I asked him for his number, now we're married
I met my husband in church some years back. We were seated a few metres apart one Sunday and I took an interest in him immediately. Not knowing what would happen, I whispered a prayer asking God to do His thing if we were meant to be.
Not long after, I was waiting for my friend outside the ladies' toilet when I saw him walking by. I knew we were going to be part of the same cell group soon, so I stopped him in his tracks and used it as an icebreaker. I suggested we exchange numbers, and that's how it all started.
After we got together, I told him about the prayer I made when I saw him that fateful day. I still can't believe the coincidence, because it happens that he did the same when he saw me too.
Kait, 30, administration manager
9. She gave me a box of chocolates
Before we became a couple, my girlfriend and I were friends who hung out occasionally. I started developing feelings for her as we began to spend more time together, but when I confessed my feelings to her, she told me she didn't feel the same way. After the rejection, I kept my distance and we stopped talking after that.
One day, she gifted me a box of chocolates out of the blue. I was confused because she had given me the impression that I didn't stand a chance.
Turns out, after my confession, she realised she had feelings for me as well. A mutual friend suggested that she give me a present to make her feelings known, hence the chocolates. After we sorted out how we truly felt about each other, we began dating officially and are still together.   
Tom, 25, student
10. We were each other's first crushes
My boyfriend and I were each other's first crushes when we were 10. As with most puppy-love situations, we grew up and remained friends. We kept the friendship going throughout secondary school, but when we went to poly, we dated different people and eventually drifted apart.
Fast forward to 2018, we finally decided to catch up for the first time in 7 years. We hung out till 2am that night and the conversation didn't stop flowing. I found myself texting him 'good morning' every day, and we would talk about everything under the sun. Our frequent communication reignited sparks from 14 years ago, and I found myself falling for him again.
So one night, when he sent me home, I made him play tic-tac-toe on the foggy windows of the car. When he tried to cheat, I grabbed his hands to stop him and didn't let go after. We shared our first kiss that night and we've been dating since then.
Eliza, project manager, 25
Making The First Move
Making the first move can be nerve-wracking, especially if it's with someone you really like. Still, you'll never know the outcome if you don't try.
So we're giving you the perfect opportunity to ask someone out: enter our Instagram contest, which runs from 25 Feb – 7 March, and stand to win a spa package for 2! All you have to do is tell us about a time you made the first move, or how you'd make the first move if you've never done it. The most creative answer wins!
Also read: 
How To Pick Up Girls: Foolproof Guide For Humji Singaporean Guys
This is a sponsored post.