Moving Into Hall
So you're going to move into NTU/NUS's hall for the first time and you're low-key worried about how you're going to survive on your own. Maybe you're unsure what to pack or are afraid you'll get a crazy roommate who leaves nail clippings on your bed.
Despite the horror stories, moving out of home isn't as intimidating as it seems. And you definitely don't need to shift your entire bedroom into hall to make your temporarily abode livable.
So as an ex-NTU alumnus who stayed in hall for all four years, here's a list of things I wished someone had told me about what I should and shouldn't have brought to hall.
And to make packing easier for you, we've created a printable checklist you can use. Download PDF here.
1. Checking into hall
Clean your room when you move in because it's usually gross and dusty, especially the top of your wardrobe. Throughout the year, don't wreck your room because they'll do a room check when you move out.
NTU
Read this page on how to check in
-to collect your key bring your matric card, and check-in in person
-take stock of your furniture and submit an Online Room Checklist and declare your fridge
NUS
When you check in, you'll get an Inventory Form. If anything is missing or damaged, return the form to the office within 48 hours of checking in. Remember to declare your fridge.
2. Carrying around your FOB/room key
NTU
When you get your key, hook it onto a lanyard and wear it around your neck. While it's a dead giveaway you're a freshman, you won't have to worry about losing your key and paying the S$50 penalty.
For a more comfortable and useful solution, do as many seniors do and tie your fob tightly to a bracelet or black rubber band and wear it around your wrist.
NUS
Most halls use matriculation cards in place of keys. When you're leaving your room, make sure you have your matric card to lock your door.
3. Buy a shower bucket
From Daiso, buy a S$2 plastic bucket to put your toiletries in one place. It'll save you from having to juggle multiple bottles–shampoo, conditioner, face wash, body soap, loofah, toothpaste, and toothbrush–when you go to the bathroom.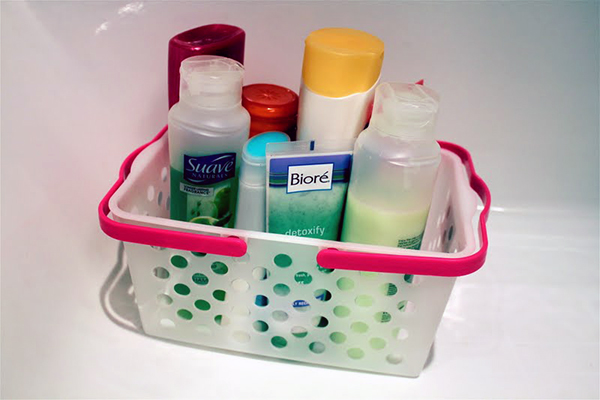 4. Extension plug chords are useful
Even if you don't have a roommate to 'fight' for socket space, you'll still need to plug in your hairdryer, handphone charger, laptop charger, and fridge.
5. Prepare a first aid kit/medicine box
A necessary part of learning how to adult is to have a basic first aid kit/medication box. I ignored this age-old advice and found it unnecessary until I came down with a fever and diarrhoea.
To save yourself the pain, stock extra strong panadol, menstrual pills, a box of plasters, charcoal pills, antiseptic cream, mosquito repellent/anti-itch cream, a thermometer, and antihistamine tablets (for allergies).
6. Packing clothes, makeup, and skincare
At the bare minimum, you need ten different outfits for class. Bring two sets of bed sheets, an extra towel, as well as workout clothes and swimwear.
You should also have enough hangers for your clothes because hangers won't be provided. I recommend going to IKEA and picking up a set of wooden hangers (8 for S$7.90).
Bring only your daily skincare routine and makeup products because out of the 100 makeup products you own, you'd probz only use maybe 10.
7. Ironing
While irons are available in most halls, they're communal irons and I don't recommend you using them unless absolutely necessary. Even then, I recommend you placing a piece of cloth on top of the clothes you're trying to iron to prevent stains.
If you insist on ironing regularly, get a steamer instead. But it's so much easier if you only pack easy-to-(machine)wash, wrinkle-free clothes. Think fabrics such as cotton, nylon, polyester, or cotton/polyester and cotton/lycra blends.
8. Doing laundry
Get a portable laundry basket from IKEA (S$4.90) so you can easily transport your dirty clothes from your room to the laundry room. If you tend to wear black, you might want to get a lint roller (S$1.90).
For delicate underwear, especially lace or silk, buy S$1 zipped netting from supermarkets to protect the material when washing.
In both NTU and NUS, there's usually only one dryer for every block. Set a timer on your phone and chiong down to load your wet clothes into the dryer if not your dryer might get 'hijacked'.
If you hog the machine, someone might sift through your laundry and dump it on top of whichever machine it was previously sitting in.
Pro tip: In NTU, you'll need new S$1 coins to activate the washing machines and dryers so stock up before you go. The best time to do your laundry is at 3.00am or 12.00pm when everyone's at class. Usually, people wash their clothes after dinner.
If you're lucky enough to get into some halls like NUS' Sheares hall, doing your laundry is free. In Kent Ridge, there is a machine which dispenses tokens for the washing machine. In Utown, any coin and payment via EZlink card is accepted.
9. Broom vs vacuum cleaner
Buy a vacuum cleaner if you can afford it. When I was in year 4, I was constantly borrowing my best friend's vacuum cleaner (he lived across my block). Sweeping isn't as thorough, and vacuuming will reach all the nook and crannies a broom can't reach.
10. Mop vs Microfibre flat mop
Though some mums will disapprove, a microfibre flat mop and disposable wet wipes pads are a lot better than mops.
If you use mops, you'll have to bring in a heavy pail of water all the way from the common corridor (unless you live in hall 1 or 2) and make sure you don't slosh it on yourself. Plus, pails will take up unnecessary space.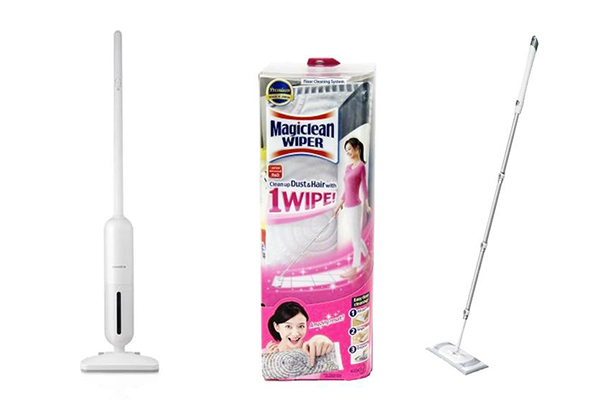 Vacuum (S$99) | Magiclean wiper and mop set (S$16.95)
11. Swap the Ethernet cable for a wireless router
In both NTU and NUS, halls recommend you bring an Ethernet cable for internet access. However, though you can attach the cable to your laptop, it's a pain in the ass and would mean you won't have Wi-Fi for your phone.
Instead, invest in an affordable wireless router (~S$50) from Challenger. The router should come with a short Ethernet cable as well.
12. Eating and drinking utensils
Bring a wooden spatula and a non-stick pan to cook on an induction cooker. If you're short on cutlery, you can 'borrow' some from the dining hall or canteen (though not advised). Make sure you always return whatever you take.
Buy a fridge; there isn't a communal one in most halls and if there is, your food will probably get stolen. Get one off Carousell for as low as S$30, or ask seniors if they no longer want their fridge.
Pro tip: My NUS friends tell me the seniors in his hall (Kent Ridge) hold a flea market on moving-in day. From them, he scored his ethernet cable and fridge for just S$20.
13. Bring a water tumbler
Bring a jug you can store water in because it'll help you keep hydrated and you won't have to spend extra money on bottled water.
Most halls have a water dispenser at the pantry but personally, I'd rather buy a water filter pitcher (S$63.90) because I've seen people just put their mouths to the dispenser's nozzle and drink.
14. Having people stay overnight
In NTU, security guards are more concerned with noise levels than your boyfriend/girlfriend staying over. So as long you keep your mahjong sessions quiet, you're good. To seem less suspicious, have your friends keep their slippers in the shoe rack or in your room.
In NUS, it's slightly stricter and halls get spot checks more frequently. So if you have someone over, make sure to lock your door.
Moving Out And Living In Hall
The general rule of thumb is that you should only bring what you're willing to lug back home at the end of every academic year. In the first year of Uni, I brought eight large cardboard boxes and in my fourth, I only brought two.
Also, IKEA and house brand cleaning products are your best friends. Hopefully, with this list, you moving into hall will be made smooth and you'll have a great freshman year ahead!
If you have more questions, let us know in the comment section below!
Also read:

Cover image: Source