Funding My Own Wedding
Blame it on Disney, Hollywood or romance novels, but most of us have been dreaming of a grand wedding since we were kids. And while small intimate weddings are in these days — thanks, Covid — this wasn't the case 12 years ago when 37-year-old Nicolle tied the knot.
Huge hotel banquet weddings seemed like the only acceptable way to get married in 2011, but Nicolle and her husband broke away from convention to have their wedding ceremony at Bishan Park. Choosing to fund her own wedding at 25, Nicolle shared with us what her unconventional wedding was like, and how she dealt with defying expectations.
Never liked huge weddings growing up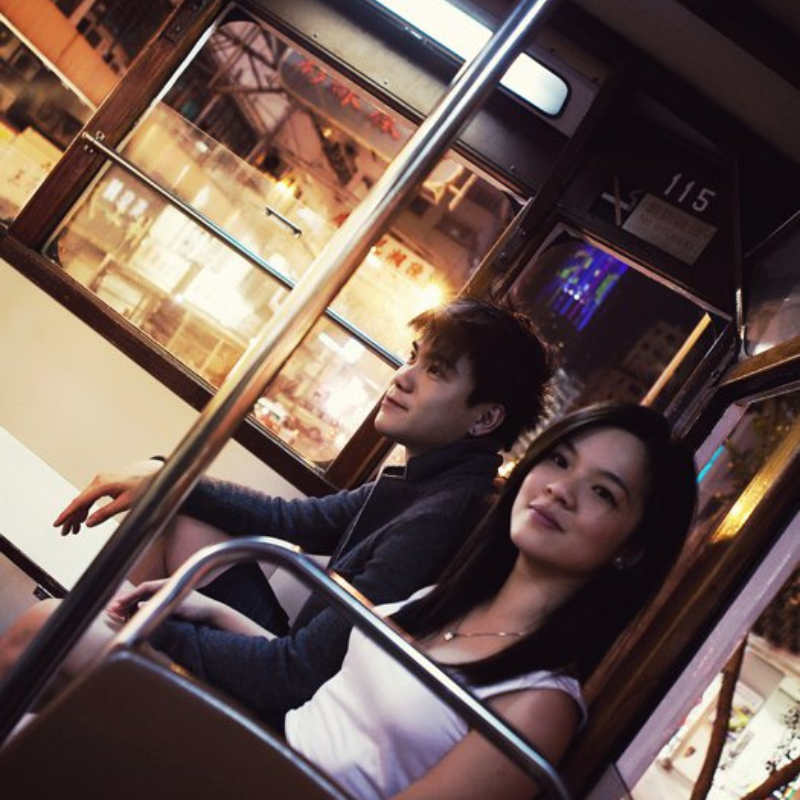 Nicolle and her husband's pre-wedding shoot
A core experience for many Singaporeans? Being dragged to the wedding of a distant relative whom you didn't even know existed. Then, having to engage in awkward small talk with the bride and groom, knowing that the next time you meet will be next Chinese New Year. 
That was the exact kind of experience that Nicolle wanted to avoid for her own wedding. She recalled being very excited to attend her close cousin's wedding, only to be disappointed that she couldn't spend more than five minutes with her on her big day. Her cousin was swarmed with the responsibility of greeting every single guest in the room.
"Weddings always seem very stuffy. Half of the time, you don't even get to talk to the bride. It made me realise that I didn't want a wedding that's so disconnected with everyone." 
Interestingly enough, Nicolle never really had a dream wedding when she was younger — "I didn't even think that I'd get married!"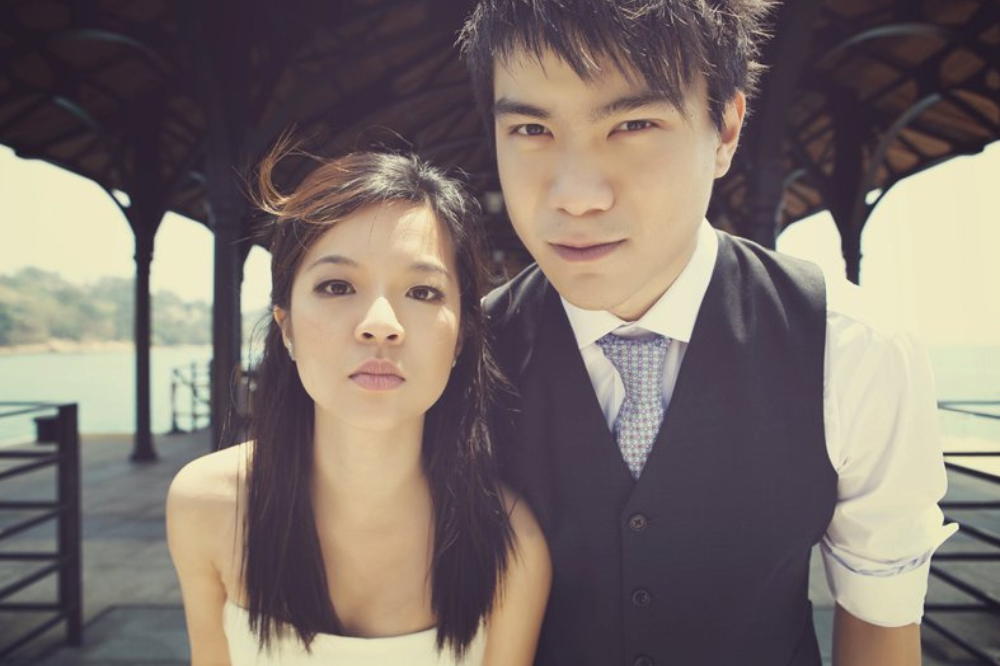 Nicolle and her husband's pre-wedding shoot 
Nicolle actually first met her husband when they were just 10 years old. I know it sounds like the perfect childhood-friends-to-lovers trope, but Nicolle laughed at my enthusiasm, revealing that "we weren't super close friends then. We only reconnected at 20, and then started dating at 21." 
After graduating university together, they faced a tough obstacle in their relationship. Her boyfriend was posted to Hong Kong for work, and the possibility of them having a long-distance relationship arose. They had only dated for two years at that point of time.
"I didn't like the idea of long distance, so I thought, why not go explore Hong Kong and see what it's going to be like?"
Since Nicolle decided to move to Hong Kong with him, her dad then assumed that she was going to settle down. Sensing her hesitance, he changed Nicolle's perspective by asking, "if you were married and your husband lost his job, would you divorce him? If the answer is no, then why are you making it a huge consideration of your marriage?"
Planning the entire wedding from Hong Kong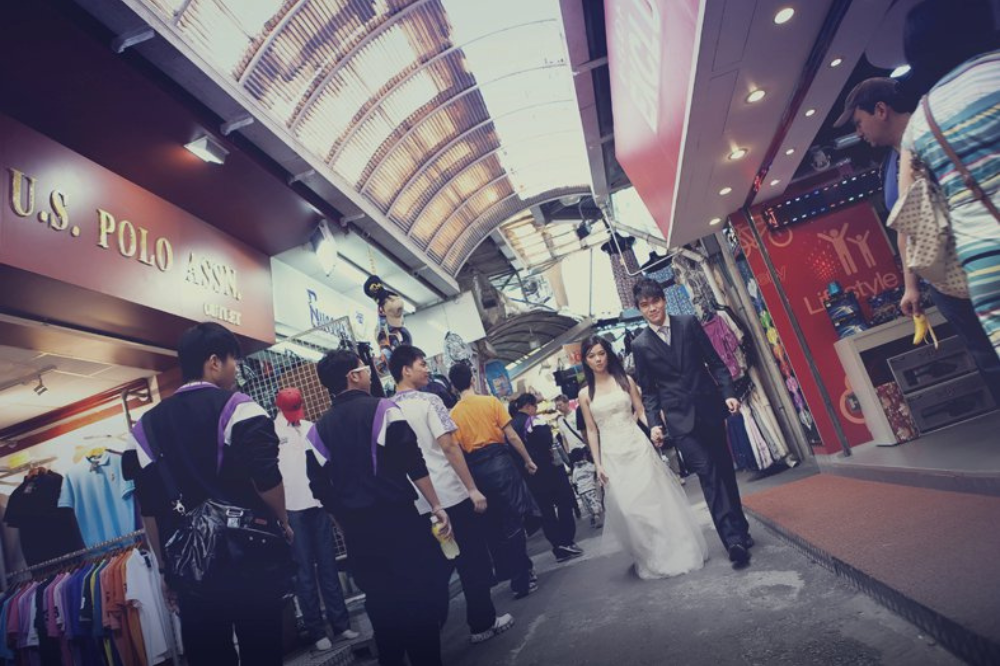 Nicolle and her husband's pre-wedding shoot 
With her dad's prompt in mind, Nicolle hesitantly brought up the idea of marriage to her boyfriend. Thankfully, he gave her a swoon-worthy assurance that melted away her doubts. 
"He was very clear that he wanted to settle down with me. Life could take us anywhere, and Hong Kong really showed us that home is where the heart is, rather than a geographical location."
Time to tackle the biggest hurdle — how does one even start planning for a wedding? One thing that Nicolle made clear to herself was that she wanted her wedding to be meaningful in every aspect. It wasn't so much about just saving money, but more of the value of the memory. 
With this in mind, Nicolle planned her entire wedding from Hong Kong, and even refused financial help from her parents. When asked how she did it at such a young age, Nicolle shared that, "While most of my peers just started their first jobs, I worked for around five years while I studied." 
Additionally, the fact that she didn't want to have a typical hotel banquet wedding meant that Nicolle could cut costs for her wedding. FYI, a typical banquet wedding of 300 guests costs around $54,000 to $60,000, but Nicolle saved up at least 20% of the cost from holding a smaller wedding. 
"My pre-wedding shoot was also done in Hong Kong. It was a little unconventional because we didn't do any studio photography — it was all outdoors. We hired an upcoming stand-alone photographer with a unique style for roughly around $1,000." It was a splurge for her, as in comparison, a studio wedding shoot costs around $500 to $800 in Singapore.
"I didn't want to spend too much money on renting a dress, so I bought mine from a second-hand gown shop in Hong Kong, which I then laundered and brought home." Two dresses cost her around $800, whereas one wedding gown rental starts from $500 to thousands for designer pieces.
Having a wedding ceremony at Bishan Park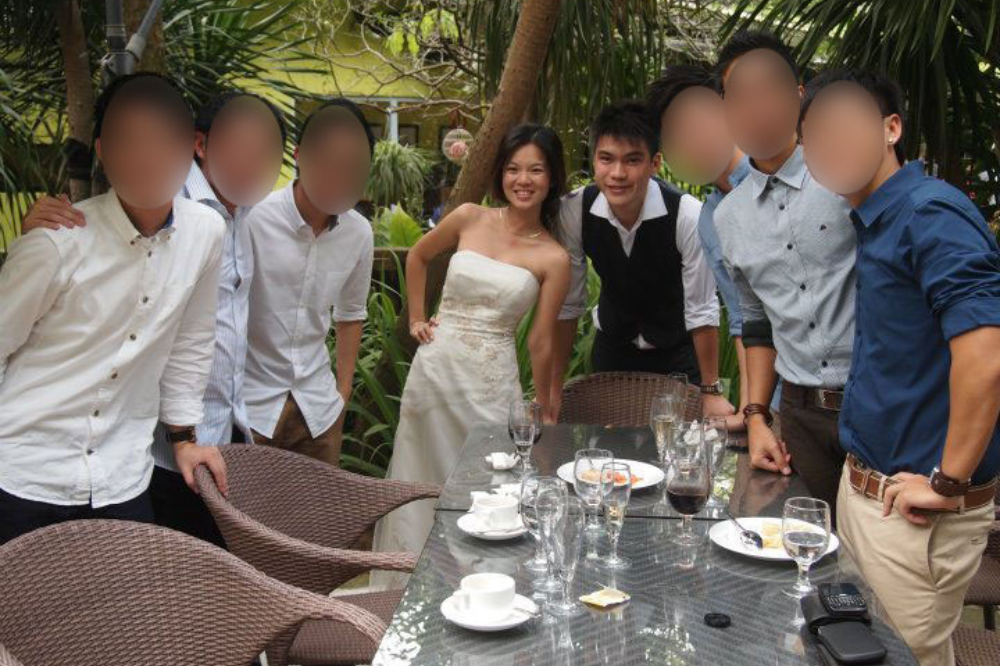 Nicolle's wedding ceremony at Bishan Park
After their year-long stint in Hong Kong, the couple made their way back to Singapore. And while a move like that would exhaust most of us, Nicolle and her husband held their wedding ceremony within a week from returning.
The wedding started off with a church ceremony at 8.30am, followed by a champagne brunch in the afternoon. Since Nicolle wanted a "super laid-back and chill wedding", she decided on having it at Bishan Park as she liked the nature and outdoor alfresco vibe. 
Nicolle had around 120 guests at her wedding, which might not seem like a small number to many. But back then, the majority of weddings had as many as 200 to 400 guests. Food was served in a buffet style, so the guests could get up and help themselves to whatever they wanted.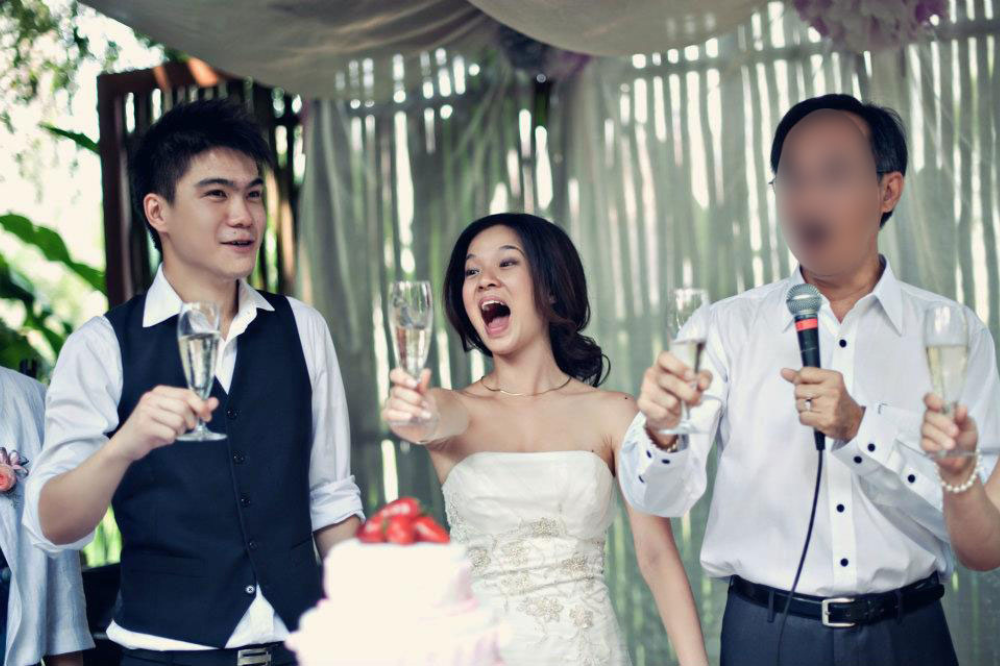 Nicolle and her husband during the wedding ceremony
Most of the time, you'll get an assigned seat at a wedding. But Nicolle didn't like the idea of that either. 
"There wasn't any formal seating arrangement — there weren't even any round tables. Since there was no seating plan, people were free to decide where they wanted to park themselves," Nicolle explained.  
Manpower logistics? Nicolle's family had her covered. Her younger brother, who often plays music with his band, was pretty much her live band for the afternoon. Meanwhile, her cousin who was studying videography at that point of time was her official wedding videographer.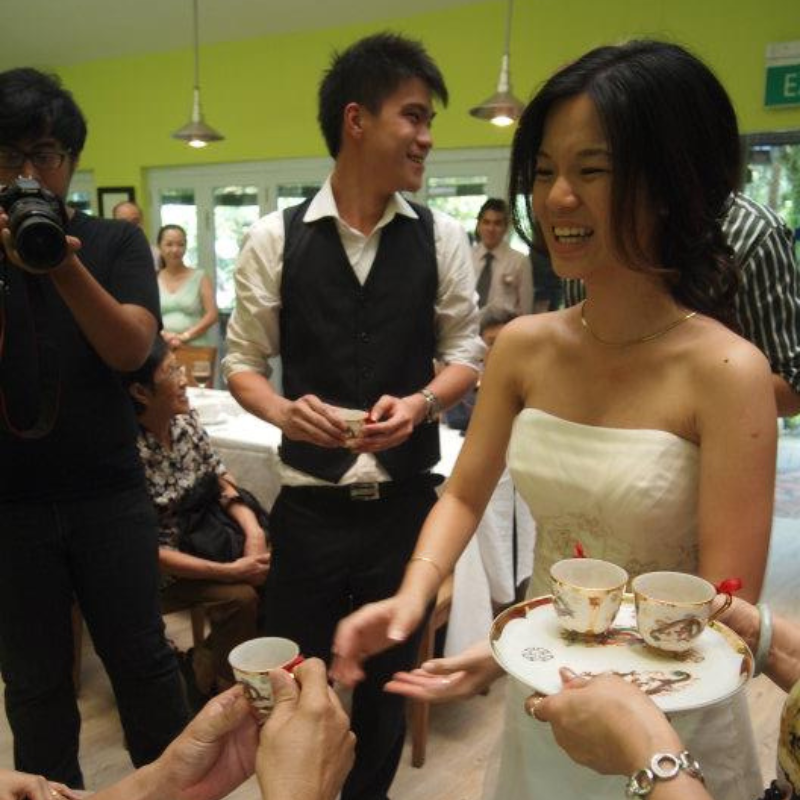 Nicolle and her husband having a drunk tea ceremony 
Saving costs also meant that Nicolle could splurge on additional things to spice up her wedding — alcohol. She bought so much alcohol from the venue itself that they were able to waiver the entire venue rental cost. 
Everyone had so much fun drinking that her husband ended up being tipsy even before the tea ceremony started. But Nicolle didn't see it as a negative thing. She thought that having a drunk tea ceremony made the event even more lively and fun.
After the tea ceremony? Things escalated even further. "People were even more drunk than before, and it was then that they started leaving at their own time. Some of my friends who went home drunk had to stop by the highway to throw up." 
Nicolle's impressively wild wedding sounds straight out of a university frat party at this point. 
Also read:
7 Women In Singapore Share Why They Won't Pay For A Hotel Wedding
Unconventional parts of the wedding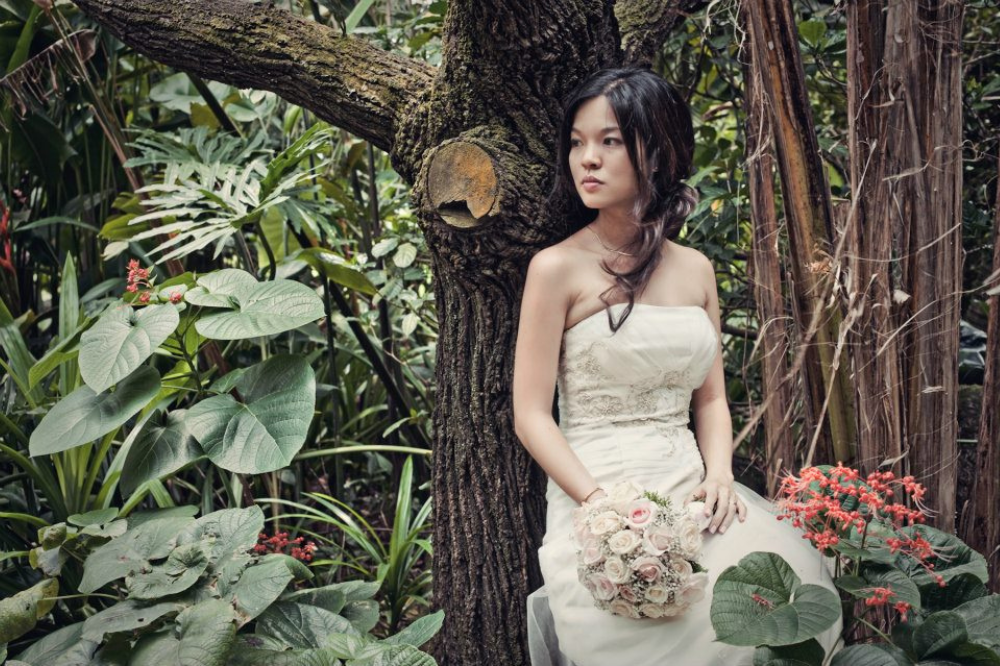 Nicolle doing a wedding photoshoot with the trees at Bishan Park
After all her guests left, Nicolle decided to "trash the dress", a tradition where the bride ruins her dress for a photoshoot after the wedding ends. She hired a photographer for the wedding ceremony and asked him to take photos of her being one with nature in the woods.
"I really like the raw feeling of nature. It gives a sense of aliveness that also translates into the wedding. I didn't look the best, but it wasn't the intention, as the photos were meant to be a shot of the environment."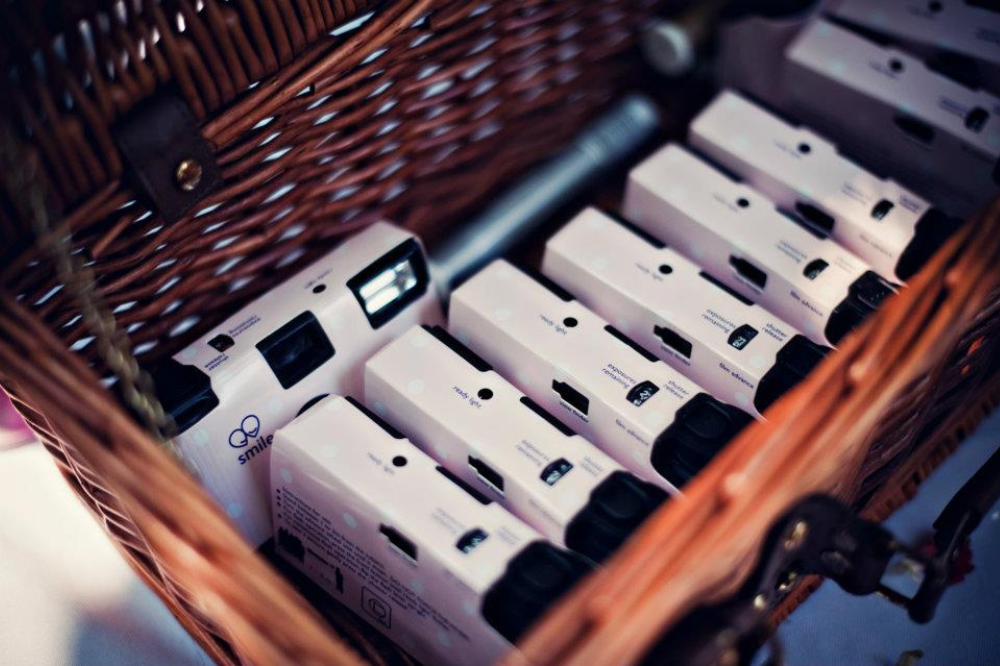 Nicolle ordered disposable film cameras as wedding favours for her guests
In Singapore, we're often familiar with figurines or spoons as wedding favours on the table. But Nicolle thought to herself, "is my wedding favour just going to be sitting in someone's home and never being looked at forever?"
Plus, even though Nicolle hired an official photographer for the wedding, she didn't want him to go to every single table to take a standard bride and groom shot with the guests. She then decided on getting disposable cameras as wedding favours, so that everyone could have fun taking their own pictures too.
"I bought around 30 disposable cameras and then processed the film after the wedding. The pictures had raw exposures and turned out very nice — a lot of my guests also took a whole bunch of funny photos." 
Dealing with expectations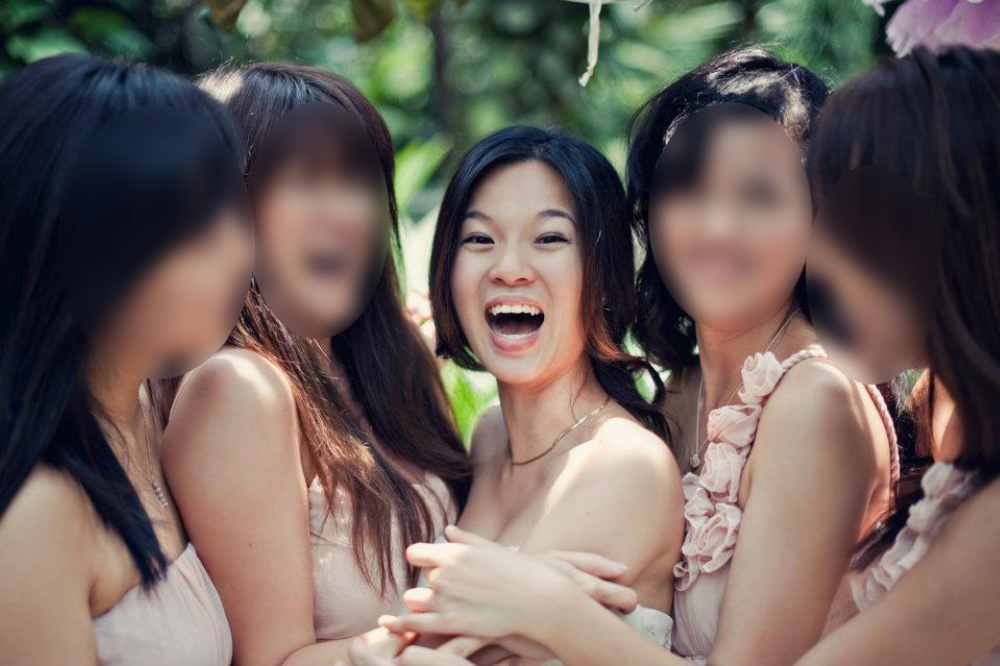 Nicolle with her bridesmaids
With weddings, many couples also feel the pressure to invite everyone they know — from relatives they've never met to the friends they've not talked to in decades. But spending one year in Hong Kong made Nicolle realise that she only wanted the people who meant a lot to her at her wedding. This meant a massive purge for her would-be guest list. 
"My dad managed some of my relatives' expectations, letting them know that we weren't going to invite everybody. He also told them that we'll send pictures of the wedding over to them, along with some wedding cake as well," Nicolle shared, recalling her father's sweet actions. 
This way, no one would have FOMO about missing the wedding.
When it came to her partner, Nicolle explained, "my mother-in-law is really chill, and our parents are very open-minded. I think one reason why I chose my husband was because we have very similar values, so there was no conflict."
Nicolle still followed some traditions though, such as going through with the dowry. But overall, she felt that her wedding was "a place where (she) could be (herself) without feeling nervous or having to put on a front."
Lessons learned from paying for her own wedding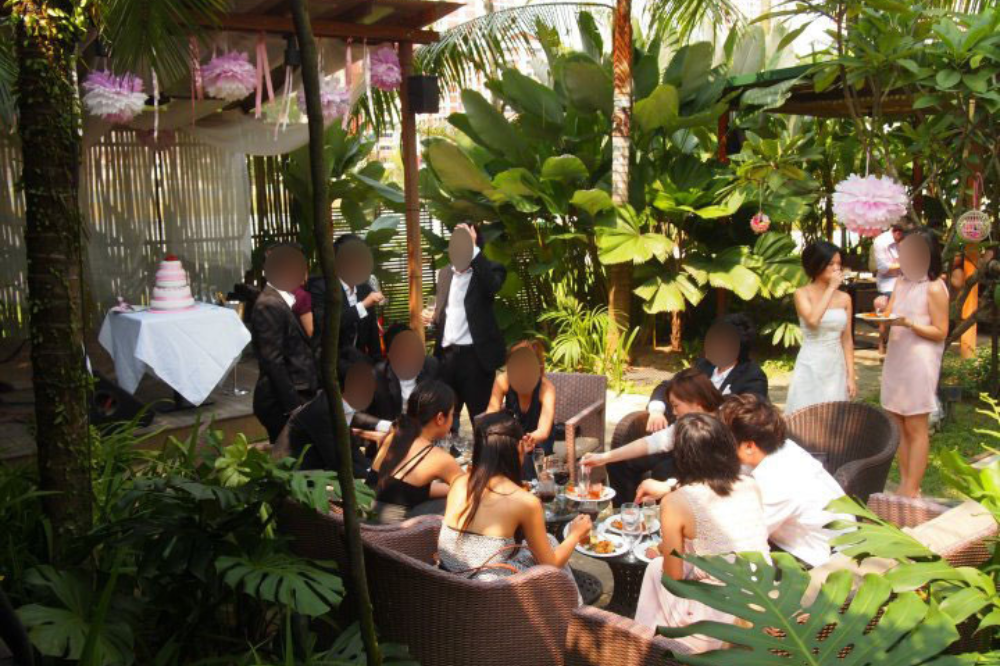 Nicolle's outdoor wedding ceremony at Bishan Park
Nicolle prides herself in her independence, feeling thankful that she was able to fund her own wedding without her parents' financial help. This way, she could do whatever she wanted and take accountability for her spending. 
To other couples who are looking to finance their own wedding, Nicolle gives us some words of advice — "don't expect to get the money back." 
"For more pretentious kinds of weddings, it becomes very transactionary. You start looking at your budget and thinking about the amount of angbao people will have to give you. 
Go into it without thinking of any return. With this mindset, you'll be more conscious about how you spend your money. If it's not a monetary return you're expecting, then what? It'll probably be something intangible." 
Nicolle Prioritised Her Happiness With An Unconventional Wedding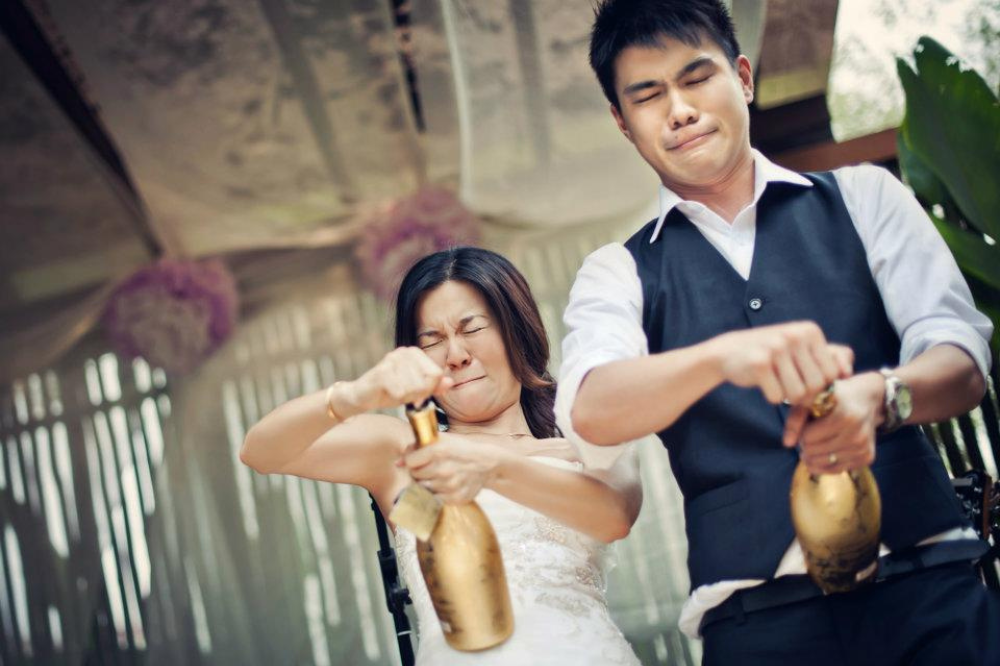 Nicolle and her husband during the wedding ceremony
By placing her and her husband's wants first, Nicolle learnt to appreciate the people who mean the most to her. She wasn't just having the wedding ceremony to please her parents or in-laws, but rather, one that she could thoroughly be herself with no regrets.
It's a tough battle to decide between your own wants against your folks' wants — after all, parents always seem to "know best". But at the end of the day, it's important to remember that your parents still have your best interests at heart. And as the saying goes, "communication is key", especially so with the people you love.
If you're wondering what she did after the wedding ceremony, she went home to take a nap, then held an after party at Zouk to get drunk again. She was pretty much nursing two hangovers within 24 hours.
Her review of the wedding while eating ba chor mee the next morning? — "most amazing day ever."
All images courtesy of Nicolle.
Some quotes have been edited for brevity and clarity.
Also read:
My Bridesmaid Duty Over 10 Months Made Me Rethink The Idea Of Having A Big Wedding For Myself