Juliana Yeow & Roslyn Chua, Founders of Puni Puni Sushi
Singaporeans may be obsessed with sushi but not as much as childhood friends Juliana Yeow, 25, and Roslyn Chua, 24.
Taking their onigiri-obsession to the next level, the duo launched their first Kickstarter project, Puni Puni Sushi Plushies, to turn their favourite dish into giant 'stress balls'.
In July 2017, they had hoped to crowdfund S$10,000 for their Kickstarter project but managed to secure S$24,000—over double the initial fundraising goal—within a short month.
Made of ultra-soft minky fabric, their 30cm sushi plushies are self-designed and available in four variants: Salmon, Tamago, Onigiri and Ikura.
"Puni puni means 'squishy squishy' in Japanese and that's what we want our plushies to be," says Juliana. "They're meant to squish your worries away."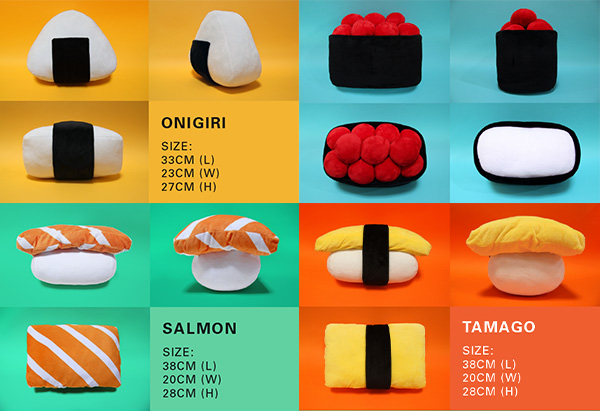 Started from a hobby website
In 2011, the partners-in-craft decided to set up Operation Overhaul to share DIY craft projects, workshops, and inspiration.
But what started as a hobby evolved into a side business, garnering collaborations with international brands such as SWATCH, kikki.K and The Body Shop.
While thinking of ways to advertise their Crochet Sushi Pins, they thought, why not make giant sushi plushies?
To gauge the public's reception, they created samples and displayed them at weekend pop-up markets.
"People were saying they wanted to decorate their houses with it, put it in their car and use it to take a nap in their office," shares Juliana.
The positive feedback encouraged them to break away from their usual practice of making small batches by hand, and embark on the company's first large scale production.
Overcoming challenges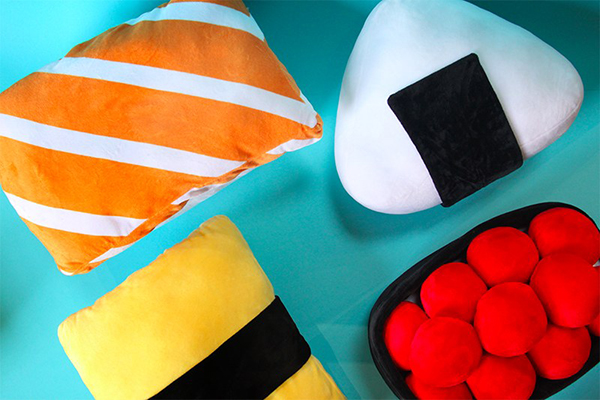 But as cute and cuddly as they may be, housing 800 giant plushies is no easy feat.
"We faced difficulties handling the logistics. Storing and shipping 800 huge squishy plushies is a huge task," adds Juliana.
"It was also extra challenging for us as we're both not from business backgrounds. A lot of processes and terminology were foreign to us and we had to learn on the go."
As if handling a large-scale manufacturing attempt isn't enough, the pair also has to juggle their full-time day jobs.
Graduates of NTU ADM's Product Design and TP's Visual Communication respectively, Juliana is an emcee/host while Ros is a graphic designer.
"We've had to work on our projects late into the night, and sacrifice most of our weekends at pop up markets or other events," Juliana mentions.
But their efforts have paid off. Puni Puni Sushi begins production in September, and will start shipping to backers from October through November 2017.
Where To Buy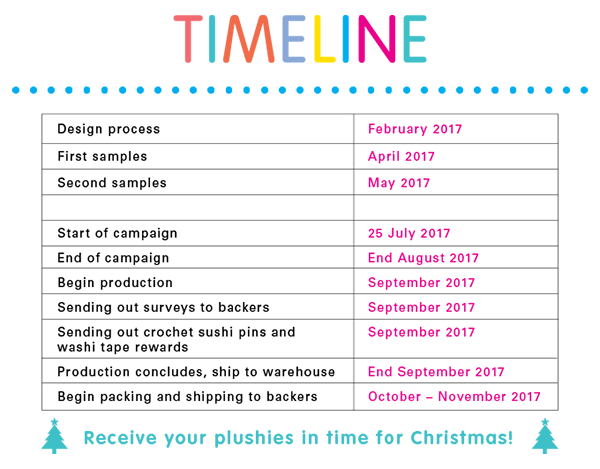 So, what's next?
"Although we have loads of ideas we want to embark on, we're gonna focus on completing and sorting out the Puni Puni Sushi plushies and get them into the hands of more people," Juliana says.
If you're interested in squishing one of these giant sushi plushies IRL, you can pre-order your own here.