Cute Workout Outfits
With a comfy bed and Netflix subscription, it's easy to lose the motivation to hit the gym after a long day of work. In such moments, never underestimate the power of dressing for success.
While donning cute workout wear might not immediately transform you into a fitness model, it could help you feel more confident and encourage you to not 'waste' that nice outfit by going to the gym.
That being said, you don't necessarily need to splurge on expensive activewear to look good. For the more budget-conscious, we sieved out several looks you can rock to the gym without breaking the bank.
 1. Marbled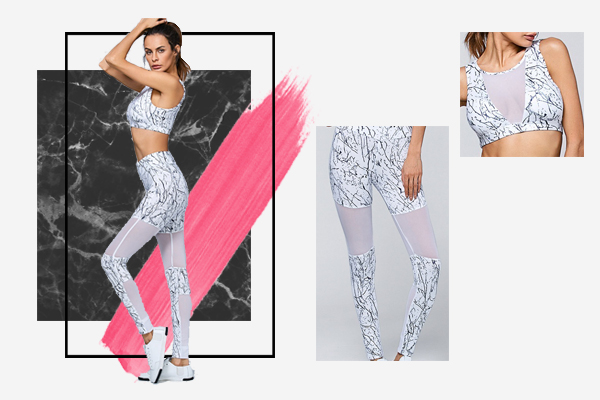 White Marble Set (~S$14.16)
This marble-printed workout set includes mesh cut-outs for added breathability and lends an edge to the outfit.
If you're worried about perspiration stains peeking through, try this black marble set instead.
2. Toga Cut-outs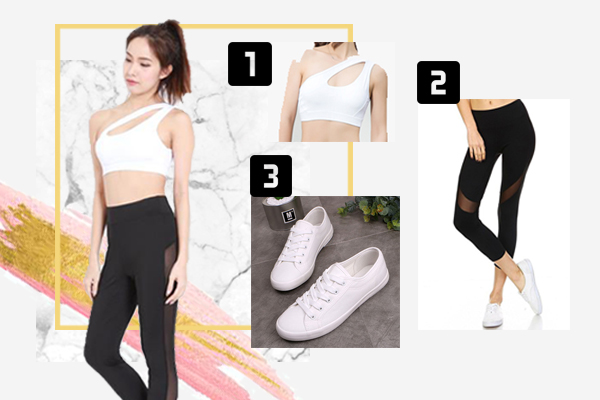 1. Toga Sports Bra (~S$10.20) | 2. Cut-out Leggings (~S$7.91) | 3. White Sneakers (~S$5.93)
This toga sports bra provides adequate support without sacrificing aesthetics. Throw on a pair of leggings and for a breathable, quick-drying gym outfit which is comfortable on the skin.
3. Oversized Sports Jersey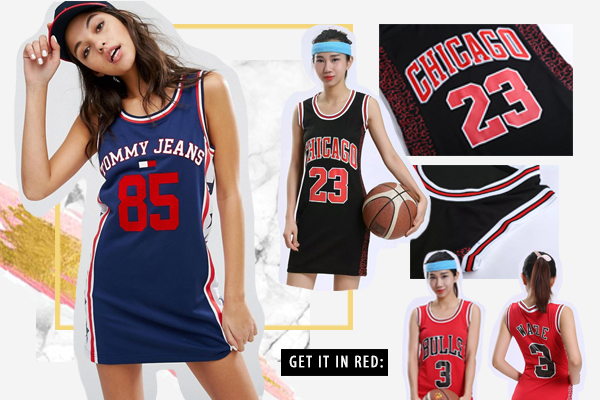 Black/Red Oversized Tank (~S$15.64)
Playing on the 'wearing my boyfriend's shirt as a dress' trend, throwing on an oversized jersey with a pair of gym shorts (~S$4.17) or leggings (~S$3.98) will get you out the door in a minute.
The oversized jersey has a streamlined, tailored fit, and can double up as a casual dress for lazy Sundays.
4. Floral Prints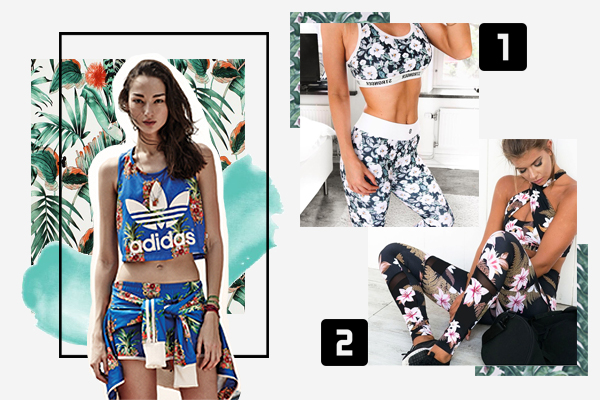 1. White Floral Set (~S$14.22) | 2. Dark Floral Set (~S$14.16)
Take inspiration from Adidas with this matching two-piece set that gives an edgy spin to the demure floral outfit.
If vibrant prints aren't your thing, you can opt for a more subdued, neutral design.
5. Full Black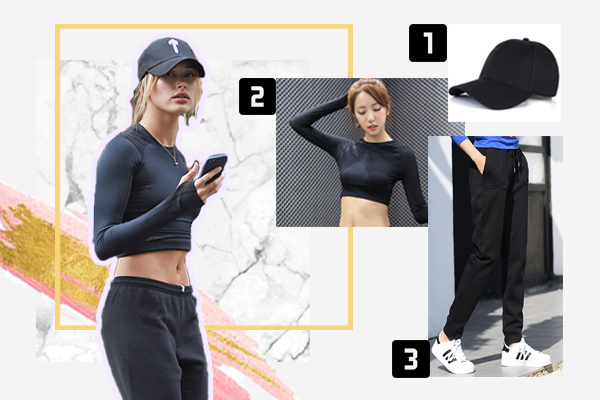 1. Black Baseball Cap (~S$5.20) | 2. Black Crop Top (~S$8.12) | 3. Joggers (~S$8.12)
You can hardly go wrong with the classic black. But instead of throwing on a plain tee, pair a long-sleeved crop top with black joggers for a skin-hugging silhouette.
The outfit is fitting enough so you won't have to worry about excessive fabric flopping around as you carry out your morning run.
6. Millennial Pink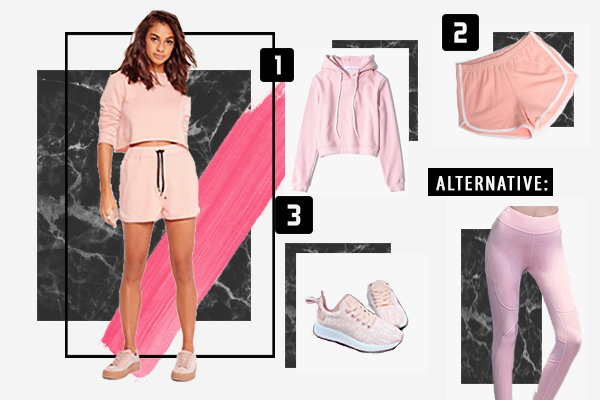 1. Cropped Hoodie (~S$12.28) | 2. Sports Shorts (~S$4.14) | 3. Pink Sneakers (~S$8.33) | Leggings (~S$10.25)
Hop on the Millennial Pink bandwagon, and work out wearing this peach x salmon hybrid colour.
Wear this shade of blush as the accent to an all-black outfit, and if it's Wednesday, channel your inner Regina George and deck yourself in pink from head-to-toe.
7. Leaf Prints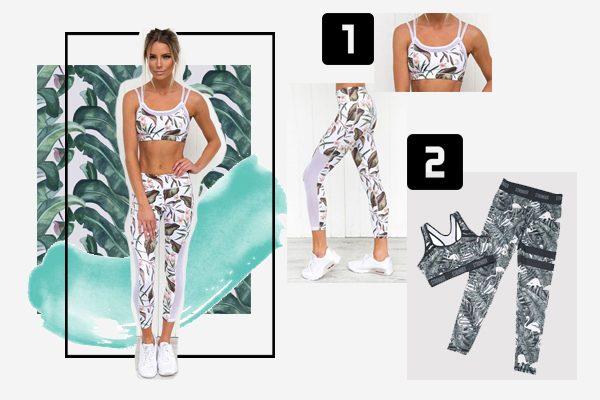 1. White Leaves Print Set (~S$20.61) | 2. Dark Leaves Print Set (~S$14.16)
Experimenting with colours and prints is a fun way to add pizzazz to your gym outfit. But if florals aren't your thing, try opting for a more muted leaf pattern instead.
8. Caged Bra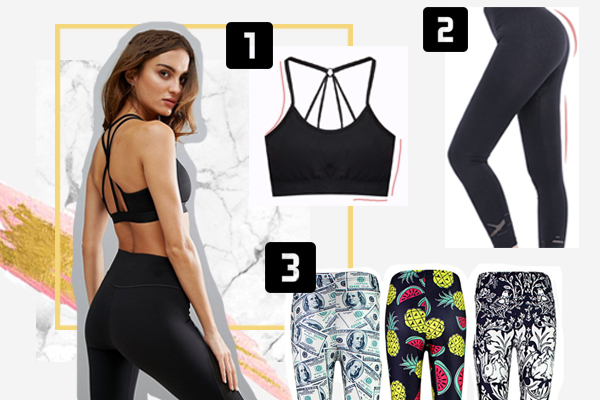 1. Caged Bra (~S$3.75) | 2. Black Leggings (~S$4.14) | 3. Printed Leggings (~S$6.06)
A caged bra not only provides ample support but also lends detailing with its criss-cross patterns. Complete the look with a classic pair of leggings or pair the sports bra with abstract or funky prints for a fresh twist.
When you're out of the gym, style the caged bra as a cropped top or wear it with a semi-sheer tee.
9. Colour Blocking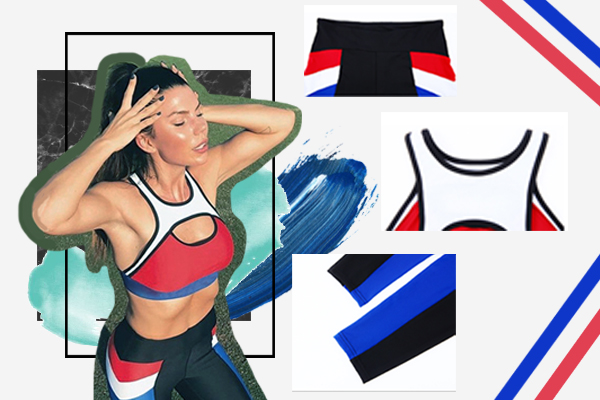 Colour Block Set (~S$14.22)
Try your hand at the updated colour blocking trend with this two-piece set. The bold swathes of red, white and blue are complementary colours which make for an effortless, put-together look.
10. Bold Stripes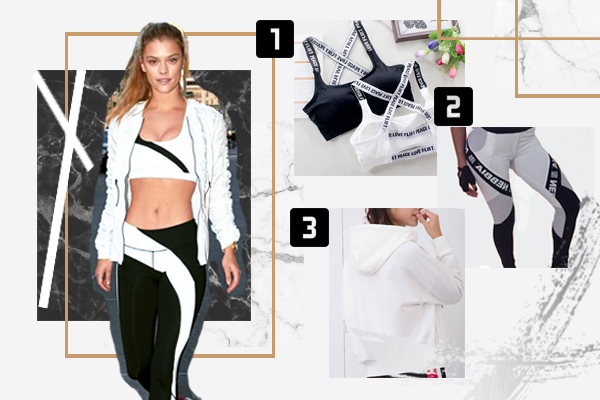 1. Cross Back Bra (~S$4.81) | 2. Stripe Leggings (~S$10.04) | 3. White Jacket (~S$20.61)
Minimalism and geometric prints seem here to stay. Take inspiration from Danish model Nina Agdal's street style and play with monochromatic stripes to create a modern and sleek statement look.
11. Muslimah Wear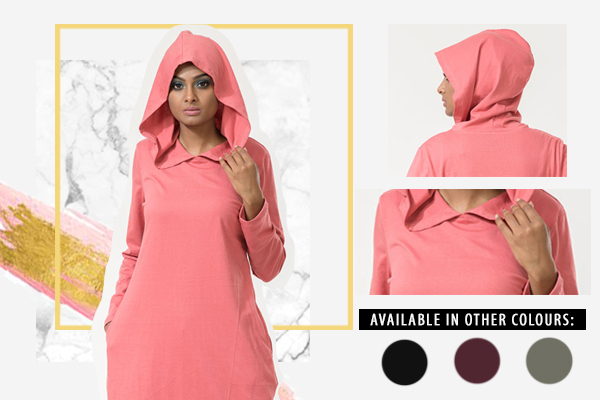 Tunic Top (~S$27.47)
From sports hijabs to tunic tops, online shops such as EastEssence and Asiya sells activewear for Muslim women so our more religious sisters can also stay comfortable and modest throughout your workout.
12. Accent Colours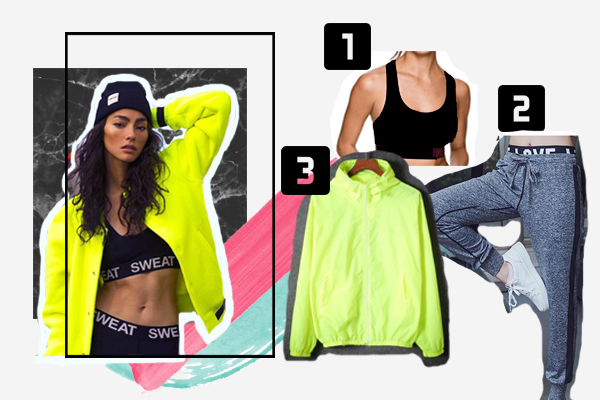 1. Black Sports Bra (~S$39.14) | 2. Black/Grey Leggings (~S$6.04) | 3. Neon Jacket (~S$4.14)
Bold neon colours made a comeback on the Spring/Summer 2018 runway. Add a pop of colour to your outfit by incorporating accent shades like this bright yellow jacket.
Looking Cute At The Gym
Upgrade your workout clothes with these cute gym outfits, and hopefully you'll feel more motivated to hit the gym.