Home BBQ Grill 
As we temporarily bid goodbye to dining out and enjoying all sorts of BBQ food at our favourite Mookata or K-BBQ outlets, it's time to get innovative and find new ways to make full use of evenings at home. 
Here's one way to liven up a meal for 2: a fume-free BBQ grill by the brand Nathome. The grill is not only convenient and chic but also promises none of the usual lingering smoke that is normally associated with grilling. 
Picture yourself grilling up some tasty homemade satay, seasoned wings and even tender ribs all while sipping on an ice-cold beer – ahhh refreshing. 
The Design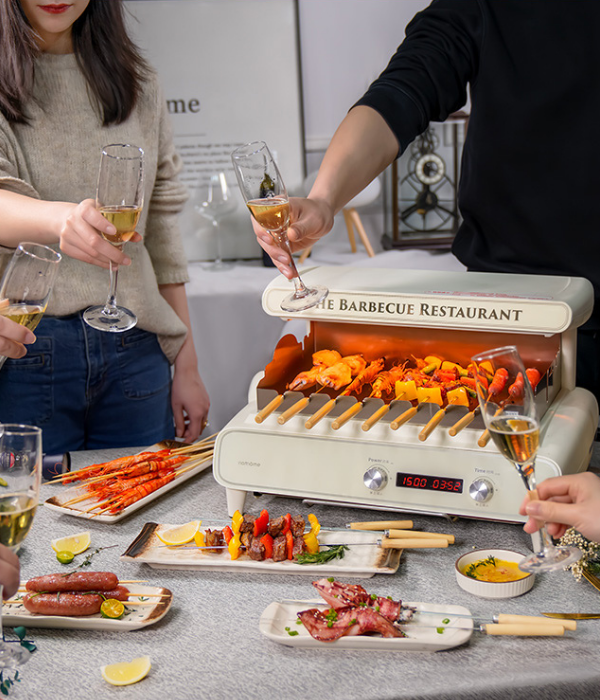 The BBQ grill comes with the words 'Barbeque Restaurant' printed on the top hood. It is shaped similar to full-size BBQ pits you find along East Coast Park but in an easy-to-carry size with a sleeker design. The portability allows you to centre your meals with the BBQ grill around the dining table, on the balcony and even in front of the television while you binge-watch some Netflix. 
The grill is also designed to be fume-free which means, unlike other portable BBQ kits that leave a strong smoky odour after cooking, the shape of this BBQ grill minimises the lingering smell of the food being grilled.
No more complaints from the parents about making the laundry smell bad.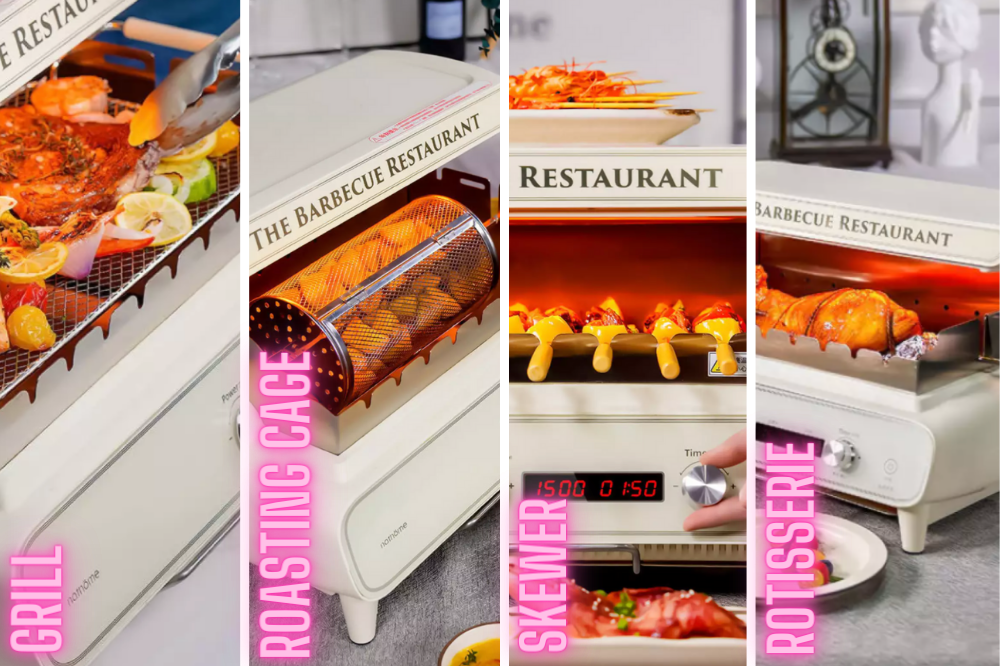 What's more, aside from being just fume-free, the BBQ grill also offers 4 styles of cooking. This includes grilling with a removable metal tray, baking in a roasting cage, rotisserie-style grilling with a special rod and grooves that fit 9-skewers of food enabling whatever is being BBQ'd to be evenly heated. 
This elaborate design of the grill means you can BBQ to your heart's content without the fear of getting yourself burnt or having food get stuck to the tray and become chao ta.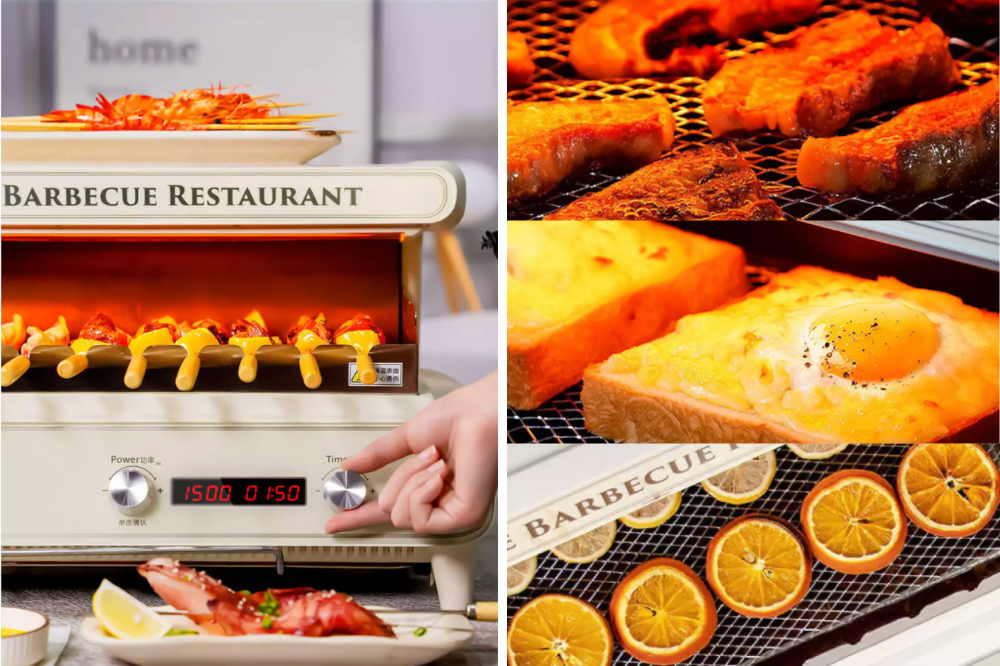 Similar to an oven, there's a timer and temperature function allowing the BBQ grill to be adjusted for different cooking or grilling styles so you can grill an even wider variety of food. 
The portable BBQ grill can be used to dry fruits, whip-up some eggs-in-a-basket and even make popcorn in the roasting cage — which will come in handy for any themed-meal nights you have planned while being stuck at home for the next month. If I could, I'd plan to whip up a Middle Eastern meal with mouth-watering kebabs.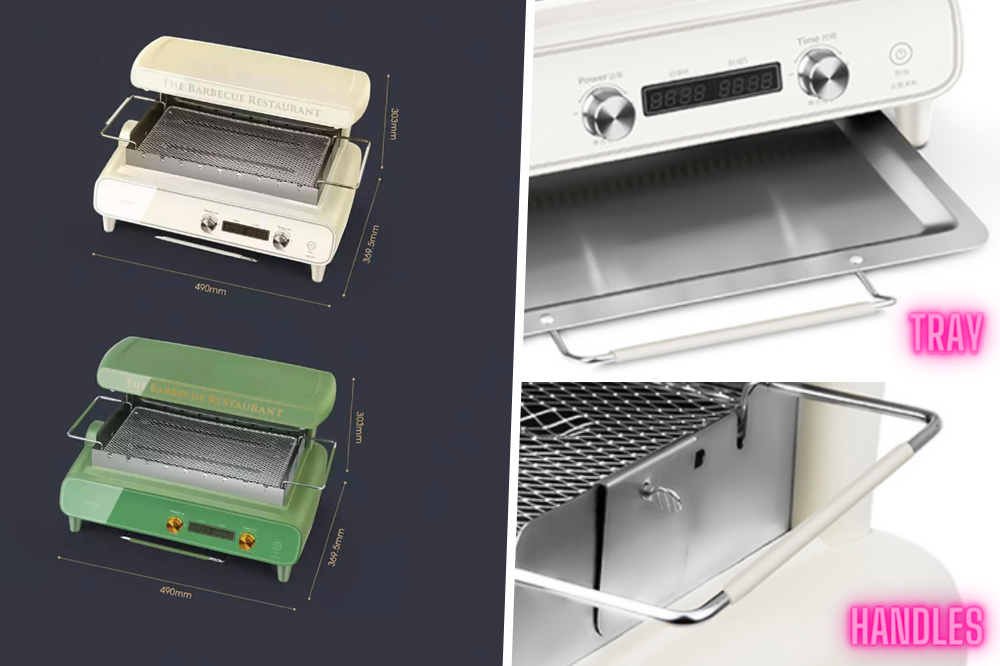 The BBQ grill comes in an off-white or forest green colour with a design that also includes a crumb-tray and insulated handles making clearing up just as easy as cooking. 
The fume-free BBQ grill retails at $675.48 with an additional fee of about $27 for the roasting cage along with tongs and a set of reusable skewers. 
This Fume-Free BBQ Grill Lets You Redefine Wine & Dine Sessions For 2 At Home 
The BBQ grill is available on Lazada and TaoBao and ships to Singapore. 
Time to plan for a special Kdrama-style night with some grilled pork belly, short ribs, beer and even soju — doesn't that sound like a shiok way to turn meals at home into a more entertaining affair? 
All images courtesy of Lazada. 
Also read:
This Portable Charcoal Grill Is Shaped Like A Briefcase So You Can Enjoy A BBQ Date With Bae Anytime