This piece is a submission by Germaine Tan.
I Never Dreamed Of A Big Hotel Wedding
Growing up, I was never the kind of girl who would spend time with my girlfriends discussing my dream wedding. I didn't give much thought to whether I'd eventually get married in the first place, let alone what my dream wedding would look like.
But then life happened, I met the right guy, and suddenly I was tasked with planning what was apparently the most important event of my life.
Thus, my wedding research began. Small receptions in hipster cafes or atas fine dining restaurants were trending. Outdoor solemnisations were also popular, and there were many unique wedding venues that caught my eye.
Of course, I also did my homework on the typical big hotel wedding.
Why I hate big hotel weddings
In Singapore, the Chinese have a longstanding culture of holding big wedding banquets in a hotel to celebrate the union of a couple.
Hate is a strong word, but if you had to sit through almost 10 wedding banquets in 1 year (like I once did), each with the same programme, you would understand how I feel.
Given a choice between holding a big hotel wedding versus an intimate cafe reception, I would much prefer the latter. Not just because of how boring the former is, but also considering the sheer amount of planning involved.
In order to hold a big hotel wedding, you first need to find a hotel. You'll be spoilt for choice but also limited by your own budget. It is a tough decision because even though it's a milestone event, do you really want to spend so much more on a prettier ballroom at the expense of a smaller budget for your renovation?
These hotels usually require you to commit to a minimum number of tables to secure a date. On average, they need at least 20-30 tables. While it's not an uphill task to invite about 200-300 guests, how many of these guests would you really know on a personal level?
With this huge number of guests comes another truckload of issues.
I've heard horror stories of guests who cannot coexist on the same side of the ballroom. You'll have to put together tables of 10 while making sure all your guests are happy with the people at the same table. Yet, to prevent wasting any seats, you will have to break up some groups of friends. These are all awkward situations that conflict-averse me would like to avoid to the best of my ability.
Also read:
Why Attending Weddings In Singapore Feels More Sian Than Happy
Why I had to do it
Growing up in a Singaporean Chinese family, there are some cultural traditions you know you just have to follow.
Even though I never dreamed about what my wedding would look like, my dad would always talk about how he imagined himself walking me down the aisle. As an only child, whatever decision I made for my wedding would also be the only experience my parents would ever have of the event.
I was brought up in a close-knit family and often joined my parents for their friends' gatherings. If I'd decided on an intimate cafe reception, I'm sure my parents would have been all for it. However, that would also mean that all the uncles and aunties who saw me through my childhood would not be able to witness and grace the celebration.
On the other hand, my husband is the eldest son and grandson in his family. The pressure was also on us to make sure we abided by every tradition to set a good example for the rest of the kids.
In the end, a lot of it comes down to respecting your elders. After all, the union of a couple is not just of two people, but of two families.
We agreed that it was more important to make this day special for the elders and that we could make it special for ourselves in other ways.
The solemnisation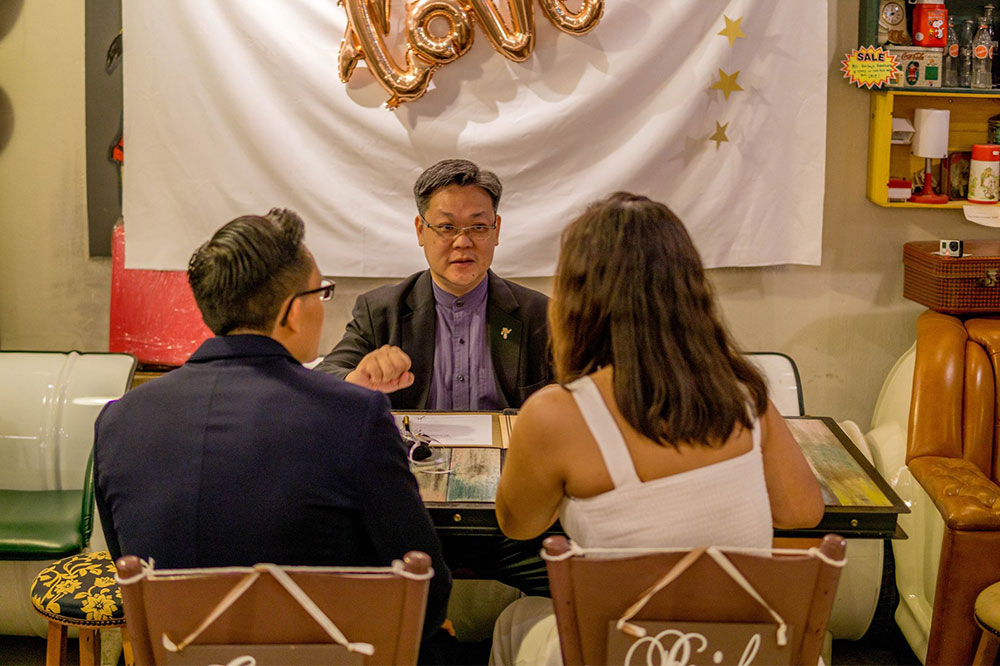 My husband and I with the solemniser at Brunches Café
Having researched so much on cafe receptions, I really wanted one for myself.
After much deliberation, we decided to break up our wedding into two segments: the solemnisation and the wedding banquet.
We organised a small reception with just our parents and close friends at Brunches Café. It was held on a Tuesday evening and consisted of a solemnisation followed by a dinner reception.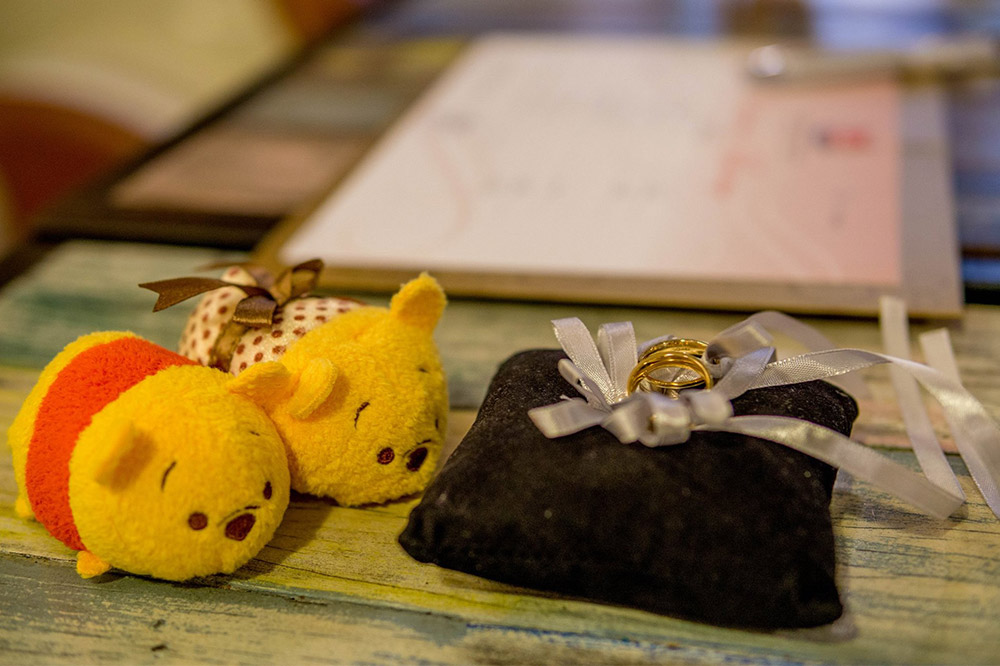 It was such a cosy and memorable event that, for a moment, I felt like we could even do without the wedding banquet.
The wedding banquet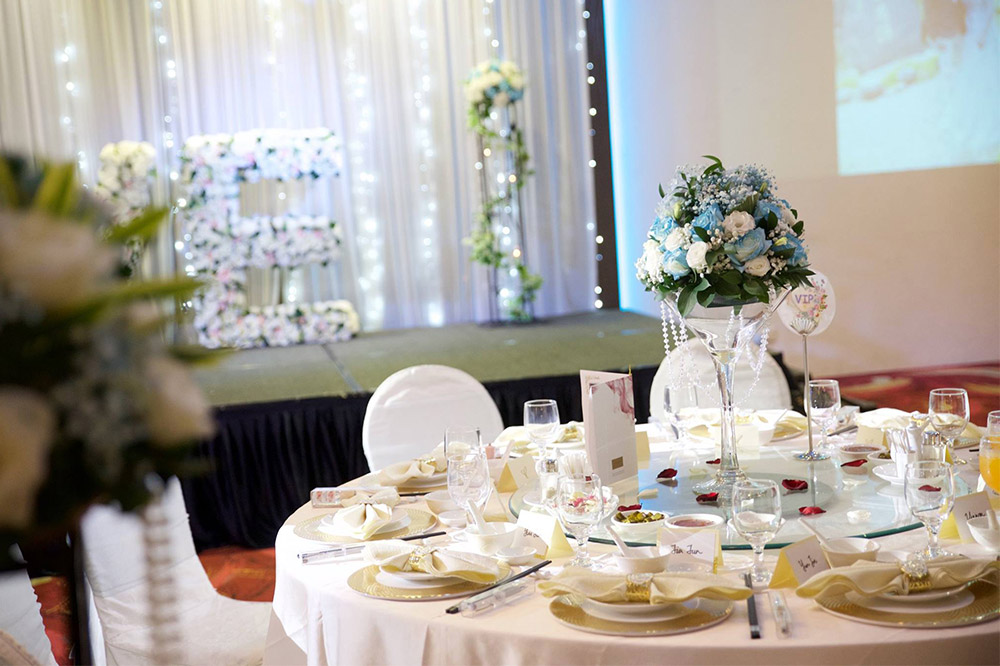 Our wedding banquet set-up
We thought hard about how to make the wedding interesting yet memorable for our guests and, more importantly, our parents.
I knew it was my dad's dream to walk me down the aisle. Since we didn't have a church wedding, I included that segment in the wedding banquet. After my bridesmaids had walked in, my father walked me down the aisle as I was singing "From This Moment On" by Shania Twain. He handed me over to my husband, who was waiting in the middle of the aisle. It was a nerve-wracking yet sweet moment. Both my dad and my husband became very emotional, which was unexpected since we had rehearsed it many times before the actual day.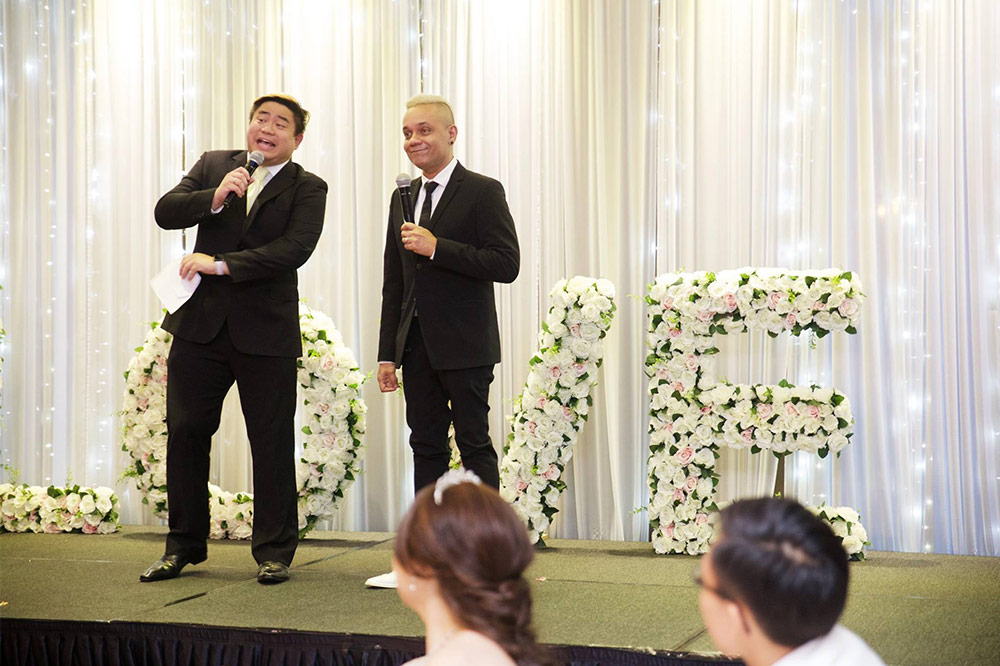 The Muttons were our emcees for the night
During most weddings, there is often a lull period when the couple goes to change their attire. The guests will mingle and catch up with friends. If they do not know the people at their table, they'll probably be on their phones. We really did not want this for our guests, so we decided to engage The Muttons as our emcees. We kept it a secret until the day itself and our guests were shocked to see them enter the ballroom. The Muttons also played table games with our guests and we even had small prizes for the winners.
On our second march-in, I organised a flash mob to surprise our parents. My friends stood up from their tables, singing Josh Groban's "You Raise Me Up" while walking towards the VIP table. In their hands were Bloombox flowers for our mothers and a bottle of Carlsberg beer for our fathers. The tagline on the bottles had been changed to: "Probably the best Dad in the world". My husband and I marched in after my friends sang the last verse of the song. Caught by surprise, our parents were in tears after the performance.
Why I Never Wanted A Big Hotel Wedding But I Did It Anyway
As much as it was a pain to have planned a big hotel wedding, everything turned out well for us that night. I might have been reluctant to do it initially, but hearing the laughter from our guests and seeing the smiles on our parents' faces made all the effort worthwhile.
Also read:
Wedding Costs: Singaporeans Share What Their Biggest Waste Of Money Was
Cover photo: Source