New Unique Wedding Venues in Singapore
Many of us grew up attending lavish wedding ceremonies, where it seemed like couples had coughed out their entire life savings for this one momentous occasion. But with so many alternate options available these days, if you don't want to fork out a huge sum of money on conventional hotel banquets, you don't have to.
From spaces suited for an intimate bridal party to ones that can host your entire neighbourhood, here are 13 new unique wedding venues to check out in Singapore.
Restaurants and Cafes
Panamericana is ideal for couples looking for a beautiful wedding venue with a gorgeous view. The ceremony begins with the solemnisation as you both recite your vows on the spacious outdoor lawn overlooking the Singapore Strait. The festivities continue at the indoor dining space, where floor-to-ceiling glass windows allow for sunlight to glisten through as you celebrate your big day surrounded by your loved ones.
There are 4 wedding packages available, or you can choose to customise your own set menu, right down to the drinks that can be tailored to meet specific preferences.
Price: From $68++ per pax
Guest capacity: Up to 300 (seated), 500 (standing)
Address: 27 Bukit Manis Road, Sentosa Golf Club, Singapore 099892
Contact number: 6750 4622
Email: info@panamericana.sg
Recite your vows against the stunning backdrop of Marina Bay when you host your wedding at Monti. Bask in the cosiness of the restaurant — under the iconic spherical dome — as the sun sets, before admiring the panoramic night view of the waterfront.
After dinner, the indoor lounge can be transformed into a dance floor, where you and your guests can fully unwind and dance the night away.
Price: From $75 per pax
Guest capacity: Up to 300
Address: 82 Collyer Quay, The Fullerton Pavilion, Singapore 049327
Contact number: 6535 0724
Email: enquiries@monti.sg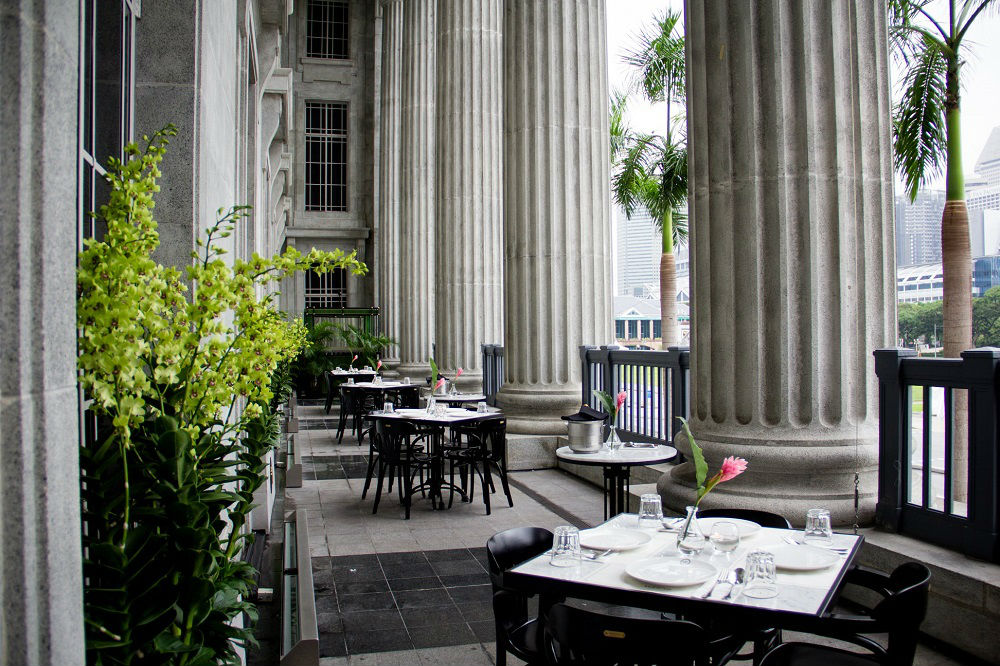 If your wedding venue requirement is a place that delivers equally well on ambience, aesthetics and food, National Kitchen by Violet Oon ticks all the right boxes. With a prime location at the National Gallery, the restaurant overlooks the Padang and Marina Bay Sands. Inside, gilded dark panels, floral-patterned Peranakan tiles and eye-catching chandeliers make for an elegant and stylish atmosphere.
Of course, the restaurant's signature heritage Peranakan delicacies will make for a sumptuous spread that leaves your guests feeling satiated.  
Price: Minimum spend of $12,000++
Guest capacity: Up to 70 guests
Address: 1 St Andrew's Road,  #02–01, National Gallery, Singapore 178957
Contact number: 8533 1122
Email: events@violetoon.com
Nestled in the Asian Civilisations Museum, Empress serves up traditional Chinese fare in a modern and stylish environment. The restaurant offers both indoor and al fresco dining options by the Singapore River, where your guests can enjoy the mesmerising view of the waterfront.
Choose from the 6-course Guifei menu or 8-course Diaochan menu, which can be customised according to your tastes. A floral centrepiece arrangement for each table and valet parking are included if you opt for the dinner service.
Price: From $1,080 per 10 guests (minimum 80 guests), see the full menu
Guest capacity: Up to 188 (seated) and 300 (standing)
Address: 1 Empress Place,  #01-03, Asian Civilisations Museum, Singapore 179555
Contact number: 6776 0777
Email: info@empress.com.sg
Formerly a British military airbase, Wheeler's Estate is now a sprawling cafe spread across 87,000 square feet. With 8 different spaces available on-site, this could be the ideal location not just for your bridal photoshoot, but your solemnisation ceremony (in the Greenhouse, the Pavilion or by Bambi, the trailer) and wedding banquet (on The Lawn or in The Verandah) as well.
A variety of dining options are available, from plated set courses to a buffet set-up, butler canapes and even a live rotisserie station.
Price: Solemnisation packages from $2,988++ and banquet packages from $10,000++
Guest capacity: 500 to 1,000
Address: 2 Park Lane, Seletar Aerospace Park, Singapore 798386
Contact number: 6262 0001
Email: events@wheelersestate.com
Housed amidst the scenic foliage at Hort Park, this French-Italian restaurant is a quiet respite away from the hustle and bustle of city life. Be it an intimate solemnisation at the Patio overlooking an infinity pool, or a cosy wedding held in the simple yet chic Indoor Dining Hall, the peaceful ambience of the locations offered at Vineyard will make the day a truly memorable one.
The inclusion of a themed wedding set-up, wedding favours, invitations and delectable food will ensure that this holistic wedding service can cater to all your needs.
Price: From $119++ per person; minimum spend varies according to space booked, see the full menu
Guest capacity: 50 to 135
Address: 33 Hyderabad Road, #02-02, Hort Park, Singapore 119578
Contact number: 6411 4999
Email: sales@createries.com
Also read:
Wedding Costs: Singaporeans Share What Their Biggest Waste Of Money Was
Mention dainty cakes, and Boufé Boutique Café's unicorn and cosmo cakes will come to mind. This hidden gem not only serves Instagrammable dishes, its setting is also equally IG-worthy. The exterior features quaint colonial-style architecture, and its indoor and alfresco dining areas boast of minimalist, whitewashed furnishing.
The cafe will provide a wedding arch, floral decor for your solemnisation and complimentary personalised name letters as text props. Customise your menu (10 dishes consisting of 2 mains, 6 snacks or desserts and 2 beverages) from over 30 choices, which will be set up as a buffet table bar.
Price: From $3,905.50 for 3 hours on weekdays and $5,029 for 3 hours on weekends
Guest capacity: 30 to 60
Address: 308 Tanglin Road, #01-01, Phoenix Park, Singapore 247974
Contact number: 6734 7656
Email: eventsboufe@gmail.com
Get the best of both worlds when you hold your wedding at Picnic. Billed as "Singapore's First City Food Park", your guests can admire the lush garden setting while dining comfortably in an air-conditioned space. With colourful flowers and foliage beautifying the area, you won't have to spend a fortune on the decor. You can also choose to zhng things up with customisable neon lights to set the mood for the entire event.
As the restaurant consists of individual stalls each specialising in their own dishes, your guests can tuck into an extensive spread of international fare such as pork butadon, Taiwan beef noodles and KoMex tacos.
Price: Price varies, see the full menu
Guest capacity: Up to 400
Address: 435 Orchard Road, #03-15, Wisma Atria, Singapore 238877
Contact number: 6734 8352
Email: general@picnicsg.com
Pledge your love for your partner in a tranquil setting by the river when you hold your wedding at Whisk & Paddle, tucked along Punggol Promenade Riverside Walk. The cafe is well-known for its desserts, so treat your guests to a wide array of its homemade pastries and sweet treats.
When dusk falls, you can hold a cocktail party under the stars at the veranda, making it a romantic night to remember.
Price: From $52 per guest (excluding GST), minimum 40 pax
Guest capacity: 40 to 220
Address: 10 Tebing Lane, #01-01, Singapore 828836
Contact number: 6242 4617
Email: enquiry@whiskandpaddle.com.sg
Dessert fanatics, this is for you! Besides the sweet and whimsical decor, the Little House of Dreams' selection of mouth-watering desserts will surely win the hearts of your guests. With a huge space available and a live photobooth, this aesthetically pleasing bistro is able to cater to all your needs of an enchanting wedding.
Having hosted countless birthday parties and significant celebratory events, your wedding is sure to be in good hands at this lovely cafe.
Price: From $5,500 (excluding GST)
Guest capacity: Up to 100
Address: Block 8 Dempsey Road #01-14, Singapore 247696
Contact number: 6472 4977
Email: info@dreamsestablishment.com 
Event spaces
Haw Par Villa recently reopened after undergoing renovations in early 2019. If you and your beau are history and/or culture buffs, the bold character of this unconventional venue will lend great flair to your wedding ceremony. Choose from dining under the stars at the Courtyard or in the spacious museum hall… or both!
Make it an even more eventful night by inviting your guests to release sky lanterns at the top of the hill and capture some goofy shots with the distinctive sculptures and dioramas plastered along the walkway.
Price: From $1,800 for 4 hours (excluding F&B and venue decor)
Guest capacity: From 150
Address: 262 Pasir Panjang Road, Singapore 118628
Contact number: 6773 0103
Email: hpv@journeys.com.sg, fill up the contact form for venue booking enquiries
A familiar venue to concertgoers, The Star Performing Arts Centre also doubles up as a great site for couples to say their "I dos". The Star Loft is a, well, loft-like space that leads out to a  rooftop terrace. The Star Gallery, on the other hand, is equipped with dazzling ceiling lights, which will make you feel as though you're dining under a romantic night sky.
If you're looking for a place that can accommodate hundreds of guests, the latter will certainly fit the bill.
Price: From $16 per pax at The Star Loft and $14 per pax at The Star Gallery (excluding F&B)
Guest capacity: Up to 110 (seated) and 144 (standing) at The Star Loft, up to 490 (seated) and 770 (standing) at The Star Gallery
Address: The Star, 1 Vista Exchange Green, #04-01, Singapore 138617
Contact number: 6636 0055
Email: info@thestar.sg
For nature lovers who want a private wedding with a carefree ambience, the cosy events hall located within Citizen Farm @ Penjara will satisfy your needs. With a minimalist setting and ample space available, you can pick a theme and customise your wedding decor however you like. For the complete experience, you can even extend your wedding outdoors and book the entire farm!
Opt for farm-to-table catering by restaurants and chefs who champion local produce, while sipping on fresh farm-harvested herbed teas available at an additional $8 per pax.
Price: From $800 on weekdays and $1,500 on weekends (excluding F&B and venue decor)
Guest capacity: Up to 170 (seated) and 250 (standing)
Address: 60 Jalan Penjara, Singapore 149375
Contact number: 9190 4497
Email: learn@ediblegardencity.com
New Unique Wedding Venues In Singapore
Your wedding is uniquely yours, so be sure to pick a location that best encapsulates the ideal setting you'd want to exchange your vows at. With all these new unique wedding venues in Singapore to explore, you can look forward to hosting a swanky soiree that will bound to be a night to remember.
Also read: