Propose To Your Girlfriend
If you're reading this article, congratulations. You've found the woman you want to BTO with and decided to get down on one knee.
But because the Singaporean default is to say "BTO aimai", you literally don't know how to ask her to be your wife.
Whether you want a company to plan an elaborate S$3500 proposal or choose to ask her over a home-cooked dinner, we've stripped it down to the basics and created this guide for those unsure of how to pop the million dollar question.
Before the proposal
1. Asking her parents
While not compulsory, asking is a thoughtful, kind and considerate gesture. It's also respectful and a bonus to get the approval of your soon-to-be mother- and father-in-law. After all, they were the ones who raised the love of your life.
Things to cover:
-Express how much you love their daughter
-Say you want to marry her
-Promise to take care of her
-Ask for their blessing
If you both are the more modern type, you can do this after you've got her to say "I do".
2. Finding her ring size
You'll want to get a perfect fit before you splurge at the jeweller's. 'Borrow' one of her rings you've noticed her wearing on her ring finger and get the jeweller to size the ring for you. Grabbing her nearest ring might not work as girls tend to wear different rings for each finger.
Or use a thread to measure her 1) left ring finger and 2) knuckle when she's asleep. Wrap the string around the base of her finger and mark the spot where the thread meets. Do the same around her knuckle.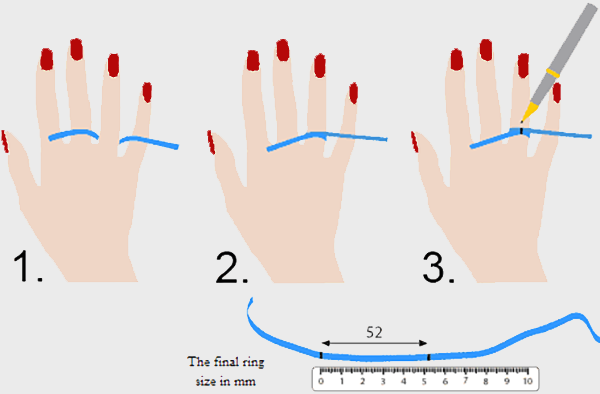 This is because some girls have thin fingers but big knuckles. The ring should sit comfortably; loose enough to slide over her knuckle, but snug enough not to fall off.
It's best to measure her fingers when they are warm as fingers are smaller in the early morning and when cold. So if you do measure her fingers in an air-conditioned room, add about 1mm to the result.
Then, measure the length of the string and use a conversion chart to find your girl's ring size. If the ring size falls between two sizes, pick the larger size.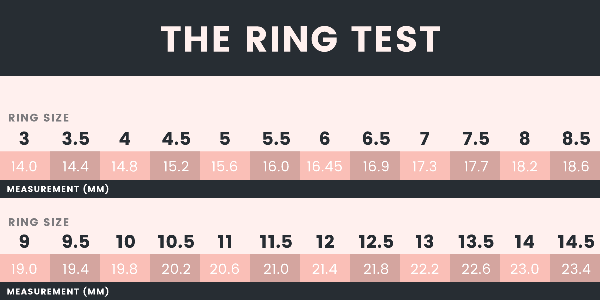 Pro-tip from my married guy friend: when in doubt, get a ring which is slightly larger. Most jewellers offer free resizing anyway and the last thing you want is for the ring to be too small for her finger.
Still, most girls are between a size 5 to 7 so stick so stay within that range or you might end up losing the ring when it slips off her finger.
3. Getting the ring
Guys, if you don't already know, engagement rings and wedding bands are two separate pieces of jewellery.
Engagement rings are given only to the bride during the proposal and are flashier, often inlaid with a precious stone. This ring signifies a formal agreement to the marriage and announces a woman's upcoming nuptials.
Almost always, the groom is expected to pay for the cost as the ring traditionally serves as an indicator of the husband-to-be's ability to provide for his wife.
Wedding bands are exchanged later by the bride and groom during the ceremony and are often a more muted, plain design. Depending on what type of couple you are, the cost of the wedding band can be split.
You should buy the wedding band at least one month before your actual wedding to avoid stressing out. Get the band at any jeweller's or make your own.
Both rings go onto the bride's left finger. Nowadays, the bride wears both the engagement ring and wedding band on the daily, just like how the new Princess of the United Kingdom, Meghan Markle, stacks her rings.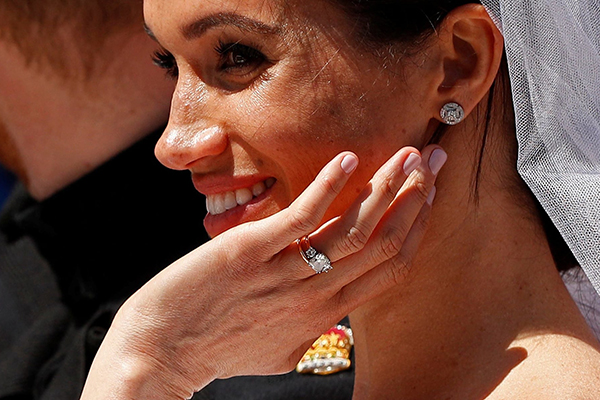 It's important to find rings she'd like and wear for a lifetime. If you're clueless, your best bet is to go shopping with her mum, sister or best friend. One friend asked his fiancee's girlfriends to tag along, and got her girlfriends to fake as though they were the ones buying an engagement ring. This way he knew exactly what his fiancee liked or disliked!
Or if you're both super chill, just ask her what type of ring she wants.
Nowadays, non-diamond engagement rings are trending so do find out if she'd prefer a more traditional diamond or otherwise. Asking if she'd prefer a customised ring is also a good idea, as some brides would want a piece of jewellery as unique as the love you both share.
Here are some rings you can get:
During the proposal
4. Planning the proposal
Before asking, know if your girlfriend wants a private or public proposal, and how extravagant she expects the occasion to be. While some girls want a champagne-and-lobster dinner overlooking the Bay area, others wouldn't mind you asking while cuddling in bed.
Every girl is different and you don't want her to feel embarrassed by the attention, or underwhelmed by your 'lacklustre' effort. At the end of the day, make sure the proposal is a sweet, tender moment to remember.
If you really blur AF, fork out a pretty coin and leave the proposal planning to the professionals: HelpYouMarry, LYNX Marriage Proposal, Eventhrall, Blissvows.
5. Going down on one knee
This isn't entirely about tradition but going down on one knee shows your devotion to her and that you are willing to place yourself below her as you begin your new life together.
Just drop on whichever knee you're most comfortable with and pop the question.
6. Making a speech
When on one knee, know that whatever you say should be from the heart. Even if it's a little clumsy, just tell her in your own words she's the best thing that ever happened to you.
Some guys prefer to prepare a speech. But if you find your nerves getting the best of you, keep it simple with "I love you" and "Will you marry me?".
7. Putting on the ring
If she says "I do", congratulations! The hard part is over. Most girls will usually just stick out their left hand. When she does, this is your cue to remove the ring from the box with your shaking hands and gently place the ring on her left ring finger.
After The Proposal
Kiss. Tell your parents. Take a picture of her ring and post it on Instagram and Facebook. Congrats, you're engaged!
Now to take your pre-wedding pictures:
Cover image: Source