Indomie Shorts
We've seen artist Nicole McLaughlin transform FRAKTA bags into IKEA sandals. Camera60 has upcycled handbags, including turning Nike shoe boxes into a Dior Mini Saddle Bag. Now, feast your eyes on Indomie shorts.
Instagram user Putri Samboda looks to iconic Asian grocery items for her upcycling creations, including Indomie, Samyang ramen and White Rabbit candy.
Instant noodles outfit
Source
According to a 2019 report from the World Instant Noodles Association, a whopping 106.4 billion (!!) servings of instant noodles were eaten in 2019. And if you thought Singaporeans are hardcore instant noodles fans, Indonesians would beg to differ.
While Singapore didn't even make the cut for the top 15 ranking, Indonesia came in second behind China and Hong Kong, consuming 12.52 billion servings. Yep, the country's love affair with instant noodles is real.
It's only fitting that Putri's homage to instant noodles is a pair of Indomie shorts. After all, Indomie is produced by Indofood, the OG company behind instant noodles in Indonesia.
The DIY shorts are made up of flattened packets of Indomie Mi Goreng Instant Noodles – Special. The white background and vibrant colours on the packaging make this a surprisingly wearable piece of clothing, especially when paired with a classic white shirt.
If you're one of those who stocked up on instant noodles back in the early days of the pandemic, you could try making your own pair too. Sadly, a licence plate that reads "INDOMIE" is gonna be slightly harder to recreate.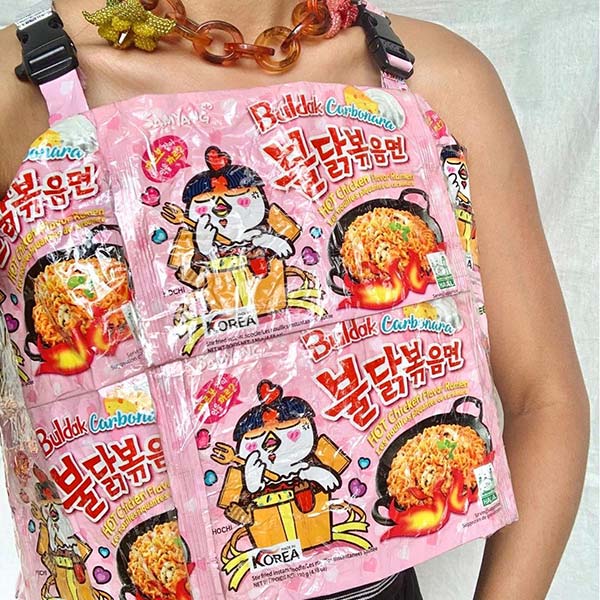 Putri's Samyang ramen top wisely spotlights the most aesthetic packaging out of all the Korean brand's offerings. She added utilitarian buckles on the strap for extra security and support. This would even work as a bib that you can wear over your clothes while eating instant noods to prevent any stains and spillage.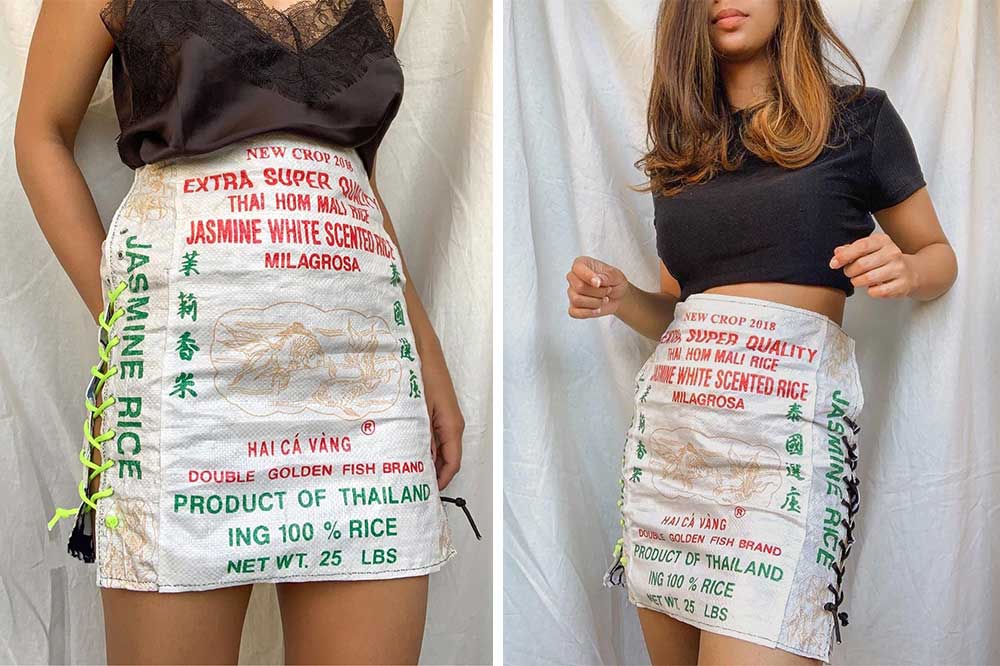 Instant noodles aren't the only carbs Asians love. Putri also came up with an ingenious creation featuring none other than Jasmine white rice. Putri captioned this, "Off-White but make it Jasmine Rice". She also added that the entire skirt is hand sewn, and that she used cotton for lining.
Also read: 
US Artist Turns Everyday Items Into Upcycled Apparel Like IKEA Sandals For That Non-Stop Zero-Waste Inspo
Upcycled designer creations
Besides creating entirely new pieces, Putri also showcases upcycled versions of designer items from her own wardrobe.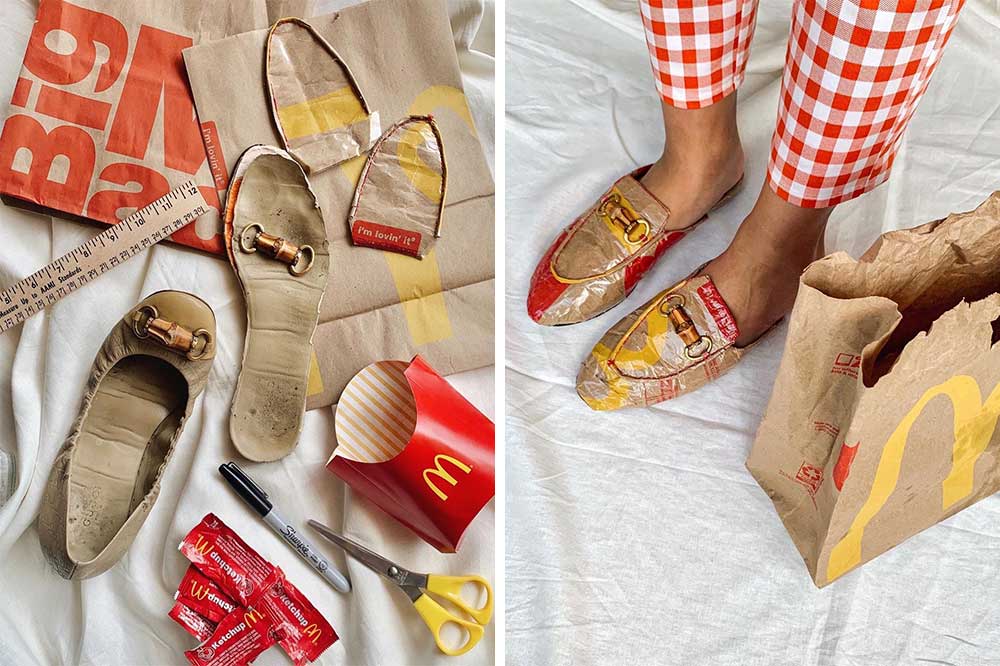 She deftly took apart her Gucci ballet pumps. Equipped with nothing but McDonald's packaging, a ruler, scissors and Sharpie, she turned them into Gucci McLoafers.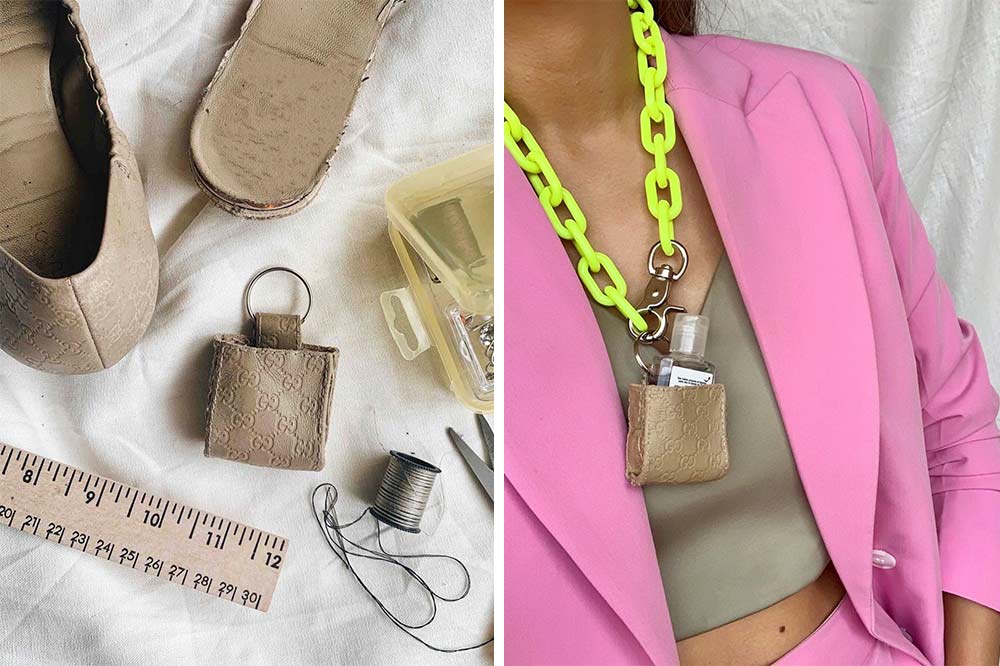 Waste not, want not. She'd only used the base and bamboo handle for the McLoafer. So, Putri turned the fabric of the Gucci shoe itself into a little pouch. She then attached it to a chunky chain necklace for a hands-free way to carry hand sanitiser.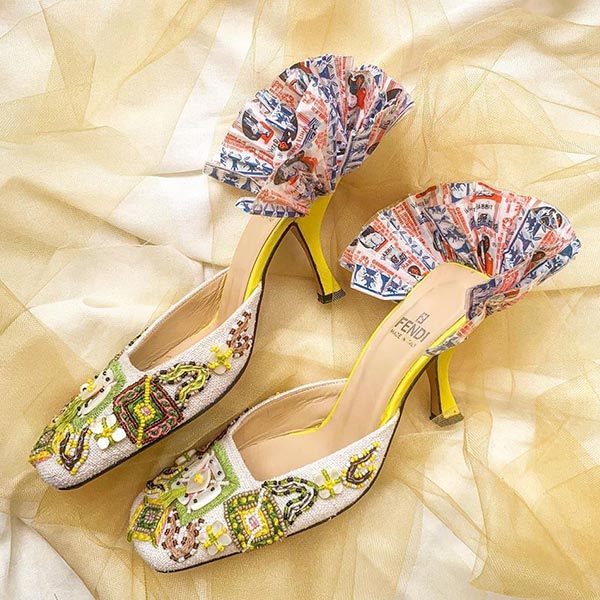 These beaded Fendi kitten heels appear to be the first thing she upcycled. She added a layer of White Rabbit candy wrappers in a ruffled fan-like shape to the back of the heels, breathing new life to the shoes in the process.
These Indomie Shorts Are An Example Of Quarantine Creativity
Having to spend more time at home and indoors has encouraged many of us to bring out our creative side. Looking at Putri's wearable works of art, might just inspire you to upcycle some items from your own closet too. Have fun!
All images: Source
Also read: 
Italian Couple Transform Familiar Packaging Into Upcycled Designer Handbags, You Can DIY Your Own Too