Japanese Couple Wears Matching Outfits Everyday
Couple outfits are usually a hit or miss — either they're cute and stylish or just a big, cheesy no-no! For a couple in Japan who've been together for over 40 years, they're thankfully the former – and have become my new go-to style gurus. 
Going by the name @bonpon511 on Instagram, the two in their 60s post images of their daily garms and travels, giving you loads of awww–worthy moments. Anybody would be jealous of just how much they embody both style and joy. 
Their daily coordinated ensembles range from looks pieced together to suit any occasion. This includes holiday-looks, printed clothing for a park trip to even colour-blocked outfits that I would gladly wear. Seriously, props to this duo who are not only fashion icons but also total #couplegoals. 
Matchy-Matchy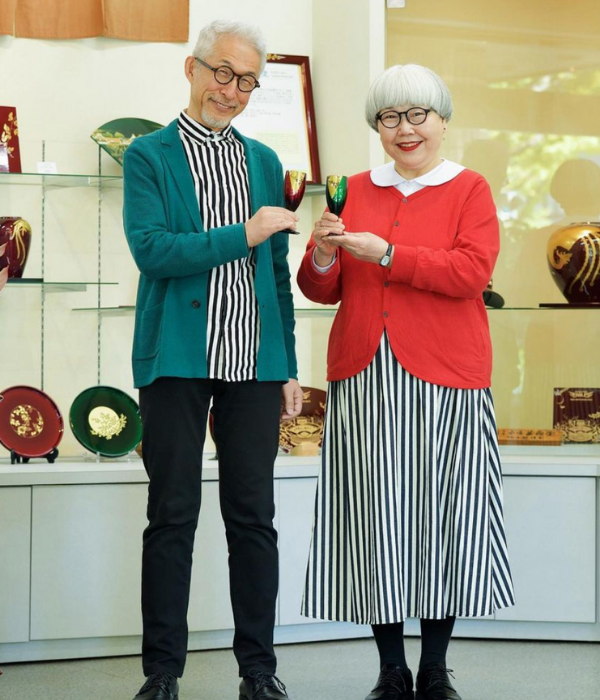 The outfits that are self-styled by Bon and Pon go beyond just throwing on the same coloured top. The two put together their outfits the way any professional stylist would, by mixing the use of colour-theory, bold black and white patterns and even including well-planned accessories to spice up the look, making every single combo appear akin to high-end fashion fits.
Just look at the use of complementary colours in the picture above – the dark green blazer is a genius accompaniment to the bright red sweater. Most of us fashion noobs would've never been able to come up with something that even looks half as good.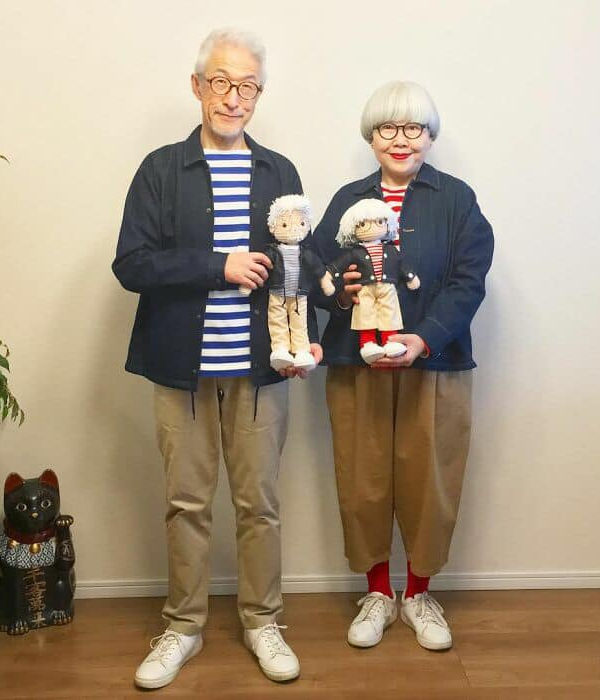 What's more, the young-spirited duo even have knitted dolls that resemble themselves. The dolls even have matching wardrobe choices as the couple.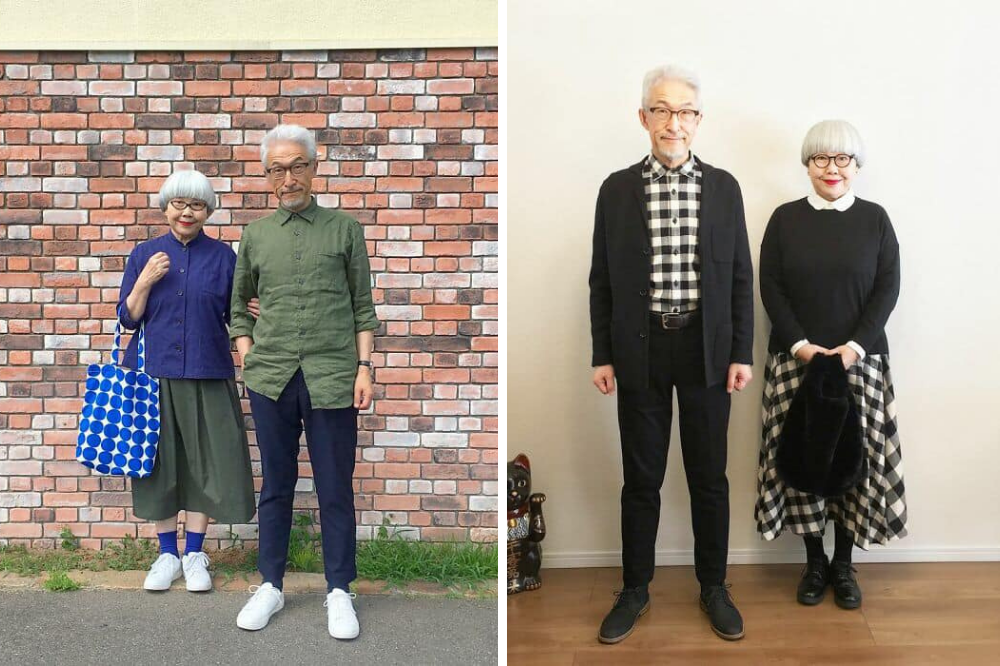 They really take the statement "age is just a number" to new lengths with colour-blocked outfits too. The blue and green set on the left picture above serves as inspiration for individuals of any age who want to have a go at playing with colours in their own outfits. 
For those who prefer a more monochromatic look, the black and white outfits on the right picture proves that even with simpler pieces, you can come up with a look worthy of being featured on the cover of a magazine. 
Themed And Holiday Outfits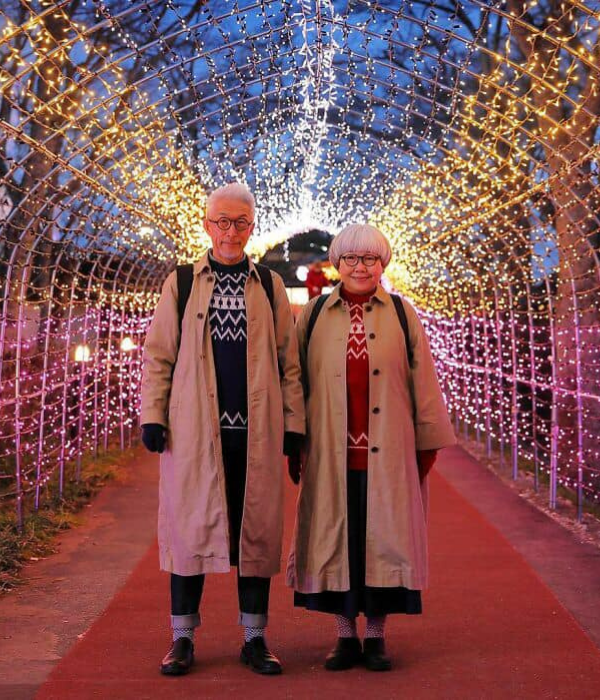 The holidays are a time when most of us dress up, hoping to bewilder some fussy relatives and snap some potential Insta-worthy pics. Bon and Pon do that too, but with significantly more rah-rah. Here's a little peek at one of their Christmas-time specials, not excluding the necessary sweaters and matching socks of course.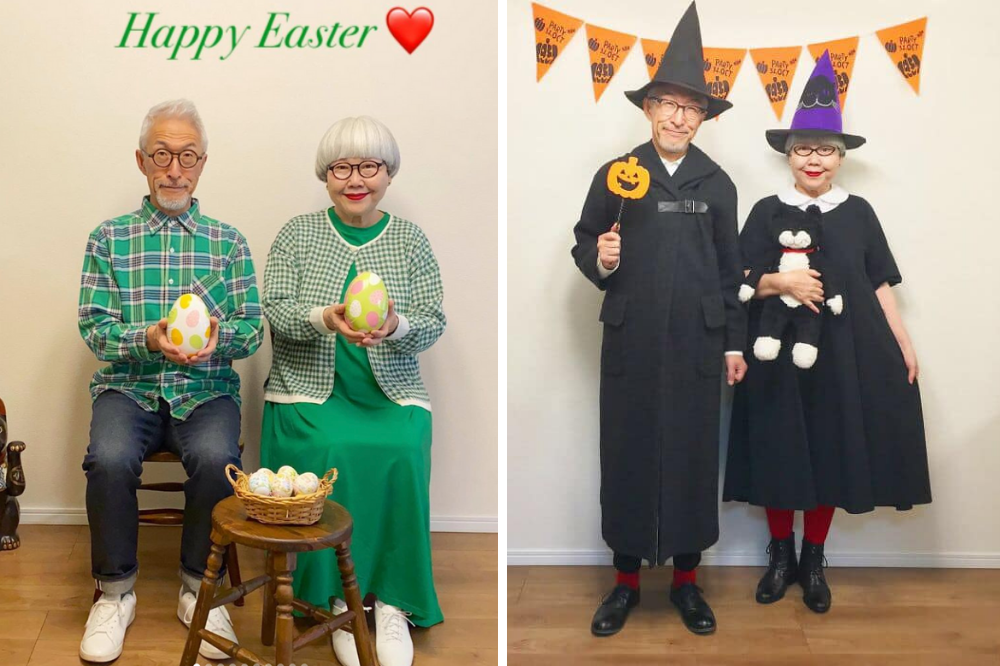 The partners in crime even have go-to looks for Easter and Halloween, impressing no matter if they're dressed in bright green tartan or ghoulish collared costumes.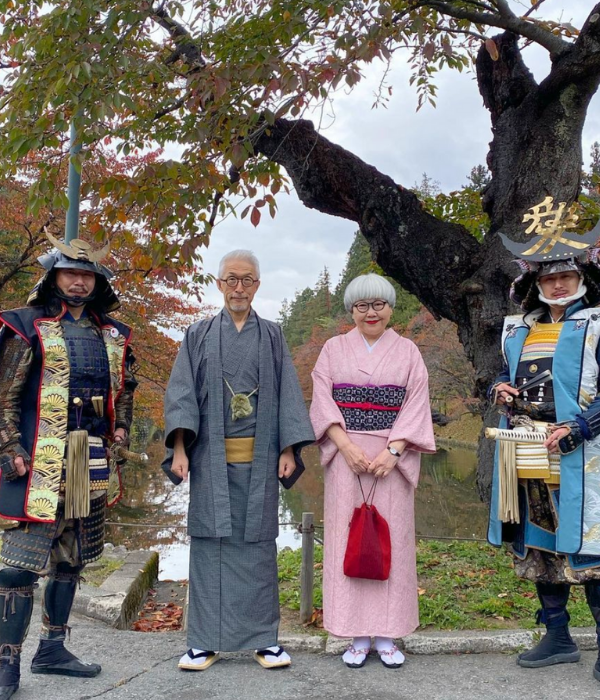 They even rock traditional wear, which while not a holiday-only fit, definitely proves their passion for themed outfits. They even nailed the look right down to the footwear. 
Pink and grey put together is a winning combo that'll give off warm vibes— but frankly, it's just the duo's charming smiles that make their looks appear even more appealing. 
Family Affair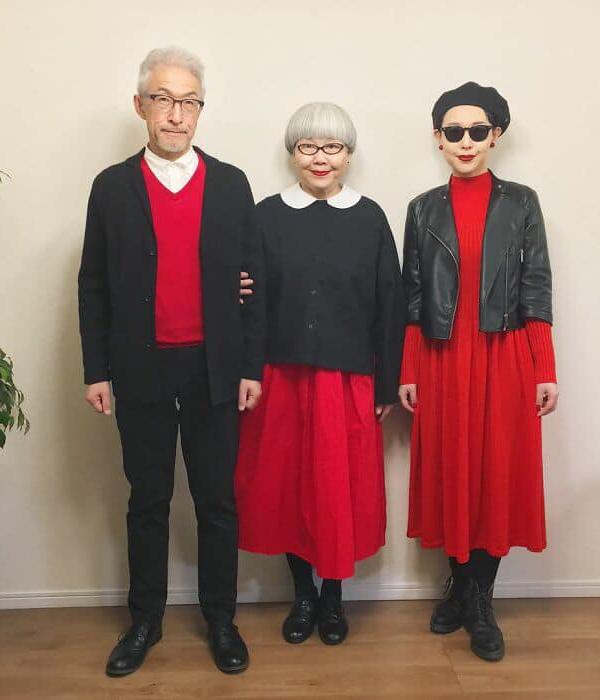 The more the merrier – so instead of just Bon and Pon, some of their photos include their daughter, May. Styling skills seem to run in the family. Just look at their bold red and black garments that harmonise flawlessly side-by-side — trés magnifique.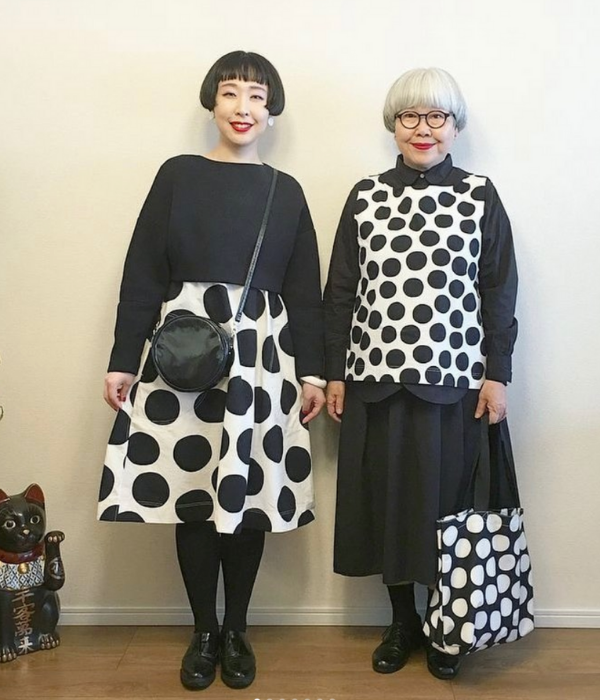 Cruella who? This mother-daughter duplet can definitely compete with other Instagram models. The monochromatic theme with a twist can be described as bold, loud and unique. Another plus? No dalmations were compromised for their slay. 
Travelling The World, In Style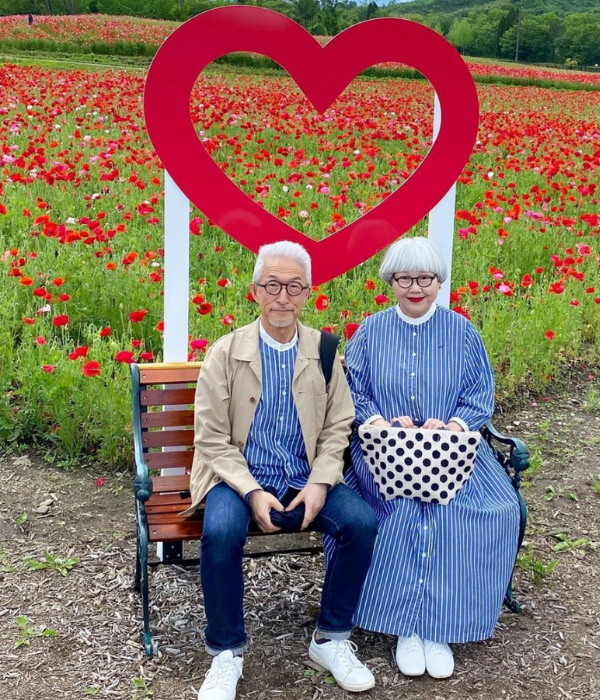 Keeping their love roaring with life, the style-pros even travel to the most beautiful places together, making all of us jealous of just how romantic they are even after 41 years. This field with bright red flowers and a heart-shaped banner is like a cut fresh out of a K-Drama scene. Swoon.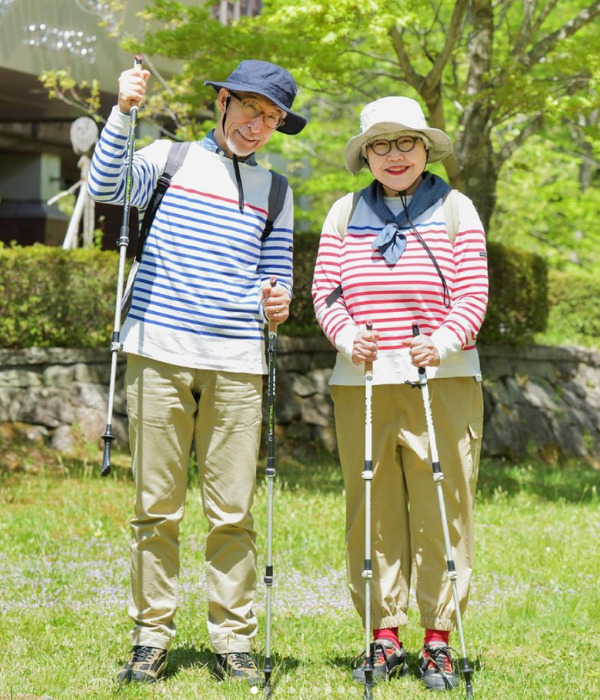 The best part of all their photos, aside from the synchronised coloured-fits, is just how giddy in love the pair look. 
How fit they seem to appear doesn't give away their age as they often visit places that require walking and sometimes even hiking. Here, they're even twinning in matching red and blue striped tops while on an outdoor adventure.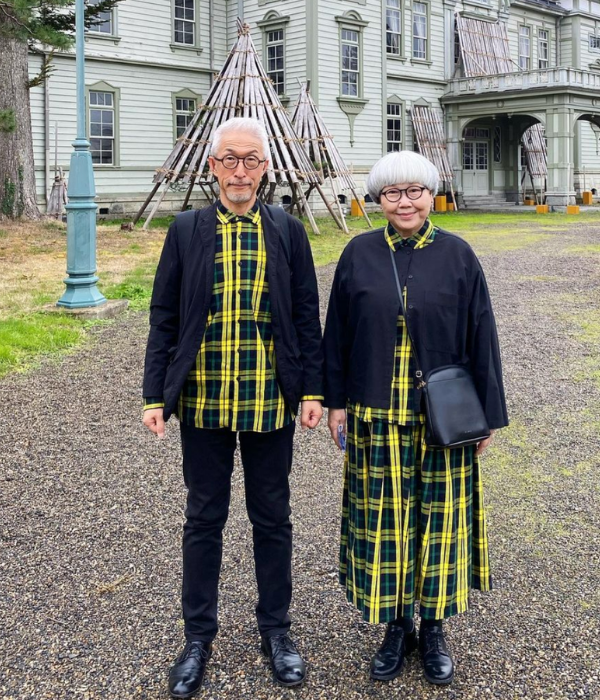 Even miles away from their home, they look on point in yellow, which is a colour many tend to stay away from because of just how difficult it is to balance.
Bon and Pon on the other hand, seem to have it in the bag with their mesmerising yellow and green tartan button-up shirt and two-piece combination. 
Married For 41 Years And Still #Goals 
After looking through their photos, you might be left questioning if your own outfits are in need of a pick-me-up or aspire to find a loyal partner yourself. Here's to hoping we all reach our golden years with the same level of robust and flair for style as this stunning couple. 
Geez, now if only they'd style me. 
All images courtesy of Bon & Pon. 
Also read:
Actually x Sanrio's New Collection Has Bucket Hats, Foldable Crates & Portable Chairs For A Cute 2-Pax Picnic