Singapore Job Vacancies 2017
9-to-5 office jobs often bring to mind dingy cubicles, crisp white walls and a water cooler where gossipy colleagues linger during lunch breaks.
But in Singapore, a growing number of startups are shunning old design stereotypes in favour of modern layouts which are fun and functional.
While not all workspaces have an indoor slide or logo-branded mahjong tiles, brands today are offering more than just dental insurance to keep employees happy.
At these 4 offices in Singapore led by female founders, you'll find employee perks such as babysitting rooms for working mothers. Tip: they're hiring!
Business: E-commerce store for SEA indie designers and small businesses
Founder: Ankiti Bose
After a shopping trip to Bangkok, Ankiti Bose had the idea to help small and medium enterprises market themselves online. With that vision, Ankiti left her job in the venture capital and management consulting industry and co-founded Zilingo.
With approximately S$13,000, she kickstarted Zilingo with a business partner in 2015. Within two years, they garnered over 4,000 merchants and half a million active users in Southeast Asia.
Positions available: Regional Business Development Executive | Category Manager | Vendor Performance Manager | Fashion and Business Development Intern
Address: 275A Outram Road, #02-00
Business: Parenting website and community platform for Asian families.
Founder: Roshni Mahtani
In 2009, 24-year-old Roshni Mahtani pawned her 21st birthday bangle from her grandmother to fund her startup. Within six months, she bought it back as a reminder of the grind she went through to build the largest parenting website in Southeast Asia today.
Now, Tickled Media owns four other sites—Kidlander.sg, Pregnant.sg, TheIndusParent.com, ParentTown (community app)—with a group-wide reach of over 10 million users a month.
Besides Tickled Media, CEO Roshni Mahtani also runs the Female Founders Network, a non-profit organisation to back female-founded startups.
Positions available: Content Intern
Office Address: 71 Ayer Rajah Crescent #05-14
Telephone: 6344 2865
Business: Website and mobile app for Singaporeans to manage all existing insurance coverage and buy insurance on a single platform.
Founder: Val Ji-Hsuan Yap
The idea behind PolicyPal came after Val's father passed away from a heart attack. Unsure of the insurance plans her father had, Val saw the need to assist others like her family to manage and track insurance coverage.
After leaving her job as a former Assistant Vice President at Singapore's OCBC Bank, she launched PolicyPal in April 2016. She was also in the Forbes "30 Under 30" list for Finance and Venture Capital.
Positions available: Digital Marketer | Business Developer
Address: 71 Ayer Rajah Crescent, #04-01
Business: A social recruiting platform that matches potential employees and employers via shared passions instead of salaries. In place of conventional job interviews, interviewees can also set lunch dates or office visits instead.
Founder: Akiko Naka
From a self-taught coder at 9 years old to a former employee at Facebook Japan, Akiko Naka is a kickass technopreneur who founded Wantedly in 2010. Today, Wantedly is Japan's biggest social recruiting platform with 50% of sign-ups via social media.
"Even if high performers don't browse traditional job sites, they'll look at social sites. To recruit talent, headhunters need to tap into new methods. Wantedly focuses on 'why' and 'fun projects'," says Akiko.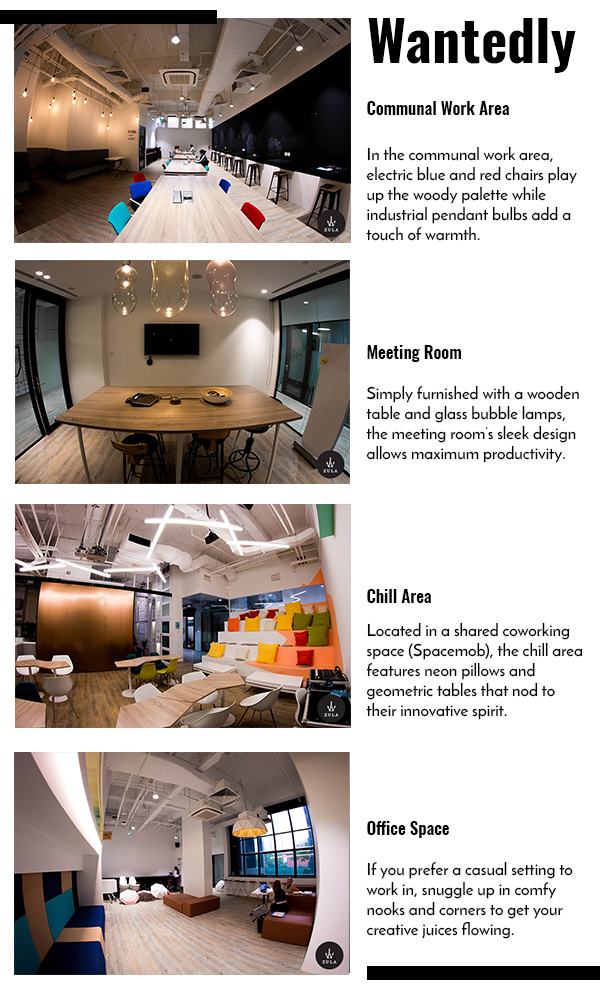 Positions available: Engineer/Programmer
Office Address: Spacemob @ 8 Claymore Hill
Cool Offices In Singapore
At the end of the day, what's more important than pretty furnishing is the company's vision and a forward-thinking boss who believes in you.
With job-hopping as a common practice, companies are constantly required to evaluate HR policies to retain employees.
"In the past, people were controlled by punishment and rewards, they were salary-driven. Now, motivation has shifted to autonomy, ownership, purpose, and decision-making power," Wantedly CEO Akiko Naka adds.
By revolutionising the hiring process, Wantedly has seen success with over 18,000 clients in Japan and aims to be the "Facebook for businesses" in new regions such as Singapore.
To begin the search for the right job that matches your passion,  sign up at Wantedly for free.
This post was kindly sponsored by Wantedly.