Who's Kylie Jenner?
They say all the world's a stage, and that pretty much sums up the life of Kylie Jenner thus far.
Born into reality-television royalty with four entrepreneurially accomplished sisters, a business honcho for a mother, and an Olympian for another mother, it's hard to stand out when your entire family hogs the entertainment spotlight.
And yet, Kylie is now arguably the biggest star. Set to become the world's youngest billionaire, let's keep up with the radical style evolution of King Kylie and the rise of her US$900million beauty empire.
Baby Kylie (2008-2011)

Back to her beginnings in front of cameras, Baby Kylie was that one girl that popped up every now and then on Keeping Up With The Kardashians (KUWTK) while her sisters fought over salad orders.
For her scripted spur-of-the-moment appearances, Kylie reportedly earns US$5,000 per episode from the hit reality show which allowed her to stop taking pocket money from mama Jenner.
Teenage-Kylie's style was mum-approved and affordable despite her eye-popping pay cheque; demure polka-dot tops, not too tight bodycon dresses, and twinning with Kendall was top of her style memo. Her minimal style translated into a single word? Forgettable.
Teen Star Kylie (2012)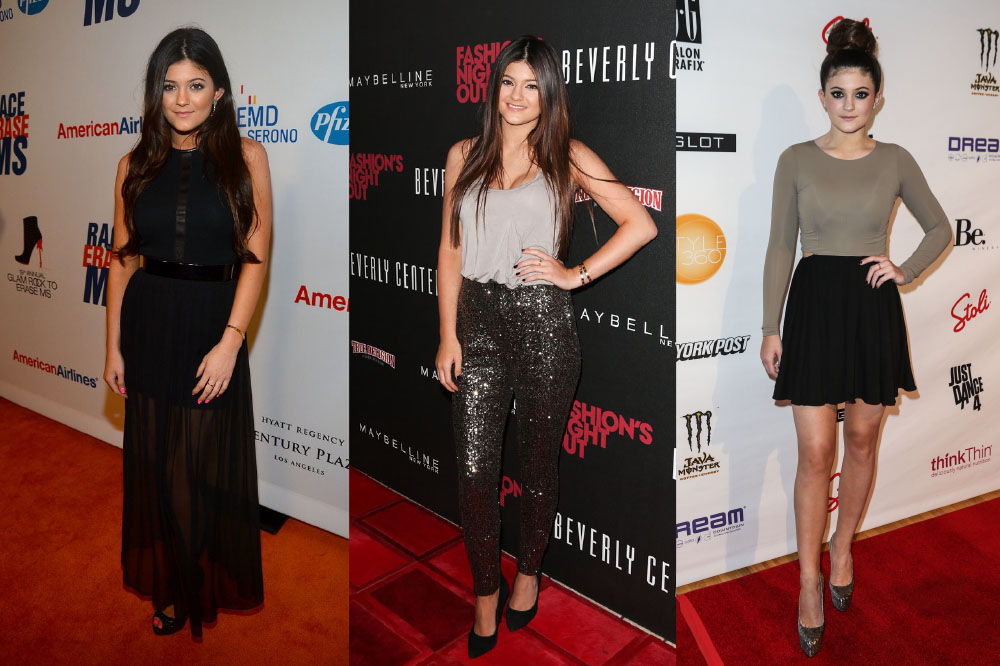 With better styling and a focused colour palette, Kylie came across as an approachable teen-star who wasn't opposed to megawatt smiles. Accessories were kept to a minimal, reflecting a concerted effort to put forth a slightly grown-up persona.
Having received accolades by Seventeen magazine as Style Star of the Year, Kylie's street cred attracted brand collaborations like Forever21.
This way, she starting raking in the dough, supplementing her income by making guest appearances on popular television shows such as America's Next Top Model and hosting televised blockbuster movie premiers.
Also read:
Why Kylie Jenner And Her 1-Billion-Dollar Cosmetic Empire Deserve Our Attention
Another Kardashian Kylie (2013)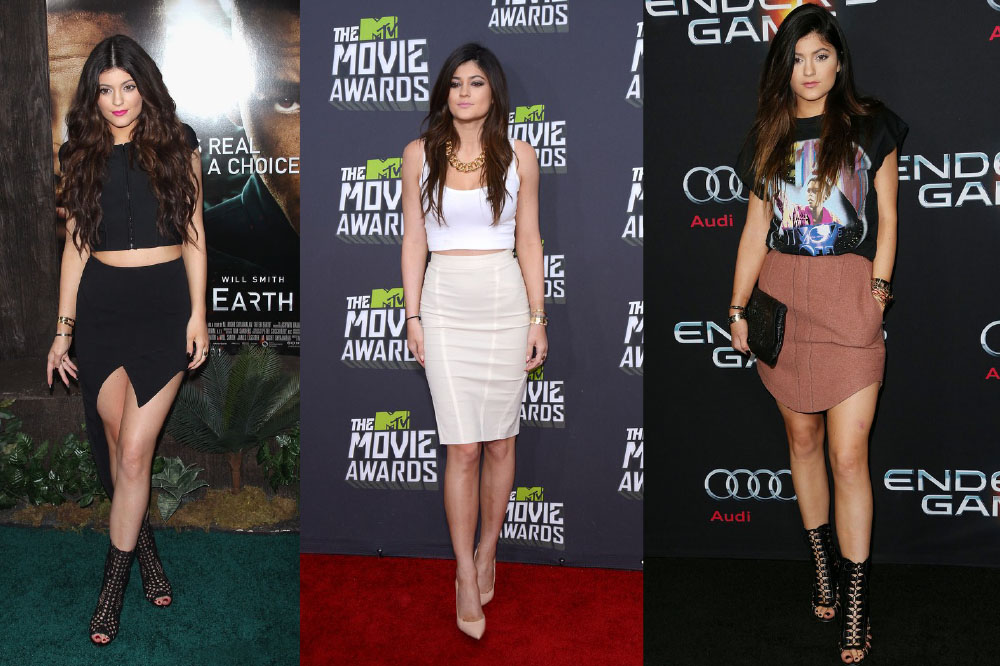 Taking style cues from her sisters, it's apparent that she shares their love for the colours nude, white, and black. Two piece outfits are frequently accessorised with an exposed midriff too. But having a style so similar to that of her more established sisters left her in their shadows.
On the rise to establish her own name as a brand, Kylie forayed into the cosmetic industry with a collaboration with Nicole by OPI, which earned her US$100,000.
She also ventured into apparel and jewellery designing, launching collections for PacSun and Pascal Mouawad, setting the ground to develop her own individual style in later years.
The Pout Kylie (2014)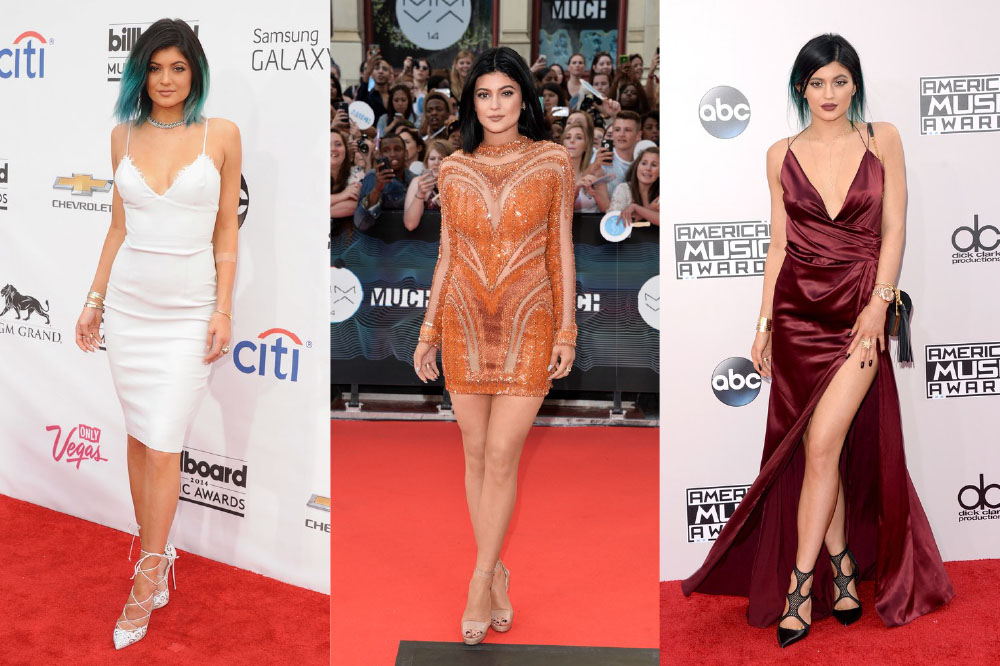 Who knew pouty lips were all Kylie needed to turn the spotlight on her? Though she hadn't admitted it at the time, Kylie had begun using temporary lip fillers.
Her wanting to transform her lips after a boy had said they were "too small and (he) didn't think she would be a good kisser" would eventually lead to the creation of the Kylie lip kits.
Her style vamped up to match her plumped lips accordingly, with only her statement teal dip-dyed bob setting her apart from her bronzed sisters. Still, she showed promise of her becoming a style icon in her own right, with sophisticated sartorial choices veering on the edgy.
Her growing social media following (now, 111.7 million followers) sealed her own place amongst the Kardashians and she was ranked one of Time's 25 Most Influential Teens in 2014.
The One And Only Kylie (2015)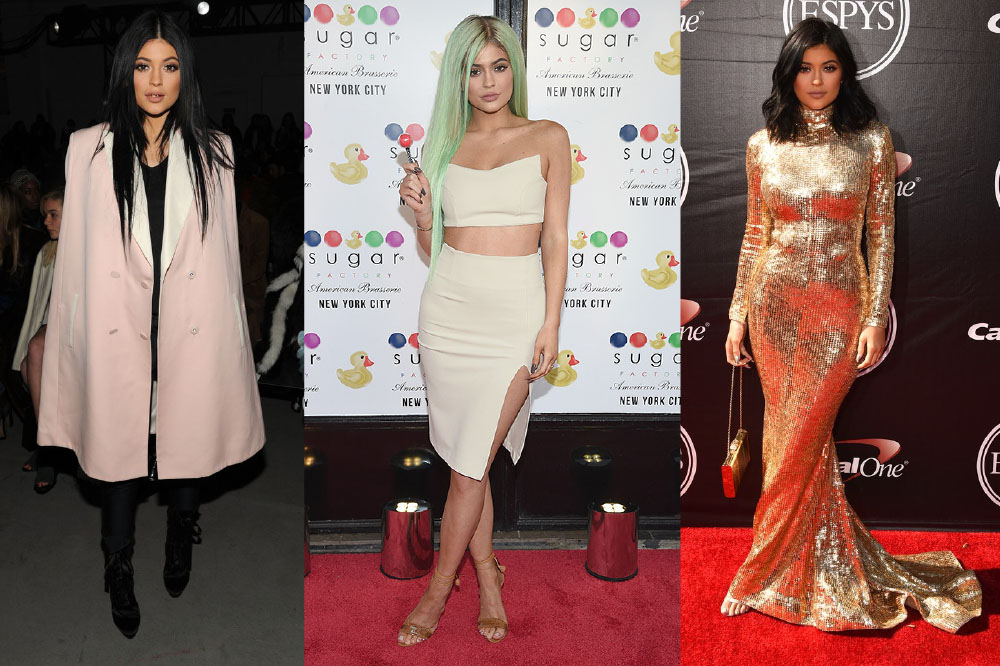 Kylie's unwavering confidence and careful fame leverage saw her launching the since renamed Kylie Lip Kits to much fanfare. The first 15,000 lip kits, self-funded by her US$250,000 personal savings from being a model, sold out in 60 seconds.
Now in full control of the media-sphere, every style decision that Kylie made became obsessively scrutinised and replicated for less worldwide.
If you recall wanting seafoam-coloured hair or having the need to add beige into your wardrobe, it's probably because Kylie did it first. Her bold wardrobe looks at each media appearance conveyed the idea to fans that attitude was all anyone needed to carry off even the most challenging outfits.
Her unwavering confidence and careful fame leverage also launched her since renamed Kylie Lip Kits to much fanfare.
No Need For Introduction Kylie (2016)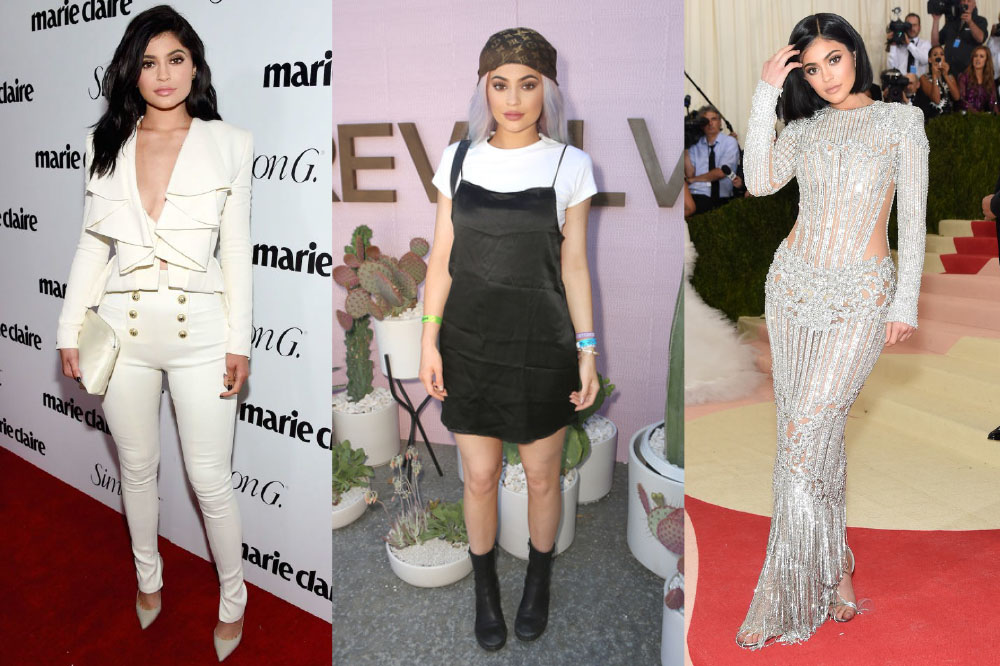 In light of the increasing feminist sentiment at the time, Kylie's work and fashion choices turned her into a role model for female empowerment. And soon, she was the go-to muse for French luxury house, Balmain.
Kylie's effortlessly cool vibe made her a girl who could do both: whether in a sequined gown or power suit, her style was a sweet balance between authority and sensual beauty.
Rather than resting on her famous laurels and 'realising things', Kylie continued to expand Kylie cosmetics and earned a cool US$307 million in 2016.
King Kylie (2017-Present)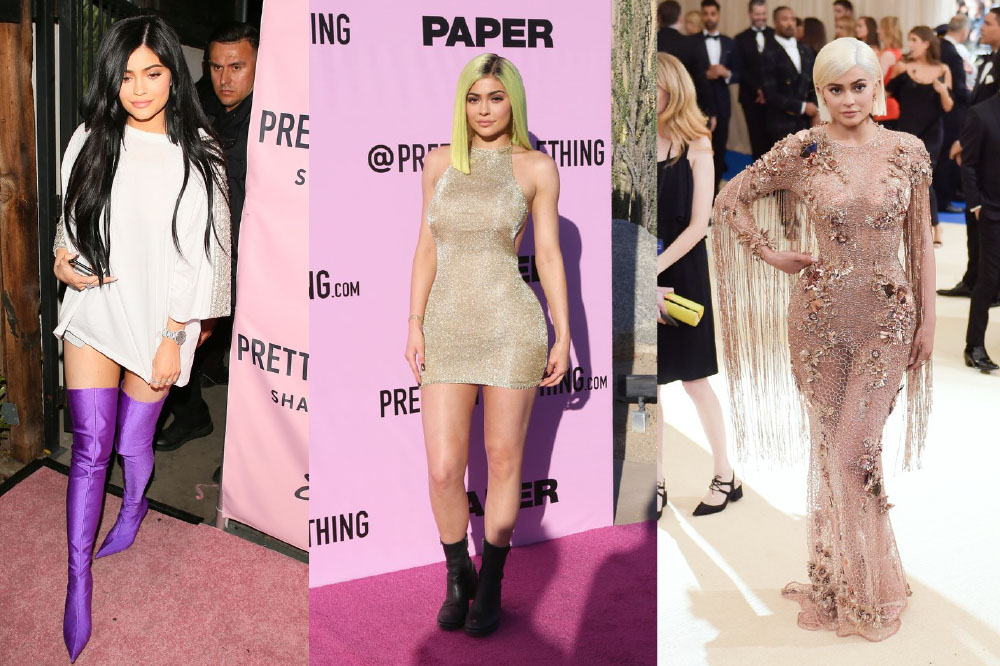 Kylie now indisputably dominates on the fashion front, but you already knew that. Crafting her very own brand of je ne sais quoi with her style prowess, even Donatella Versace took notice and collaborated for an exclusive look for Kylie's Met Gala appearance.
Her appearances scream lady boss at every formal or casual turn, and she's no longer the girl left standing aside while Riri takes pictures at the MET Gala.
Now at 20 years of age, Kylie is a mum. While she has gotten rid of her lip fillers, she still has a legion of adoring fans. Some are even trying to raise USD100 million to make her the youngest billionaire ever.
Kylie Jenner Fashion Over The Years
Over the years, Kylie has evolved into a fashion icon and made a makeup and beauty empire from US$29 her lip liner and lipstick 'lip kits'. We'll defo be looking to see if she becomes the youngest billionaire ever!
Also read: