Fashion Tips On Layering Outfits In Singapore
As the monsoon rains hit January, temperatures dipped to a record low of 21.8 degrees. Like many Singaporeans, I gladly pulled out my sweaters and denim jackets and posted about how much I loved the rain on Instastory.
But as the weather took a warmer turn, I found it a shame to give up layering my outfits. Despite our humid climate, I wondered if there was a way to make layered outfits look fashionable and wearable in Singapore.
So I asked resident ZULA bae/fashion stylist, Leah, to share her best tips on dressing up without dying of heat stroke.
Wear one colour in different textures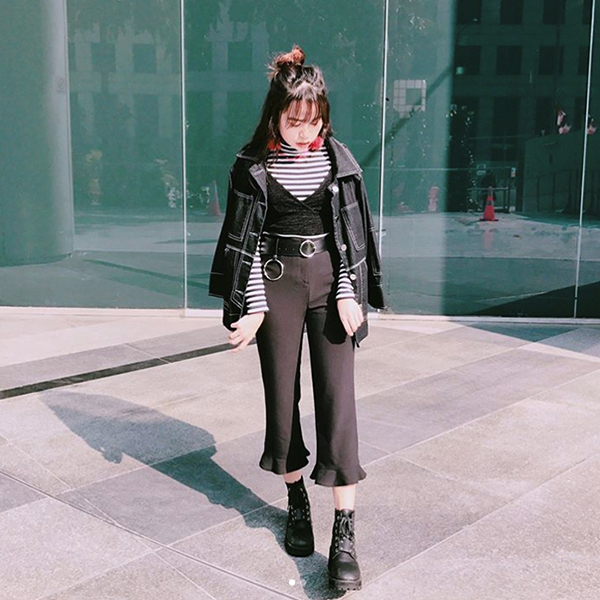 Black Bralet (S$7.90) | Striped Tee (S$9.68) | Black Belt (S$4.82)| Black Denim Jacket (S$9.38) | Black Bell Bottoms (S$8.40) | Black Boots (S$6.20)
Plan your outfit around one colour, and layer different textures or patterns over for a daring, but not over-the-top look.
Choose fabrics like cotton and chiffon for your inner layer to stay cool and a smaller layering piece to reduce bulk.
Pair a sharp blazer with frayed jeans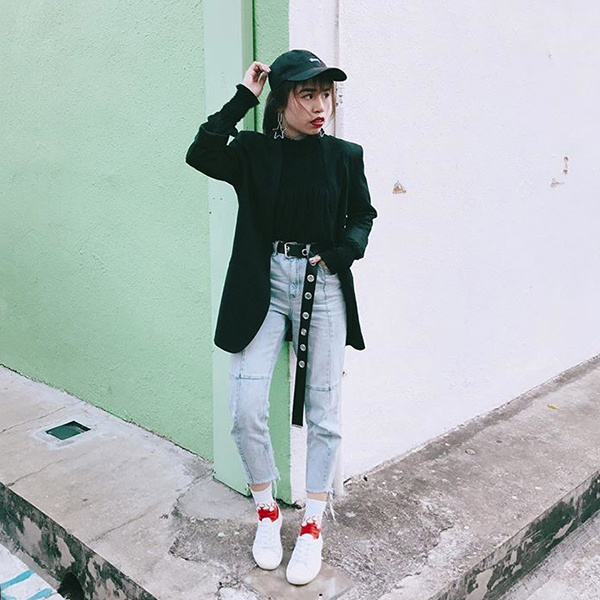 Black Baseball Hat (S$4.36) | Black Blazer (S$11.92) | Denim Jeans (S$6.12) | Eyelet Belt (S$4.92) | Fire Socks (S$4.76) | White Shoes (S$13.40)
Pair an oversized blazer with denim for an easy, chic aesthetic. The blazer's clean silhouette lends sharpness to the outfit, and the slightly frayed jeans give off a casual vibe so you won't look uptight.
Wear fishnet stockings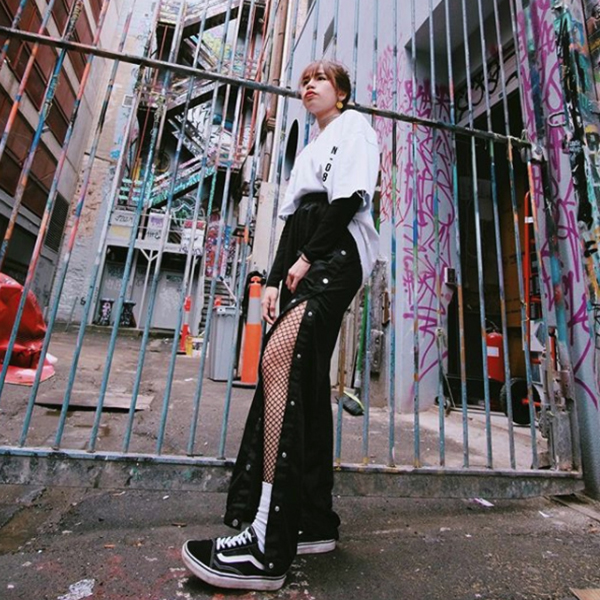 White Oversized Shirt (S$3.31) | Long-sleeved Shirt (S$7.11) | Button Up Pants (~S$26.44) | Fishnet Stockings (S$4.15) | VANS Sneakers (S$89)
To give the illusion of wearing layers, try going for fishnet stockings to add pattern and texture to your outfit.
It's great because you can unbutton the side of these pants when it's too hot, and not feel exposed as the fishnet stocking covers your legs.
Match a corduroy jacket with a long denim skirt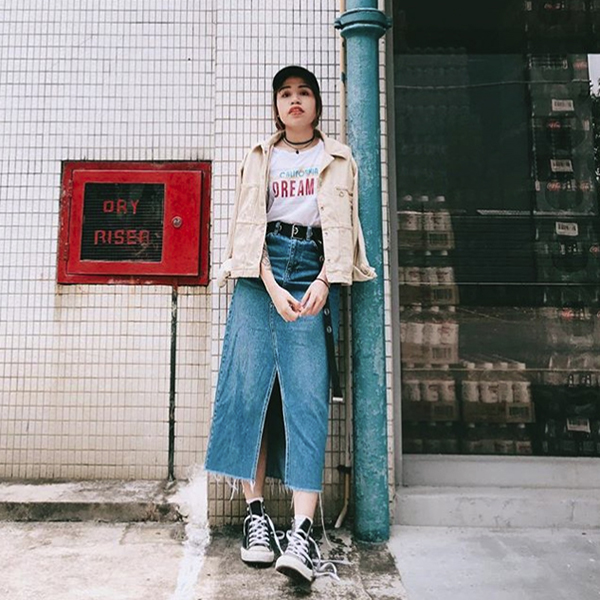 Black Baseball Hat (S$4.36) | Black Choker (S$2.40) | Eyelet Belt (S$4.92) | Denim Skirt (S$13.38) | Printed White Tee (S$7.38) | Corduroy Jacket (S$12.65) | Converse Sneakers (S$119)
Instead of wearing a denim jacket like everyone else, play with corduroy in a neutral shade. While some might think corduroy is '90s uncool', it can be just as versatile as denim if worn correctly.
A long denim skirt will veer you away from the typical T-shirt/knee-length skirt combo and make your legs appear longer.
Layer a shirt under a cutout dress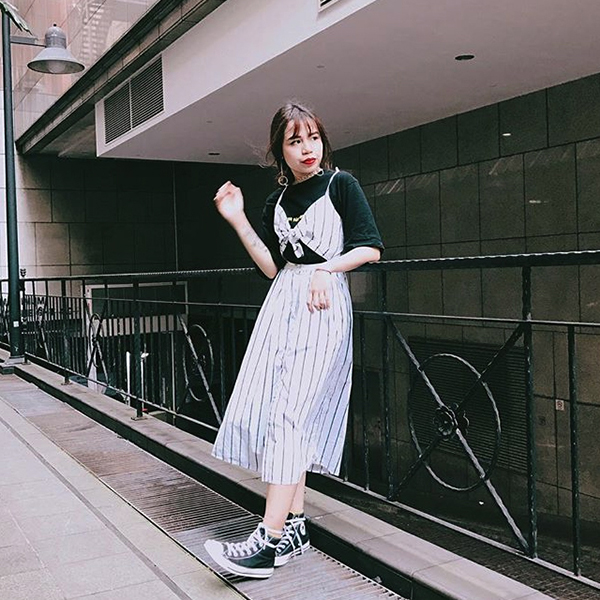 Black Oversized Tee (S$10.30) | Striped Dress (S$13.38) | Converse Sneakers (S$119)
For those who are a little shy about wearing a cutout dress, you can try this cute Korean-inspired street look.
On its own, the dress gives off a dainty, soft vibe. But when paired with a dark, oversized shirt and sneakers, it lends a more tomboy, rugged feel.
Throw on denim overalls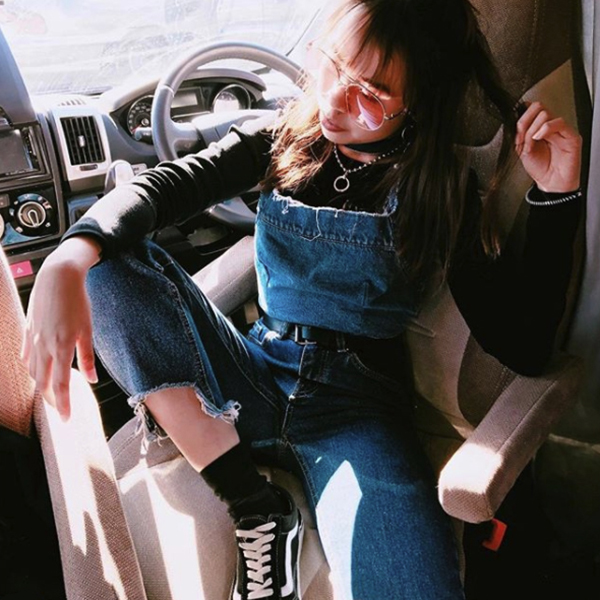 Black Turtleneck (S$6.17) | Jeans Jumpsuit (S$11.92) | Belt (S$14.96) | VANS Sneakers (S$89)
Overalls are great for days when you are too lazy to decide what to wear. When wearing overalls, you don't have to worry about getting your clothes dirty because, like jeans, every stain and crease adds to the overalls' unique character.
Wear lingerie as outerwear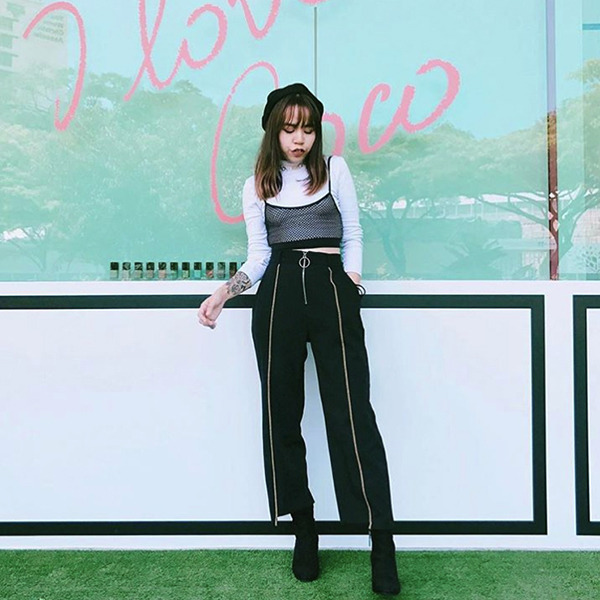 White Turtleneck (S$6.17) | Mesh Bralet (S$4.69) | Black Beret (S$3.87) | Black Striped Pants (~S$14.22) | Black Heeled Boots (S$13.07)
Layer a sheer bralette or lingerie top over a white turtleneck for a statement look. Here, the details on a mesh bralet add to the edgy vibe while maintaining breathability, and the black trousers ground everything together for a modern and slick silhouette.
Layer your accessories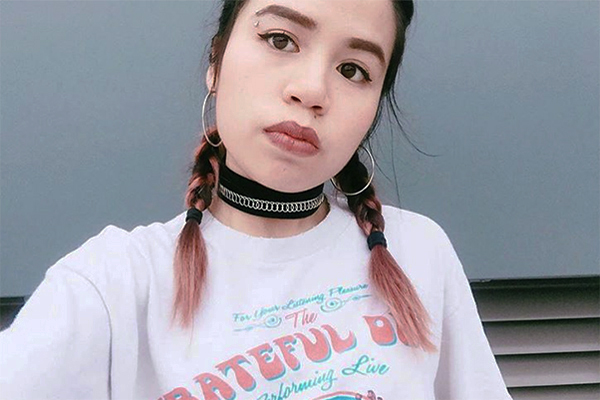 Black Choker (S$1.61) | Chain Choker (S$2.80) | Hoop Earrings (S$2.70)
Accessories can upgrade an outfit real quick. Layering chokers, chains, and necklaces can make a plain outfit more put together.
Rather than buying a new outfit, accessories are a more affordable way of switching up your dressing.
Bring out your leather jacket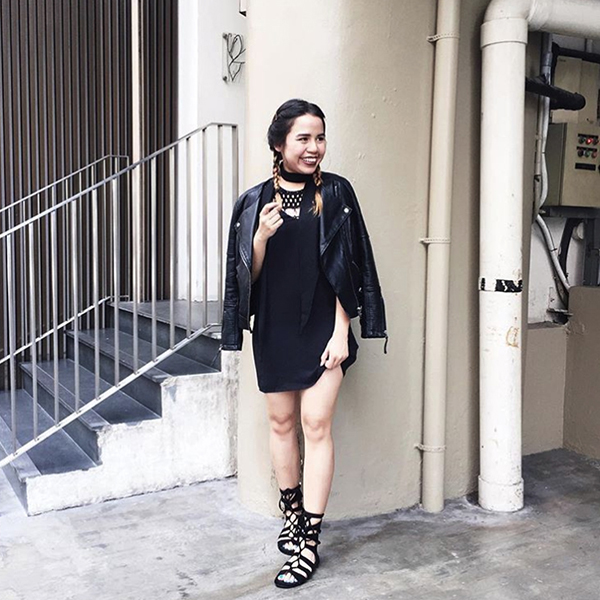 Black Choker (S$2.73) | Laced Sandals (S$24.25) | Black Dress (S$7.41) | Leather Jacket (S$18.98)
When in doubt, wear black. While leather jackets look cool AF, it might be impractical for our warm weather.
To combat this, take advantage of its sturdy structure and drape it around your shoulders instead. This provides coverage for your arms without being too suffocating.
Guide To Layering In Singapore
Despite Singapore's warm weather, it isn't impossible to implement layering into your everyday wear. With these styling tips, you can create more sophisticated outfits without feeling overwhelmed by the humidity and heat.
Cover image: Source