MAC x Museum Of Ice Cream
Pink-themed rooms, a giant sprinkle pool and unlimited ice cream. If your guess isn't Museum Of Ice Cream based on this description, chances are you've yet to visit this place to fully enjoy those perks. Despite opening a year ago, Museum Of Ice Cream continues to spoil us with new surprises, this time introducing a collaboration with makeup brand MAC.
Here's your chance to check out the exhibition if you've not. Taking place over four days in November, Museum Of Ice Cream's iconic pink rooms are undergoing a holiday makeover. Guests can expect to discover MAC's new makeup collection, enjoy an exclusive MAC-inspired ice cream and win prizes at an exclusive claw machine.
MAC holiday collection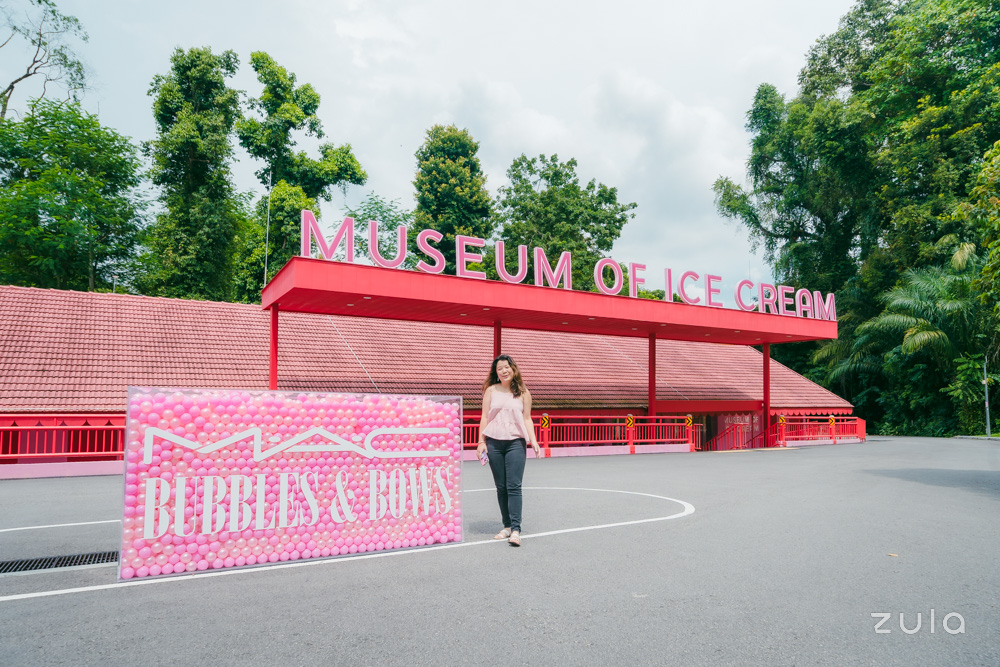 Right from the get-go, the Museum Of Ice Cream logo spotted outside now has a new friend — a MAC Bubbles & Bows container filled with bright pink balls. Dress up according to the theme of pastel, pink, bubbles and bows to take some fun shots in the natural light here.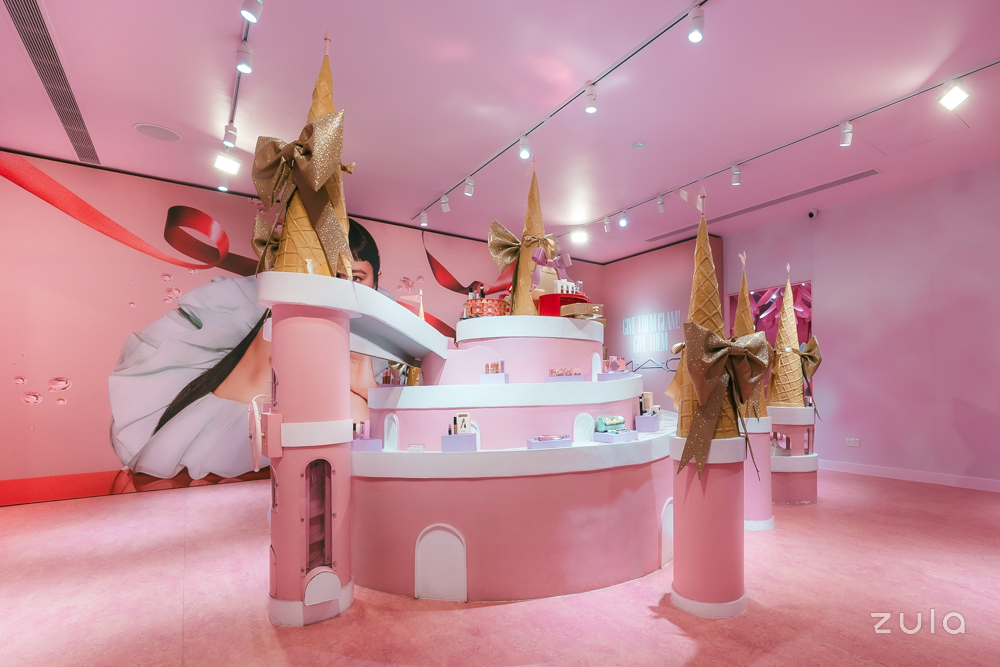 Just like the normal admission ticket, you'll be able to access 14 unique exhibitions and enjoy unlimited sweet treats throughout your journey. Upon entering the exhibition, step into a wonderland of MAC's holiday collection, neatly displayed like icing on a 3-tier "cake".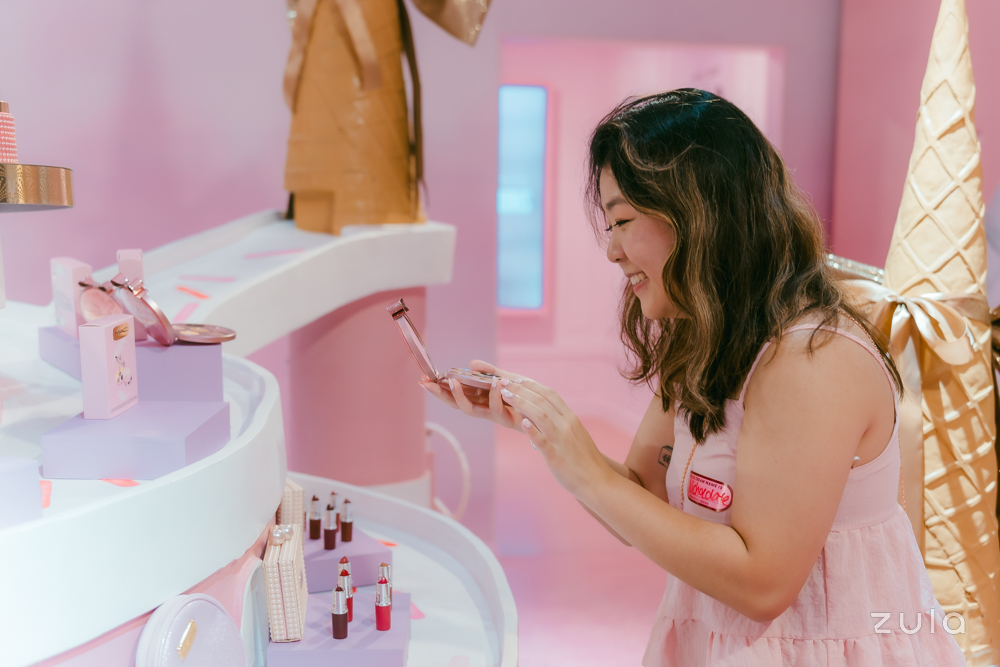 These products aren't just for show — feel free to swatch the sparkly colours of the lippies and eyeshadows on your hands. With Christmas arriving just around the corner, this is your chance to try out a new colourful makeup look to end the year on a fun note.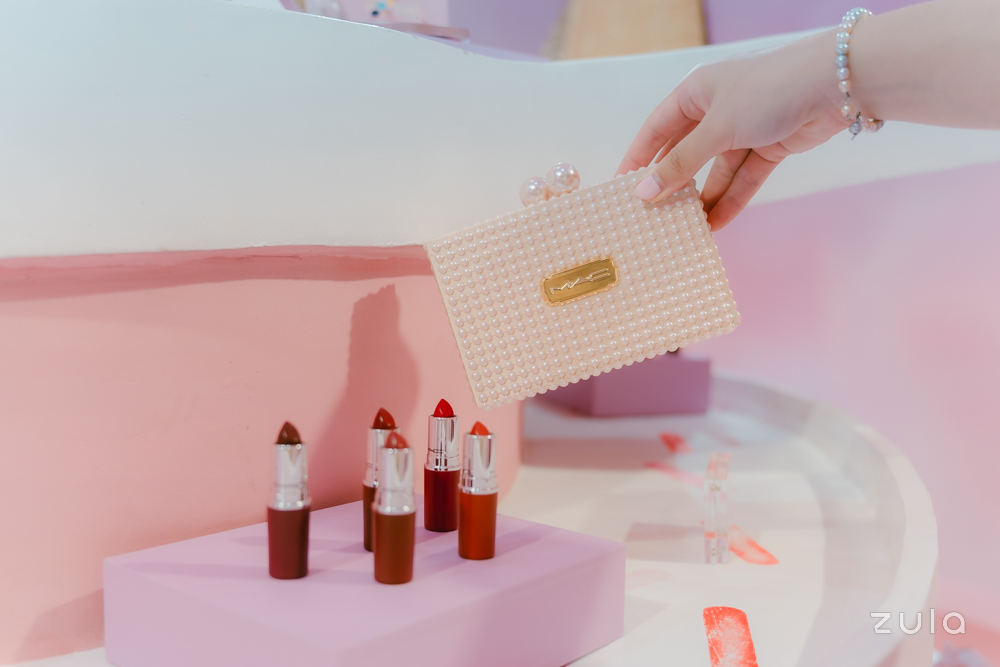 Some of MAC's best sellers displayed include Taste of Matte Lipsticks, retailing at $99 for five shades. The set also comes with an adorable pearl clasp pouch to store these essentials with you while on the go. 
If you're interested in getting your hands on these products, QR codes with the full MAC Bubbles & Bows e-catalogue are situated around the "cake" for you to browse.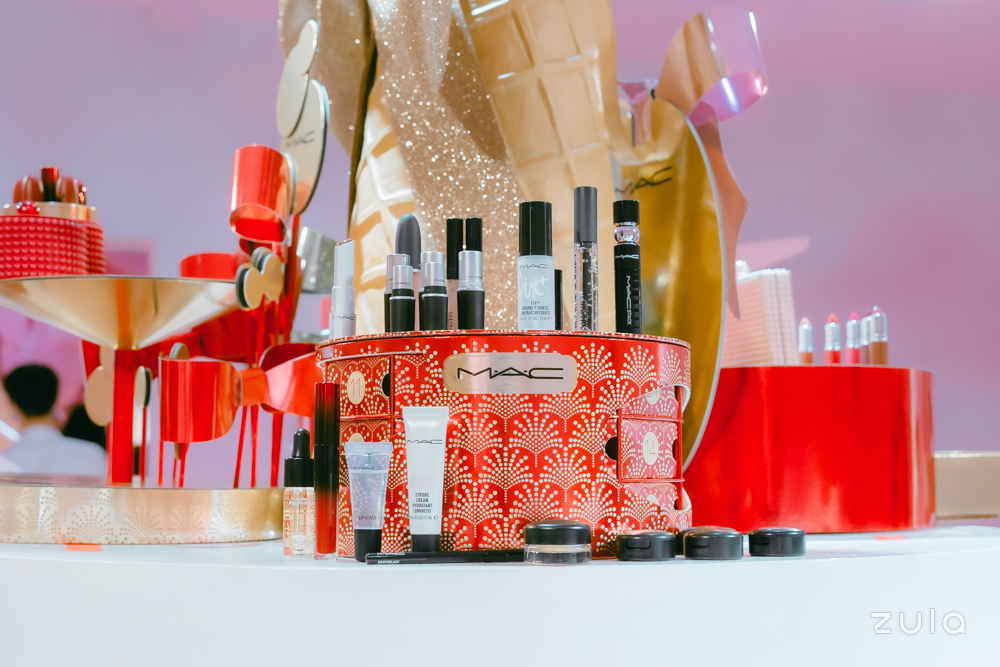 My personal fave is the MAC Bursting with Surprises Advent Calendar, retailing at $270. The chio red package is literally bursting with MAC's iconic products like lippies, eyeshadow and mascara, perfect for those looking to shop Christmas gifts for BFFs.
The exhibition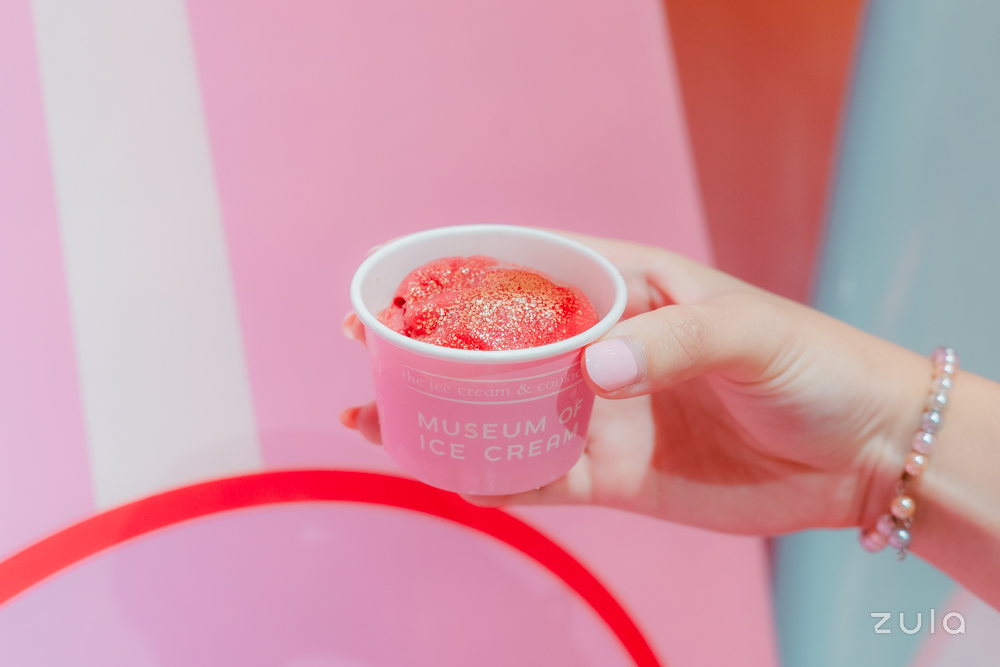 On top of the variety of flavours around the museum, guests are entitled to an additional MAC x Museum Of Ice Cream limited edition ice cream. Inspired by the theme of pink and all things sparkly, the new raspberry sorbet is vegan and dairy-free, topped with gold glitter. 
The sorbet is made with 100% raspberries and has no added colourings or flavours — perfect as a refreshing and light treat to beat the heat. Help yourself to the cocktails and mocktails at the bar too, while chilling with the fun beach-themed backdrop and MAC props.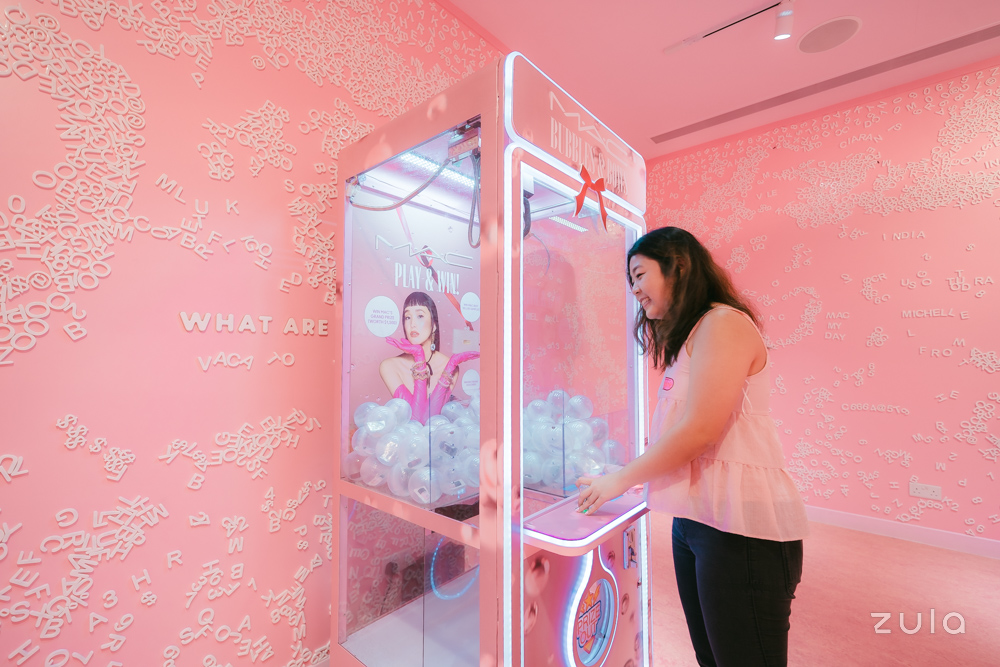 Have a go at the MAC Bubbles and Bows Claw Machine, where makeup lovers can stand a chance to win exciting prizes. These include MAC's best seller samples, brand vouchers, and even a Holiday Grand Prize voucher worth $1,500. 
We heard that the grand prize is encased inside gold wrapping, so be sure to keep your eyes peeled for its gleam. In this context, it's safe to say that all that glitters truly is gold.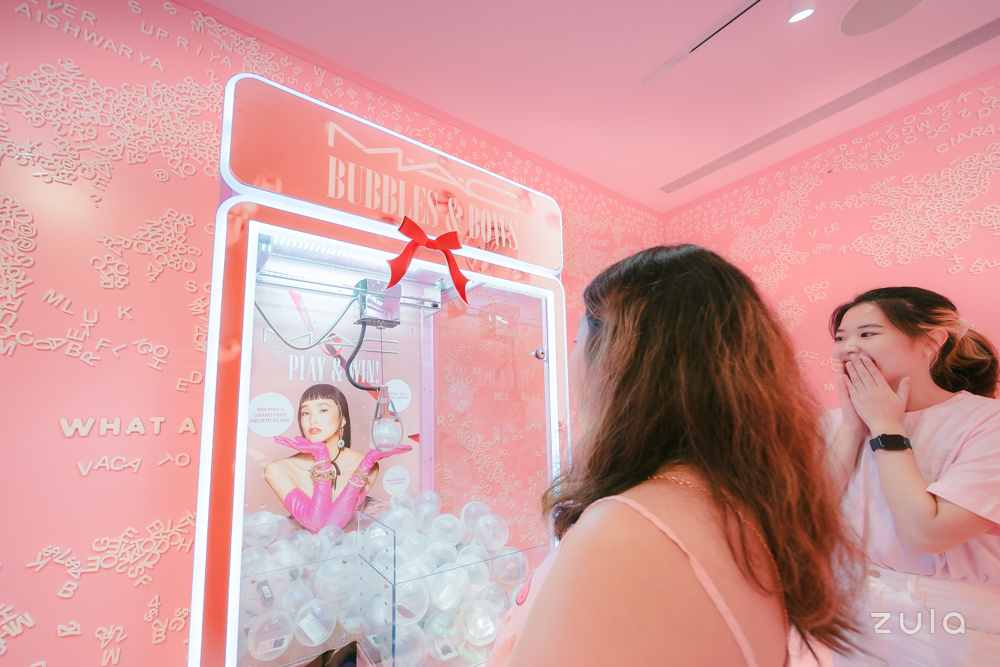 Don't be fooled — the claw machine isn't as easy as it seems. I almost caught myself a lipstick, only to watch it dramatically fall back down after slipping through the claw's gaps. Each customer will only be given one chance on the machine, so make each gameplay count.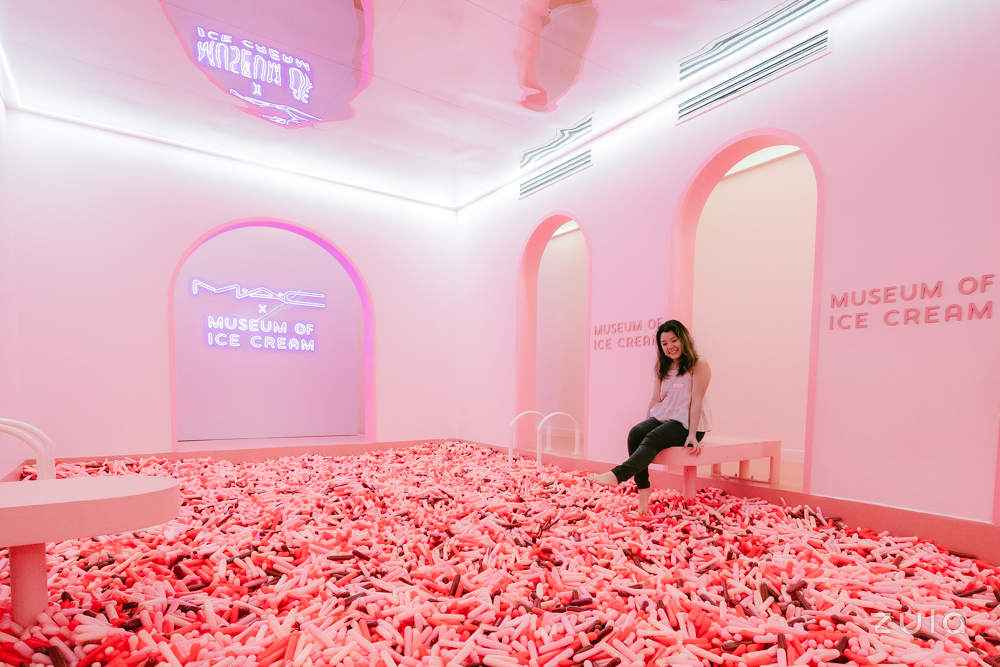 Remember to pace yourself with the ice cream treats along the way, because there are many exciting activities and photo spots to indulge in too. We can't miss out on the iconic giant sprinkles pool, featuring an aesthetic neon sign of the MAC x Museum Of Ice Cream logo.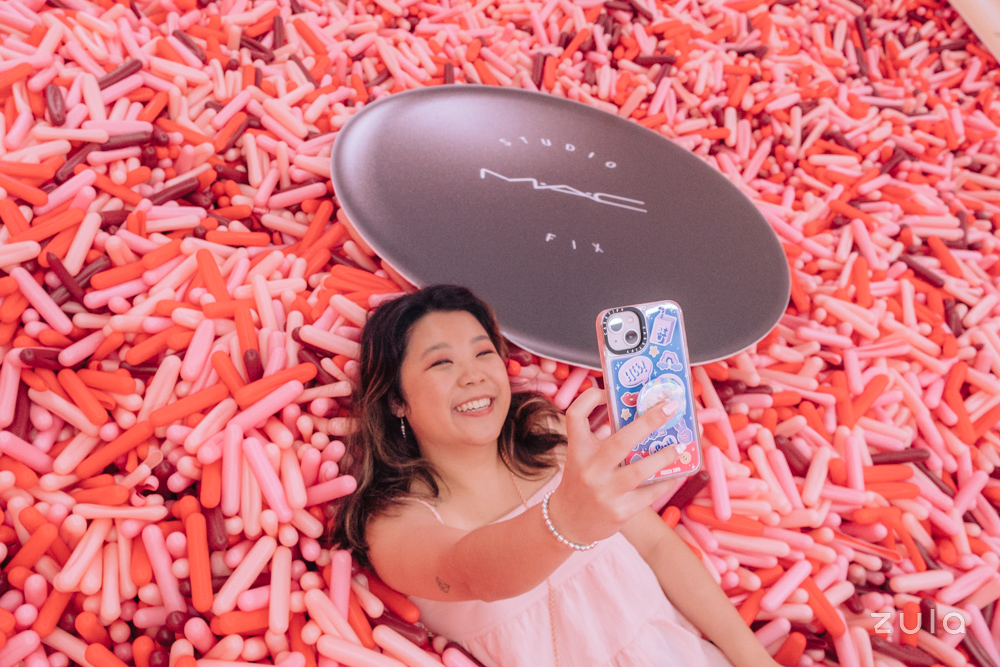 More props of MAC's holiday collection are placed inside the pool itself. Feel free to play around and snap selfies with a giant cut-out of your fave foundation or lipstick shade here.
Exclusive offers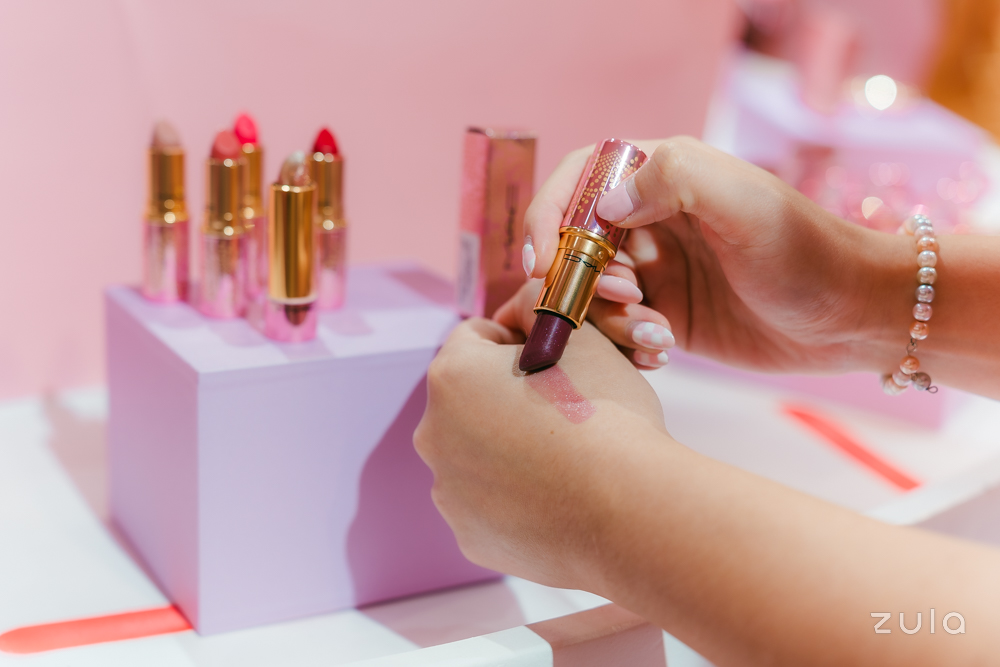 For illustrative purposes only
Before leaving the exhibition, make your day even sweeter by collecting MAC gifts at the front desk. Each purchased ticket includes a goodie bag with MAC hero samples and a holiday gift voucher to purchase your fave products. With so many treats to spoil your inner beauty guru, it seems like Christmas has arrived early this year.
The MAC x Museum Of Ice Cream Exhibition Celebrates The Upcoming Holidays With New Products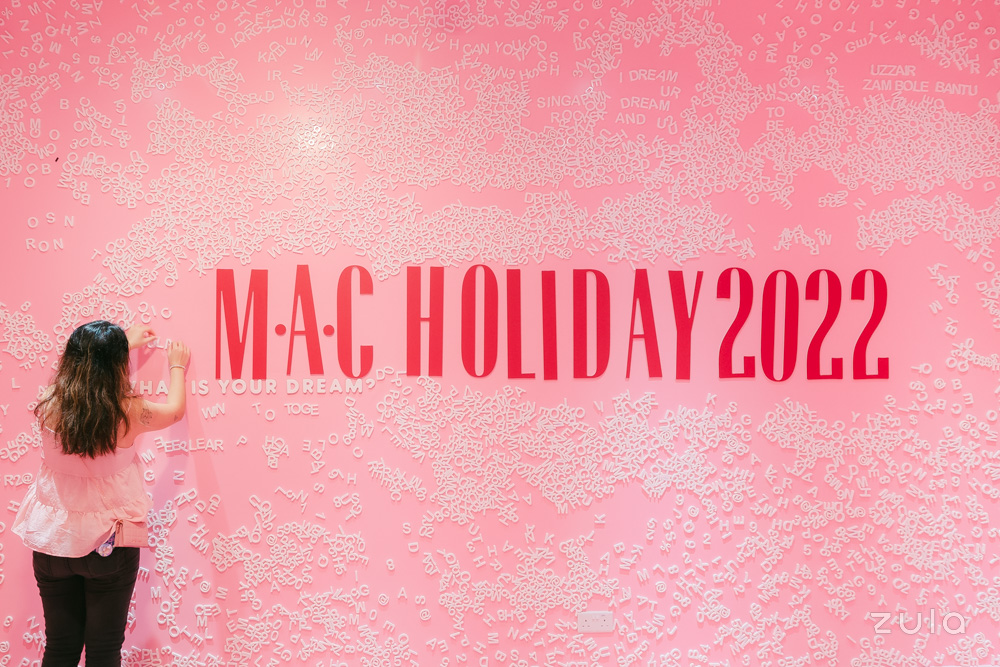 Gear up for Christmas and get your holiday glam on with the MAC x Museum Of Ice Cream exhibition this November. Since the collaboration will only be here for four days, make sure to grab your besties and book your ticket ASAP. Tickets are available to purchase on Museum Of Ice Cream's website at $36 on weekdays and $42 on weekends.
Head over to MAC's website to discover the full Bubbles & Bows holiday collection.
MAC x Museum Of Ice Cream Holiday Collaboration
Date: 3 to 6 November 2022
Price: $36 on weekdaysㅣ$42 on weekends
Address: 100 Loewen Road, Singapore 248837
Opening hours: 10am to 5.30pm
Photography by Afiqah Amir.
Also read:
Lancôme Has A Limited Edition Bearbrick With Red Lipstick Designs To Add Glam To Your Collection