MyEureka CNY Gift Sets
Collecting angpaos and snacking on delicious treats are undeniably the highlights of house visits during CNY. But if you're planning to score some brownie points with the host, consider making an impression when you bring over unique gift sets like the ones from popcorn brand myEureka.  
Unique popcorn flavours
Instead of munching on the usual pineapple tarts and love letters, get a taste of myEureka's unique popcorn flavours that aren't commonly found on your local supermarket shelves. Welcome your taste buds to Singapore-inspired savoury flavours like lobster cheese, salted egg, and spicy cuttlefish.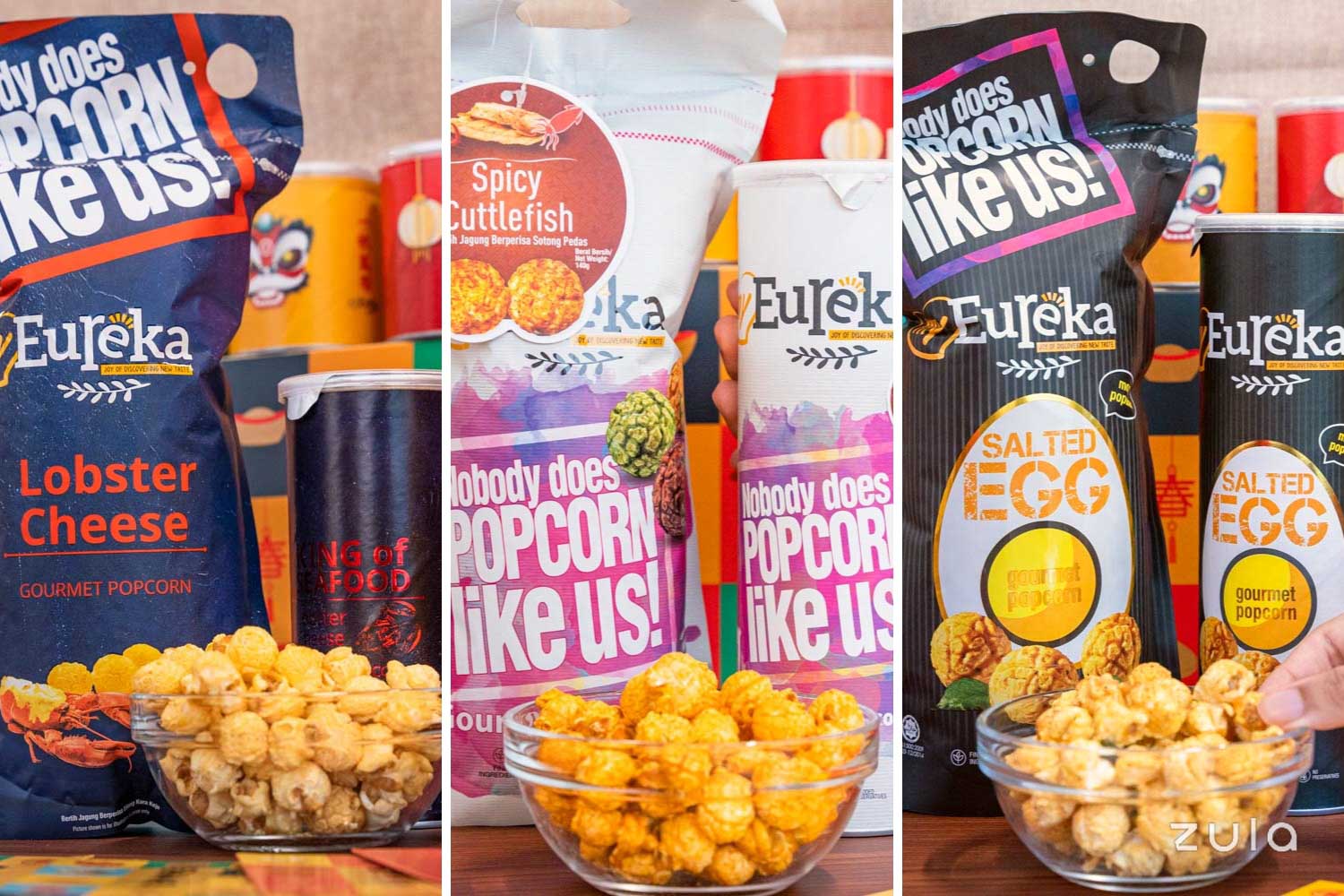 From left: Lobster cheese ($14.70), Spicy cuttlefish ($12.60), Salted egg ($12.60)
Each flavour comes packed in an aluminium pack (140g) that is resealable on top, so you can keep the popcorn fresh for future supper sessions.
Since CNY is just right around the corner, make sure to take advantage of the promotion from 13 to 15 January 2022. You can receive a free angpao set and $8 off your total bill when you purchase all three flavours of their salted egg, lobster cheese, and spicy cuttlefish popcorn in 140g (U.P $39.90) at their physical outlets. 
Gift can set
Don't fret if you enjoy gifting something that your loved ones can repurpose for the long run. The CNY 2023 Gift Can set has an ambitious to-do list ‒ it serves as a suitable door gift, treats taste buds to unique popcorn flavours, and doubles as a coin box to save loose coins.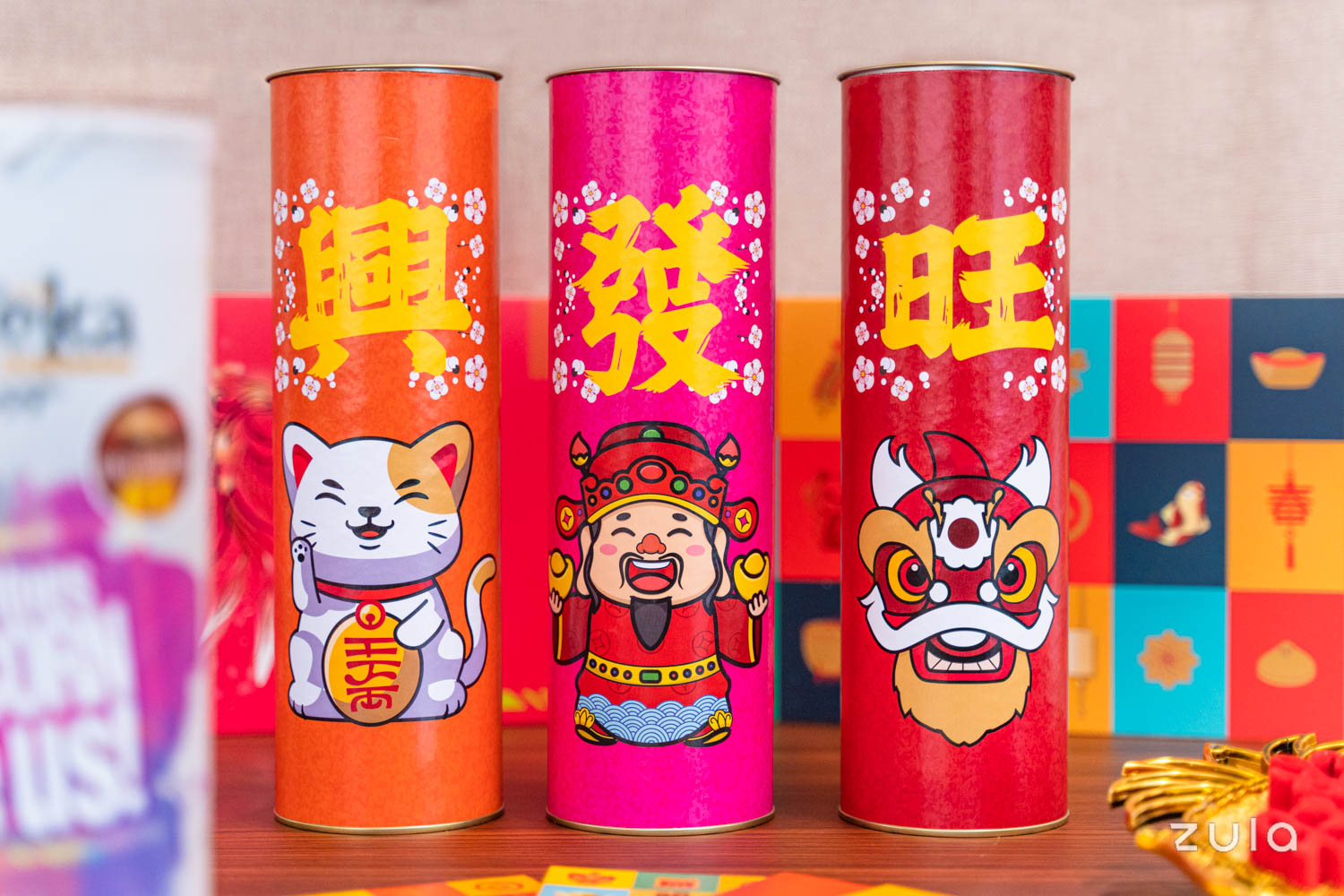 What's so interesting about the gift set too is that it features three cans in orange, pink, and red named Heng Ah!, Huat Ah!, and Ong Ah! which represent fortune, wealth, and prosperity respectively.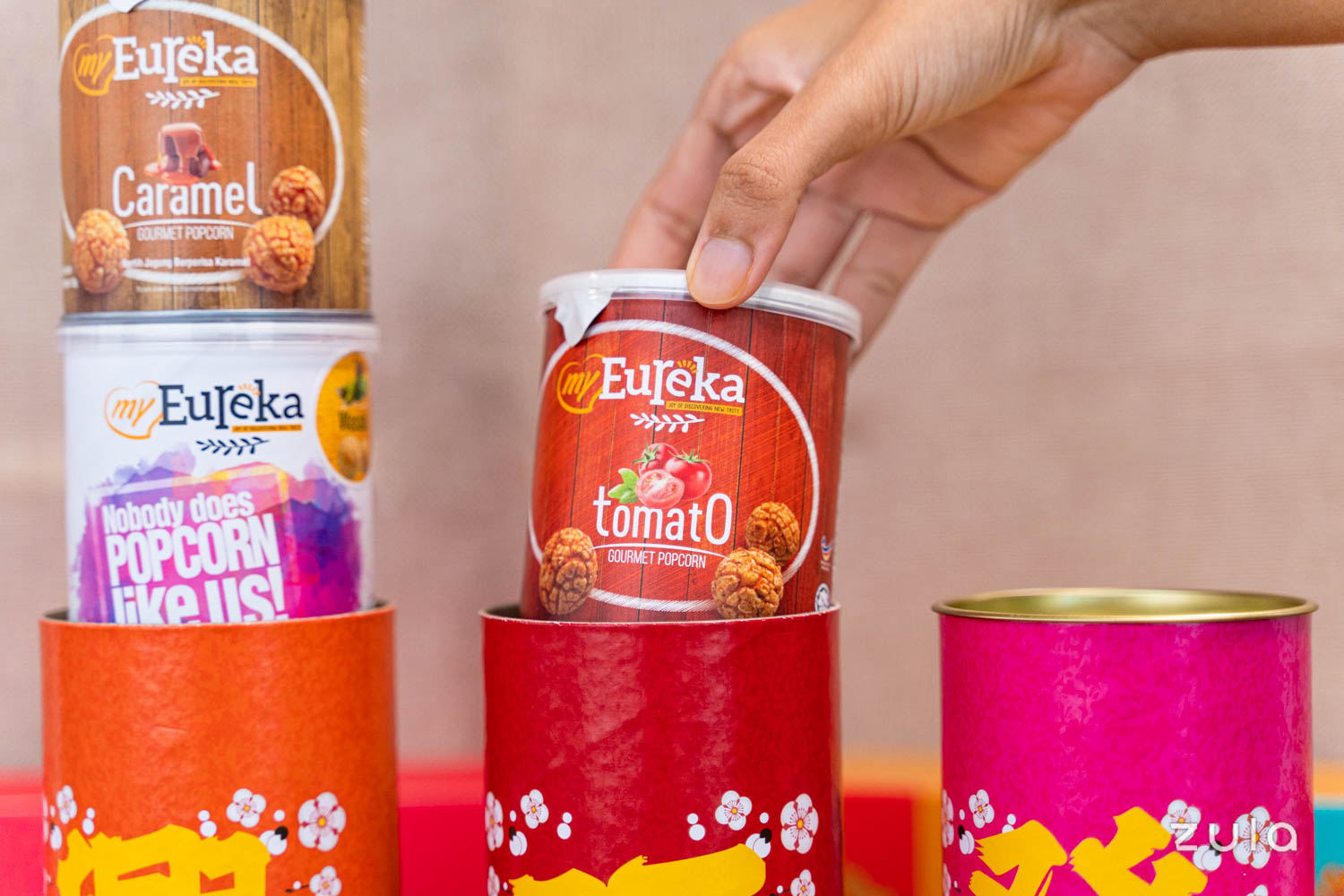 Each can includes three units of 35g popcorn that feature one-of-a-kind flavours like wasabi, tomato, and BBQ.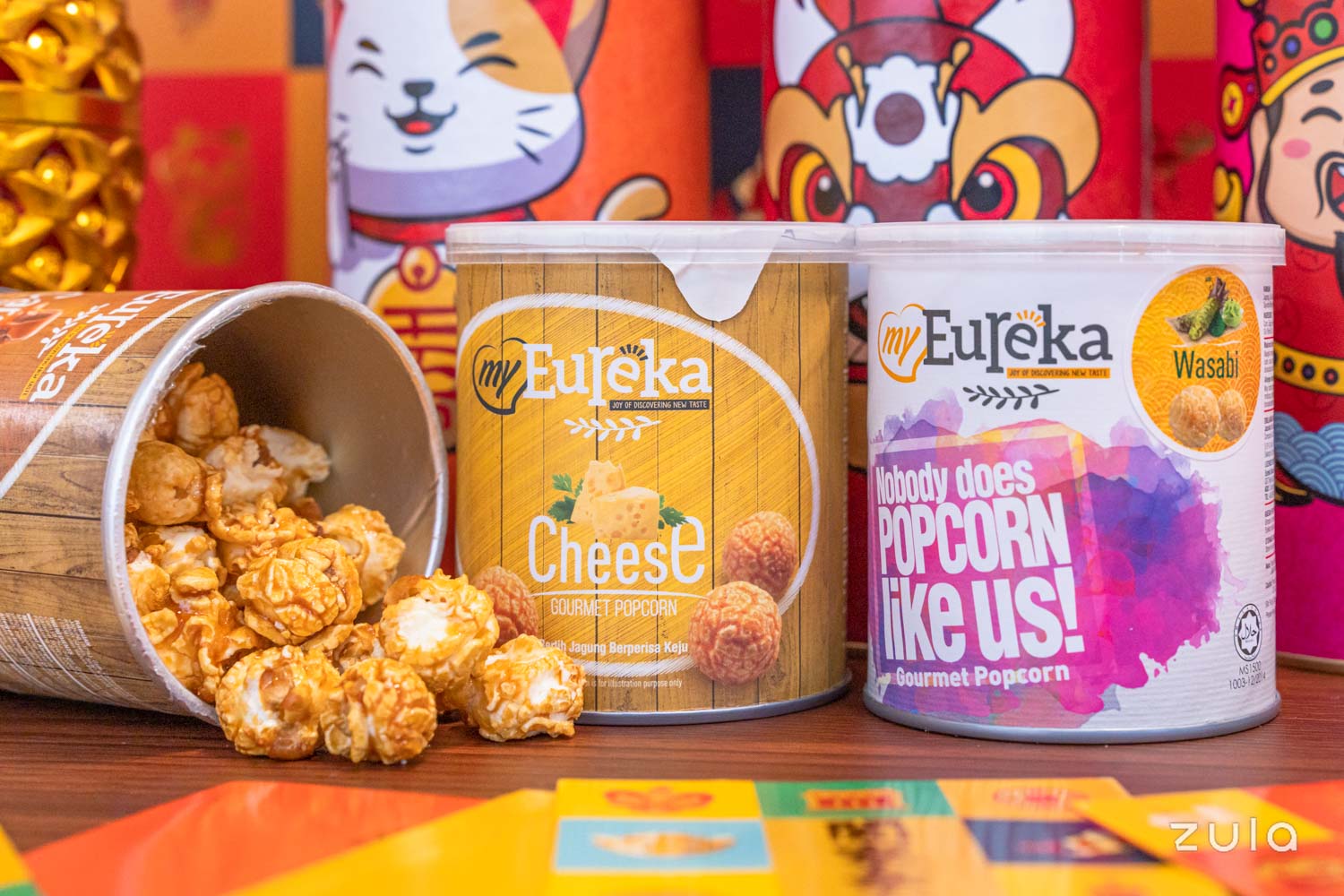 Since these flavours are different from the usual sweet and salty ones we find in the cinema, chances are, you might be surprised by how myEureka is preservative-free and only uses non-GMO corn kernels.
The CNY 2023 Gift Can set retails at $28. 
Free angpao set
The fun doesn't end yet ‒ myEureka is also giving away free angpao sets to customers who purchase the Gift Can set as part of a CNY promotion.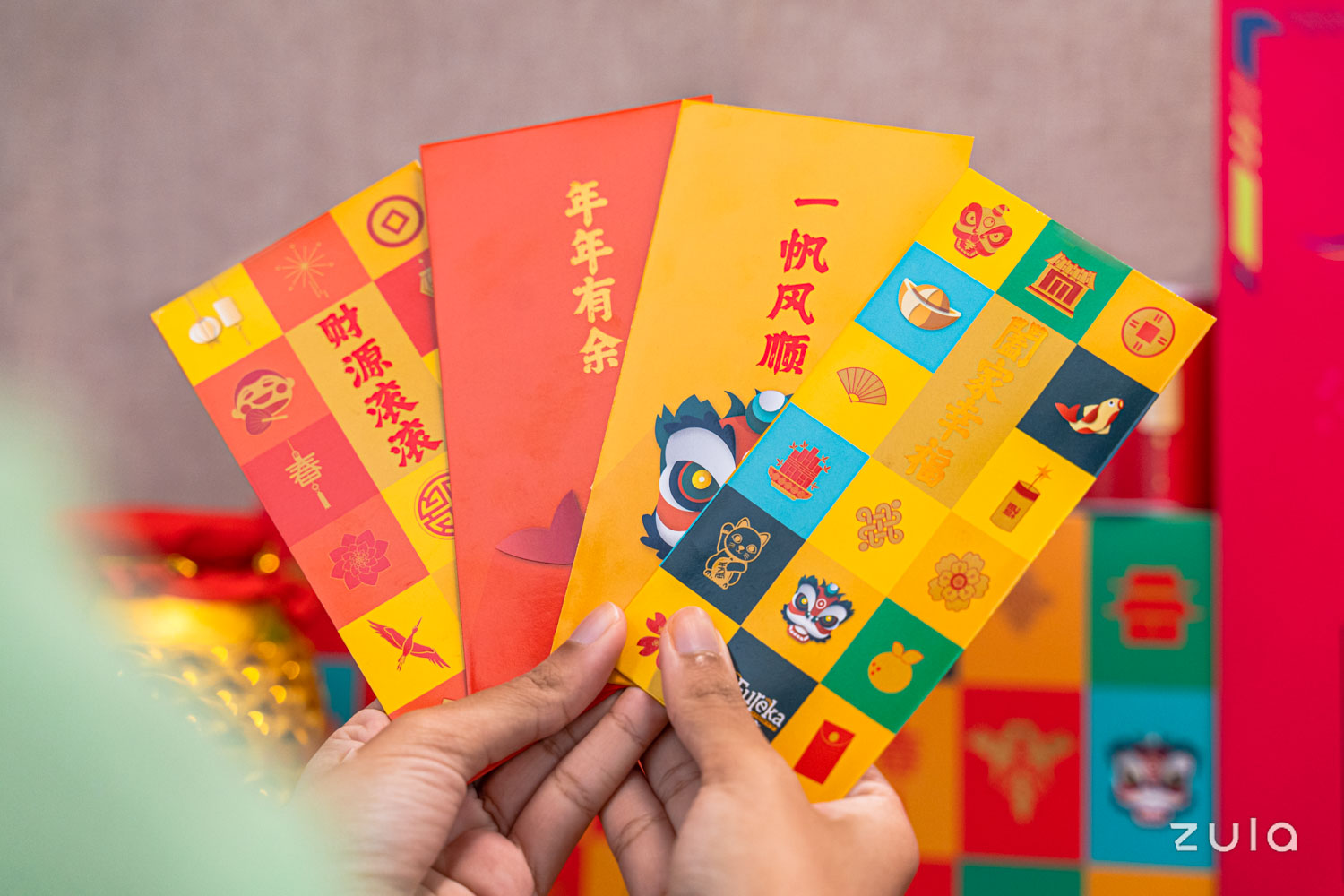 Each angpao set comes with 4 designs
Instead of the boring, red ones that you normally receive, each angpao appears in a different design. Perhaps with them, you will even be the standout relative when you bai nian.  
Take a selfie & redeem free popcorn
Before you decide to commit and hit the purchase button, myEureka is giving you a chance to redeem a free baby packet of popcorn first.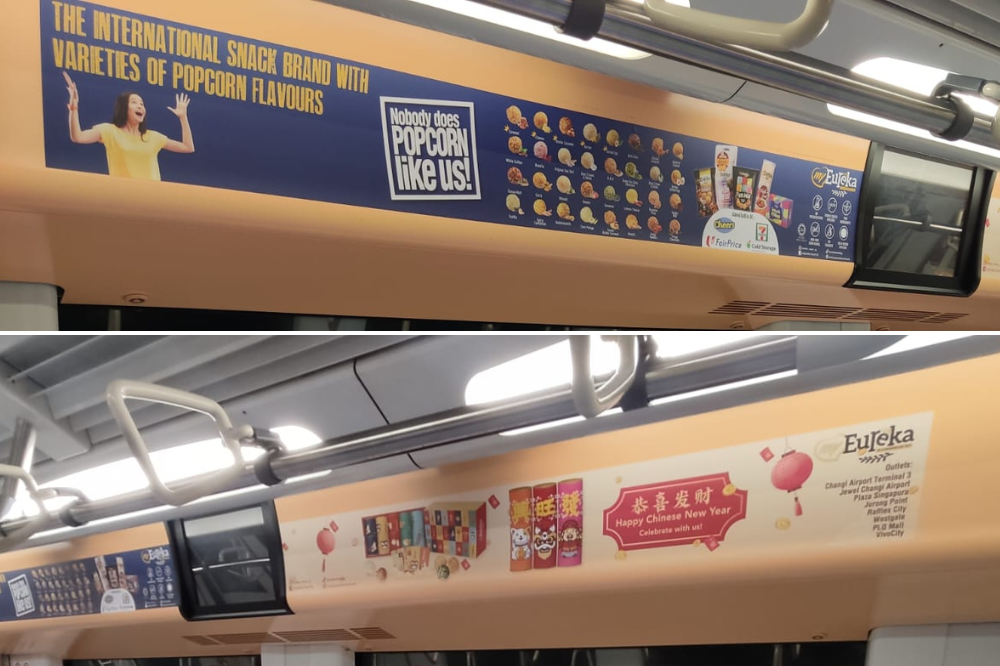 Spot the myEureka train ads on NEL Line trains
Images courtesy of myEureka
All you have to do is snap a selfie or photo of you with their train ads that run along North-East Line MRT stations from now till 21 January 2023. After doing so, post the photo on Facebook or Instagram, and tag @eureka_snack_sg before showing it to any staff at any myEureka outlets. 
Voilah — now you have a 16g packet of popcorn. Since the giveaway is only limited to the first 100 customers, make sure to run, don't walk to your nearest store.  
Celebrate CNY With Popcorns From MyEureka Gift Sets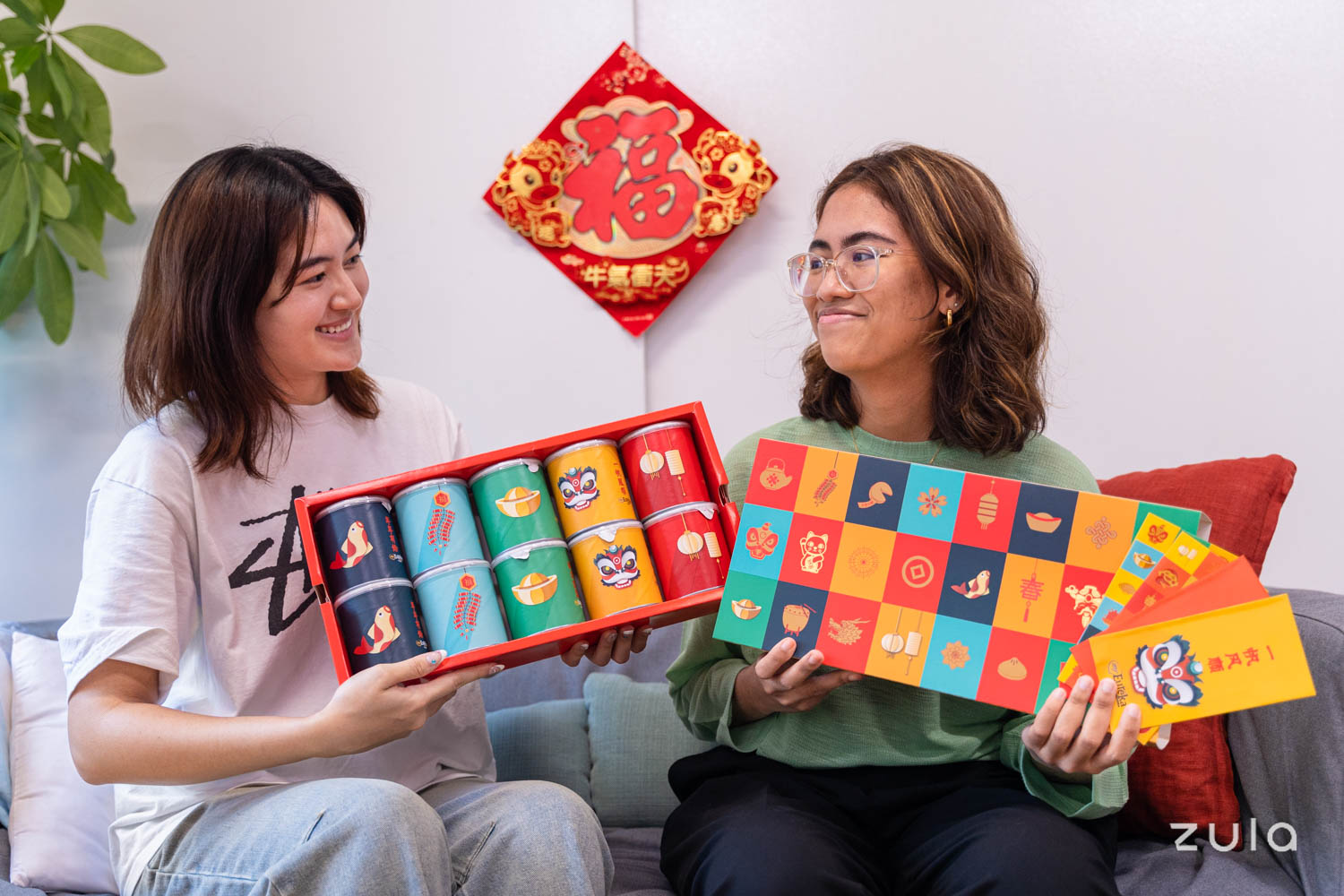 Popcorn doesn't have to be limited to occasions such as catching a movie in a cinema, since they serve as a delicious snack during festive seasons like CNY too. 
Since Singaporeans are naturally fans of lobangs, myEureka has more for you ‒ snag a free angpao set and a 35g baby can of popcorn when you purchase two CNY Gift Can sets at $56. Note that the Gift Can sets are currently out of stock but they will be restocked with limited quantities on 17 January 2023, due to popular demand. 
Plus, ZULA readers can take advantage of this 10% discount promo code "ZULAXEUREKA10OFF" when they check out with a minimum purchase of $20 online, valid for 3 months until 13 April 2023. 
For more information, visit myEureka's official website, and follow them on Facebook and Instagram. 
Photography by Melvin Mak. 
This post is brought to you by myEureka.