Outdoor Nature Wedding Shoot Locations in Singapore
As time-consuming and costly as weddings can be, not all of us may choose to fly overseas for our wedding photo shoot. But staying in our tiny island doesn't mean we're ready to compromise on our album #goals.
If Instagram filters have taught us anything these days, it's that we can fake it till we make it and work with what we've got.
After speaking to professional wedding photographers, we've been let in on where you can find the most picturesque nature spots for your wedding shoot—right here in Singapore.
1. Raffles Marina Lighthouse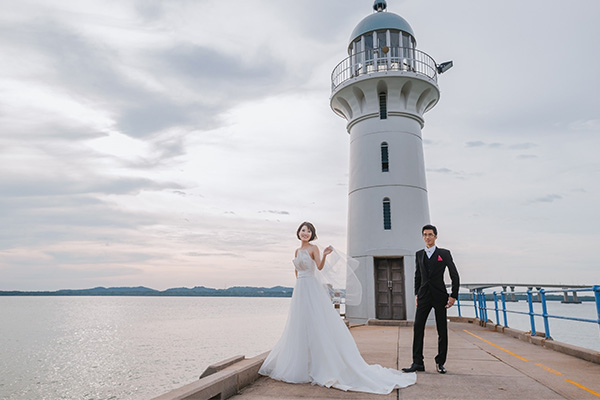 No time to jet off to the Hamptons? No worries, Raffles Marina Lighthouse will take you there with its pristine and serene backdrop.
will take you there with its pristine and serene backdrop.
Location: 10 Tuas West Drive, Singapore 638404
2. Tuas Lalang Fields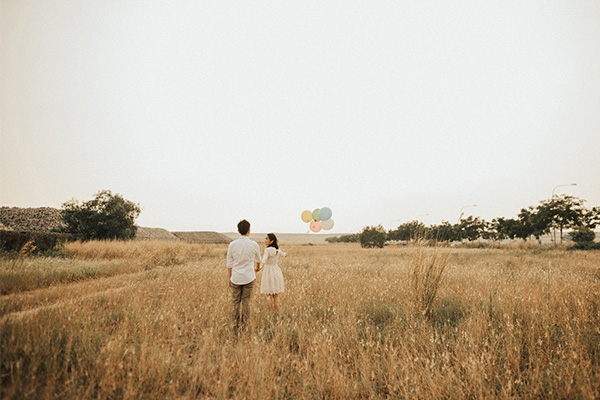 Stepping away from the hustle and bustle of the main city, the Lalang fields in Tuas will transport you to the Wild West where you'll be free to frolic around the tall, grassy fields.
Location: Tuas South Ave 7
3. Keppel Club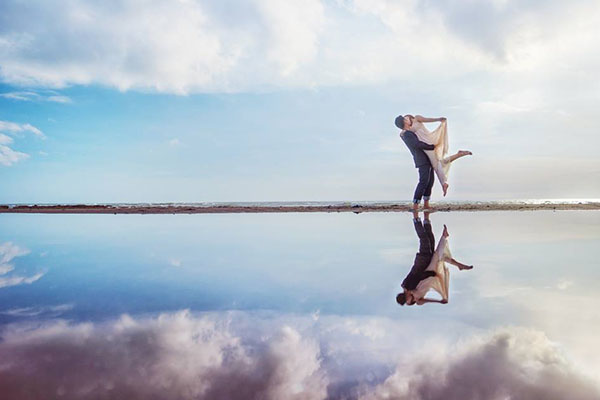 Fool your Facebook friends into thinking you did a destination shoot on a beach in Bali by playing around with the waterfront reflections at the Keppel Club.
Location: 10 Bukit Chermin Road, Singapore 109918
4. Fort Canning Park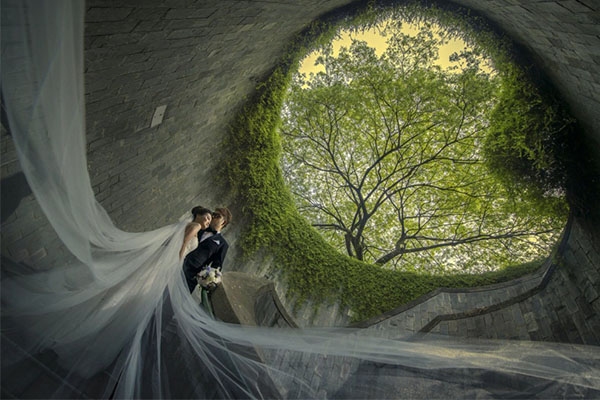 The contrast of Fort Canning Park's greenery and old fixtures adds a touch of mystery and drama to your wedding shoot that'll give you some major fantasy movie feels.
Location: River Valley Road, Singapore 179037
5. Pulau Ubin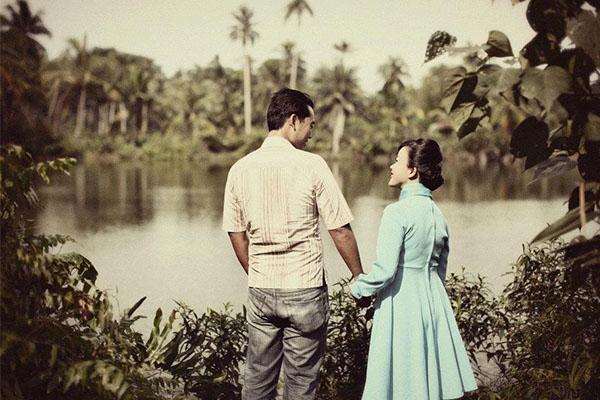 Hop on a ferry to Pulau Ubin to capture Sepia-toned photos for a Kampung wedding theme circa 1960.
Location: Pulau Ubin Sensory Trail
6. Botanic Gardens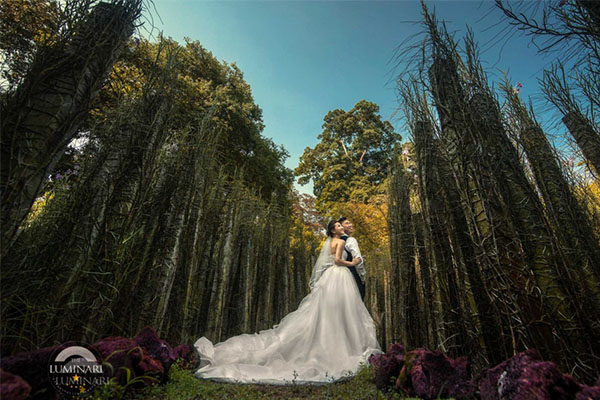 Play around with your angles and get some breathtaking shots that'll look like you and your beau stepped into an enchanted forest.
Location: 1 Cluny Road, Singapore 259569
7. Changi Boardwalk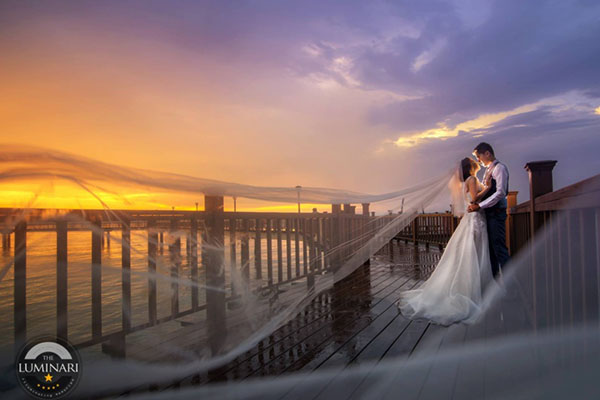 Spanning over 2.2km long, the Changi Boardwalk offers European style coastline views that are exceptionally stunning during sunset.
Location: 7A Gosport Road, Singapore 509710
8. Bukit Timah Saddle Club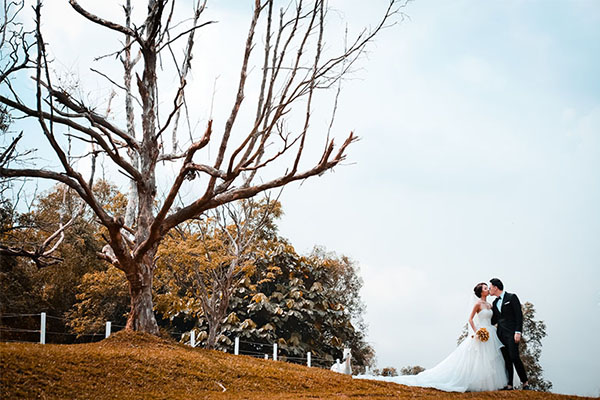 With tall grass, horses and picket fences, Bukit Timah Saddle Club will let you escape the city life to pretend you're a country girl—for the duration of your photoshoot, at least.
Location: 51 Fairways Drive, Singapore 286965
9. East Coast Park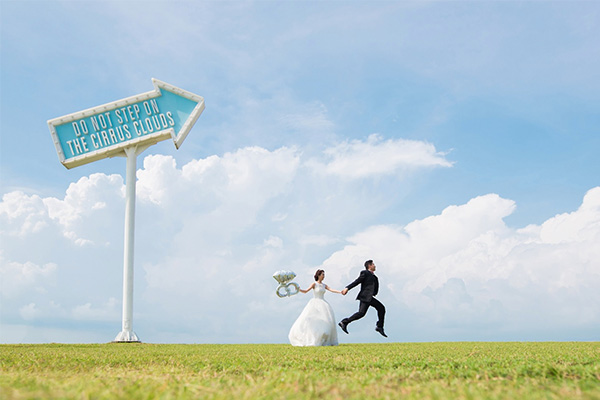 It's not often you'll find a vast, open grassy field in Singapore but this spot in East Coast Park is perfect for simple yet creative shots that look straight out of a movie set.
Location: 'Do Not Step on the Cirrus Clouds' sign, near 1300 East Coast Park, Area F, Bougainvillea Garden
10. Coney Island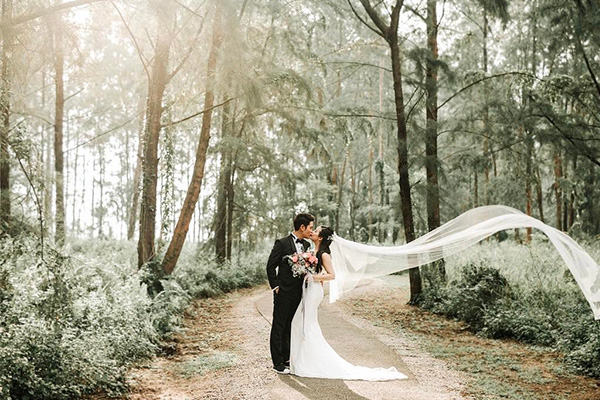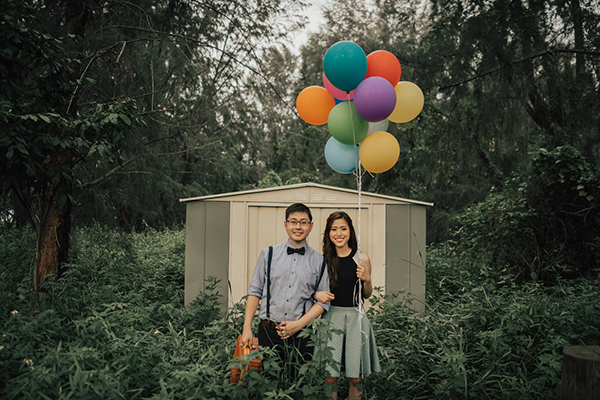 The pale and misty effect you'll achieve in your wedding photos will have your friends and family wondering which cold-weather country you flew to for these shots.
Location: Punggol Promenade Nature Walk
11. Lower Pierce/Macritchie Reservoir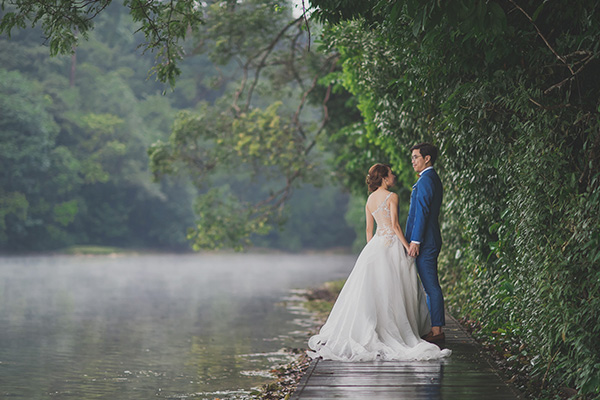 For maximum fairy tale vibes, head to the reservoir early in the morning to catch the fog rolling over the waters.
Location: Lower Peirce Reservoir Boardwalk
12. Punggol Promenade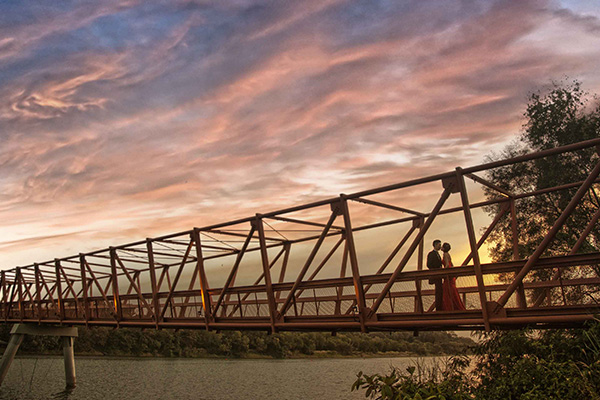 The photogenic Lorong Halus Bridge along Punggol Waterway will take you back to the industrial revolution and bring your wedding photos to new heights.
Location: Lorong Halus Bridge
13. Little Guilin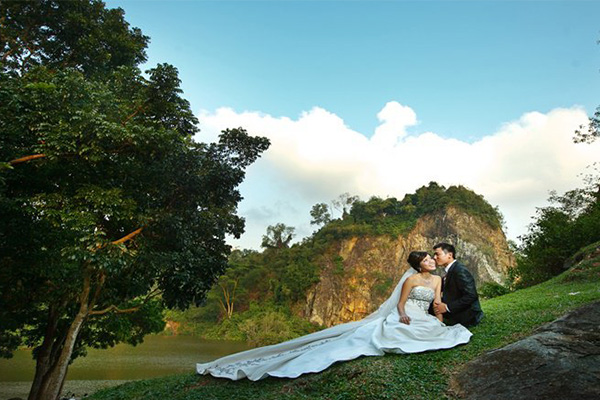 Save airfare and travel to Little Guilin for the dramatic scenery to trick people you're in China.
Location: Bukit Batok Nature Park
14. Shangri-La's Rasa Sentosa Resort & Spa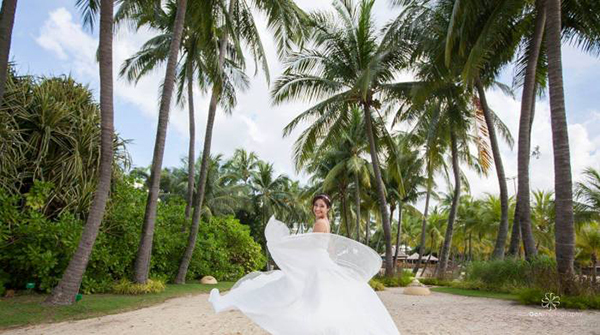 Source
With sandy pathways lined with palm trees, no one will know you weren't actually soaking up the sun on the shores of Hawaii.
Location: 101 Siloso Road, Singapore 098970
Bonus:
15. Park Royal on Pickering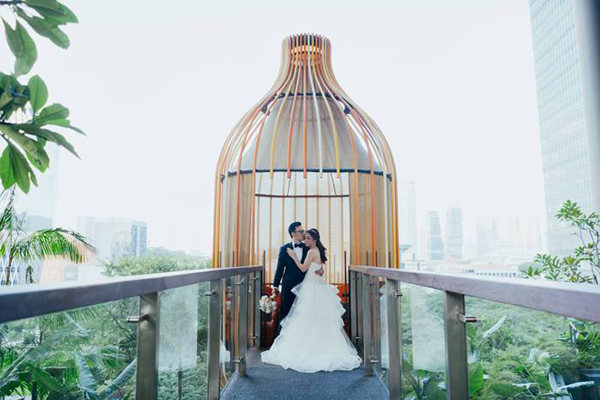 The giant bird cages in Park Royal on Pickering are a comfortable and convenient way to achieve nature shots without actually going outdoors.
Location: 3 Upper Pickering Street, Singapore 058289
16. Pulau Punggol Barat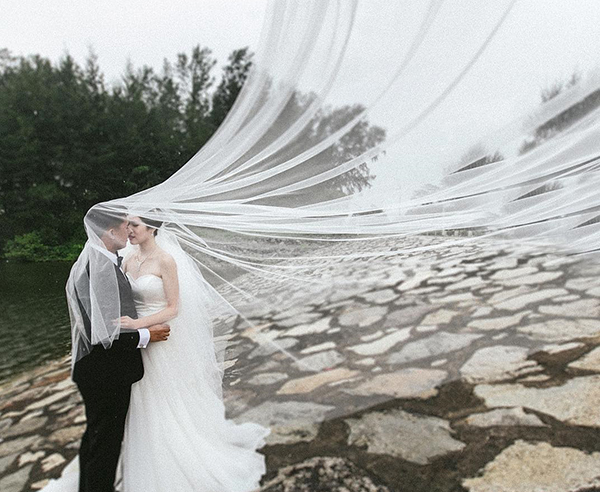 An alternative to the usual East Coast Park shots, Pulau Punggol offers a more secluded alternative if you're searching for a breakwater backdrop.
Location: Near Seletar Airport
Wedding Shoot Locations In Singapore
As your wedding photos will serve as mementoes from your special day for the rest of your life, they should be nothing short of amazing.
These 17 places around Singapore offer impressive backdrops that are a stone's throw from the comfort of your own home.