Nicole Liel Facts
Every National Day never fails to bring about meme-worthy content (shoutout to iconic middle finger boy!), and the 2022 edition was definitely no exception. Between the Red Lions parachutist's crash landing to patriotic_crying_man.jpg, there's still plenty of NDP buzz in the air.
But perhaps the most lighthearted moment of the ceremony belonged to one Nicole Liel. When questioned by the host on what about Singapore she was grateful for, the red tee-clad Gen Z resonated with fellow Singaporeans when she bellowed "HDB for giving me a BTO queue number!!!" and followed up with "and Ya Kun kaya toast". No truer words have ever been spoken. 
For the unacquainted, Nicole is no stranger to going viral. With over 120K followers on TikTok and 21K followers on Instagram, she's basically a social media kween. Ahead, we spoke to the 24-year-old "woman grateful for BTO queue number" to find out more about her — she even shares how her NDP moment was completely unplanned. 
1. She really didn't know she was going to appear on national TV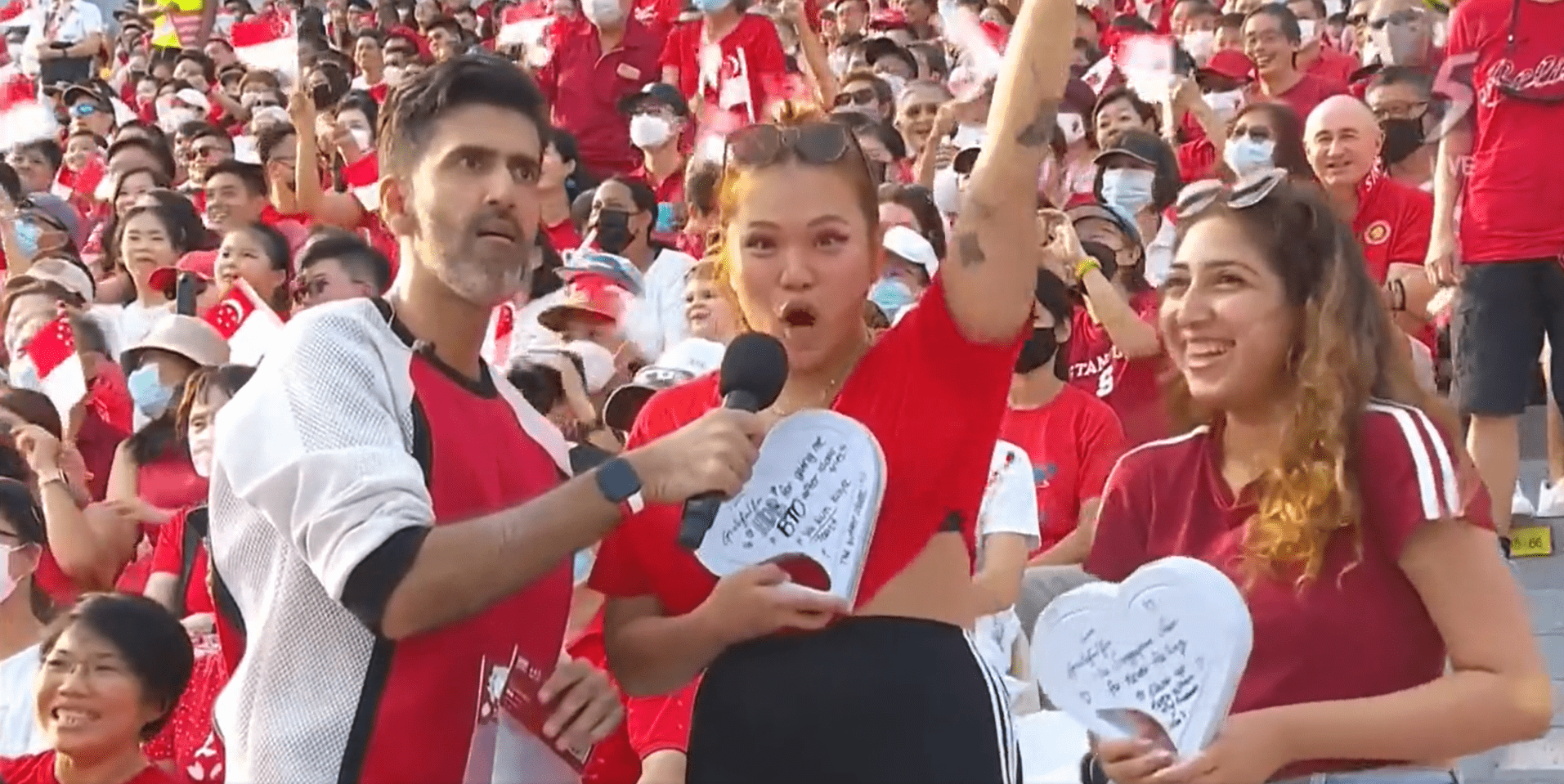 Source 
Considering that Nicole is familiar with internet fame, some netizens were suspicious about her screen time during the NDP, thinking that it was all premeditated. But for sceptics and naysayers, Nicole insists that it was 100% impromptu AF.
In our chat, she shared "I sat down at a good seat cos we were early, when suddenly a dude came up to me and was like "are you down to be on live TV?" I was shocked at first but then I was like "ya sure YOLO" and asked if my friend could join me". 
She added, "We were asked what we were grateful for like 10-20 minutes before the actual interview so my friend and I had a mini brainstorming session cos we didn't want to say something stupid on camera". 
Well, she definitely said it right — she's already secured a Ya Kun deal for her followers. Now if only HDB would hook her up with 57 free HDB units to give away also….
2. She got her HDB BTO queue number after trying 5 times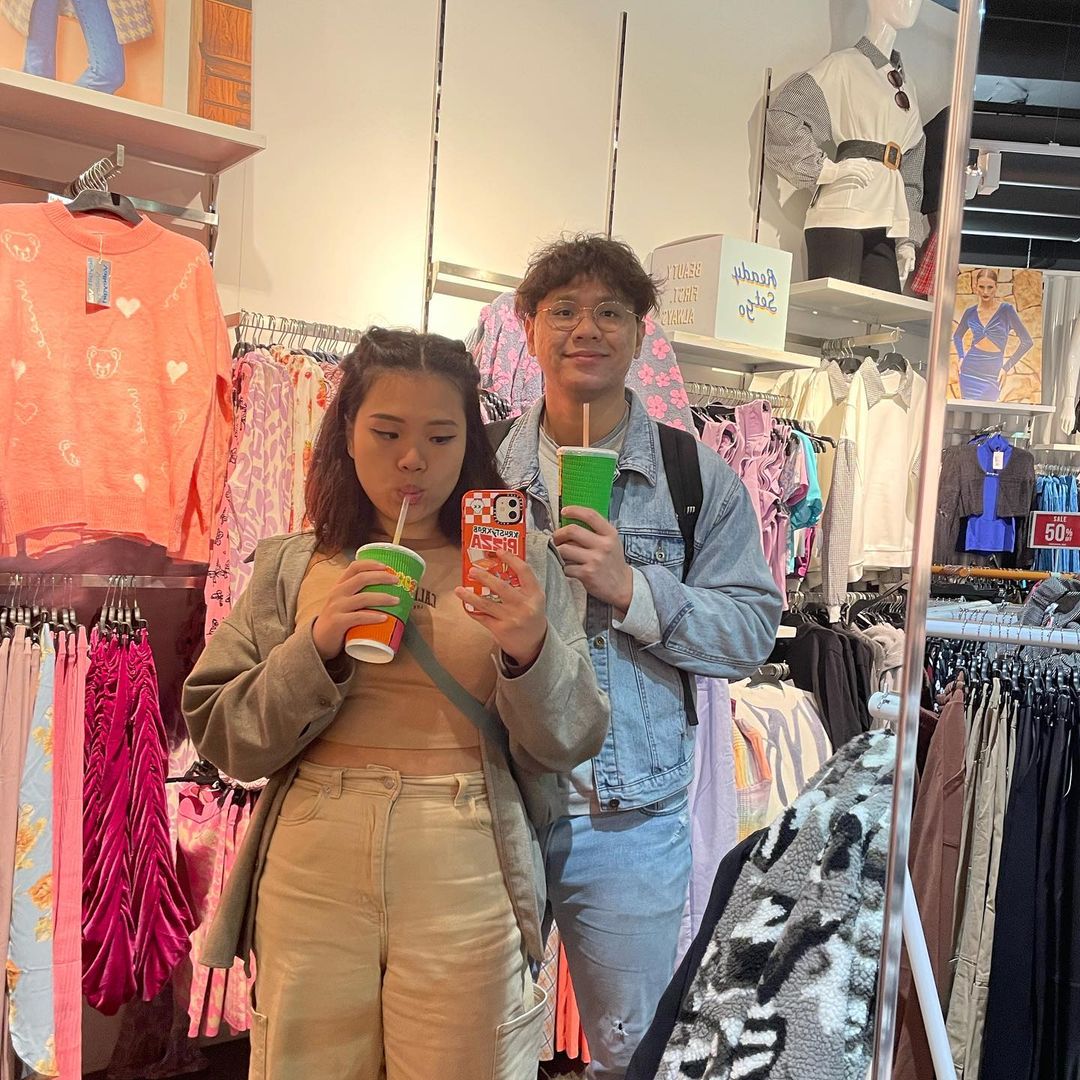 Nicole with her boyfriend Jeremin
Source 
BTO is both a national pride and pain for most Singaporean couples. Nicole is all too familiar with the arduous process of securing one, having applied "about five times" since 2020 with her tattoo artist boyfriend, Jeremin.
After their BTO queue number bliss was revealed to the rest of SG's population on TV, Nicole shared that her boyfriend had a proud "yay this is my girlfriend moment", although her future mother-in-law, "our dearest beloved Jayne Ting was very sad she didn't watch it live". 
As for where the BTO is located? Nicole would only hint that she will be Kurt Tay's neighbour. 
3.  She has over 120K followers and 10 million likes on TikTok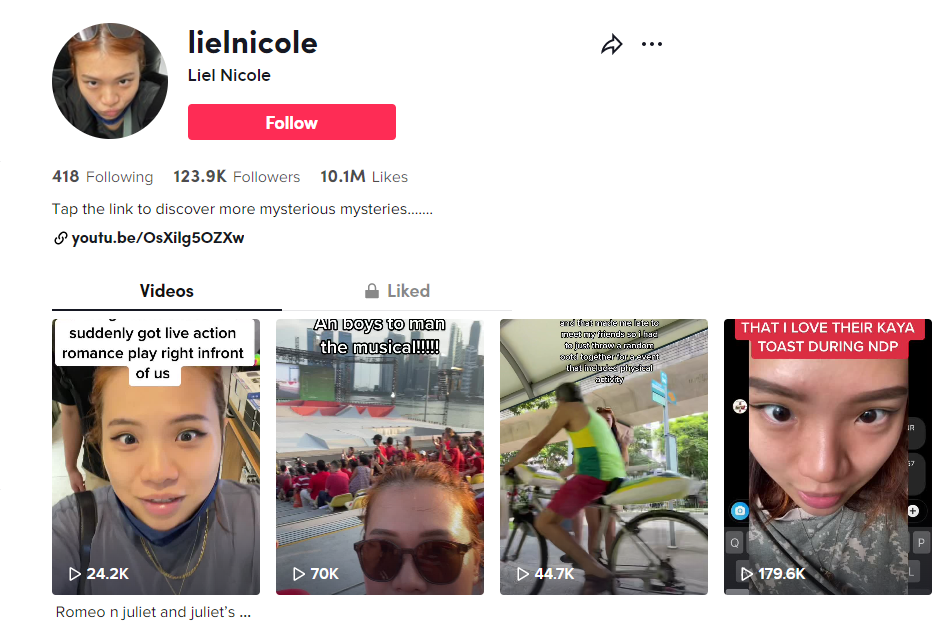 Source 
From her 5-second nation-wide fame alone, you'd be able to tell that Nicole is bursting with personality. It's no surprise that her sense of humour has translated to over 120K followers on TikTok and over 20K followers on Instagram, where she shares relatable vlogs and musings about her daily life.
4. Owns a lash business with 3 locations in Singapore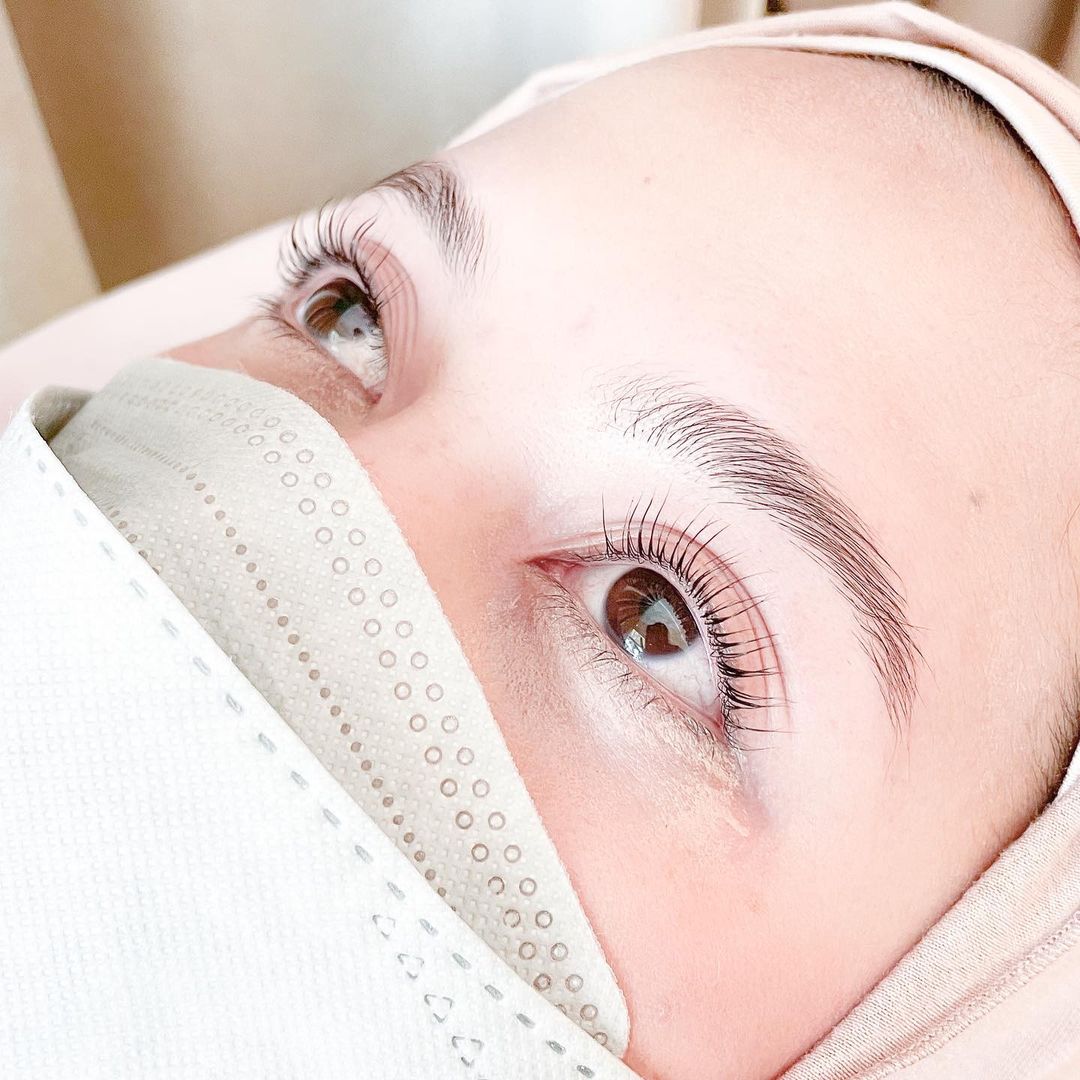 Source
Don't write Nicole off as just another ~Gen Z cOnTenT CreAtoR~. She's also the founder of Cuuul.sg, a beauty salon that specialises in lashes. It is also Wudhuk and Muslimah friendly, with three locations in Singapore at Sengkang, Chinatown and Woodlands.
Take note, frontliners — Nicole launched a promo of up to 15% discount lash lift services since 2020 due to Covid, which is now a permanent deal. She also mentioned that they're planning to expand to waxing services soon. 
5. Has 13 tattoos and got one with her grandma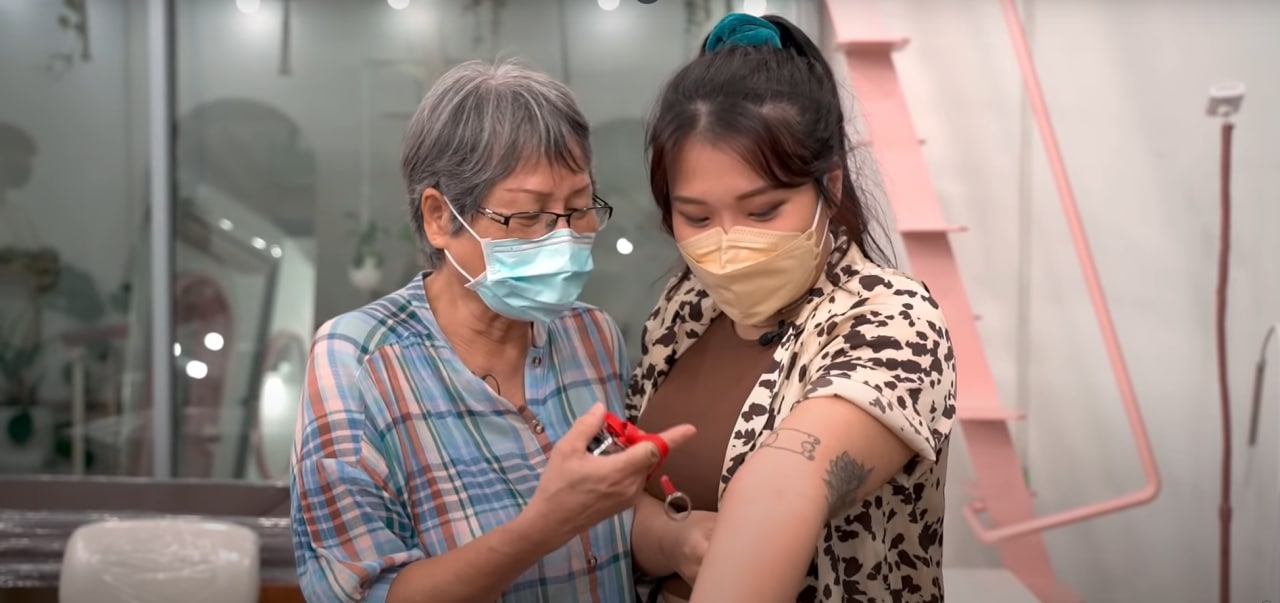 Source
You just might spot Nicole on the street by recognising her tattoos. With 13 tatts, some would say she's angkong siao.
Her favourites? The French Magnolia flower on her arm ("no meaning one") and her dog Bueno Chen Jun Hao ("that's my first tattoo"). Any regrets? "No ragrets!!!!! I live by the motto: "I might love this tattoo and hate it in the future but it's okay no choice liao.", she swears.
Her grandma was also her companion for a lotus tattoo on her arm, which was featured in a recent episode on TheSmartLocal. 
Also read:
10 Singaporeans Share The Reasons Why They'll Never Migrate Overseas Despite Considering It Before
6. Has 4 pets: a dog, a cat and 2 guinea pigs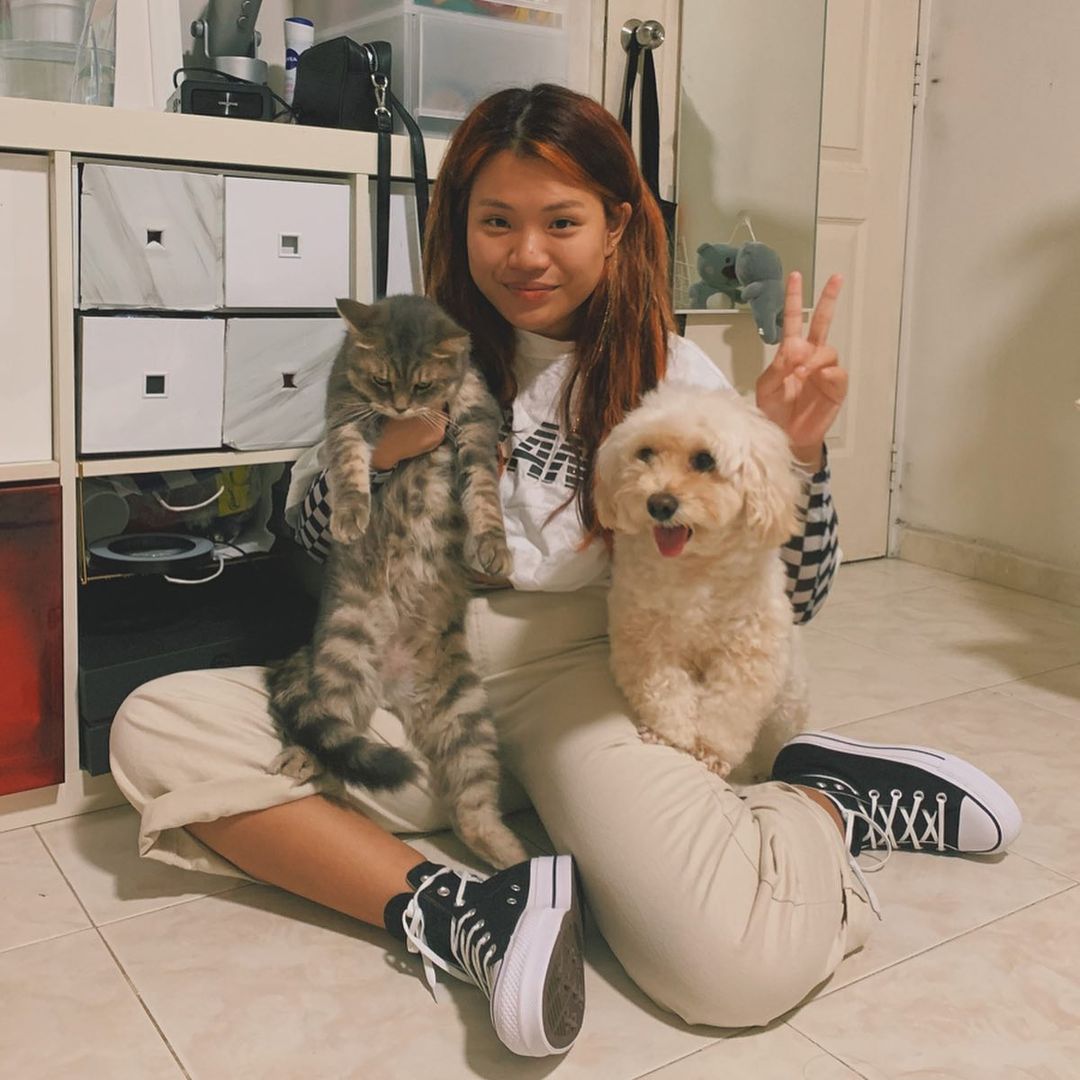 Nicole with Bueno and Maurice
Source
You can add "mini-farm owner" to the list of Nicole's credentials. Her home doesn't just belong to the aforementioned Bueno Chen Jun Hao — it also includes her cat Maurice Chen Jun Kai and two guinea pigs Olive Chen Jia Hui and Penelope Chen Jia Xuan.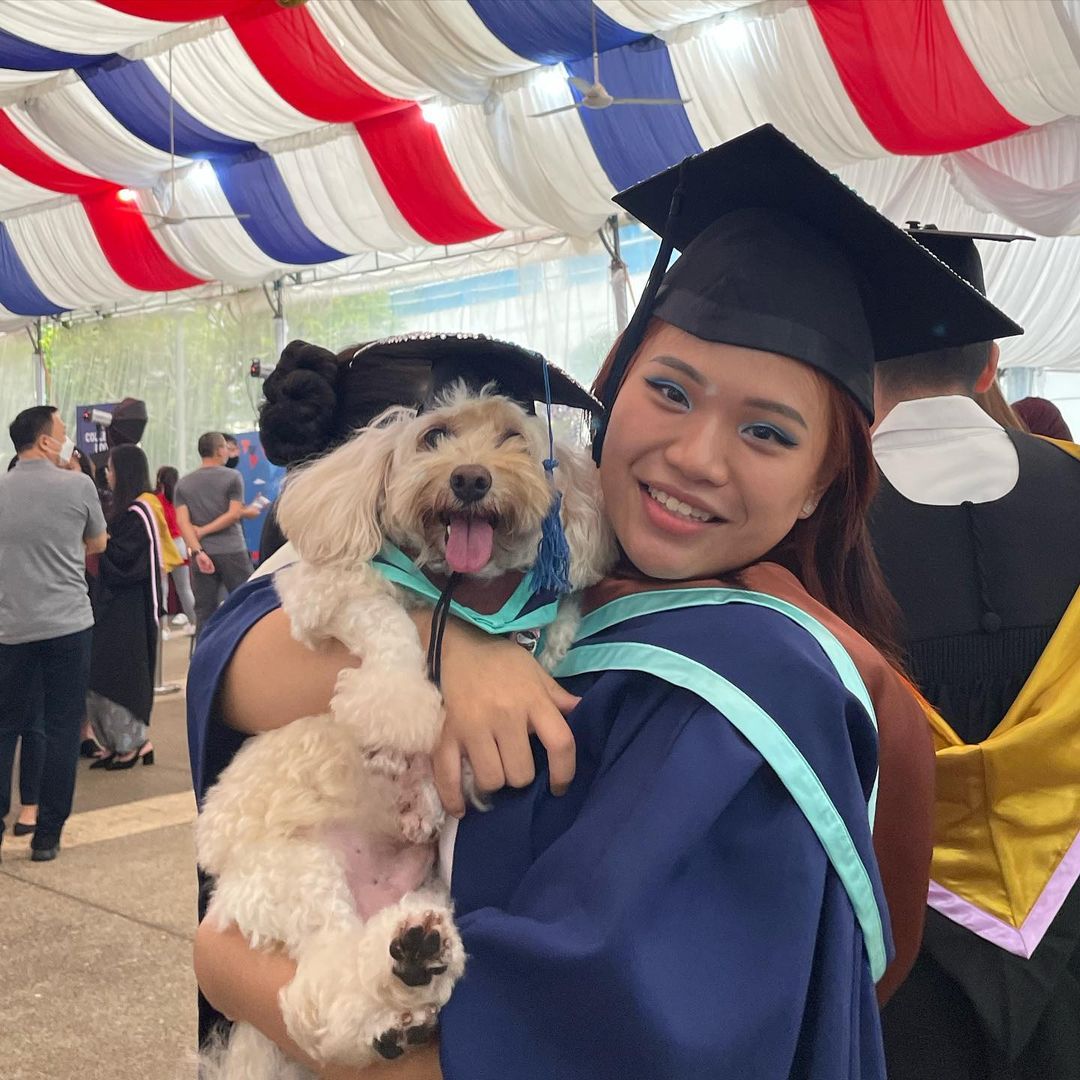 Source
Bueno also attended Nicole's graduation ceremony in July, where he donned a graduation cap himself for photo ops. 
7. Graduated from NTU with a bachelor's degree in Visual Communication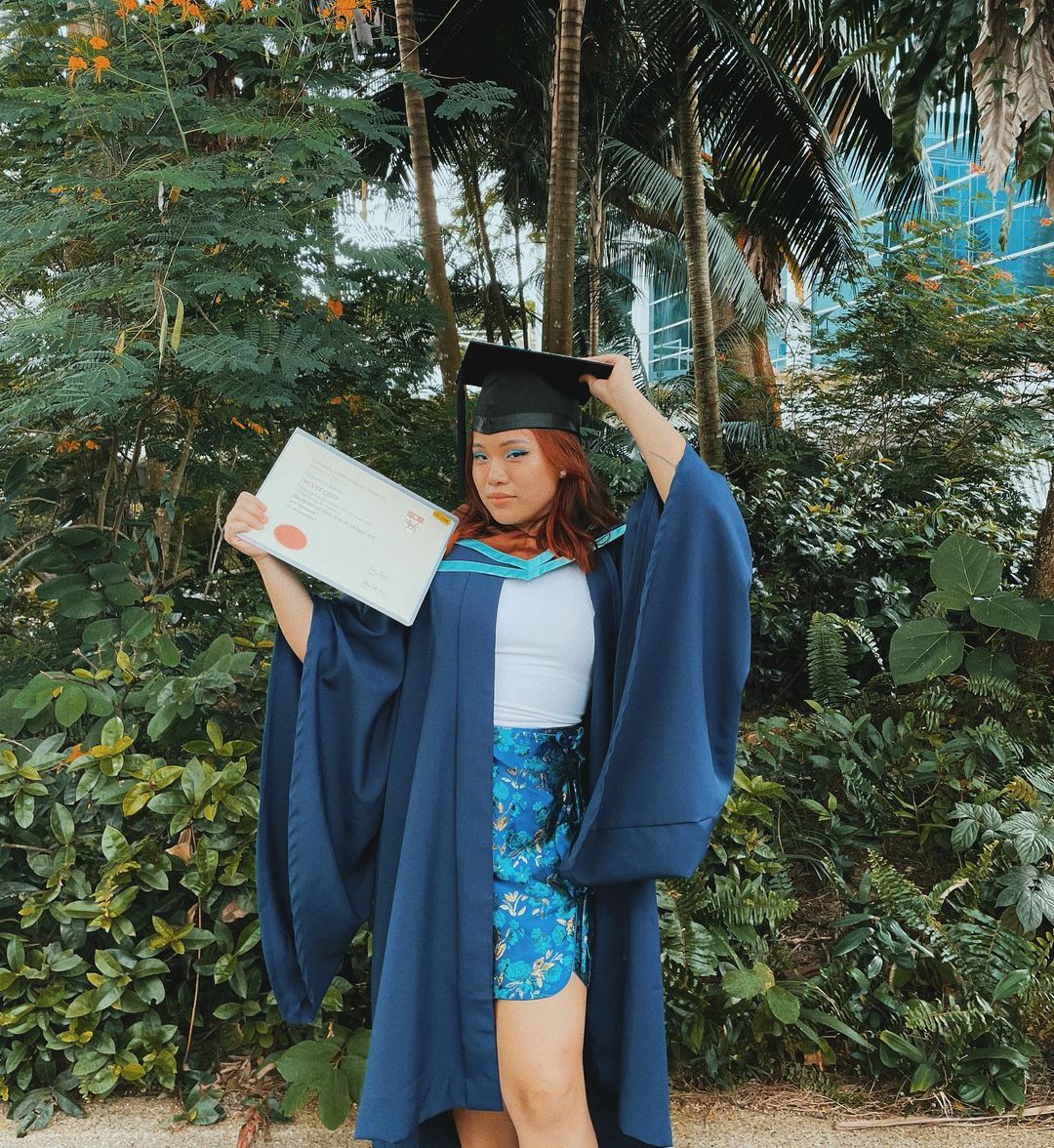 Source 
Channelling big brain energy, Nicole is also a recent graduate from NTU with a Bachelor's degree in Visual Communication. If you think her smarts were limited to school, think again.
When asked for her advice for fellow couples struggling to secure a HDB BTO, she had these wise words: "Start applying in JC!! Maybe you will get it when you are 30 at this rate." Mind of a mastermind. 
8. Started a mask business during Circuit Breaker with proceeds donated to charity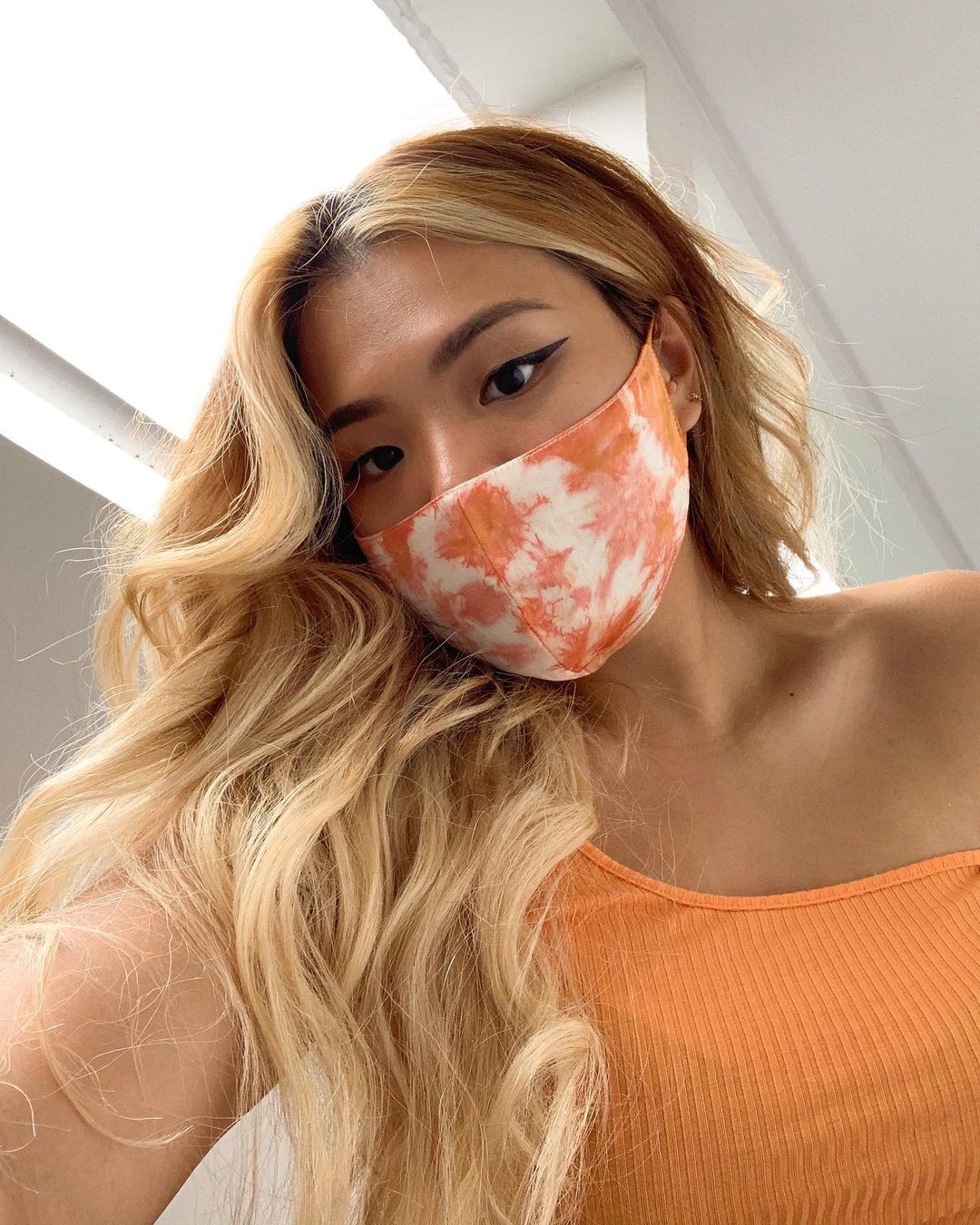 Source
Intelligence and wit aside, Nicole also proves she has a kind streak for both humans and animals. During the Circuit Breaker in 2020, she kick-started SunnyIsland Store selling face masks and scrunchies, with proceeds going to Save Our Street Dogs (SOSD) due to her fervent love for animals. 
The items were also hijab-friendly, with complementary head loops and material at the chin area for Muslim females.
9. Got knocked down by a car in 2019 and had to be hospitalised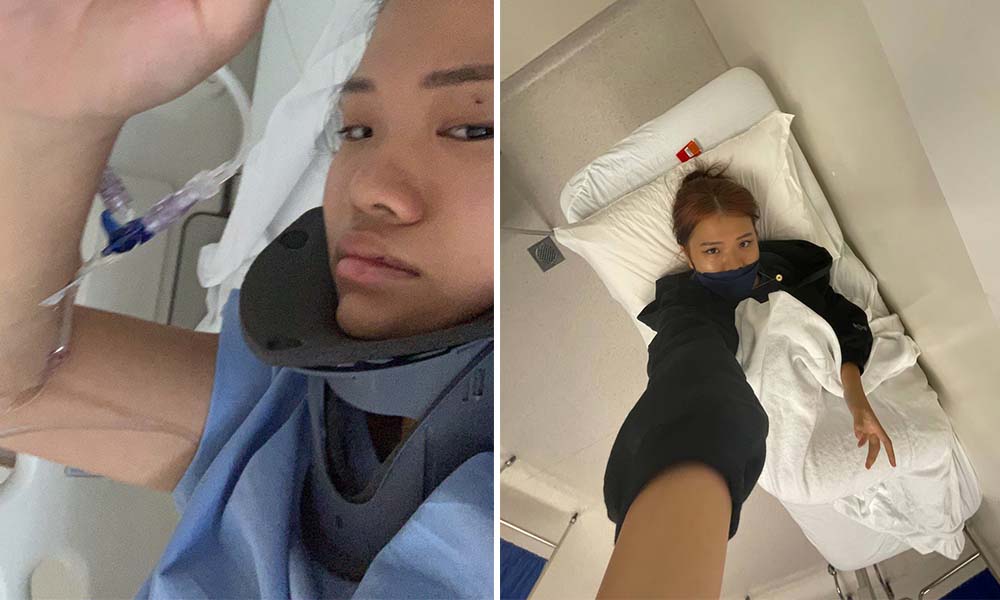 Images courtesy of Nicole Liel
Over our casual Telegram chat, Nicole also revealed that she was "assaulted" by a Toyota in 2019. "A Toyota crashed into me and I tore two ligaments and I had to be hospitalised", she said.
While her ligaments are "torn liao and cannot make back", she's agreed to be a test subject in Tan Tock Seng Hospital for their medical exam, letting the student doctors "diagnose" her situation.  
10. Worked with Foodpanda to give out 570 $5 food vouchers to the community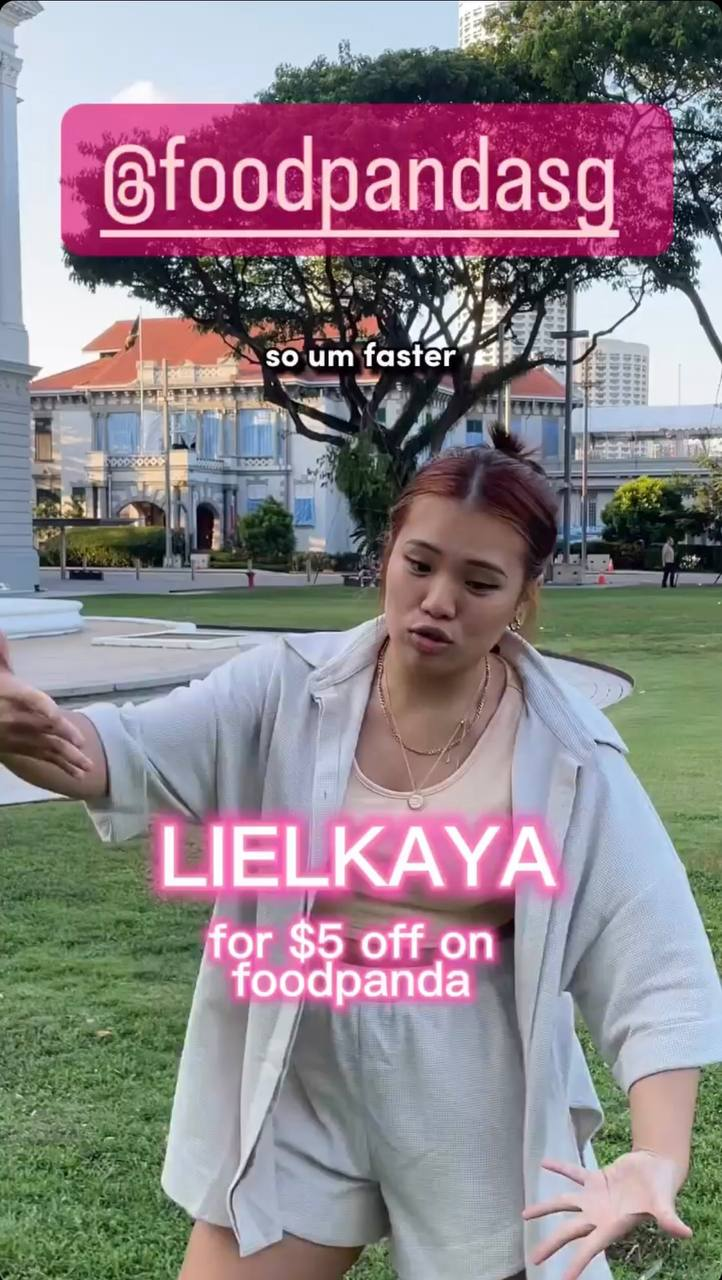 Source
A true "red" Singaporean with community spirit, Nicole has also joined forces with Foodpanda to distribute 570 $5 food vouchers. 
The promo code was exclusively announced on her socials, with the discount <LIELTOAST> applicable on a first-come-first-use basis. Feeding us entertainment and promo codes? We have no choice but to stan. 
Nicole Liel Proves That Being Your True Self Is Important
From viral TikTok star to overnight local icon, Nicole Liel will go down in the NDP history books of iconic moments. Her authentic self is also why she's garnered a blossoming legion of fans and followers, whether it's showering her family of pets with love or flaunting her OOTD fits.
For now, we can only hope HDB gives her a good unit and level for her BTO. 
Cover image: Source , Source, Source
Also read:
5 Singaporeans Share About Forfeiting Their HDB BTO With Their Ex & Tips For Aspiring Homeowners