NTU Ghost Stories
NTU's massive campus is known for its amenities, but how many of us are aware of the dark side that's rumoured to lurk behind it? Located less than 800 meters away from Choa Chu Kang cemetery, it's no surprise that NTU's suicides and murder cases have spurred on a string of urban legends over the years.
From spirits that follow you home, to 'Unicorn' encounters that aren't as magical as they sound, here are spooky encounters heard in hushed circles along the corridors of NTU.
Disclaimer: All information in this article is hearsay and may have been conjured by hallucinations or rumours.
Sightings of the 'Unicorn Girl' at Hall 1
In 2011, news sites reported that a 21-year-old NTU student was found in her hostel room with a knife embedded in her head. The incident occurred at NTU's Hall of Residence 1, Block 16. When medics arrived, they found blood streaming down her face, but her eyes remained open and she was still conscious, reported the Chinese Daily.
Till today, rumour has it that a lady wanders the corridors of the block with the bloodied knife sticking out of her head. Students fondly refer to her as the 'Unicorn' girl.
The suicide room in Hall 13
After a girl committed suicide in a room in Hall 13, rumour has it that the room is usually left empty. There have been cases of new students shifting into the room, only to end up either quitting school or becoming suicidal.
Once, there was a bubbly female student who allegedly suffered from acute depression after she moved in. She claimed that she was "disturbed" at night when she was alone in her room, which made her mentally and emotionally distressed.
Although most schools tend to attribute these erratic behaviours to study stress, the room is still the last one to be assigned to students by the management. In fact, they eventually converted that floor for male students. According to Asian beliefs, a man's chi is stronger, which will ward off spirits.
A cab driver's encounter at Yun Nan Garden
Yun Nan Garden is arguably one of NTU's most notoriously haunted places. A cab driver who lives near NTU reported feeling a strange sensation whenever he went on his regular jogs around the garden. Once when he was jogging alone, he felt a hand on his shoulder. Struck with fear, he picked up his pace and never looked back.
Now here's the freakiest part: when he got home, there was a distinct handprint on his shoulder at the exact same place where he felt the creepy sensation. Completely freaked out, he called for a medium to cleanse any traces of residual evil spirits.
According to the medium, a ghost from the garden followed the man home and was actually sitting right next to him at that exact moment. The medium helped to get rid of the ghost and needless to say, that man never went back to Yun Nan to jog again.
Also read:
11 Singapore Girls' School Ghost Stories Told By Former Students and Teachers
The birthday boy of Block 2
This urban legend starts off with a birthday party in Block 2 of NTU.
After drinking, a group of friends decided to throw the birthday boy into the lake behind the hall. Thinking he was a good swimmer, they left him in the lake to fend for himself.
In the early morning, the birthday boy's roommate heard their room door open and shut. Assuming he had returned drunk from his party, the roommate went back to sleep. When the roommate woke up, he saw muddy footprints on the floor of their room leading to the birthday boy's empty and drenched bed. Later that day, it was reported that the birthday boy's lifeless body was found in the lake.
The extra floor in Hall 1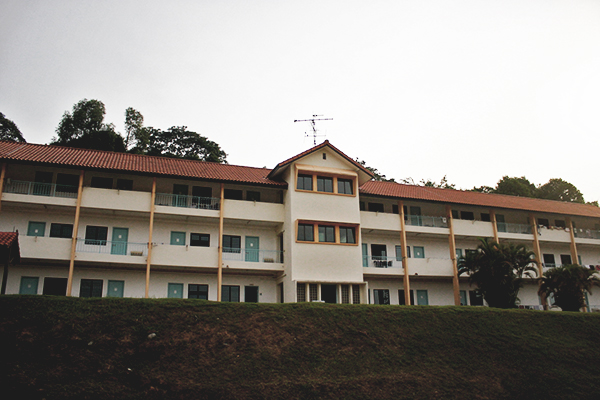 Source
One night, a girl was heading back to Hall 1 after dance practice. As she was climbing up the stairs to her room on the third floor while using her phone, she started noticing that the place was becoming colder and darker. When she looked around, the stairwell and corridors looked particularly dim and strange.
But what she saw next was the most spine-chilling: the floor indicator sign displayed '4th floor' when Hall 1 only has three floors.
A similar occurrence allegedly happened to another student mentioned in our Girls' School ghost stories article.
The tag-along from Hall 5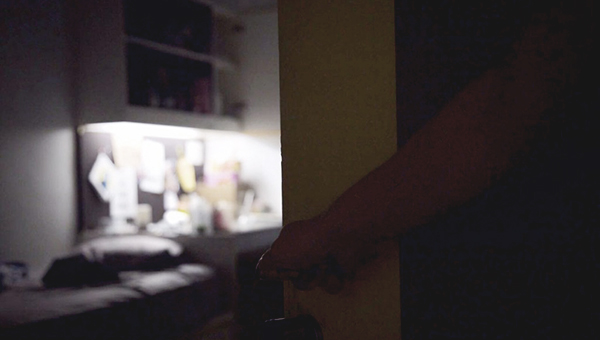 Source
Rumour has it that the TV lounge of Residence 5 is haunted. There was a senior who suffered a nervous breakdown after reportedly seeing "things" at night and feeling as though he was being followed.
In another incident, a student was supposed to meet his friends in the TV lounge, only to be greeted by an eerie cold gust of wind. Upon realising the room was empty, he felt something brush against his body. When he ran to find the others and asked them why they weren't at the lounge, they told him that the room was too stuffy because of the broken air-con.
A few days later, he heard sounds of stirring from his roomie's side of the room coming from a dark figure. But when he switched on the light, there was no one there and the door was locked from the inside. Just then, he realised his roommate was spending the night at his own home.
NTU Urban Legends
As thrilling as ghost stories are, you don't always have to believe in urban legends, let alone ones that circulate in a school campus.
But just to be safe, I'd still be wary—especially if you find yourself alone at night on the NTU grounds.
This post was first published by Jing En Lim on 15 April 2017 and last updated by Nicole Yong on 16 September 2023. 
Also read: 
11 Ghost Stories in Singapore's Polytechnics—Some Told By Night-Shift Janitors