Pedro x Buzz Lightyear Collection
From UNIQLO to Adidas, Disney has been collaborating with numerous brands for exclusive releases to celebrate their 100th anniversary. Next on their list is Pedro, Singapore's homegrown fashion brand, which has recently dropped a Buzz Lightyear collection that includes shoes, bags, and accessories to take your style to infinity and beyond. 
Shoes
Sneakerheads are in luck ‒ this collection sees two sneakers that will elevate both your style and height.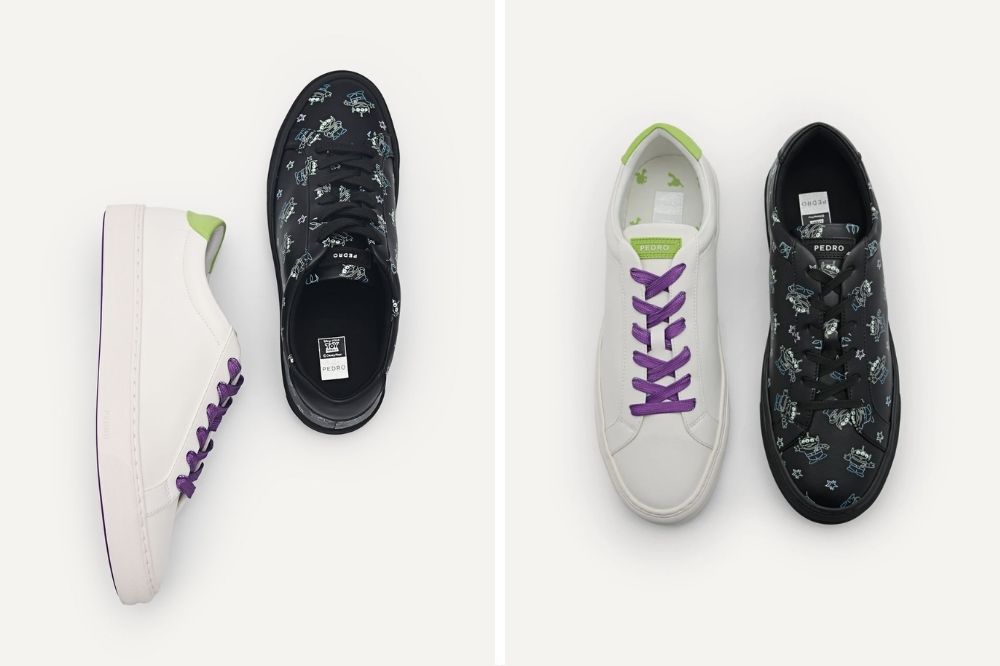 Disney Ridge Court Sneakers in chalk and black
Taking after the silhouette of the brand's signature Ridge Court Sneakers, the first design is available in two colourways. Inspired by space, the shoes are created as the ultimate "space suits" for your feet that promise comfort and style. 
Minimalists would find their interest piqued by the option in chalk, which comes with purple shoelaces and undersole, and lime green accents on the tongue and heel tab. P.S: There are even green motifs of Buzz Lightyear on the inserts. 
On the other hand, express your love for the aliens aka Little Green Man (LGM) in the Toy Story series through the black option, which features their outlines on the exterior.
Each pair of Disney Ridge Court Sneakers retails from $99.90.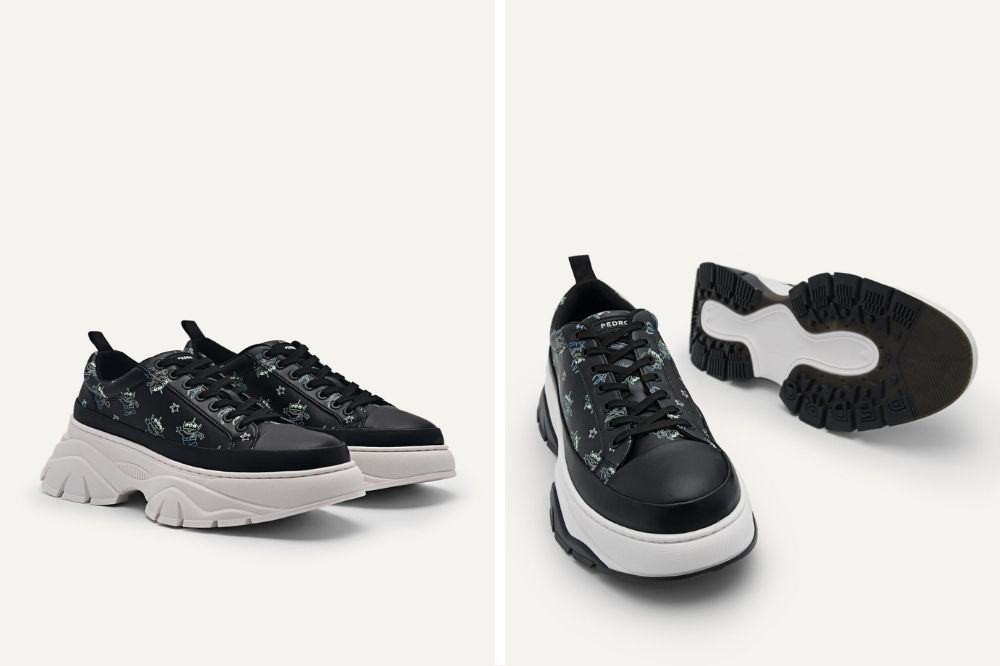 From left: Disney Hybrix Sneakers in chalk and black
If you prioritise gaining an extra inch or two when buying new shoes, consider getting the Disney Hybrix Sneakers. The platform sneakers are a perfect blend of childhood memories and futuristic-looking fashion. 
Also available in two colourways, both sneakers feature an upper with LGM prints, white midsoles, and outsoles in either chalk or black. 
The Disney Hybrix Sneakers in chalk and black retail at $119.90 and $129.90 respectively.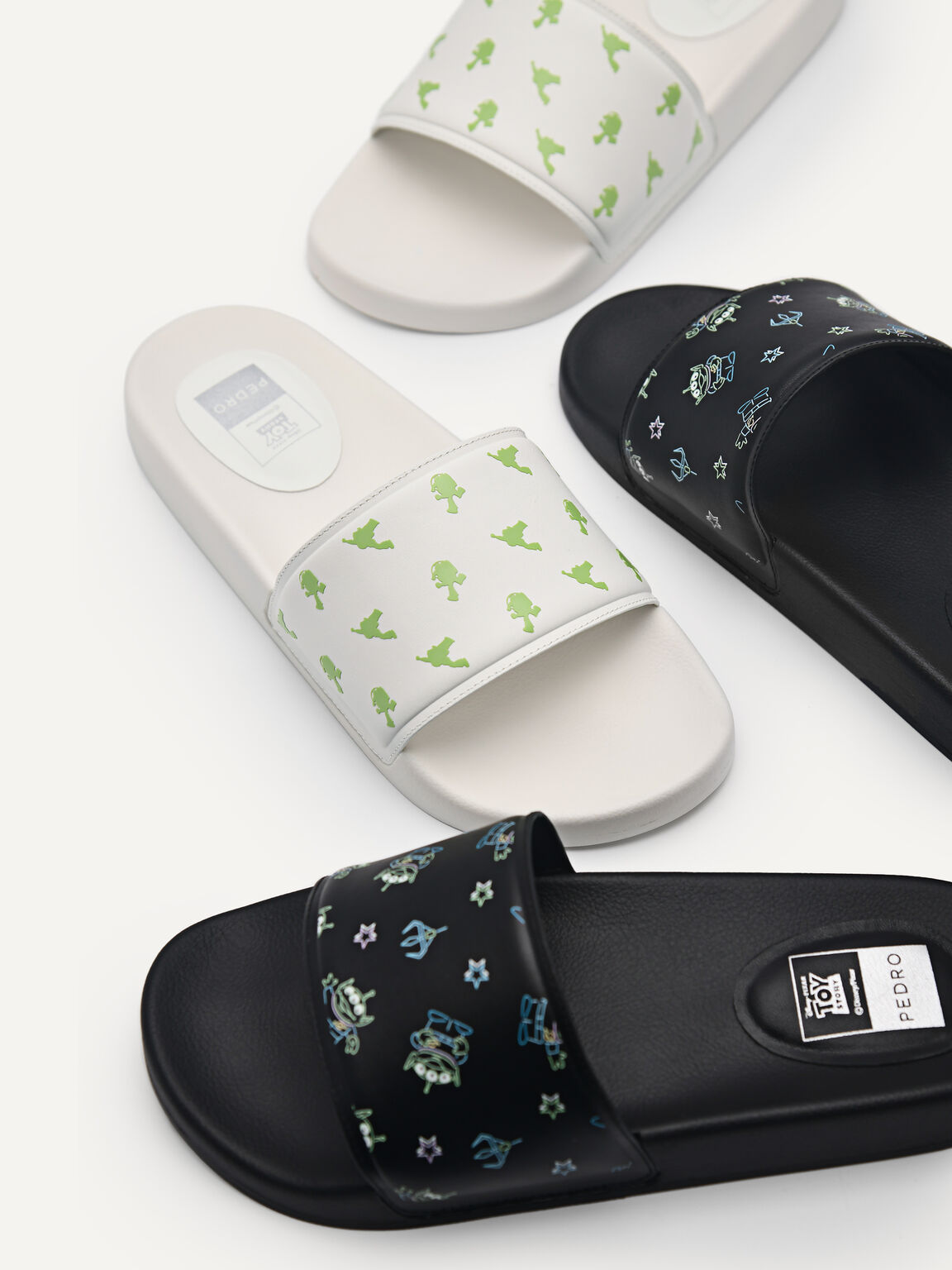 Disney Slide Sandals in chalk and black
Slip into one of these comfortable Disney Slide Sandals and slide down your childhood memory lanes. Unlike standard slippers and flip flops, this footwear is designed with a thick yet comfortable upper band for a snug fit. 
If that's not impressive enough, the design also takes into account the ergonomic aspect of customers through its contoured footbed. 
Each pair of Disney Slide Sandals retails at $69.90.
Bags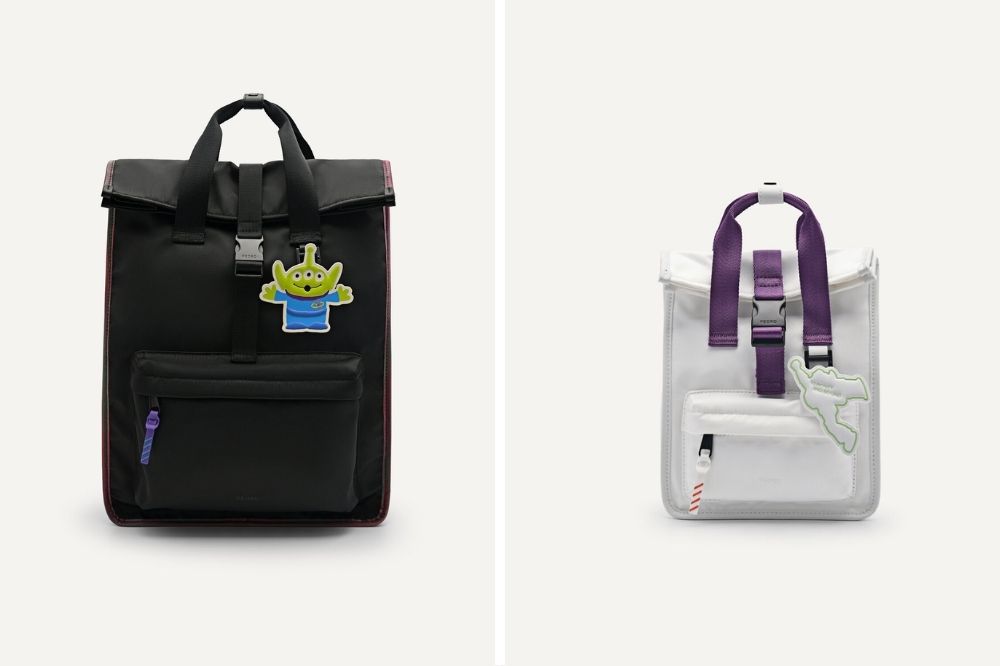 From left: Disney Andy Backpack, Disney Andy Mini Backpack
Hold your horses before you embark on a "space" journey ‒ be sure to pack your essentials with the Disney Andy Backpack. The functional backpack comes with various compartments, and closes with an external snap closure that keeps your belongings extra secure. It even features a LGM tag that doubles as a cute addition to the design. 
Those who prefer a backpack with smaller storage space can opt for the Disney Andy Mini Backpack in white, which differs with purple handles and a Buzz Lightyear tag. 
The Disney Andy Backpack and Disney Andy Mini Backpack retail at $149.90 and $109.90 respectively.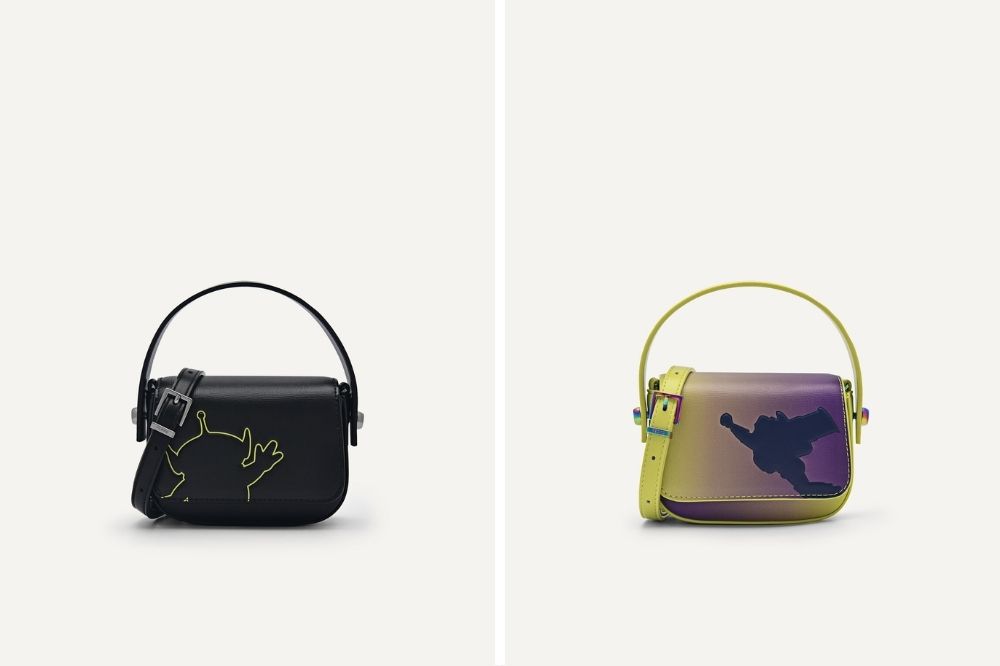 From left: Disney Molly Shoulder in black and multi
Look good while you complete your daily "missions" with the Disney Molly Shoulder, which is available in black or a purple-to-green gradient. 
Since both designs feature either an outline of LGM or a Buzz Lightyear silhouette, the Toy Story references are perfect for those who wish to subtly express their love for the movie franchise. 
Additionally, the bag comes with a detachable shoulder strap so you can experiment with different styles. 
The Disney Molly Shoulder retails at $89.90.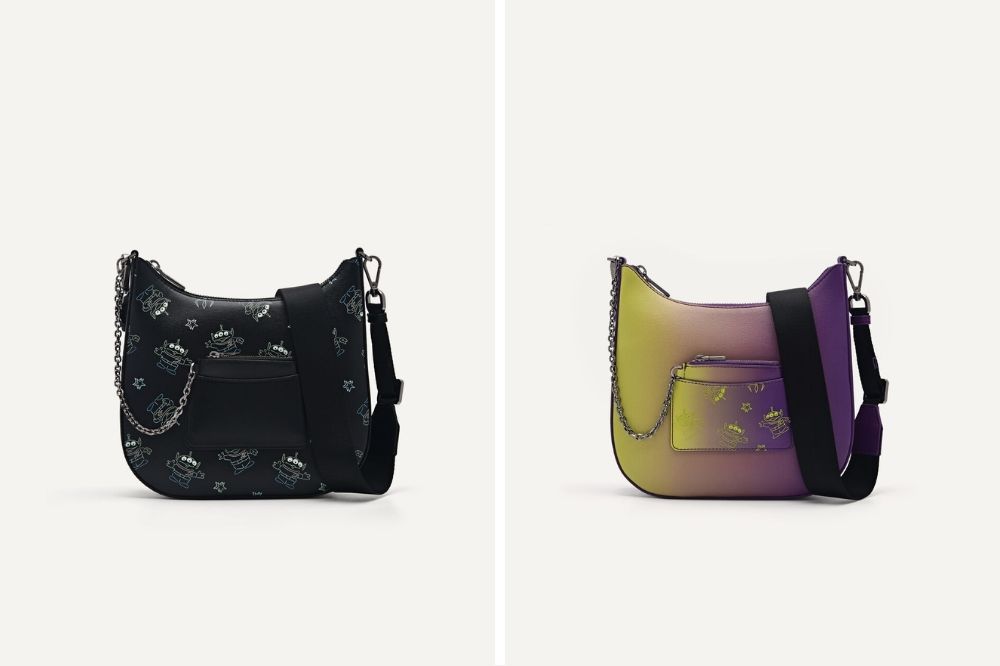 From left: Disney Jessie Shoulder Bag in black and multi
The Disney Jessie Shoulder Bag is not your everyday bag thanks to its unique structured design that curves at the edges. It comes with sufficient room to store essentials like an umbrella and a water bottle, and even features an external card slot with a metal chain to prevent klutzes from misplacing their cards. 
Since both options feature motifs of LGM, you'll make an impression that's just out of this world.
The Disney Jessie Shoulder Bag retails at $95.90. 
Accessories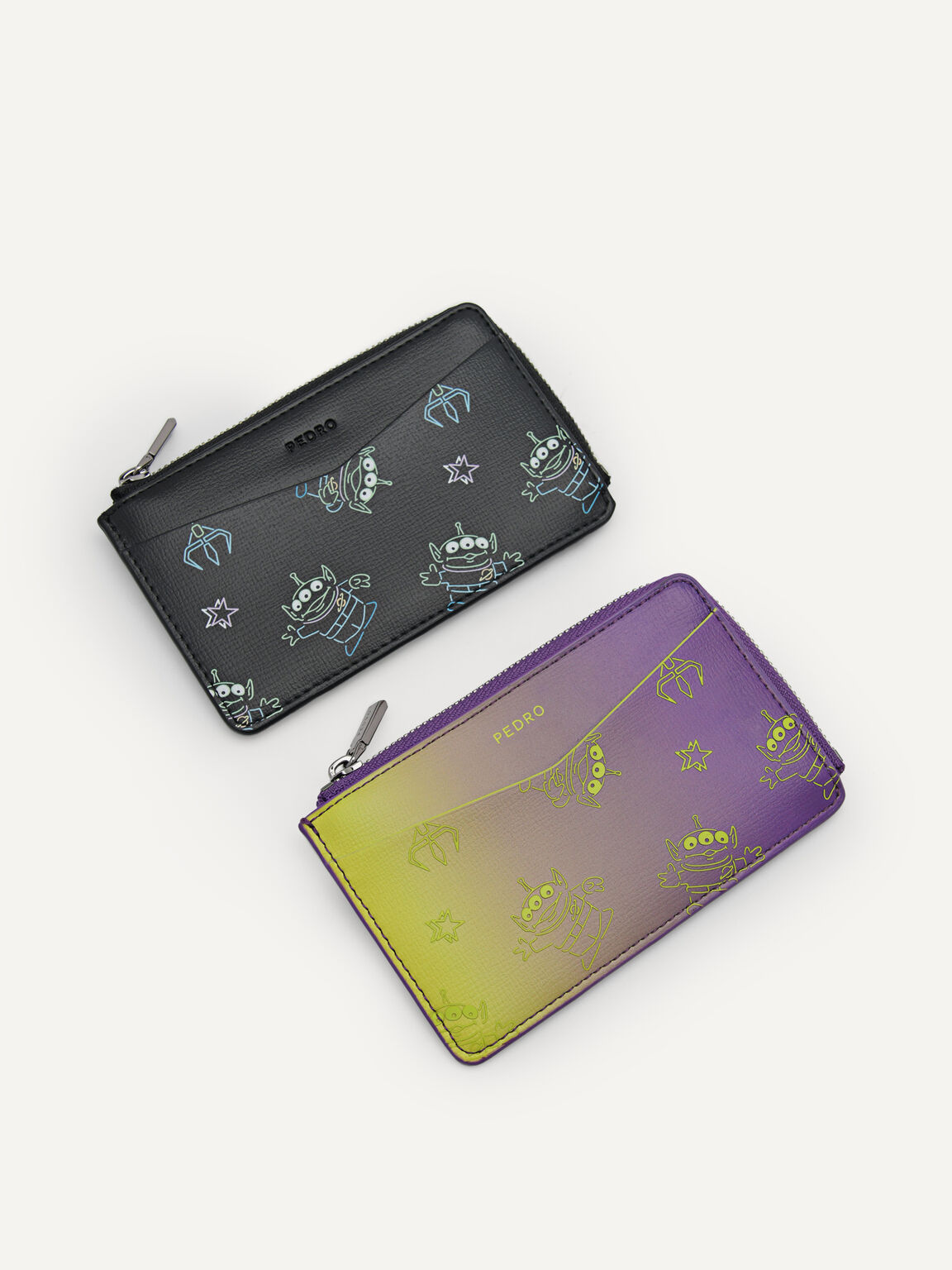 With contactless payment on the rise, it is becoming more common for people to only carry cards. Keep them safe and organised with the Disney Card Holder, which also comes in two colour options. 
Similar to the aforementioned designs, the card holders feature outlines of LGM and come with a zip closure to store loose coins. 
The Disney Card Holder retails at $39.90.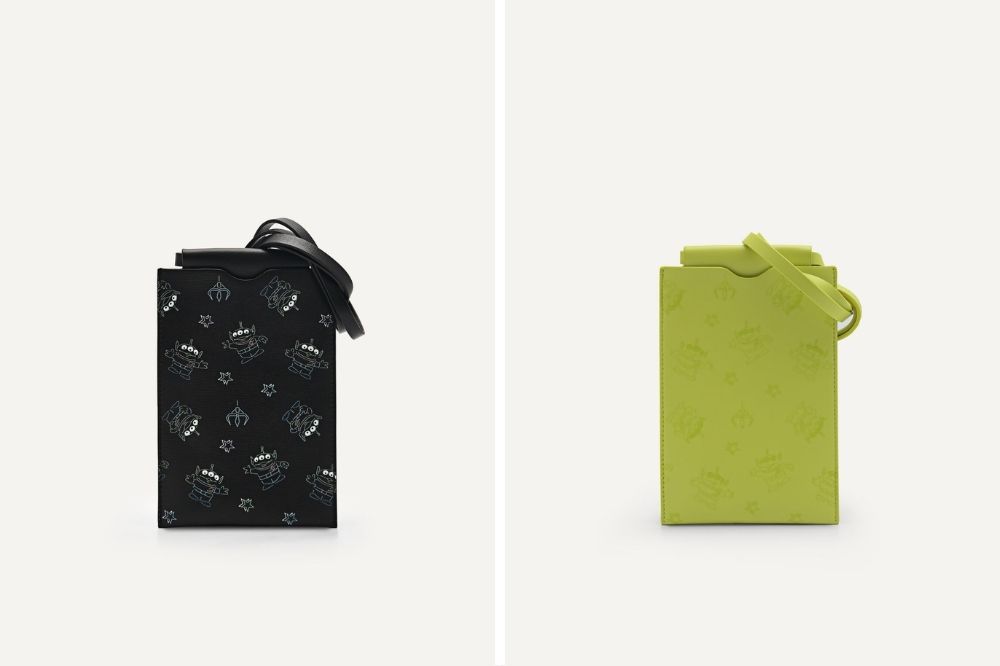 No worries if you can't get enough of the quirky aliens in Toy Story ‒ the collection also treats fans to the Disney Trip Phone Pouch, which is decked with repeated motifs of LGM on black or light green faux leather. 
Since the pouch comes with a shoulder strap, you can go hands-free when you carry it out. 
The Disney Trip Phone Pouch retails at $49.90.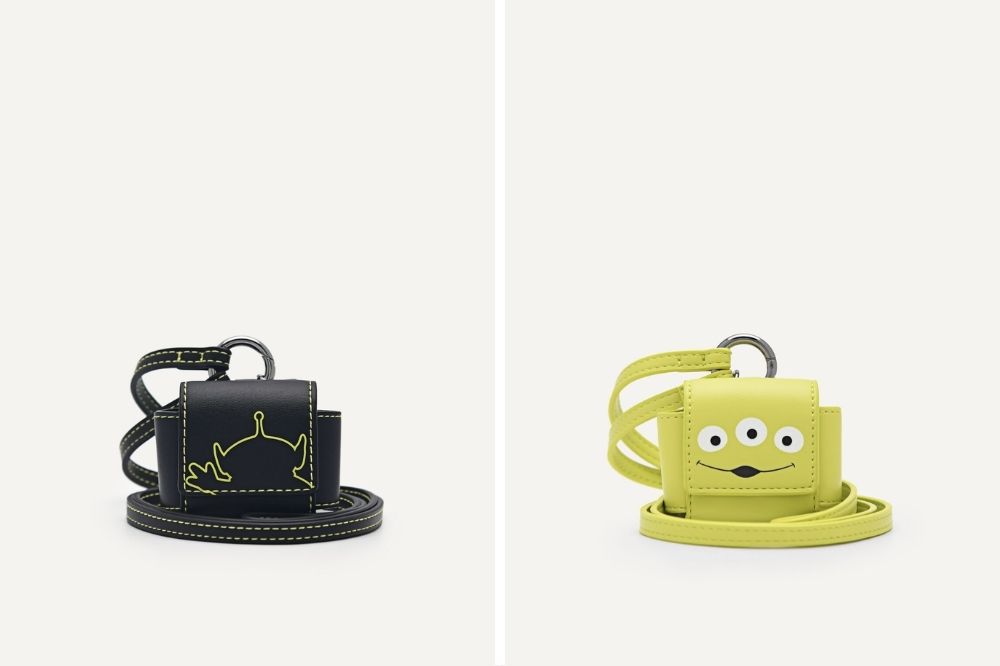 Anything that you carry or wear can become a fashion statement ‒ make the Disney Airpods Case yours when you sling it around your neck or attach it to your bag. 
The Disney Airpods Case in black is an adorable ode to the alien characters in Toy Story, and the light green case features the face of the extraterrestrial creature. 
The Disney Airpods Case retails at $39.90. 
Embark On A Futuristic Fashion Journey With The Pedro x Buzz Lightyear Collection
Long time fans of Toy Story would not want to miss out on this exclusive collection with Pedro, and embark on a stylish adventure. The items are now available on Pedro's official website, and at all physical outlets. 
All images courtesy of Pedro. 
Also read: 
Adidas x Disney Celebrates 100 Years With Mickey & Minnie Sneakers Featuring Heart-Hands For A Couple Look