Blood's Period Pantry Kits
Despite menstruation being a natural occurrence in a woman's life, the majority of us have been brought up to see the topic as something that should be concealed. It's easy to admit that taking out a pad or announcing you're on your period in front of others somehow comes with a sense of embarrassment.
Especially when it comes to the workplace, many women in Singapore have shared that they experienced discrimination over period cramps. With these concerns in mind, Blood, a company in Singapore, has released a new initiative to offer free period pantry kits and raise awareness on workplace period shaming.
The campaign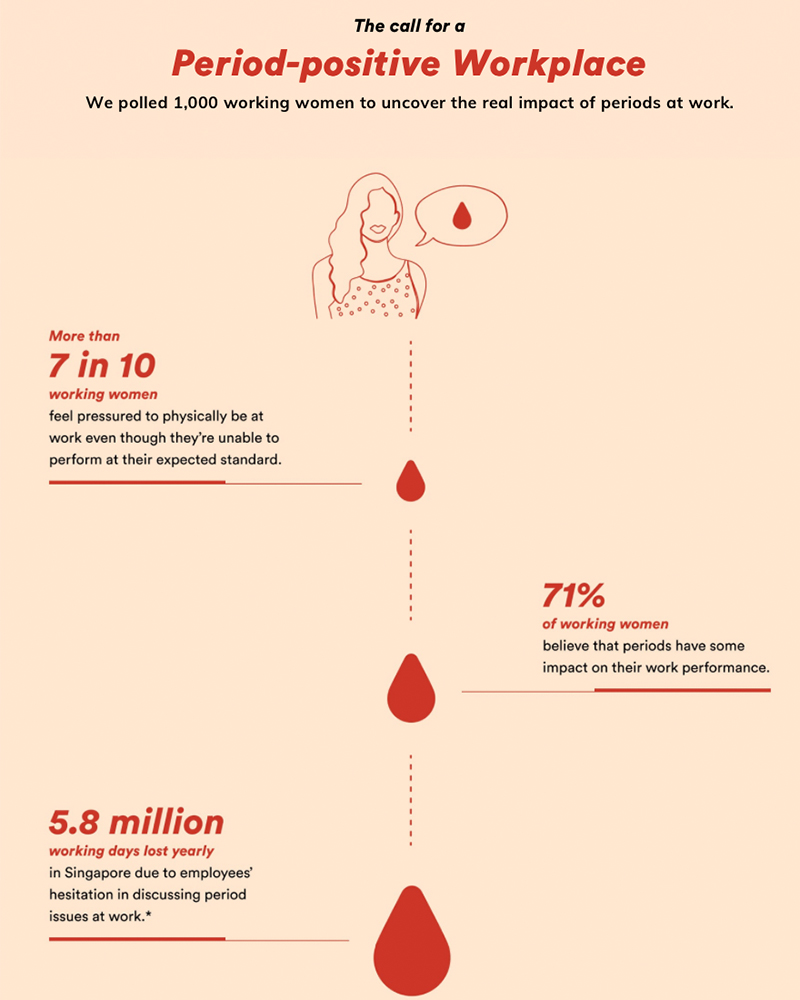 In a survey with 1,000 working women conducted last year, Blood discovered that close to half of them admit to regularly taking time off work to avoid awkwardness in the office during the time of the month. 
For some reason, many can relate to the thinking that taking an MC with the excuse of period pains never seemed like a "valid enough" excuse to be approved. 1 in 2 women also admitted to lying about their absence to avoid ridicule or discrimination, and 71% felt pressured to be at their desk even though they are unable to perform due to period pain. 
That's not all — 76% revealed that they go to great lengths to hide their sanitary products at work. While many of us are used to the years of awkwardly stuffing our pads into our back pockets and scurrying into the toilets, we never realised that we were contributing to a bigger societal problem.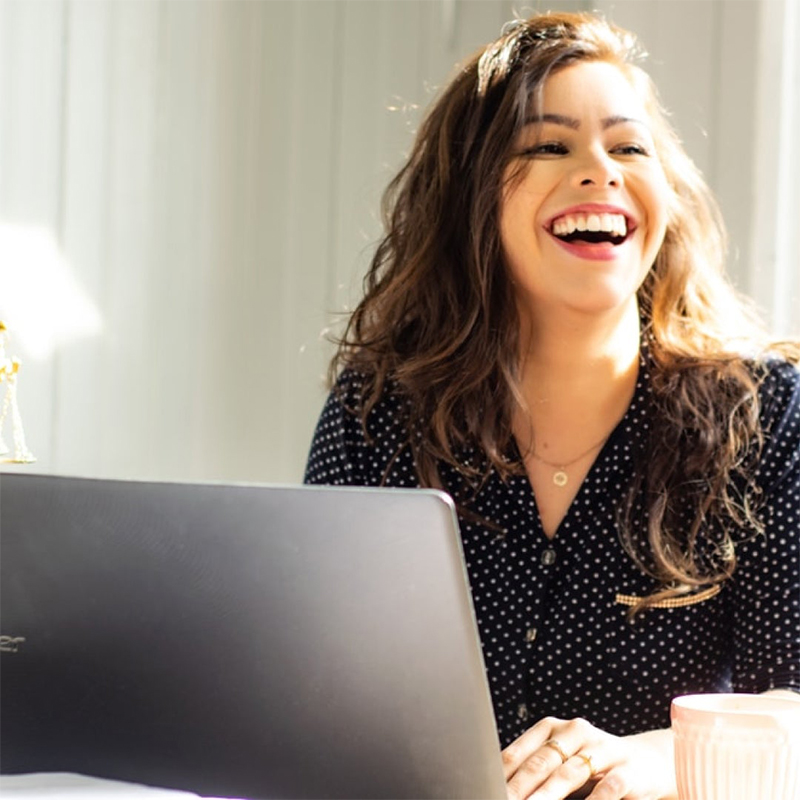 Therefore, Blood's new campaign seeks to make a change and overcome these issues that women on their period face at work. Titled "Period-Positive Workplace", the campaign offers a complimentary digital guide with practical advice, hints and tips, as well as real life anecdotes from working women in Singapore. 
Additionally, the campaign includes complimentary period pantry kits that Blood provides with merchandise that will relieve period pains. No matter if you're an employee or employer, you're never too insignificant to redeem on behalf of your organisation — kickstart the change through the support on Blood's online website ASAP.
Period Pantry Kit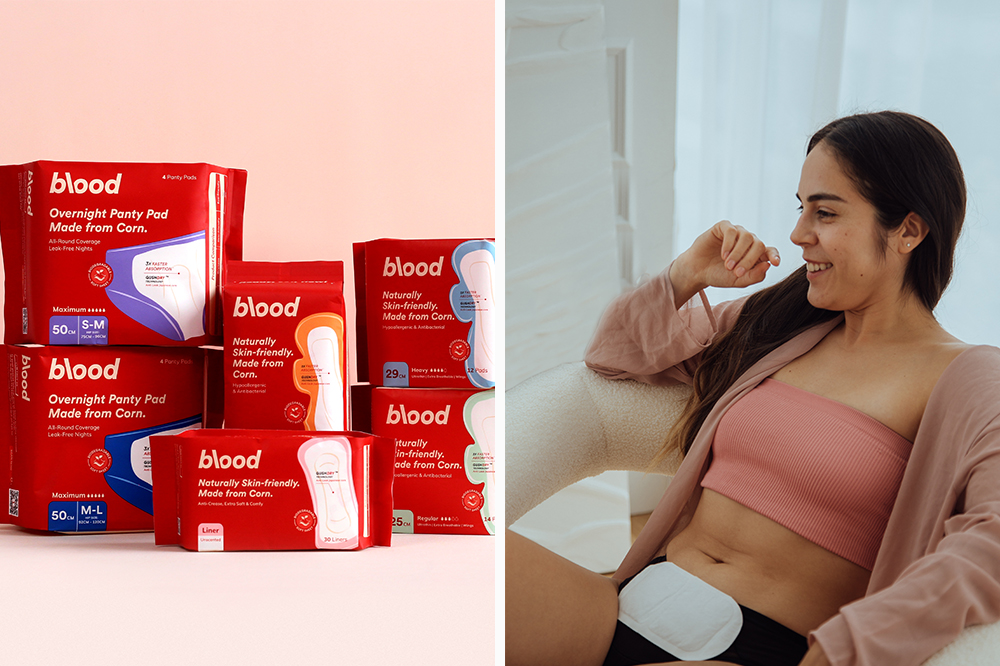 Inside the Period Pantry Kit, employees can find sanitary pads, liners, MenstruHeat Cramp relief patches and a corporate discount for other period-related items on their site.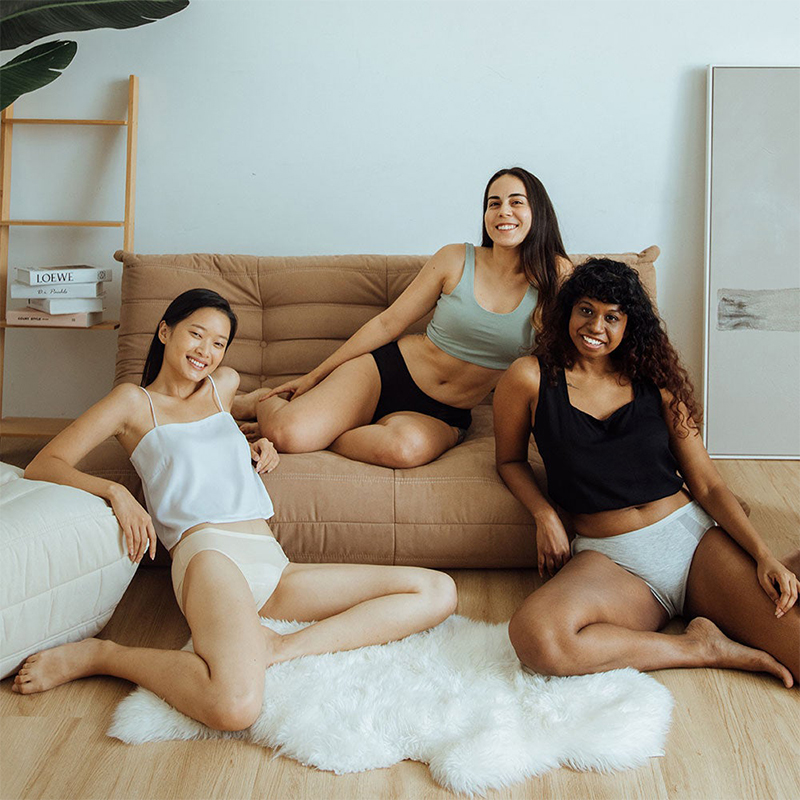 If you're looking for additional products to help you relieve your period struggles beyond pads and pills, make use of the employee perks and discover merch like the Hipkini Bamboo Underwear. While you might be thinking "it's just underwear, what difference does it make?", these aren't just underwear, but specially designed for extra protection against discharge of all kinds. 
Being on your period isn't a punishment, so it's time to treat yourself kindly and alleviate period-related issues. Say goodbye to waking up in the morning with a flood between your legs and the anxiousness to scrub your bed sheets in time to start work.
Blood Singapore Encourages Period-Positive Workplaces For Women Through Period Pantry Kits
While it is true that getting your monthly period is part and parcel of being a woman, suffering in silence shouldn't be a norm. Through Blood's Period-Positive Workplace campaign, hopefully, we can start changing more mindsets through sharing the impacts of period pains and how they can be handled positively in the workplace.
Head over to Blood's website for more information about the campaign and their game-changing period care.
All images courtesy of Blood.
Also read: