Prada Outdoor Collection Taiwan
From secondary school camps to occasional hiking trips to MacRitchie Reservoir, embracing the great outdoors in Singapore is a welcomed break away from the bustling city. As we're planning our next outdoor adventure, Prada Taiwan has launched a camping collection with a set consisting of a tent, bento boxes, outdoor chairs and more.
Camping accessories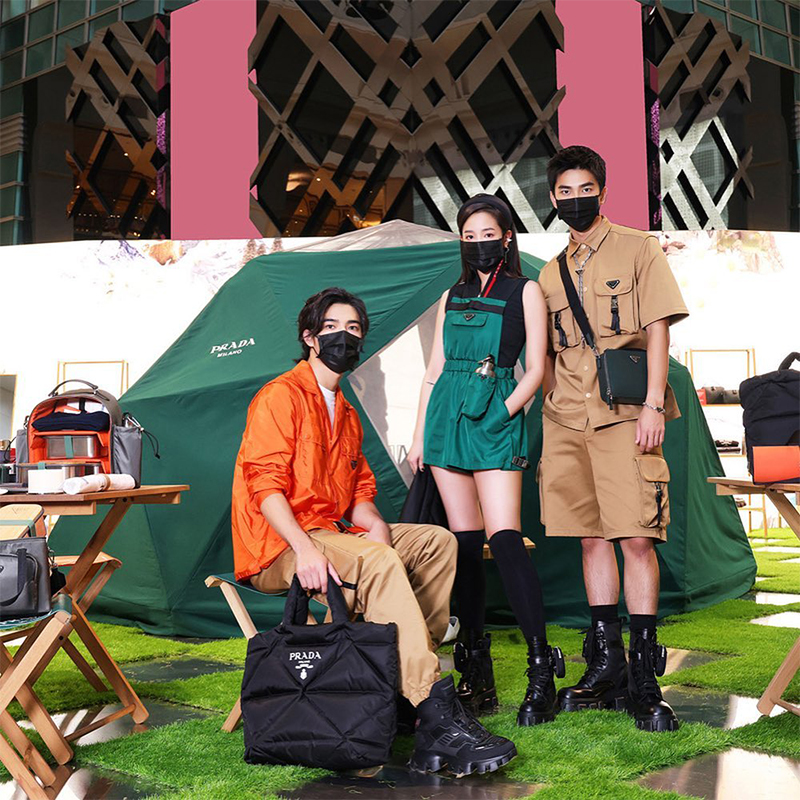 This isn't Prada's first rodeo on outdoor merchandise. Earlier last month, Prada released an outdoor collection with hammocks and yoga mats. Since then, Prada has expanded their outdoor collection to include categories for gardening, beach trips and mountain camping.
Focusing on the mountain camping collection, this Prada pop-up store at Taipei 101 City Square has all the items you need for a fun-filled day. Featuring large tents, sleeping bags and outdoor chairs, level up your glamping experience with bae in luxury.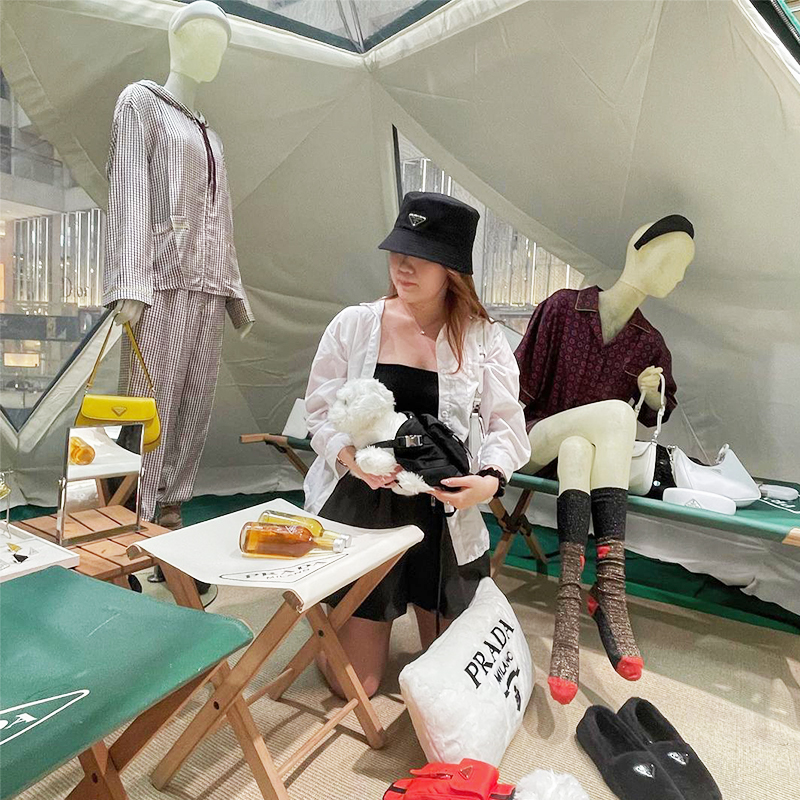 Additionally, the pop-up store includes pillows and a sturdy camping bed perfect for resting under the stars. Mannequins are shown dressed in Prada's collection of comfy and breathable clothing suited for the outdoors.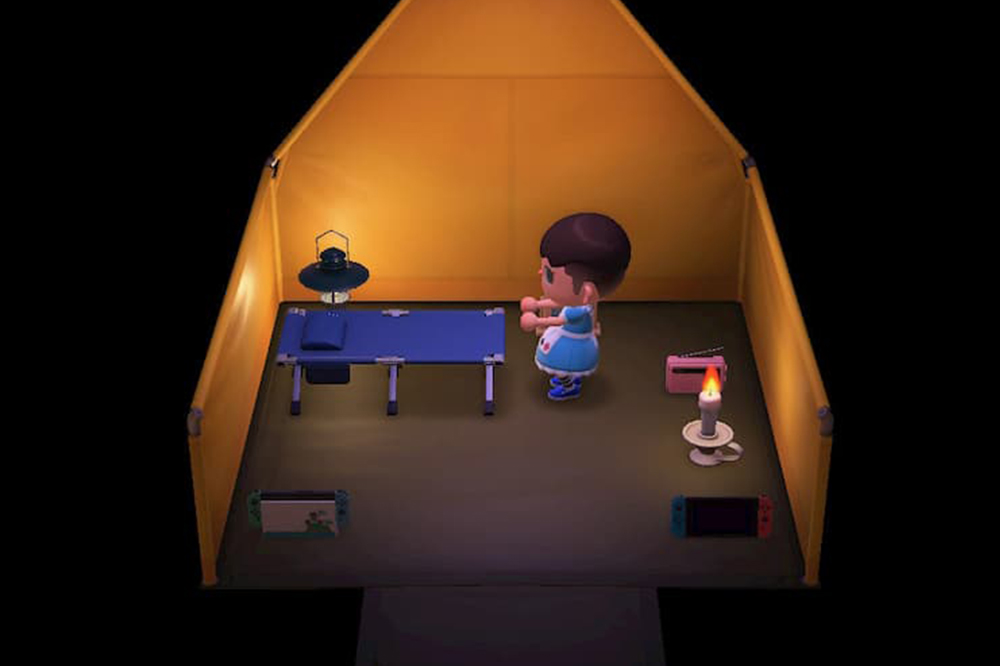 These campsite items remind us of the game Animal Crossing New Horizons, where Tom Nook gave our game character a camping tent to live in. Though the player will eventually move on to build a house, this Prada collection allows you to live your character's island life and bask in the aesthetics of a real camping site. 
Bags and pouches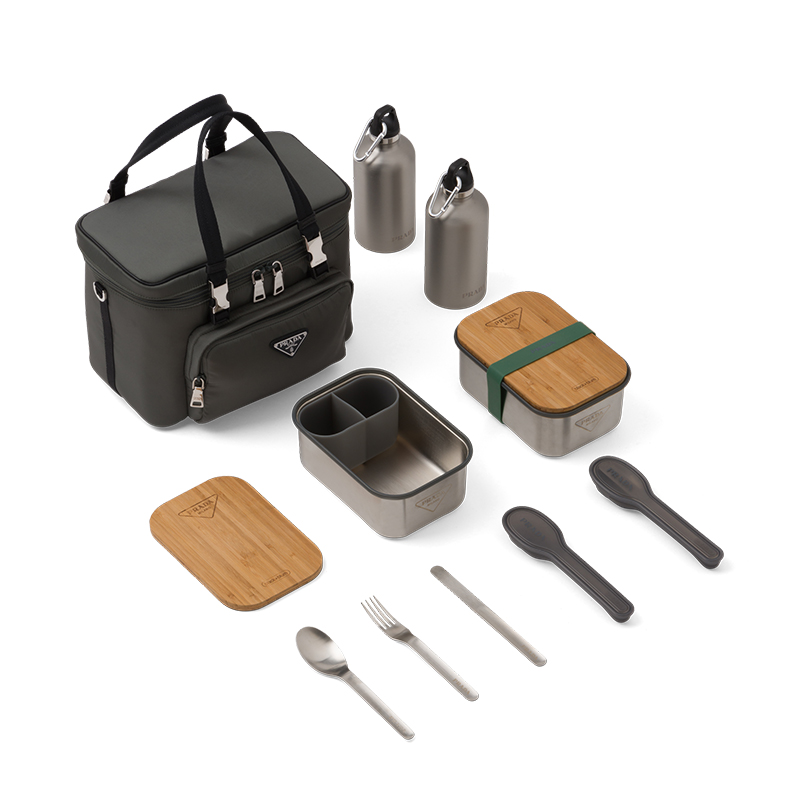 There's nothing like outdoor camping without the thrill of consuming food in the wilderness. Keep your food safe and warm in the stainless steel bento boxes, finished with the Prada logo engraved on top of the lid. 
The bento boxes, along with Prada's stainless steel utensils and water bottles, can all be fit into this rectangular carry-on bag with compartments for each item.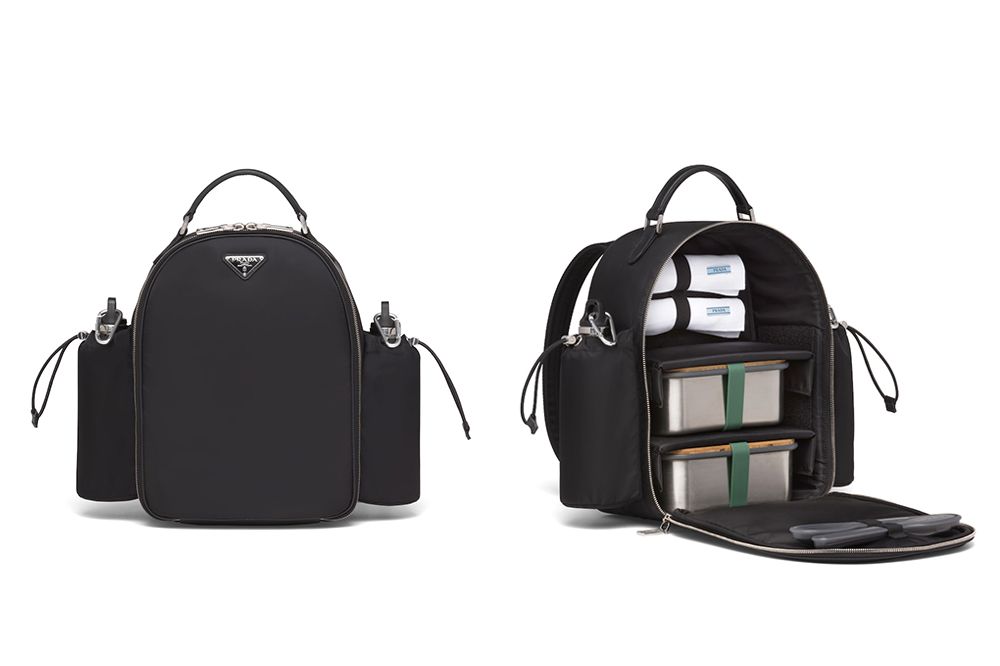 Alternatively, if you prefer to carry backpacks, this picnic bag is equipped with 2 of every camping item you and your SO will need for a romantic dinner under the stars — bento boxes, cutlery sets, 500ml water bottles and linen packs.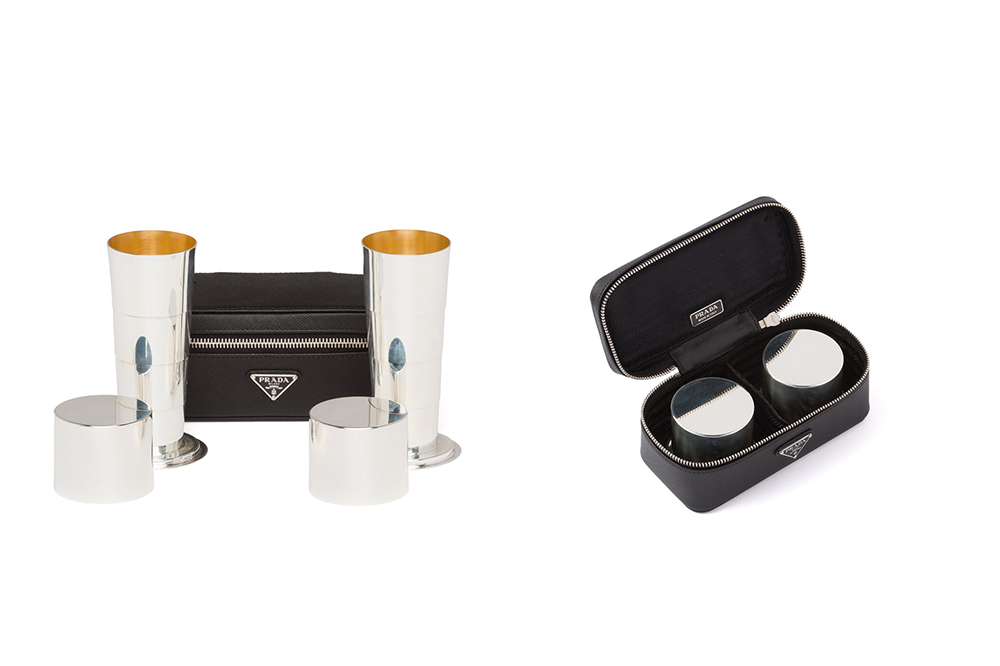 Sip on champagne and chill with the sounds of nature with this portable sterling silver cup set. The cups can be conveniently compacted into a leather storage bag after you're done with your drinks.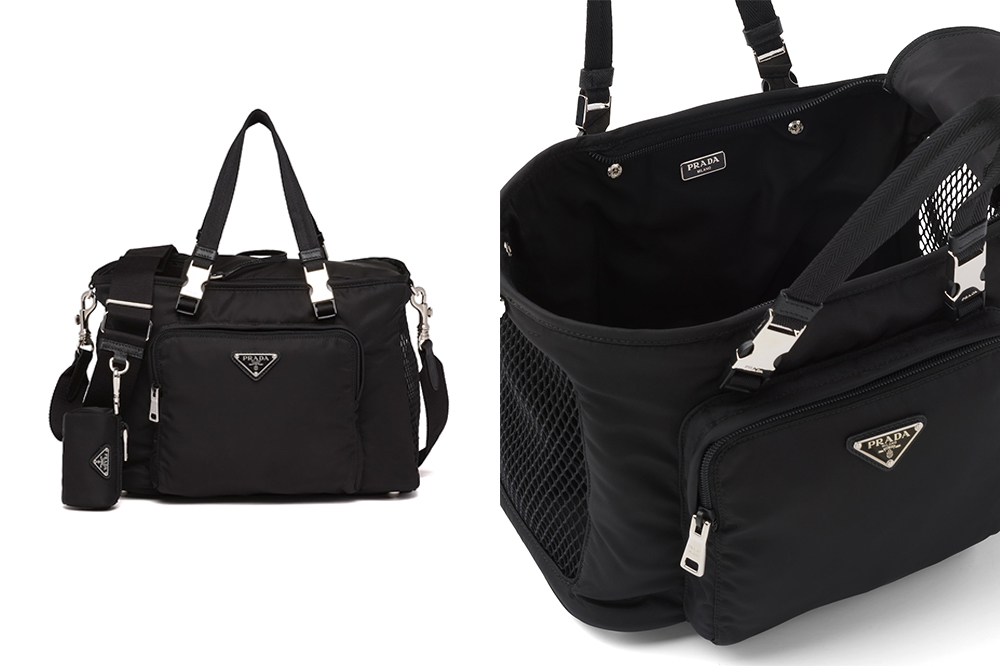 If you're missing your furry friends while camping outside, why not take them with you? The leather pet bag in this collection comes with shoulder straps so you can comfortably carry your doggo by your side. 
Besides being able to store your pet, this bag comes with basic pet care products such as a collar buckle, a food pocket and a pet garbage bag dispenser.
Also read:
Prada's New Outdoor Collection Features A Hammock & Dog Harness For Your Next Glamping Trip
Clothing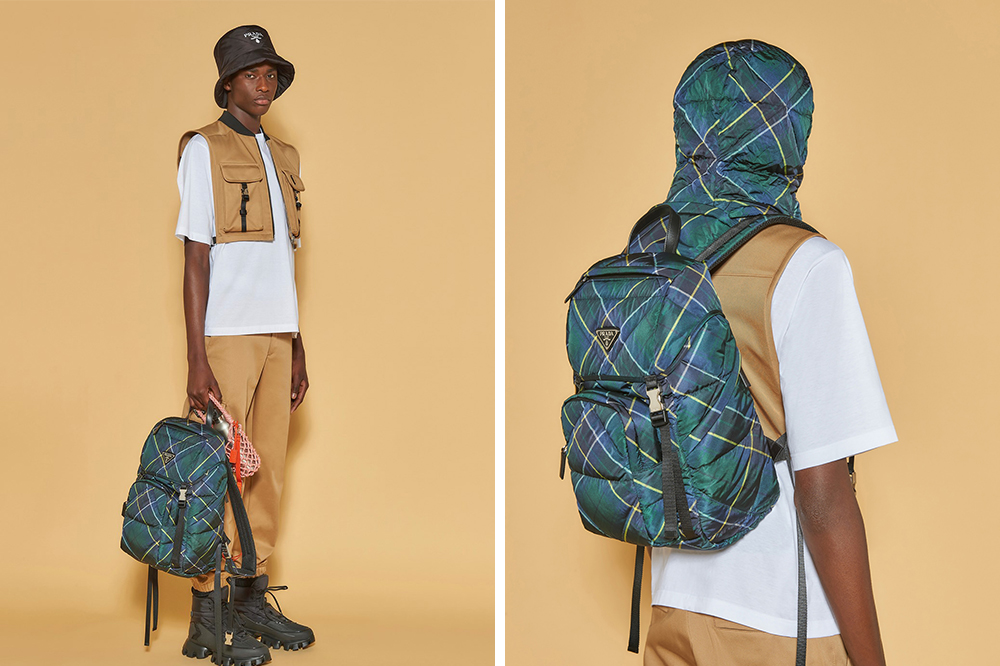 Of course, no camping trip can be possible without the right attire to get you through rain or shine. Prada's outdoor collection features a waterproof bag that can be extended into a hoodie — now there's no excuse to cancel your hiking plans because of the rain.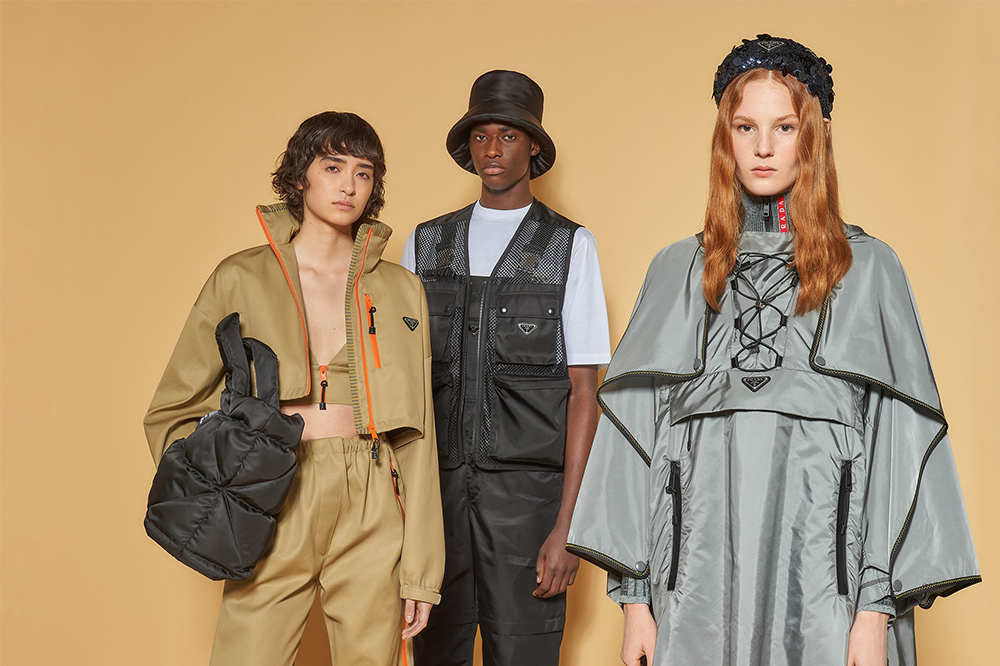 More waterproof clothing such as vests, bucket hats, jackets and ponchos are also available, proving that you don't always need the sun to have a successful camping trip. 
Prada Taiwan's Outdoor Collection Pop-Up Is For Adventurous Individuals Seeking Luxury
According to Prada's Facebook, this pop up at Taipei 101 City Square is ongoing from now until 23 September 2021. Head over to Prada Taiwan's website to find the full outdoor collection. As Singaporeans enjoy exploring the nature trails in our little red dot, hopefully this outdoor collection will make its way to Prada stores in Singapore soon.
For more chio pastel camping items, Starbucks Korea also launched a similar camping collection with drinkware, coolers and lamps.
Also read:
Starbucks Korea Has A Pastel Camping Collection With Coolers & Lamps To Enjoy The Great Outdoors In Style