Prada Outdoor Collection 
Seeing how Singapore is halfway through P2HA, it is not surprising to see many already planning their next outdoor activity. Prada's latest outdoor collection features novelty items such as a yoga mat, hammock and sandwich box. These might come in handy for your next glamping trip or even a picnic on the Green Roof of Marina Barrage.  
Orange Yoga Mat
Prada knows how to let Yogis stand out with this bright Orange Yoga Mat.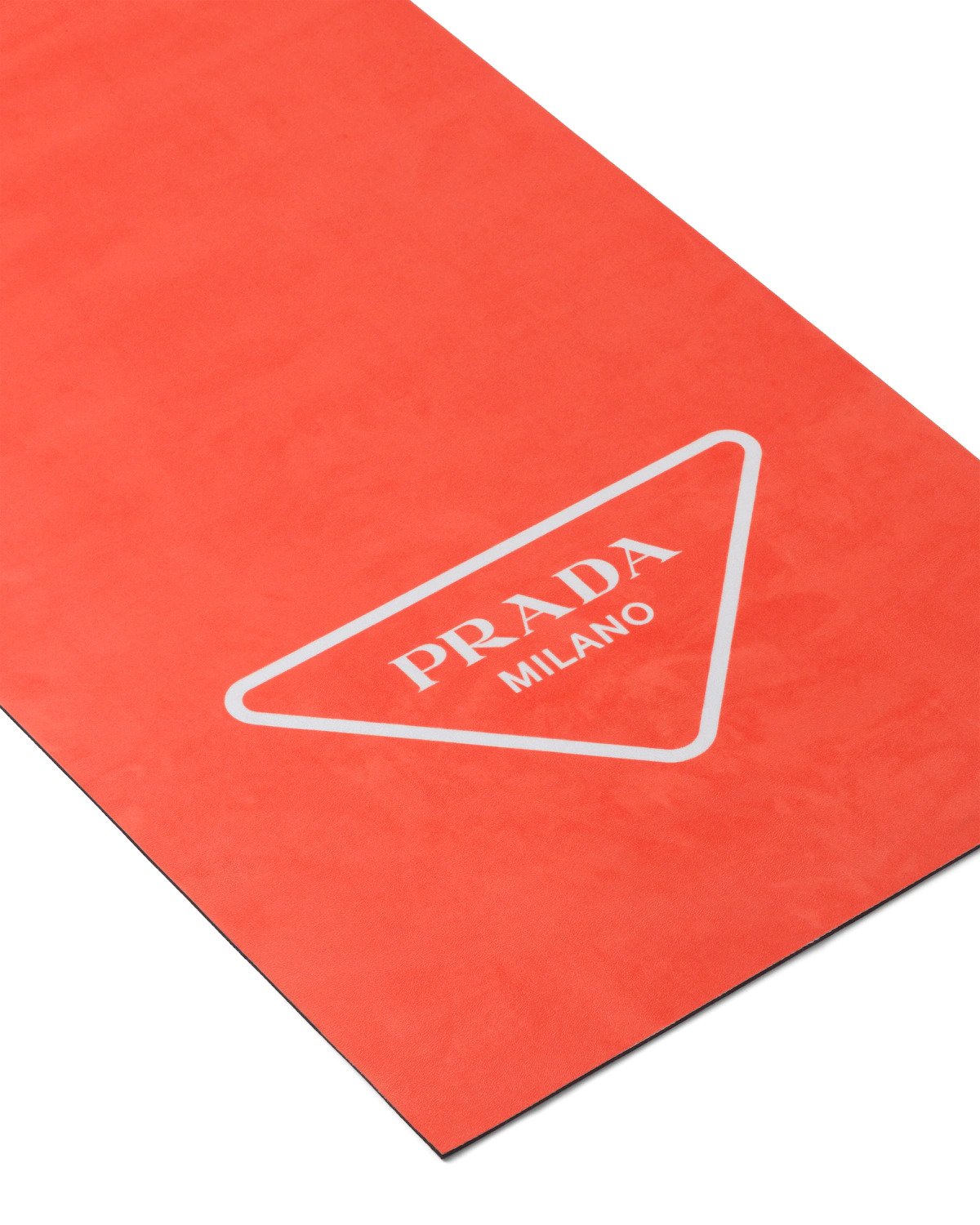 The iconic Prada logo is printed in white, a contrast against the orange mat. It has a nylon case with buckles that secure the mat when rolled up. 
You can sling it over your shoulders with the adjustable shoulder strap or carry it by the handle.
Plus, it is accompanied by a small nylon pouch which is perfect for you to put loose change or your TraceTogether token   
Get into your downward dog and warrior poses with this Orange Yoga Mat at US$1,990 (~S$2,690). 
Nylon Dog Harness 
If you can't bear to leave your furry friend at home when heading out, this collection features a nylon harness that turns your dog into a fashionista.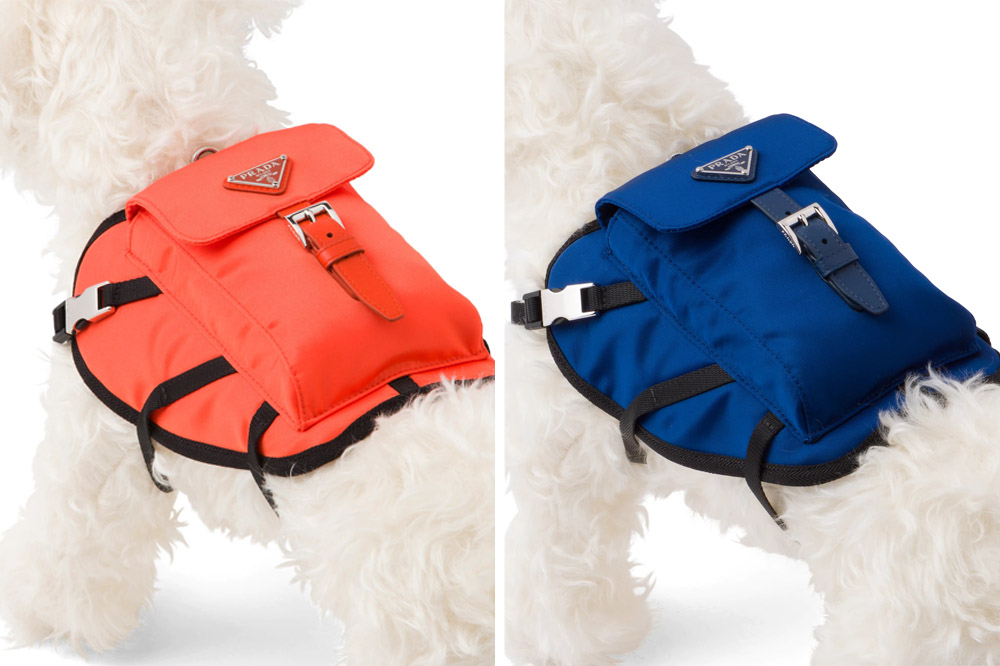 Available in 2 different colours, orange and blue, the harness is made from nylon and has a pocket on the back with Prada's enamelled metal triangle logo. You can free up your hands by putting snacks or even plastic bags for your dog in its little backpack.
If you're worried about your dog scuttling too far, you can attach the leash onto the hook of the harness. In addition, there are side-release buckles on the harness for easy wearing and taking off. 
This Nylon Dog Harness retails at US$650 (~S$878). 
Nylon Hammock 
This Nylon Hammock lets you feel like you're on vacay, providing comfort while you nua between trees.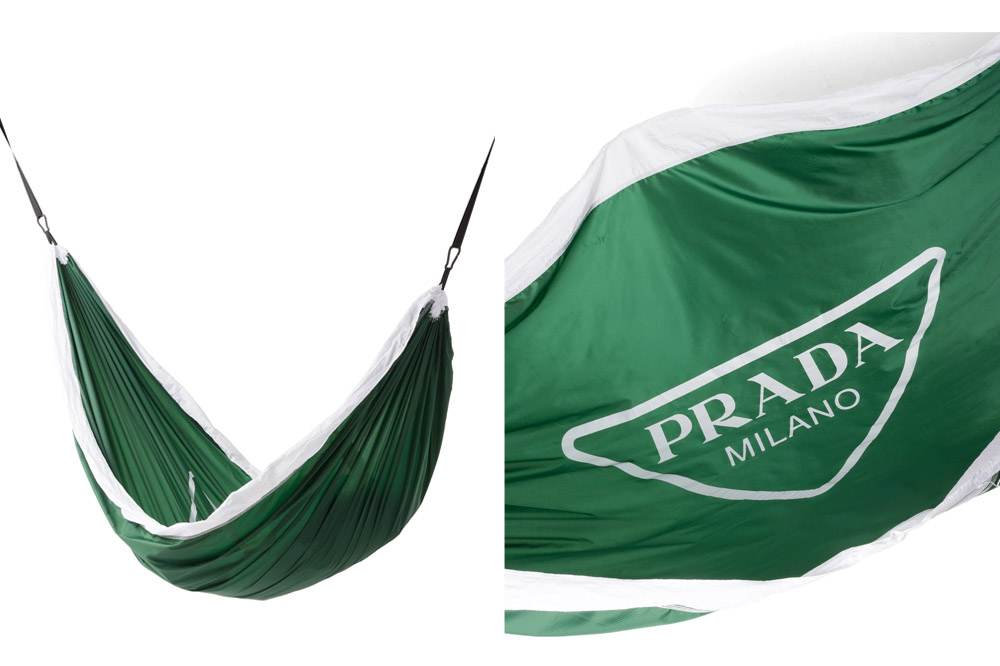 In the middle of the dark green hammock, you will find the white lettering of Prada's logo.
It can be easily packed into a nylon pouch and you can tighten it at the top with the drawstring. Plus, it has a side-release buckle that allows you to attach it to any backpack or accessories. 
The Nylon Hammock retails at US$875 (~S$1,182). 
Also read: 
Prada's Dog Raincoat & Jackets Let You Turn The Park Connector Into Your Personal Catwalk
Stainless Steel Sandwich Box
In collaboration with brand Black + Bum, which is known for their sustainable food containers, you can pack your tidbits into this Stainless Steel Sandwich Box when you head outside. 
At first glance, this sandwich box might look simple but don't be fooled by its appearance. 
The Prada logo engraved bamboo lid doubles as a chopping board and rest assured there will be no food spillage thanks to its green silicone seal. On top of that, it has a silicone strap that holds the container in place.
On the inside, you will find 3 compartments ‒ 1 big and 2 small ‒ for you to store your freshly made meal prep like sandwiches and cherry tomatoes. 
This Stainless Steel Sandwich Box retails at US$140 (~S$189). 
Linen Placemat-And-Napkin Set
Before digging in, you can finish setting up your individual eating space with this elegant Linen Placemat-And-Napkin Set. 
Both accessories are made from linen, complete with a baby blue Prada tag sewn onto them.
The set comes with a wood-textured napkin holder, where the Prada logo makes another appearance. 
This Linen Placemat-And-Napkin Set is 40cm x 50cm and retails at US$420 (~S$567). 
Frisbee
Along with this collection, you will find a Frisbee where you can play a game or two with your friends. It is available in 3 different colours ‒ light blue, yellow, and orange. 
When not in use, the frisbee can be kept in a nylon casing. It has a detachable handle that comes with an adjustable feature. 
The Frisbee retails at US$650 (~S$877.80). 
Complete Your Outdoor Activities With These Chio Accessories From Prada's New Collection
Aside from the above items, Prada's new outdoor collection also includes various apparel and bags. If you are interested to find out more, check out Prada's official online store. Unfortunately, the items are available only in the US for now, so you might want to find freight services that ship to Singapore. 
All images courtesy of Prada. 
Also read: 
Prada & Adidas Are Finally Releasing Their Second Round Of Superstar Sneakers, Hypebaes Mark Your Calendars