Preetipls On Learning Mandarin and Deleting Tinder
Preeti Nair, better known as Preetipls, requires no introduction. We've stifled our giggles at work watching her Crazy Real Asians parody, and we've bopped to two of her latest rap videos, OORU and E8.
Since we last caught up with her in November, Singapore's Top Everything has taken over the Earth Hour 2019 Concert set with her brother Subhas and blessed us with a makeup routine dedicated to dinners at Hai Di Lao. Needless to say, we stan an environmentally conscious queen who's also a beauty guru.
We sat down with Preetipls for an interview and pried a little into her personal life, to find out more about her family, career and experience on Tinder.
How different are you in real life compared to the outspoken persona you adopt in your videos?
I've gotten so many people saying to me, "Oh my god, you're so quiet in real life," or "I didn't expect you to be so nice". Just because I run around Singapore saying I'm Singapore's Top everything, doesn't mean I'm gonna be like, "Don't talk to me, I'm Singapore's Top Everything."
I'm not like that, guys. Chill. It's a character in my head. All the aspects of Preetipls is Preeti Nair, but a million times exaggerated.
Was it difficult for you to learn Mandarin in school?
It was so painful. It was probably the most painful thing I had to deal with as a child. It was very stressful to be flunking a subject that I didn't even know why I was studying.
I went through it really well in primary school, but in secondary school, I started failing this subject and I'm like, "Why did my parents make me do this?" My brother and I were both in this situation and we discussed it, asking, "Why does our mummy hate us? Why are we studying Mandarin? It's so difficult."
We went through about 10 different tutors. Shout out to Shine—she's my favourite Chinese tuition teacher who's now my friend on Facebook.
I think the only time that I ever use Mandarin, apart from in my videos, would be at the hawker centre trying to order something. Like, "Uncle, ji fan." That's probably my favourite phrase because my favourite local dish is chicken rice.
How did the idea for the inaccurate Mandarin subtitles on your videos come about?
I started doing Mandarin subtitles on all my videos because I wanted to put [my Mandarin] to good use. It's pretty cool that I can actually speak Mandarin to save my life. So, why not just make it like another layer of humour?
The video works on its own, but if you speak Mandarin, you're going to have an extra laugh. People who don't know Mandarin have come up to me like, "I wish I spoke Mandarin and understood your jokes so that I don't have to ask my Chinese friends to translate." I feel kinda bad, but I'm like, don't worry about it, it's just a stupid thing and you're not missing out.
It's been a lot of fun for me because that's the last part of every video. I'll do every single thing and the last part would be subtitling. I'll just sit there, switching my keyboard from English to Hanyu Pinyin and start typing on my own. It's such a fun process because I think of it on the spot and then I will chuckle to myself.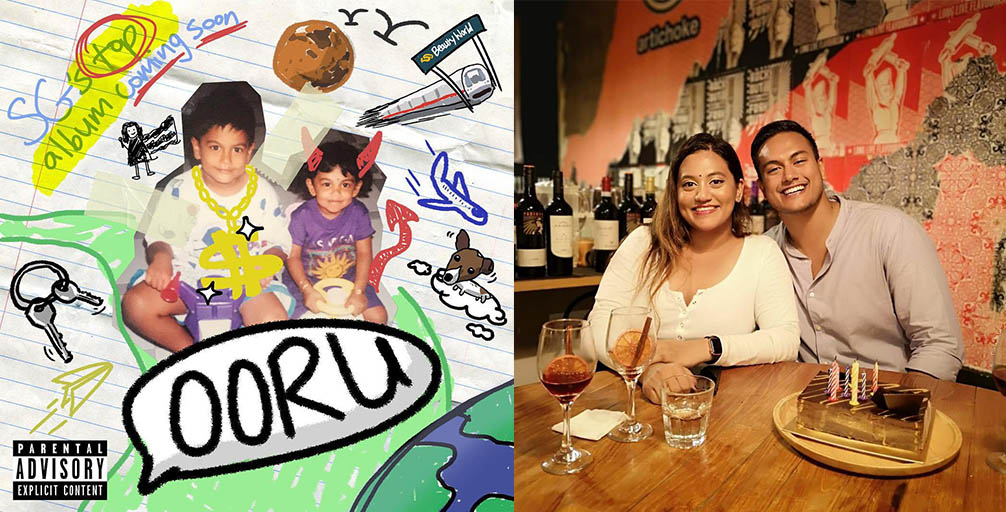 When did you and your brother start making music together?
My brother has been doing music for over a year, but I only started in October when I dropped Thicc. Our first song together is called OORU and it came out in December. It's very close to our hearts because we talked about our childhood and family for a bit.
No matter where we go or what happens in our lives, we're still going to be the same people. So we say things like, "They say we descended from money changers but I know this money won't ever change us." What we do is never gonna affect our relationship.
What's the funniest childhood memory you have of your brother?
I don't know if it's fake news, but my mum told me this. Apparently, we were like at IKEA or a store that had a massive playground. Then some Chinese boy—I'm bringing race into this, because it's how my mum told us the story—was fighting for the slide and then he pushed my brother down. I saw all this commotion, ran over and scolded this boy for touching my brother. I was like, "Eh, don't push my brother!"
I don't know how I sounded back then. Probably like an idiot because I was 3 or 4. My brother is 2 years older than me. I think I pushed [the boy] back, which is really not okay. So I'm sorry if you remember that and it was a traumatic experience. You deserved it.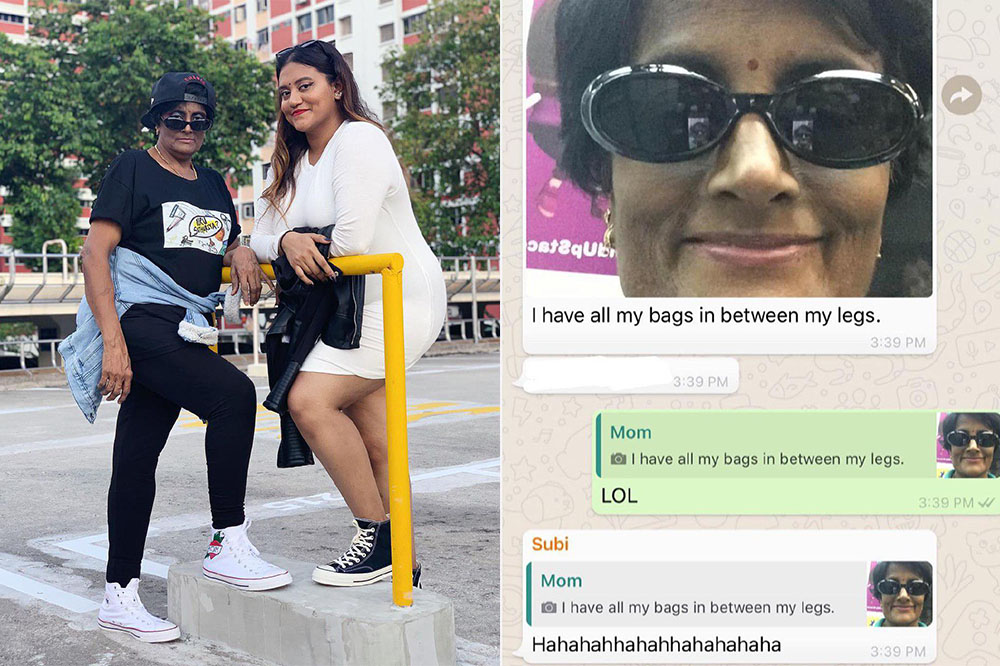 Would you feature your mum on your next rap?
A lot of people have asked me to feature my mum in my rap videos. I don't know why I haven't thought of it, but I really should. You know me, I'm a people-pleaser. There's no song in the works, but when I eventually do put up another song, somehow my mum's going to be a part of it.
What is your approach to makeup?
I think my approach to makeup is to just do whatever you want to do to make you look like the best version of yourself. That's why I do the same thing all the time. If I know this works, I'm going to use it for the rest of my life until I can't find this anymore.
If I always put on a winged eyeliner and it looks great, I would just wear a winged liner for the rest of my life. I'm not all about changing up my look, so I'm quite a basic B lah.
What do you think about the beauty industry's push for more diversity?
Being a brown girl, that's great for me, especially with brands like Fenty dropping 40 shades at once. I've seen so many YouTube videos of people using the darkest shade and reviewing the darkest shade and you think, "Okay, in Singapore you're not gonna see an average person using the darkest shade."
But this is a global thing. Everywhere in the world, someone needs this shade somewhere. So it's so cool to see [Fenty] being super inclusive. I found my shade so quickly and it was so easy for me.
What makes you blush?
Big, burly men. (Laughs) Other than that, I don't know. Stepping on a stage to do anything, whether it's rapping, hosting, stand-up or anything that involves public speaking, makes my whole face hot, like it's so hot that I can feel the heat.
When I feel super hot flushes on my face and I'm just like, "What's going on? Why are my cheeks burning up?" That's when I realise it's stage fright. Fear makes me blush and big, burly men, for sure. I don't have to wear blush.
Also read:
A Chat with Preetipls On Life Growing Up and Singapore's Social Media Scene
Dating advice for all the single folks out there?
I've been single for 25 years, so I think I give the best dating advice, considering my record. I don't know if this is advice, but it's just something I do. I like to be very upfront about things, so I don't like it when people waste my time.
It takes effort to meet the guy and see where it goes. That's why I'm very jaded in a sense. I really don't like meeting new people, so I hope and pray that I know someone through mutual friends and then we just date.
Basically, that's what happened. Like the last guy I dated was through a mutual friend and it made getting to know them way easier. Then again, I live on the internet, so it's more of me getting to know them cause they already know me. So, sucks for me.
Most memorable Tinder pickup line?
Okay, so I deleted Tinder last July and I haven't been on there for almost a year. I deleted it because people were straight up like, "Eh, oh my god, if you need anybody to be in your video, just let me know." Do I really look like I'm on a dating app to look for cast members and extras? Because, no I'm not, I'm really not. It's a dating app.
It got so exhausting because half the people matched me because I'm Preetipls. Come on, give me a break. I'm not here to socialise like, "Hello, it's a meet and greet!" I'm not here to do that. My whole experience was quite painful.
What's the best piece of advice you have ever received and who was it from?
I think the best piece of advice that I've ever received is from myself. I'm not gonna lie, it's really from myself, and it's "you do you." I don't know who came up with that phrase, because the first person who ever said that, thank you.
I tell that to myself very often and I think that's the one phrase that sticks with me through anything I do. Every time you have any self-doubt or you're stuck in a rut, just tell yourself, "You know what? You do you. Just do what makes you happy."
That's really based on your own terms and your own standards and I think that's amazing. Just live your life your way. As long as it doesn't implicate others, you're good. You do you, guys. I've been doing me for a long-ass time and I think the whole world knows it.
What can we expect from you in 2019?
For me, to still look amazing, hopefully. I think my passion project of the year would probably [be to] start my own web series. I really don't think I can act unless it involves my own script. I really wanna do my own web series, whether it's an acting thing or it's me yapping about something. It's gonna happen this year and that's what you can expect in 2019. And now that I've said it, I have to do it!
Preetipls Shares Her 2019 Plans
Get to know Preetipls by following her on Instagram, Facebook and YouTube.
Cover image: Source
Also read:
Preetipls Shares Her Beauty Routine So You Can Cop Her Feline Flick And Bold Red Lips