PUMA x Haribo Collection
If you're already a sucker for regular candies, then this news will make your week even sweeter. Fashion and sportswear retailer PUMA has teamed up with German confectionery company Haribo on a collection inspired by the company's classic gummy bears. Read on to find out more about the PUMA x Haribo collection, the offerings available and how you can get your hands on it.
Apparel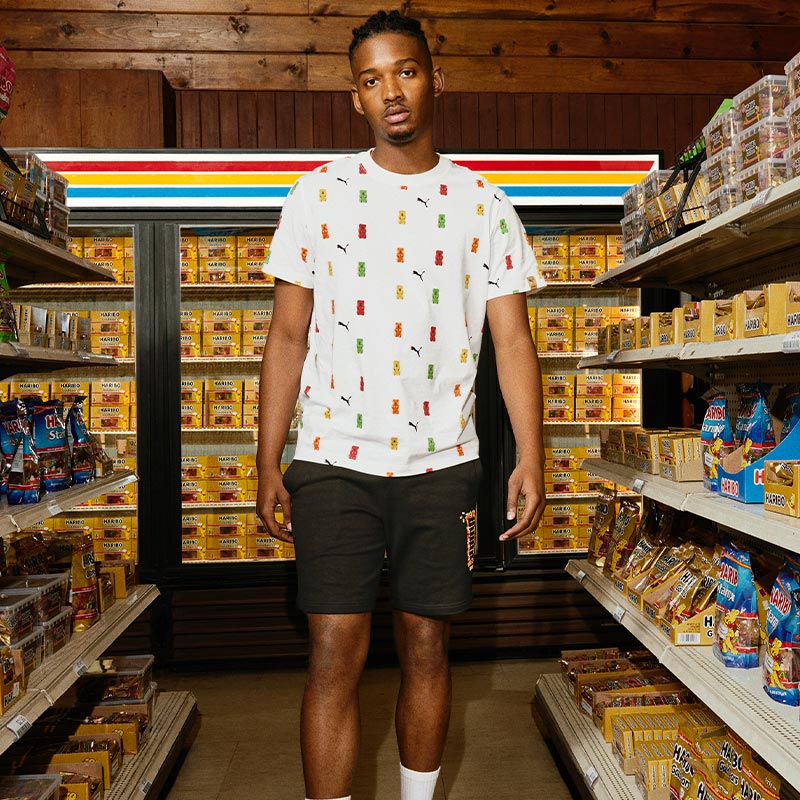 Image courtesy of PUMA
The PUMA x Haribo collection includes 2 white t-shirts. On this piece, Haribo's mulit-coloured gummy bears and PUMA's cat logo are uniformly printed.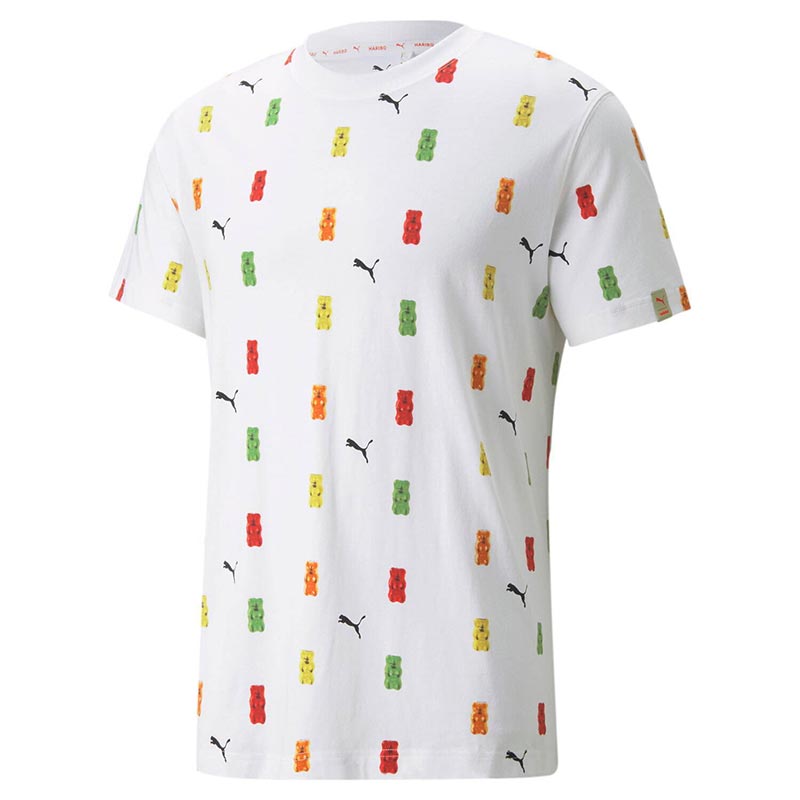 Image courtesy of PUMA 
Comfortable and easy to pair, this t-shirt will make a great way to rep both brands at once. 
You can get the printed t-shirt for $69.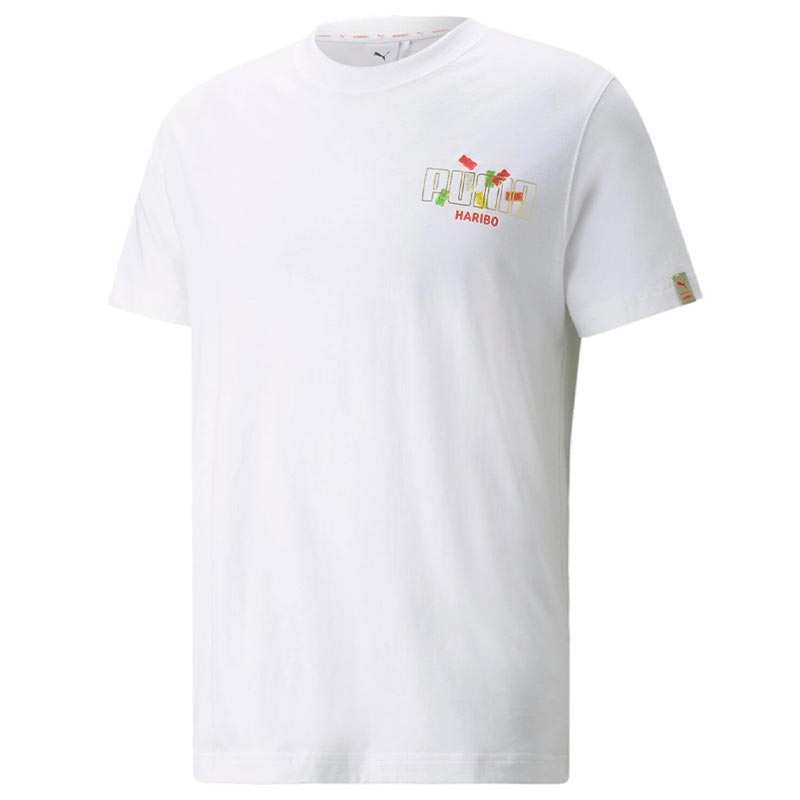 Image courtesy of PUMA 
Of course, if you're more into plain white t-shirts, PUMA and Haribo have got you covered. Both brand names along with a couple of gummy bears are imposed on the t-shirt's left chest.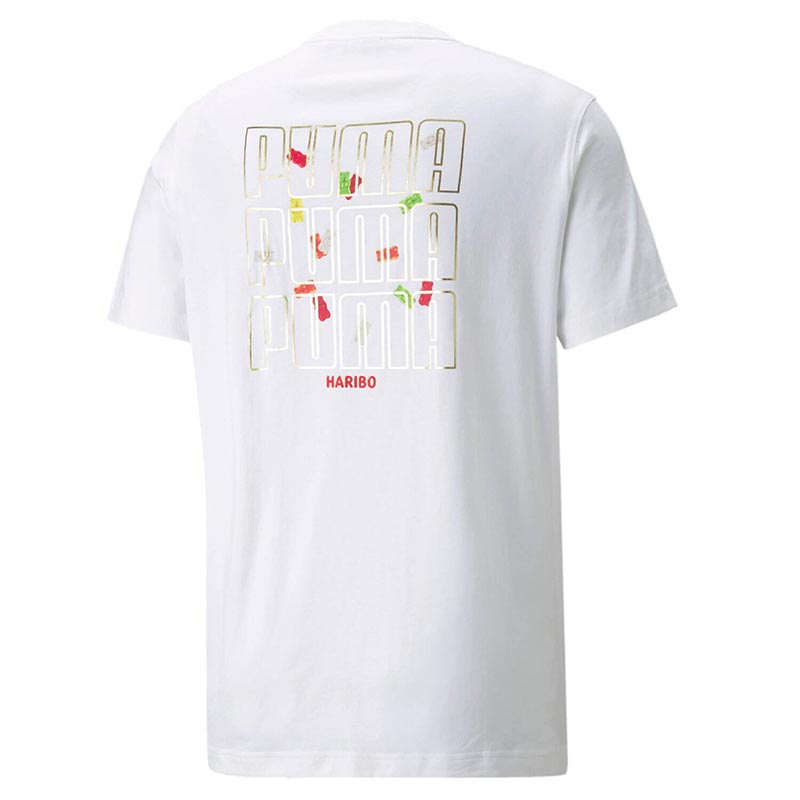 Image courtesy of PUMA
Business in the front, party in the back. The brand logos are featured more prominently on the back of the t-shirt. 
This t-shirt costs $59.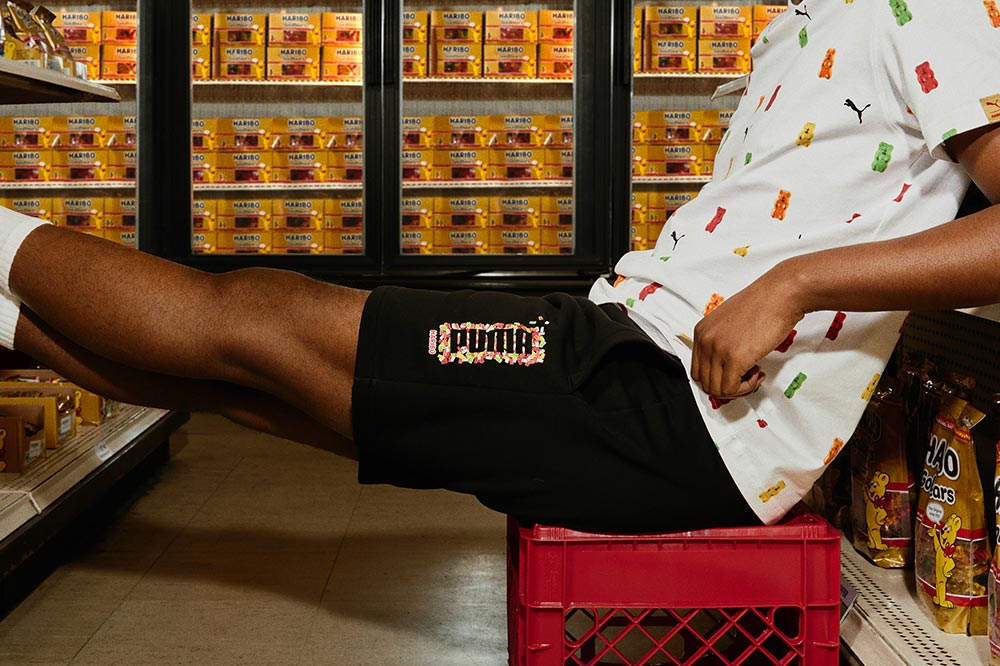 Image courtesy of PUMA
Rounding out the range of apparel is the PUMA x Haribo shorts with a design ideal for streetwear lovers.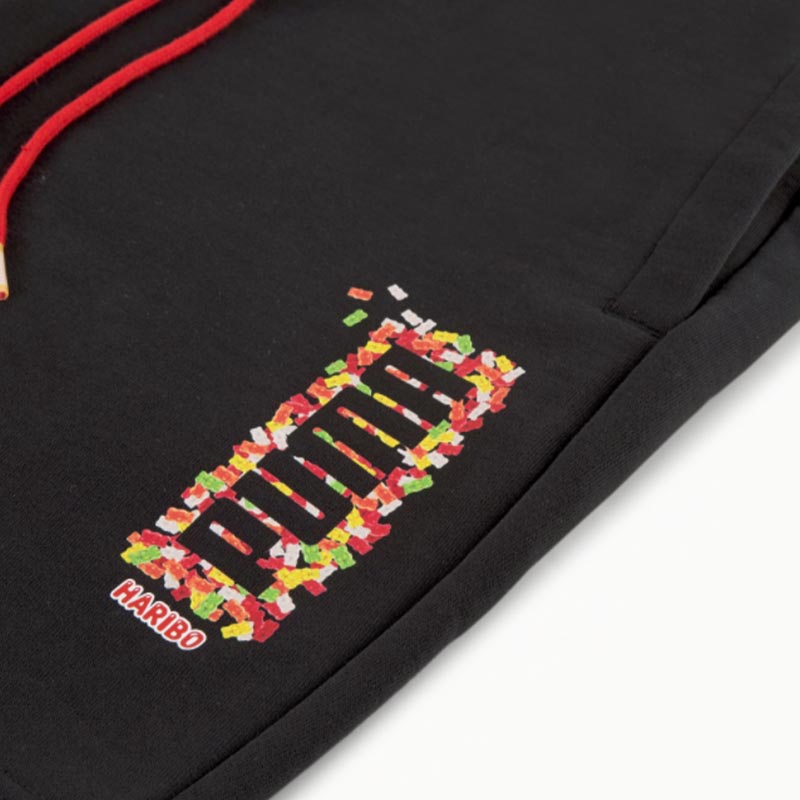 Image courtesy of PUMA
As with the t-shirts, both brands' logos are combined in a colourful print. For the shorts, the PUMA name is seen lying on a bed of gummy bears – it's a subtle but striking enough feature to show your love for the brands proudly. 
These shorts are available for $79. 
Also read: 
Pomelo Fashion Has Teamed Up With Chupa Chups For A Lollipop-Inspired Collection That Is Literal Eye Candy
Sneakers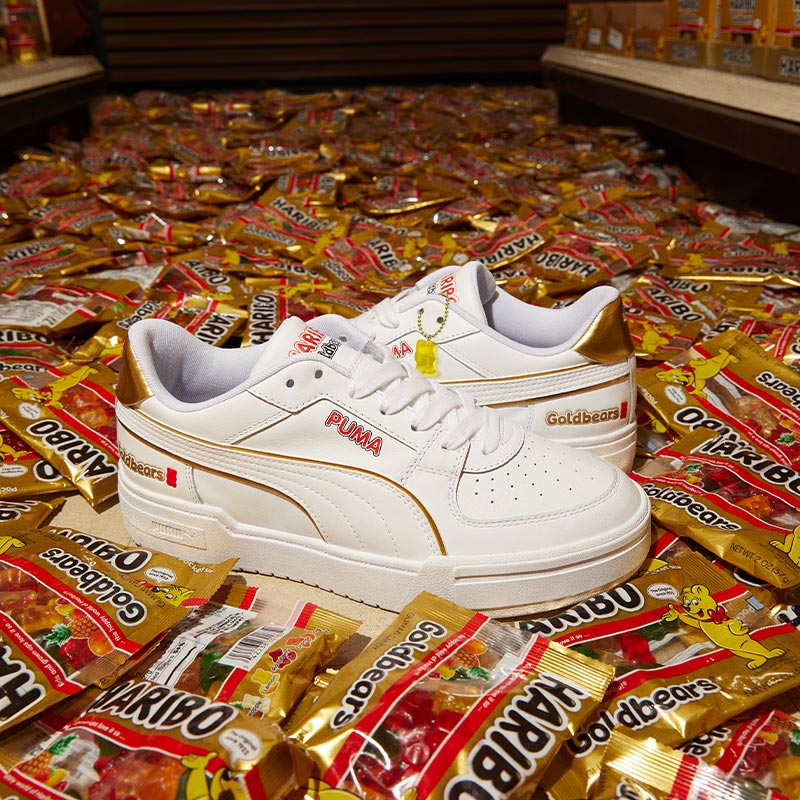 Image courtesy of PUMA 
As part of the collection, PUMA's California Pro line becomes a sweet treat with a little kawaii gummy bear charm.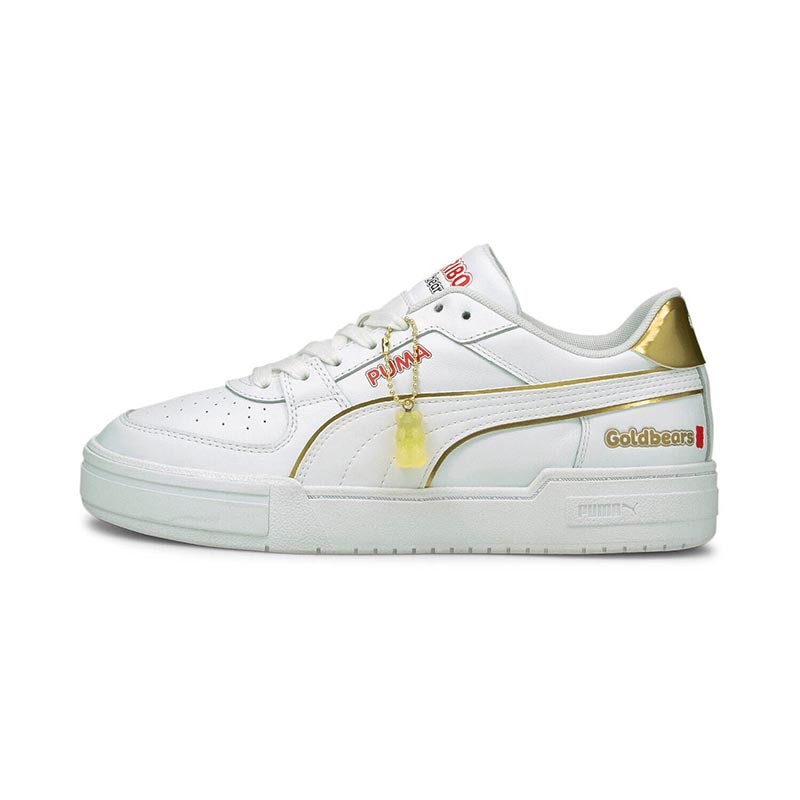 Image courtesy of PUMA 
While retaining the original silhouette of the sneakers, this rendition of California Pro is made unique by its various Haribo-style details. The heel tabs and sides are lined with Haribo's signature gold colour. Goldbears, the name of Haribo's line of gummy bears, also make an appearance alongside PUMA's brand logo which is remixed with the same font as Haribo's. 
You can cop the California Pro Haribo for $159.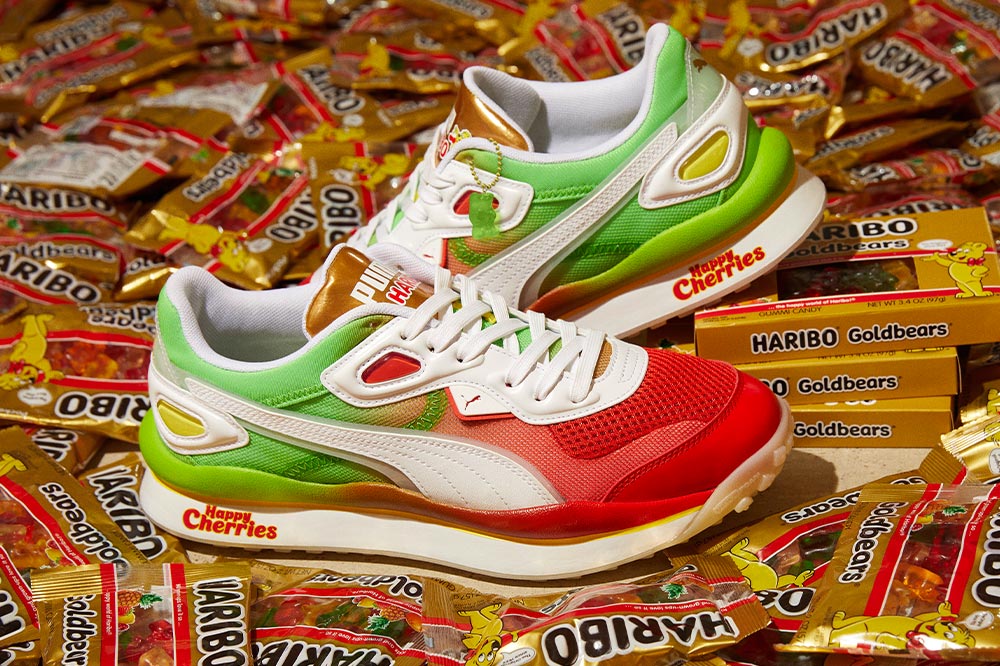 Image courtesy of PUMA
On the other hand, the reimagining of PUMA's Fast Rider line is inspired by another range of Haribo candy: Happy Cherries. The red and green colourways of the sneakers' body resembles that of the Happy Cherries packaging while the shoe tongue's shiny gold wash is akin to the Goldbears wrapping. 
This version of the Fast Rider retails for $179.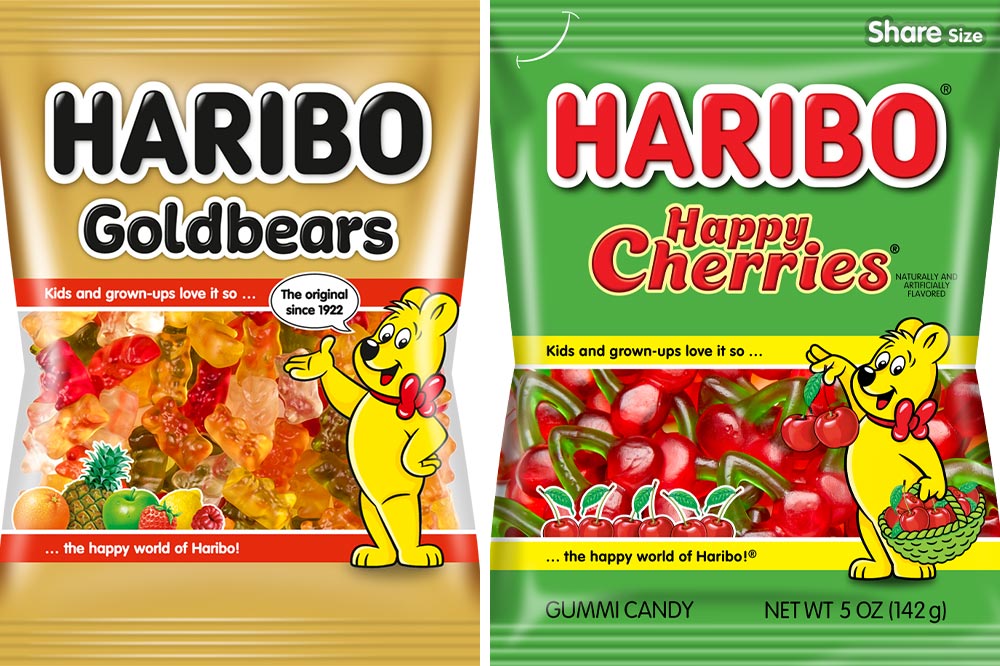 If you grew up with these treats, the PUMA x Haribo collection will definitely make you nostalgic. 
The PUMA x Haribo Collection Will Sweeten Up Your Wardrobe 
The PUMA x Haribo collection is now available for purchase on PUMA Singapore's online store. You can cop it today to add some gummy-filled fun to your daily ensemble. 
For those interested in other candy-themed apparel, also check out the recently dropped Pomelo Fashion x Chupa Chups collection. 
Cover: Images courtesy of PUMA 
Also read: 
Lifebuoy Has Disney-Themed Hand Sanitisers So You Can Stay Safe With Your Nostalgic Childhood Characters